Darien & Kristi in the Summer
Due to the COVID Pandemic, Kristi and Darien opted for a low-key, chic-style ceremony with natural outdoor elements. The scenic flow of the Elora Gorge, was the cherry on the cake for these two newlyweds' special day.
What is a Grace Woman to you?
Elegant, free, and a little wild.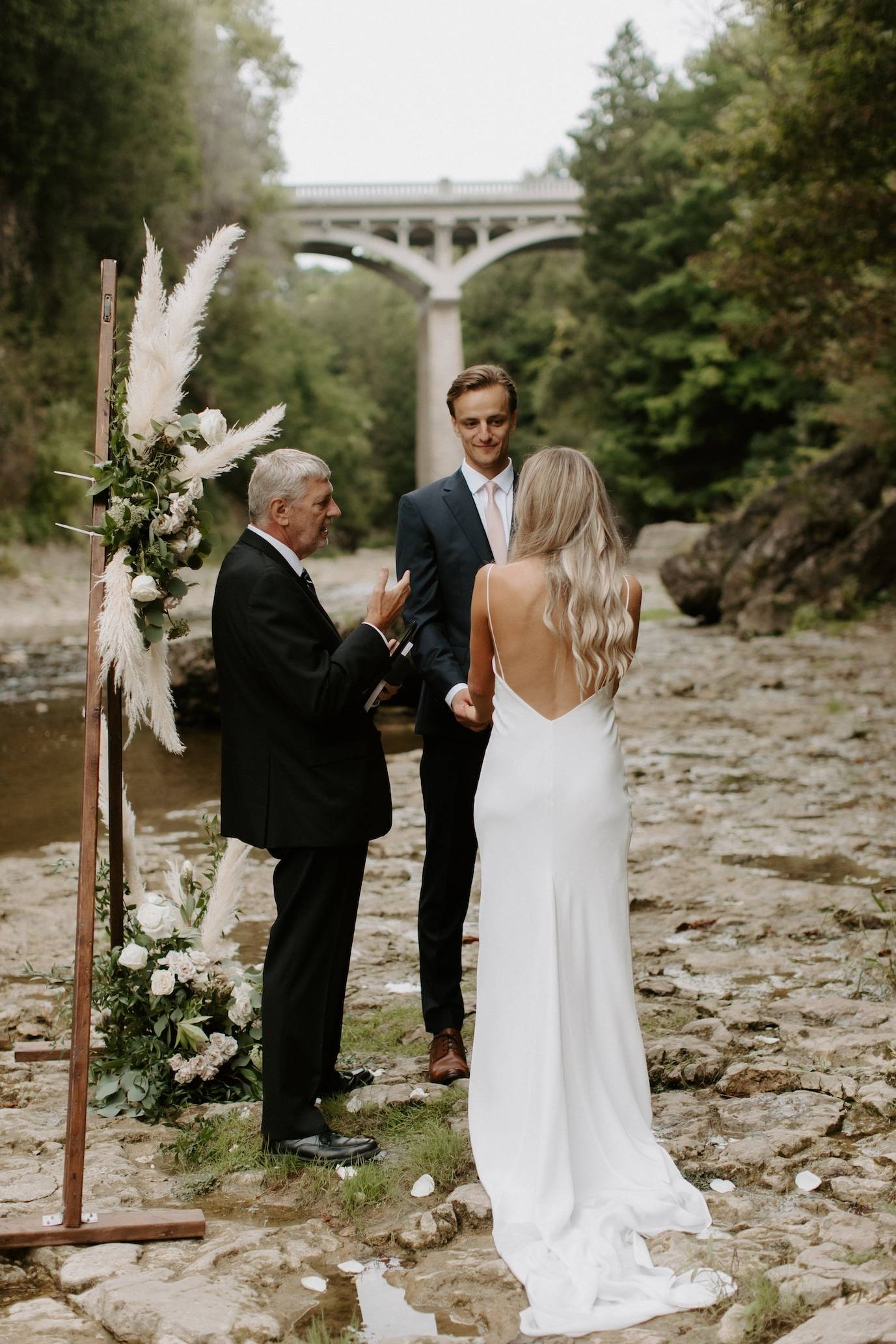 Which Grace dress did you choose aand how did you know it was 'The One'?
My dress was the elegant and beautiful Summer gown. I've always loved GLL dresses, but I was in need of a simple gown for our small elopement ceremony last summer. I wanted something effortless, comfortable, and modern. Summer was the one!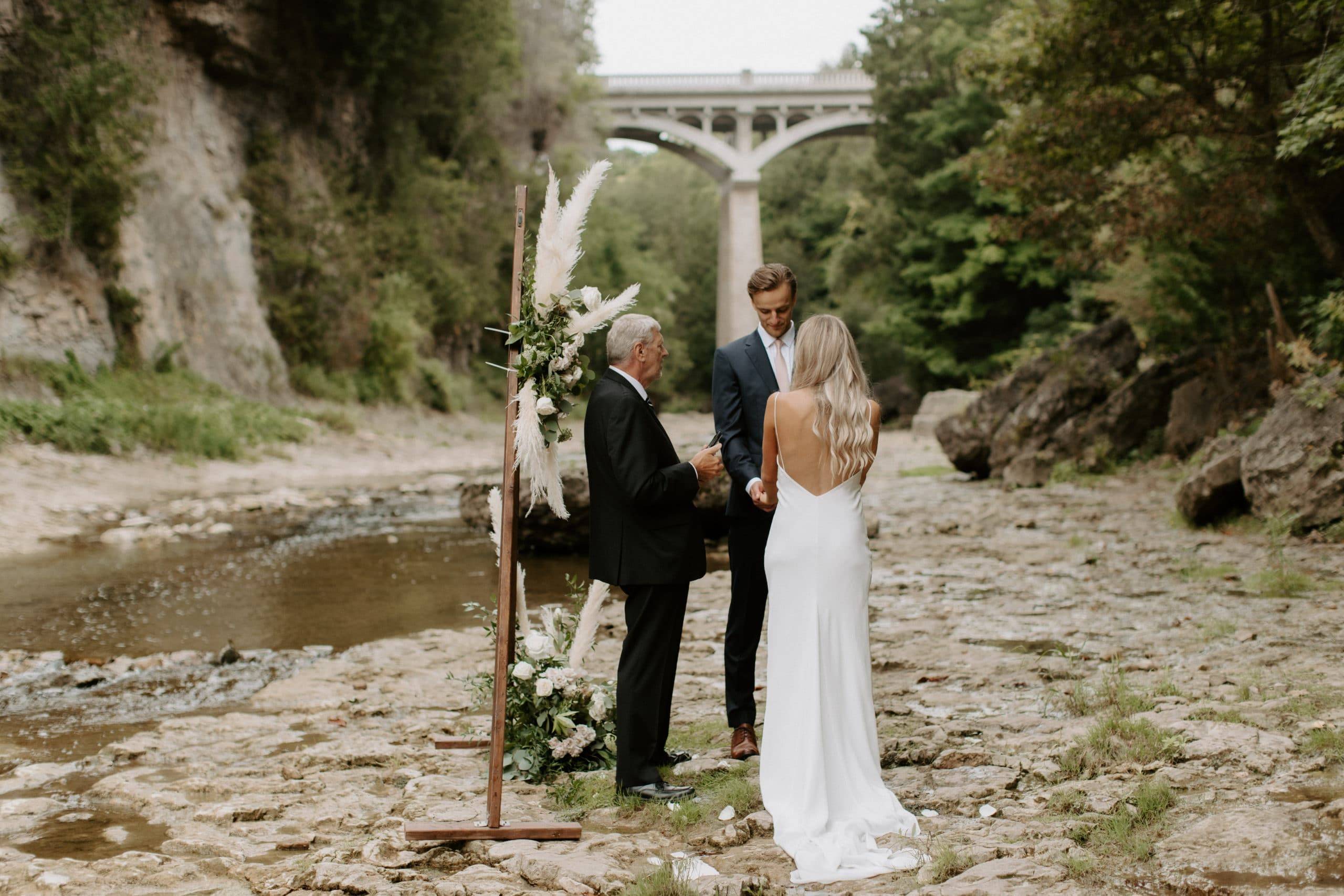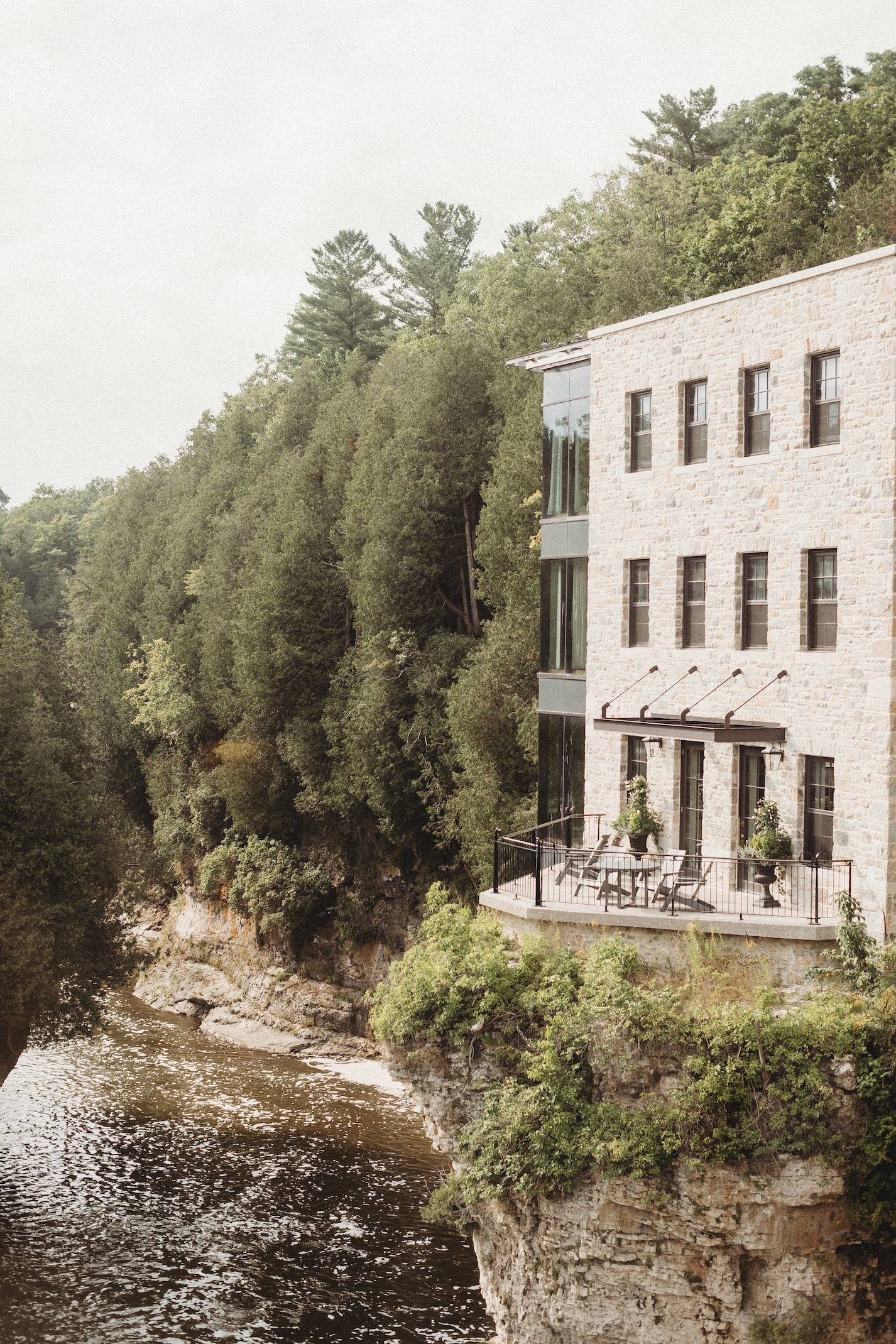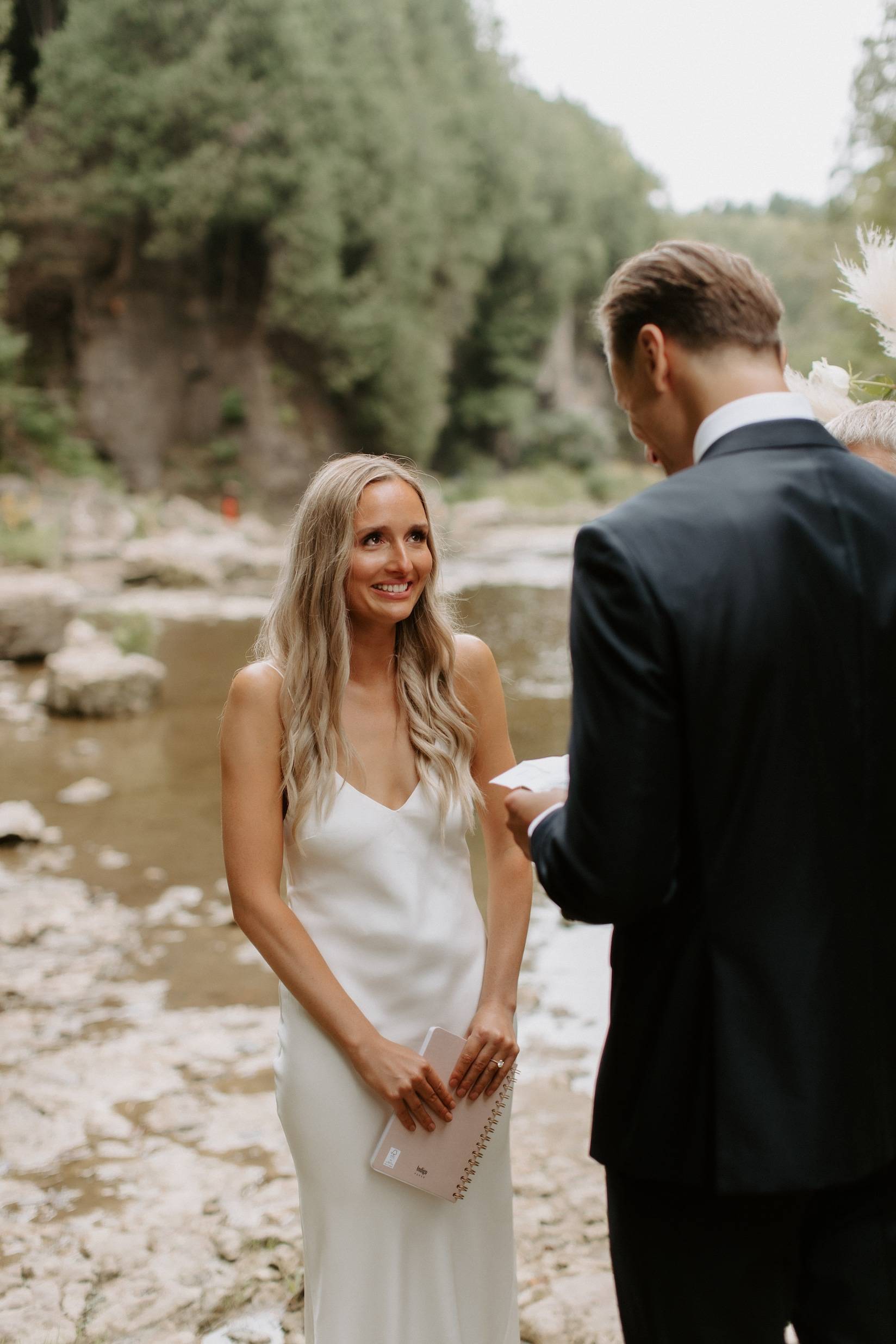 Tell us about your experience when you found your dress, did you buy your wedding dress online or in one of our showrooms?
The whole experience was honestly really amazing. I have been met with nothing but professionalism and top-tier service from all members of the GRACE team.
I live in Canada, so I was not able to go to a showroom. My entire shopping experience was online. I was in need of the dress in 2020 (in the middle of a global pandemic) which made traveling to try on a dress at a showroom nearly impossible. I had been browsing the GRACE website for some time and thought the Summer gown would be perfect, but was really unsure about buying a dress online. So, I reached out to the GRACE team online through their chat feature first to ask some questions about the process. They suggested I have a virtual appointment so I could properly take measurements, see the dress in the showroom, and consult with someone screen to screen. I had never bought such an expensive piece of clothing without trying it on, so it was something I was nervous about. I needed my dress within 3-4 months, so I didn't have time to find a way to try it on.
When I had my appointment with Beck she was in the San Diego showroom. She was so vibrant, personable, knowledgeable, and kind. She made the entire process effortless and made me feel confident with my dress choice. I got to virtually experience the gorgeous showroom (it's amazing) and was shown the summer gown. Beck also made some suggestions on a veil. She also made some recommendations about how I could get the dress length altered to a midi style after my wedding day and wear it as a casual dress. I loved this suggestion so much. In addition to all of this wonderful service, Beck had some textiles of the fabric mailed to me after I placed my order so I could envision the dress and get excited about its arrival.
All of these little things made the experience unique and welcoming. I'll never forget the experience I had with her and the rest of the GRACE team.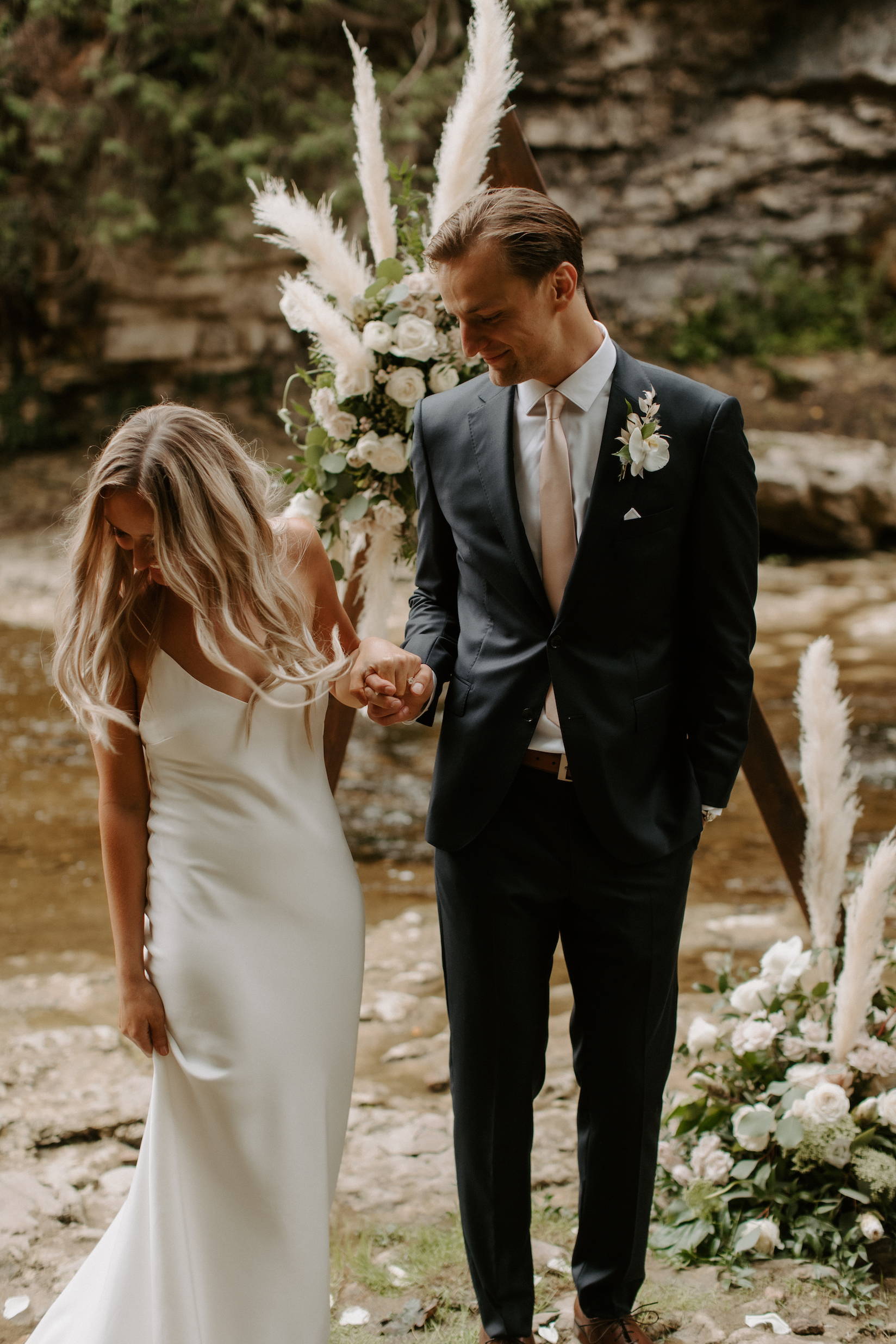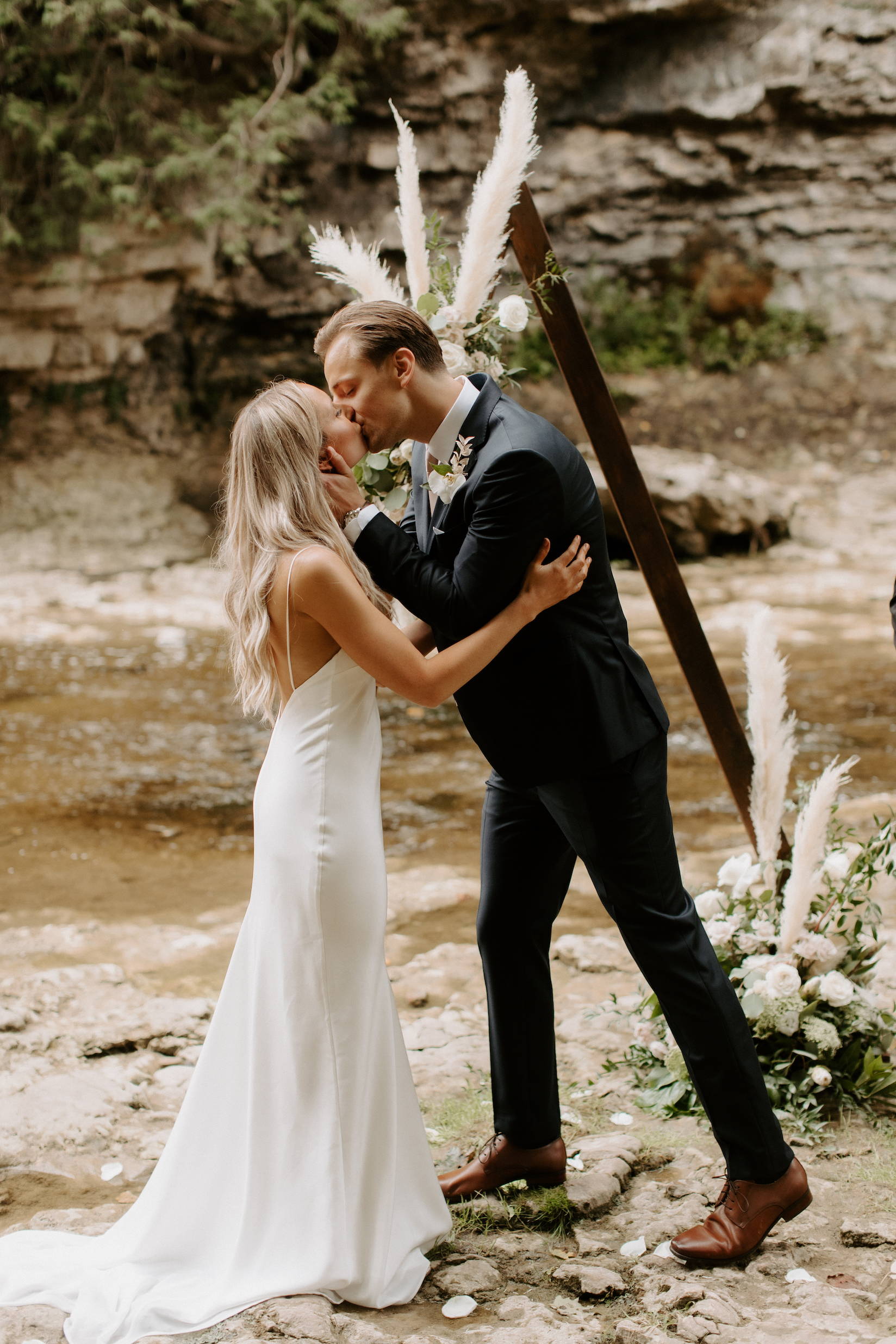 How did you feel in your dress on the day?
I felt effortlessly gorgeous. It was so comfortable and fit me in all of the right spots. The material is so luxurious!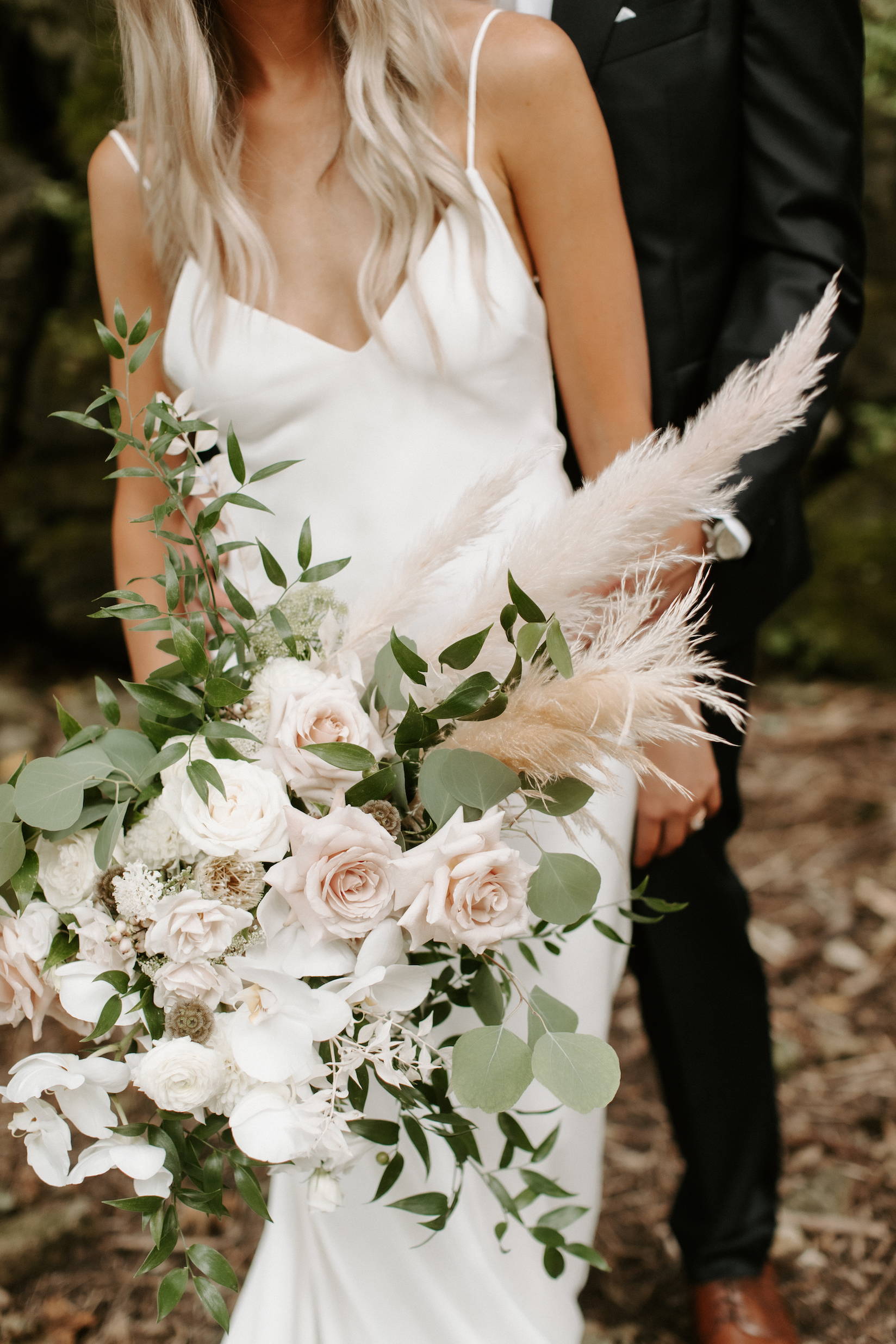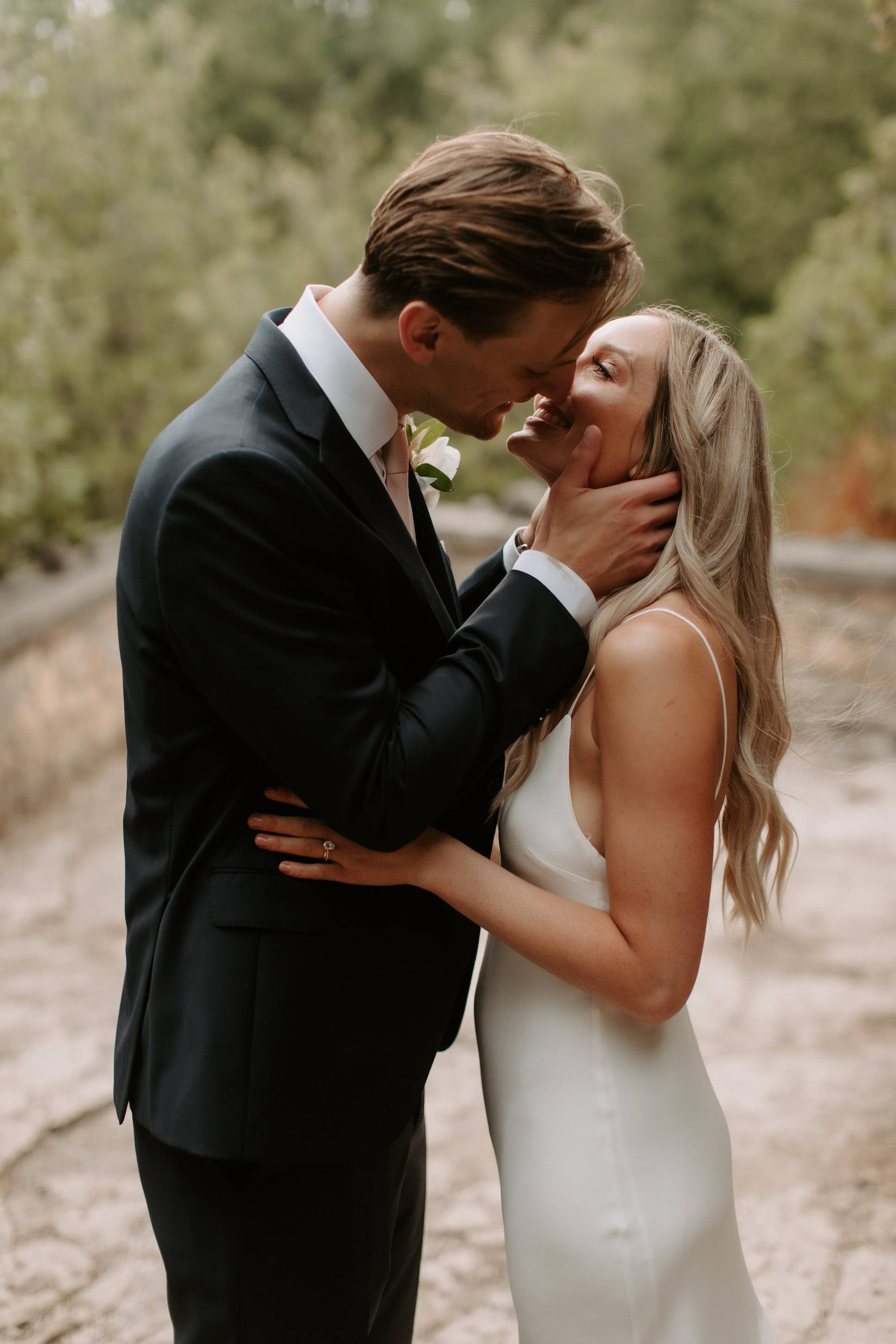 Where did you get married?
Tell us about the location & the style of your wedding day.
We had initially planned a big wedding celebration at the gorgeous venue, Elora Mill, which is located in Ontario, Canada. We had to postpone the big reception to August 2021 (due to the pandemic). This small town and luxurious venue captured our hearts so much that we knew we wanted to tie the knot there.
So, we decided it was an opportunity to do the ceremony in a very unique and memorable place in Elora. We ended up choosing one of our favourite spots: the Elora Gorge. It was a bit of a hike down the steep terrain but it made fo the most beautiful outdoor setting. I'm so happy we did that and all of our vendors were on board to make it happen.
Our wedding day was very low-key. We wanted the ceremony to have a slightly different look and feel than the original wedding we had planned. So we leaned into the bohemian-chic style which went well with the natural outdoor elements in the gorge.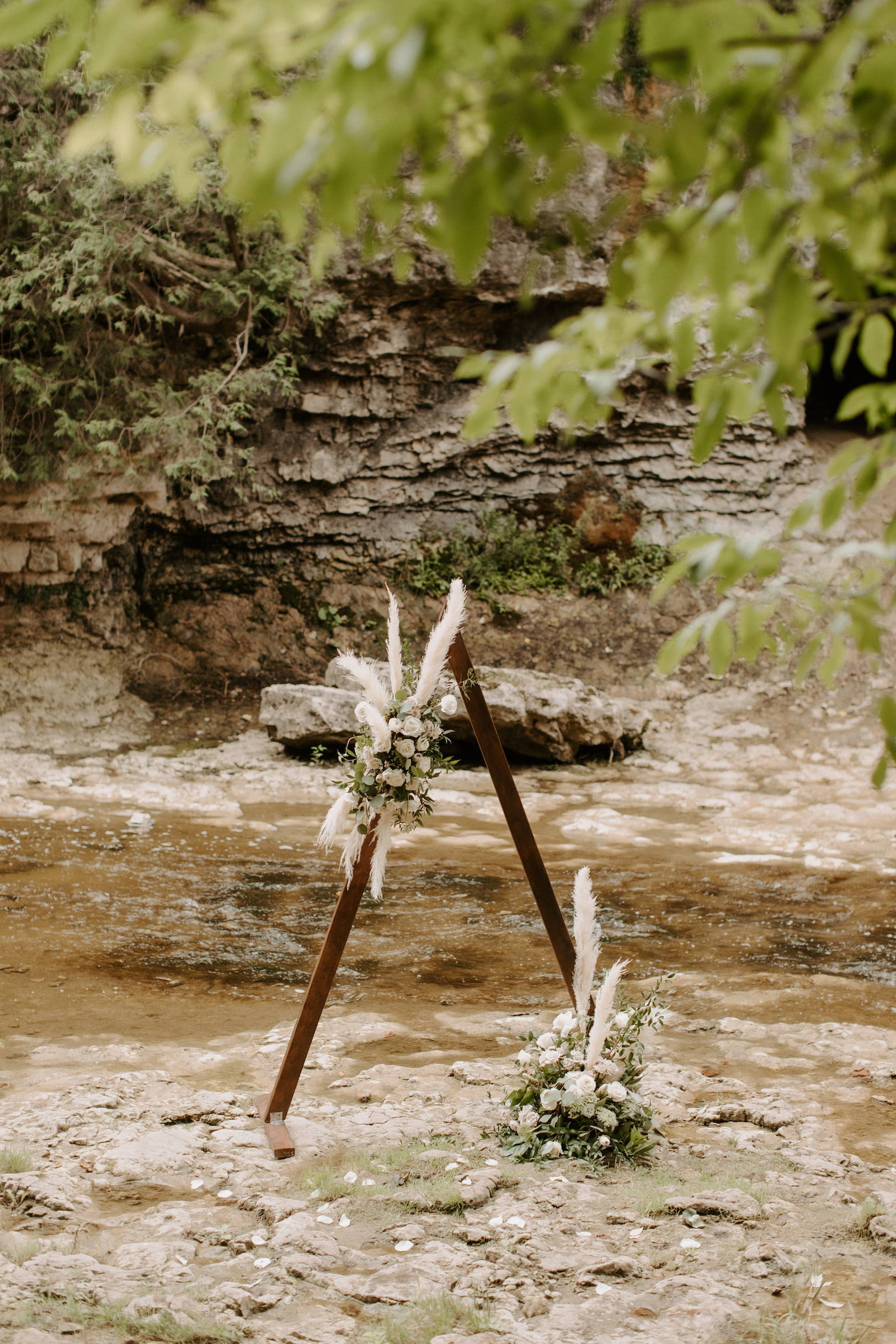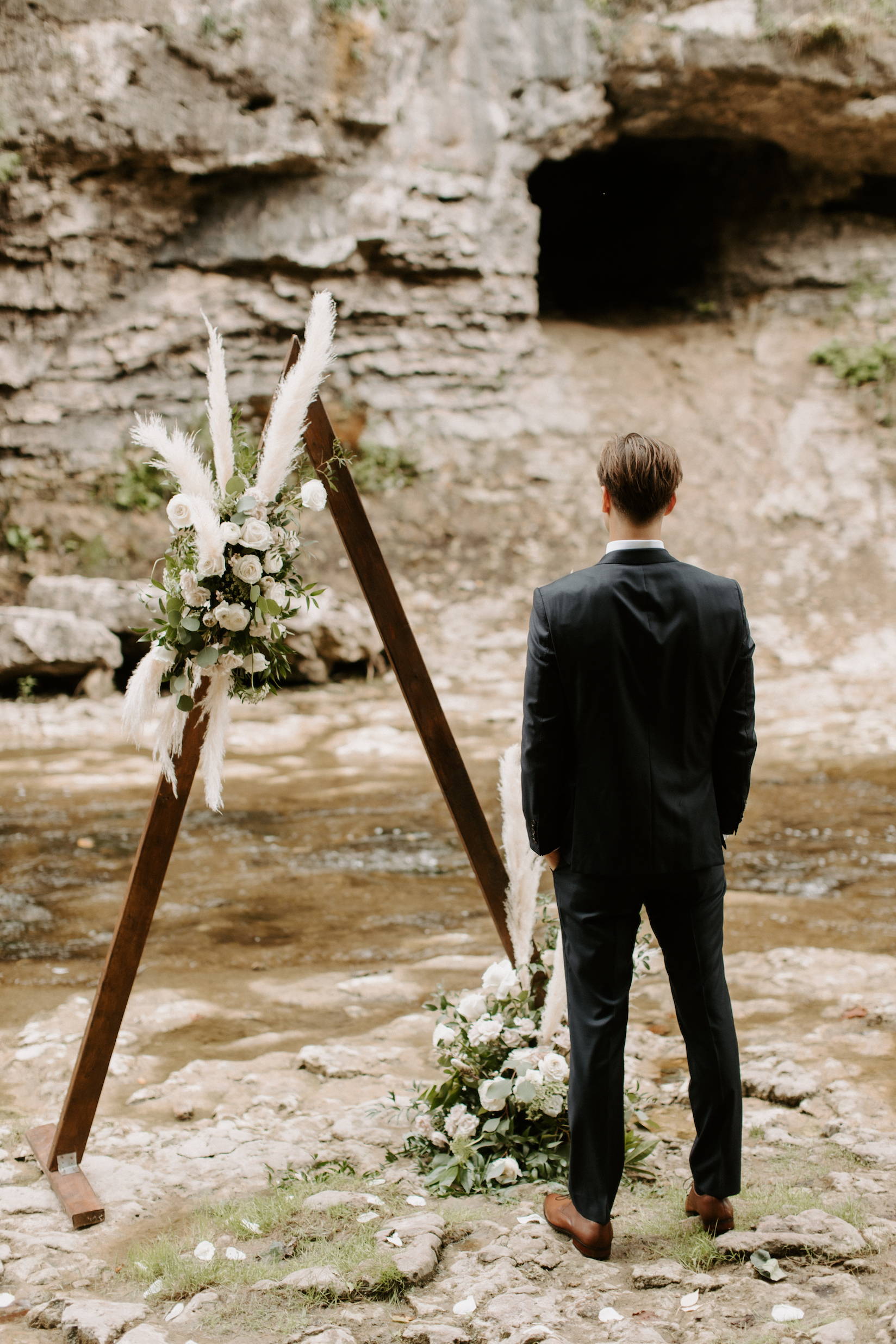 Tell us about your hair and makeup look
and the accessories you chose…
I wanted everything to feel very natural, elegant, and minimal. The look on my wedding day really reflected my style in my daily life. I wanted to feel like myself but elevated. I kept my hair down in loose curls and did natural glam makeup with emphasis on eyes and glowing skin. Allyssa (my makeup artist) is the queen of makeup and makes me feel so beautiful!
As for accessories, I wore understated emerald studs (my birthstone) that my paternal grandparents had given to me as a gift before they passed away. I wanted a way to be close to them on this day and it felt like a nice way to honour them.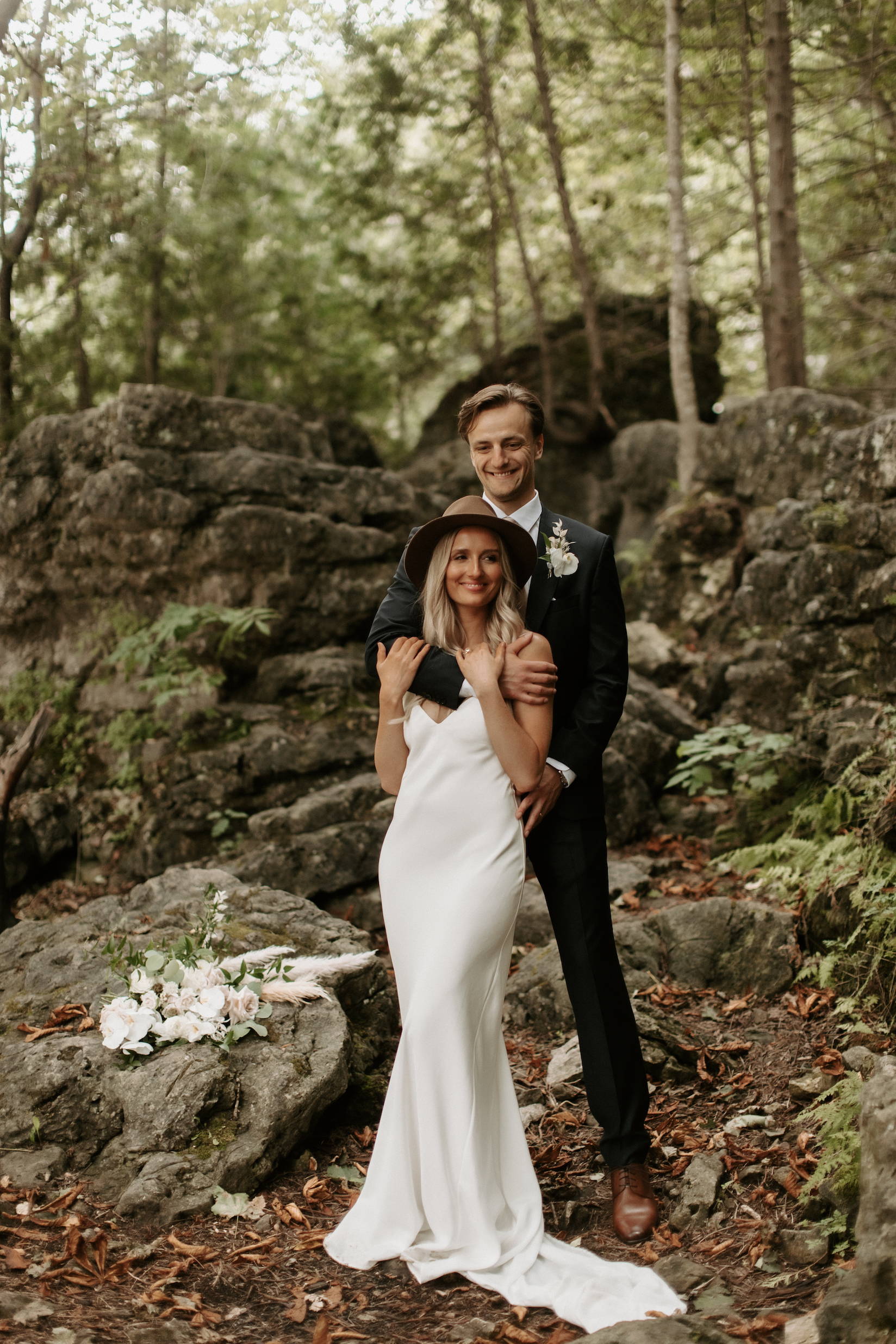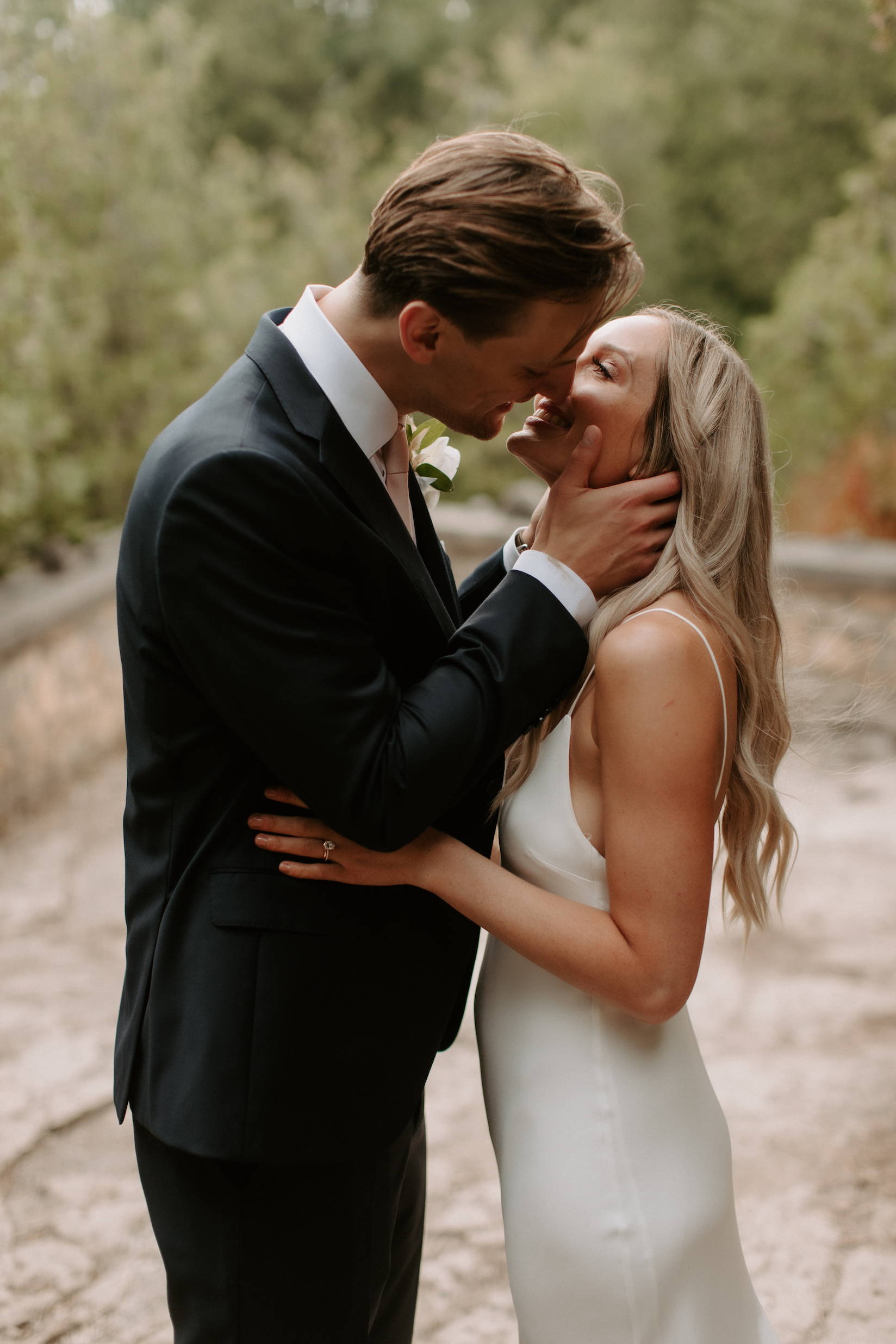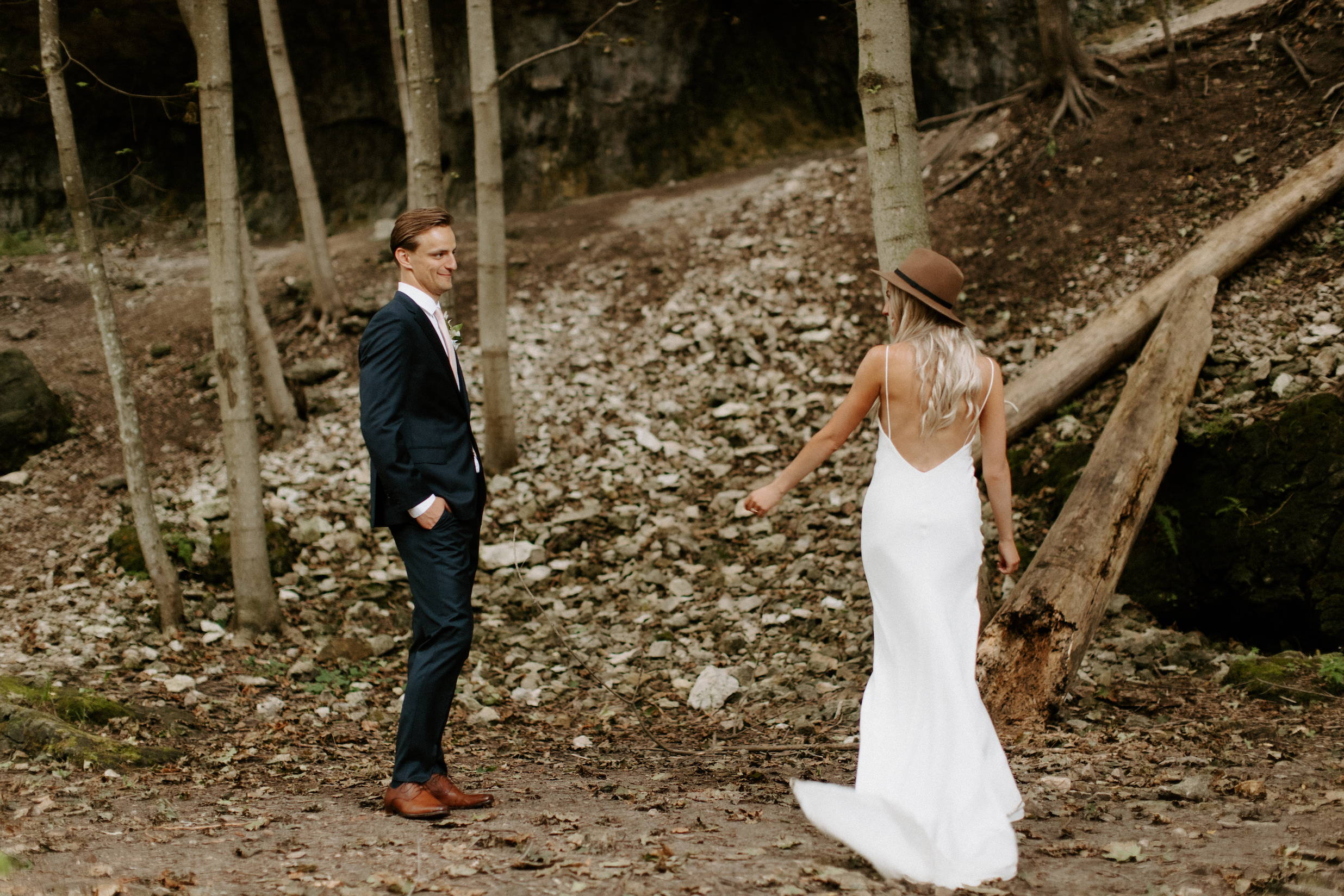 What made your day extra special?
The fact that we were able to share the day and experience with our parents. We had hardly been able to see our parents in 2020 because of the pandemic. There was a lot of uncertainty about whether or not we would even be able to have them with us on the day. So, having them there meant so much to both my husband and me. We will cherish those memories forever.
The funniest moment on the day was…
When my husband referenced my terrible dancing in his vows…. Everyone got a good laugh out of that.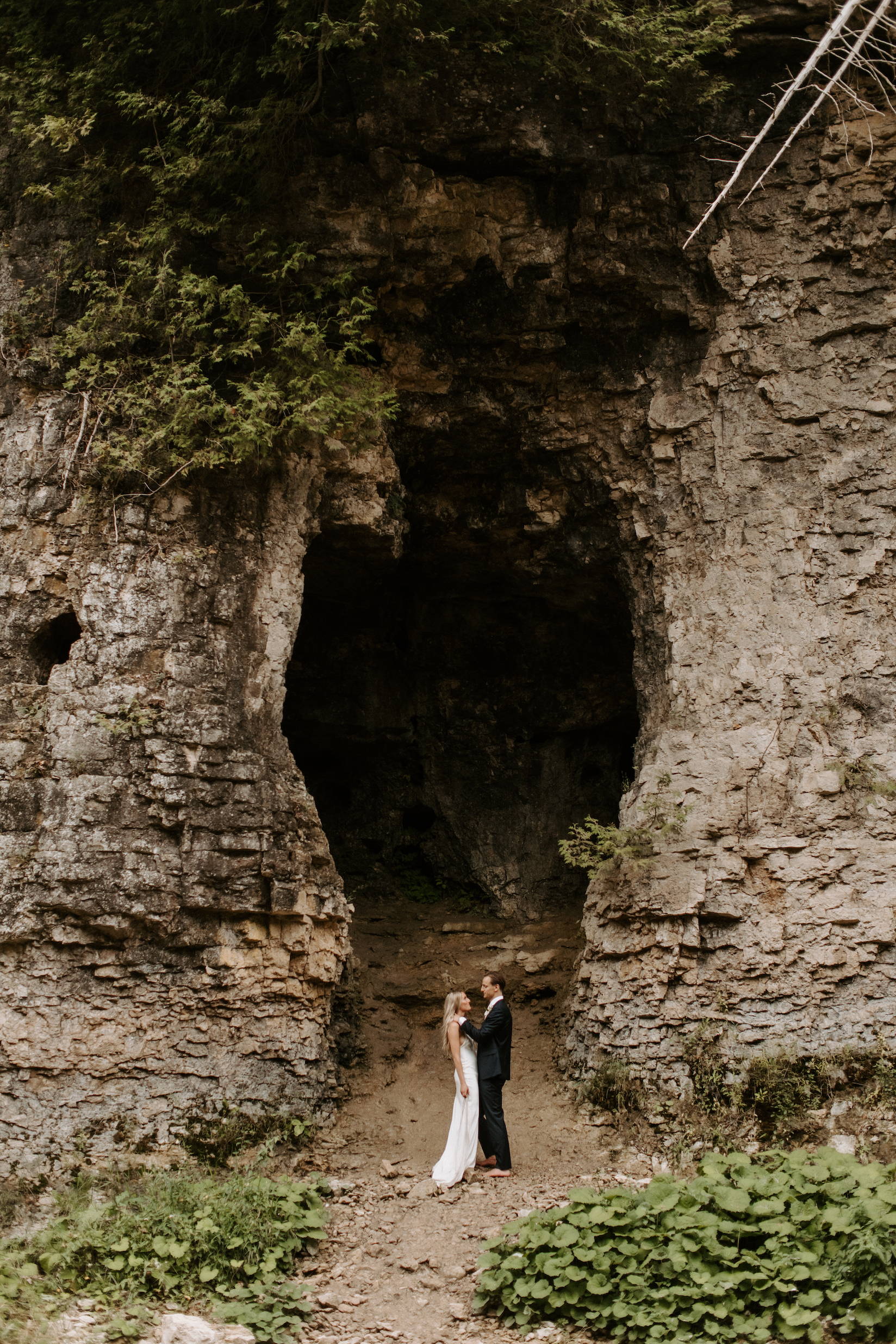 Where will you be honeymooning?
We were able to get away after the ceremony for a few days and drove to Prince Edward County. It's just a small area near Lake Ontario in Ontario, Canada. They have beautiful wineries and some of the prettiest beaches nearby. We spent a lot of our time ordering takeout and doing socially distanced activities, but it was a beautiful time.
We also plan on doing a two-week trip to Hawaii as a "make-up" honeymoon once it's safe to travel again. It was our original honeymoon destination before the pandemic hit, so I felt like it deserved an honourable mention.
Any last advice or words of wisdom that you can share…
Be in the moment and go with the flow. Soak up every bit of the day (and the days after). It will flash before your eyes. I kept a little memory box of photos/things from the day to look back on when I'm wanting to feel nostalgic.



THE GROOM WORE: HUGO BOSS