Eric & Carissa in the Bonita
A breathtaking winery wedding in Sonoma, California. With the endless views of plantation trees... Erica & Carissa's wedding was a dream to say the least!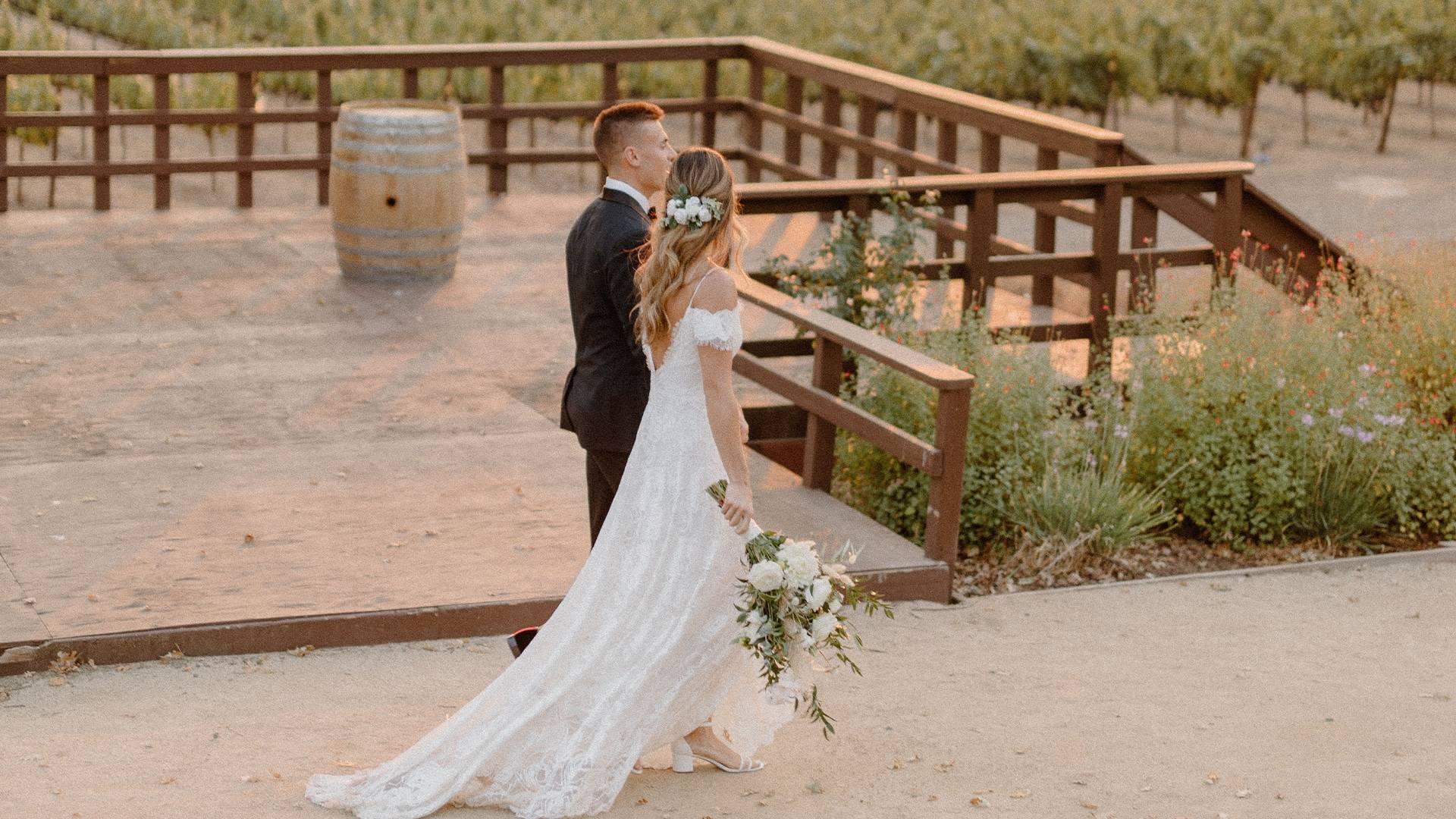 What is a Grace Woman to you?
An individualist who finds joy in effortless beauty and comfort!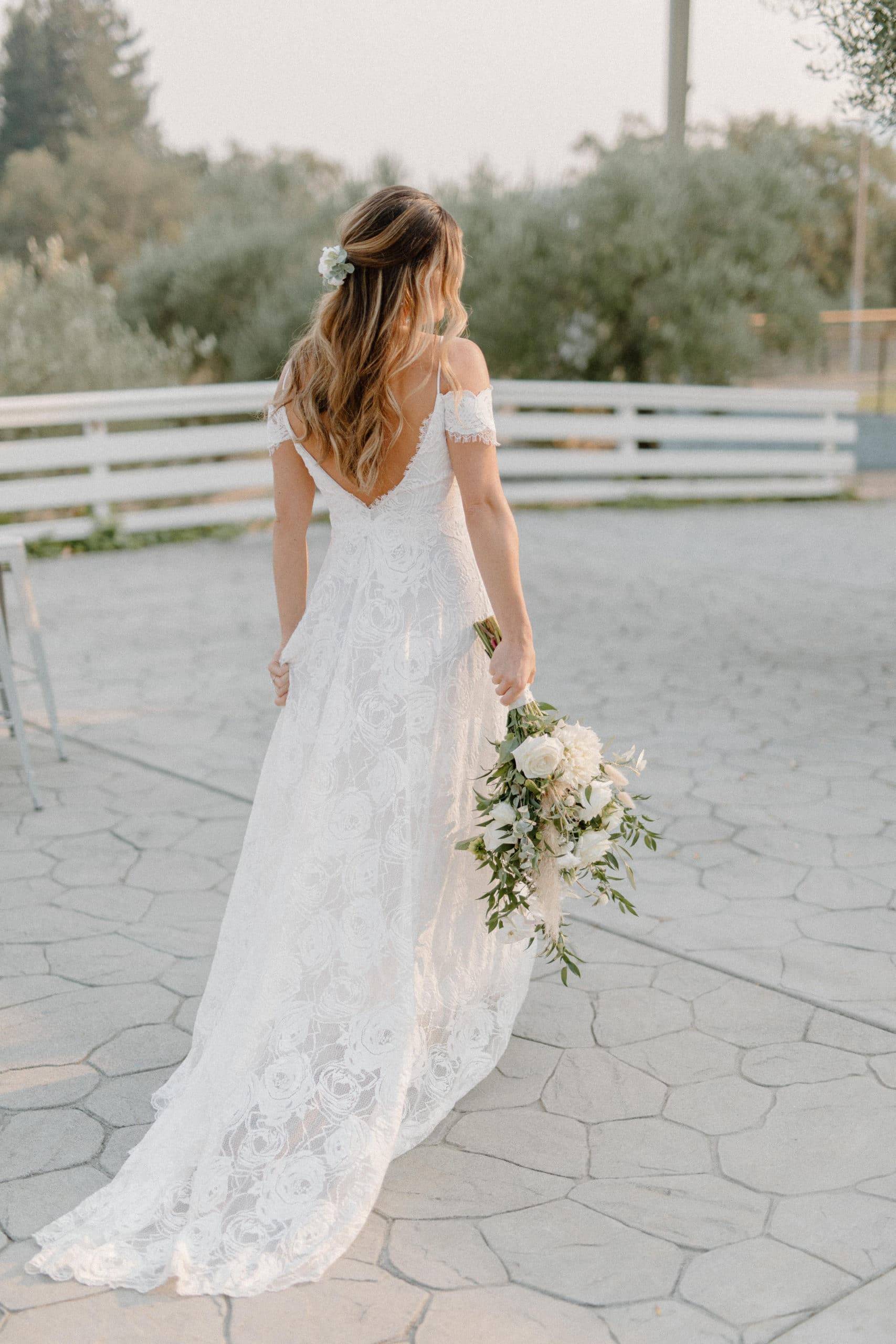 Which Grace dress did you choose aand how did you know it was 'The One'?
I chose the Bonita wedding dress! I had no idea I would choose this dress but when I put it on, I knew it was the one! I knew I wanted something simple, timeless, and me. I never thought I would find a wedding dress I loved because I've never been drawn to traditional wedding gowns. The ones I pinned on Pinterest for inspiration were most like Grace Loves Lace! I found it divine that Dallas was one of 9 cities in the U.S. that had a GLL Showroom, so I went! I loved all of the dresses I tried on but when I tried on the Bonita, I loved it because it was me! After I left the GLL showroom, I went to one other place to look at additional dresses and after the first one I tried, I knew there was no point in going anywhere else – I called the showroom and purchased the Bonita!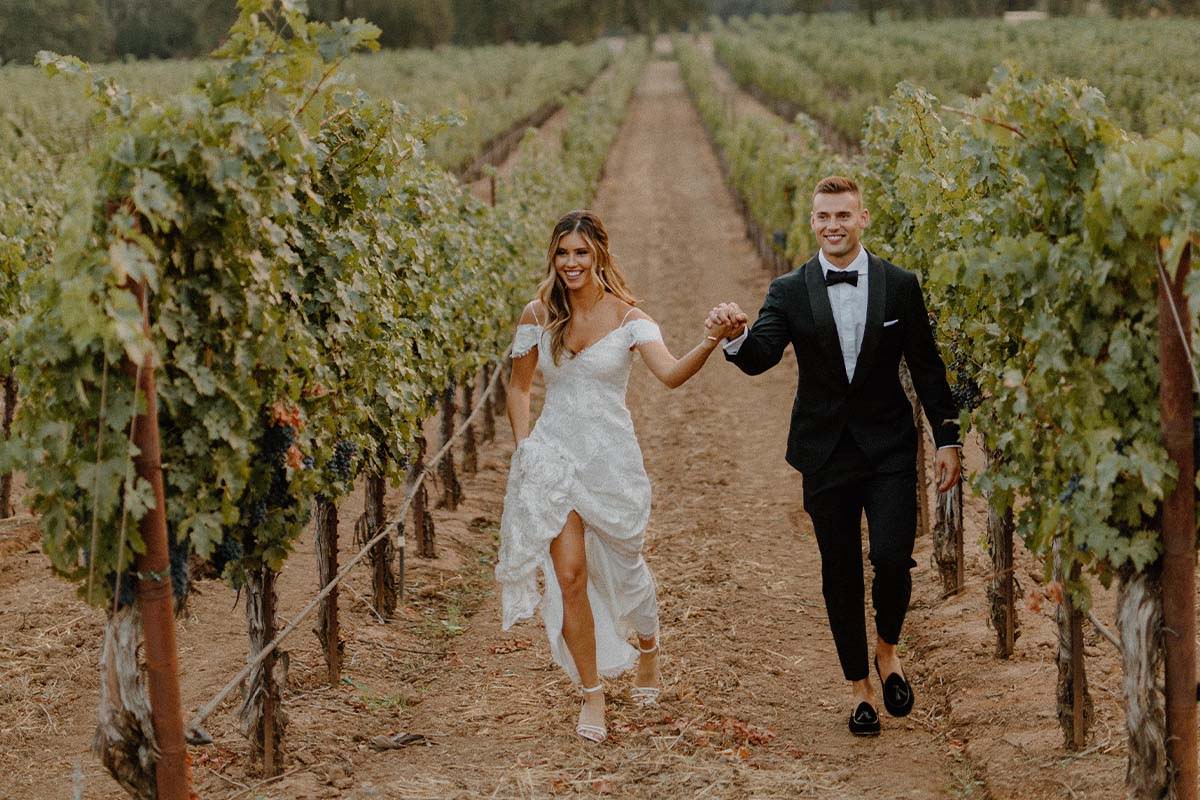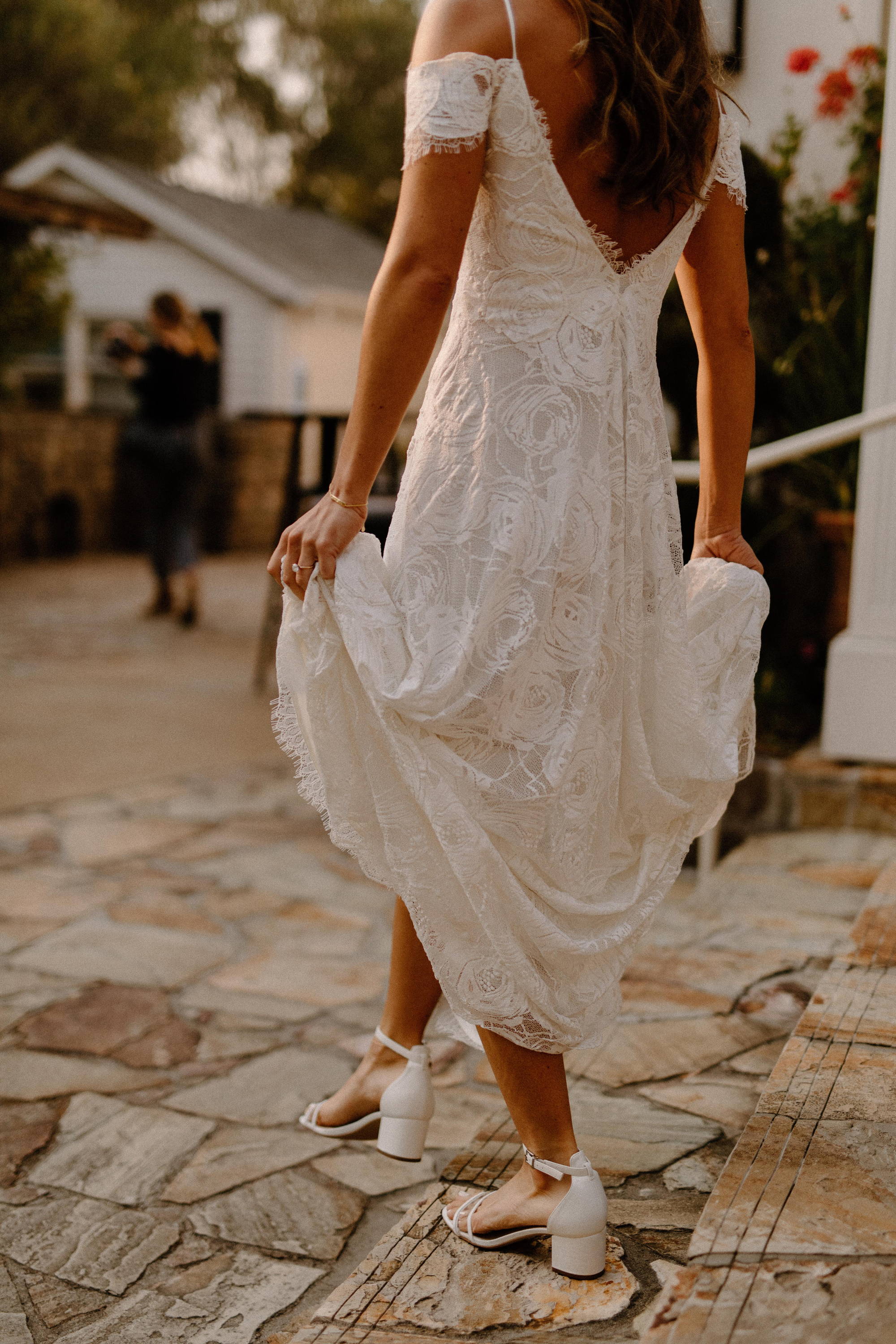 Tell us about your experience when you found your dress, did you buy your wedding dress online or in one of our showrooms?
I purchased my dress in the Dallas, TX showroom! It is one of the most creative and beautiful spaces! I got engaged during COVID and, again divine, the GRACE showroom was one of the only places taking individual appointments! I felt so fortunate that I was able to find my dress there! GRACE was also able to work with my shipping needs! Knowing the dress I loved was going to get to me when I needed it despite all of the issues we were experiencing with shipping/manufacturing was everything to me in the chaos of wedding planning!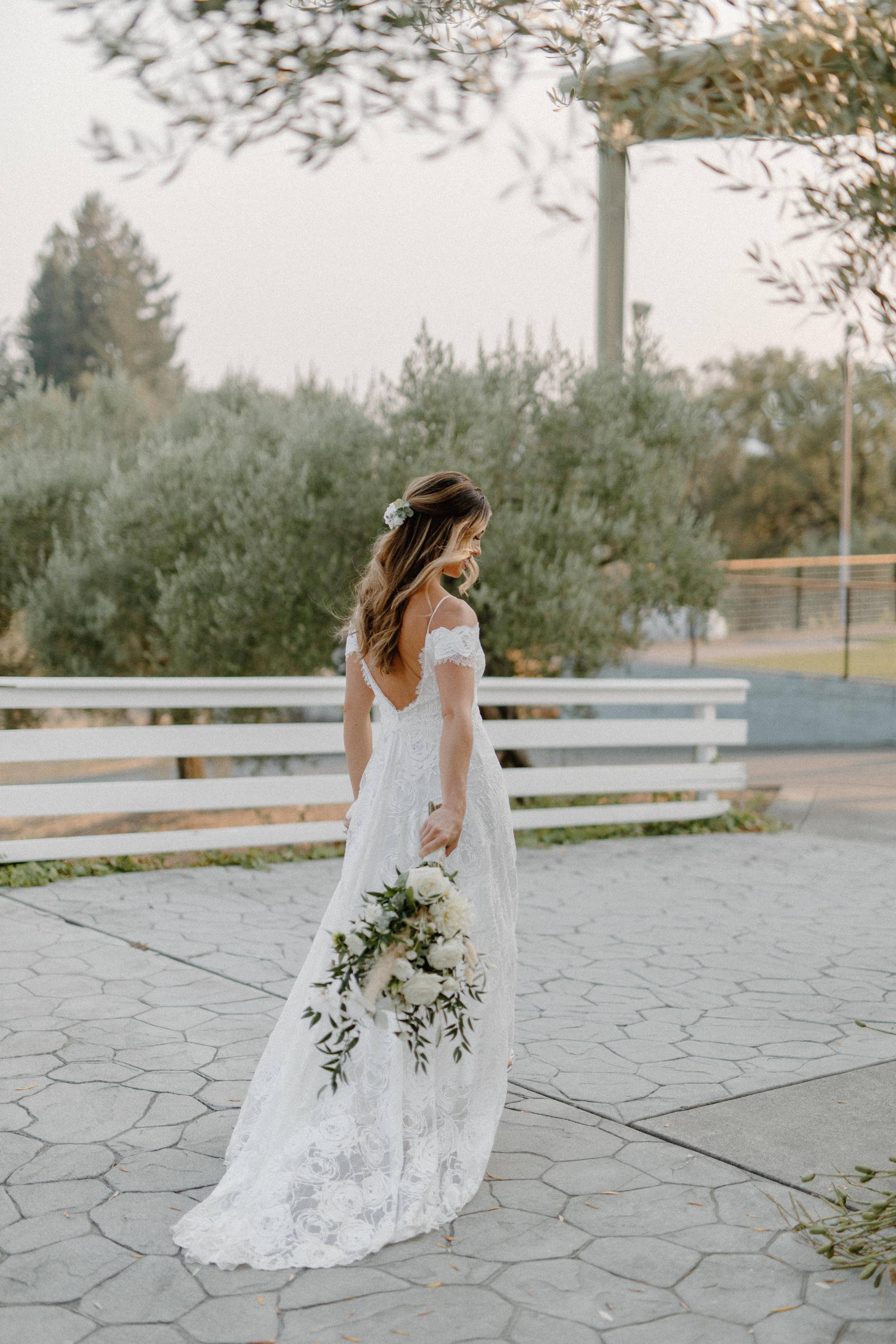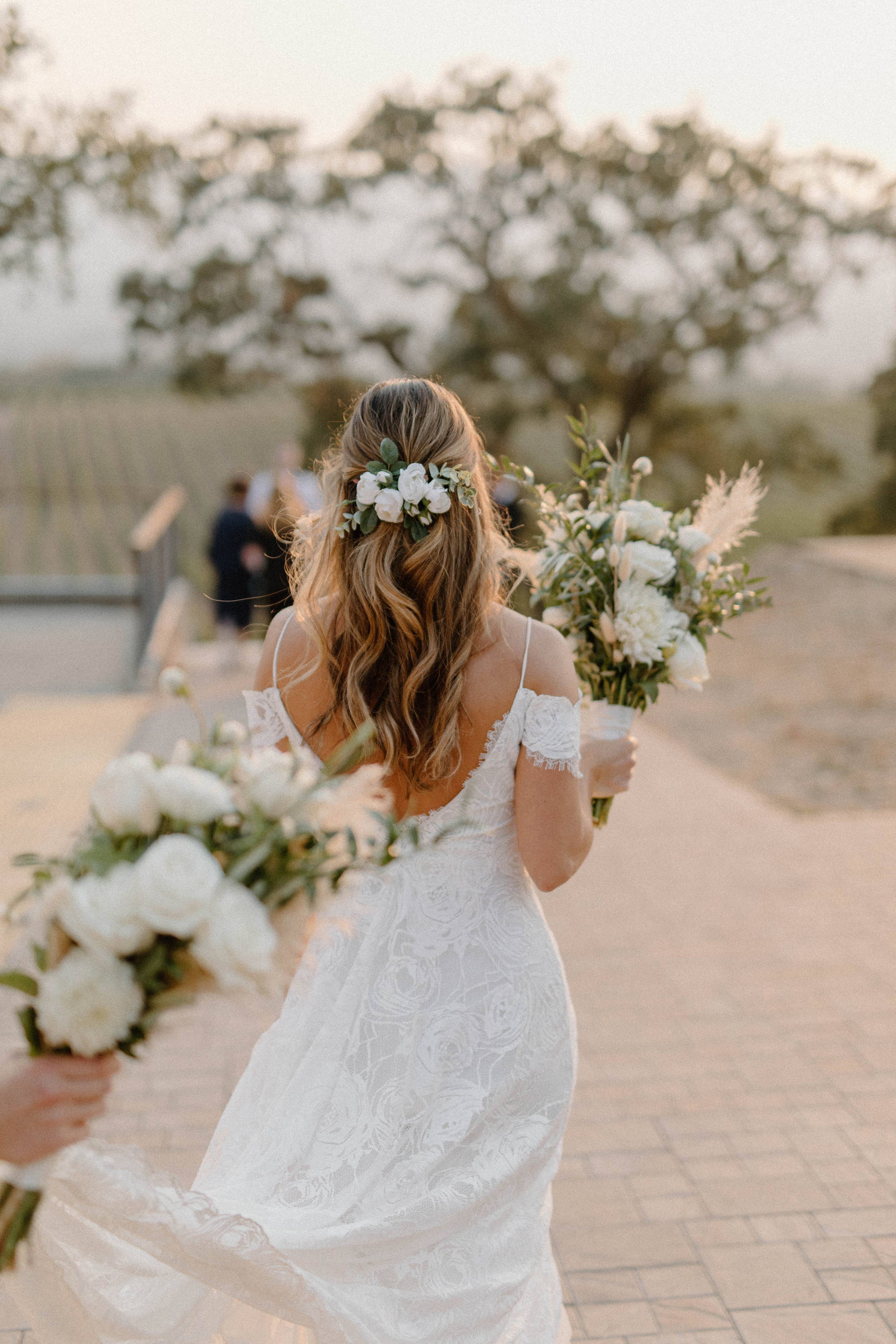 How did you feel in your dress on the day?
I felt like I selected a dress that matched my style and personality! That was the best part about being in my dress. The Bonita dress is also very flowy and stretchy! I felt great moving about the venue and about eating cake!! The dress was a dream for a bride to wear!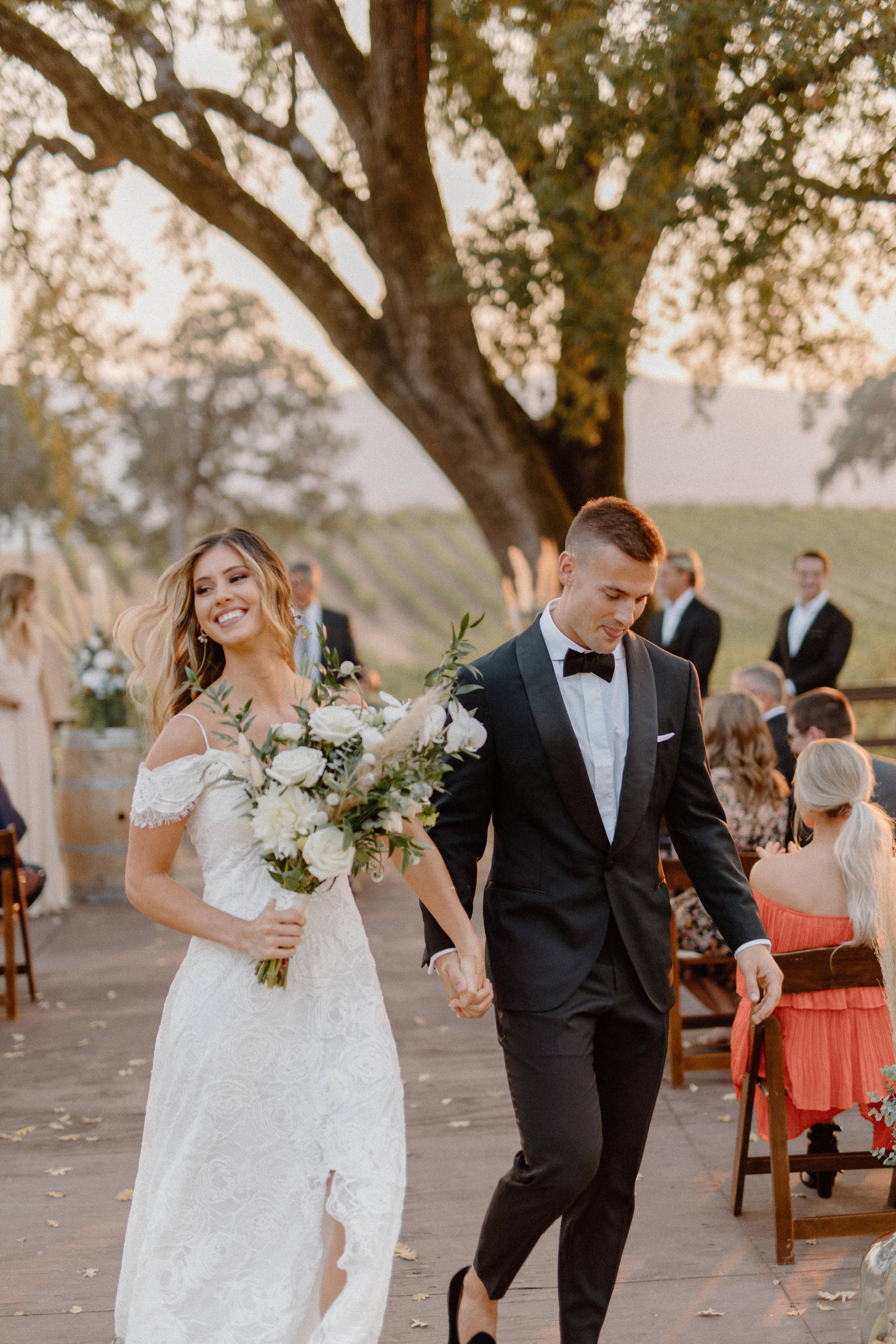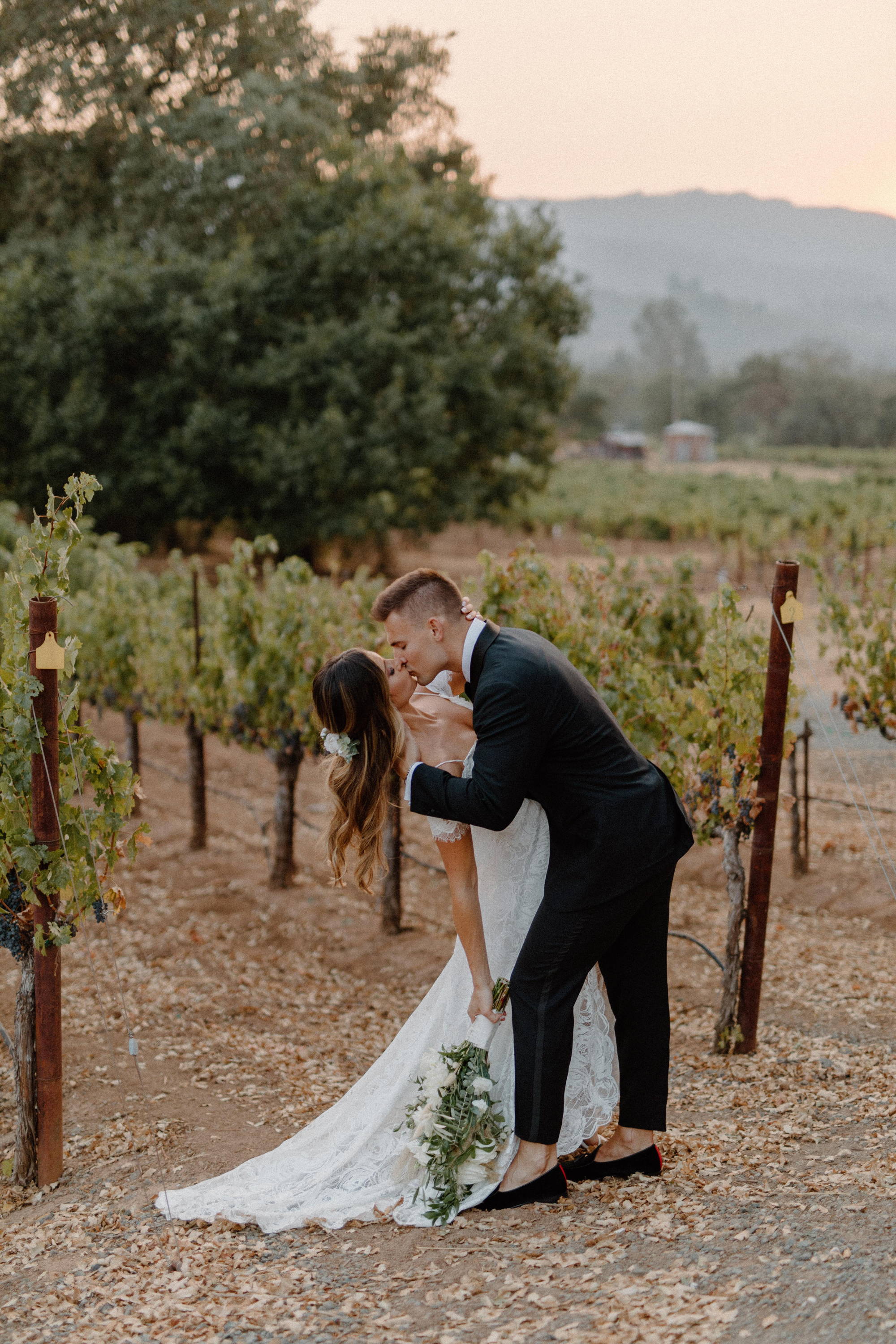 Where did you get married?
Tell us about the location & the style of your wedding day.
Eric and I got married in Sonoma, CA at the most breathtaking winery I have ever seen!! B.R. Cohn was simply a DREAM! I think about it all the time and look back at pictures often. I feel incredibly blessed that I was able to get married there and that our closest friends and family were able to share in the experience with us! Also, I would definitely recommend getting married at a winery! It was so fun to walk the venue, finishing up details while also having a glass of Cabernet! I love a good neutral palette and the winery in late August at sunset was everything! We kept things simple but elegant – I think it was perfect.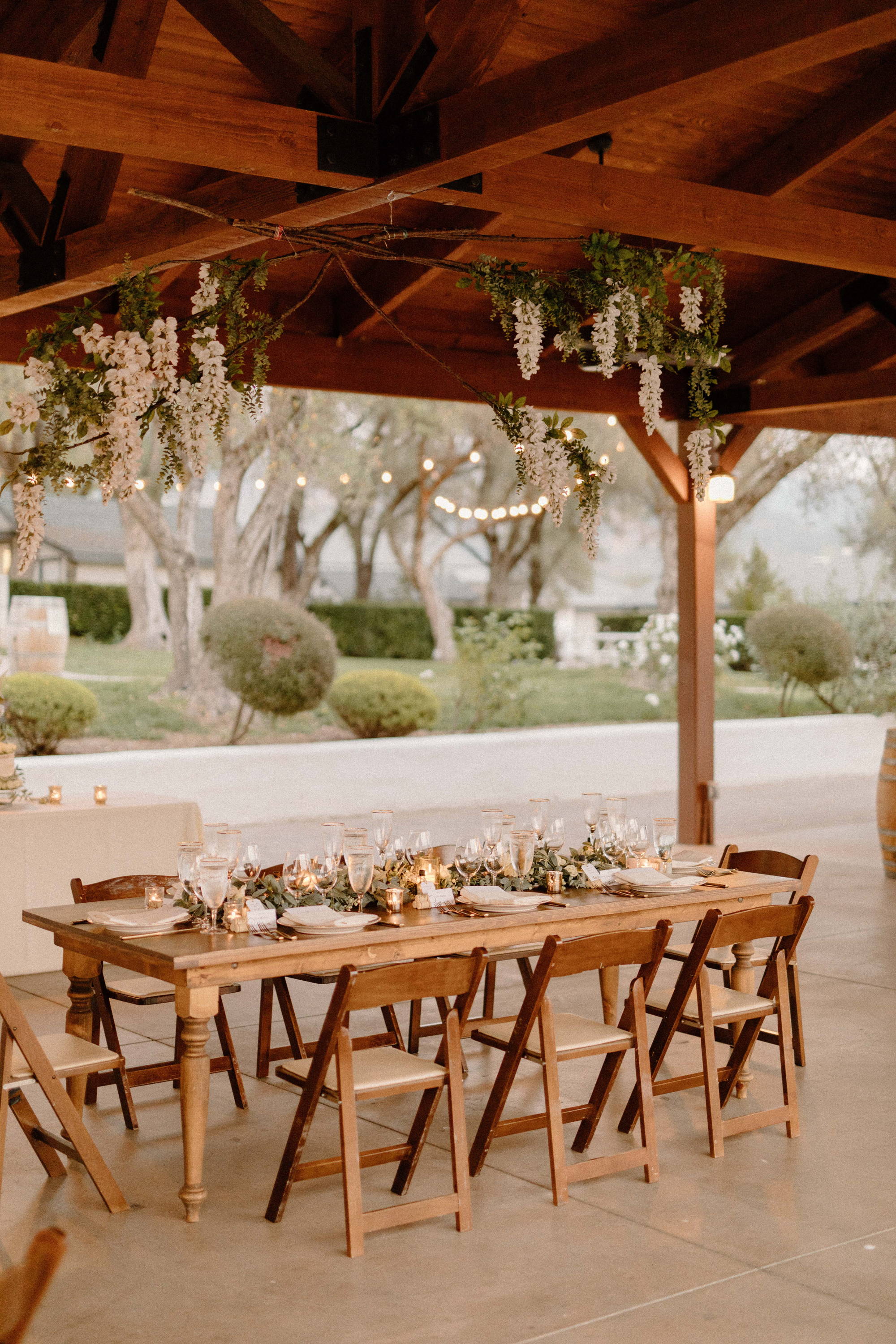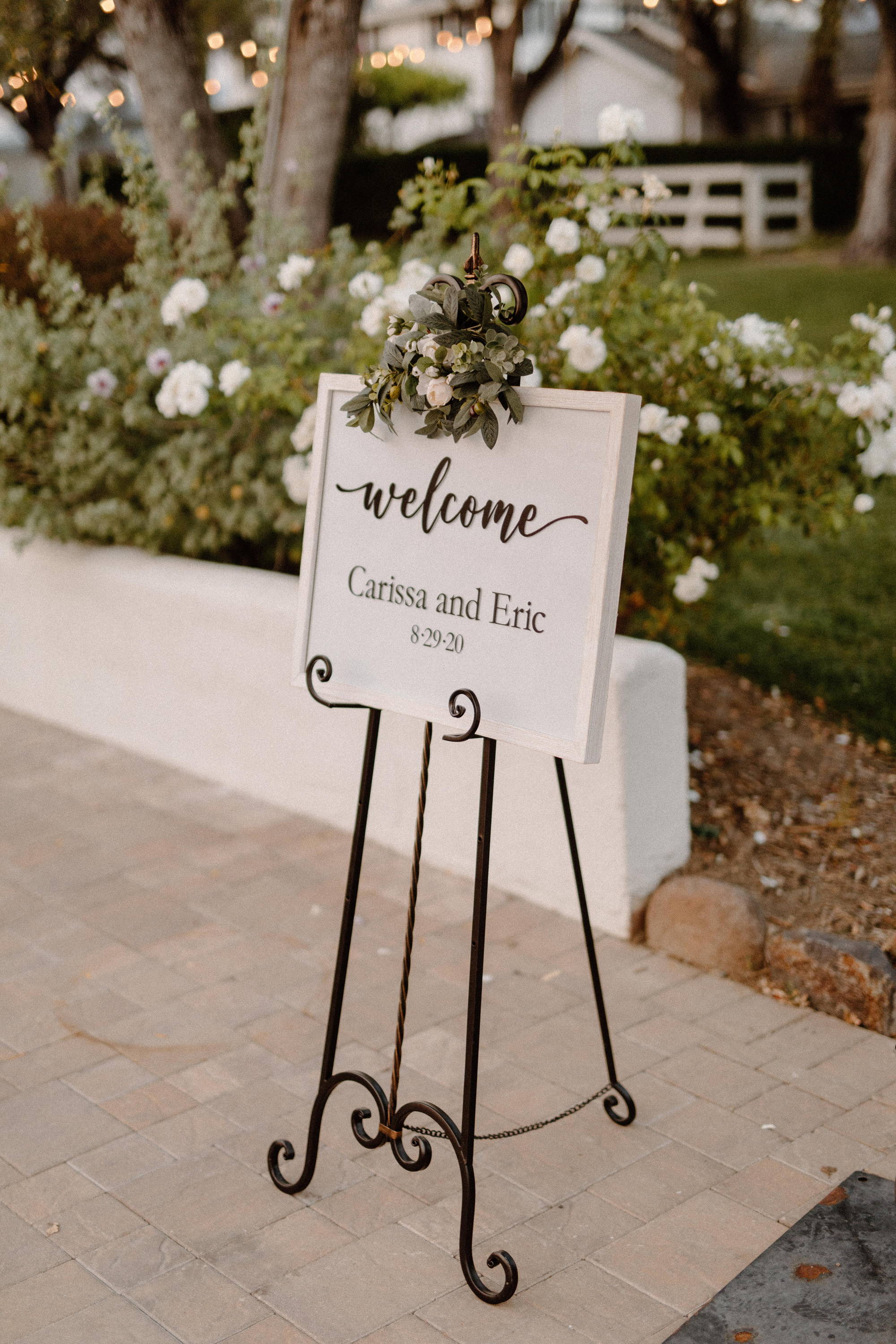 Tell us about your hair and makeup look
and the accessories you chose…
I guess you could say I am particular but also low maintenance! I did my own hair and had one of our friends attending the wedding do my makeup! I knew I wanted my hair down because it would be the best reflection of me! I always thought I would do my own makeup but it was wonderful to have my friend take over on that day. Makeup is her gifting and she knows me well – I really trusted her and she did a phenomenal job! She definitely gave me an elevated look while staying true to me! I had another friend make my hair piece to pin back my hair – I knew a veil wasn't for me so it was my only hair accessory!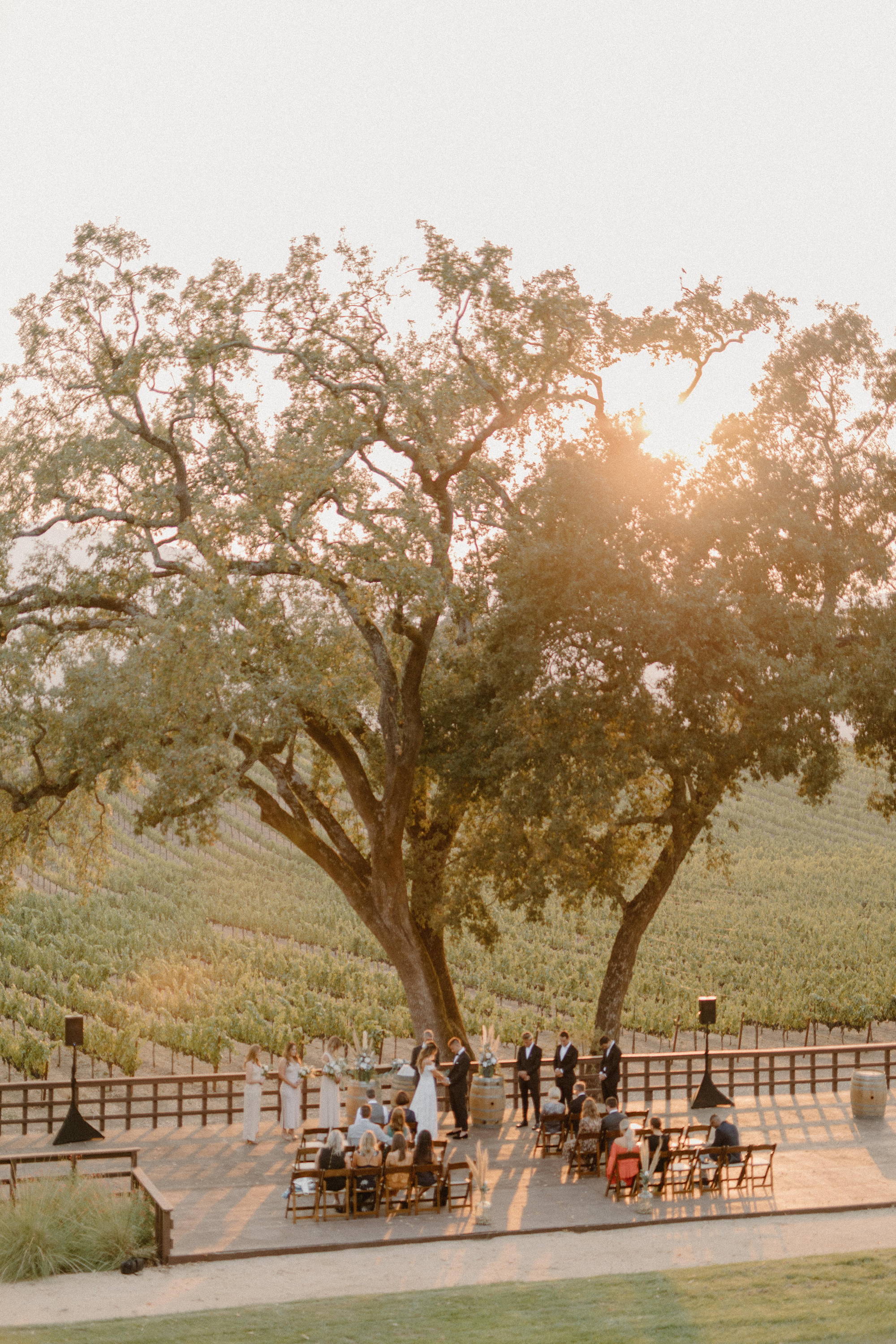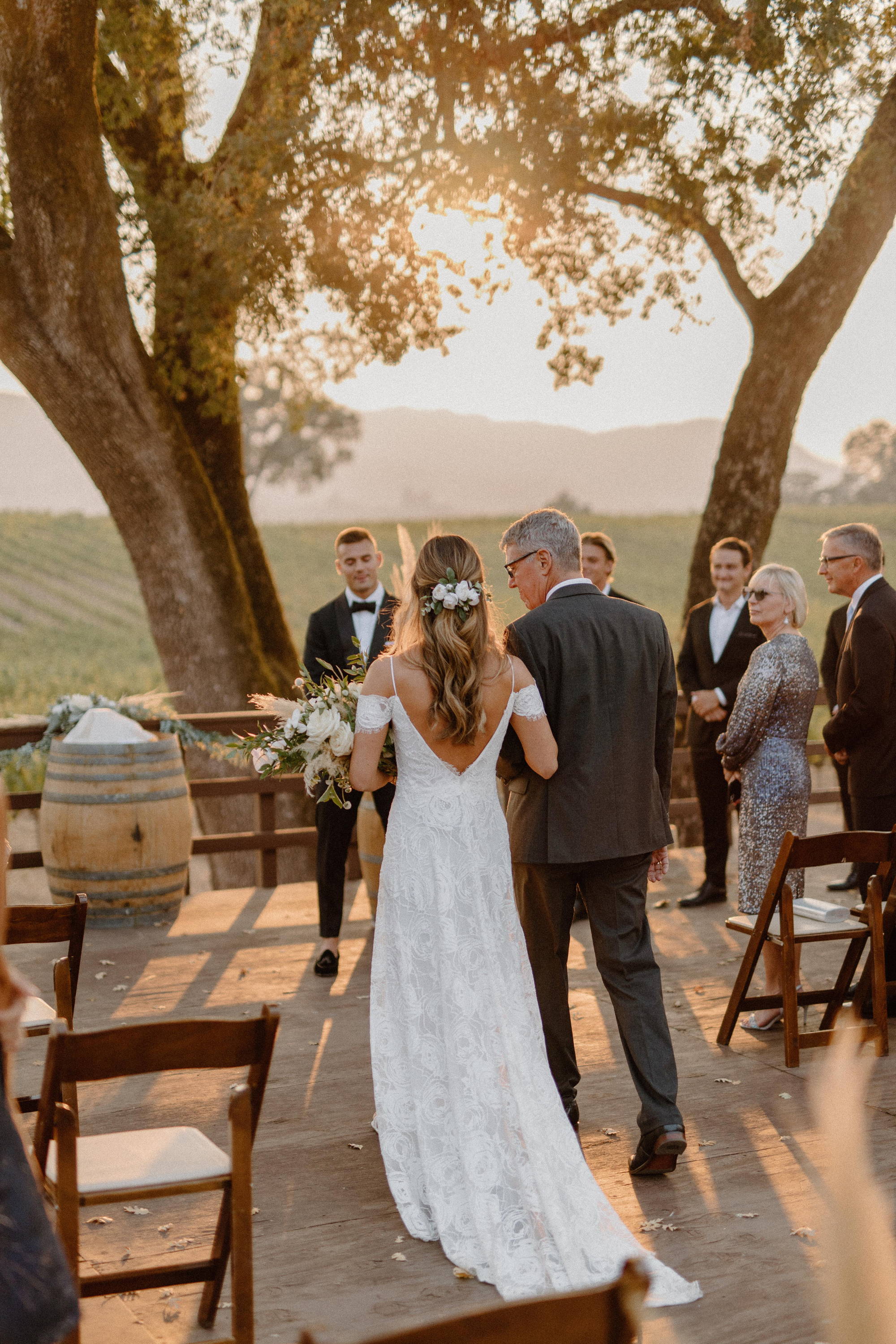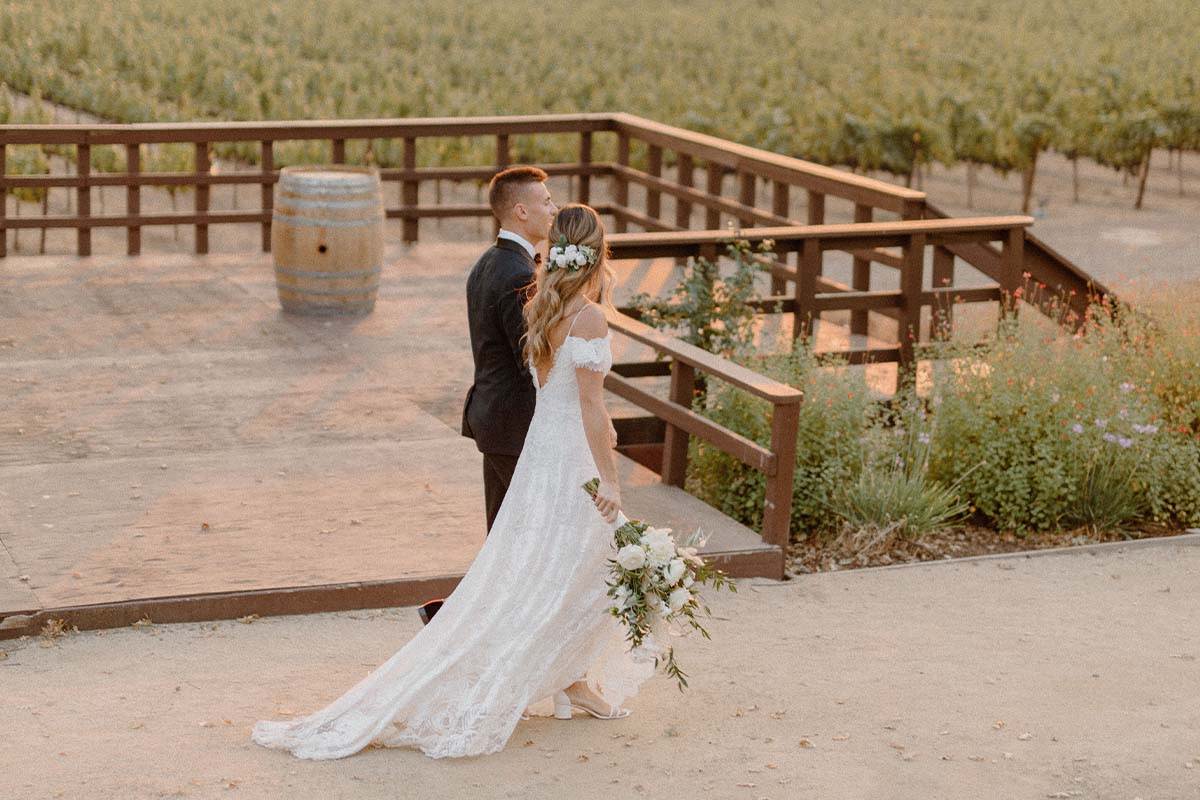 What made your day extra special?
We went through so many hurdles to actually have our wedding come to fruition despite everything crazy and wild going on in the world! The fact that our family and a couple of our closest friends were able to make it meant SO much to us! I also cannot say enough kind words about our coordinator from B.R. Cohn/Vintage Wine Estates (Victoria Campbell) and our incredible photographers (Willow and Ben)! They did so much for us on our wedding day and we are incredible grateful to them!
The funniest moment on the day was…
We used a photo guest book with a polaroid camera. This was a big hit!! Seeing my mom having so much fun taking photos with the polaroid camera was great! And seeing some hilarious photos in our book that we will have forever brings me tons of joy!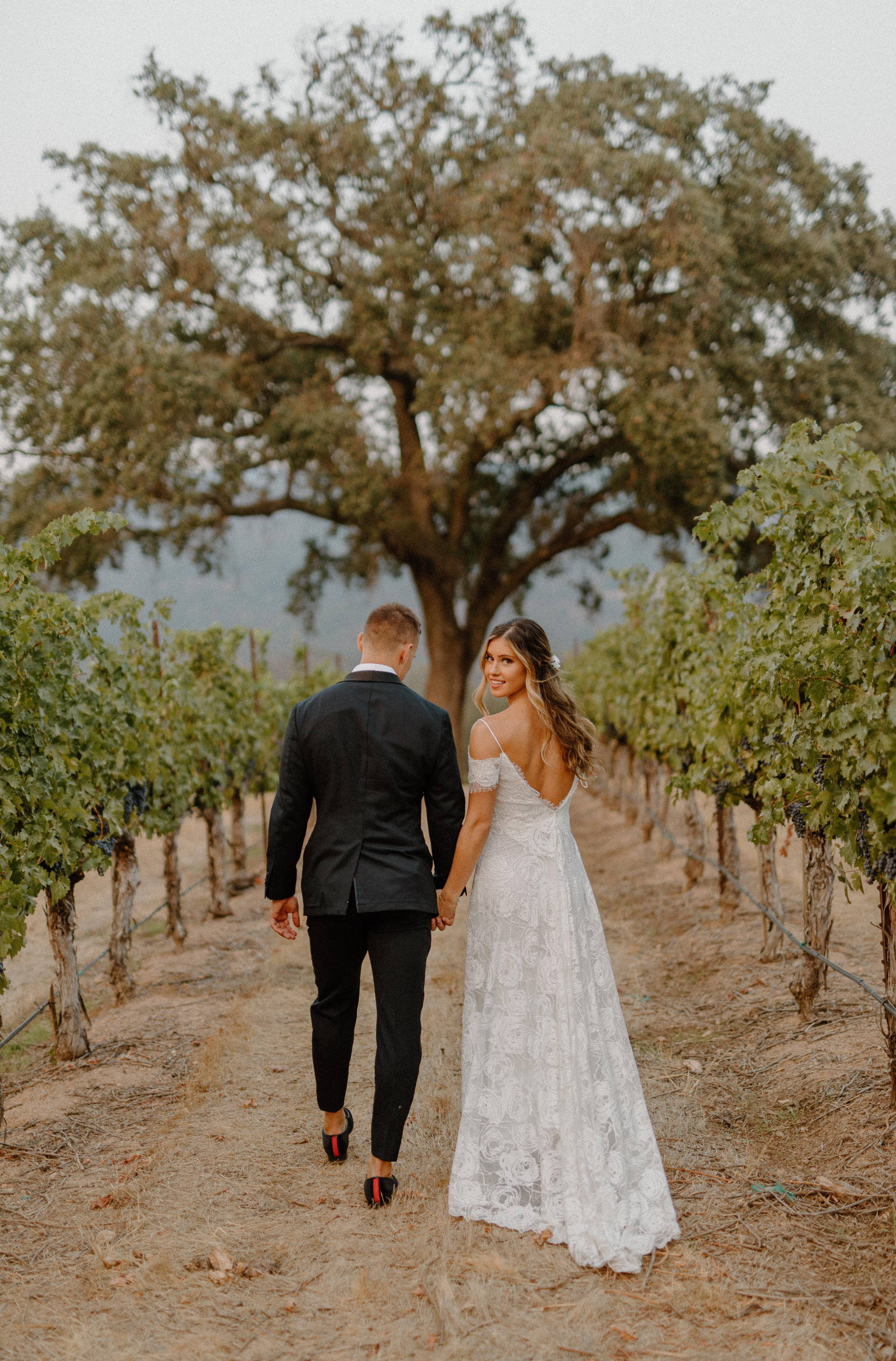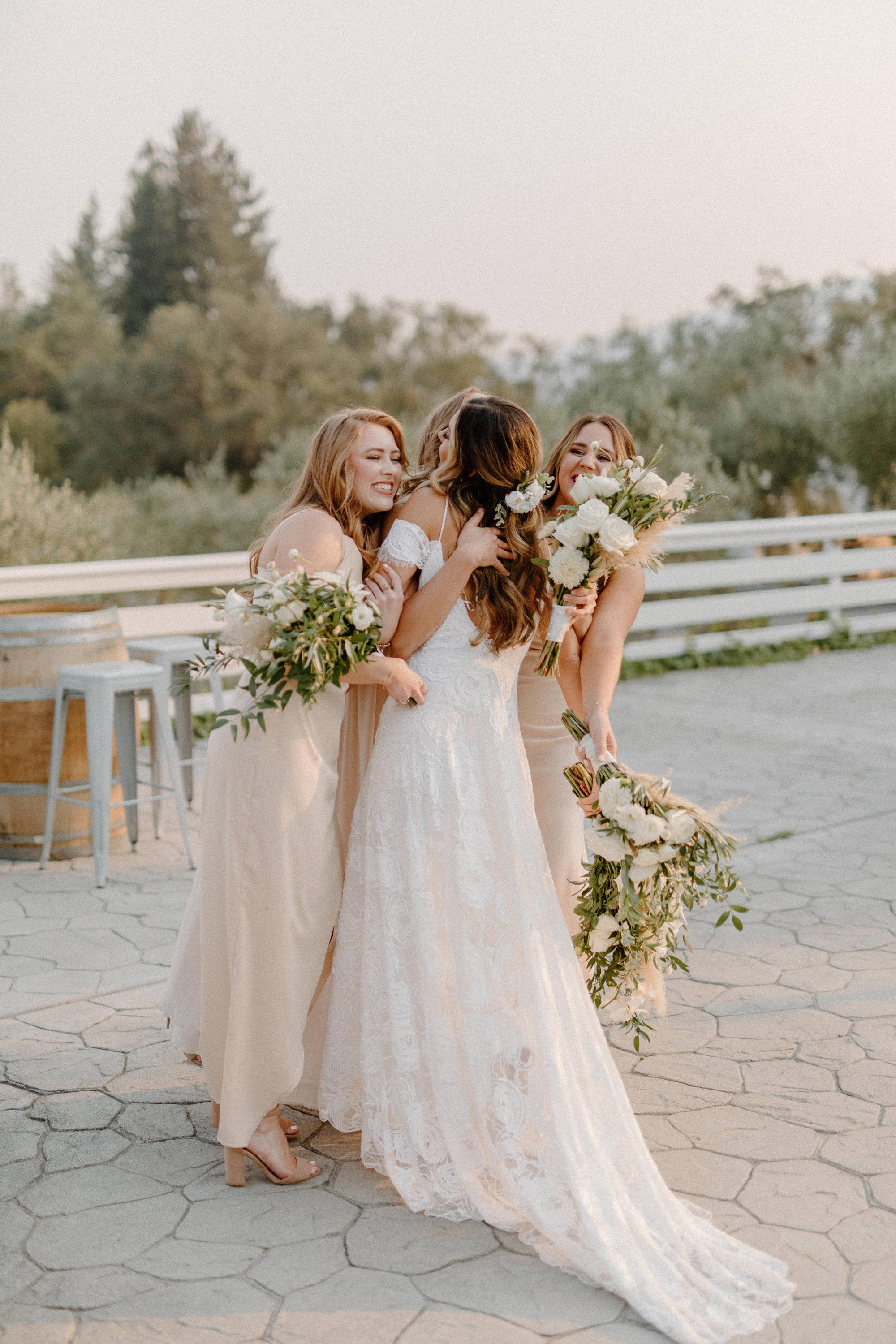 Where will you be honeymooning?
Great question! We are waiting until the world opens back up! We always thought we would honeymoon in Greece but who knows! We stayed a few extra days in Sonoma at the Kenwood Inn and Spa and we simply adored everything about it!
Any last advice or words of wisdom that you can share…
For me, the dress was the one thing about our day that was unique to me! I loved that I selected it, I was comfortable in it and wearing it felt like it was SO me! That gave me the most confidence on my wedding day – I never worried about what anyone else thought about my dress! Being comfortable in your dress makes everything else going on around you more enjoyable!! The Bonita is SO comfy!