Will & Steph in the Behati
Will & Steph had a romantic seaside ceremony in Noosa Heads, overlooking Laguna Bay. Steph wearing our Behati Gown and Loyola Veil, very fitting for their beautiful garden wedding venue.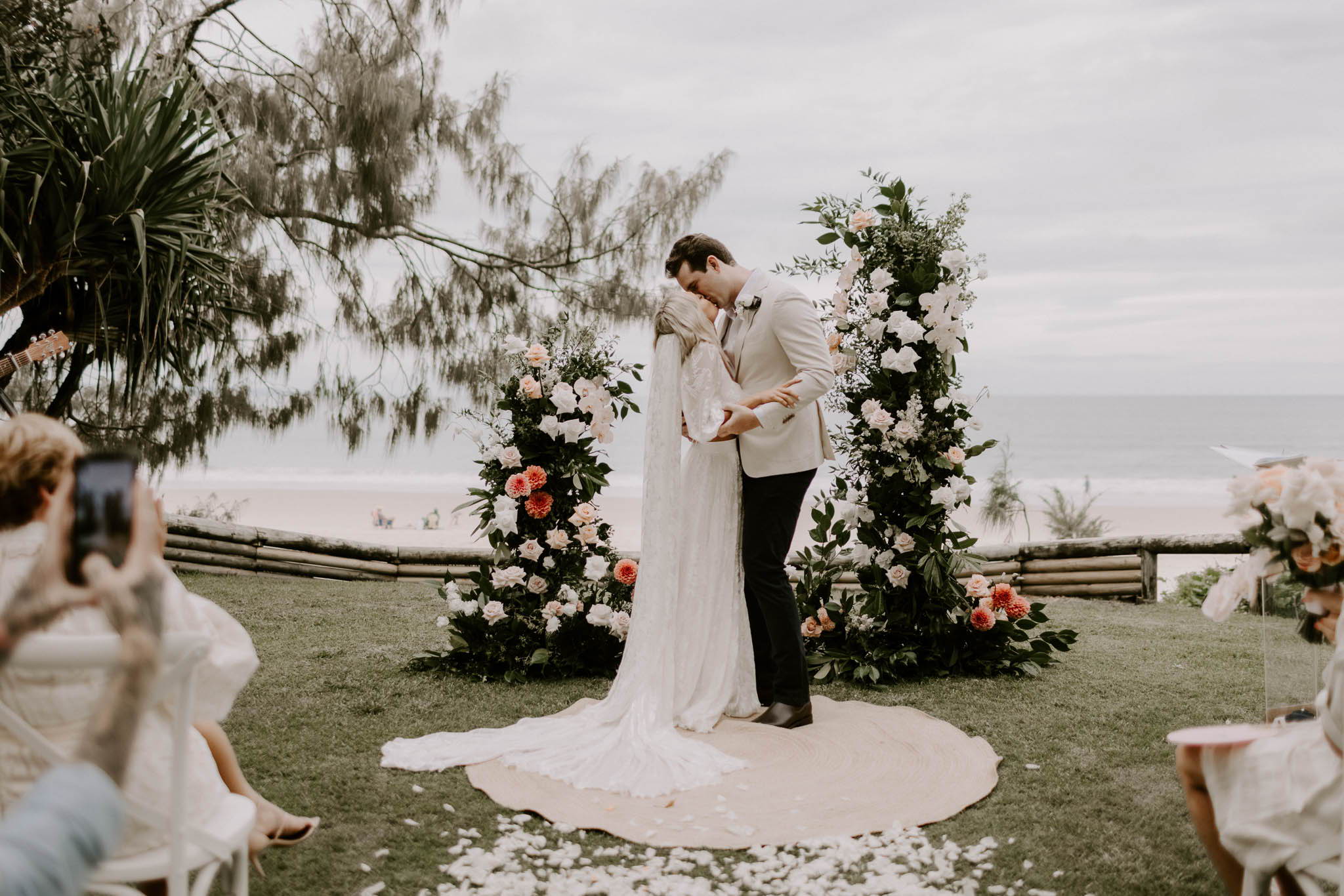 What is a Grace Woman to you?
Someone who is comfortable in their own skin and lights up a room with their natural beauty coming from inside and out!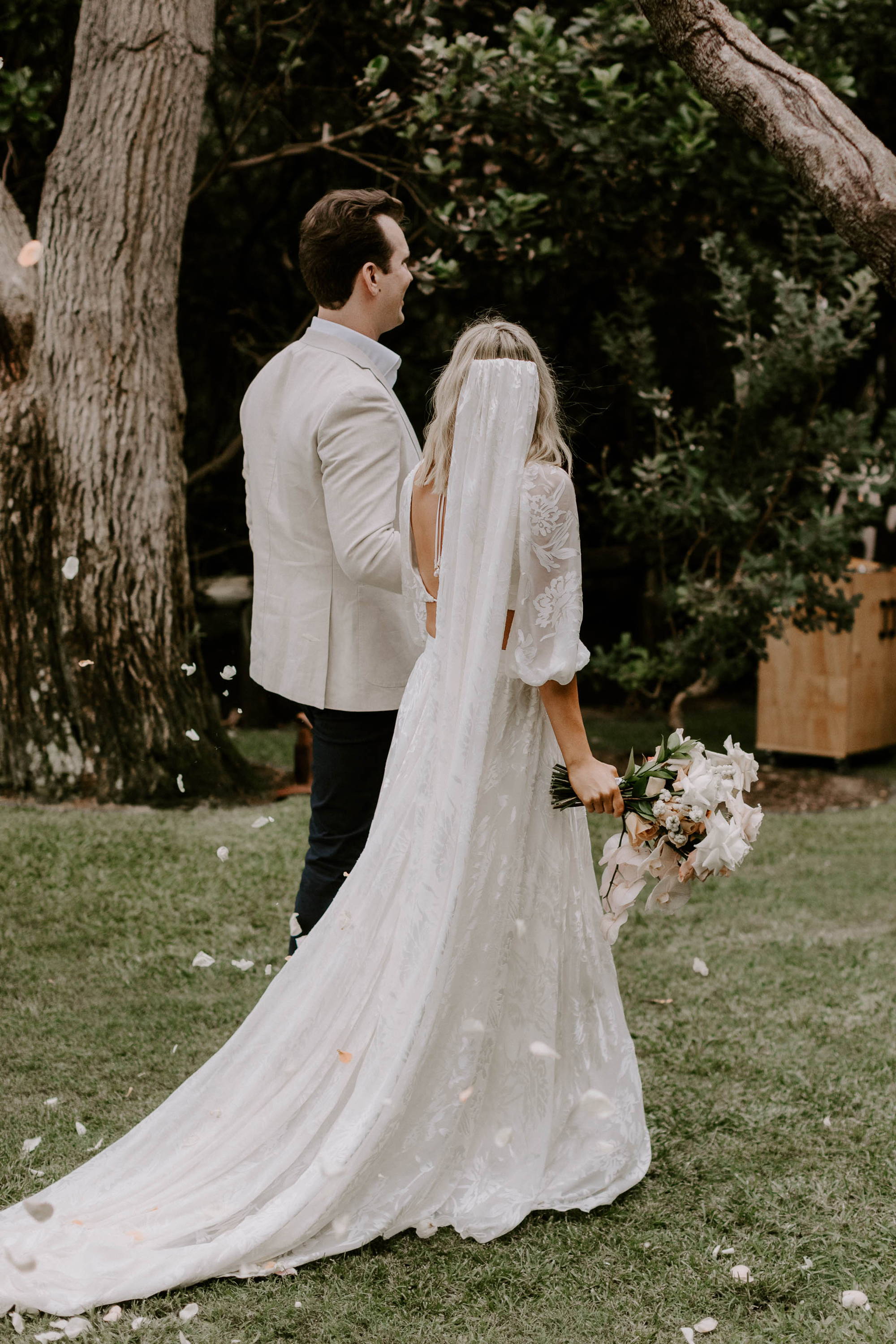 Which Grace dress did you choose and how did you know it was 'The One'?
I choose the Behati gown. I wasn't comfortable wearing a two piece on my wedding, but as soon as I tried it on my mum and I looked at each other and new it was perfect. It had so much class to it, especially with the gorgeous train.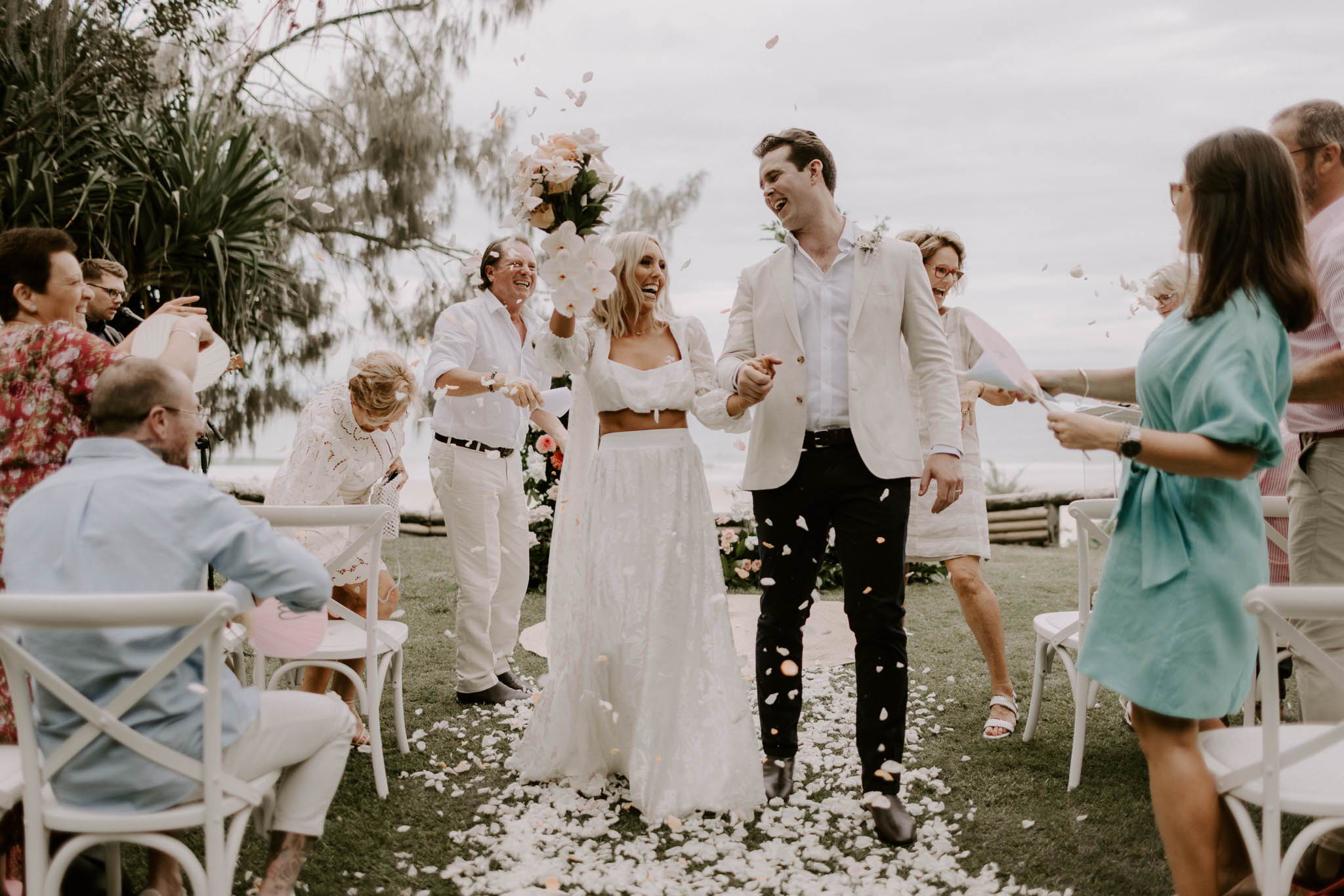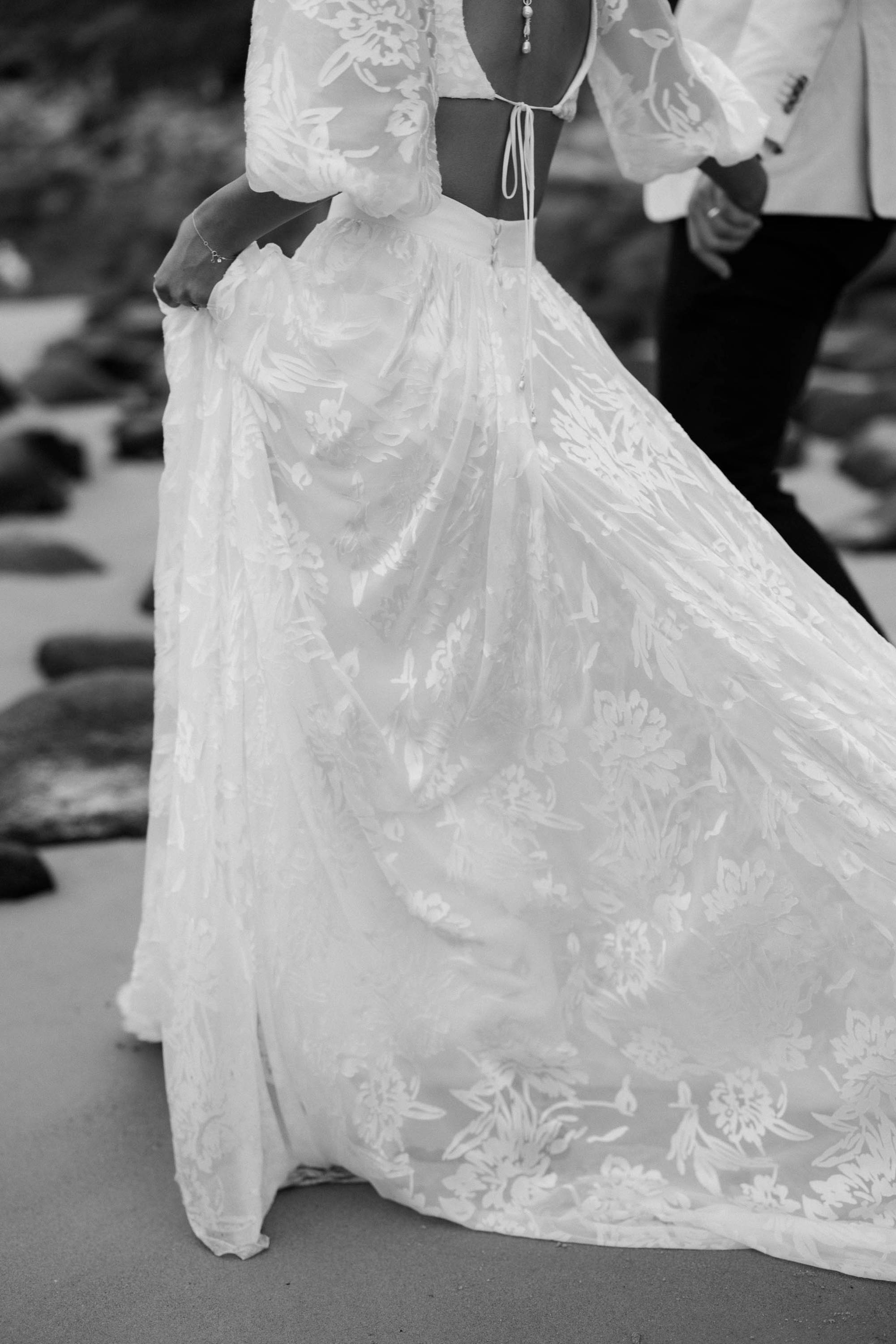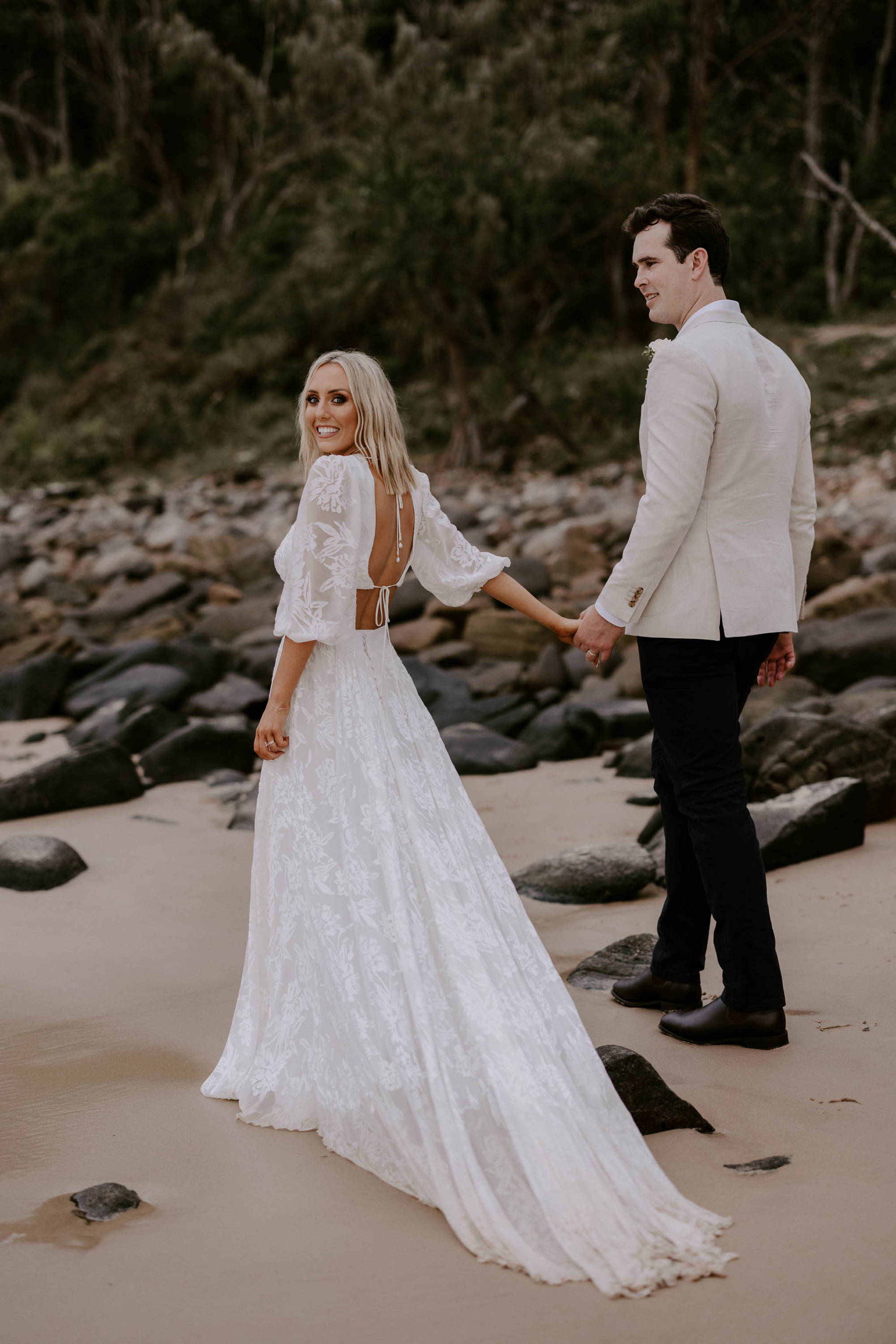 Tell us about your experience when you found your dress, did you buy your wedding dress online or in one of our showrooms?

I actually already had purchased a dress however I had it altered and it was too short and I didn't love it. Mum and I made an appointment with Grace Loves Lace in Melbourne. The dress was delivered within 5 weeks and it was better than I could have ever dreamed of!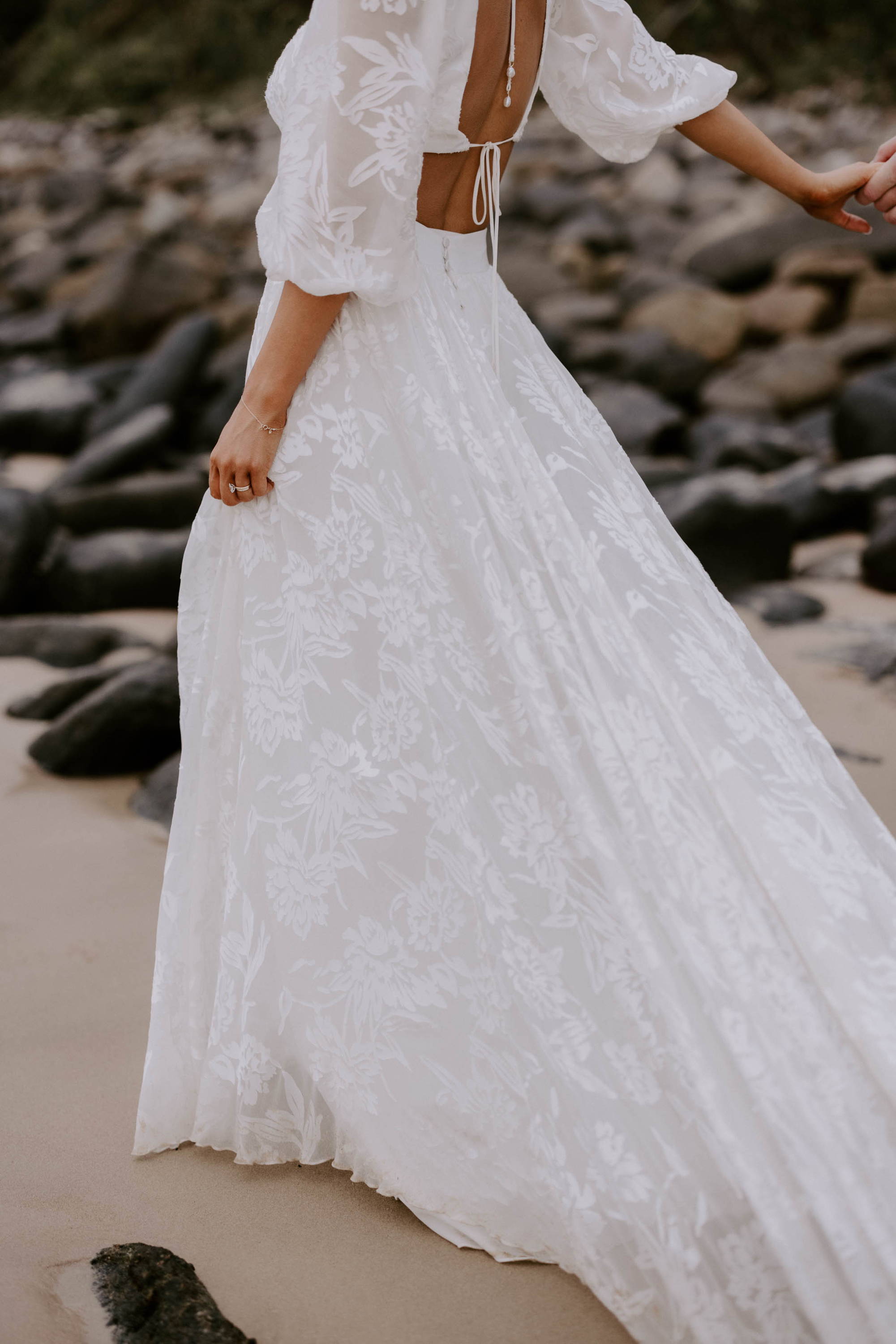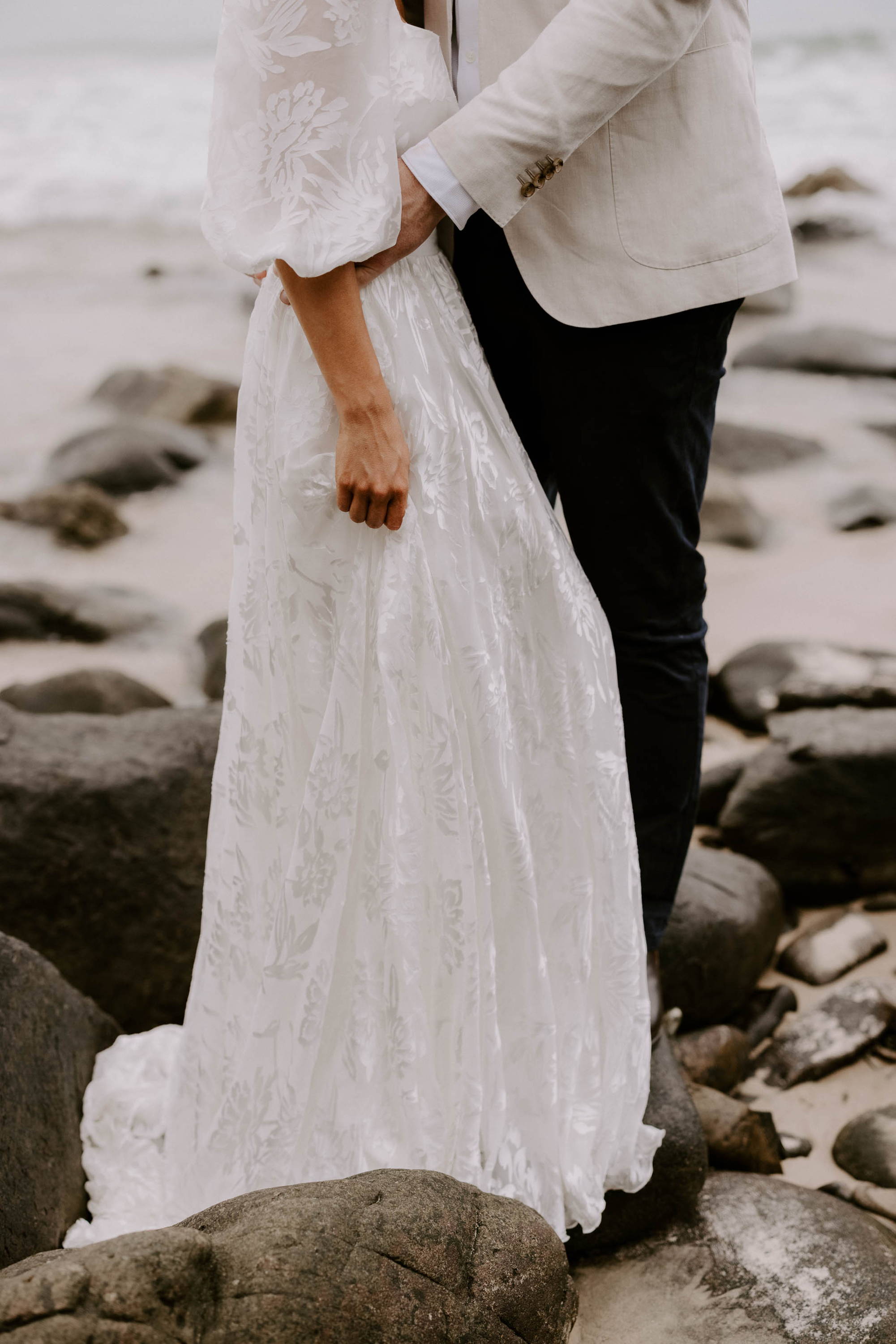 How did you feel in your dress on the day?

I felt amazing in the dress! It matched the scenery and compliment my figure perfectly. The dress was also very comfortable and I felt relaxed in it all day.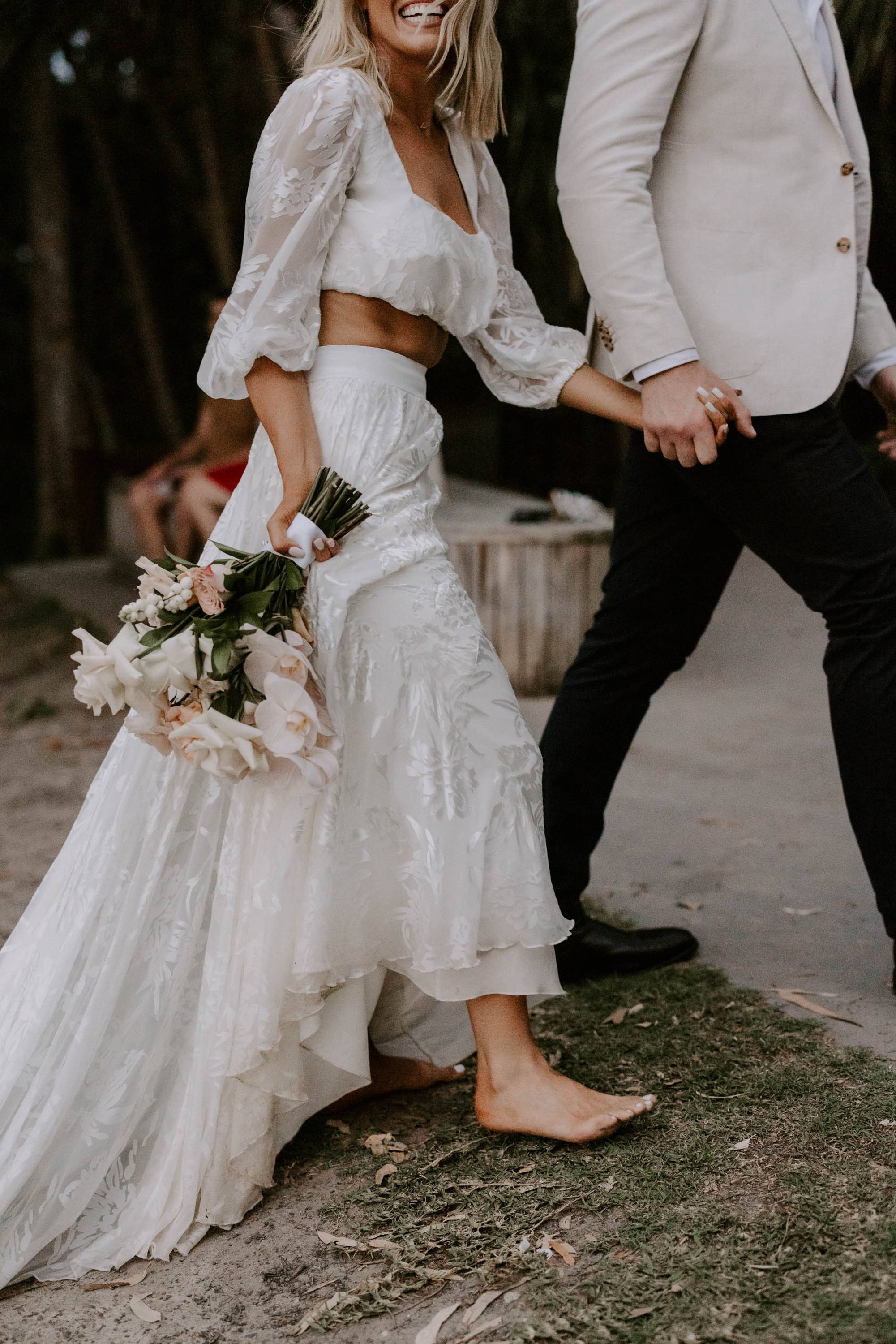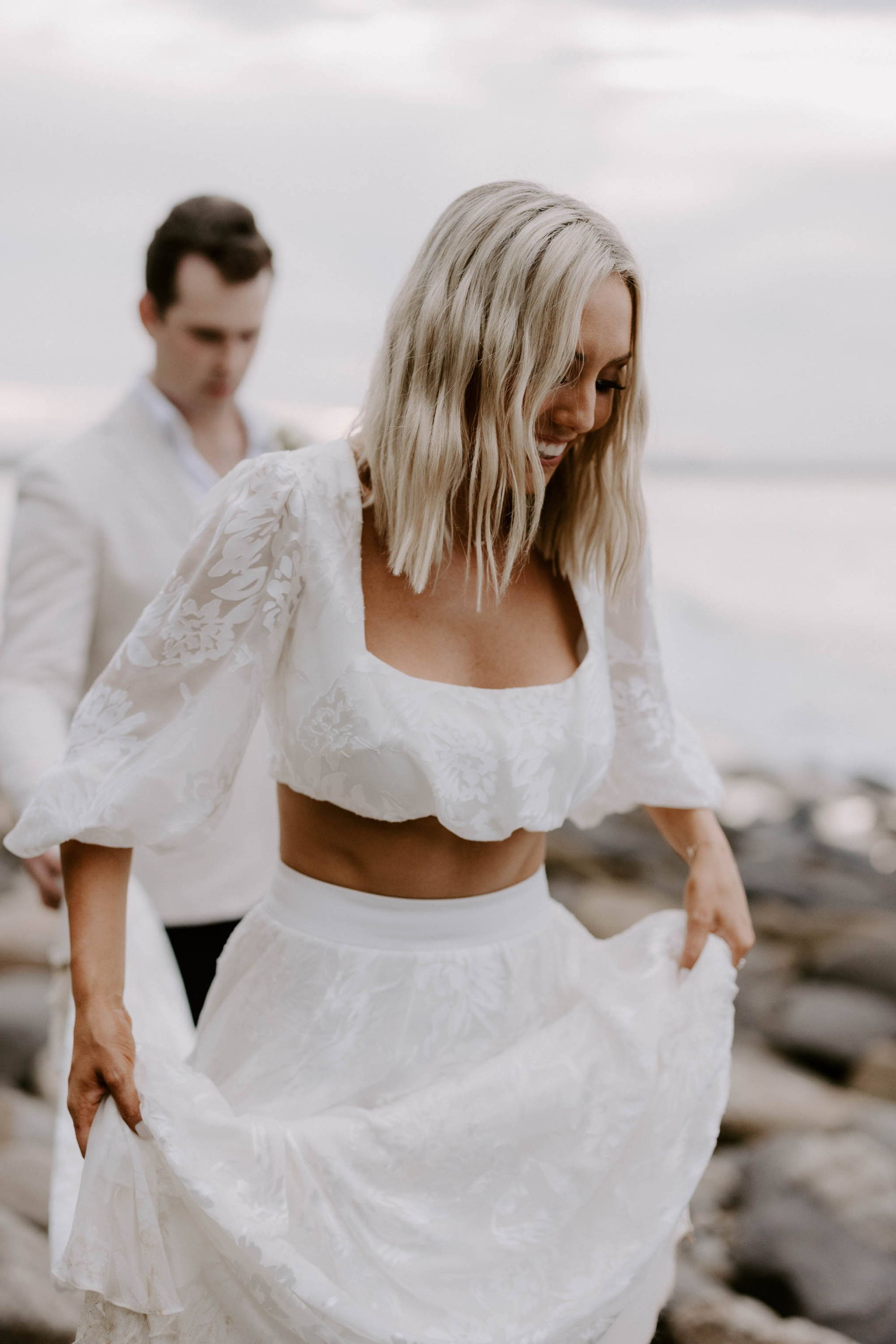 Where did you get married? Tell us about the location & the style of your wedding day.

We got married at Casuarina gardens at Noosa Heads. The location was based within a grassy opening overlooking Laguna bay.
The style of the wedding was fitting to the surroundings and blended into the backdrop of the natural colors of the ocean and the greens and browns of the grass and trees.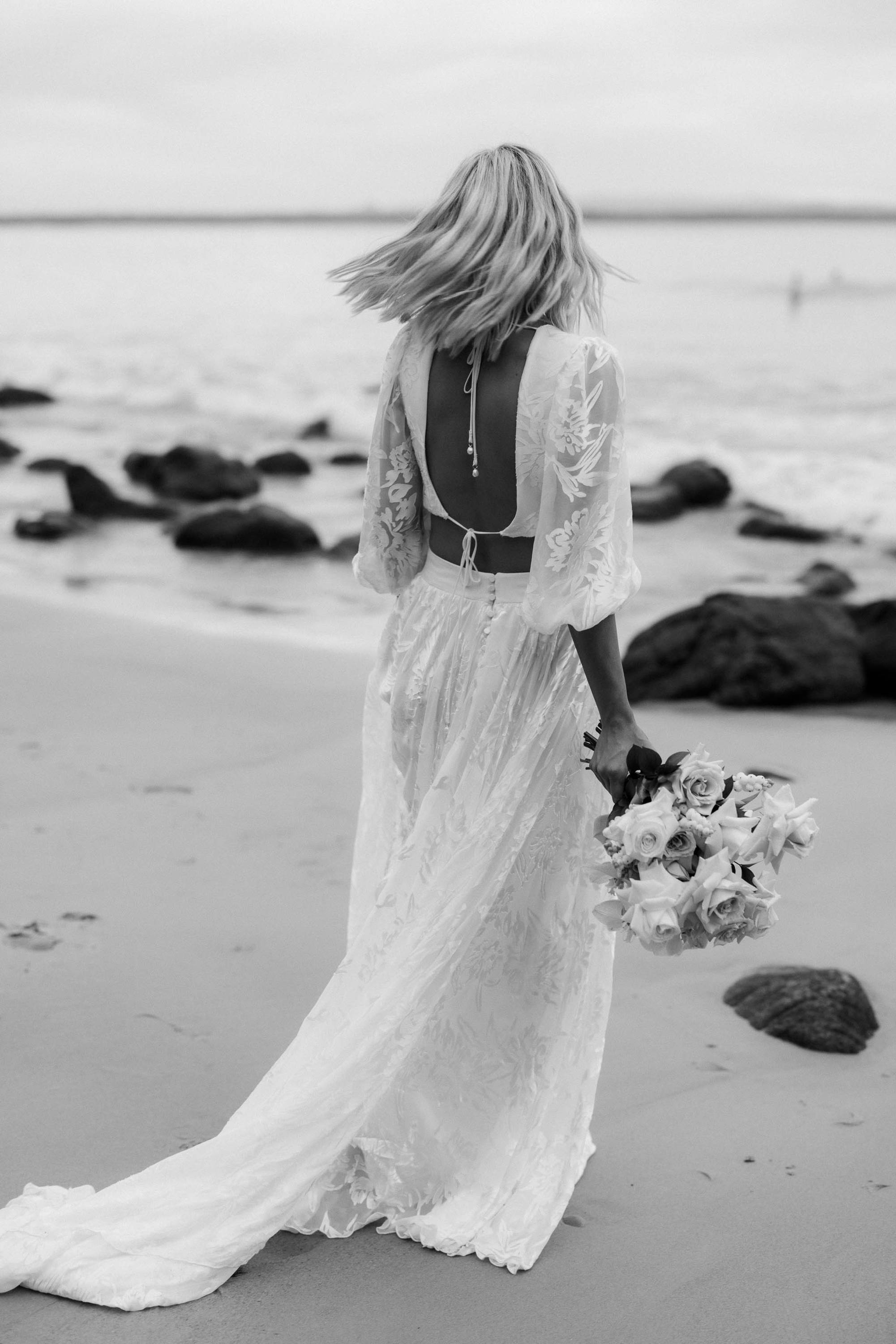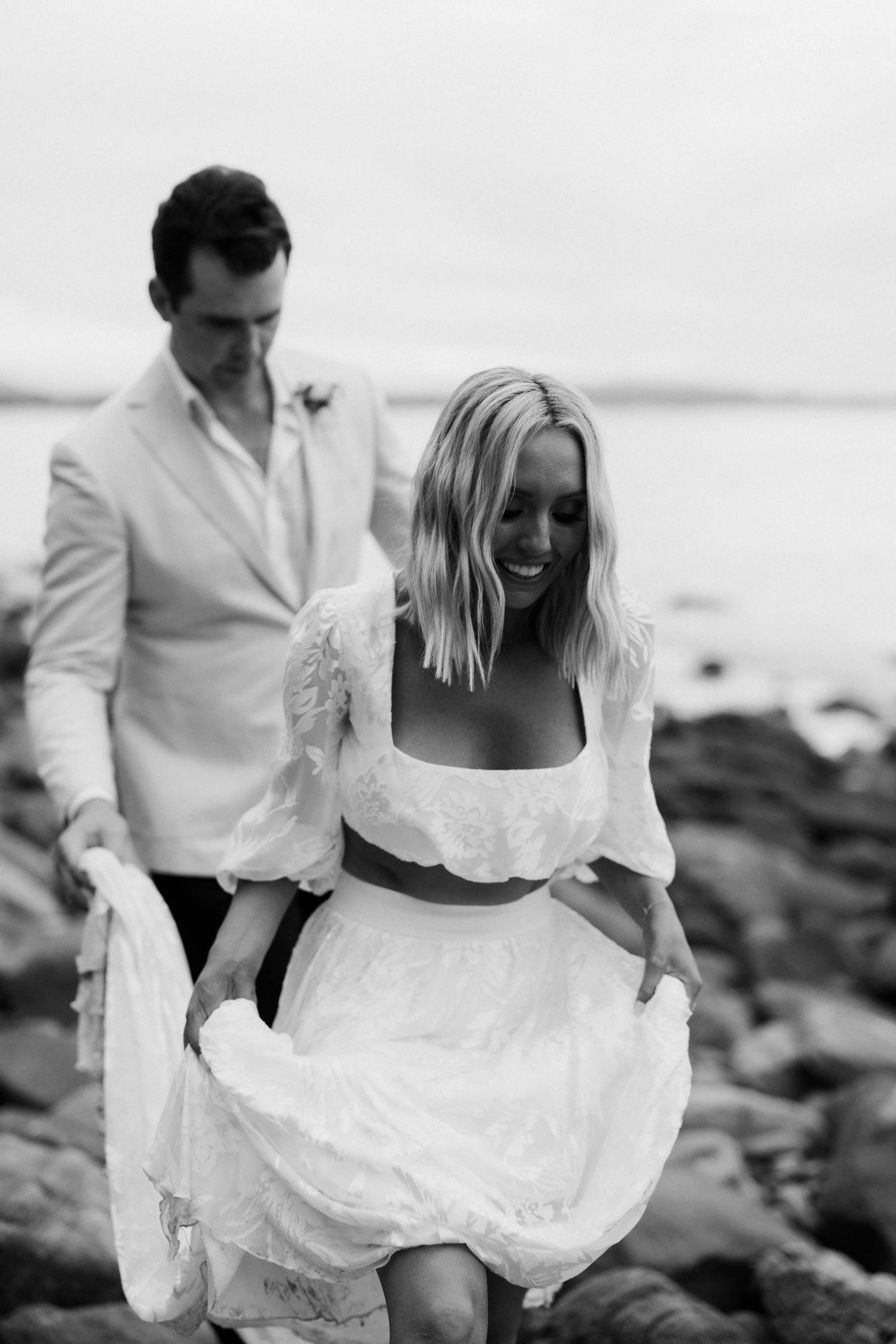 Tell us about your hair and makeup look and the accessories you chose...

Hair and makeup were the only two wedding suppliers we flew up with us due the existing relationships I had with them and the trust I had in them providing the natural look I was after. The accessories I choose were a fine gold Necklace & bracelet from By Charlotte, again I wanted to keep it simple and not to take away from my dress.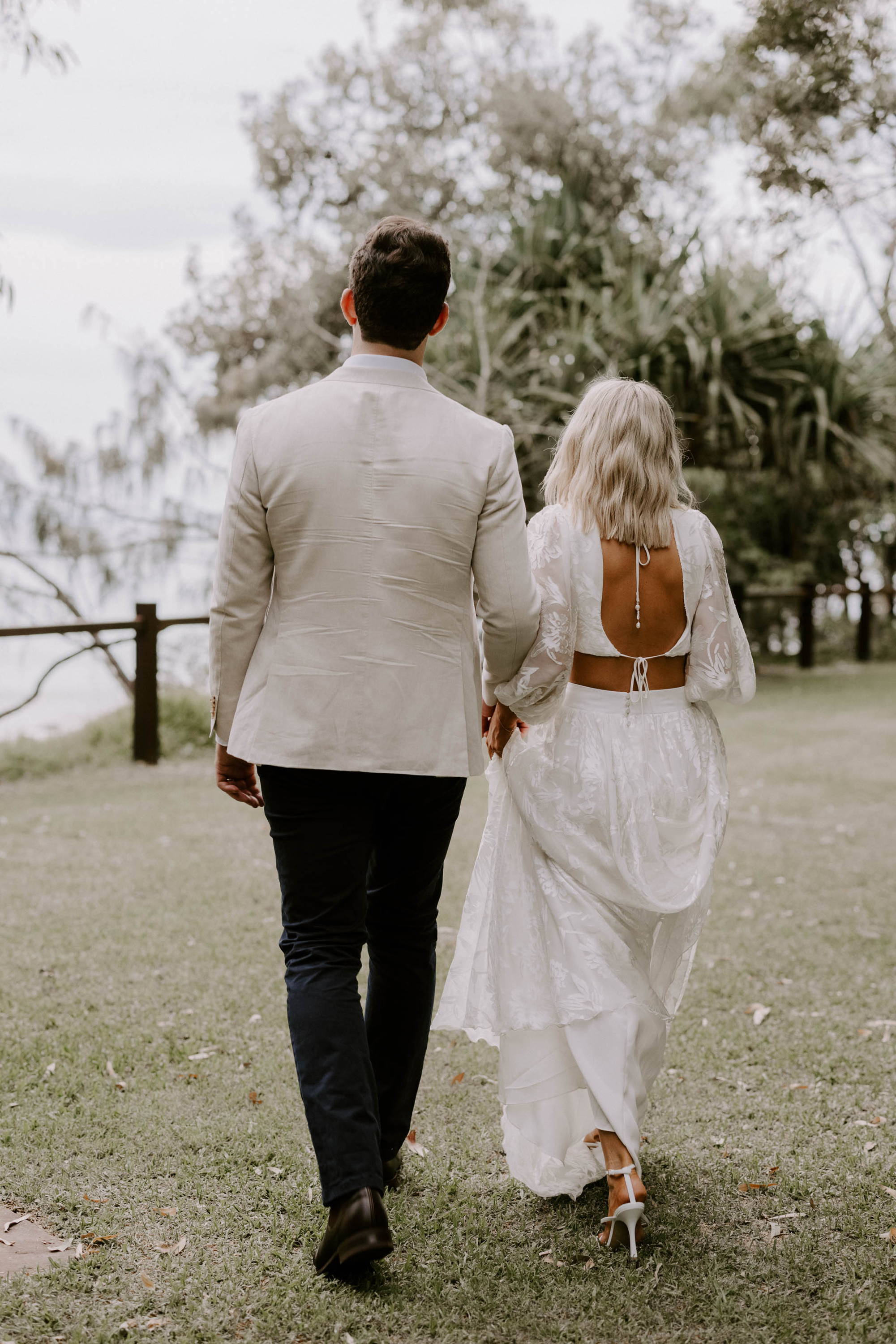 What made your day extra special?

We hadn't all been together with our families for a year due to the pandemic and we were coming from three different states, so it made the day extra special having everyone together.
The funniest moment on the day was…
On the night before, Will was supposed to practicing his reception speech however decided to go fishing instead off our secluded private jetty. Will caught a great big ugly Eel and it bit him on the wedding ring finger! The next day Will's finger had stolen up quite badly and we were afraid I wouldn't be able to put his ring on his finger at the ceremony.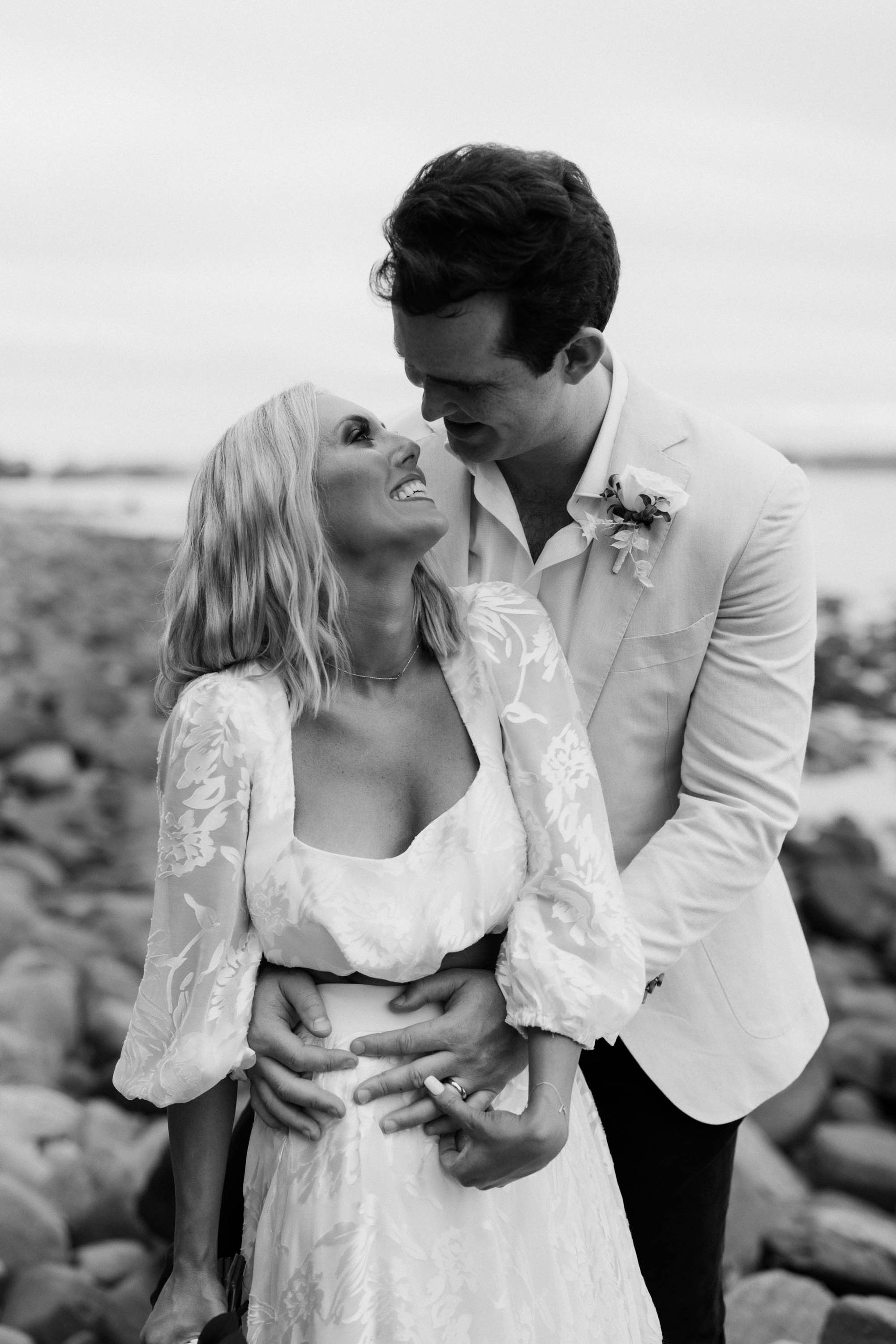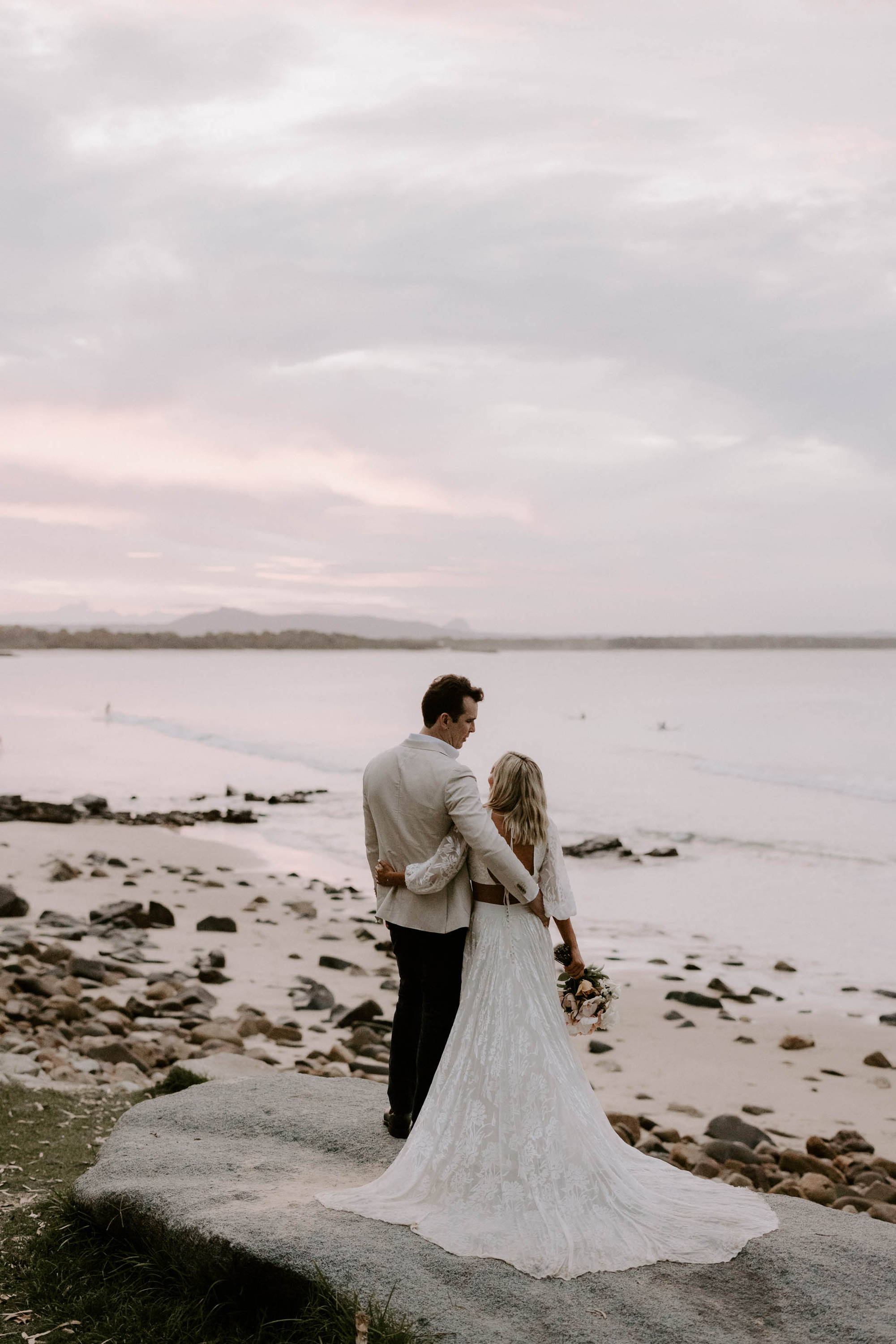 Where will you be honeymooning?

We had our beautiful honeymoon over Easter a month after the wedding. It started with a stay at the luxury resort "Qualia" located at Hamilton Island, QLD. It was the most gorgeous and relaxing place we have ever been!! Our private villa overlooked the magnificent Whitsunday Islands and included a private plunge pool and our own buggy (which we zoomed around the resort and the island!). The dining experience and in room booking services were amazing. The highlights included a breathtaking helicopter ride to Whitehaven Beach and simply relaxing by their infinity pool overlooking the water on Qualia's private "pebble beach". Following 4 days at Qualia, we then made our way further North to Port Douglas and stayed at Peppers Beach Resort. Our stay was lovely and the food divine. During our stay, we hired a private boat on the Daintree river for a day where I caught a barramundi on my 1st cast!! All in all our honeymoon was amazing and the best trip we have ever had!
Any last advice of words of wisdom that you can share with future GRACE brides...
Trust your wedding planner if you have one, this may be your first wedding but it's their 100th, they have the experience and know what they are doing. On the day, the planning is over so just enjoy it, it goes so fast and if something doesn't go to plan, forget it.



THE GROOM WORE: MJ BALE, RODD & GUNN FOR RECEPTION AND SHOES R.M. WILLIAMS
VENUE: Casuarina Gardens Noosa Heads, QLD, 4567