How To Accessorise Your Wedding Gown
We've rounded up our favourite accessories that are sure to keep you comfortable and chic on your special day.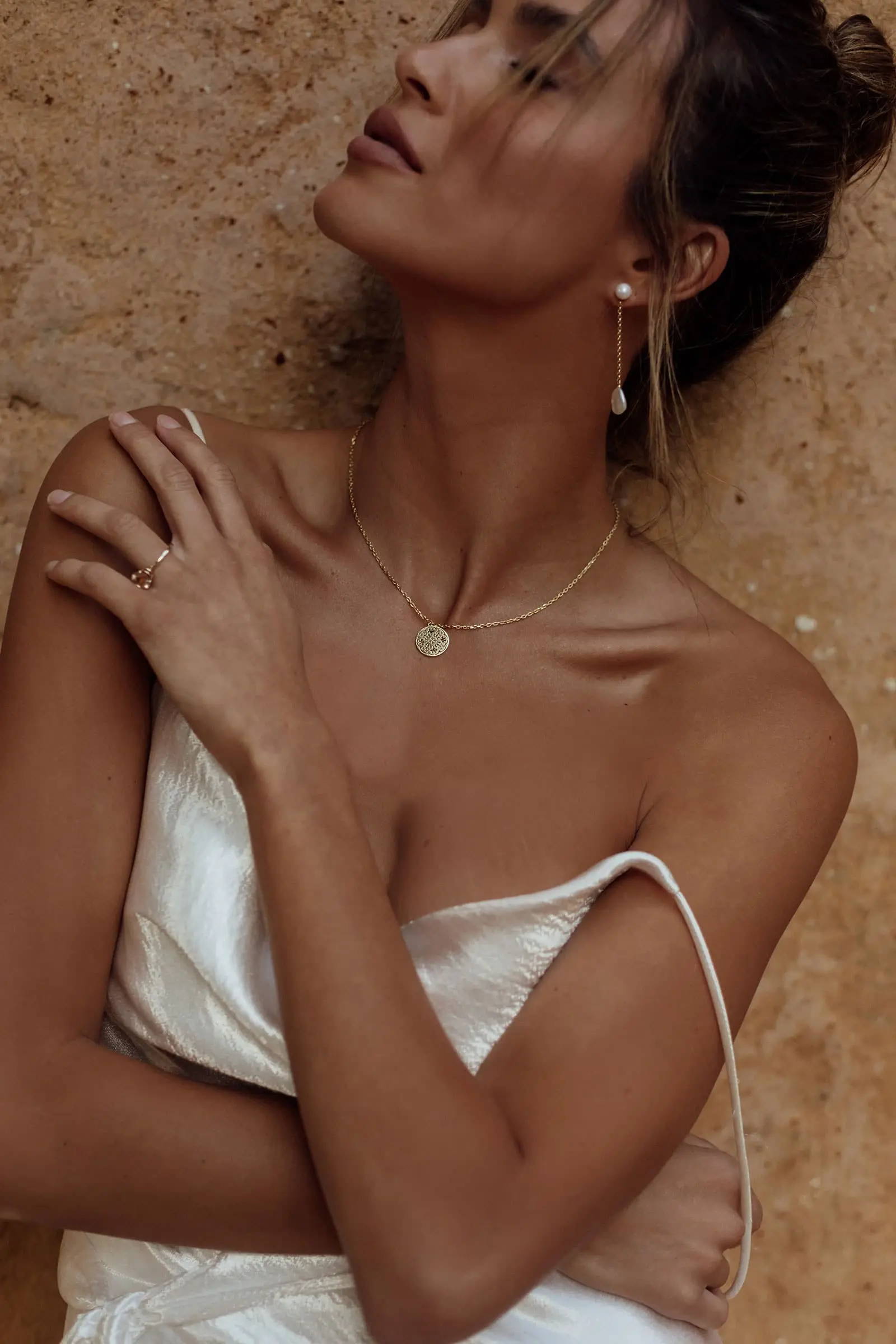 Finding your wedding gown is one thing, having to accessorise it is a whole other ball game. Finding luxurious, functional and practical accessories is tough; you can easily find yourself wearing earrings too heavy, shoes too uncomfortable, or just simply forgetting something as little as sun protection.
We've rounded up our favourite accessories from our range of accessories that will keep you looking chic on your special day.
Earrings are the ultimate compliment to your perfect dress. They should complement your look, not dominate it, and we strongly believe refined and effortless is the way to go. Our favourite go-to's are the Felipa earrings. Available in 14ct gold vermeil or sterling silver, the lightweight Felipa Earrings are a modern addition to your wedding look.
This earring is lightweight and easily goes with any wedding gown – the elevated detail of the freshwater pearls adds a little something special, too. The chain is removable so if you just want to rock a pair of cute pearl studs, you can do that easily with the Felipa style. We've seen lots of brides' swap from drop chain to stud between reception and ceremony – two earrings in one!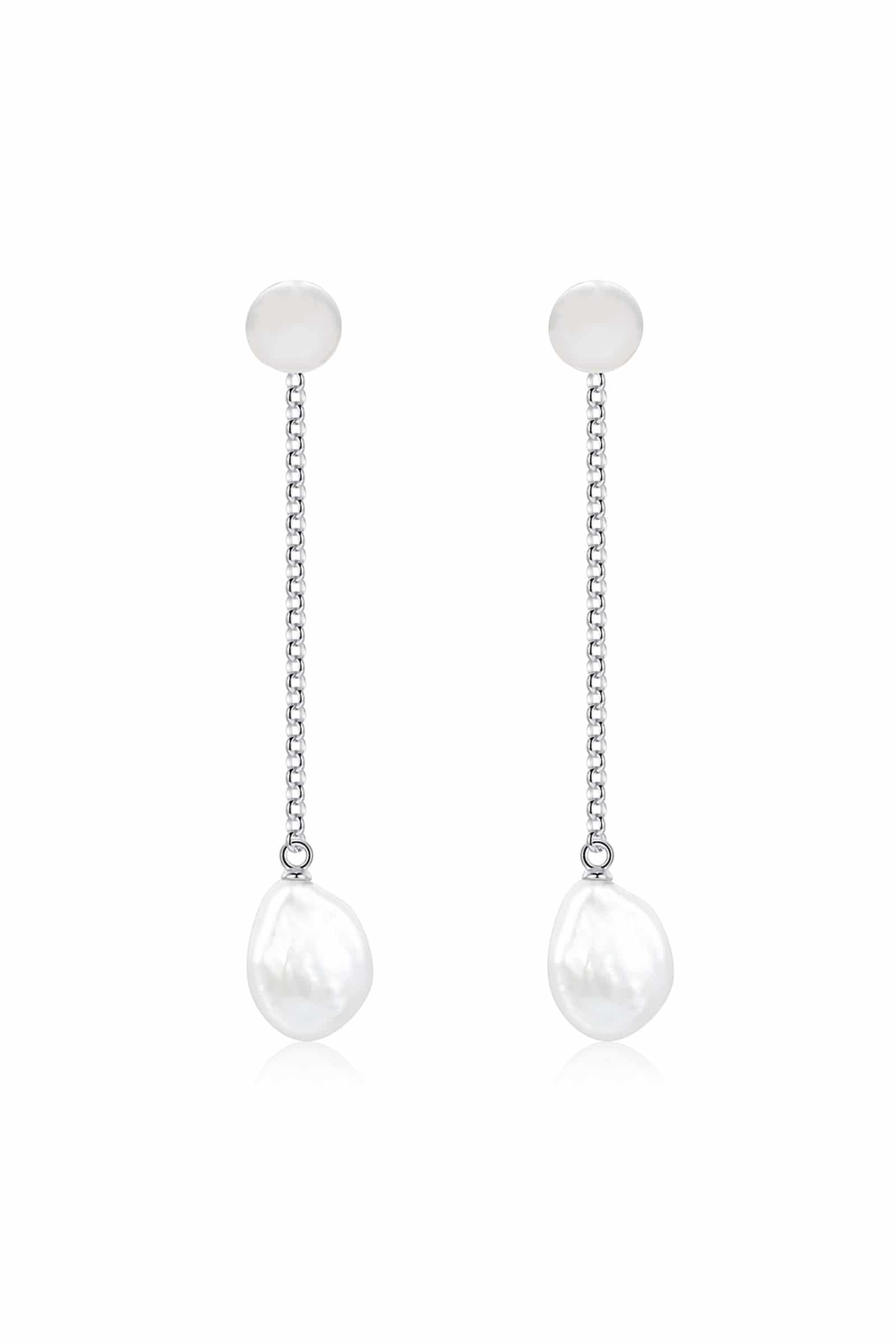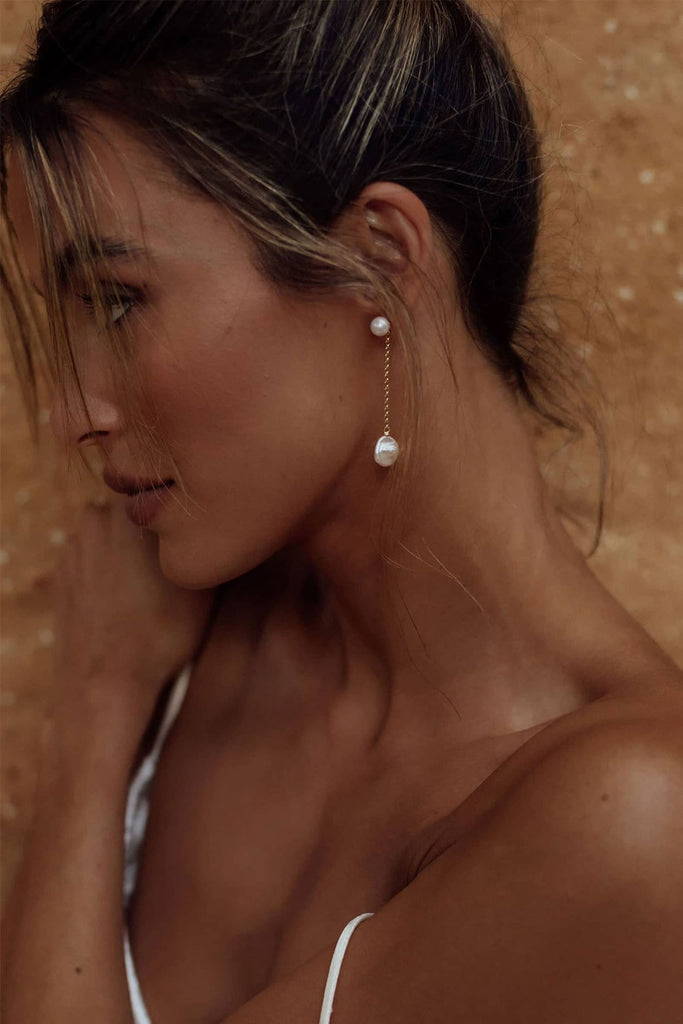 ---
An effortless blend of simplicity and elegance, our stunning Abella Earrings feature a uniquely crafted open hoop with a round freshwater pearl. Available in 14 karat gold vermeil or sterling silver, these structured drop earrings exude an effortless elegance that instantly elevates your look, and pairs beautifully with all our GRACE gowns. 
---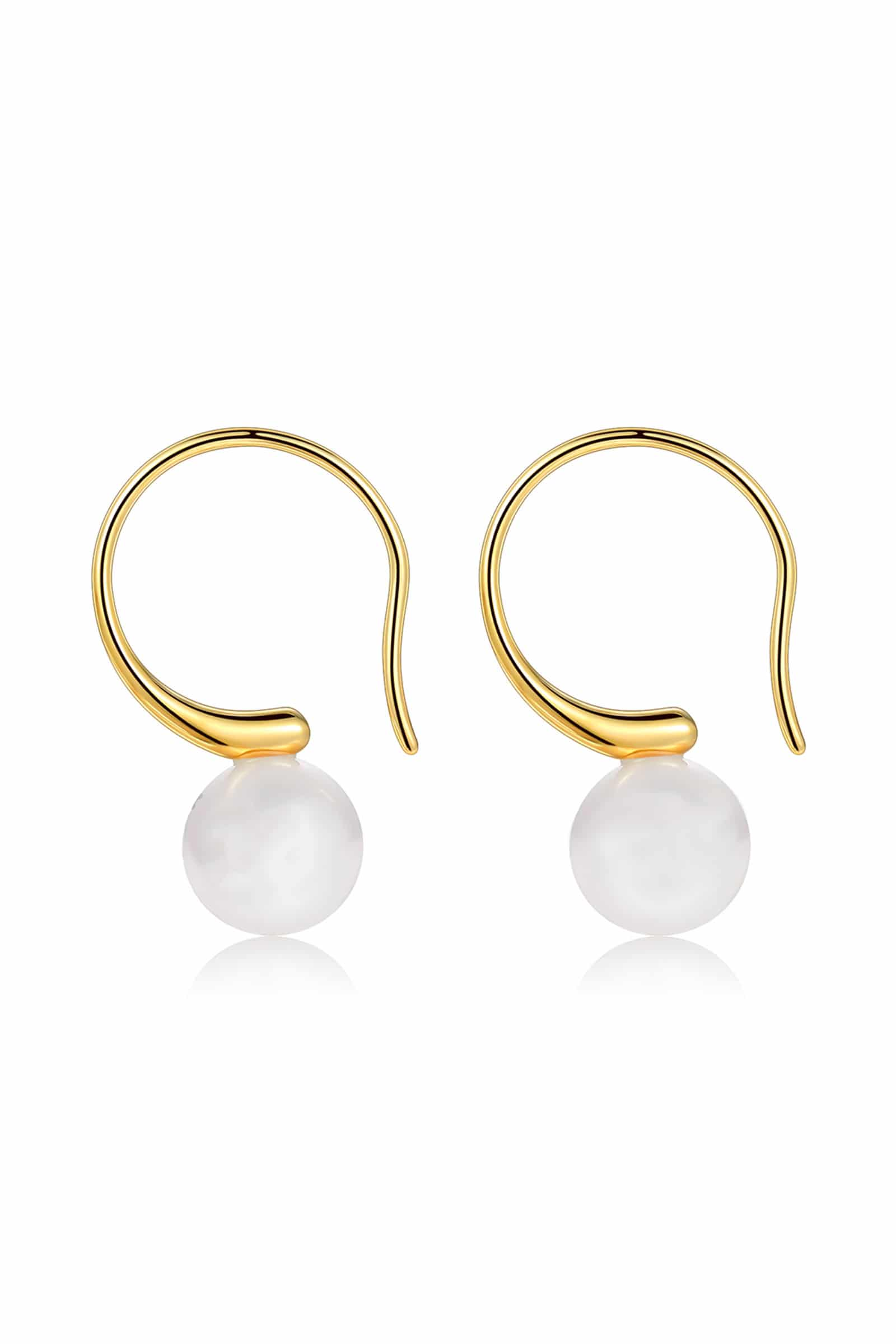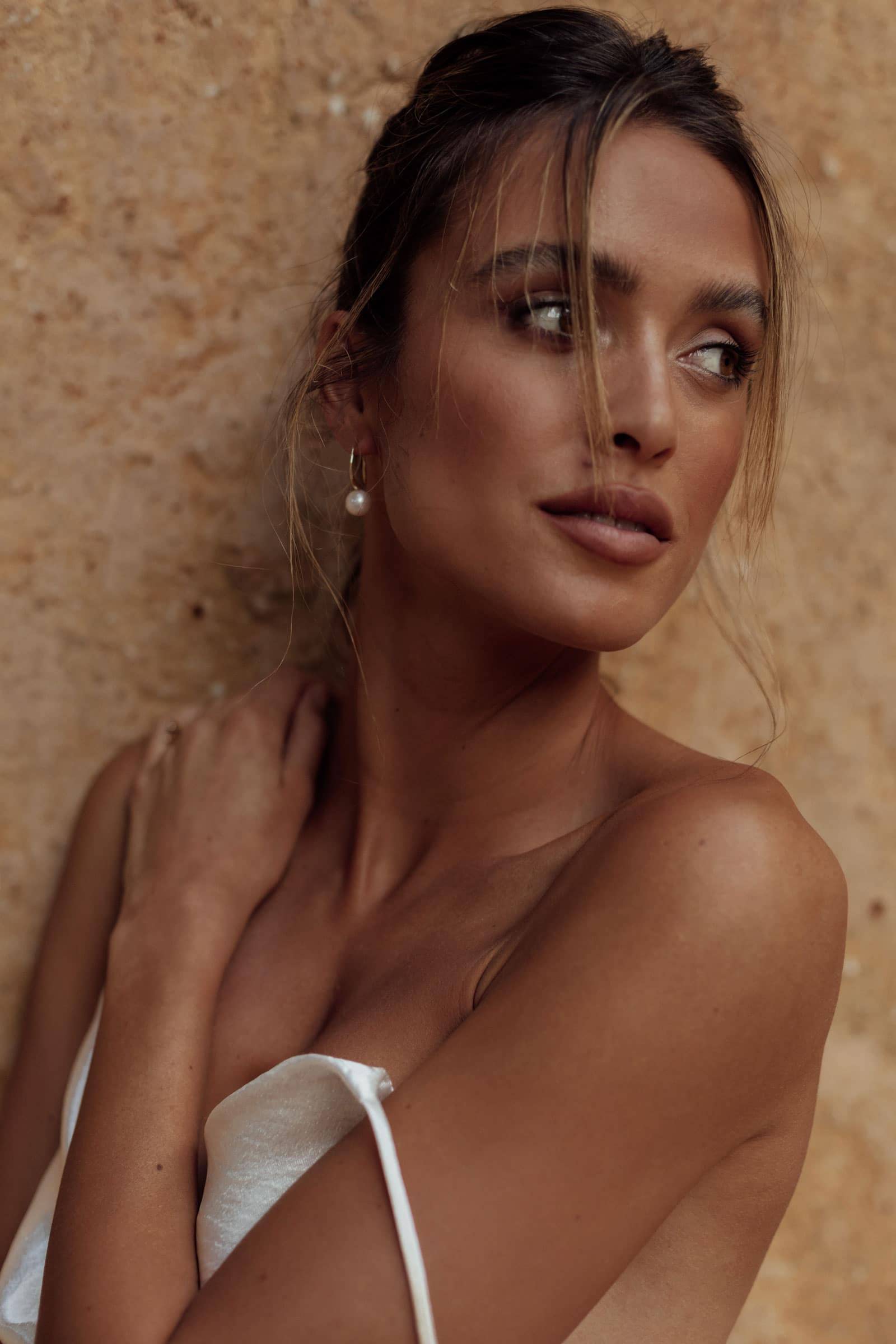 ---
Another favourite fashion-forward accessory of ours is the GRACE Pendant. Designed to make a statement, the GRACE Pendant features the Grace Loves Lace signature mandala for the ultimate #GRACEBride. The GRACE Pendant drapes effortlessly on the chest, complementing low-cut gowns perfectly. Available in both 14ct gold vermeil or sterling silver, this is a touch of GRACE you'll wear on your wedding day and beyond.
---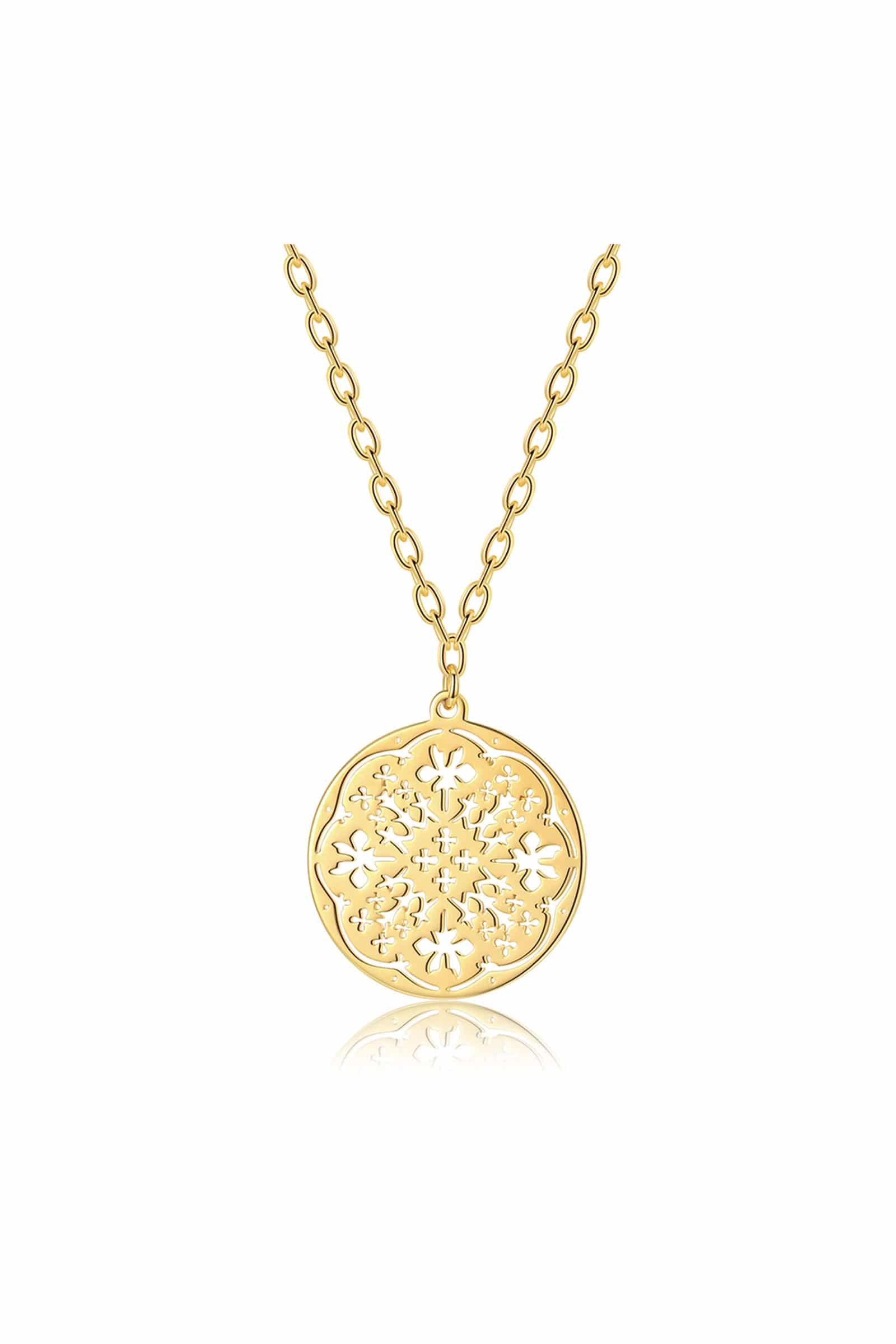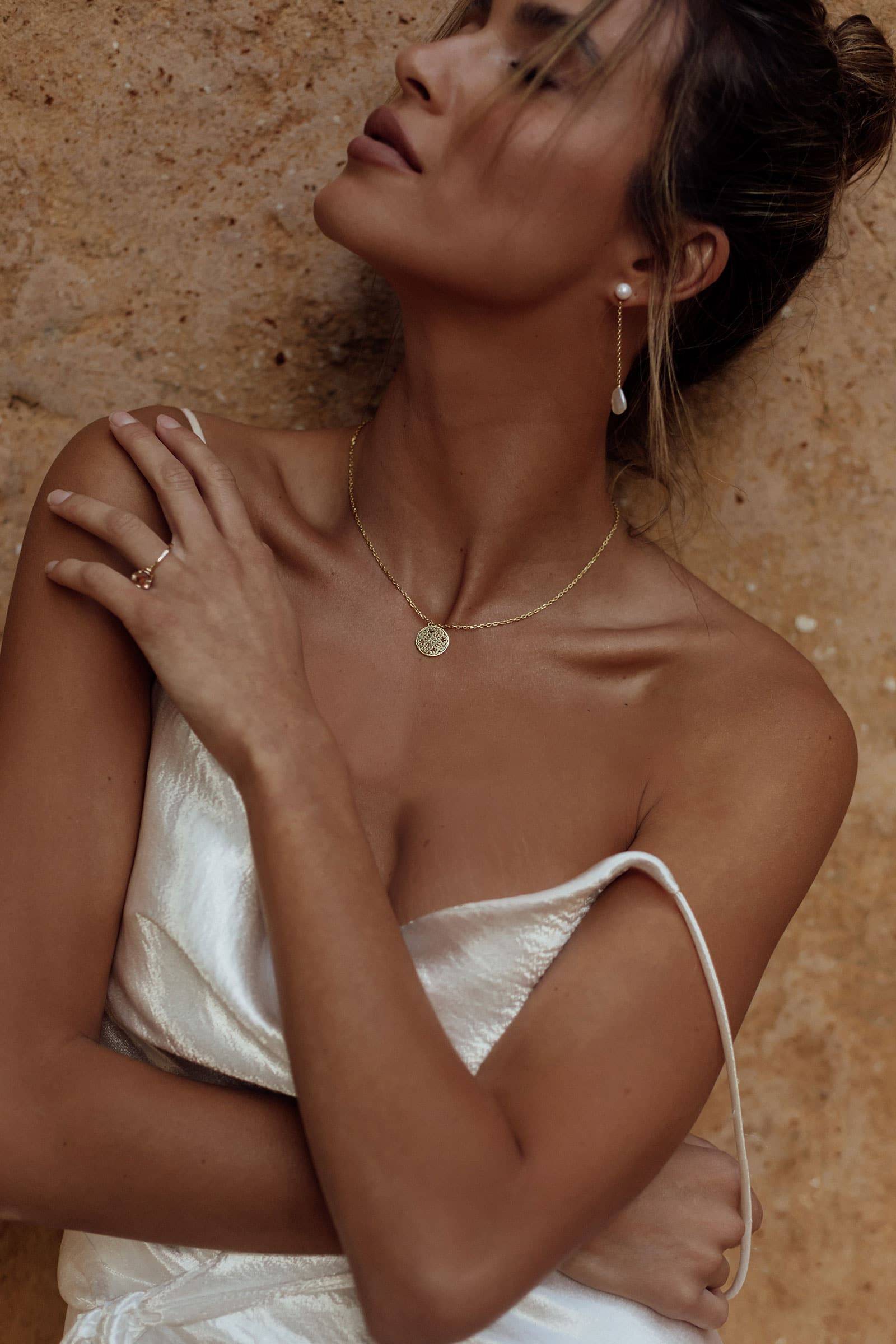 ---
For all our low back brides, we cannot say enough about how important your back profile is! Fun fact: of all the content we post on social media, we find our brides love back details the most! Now, your back may not have ever been something you thought of accessorising, but we have got you covered.


Handcrafted exclusively for Grace Loves Lace, the breath-taking Lucine Backpiece is the perfect accessory to elevate your backless wedding dress. Featuring tiered layers of lustrous pearl strands and carefully crafted along sterling silver chains, complete with a single baroque pearl drop. The Lucine Backpiece is the ultimate addition to any low back gown and will ensure that every angle on your wedding day will be perfectly stylised and Instagram-worthy. 
---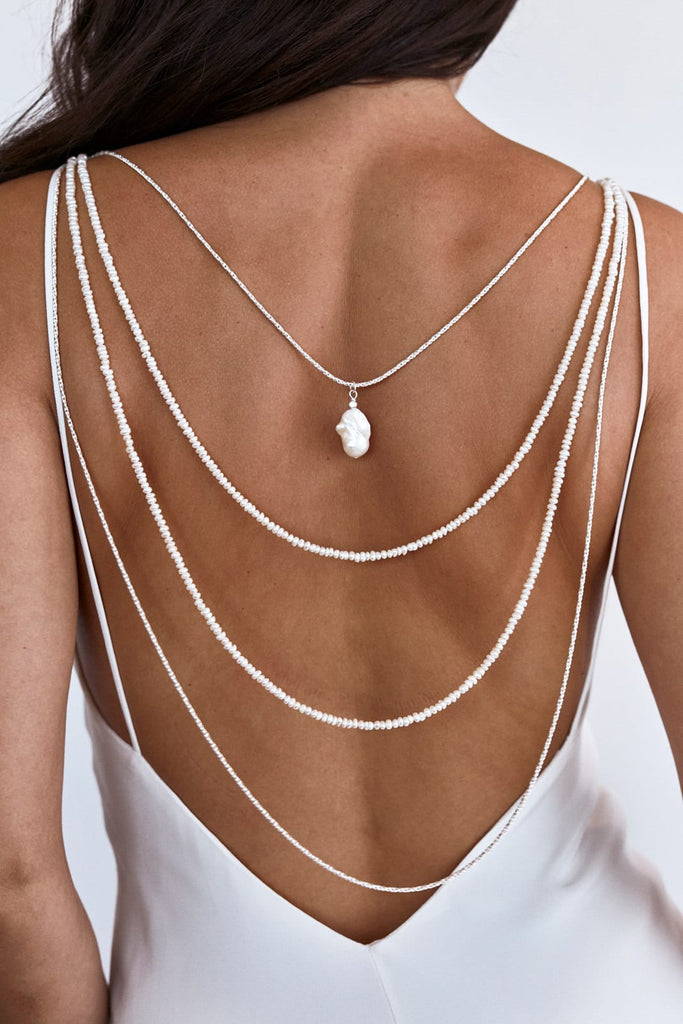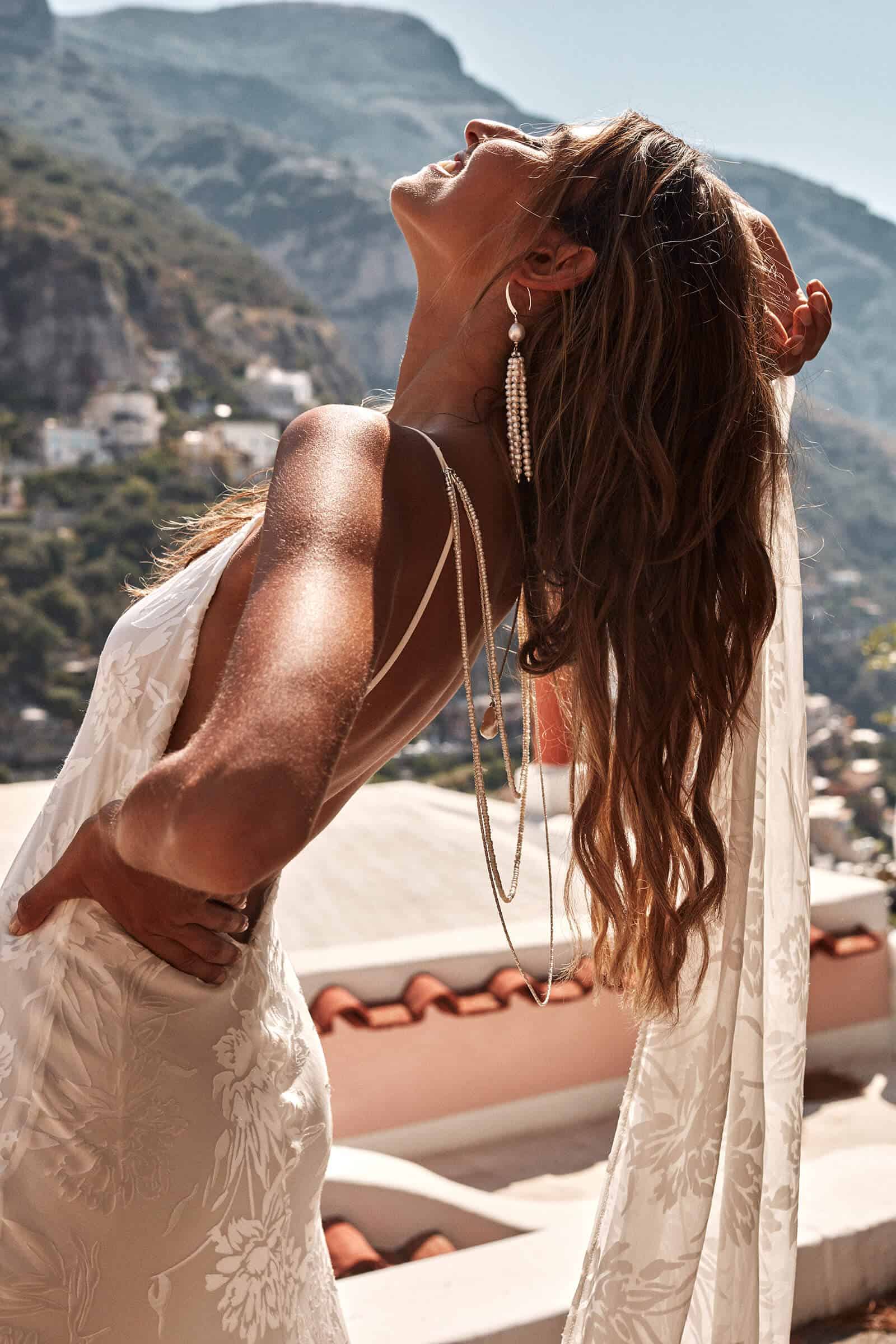 ---
Perfect for our barefoot brides or if you're simply wanting to elevate your wedding day shoes; our handcrafted Artemis Anklets feature a double wrapped sterling silver chain complete with a single baroque pearl drop down the centre. 
---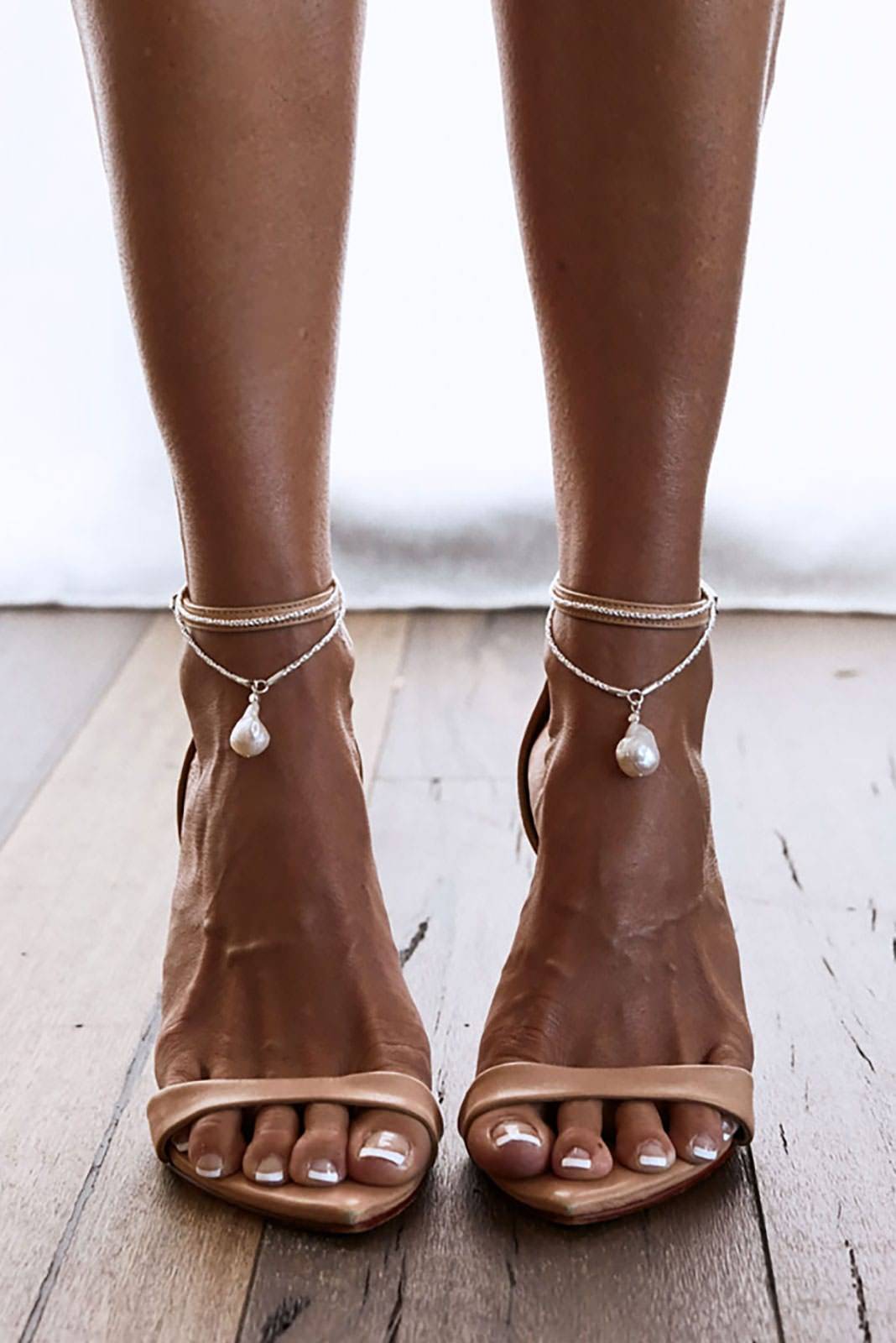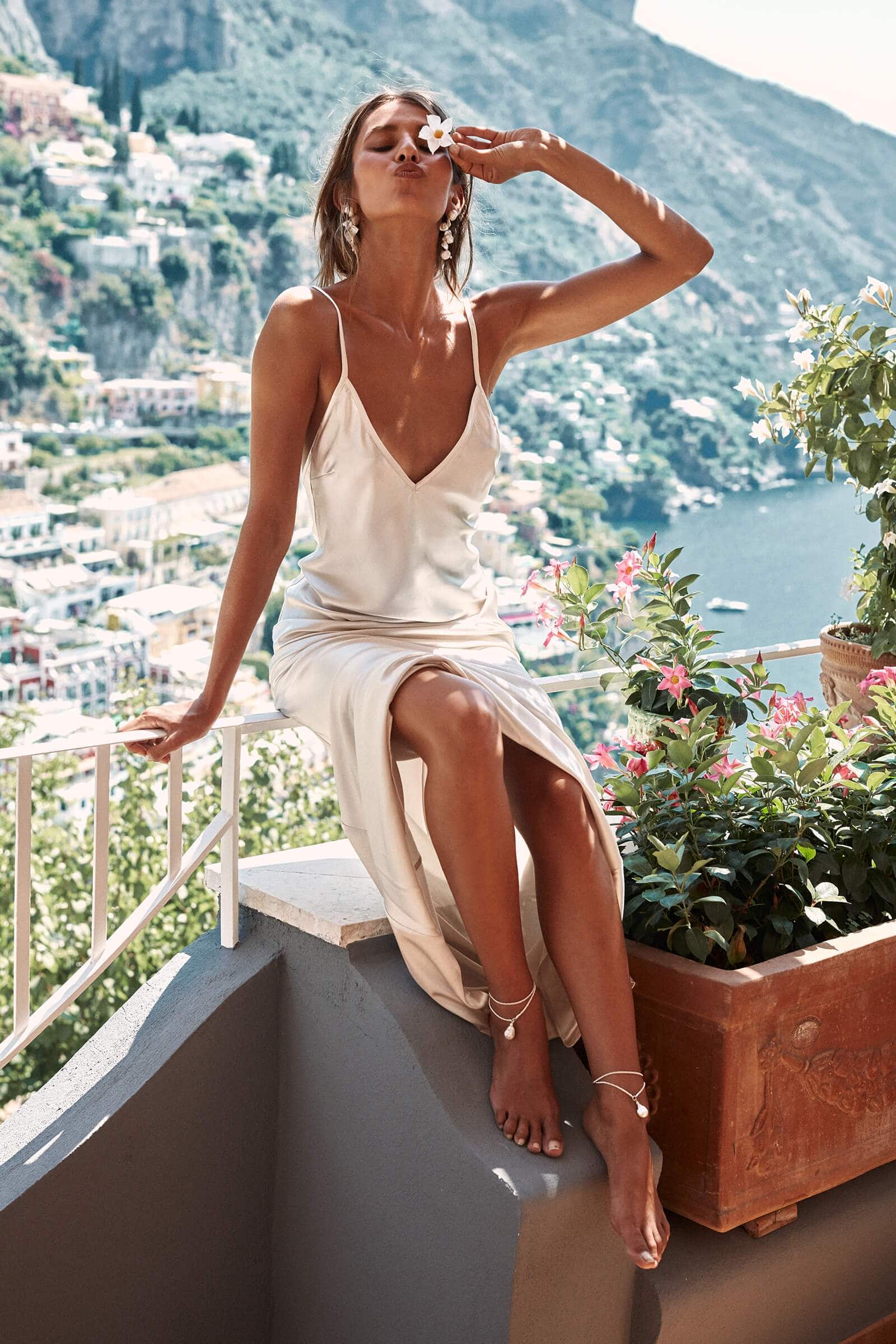 ---
For the ultimate GRACE bride, our handcrafted anklet features our stunning signature mandala pendant, coming in both silver and yellow gold. Style with our classic Dosa Heels or simply barefoot for an elevated look.
---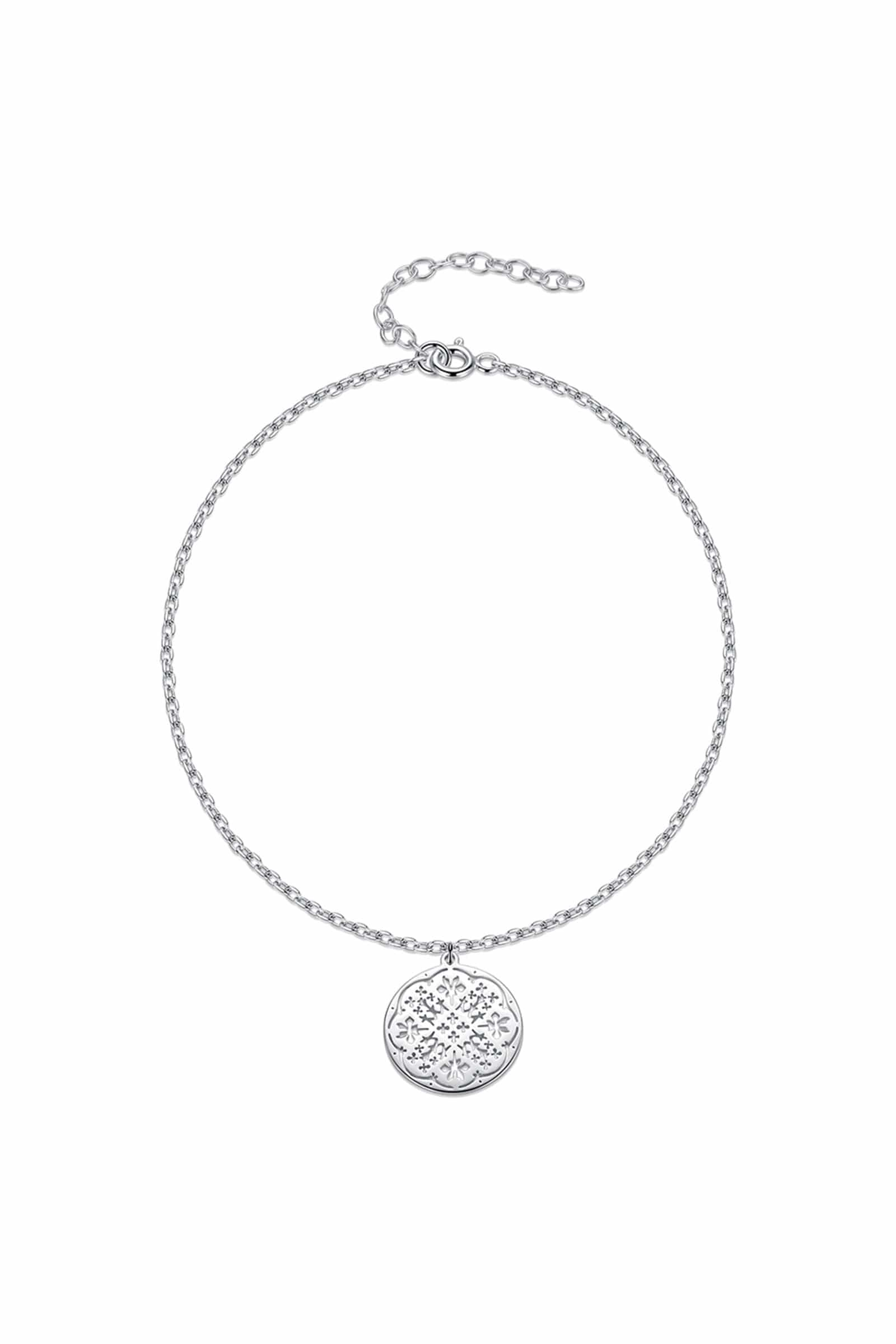 ---
Bridal Veils & Hair Accessories

Effortlessly pair any of our stunning Grace Loves Lace gowns with our timeless GRACE veil. Crafted from a soft, ivory tulle, the GRACE Veil features a long 2.8m train that cascades beautifully down the body and creates a soft and stunning silhouette.
---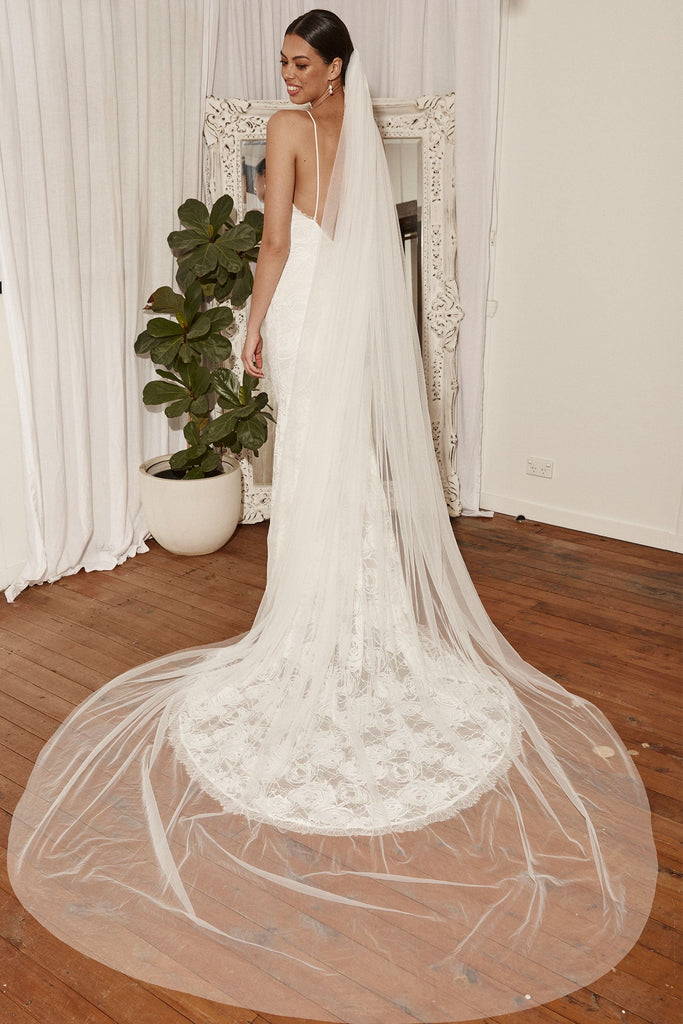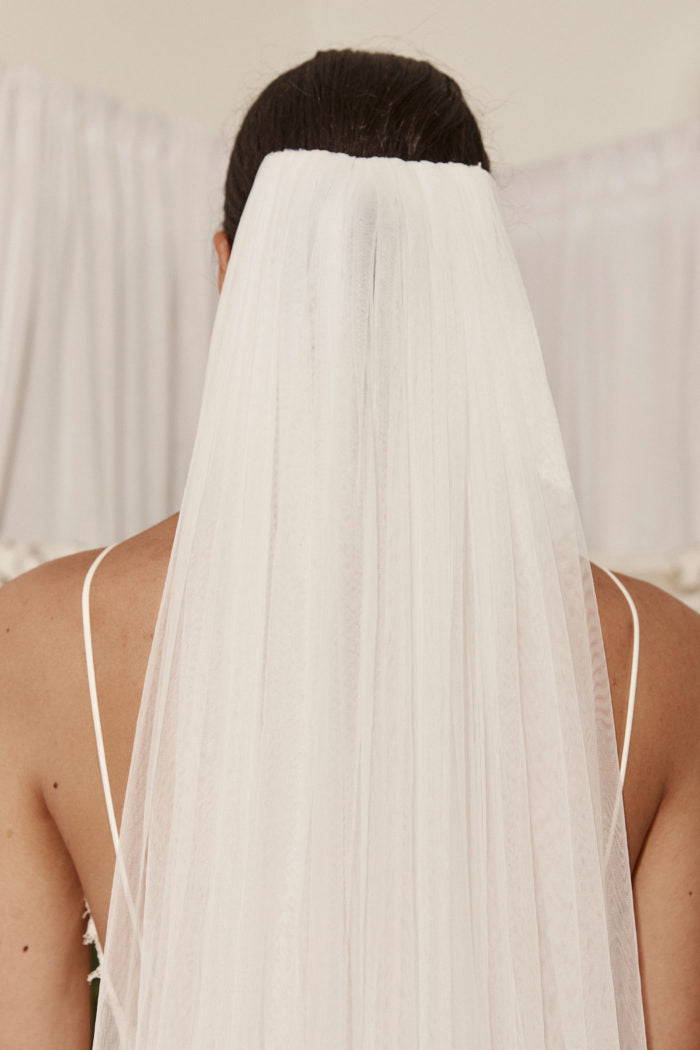 ---
Our first ever Eco veil, the luxuriously soft Lumi Veil is the perfect conscious addition to complete your wedding day look. The Lumi Veil is effortlessly versatile made from soft tulle and featuring a delicate lace trim making a chic and subtle statement as you say 'I do'.
---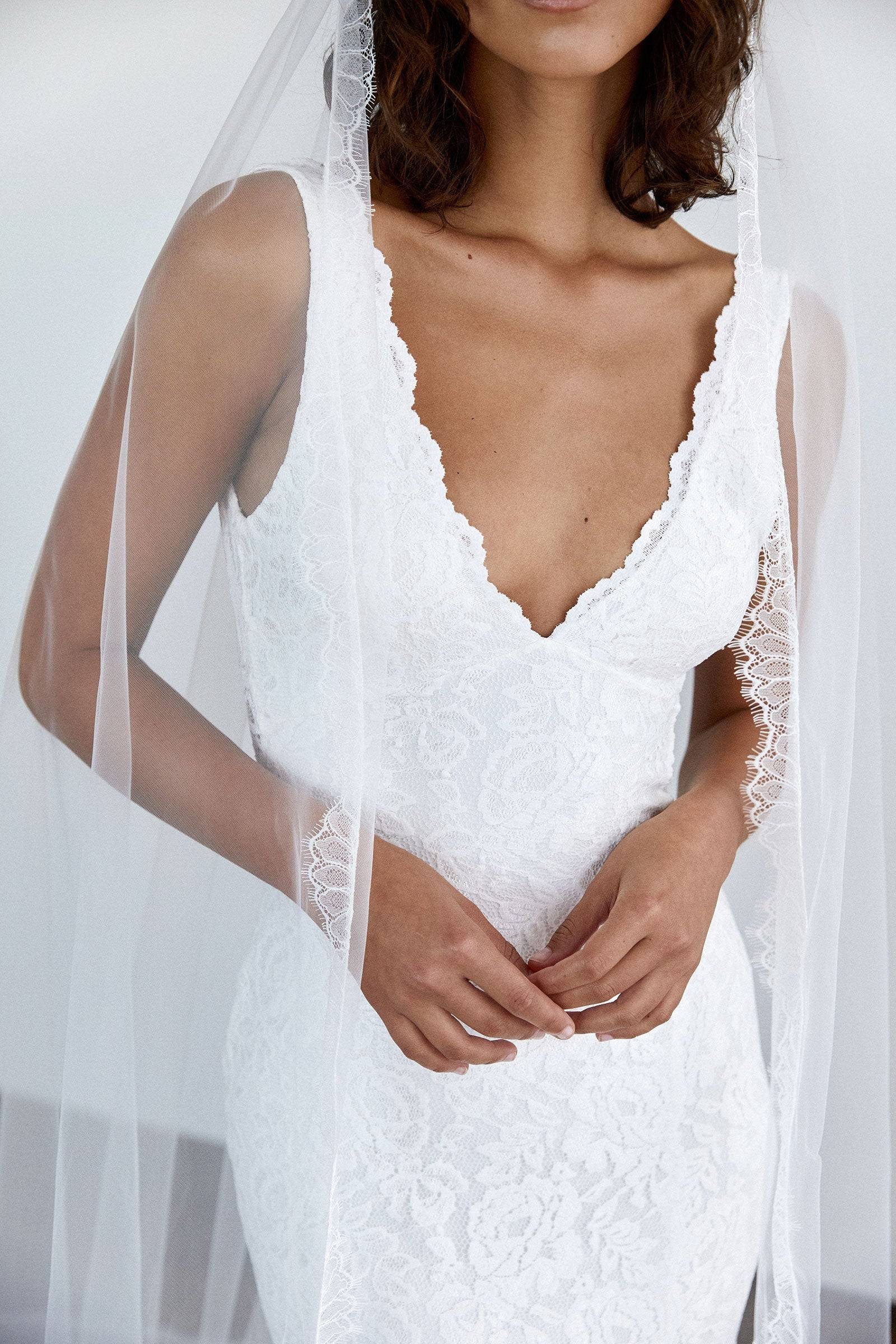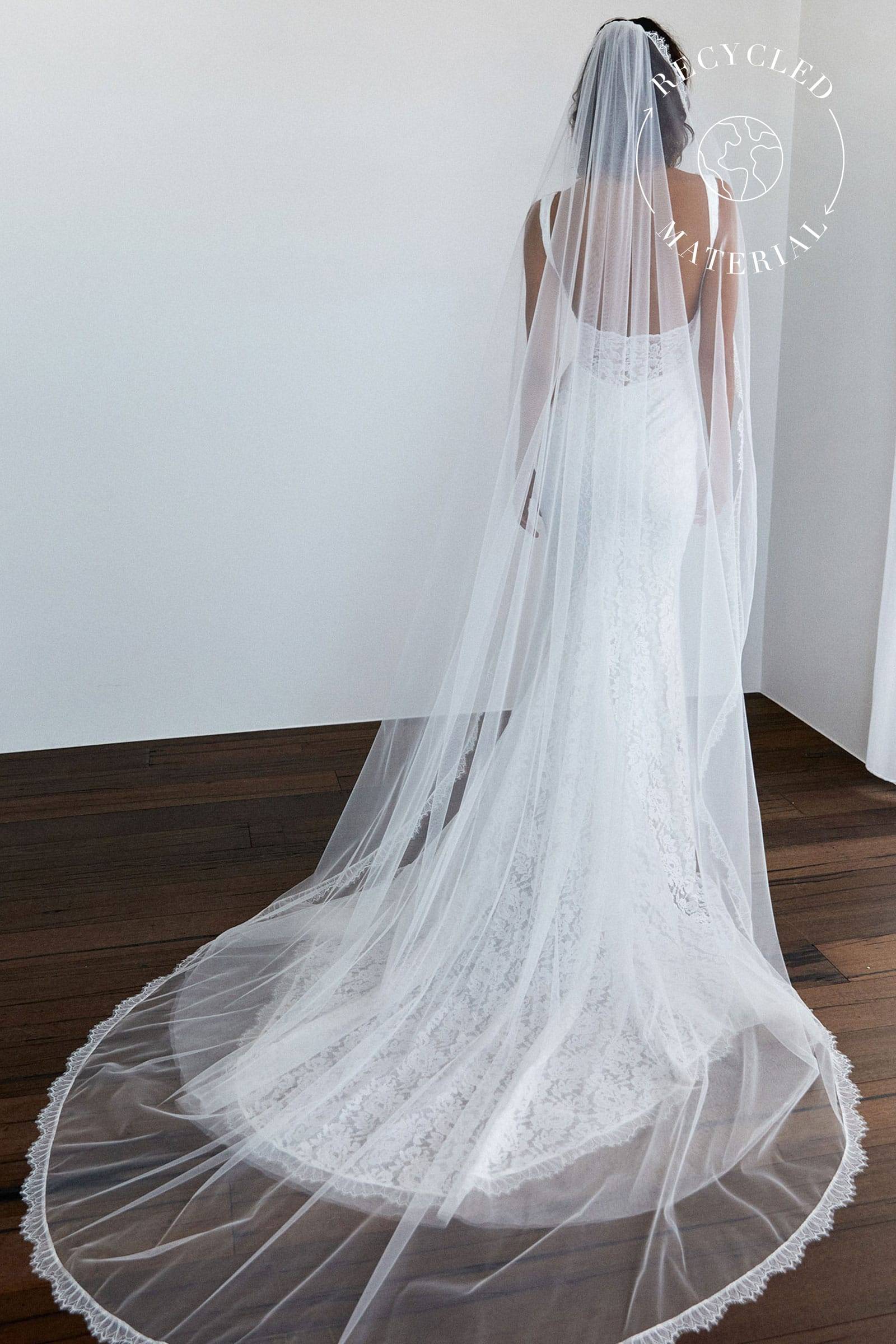 ---
For our chic and classic brides, our Pearly Long Veil is a timeless and effortless accessory to elevate any bridal look. Giving the illusion of floating pearl droplets, this sheer ivory tulle veil will fall delicately over your train to give you a chic and timeless look on your special day.
---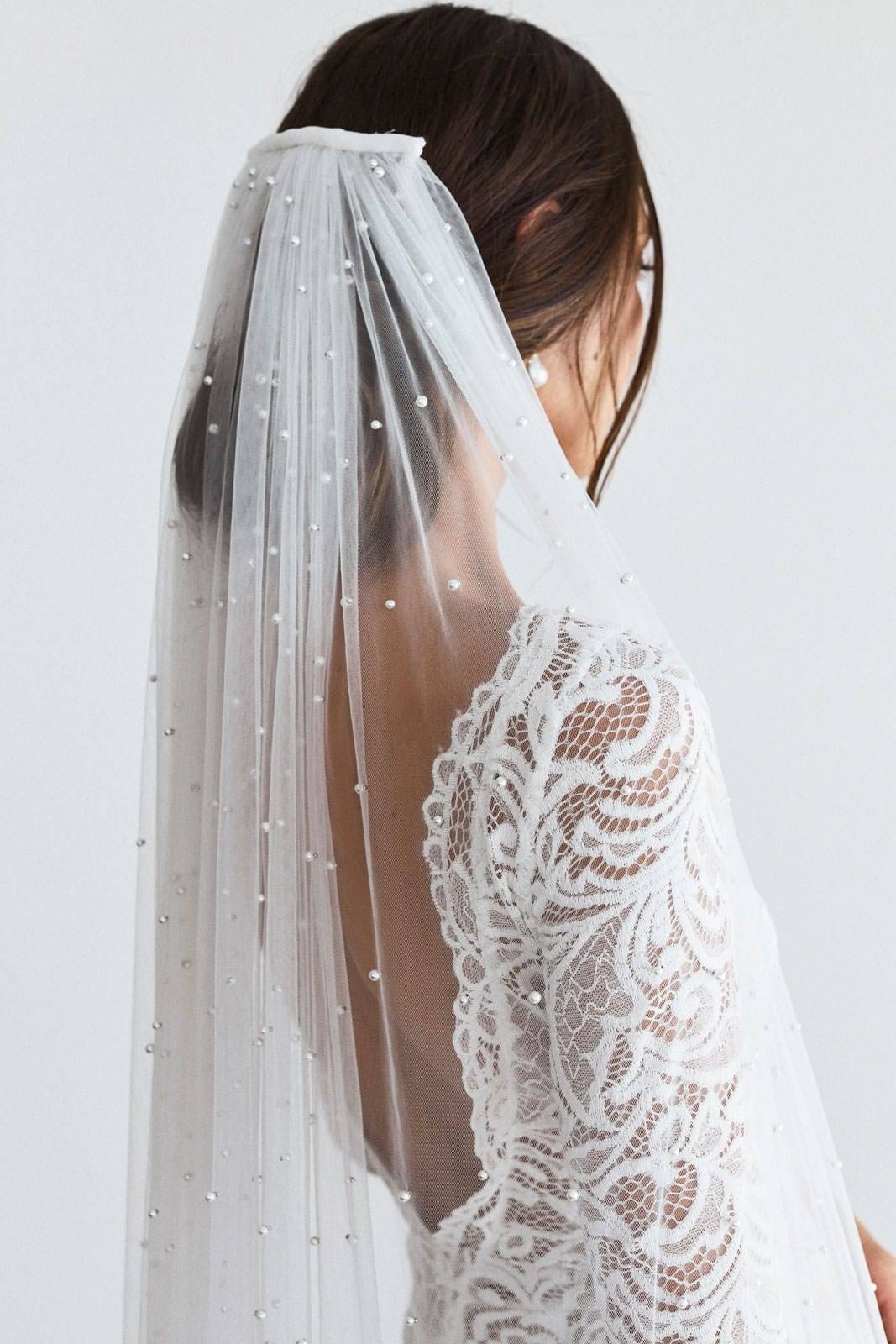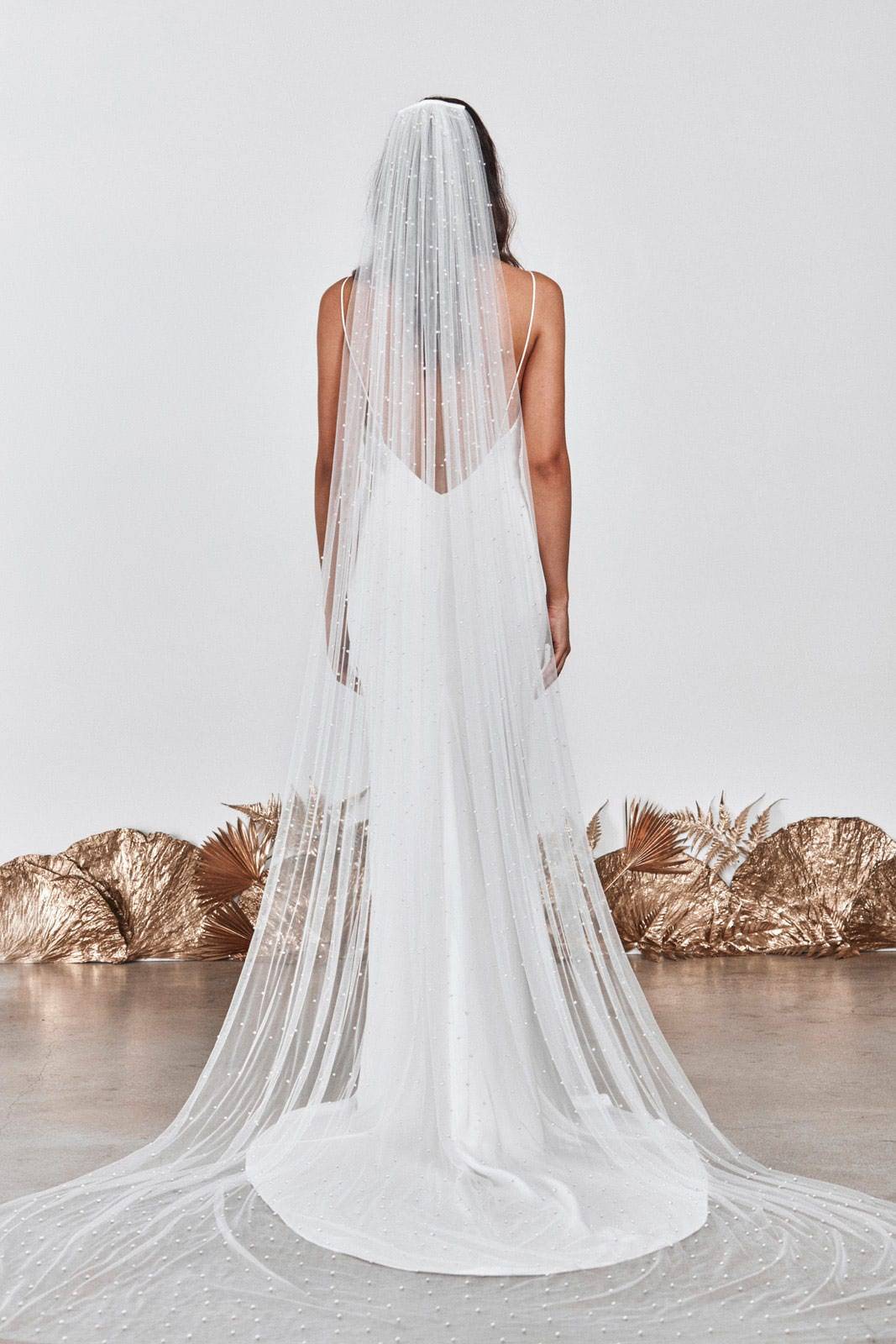 The Pope Silk Scarf is our dream accessory for your reception. When you're wanting to sweep your hair up into a stylish 'half-up' while deep on the dance floor, do it with our scarf for an effortlessly undone look.
Also available in our exclusive floral silk print, you can tie the scarf loosely or in a bow for added detail. You can even swap the Pope Silk Scarf out for your veil at your ceremony if you're wanting a unique and special look on your wedding day. This beautiful, silky scarf pairs perfectly with any of our GRACE gowns and will serve you long after your wedding day as a super-stylish hair accessory.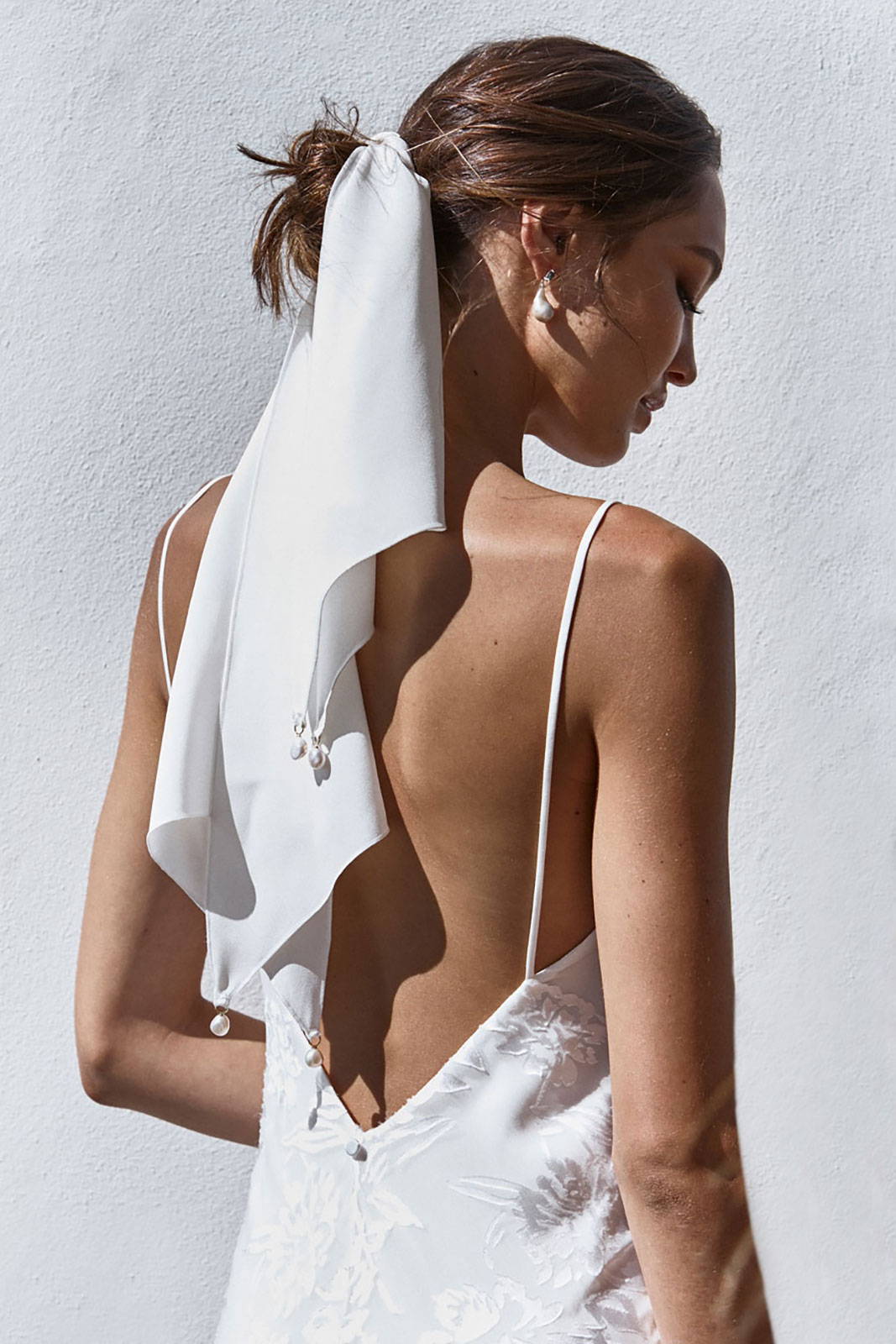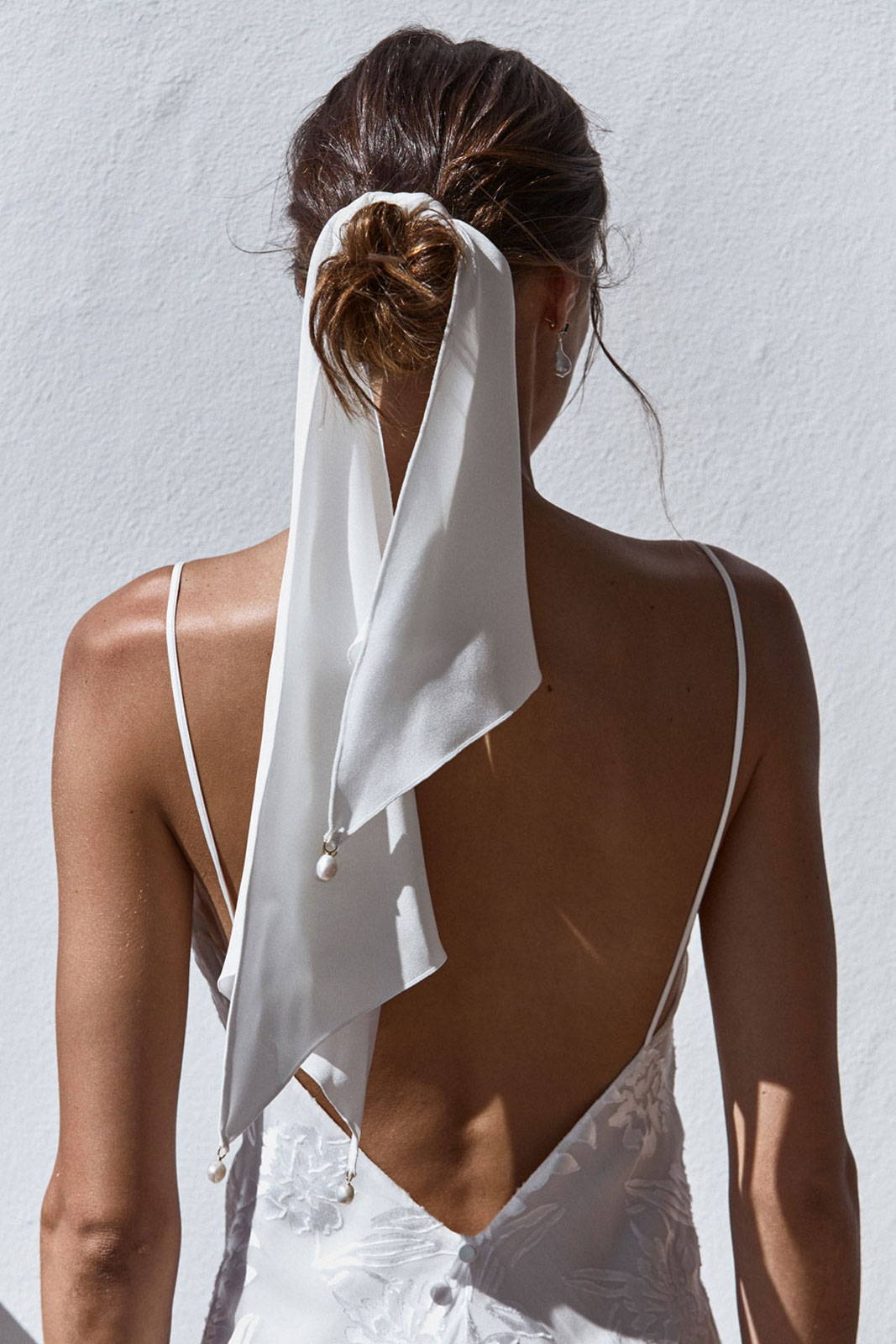 For a modern statement accessory, our Celeste and Elfie headbands both feature delicate shell pearls set on a 14-karat gold base. Our Celeste Headband is intricately adorned with 2 rows of tiered pearls, smaller on the bottom and larger on the top. The Celeste Headband is the perfect statement accessory to add a touch of glamour to your wedding day look.
Our Elfie Headband varies slightly, featuring a single, winding row of delicate shell pearls for a modern and chic look. Wear either the Celeste or Elfie headbands in a stylish up-do for an effortlessly glam look or down to emanate a classic, modern style.
---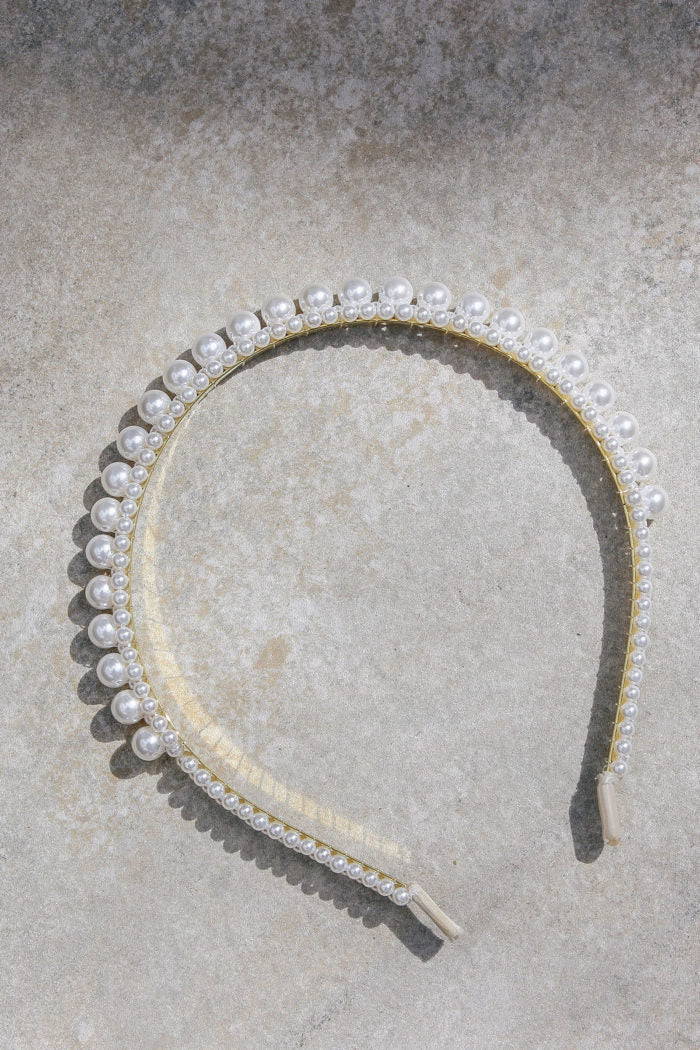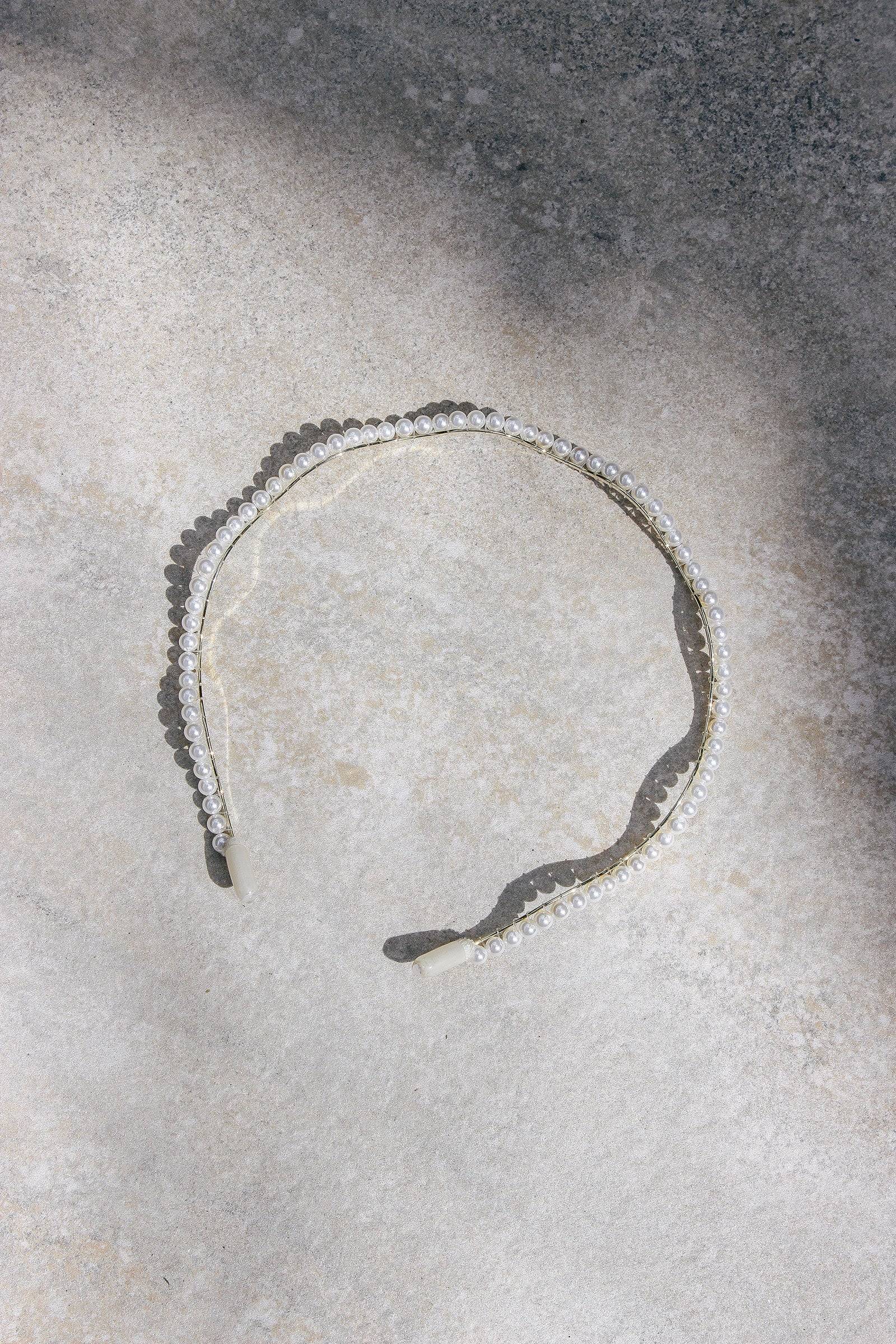 ---
---
Shoes & Bridal Accessories

Finding the perfect wedding shoe is something we know a lot of brides tend to struggle with. Most of the time your shoe choice will be hidden by your gown, so comfort and minimalism are key for many brides-to-be. We created the Dosa heel as a solution for brides looking for something evergreen for their wedding shoe. The Dosa style is so comfortable that our showroom stylists are known to wear them all day throughout their bridal appointments! 
Available in both sand and white, this shoe is so extremely diverse in what it can match; there isn't a dress our Dosa's wouldn't perfectly pair with. The barely-there look of this wedding shoe will never go out of style. Effortlessly elegant and understated, the iconic Dosa can be worn again, and again, and again. 
Kick off your heels and dance the night away in our Essential White Leather Sneakers. Designed to be worn long past your wedding day, our Essential Sneakers are our most comfortable shoes, perfect for your reception when you hit the dance floor.
---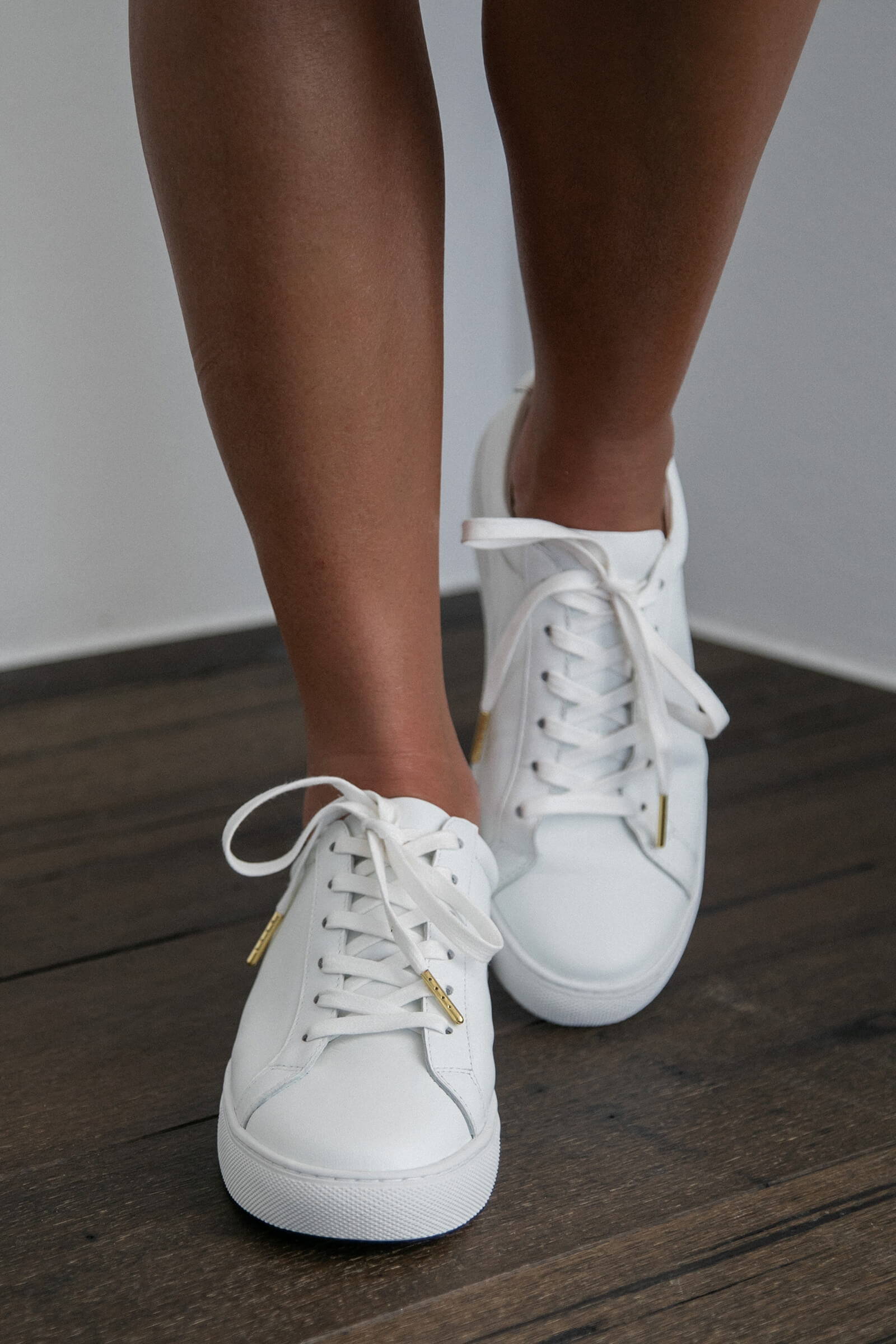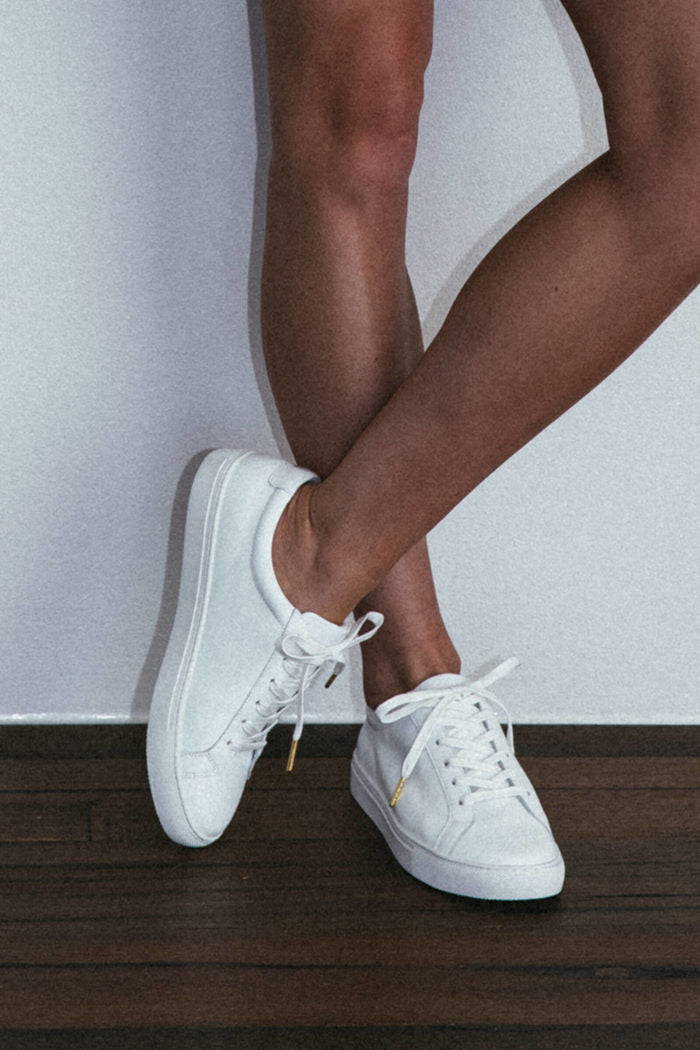 ---
---
Accessorising Your Wedding Dress

For the woman who values tradition and radiates romance, our Pearla Garter is a simple yet elegant garter to complete your wedding day look. Consciously created using the off cuts of our wedding dress fabrics, the Pearla Garter features our luminescent ivory satin, hand sewn freshwater pearls, and elasticated design.
---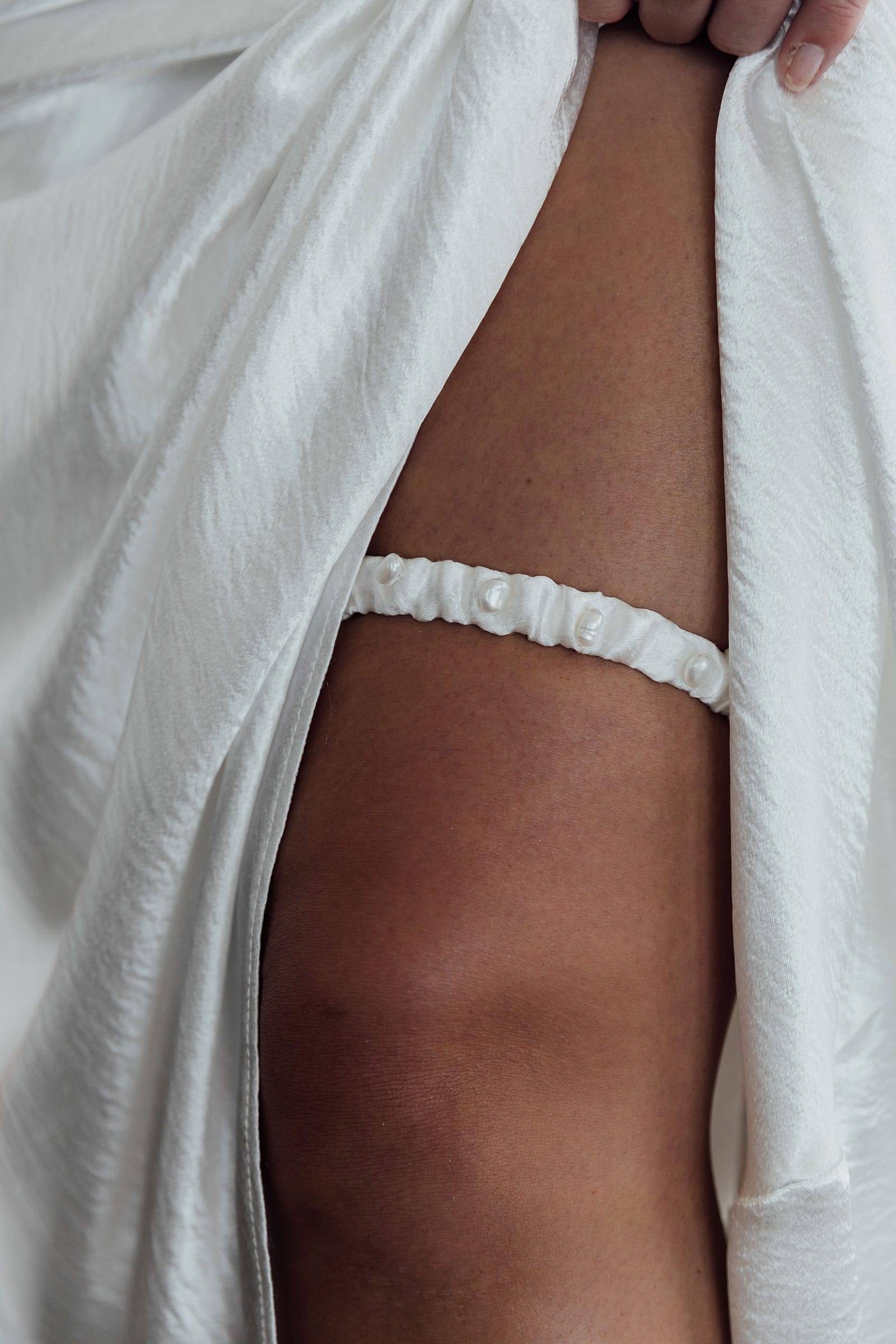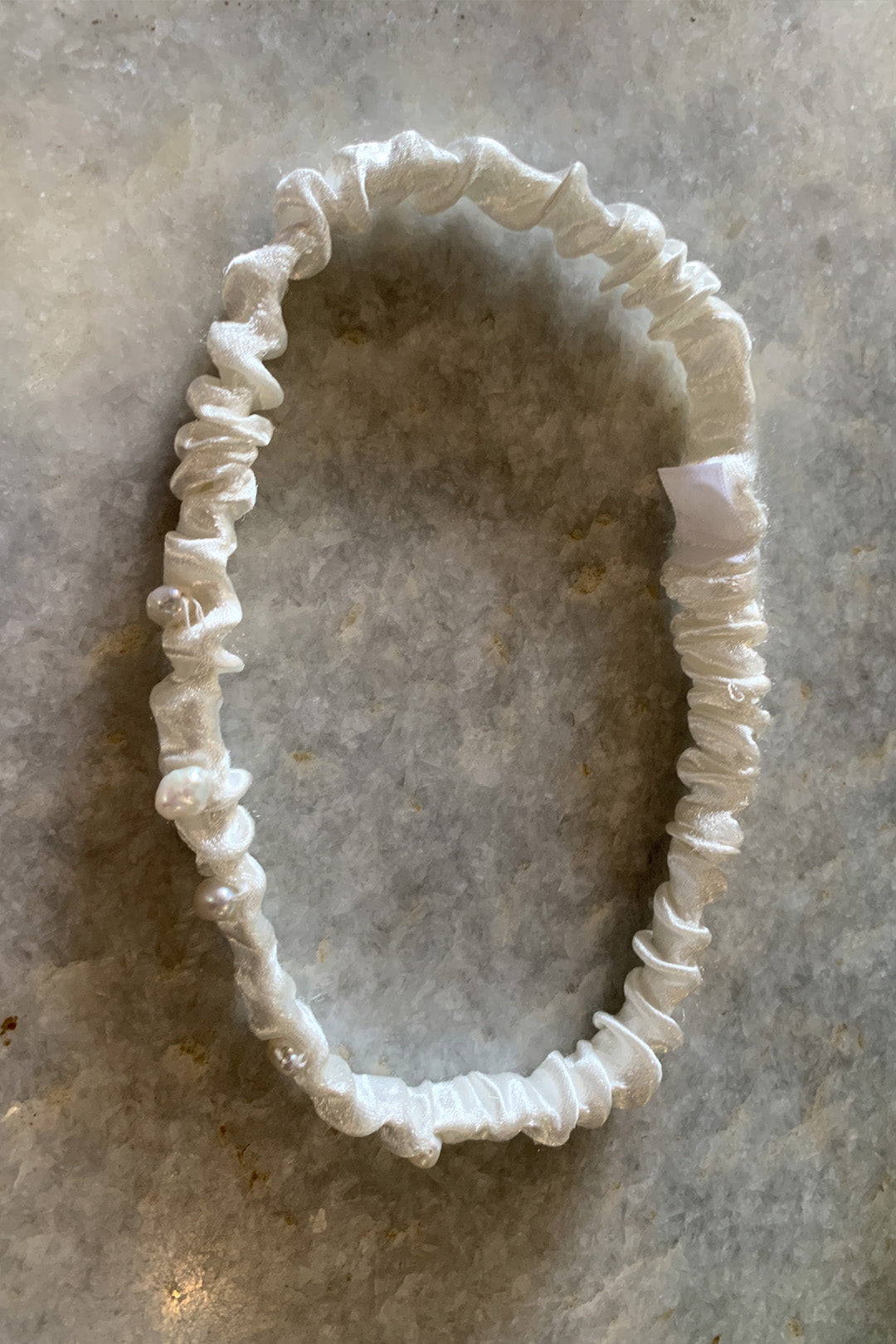 ---
Styling Your Wedding Gown

There are just so many ways you can style your wedding dress and really make it your own on your special day. We have a gorgeous array of accessories – so many more than just mentioned here – that you can explore online and in any of our showrooms. 
We know that styling your gown can sometimes be overwhelming, which is why we have a team of online stylists who know all our gowns and accessories back-to-front. They're available 24/7 and are waiting to help you put together the perfect look that encompasses your very own personal style. 
We also love seeing all the creative ways our GRACE brides style their gowns, so be sure to share your looks with us on social media using the hashtag #GRACEBride.