Barr & Cammie in the Summer Gown
A neutral-toned tropical beach resort wedding in Marathon, – bringing the Greece feel to Florida in the Keys. Our beautiful #GRACEBride Cammie wears SUMMER.​
What is a GRACE Woman to you?
A GRACE woman to me is simple, elegant and someone who handles situations gracefully.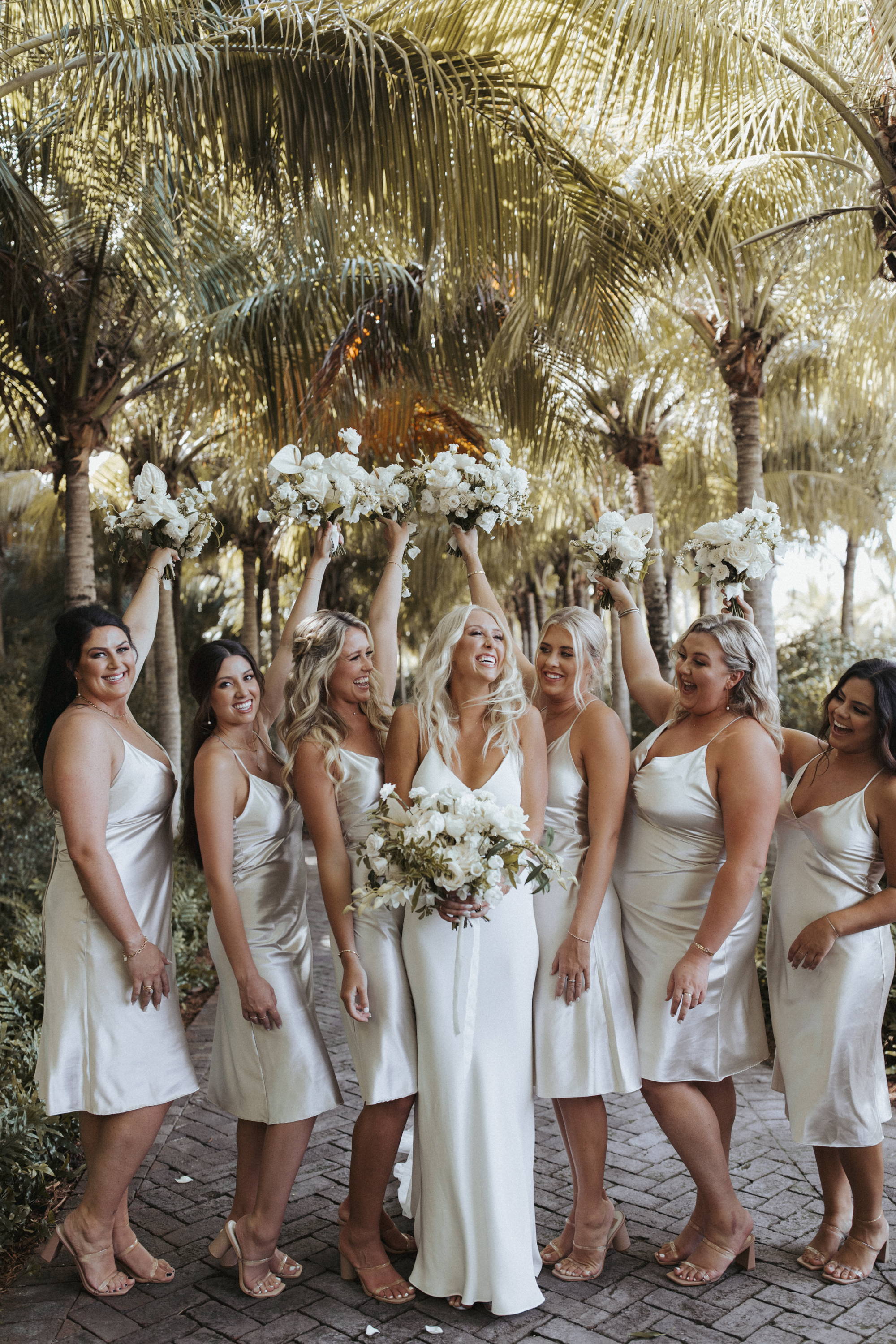 Which Grace dress did you choose and how did you know it was 'The One'?
Summer. I have loved this dress for a long time so as soon as I tried it on I knew it was the one! I loved how simple it was but still so beautiful and elegant. The low back was my favorite part of the dress and that is what made me fall in love with the dress.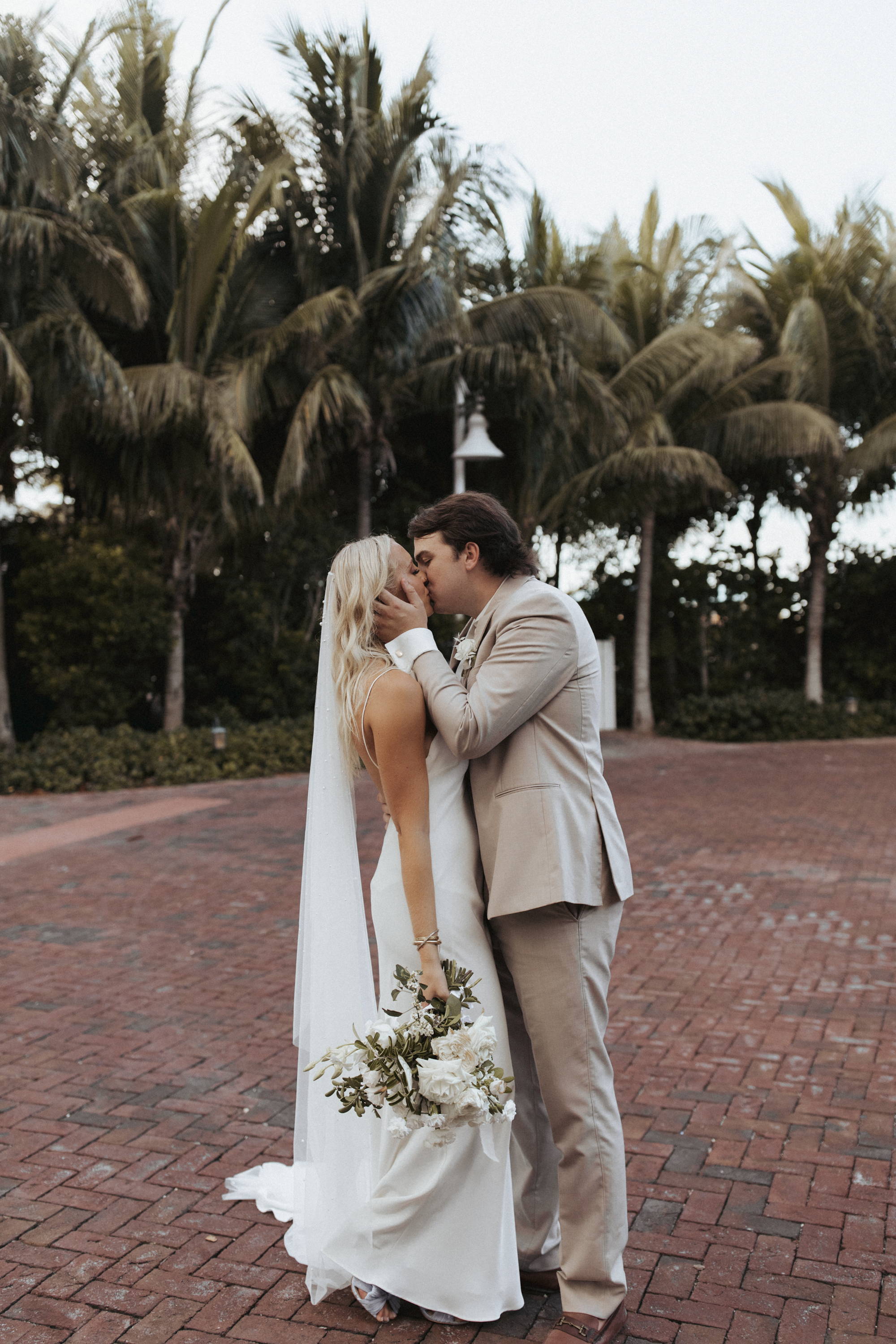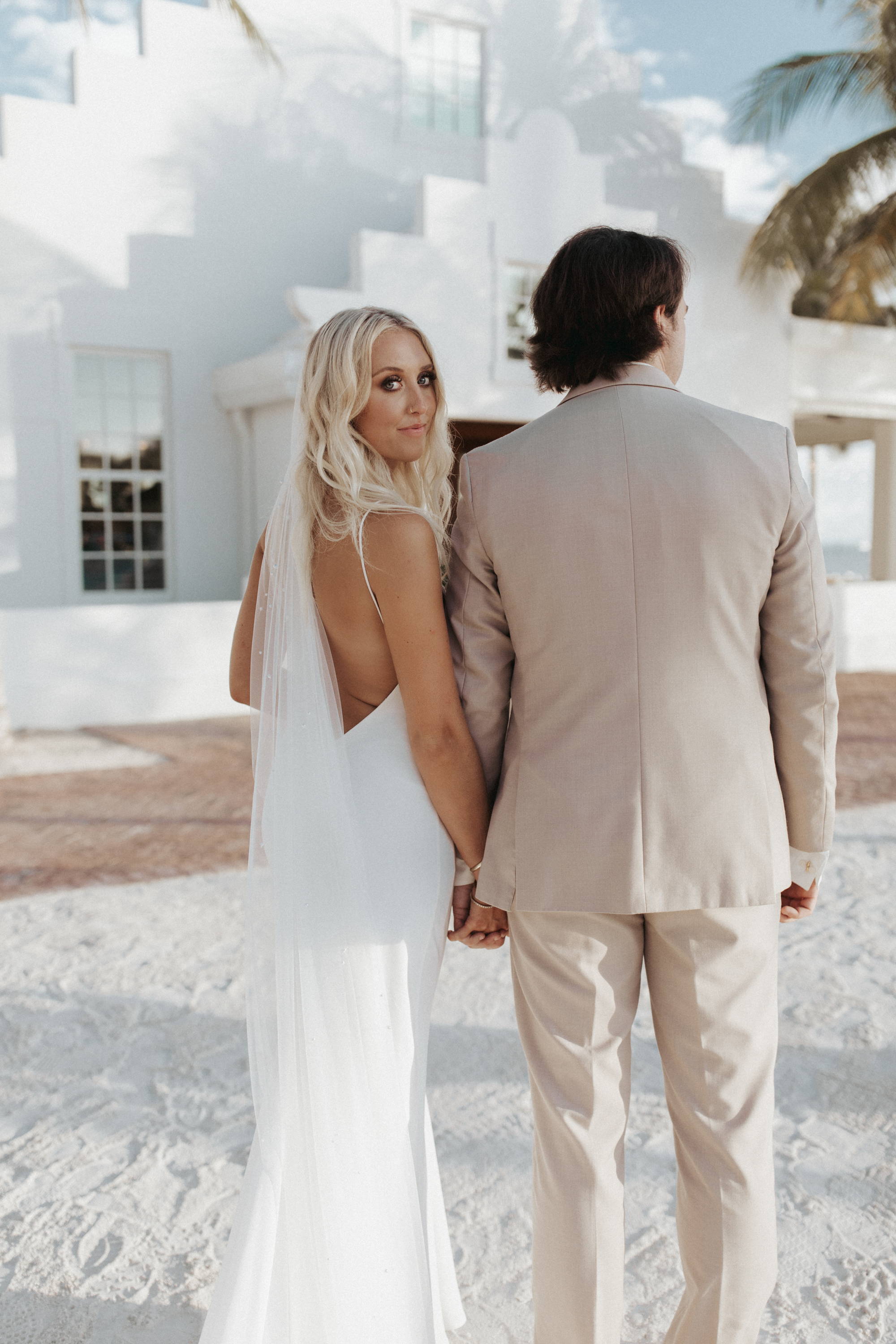 Tell us about your experience when you found your dress, did you buy your wedding dress online or in one of our showrooms?
I bought the dress in the Dallas showroom. My mom, sister, and brother came with me and it was such a fun experience and everyone was so nice. I tried on a few different dresses there but fell in love with the summer dress.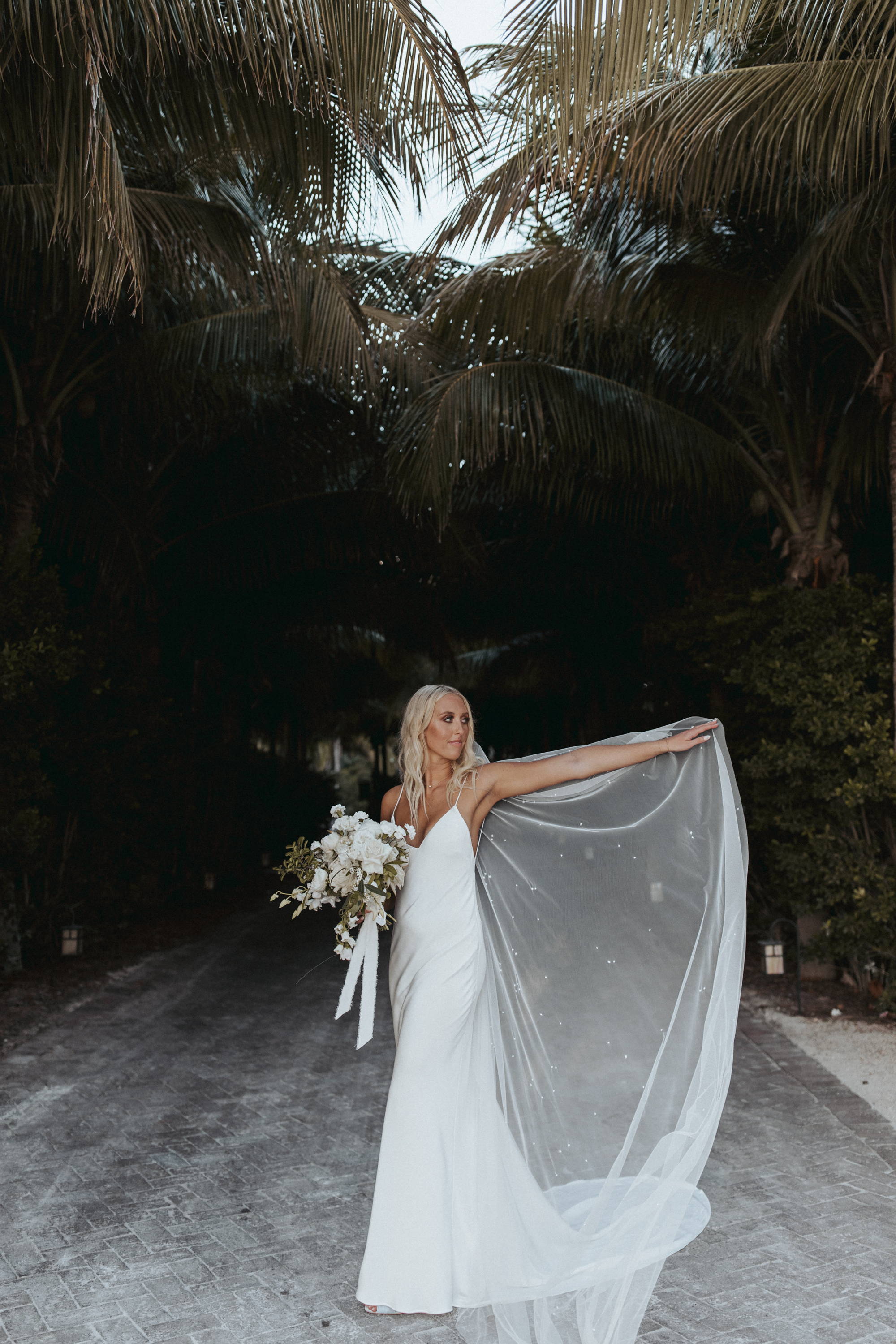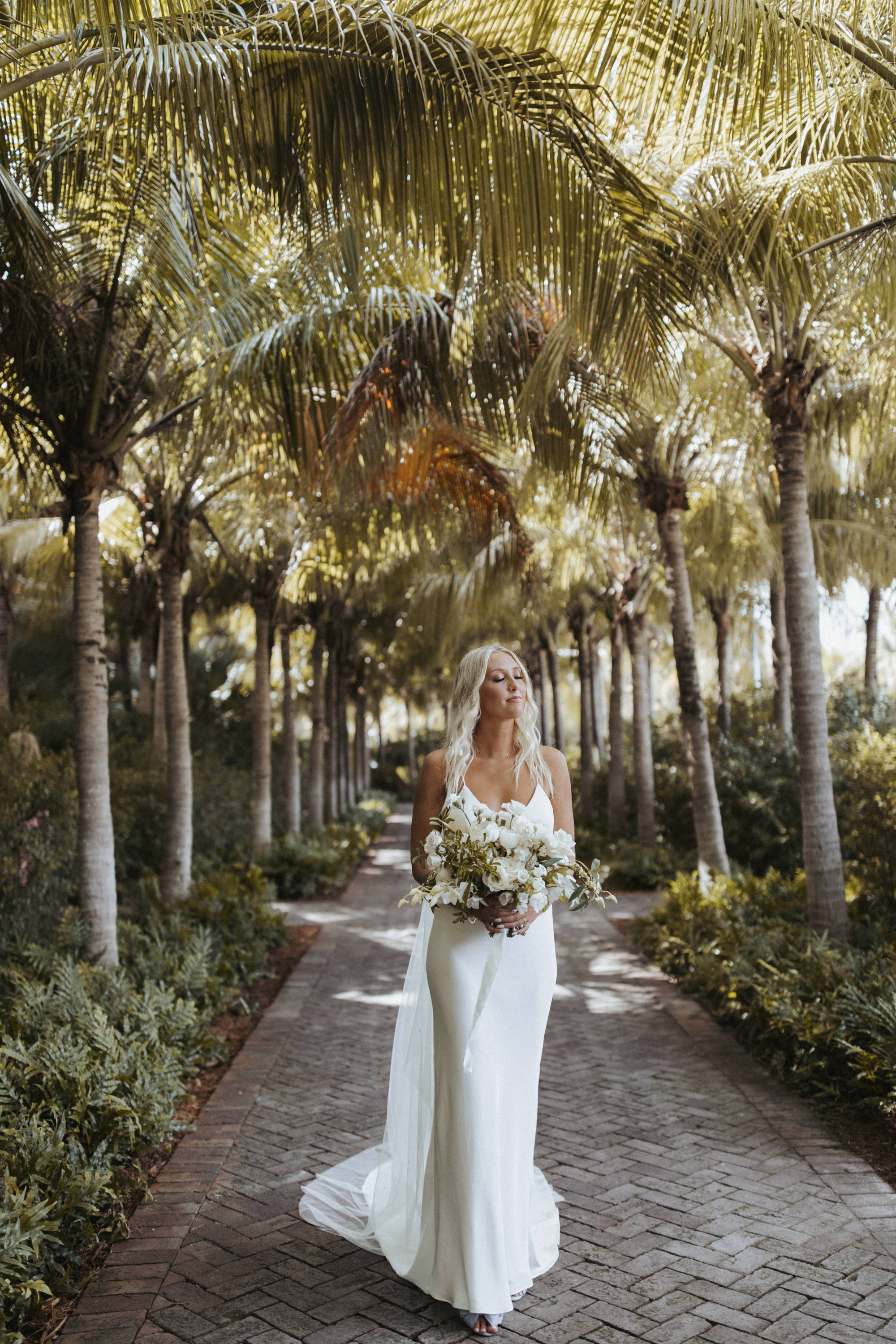 How did you feel in your dress on the day?
I felt so confident and beautiful. It was also so comfy and I that is what I loved about it since I was wearing it all day!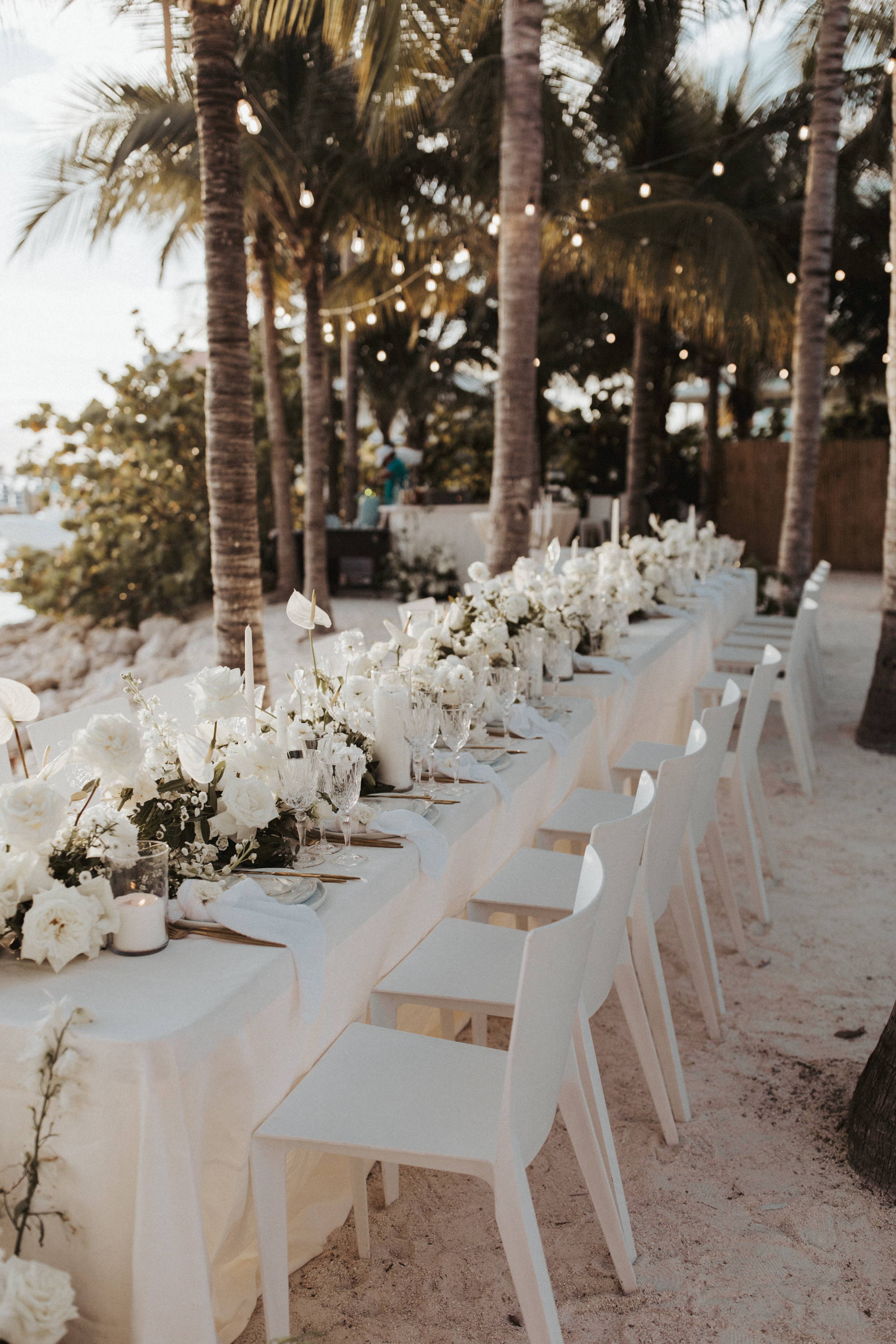 Where did you get married?
Tell us about the location & the style of your wedding day.
I got married in Marathon, Florida down in the Keys. We got married at a resort there called Isla Bella Beach Resort. It feels like you are out of the country in the most tropical place but also feels like Greece at the same time with all the white buildings. For my wedding, I wanted an all neutral and simple wedding. It was all whites, tans, and a small about of light blush.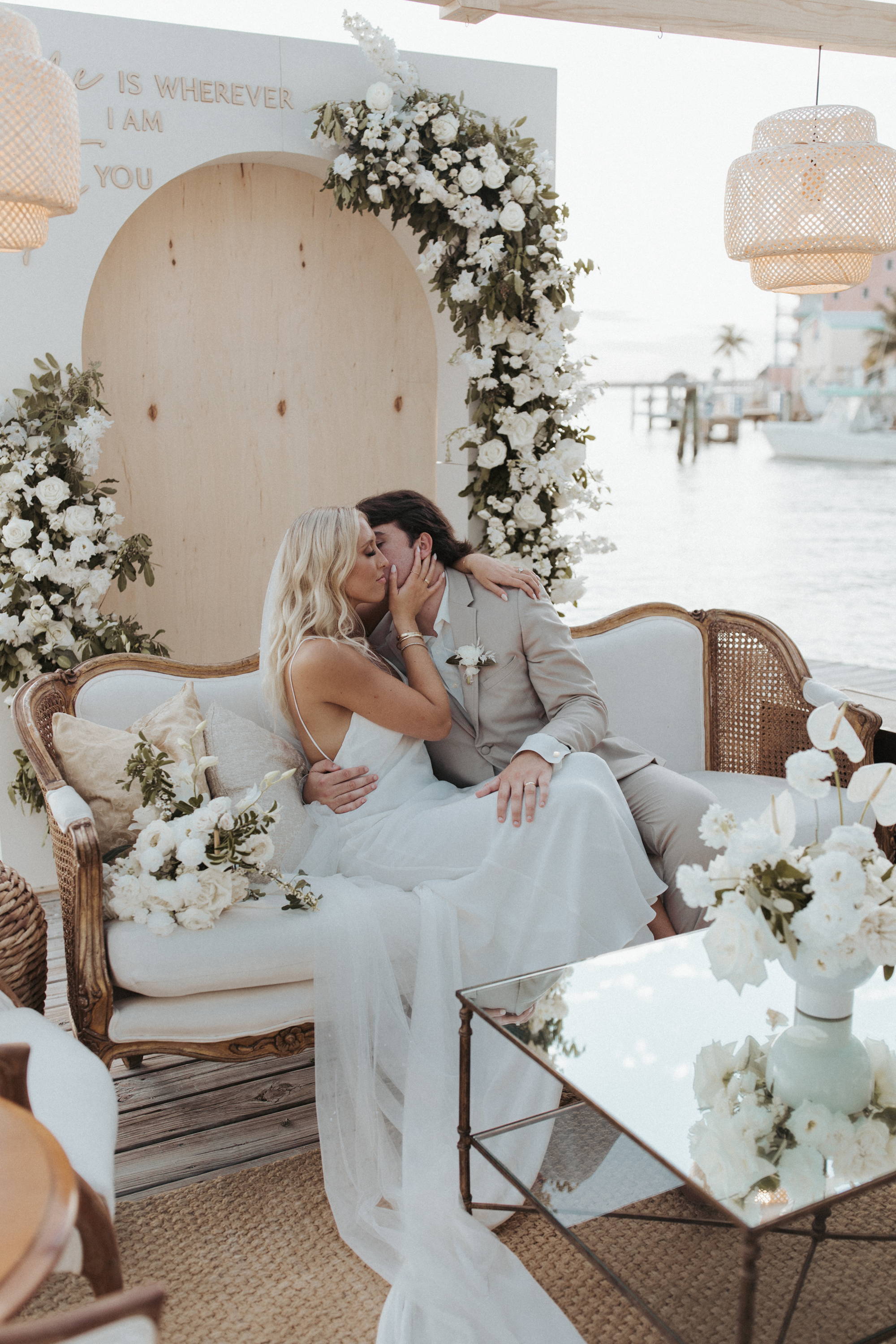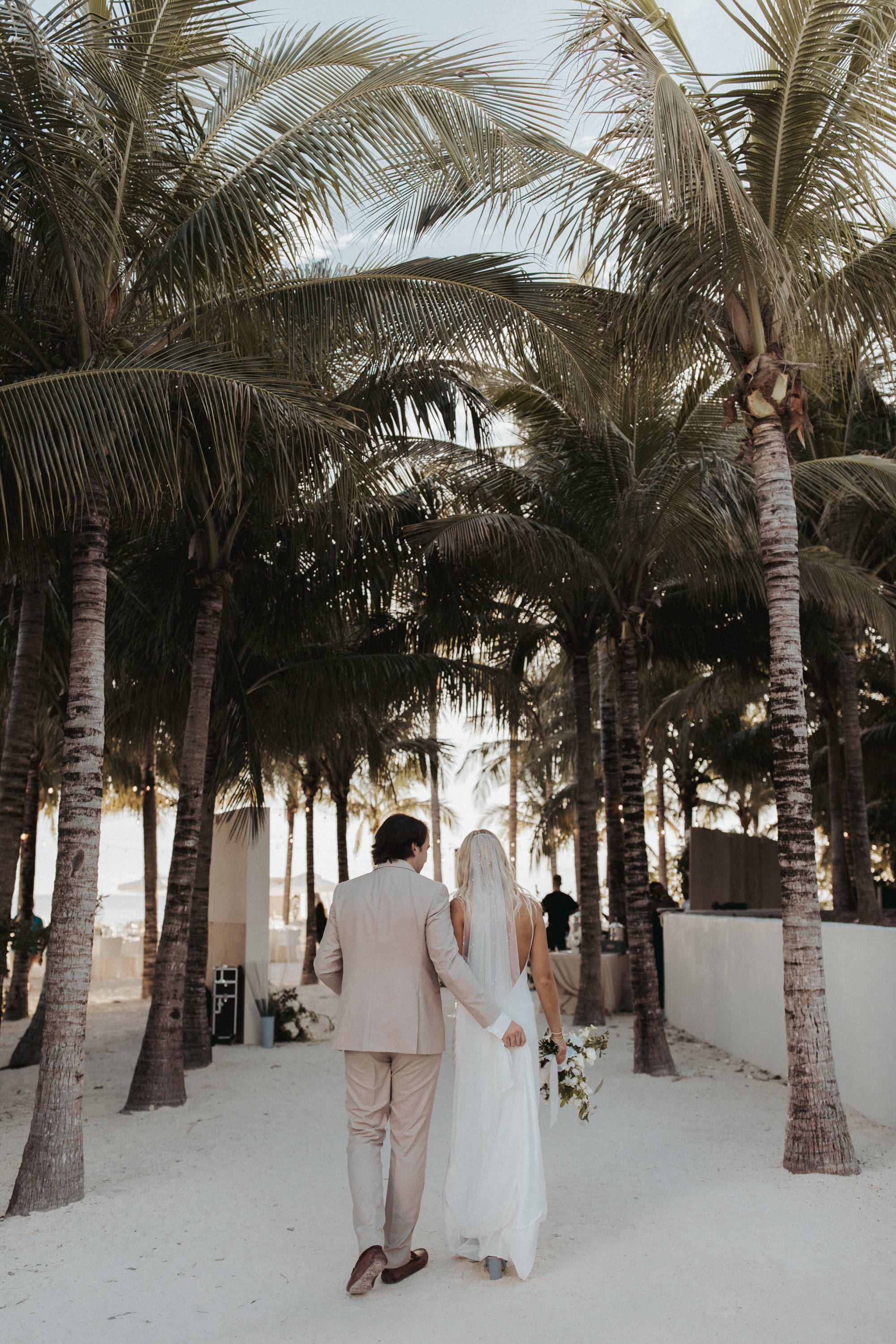 Tell us about your hair and makeup look
and the accessories you chose…
My hair and makeup was a very simple look but also made me feel so beautiful. I wanted to look as natural as possible but still feel beautiful on my big day. I told the hair and makeup girl to do whatever they thought looked the best and they killed it! I wore a Sarah Seven veil with clusters of pearls all the way down it. I was in love with this veil for a long time before I got engaged so I knew it was the one as soon as I saw it. I wore a bracelet that was given to me by my in laws that was my mother in laws mother's bracelet. I also wore a bracelet that my grandmother let me borrow. I wore blue shoes and a pearl garter that I bought from grace loves lace as well. I wore diamond earrings that my dad gave to me the day before my wedding day. I also put my other grandmother's handkerchief around my bouquet.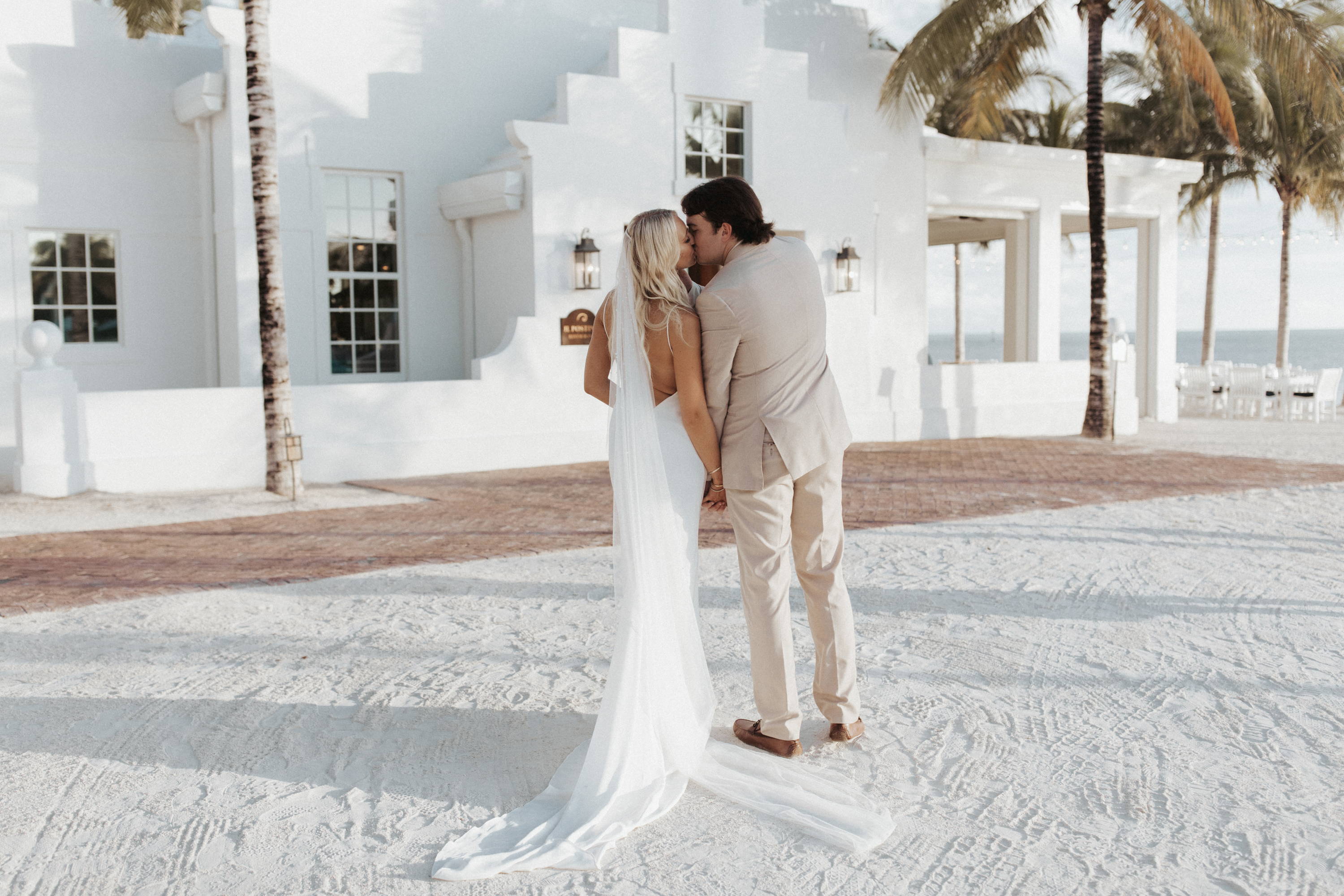 What made your day extra special?
All the people that were there to celebrate with us. It was only family and very close friends so it was so fun to have everyone together on our big day.
The funniest moment on the day was…
Getting ready with my bridesmaids and hanging out with them all day was so fun. The reception was a blast we had a live band so we just danced the night away they were so great. We also left the reception in a fishing boat so that was such a fun moment as well.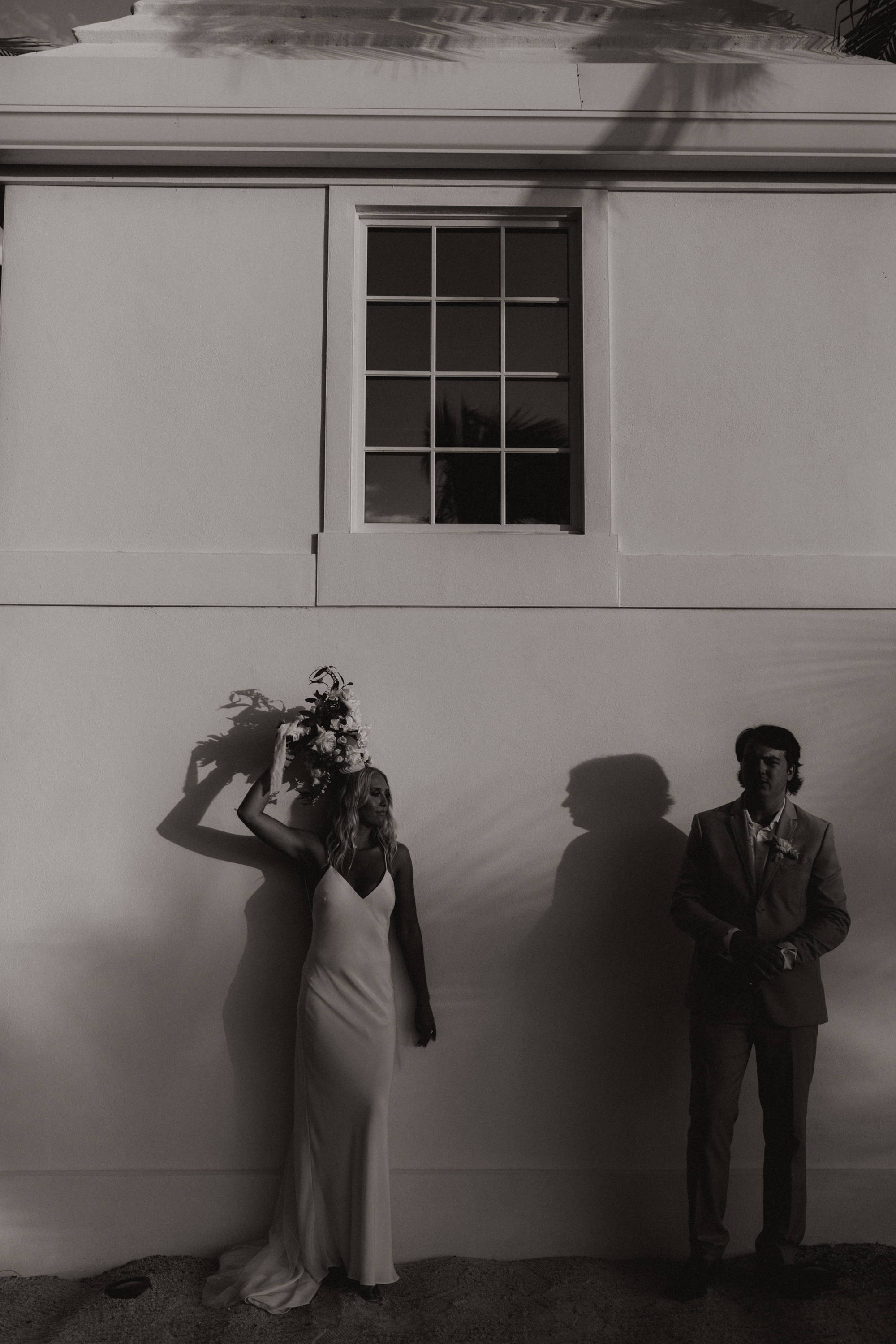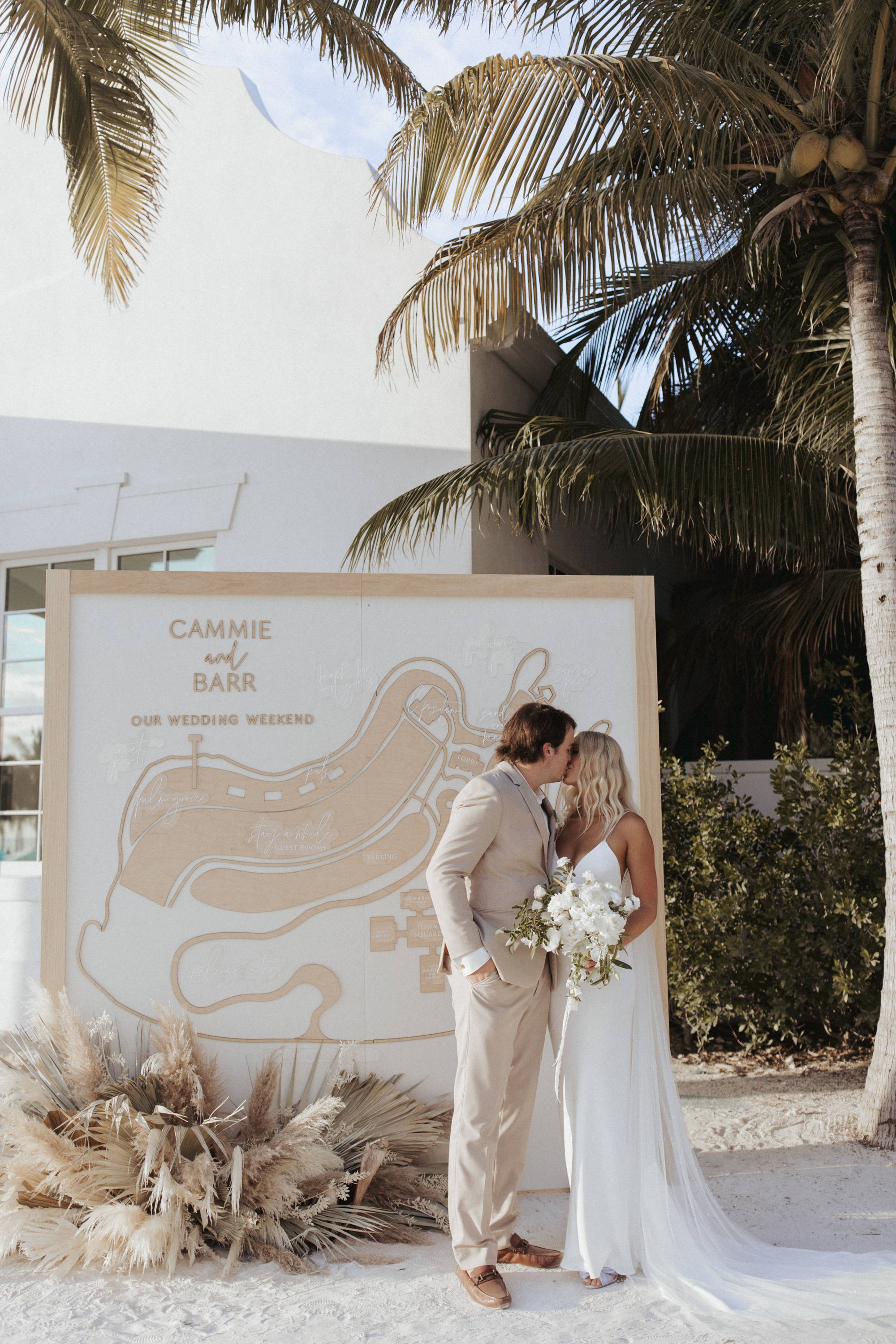 Where will you be honeymooning?
We went to Saint Barthélemy.
Any last advice or words of wisdom that you can share…
Enjoy and take in every moment of the day because it goes by so fast!



Groom Wore: Street Tuxedo