Bret & Samantha in the Clo Gown
Samantha and Bret said I do at the picturesque Wategoes Beach in Byron Bay. Drawing inspiration from Gatsby and Haus of Hera, their perfect day came to life amongst the Venetian marble pillars and sandstone architecture, a wedding filled with a constant flow of Dom Perignon, luxe brass elements, overflowing florals and fine crystalware situated within the old world Tuscan inspired walls of Victoria's at Wategos.
We met through friends in the small country town of Jamberoo.
Which GRACE dress did you choose? What accessories did you wear?
Which GRACE dress did you choose? What accessories did you wear?
I wore the 'Clo' dress with a lightweight Italian tulle, veil! For the reception, I wore a silk silhouette dress from Marry Me Bridal.
We were barefoot on the sand for the beach ceremony. I wore Louboutins Beige Follies - Mesh crystal cut detailing for the reception to suit the glamour surrounding us.
What does marriage mean to you?
Marriage is an equal partnership with shared goals of making the other person the best version of themselves in between laughs and romance.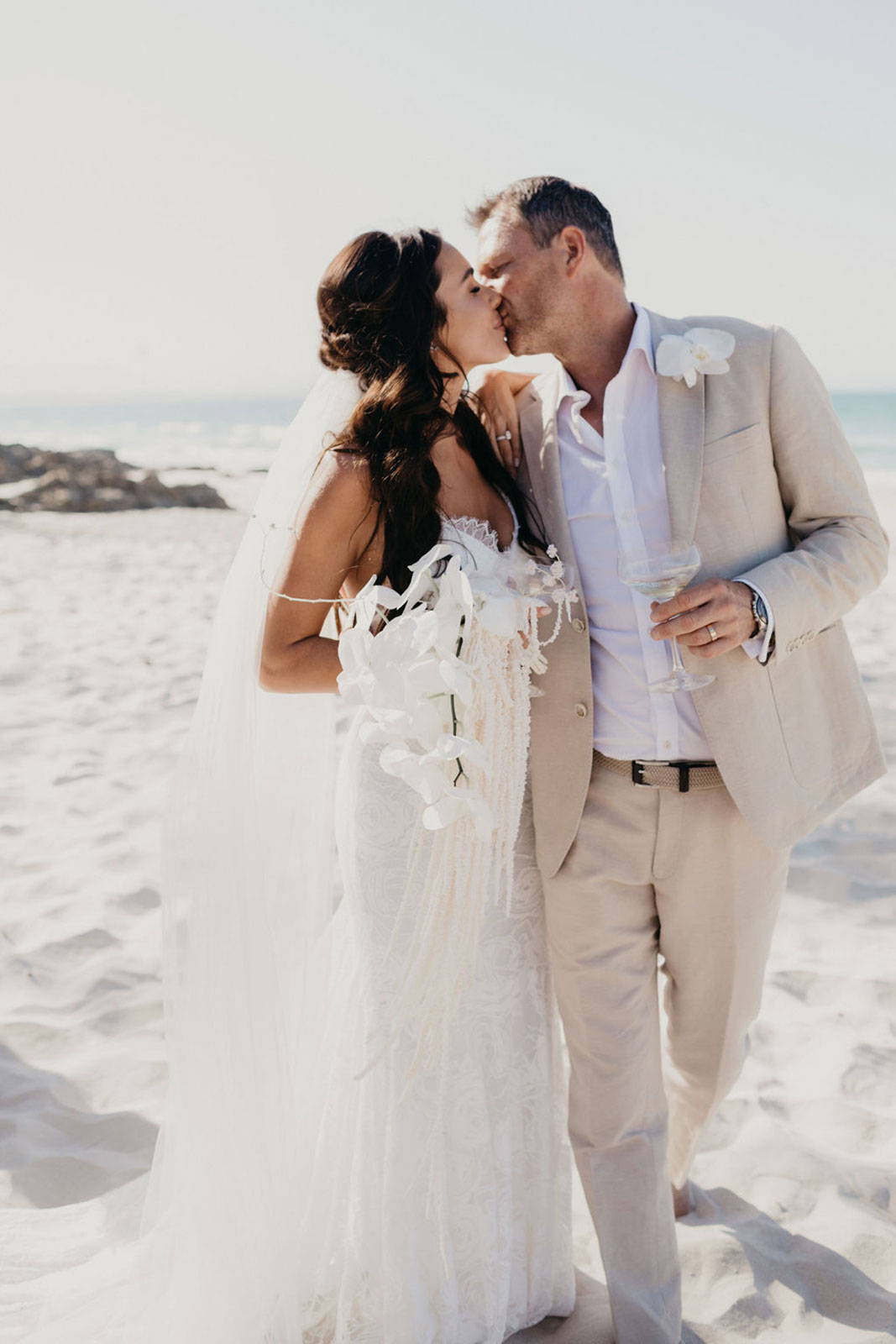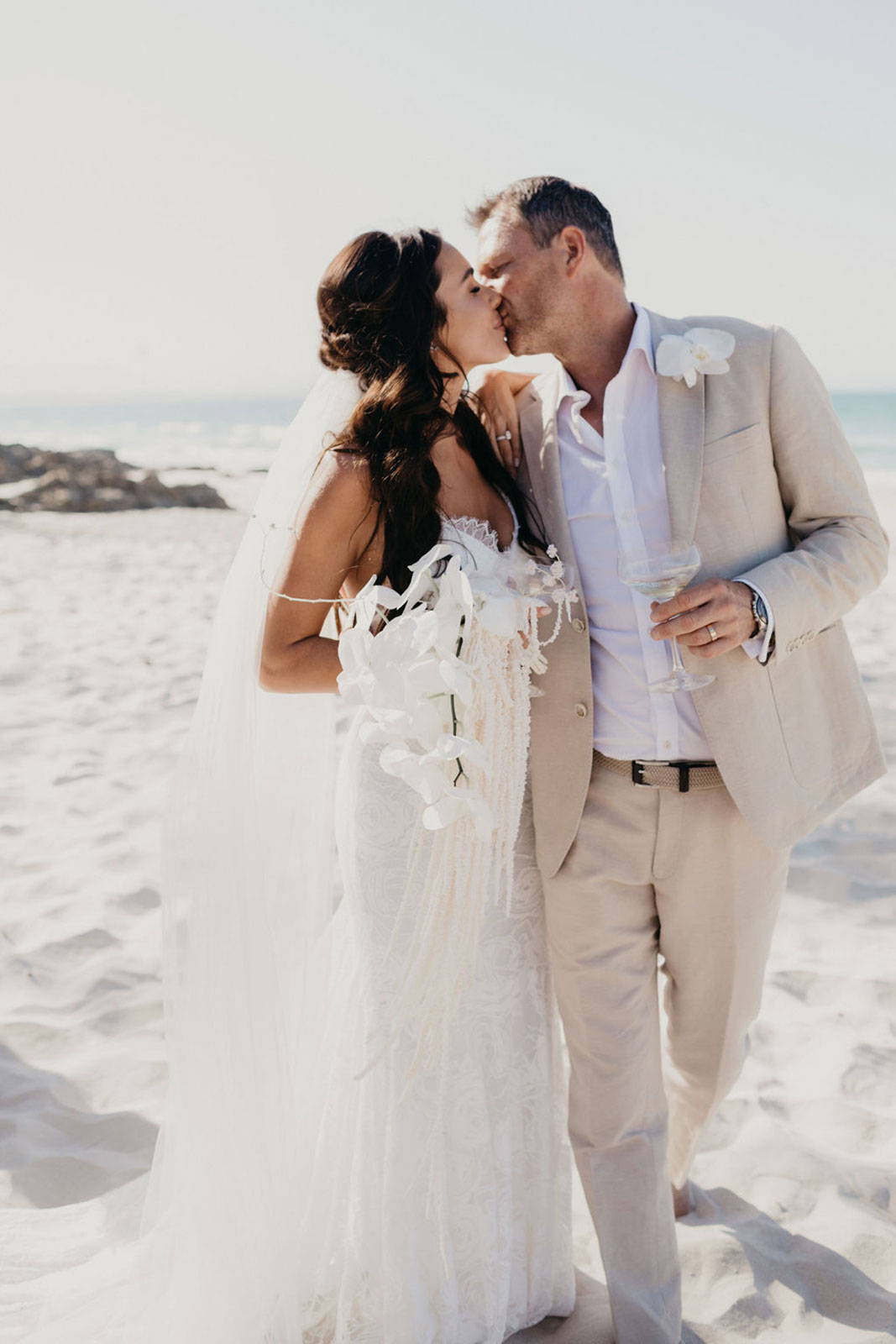 What was the theme of your wedding?

A glimpse of heaven amongst the venetian marble pillars and sandstone architecture, a wedding filled with a constant flow of Dom Perignon, luxe brass elements, overflowing florals and fine crystalware situated within the old world tuscan inspired walls of Victoria's at Wategos. We brought some of our own art pieces too as a familiar touch that represented us both. our paintings included: Lysistrata Norman Lindsay watercolours. Revellers Norman Lindsay Europa Boyd painting and a new piece from a local upcoming artist Brian Connolly.  
Incidentally the ceremony and reception captured both our sides as a couple, whilst the ceremony aesthetic captured our more laid back, adventurous side, our reception showcased our love for the dazzling and finer things in life.
Where did you get married and what was your inspiration?

We got married on Wategos beach. It holds nostalgia for me as my favourite holiday destination as a child, it was where my dad taught me to surf and now a place I visit daily to surf and to teach Bret too.
We wanted the wedding to be timeless and authentically us as a couple. So we first sort to discuss as a couple what we envisioned. We took inspiration from Gatsby for florals. We went to Burning Man together in 2018 and have been fascinated by neon signs since so, we incorporated one for our ceremony "Happily ever after" and one for our reception reading "The Whitfords" Lastly, we were inspired by Haus of Hera.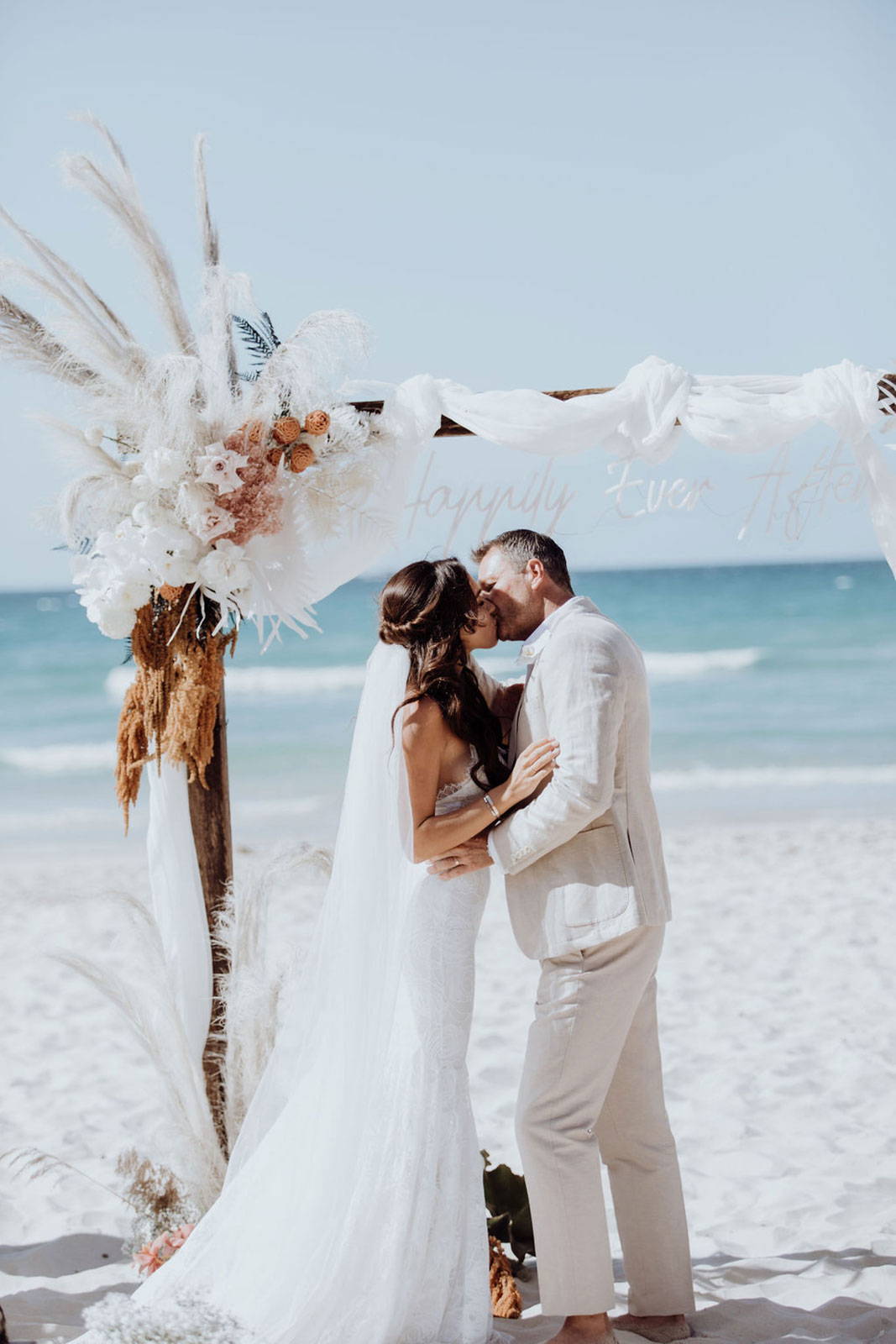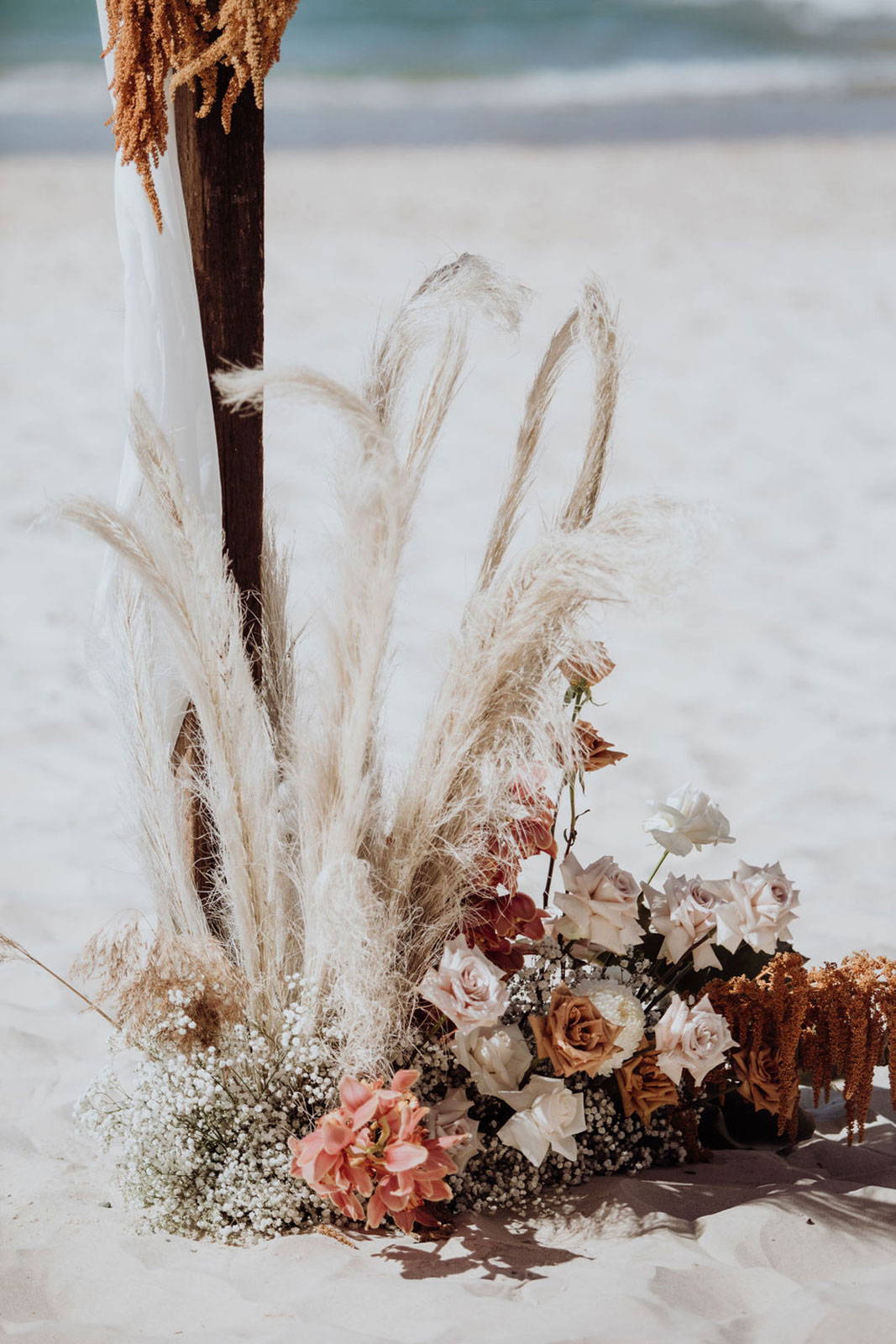 What did you do to prepare for your special day?

We both stayed at Victoria's the nights leading up to the wedding however we did (try) to avoid seeing each other, as to not ruin the surprise. On the day, Bret woke early and went for a brisk walk to cape Byron's historical lighthouse, the most easterly point of Australia.
Samantha had a slower start to the day with an ocean swim and breakfast with her intimate family.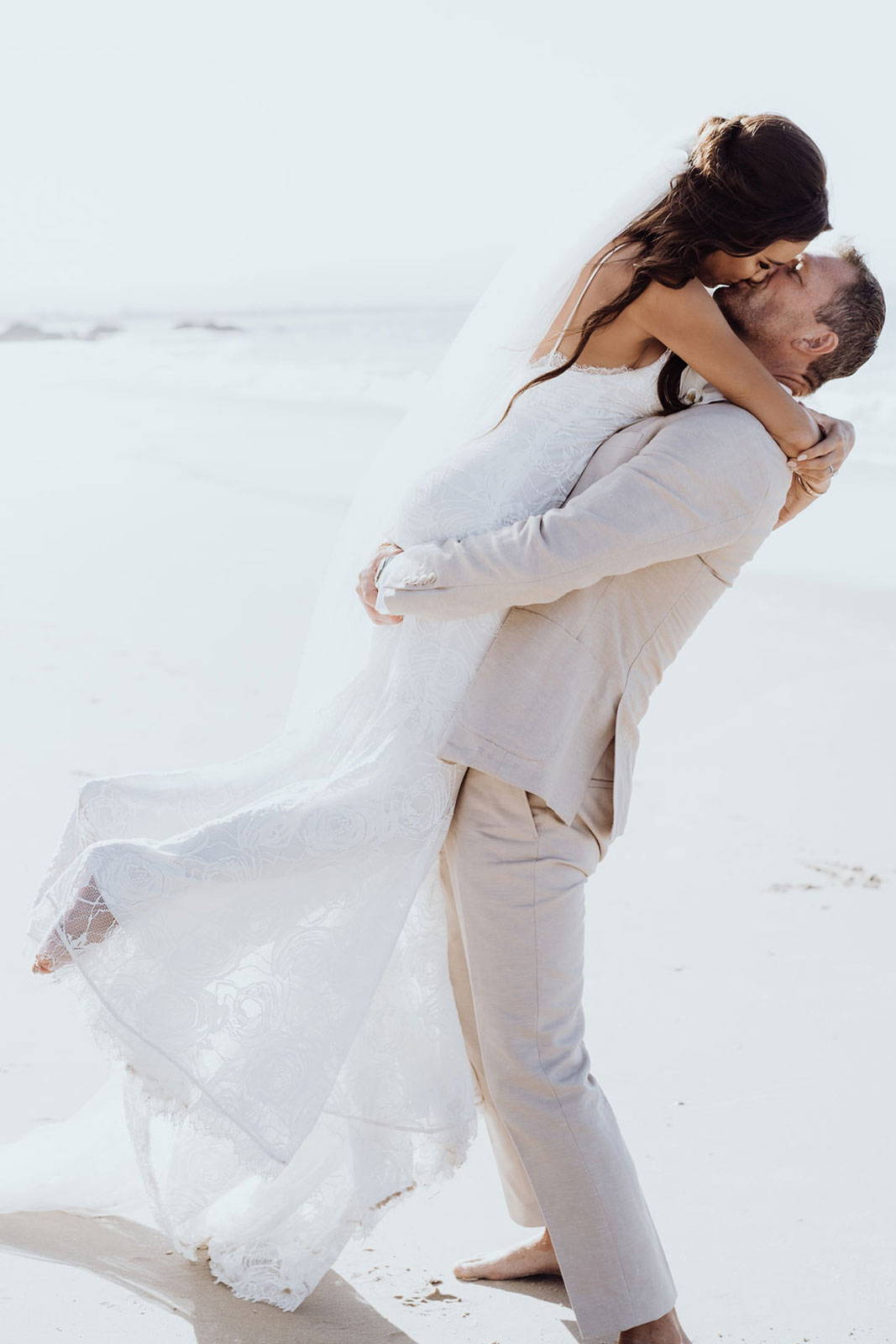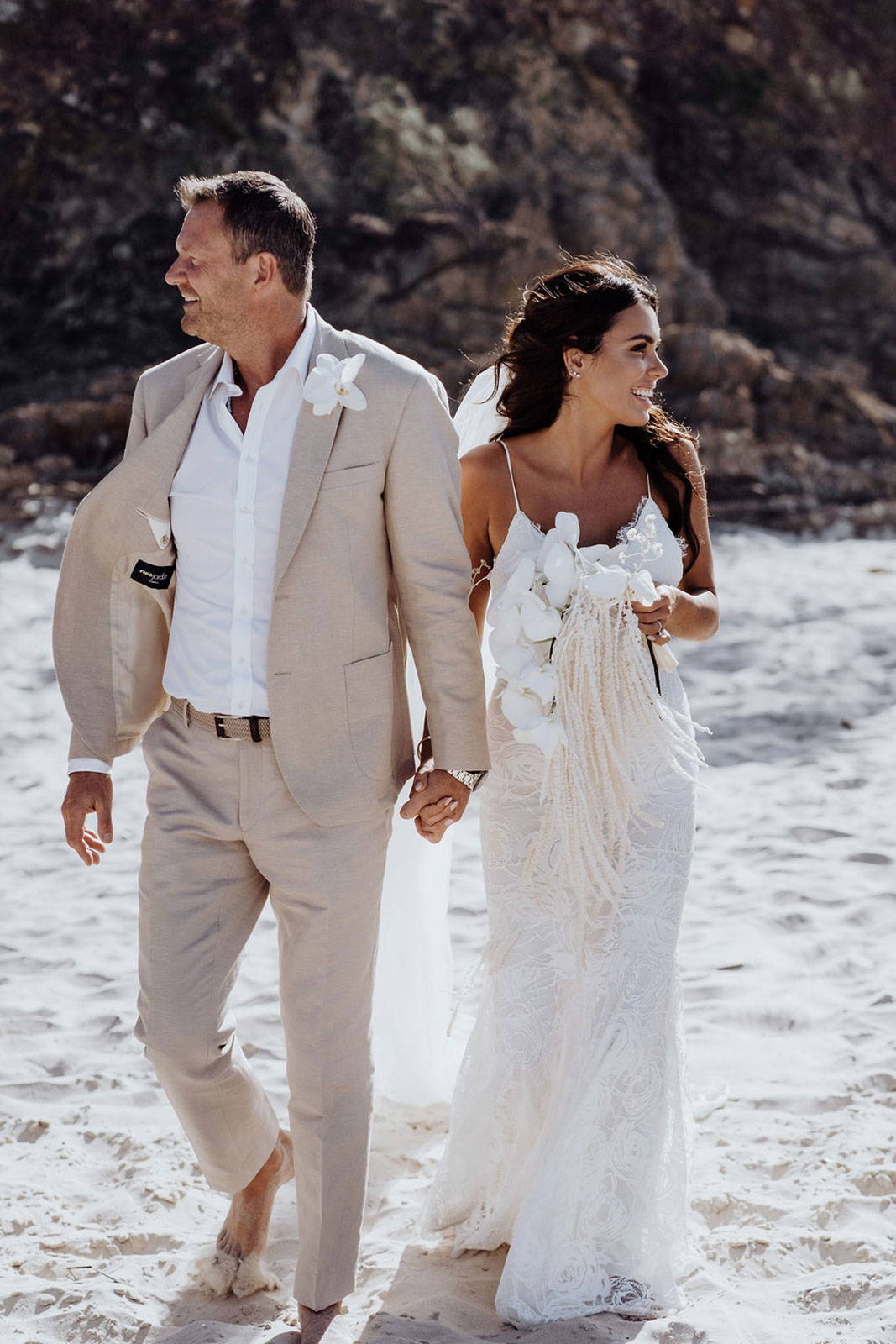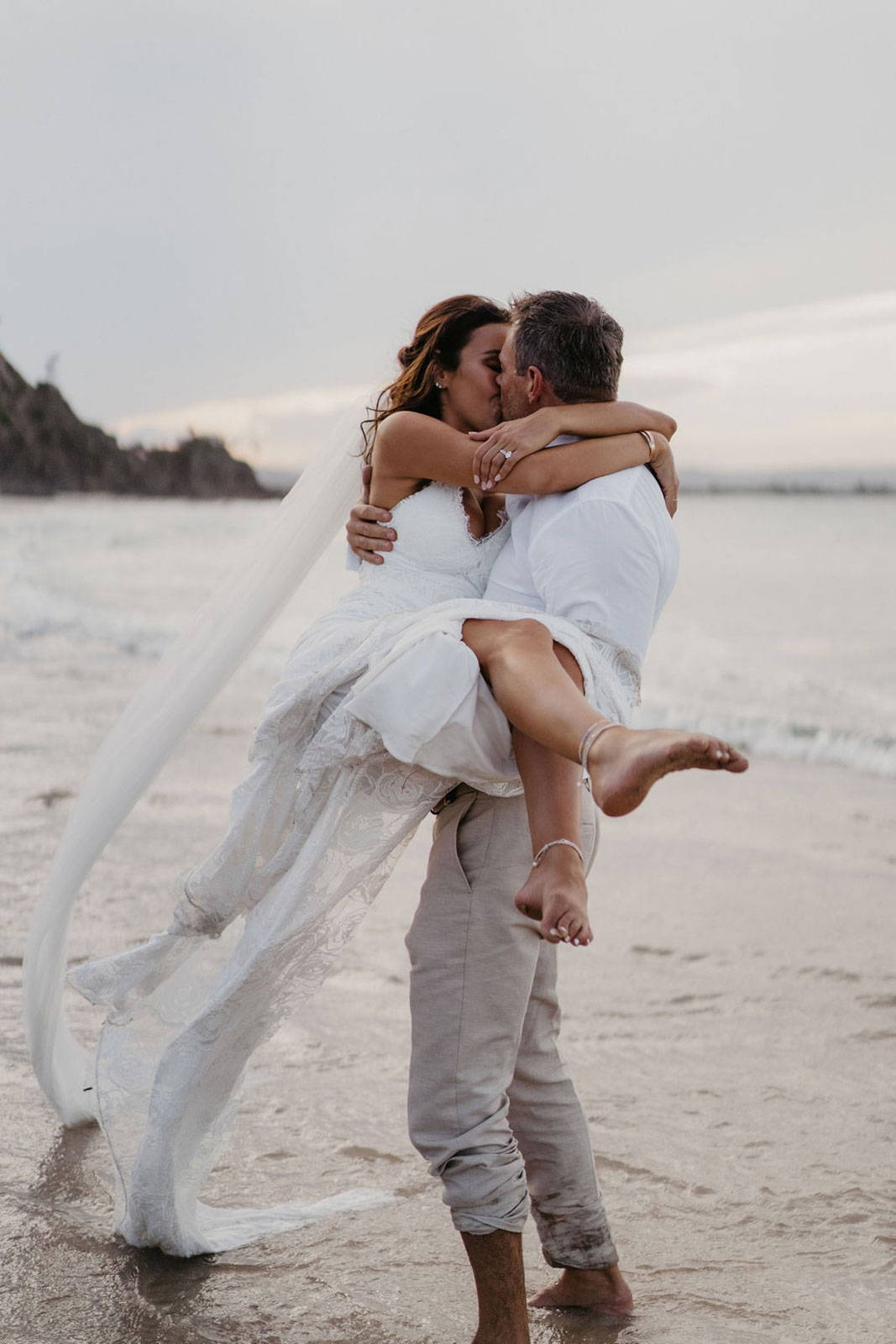 Bret proposed at a private starlight dinner on coconut beach on Hayman island. As the sun was setting we walked hand in hand along the beach where Bret got down on one knee. It was a flawless surprise!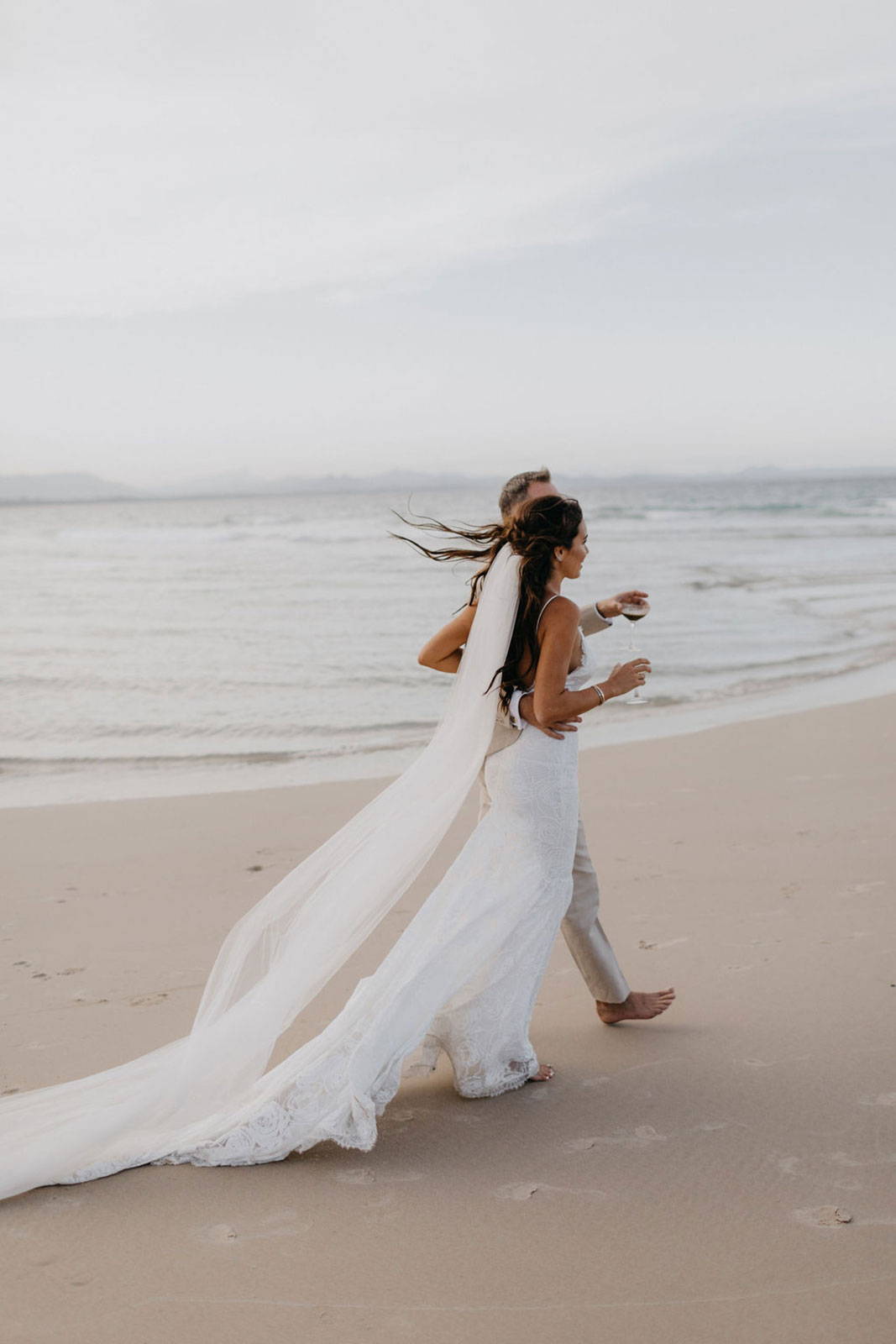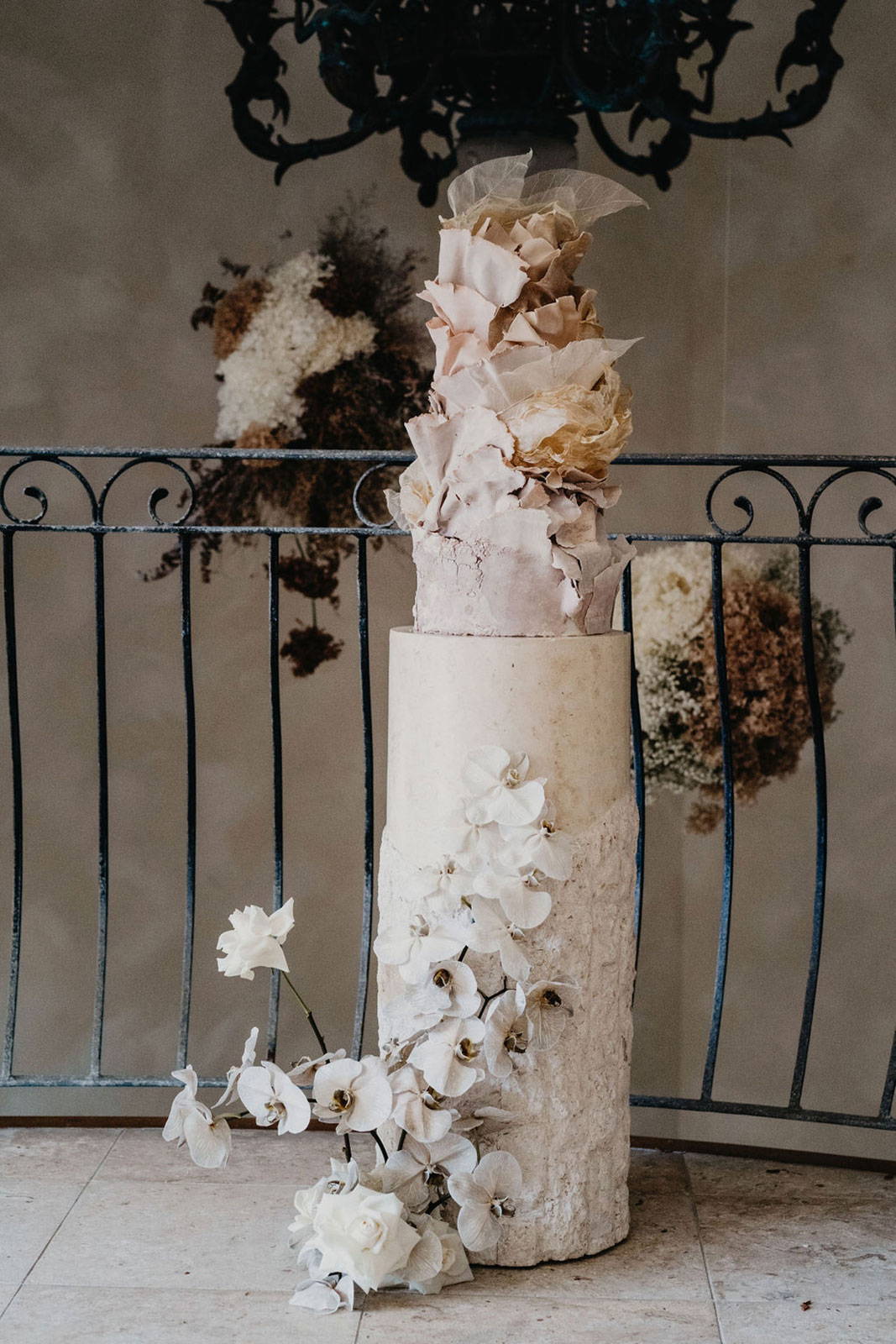 Tell us about your florals.
Bower Botanical made our floral dreams come true through a colour palette that represented both bride and groom. The arrangements and styling had elements for soft femininity touches but also incorporated some dark dramatic cascading elements on the staircases.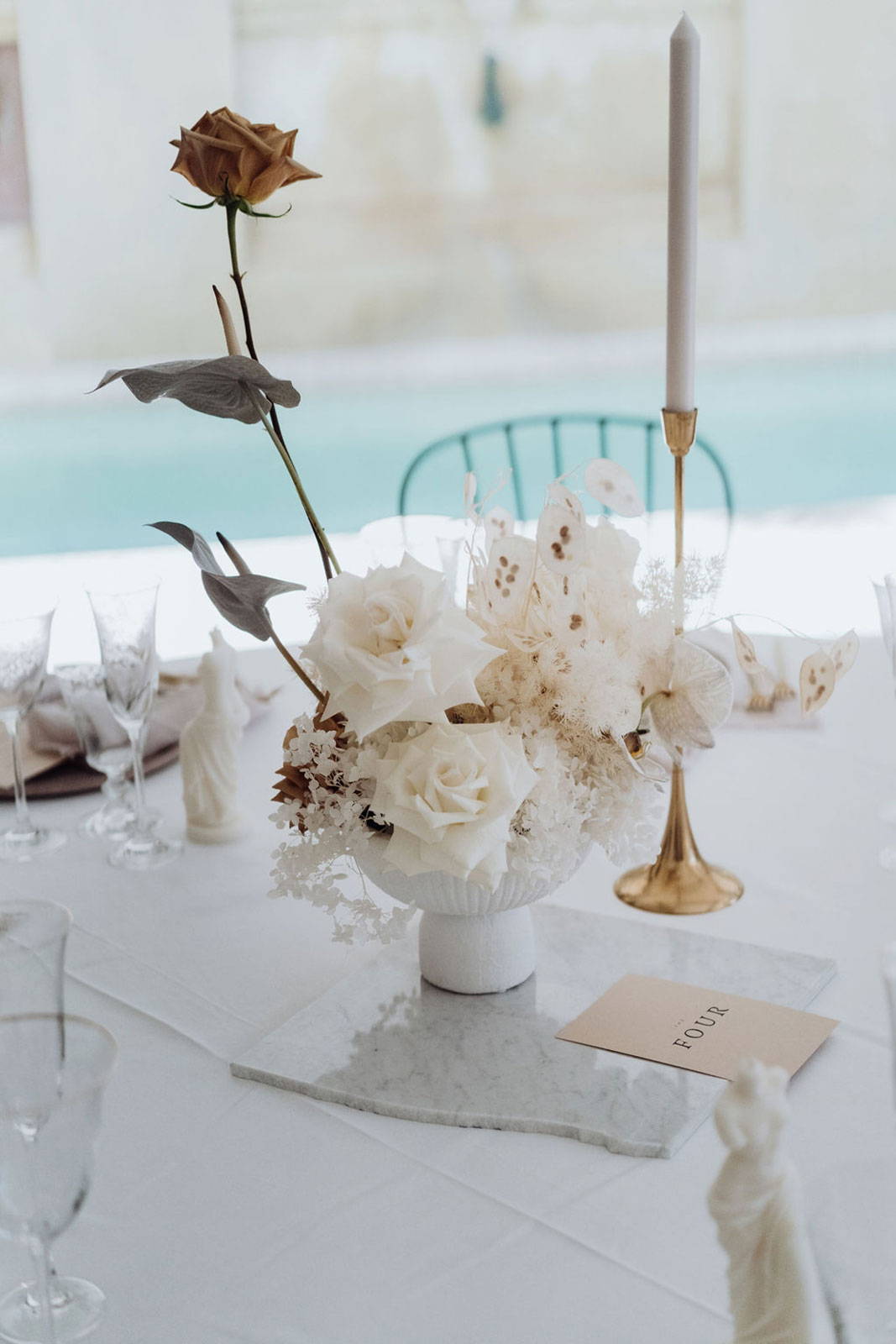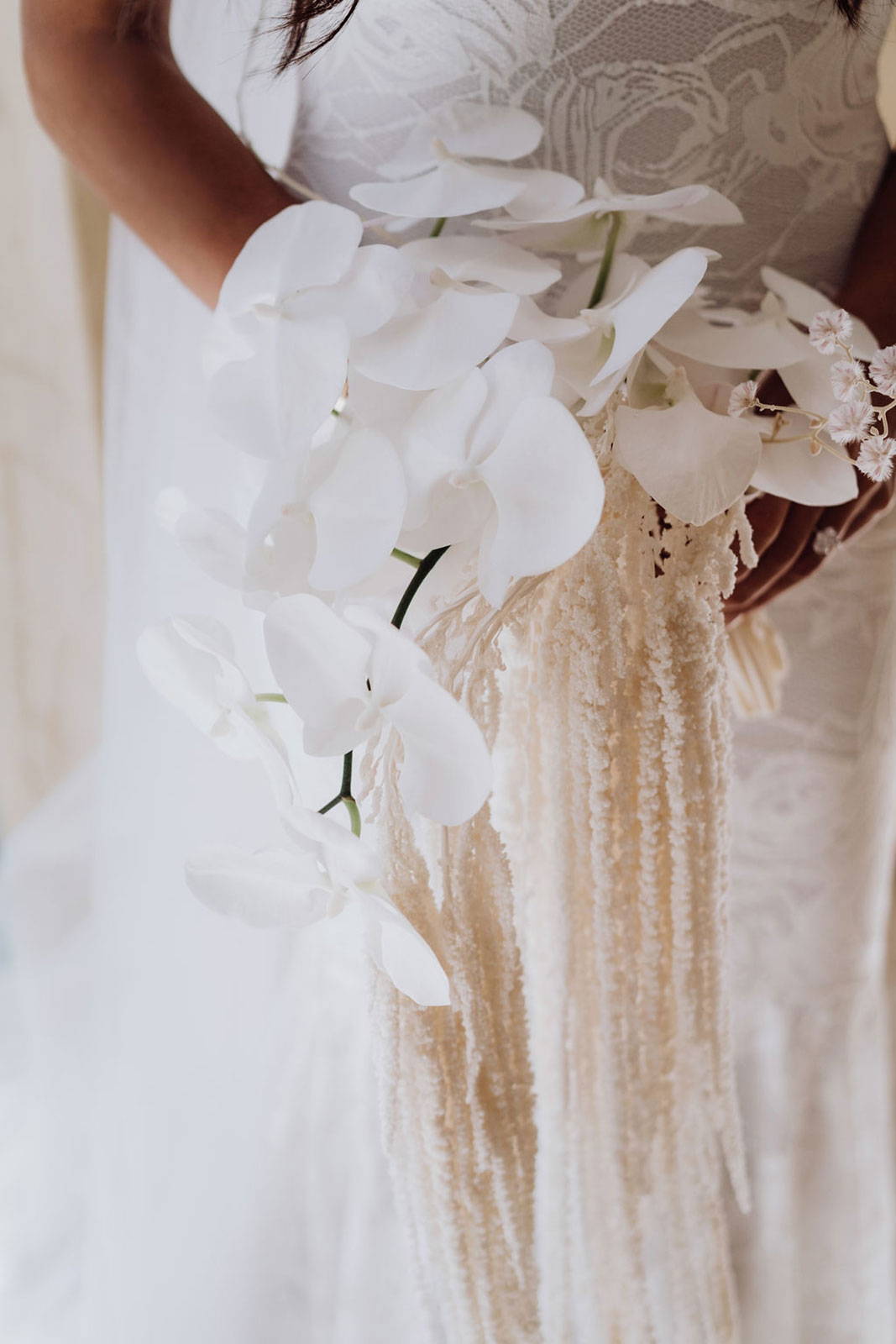 ---
How was the ceremony decorated?

Our ceremony was on the beach at Wategos and I really wanted it to compliment the earthy coastal colours surrounding Wategos natural colouring and beauty. We had soft silk draped across a large timber arbour with a white neon light reading Happily Ever After. Families sat close on pews on either sides. I will forever be grateful for the perfect weather on 20.11.20.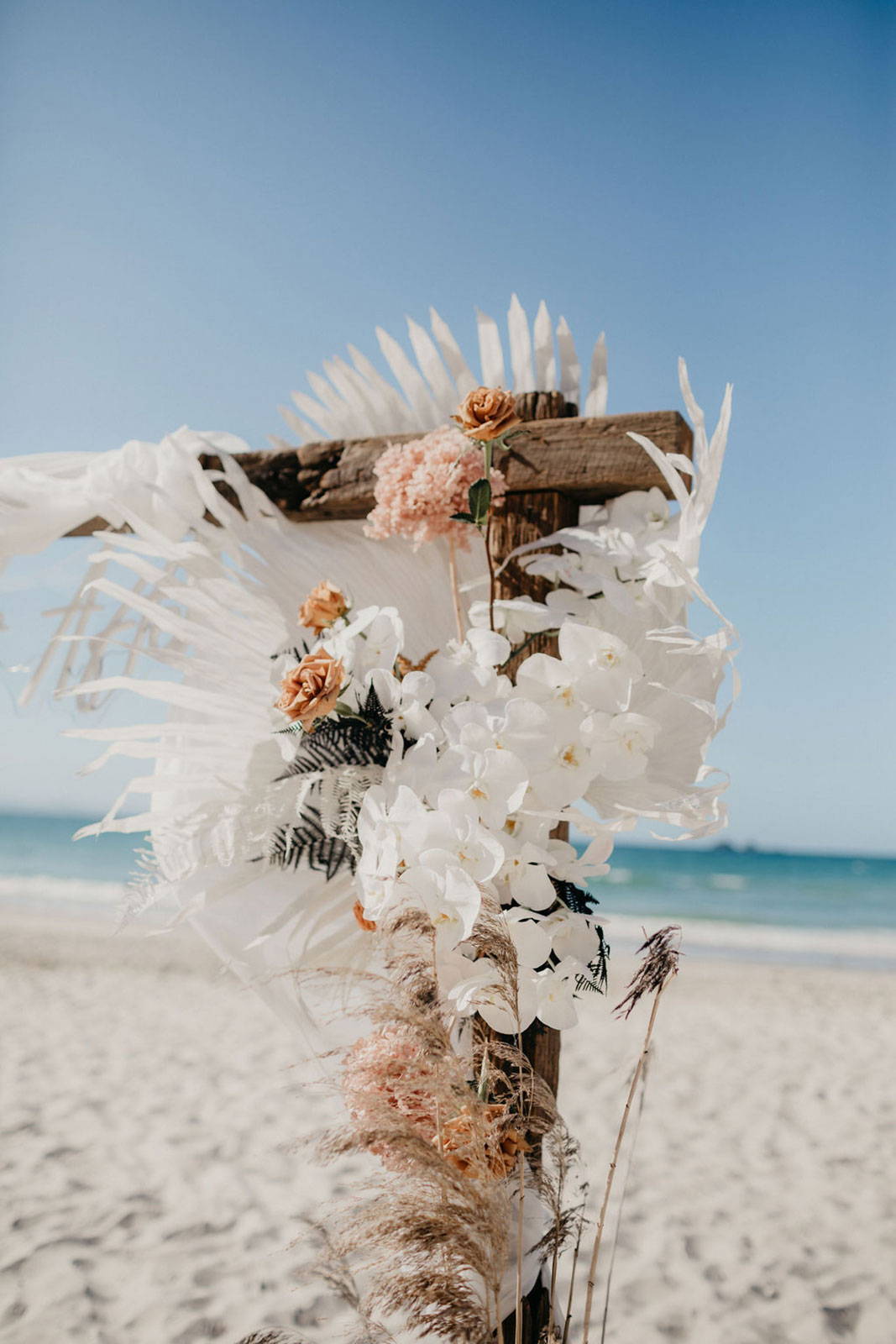 How was the reception decorated?

We chose Victorias on Wategos for old world Tuscan inspired feel. We both agreed that we wanted the room to feel like it was bursting with flowers like the scene Gatsby creates for Dais with fountains of champagne.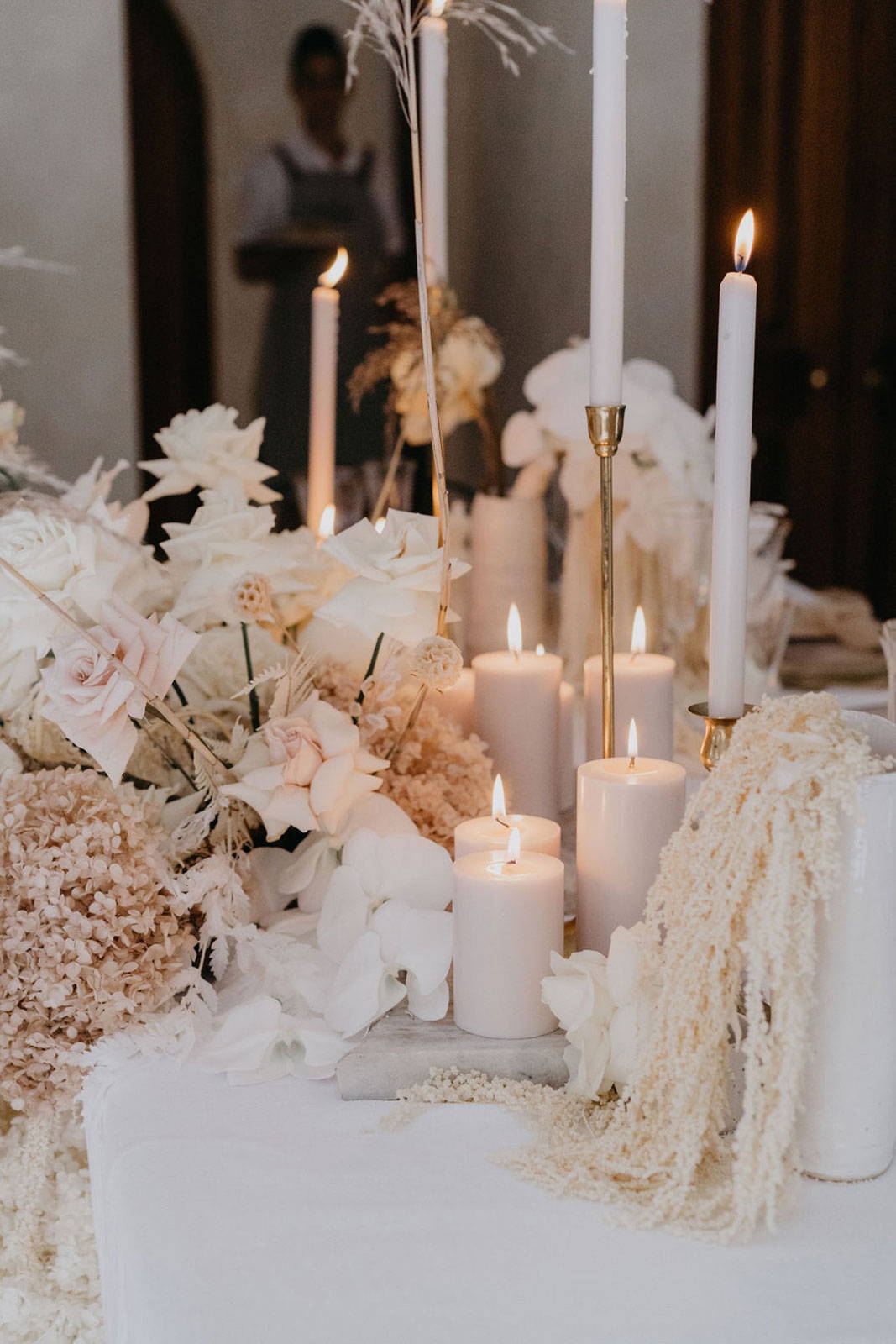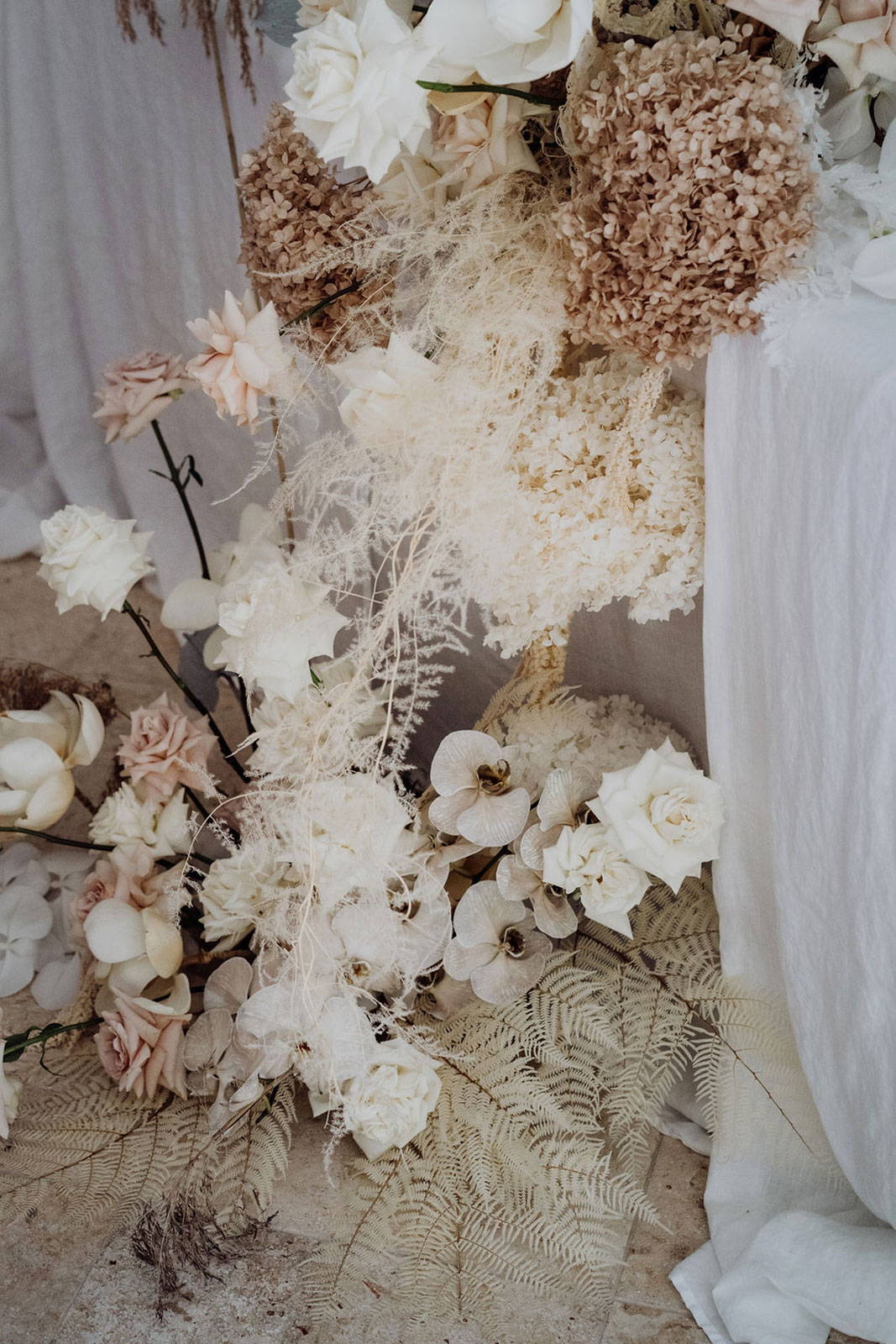 What did your bridesmaids wear?
What did your bridesmaids wear?

Camilla. A statement dress rich with themes of resort luxe, the Tales of Talitha Long Sheer Overlay Dress is spellbound by the Princess of Bohemia and exudes boho luxe. The captivating free-flowing dress is crafted with a sheer silk long overlay that boasts a stunning draped silhouette, a feminine V neckline and shoulder splits on the seams.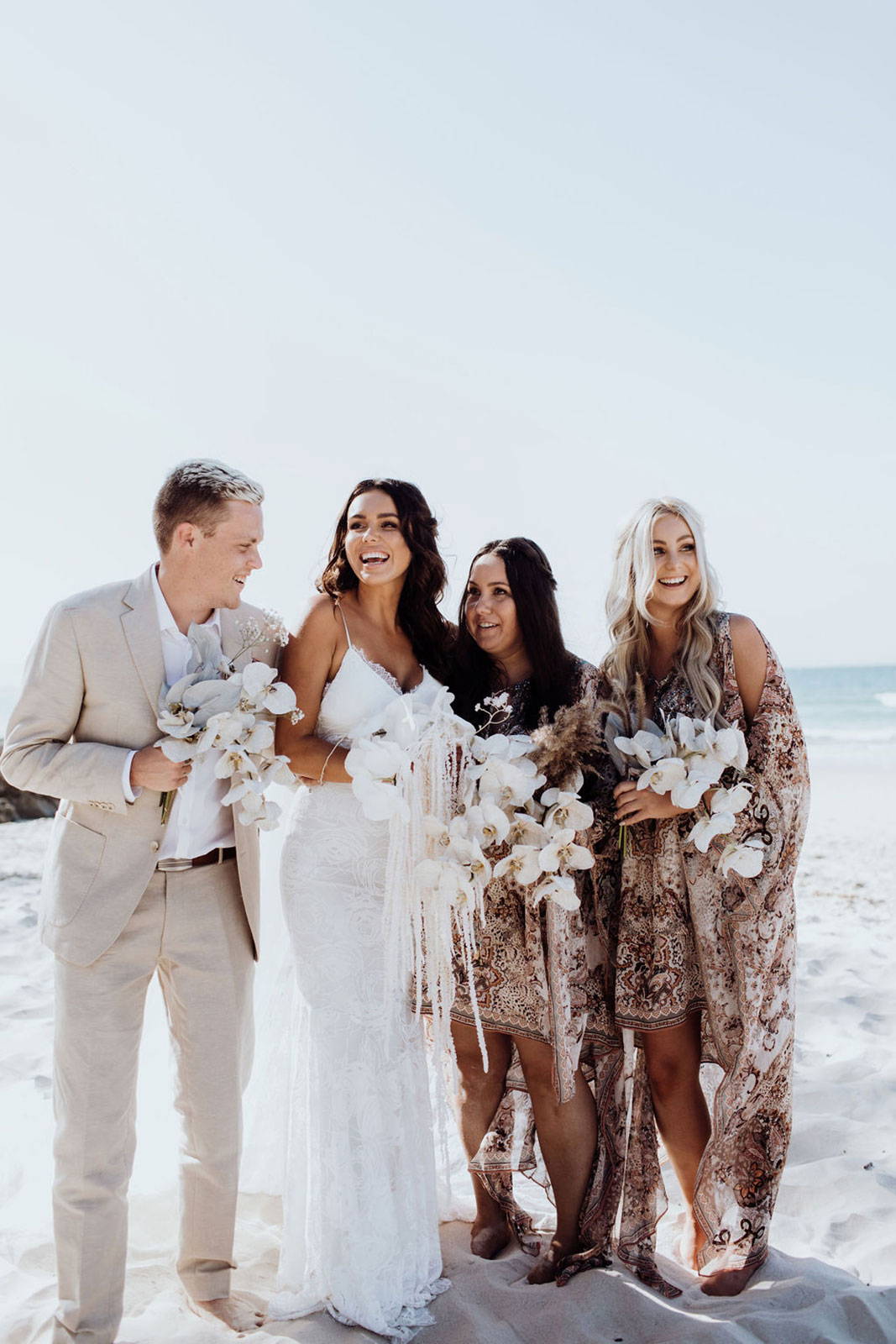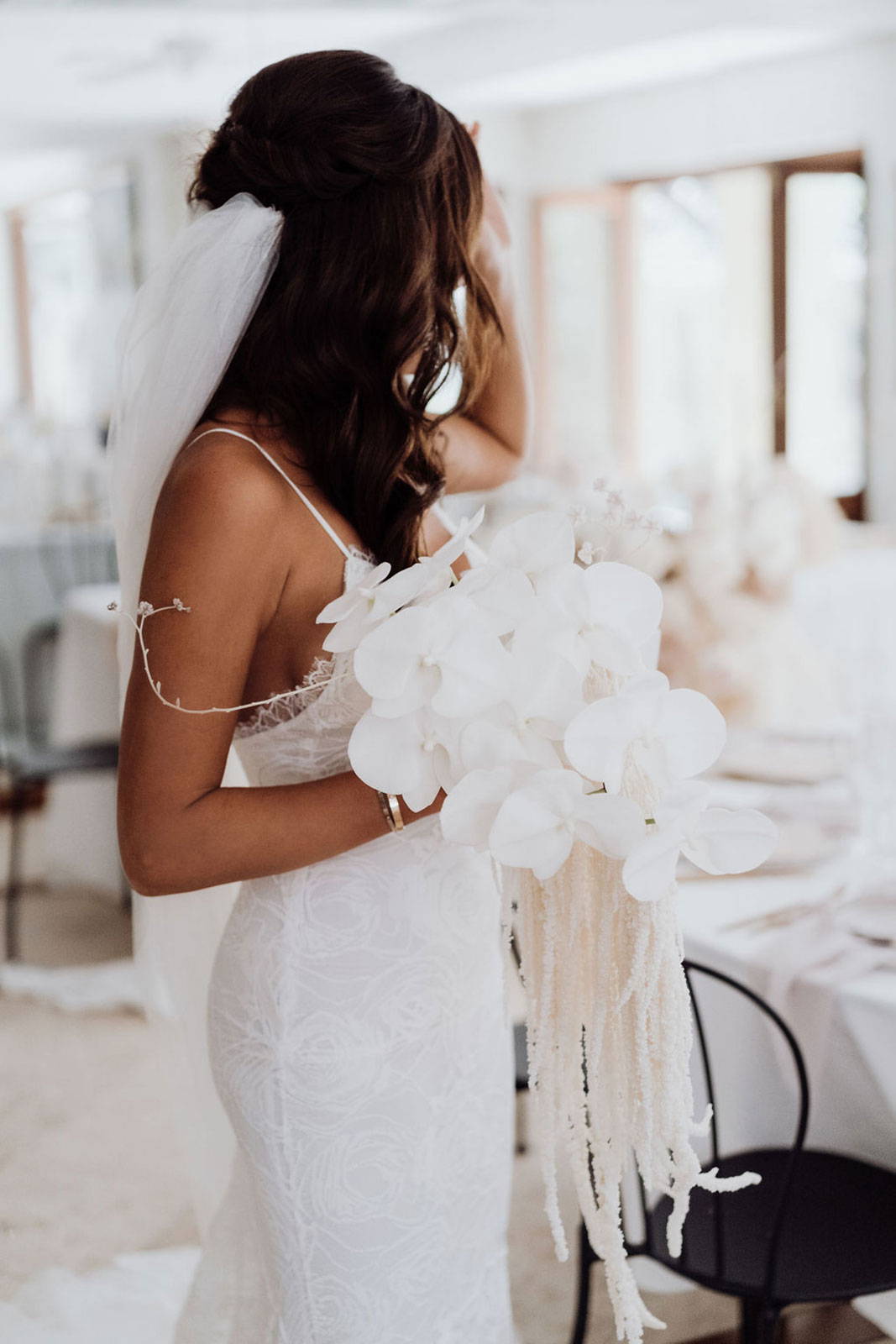 How did you style your hair and what makeup look did you go for?
Bride and bridesmaids had their hair styled by Edwards and Co with a more natural beachy look of curled half up half down and curtain bangs to frame the face.
Natural, dewy style with bold eyebrows By Alex Mahoney.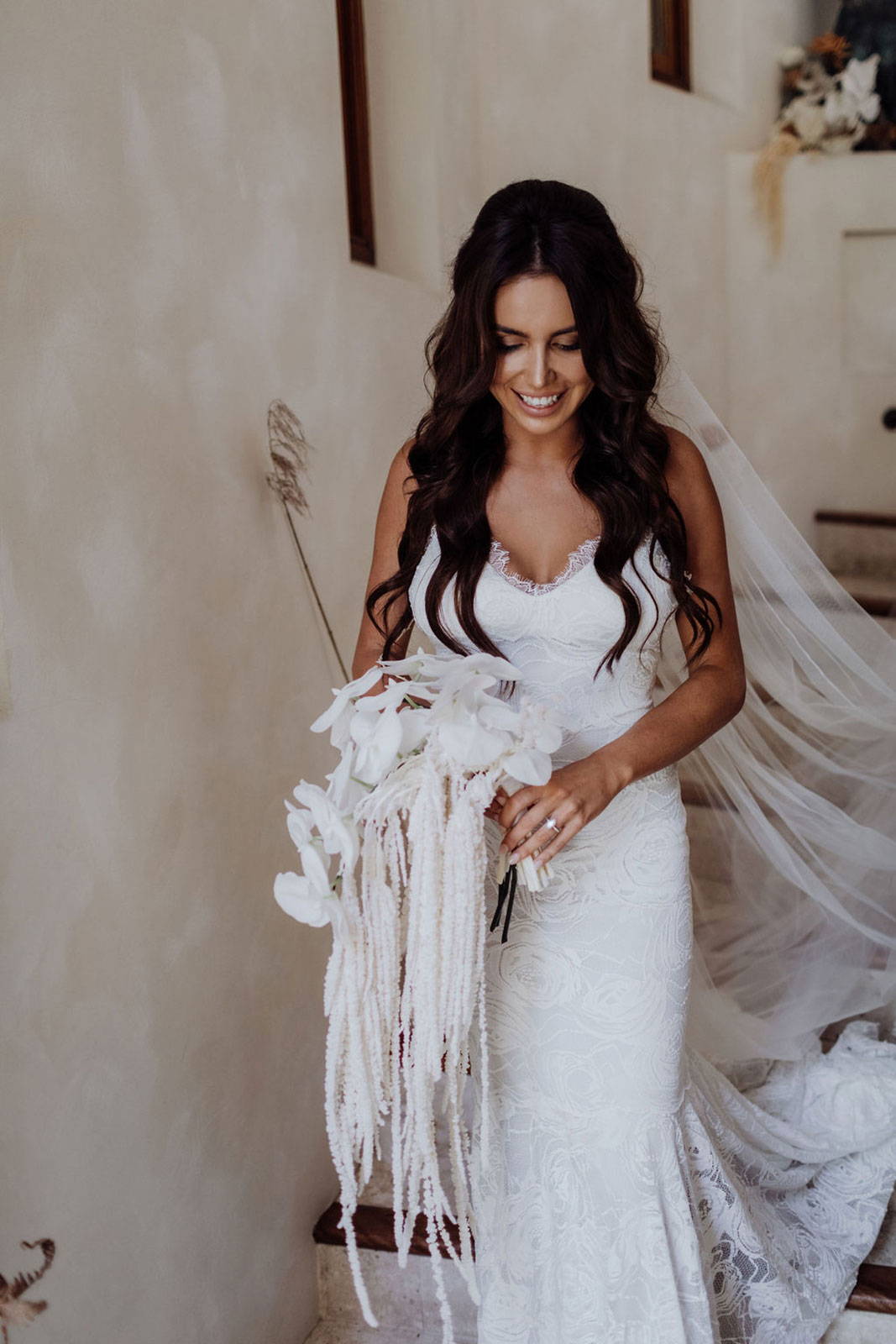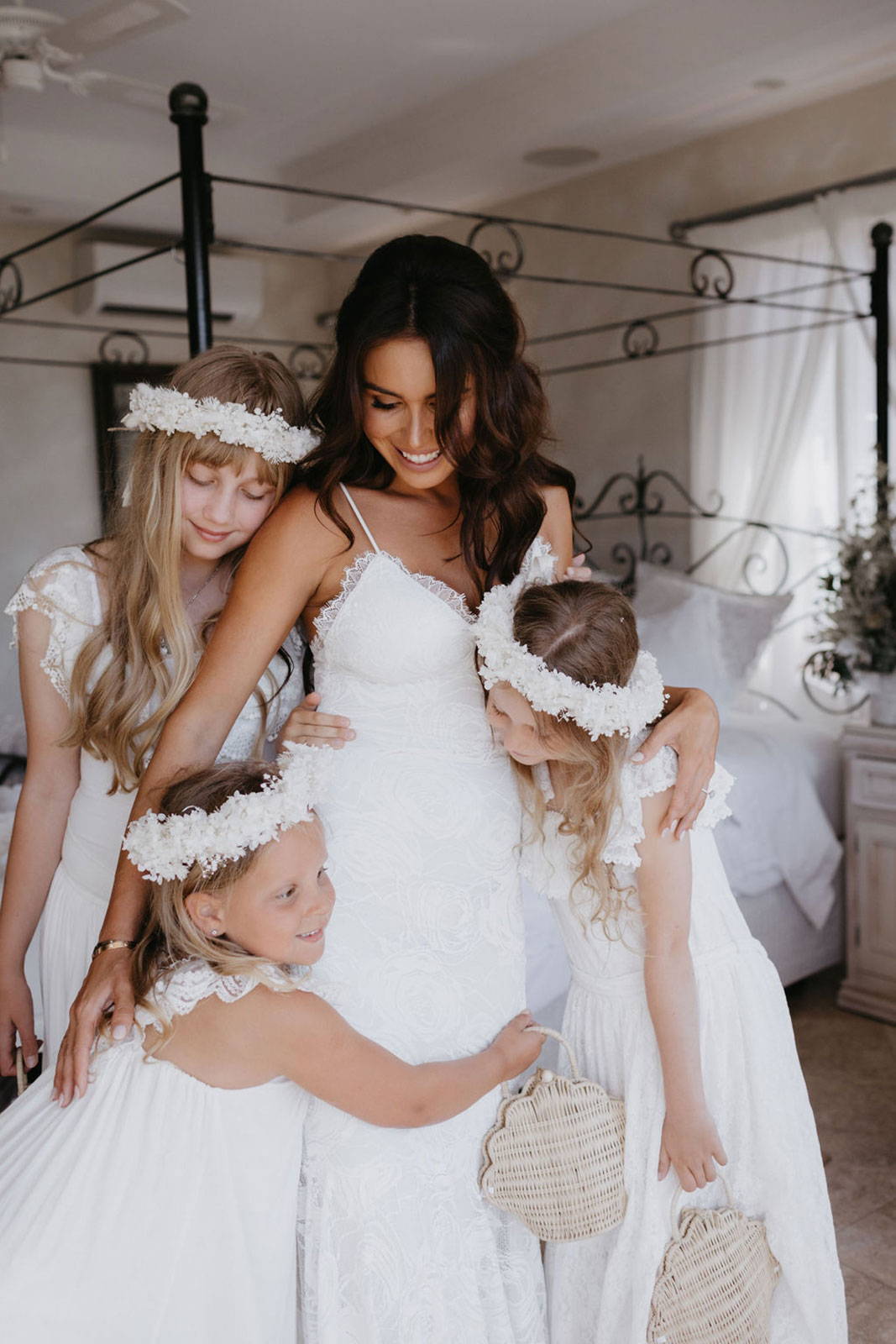 What was a memorable moment for you?

Having my dad hold my hand and dress as we walked along the sand towards Bret passed all our beaming, colourful guests who had travelled far to celebrate us.
The roaring laughs and tear-inducing speeches from our siblings and the best man that upheld just how much our love and journey has been experienced by those closest to us.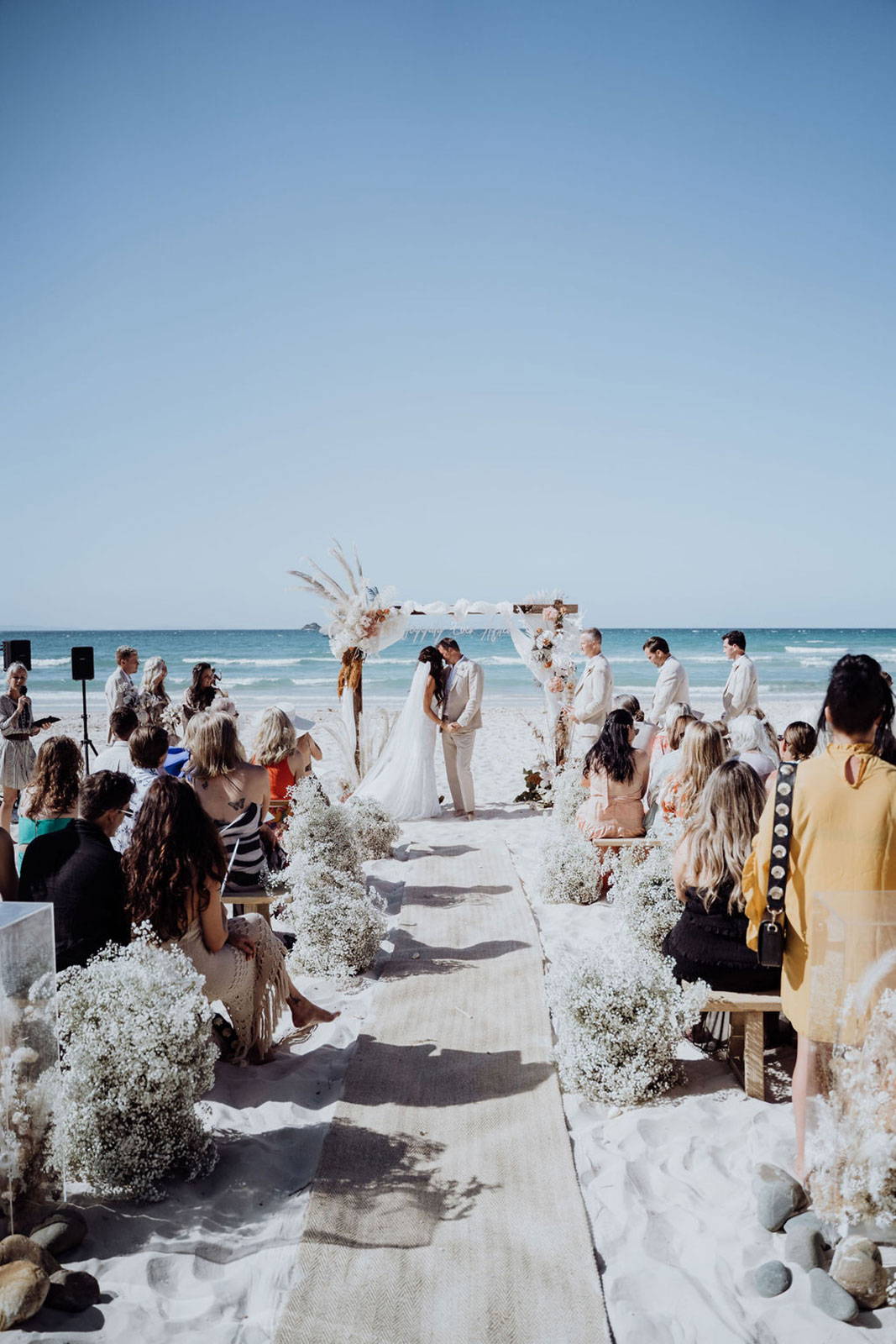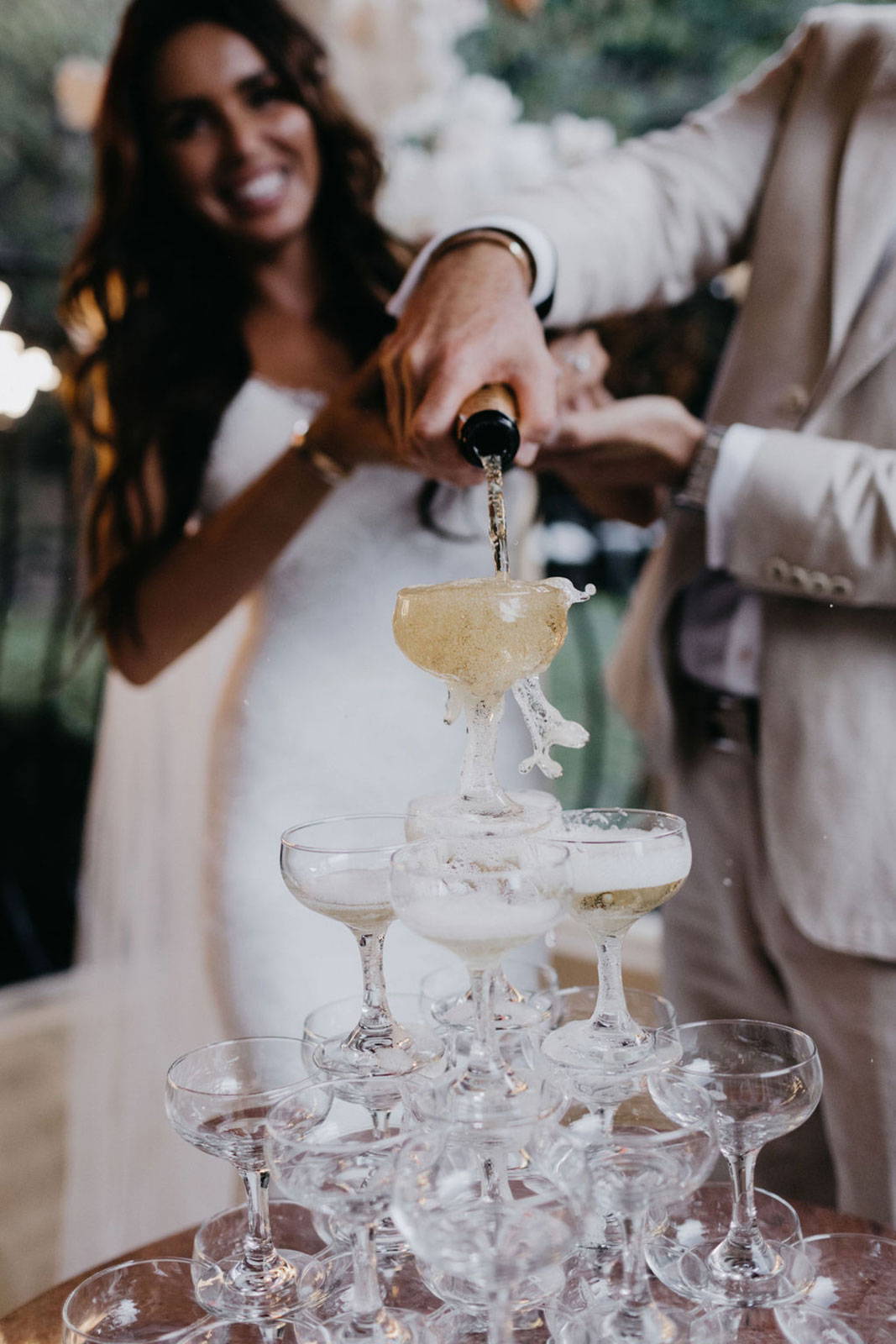 ---
Were there any other details?

We both feel strongly about having as minimal waste as possible and repurposing everything. My parents kept the dry flowers from the wedding to decorate their Byron cabin. We gifted the silk for future couples to use. We homed the neon signs in our bar room in our new house.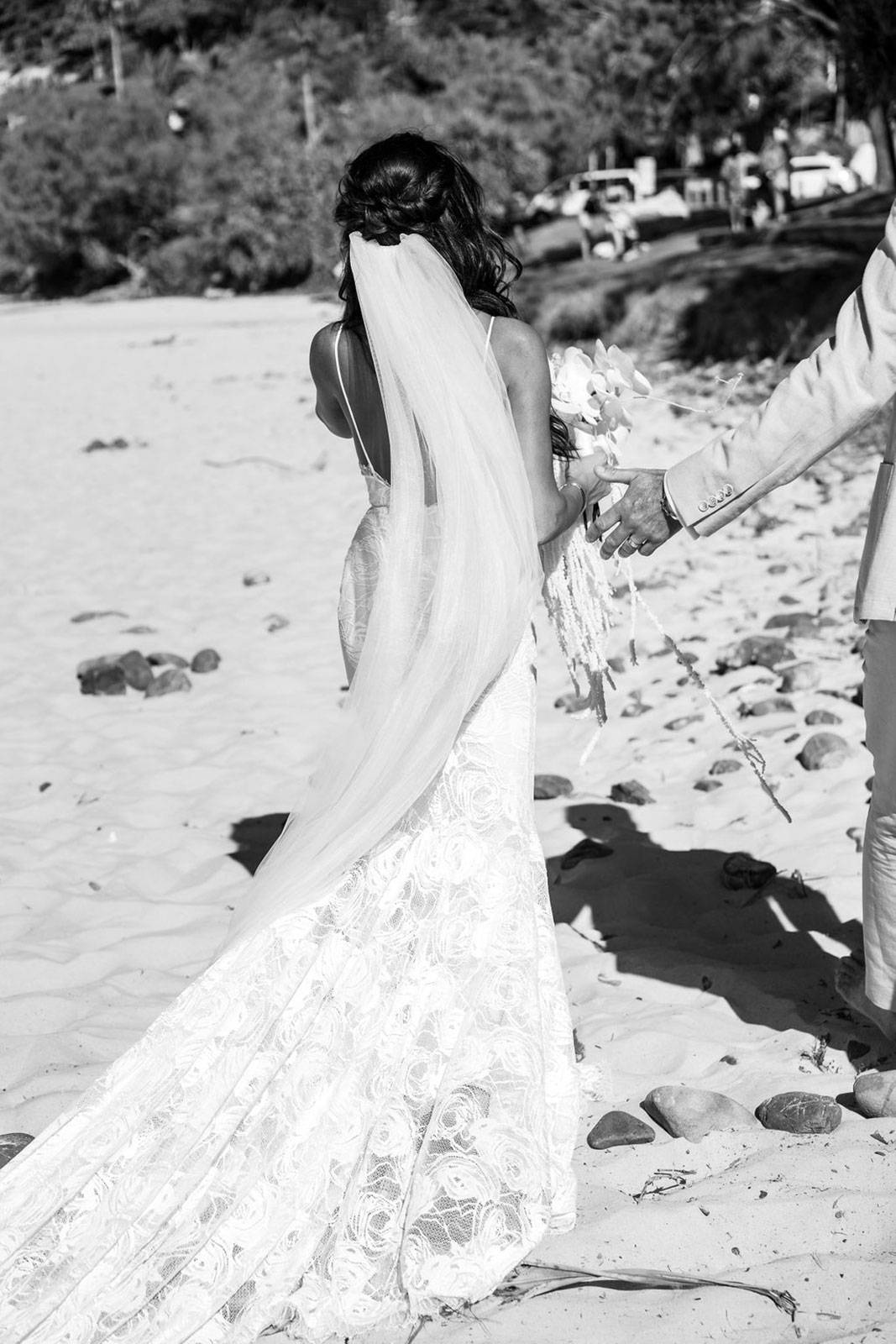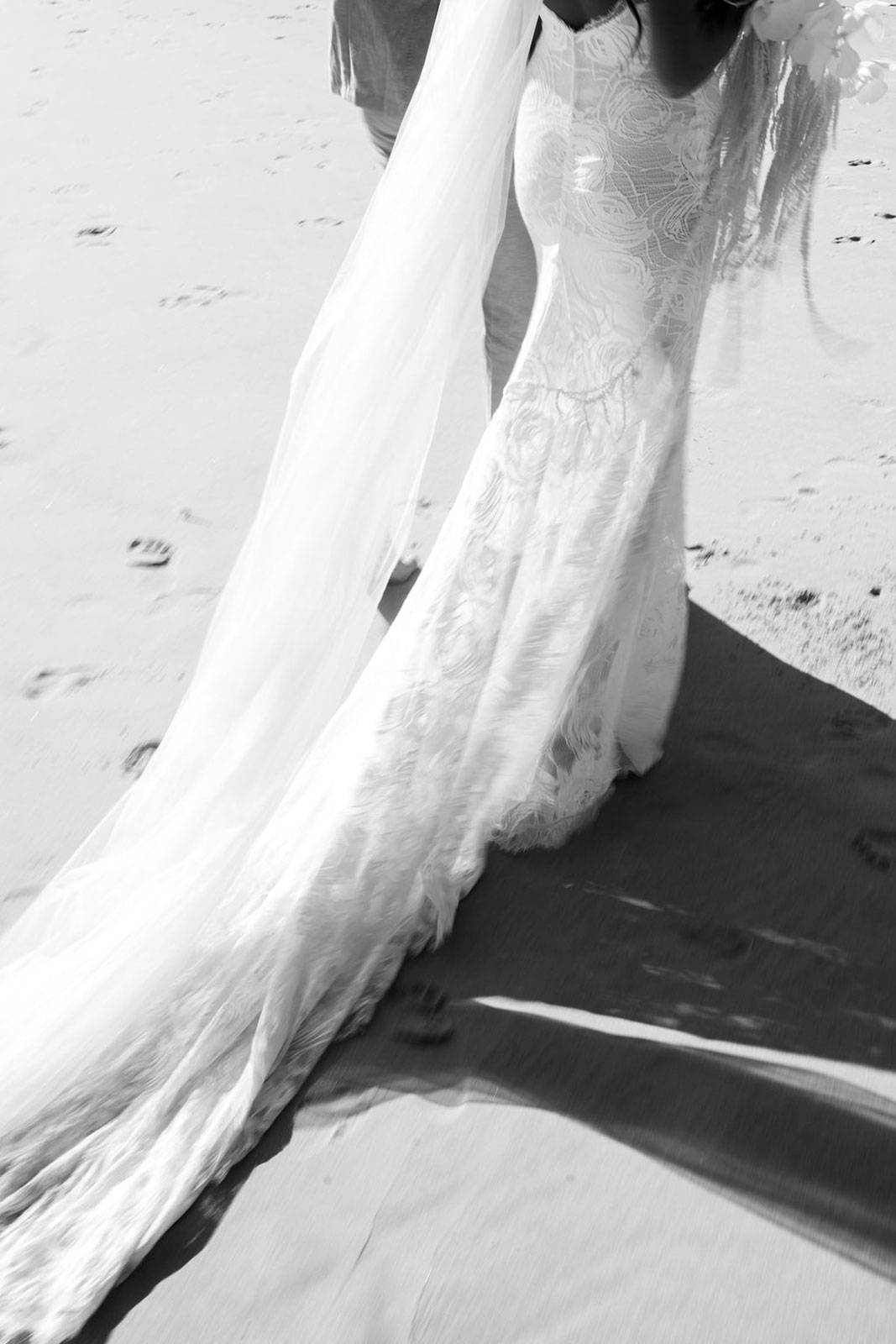 ---
One piece of advice for future #GRACEBrides:
As a couple meet with your Vendors beforehand where possible and tell them why you are drawn to their talent and allow them get to know you as a couple, that way you can have confidence with how they will represent you. It made everything feel calmer and familiar on the day for us. There is also something special in surrendering control over certain aspect of the wedding to the professionals. It made for beautiful little unexpected surprises. Lastly make sure you really enjoy yourself and kick up your heels on the dance floor at the end.