Christian & Alexa in the Orla Gown
After changing their wedding plan due to COVID - couple enjoy their Desert Disco Wedding in a small town in San Diego. A day full of love, smiles and festival vibes - it was the perfect day.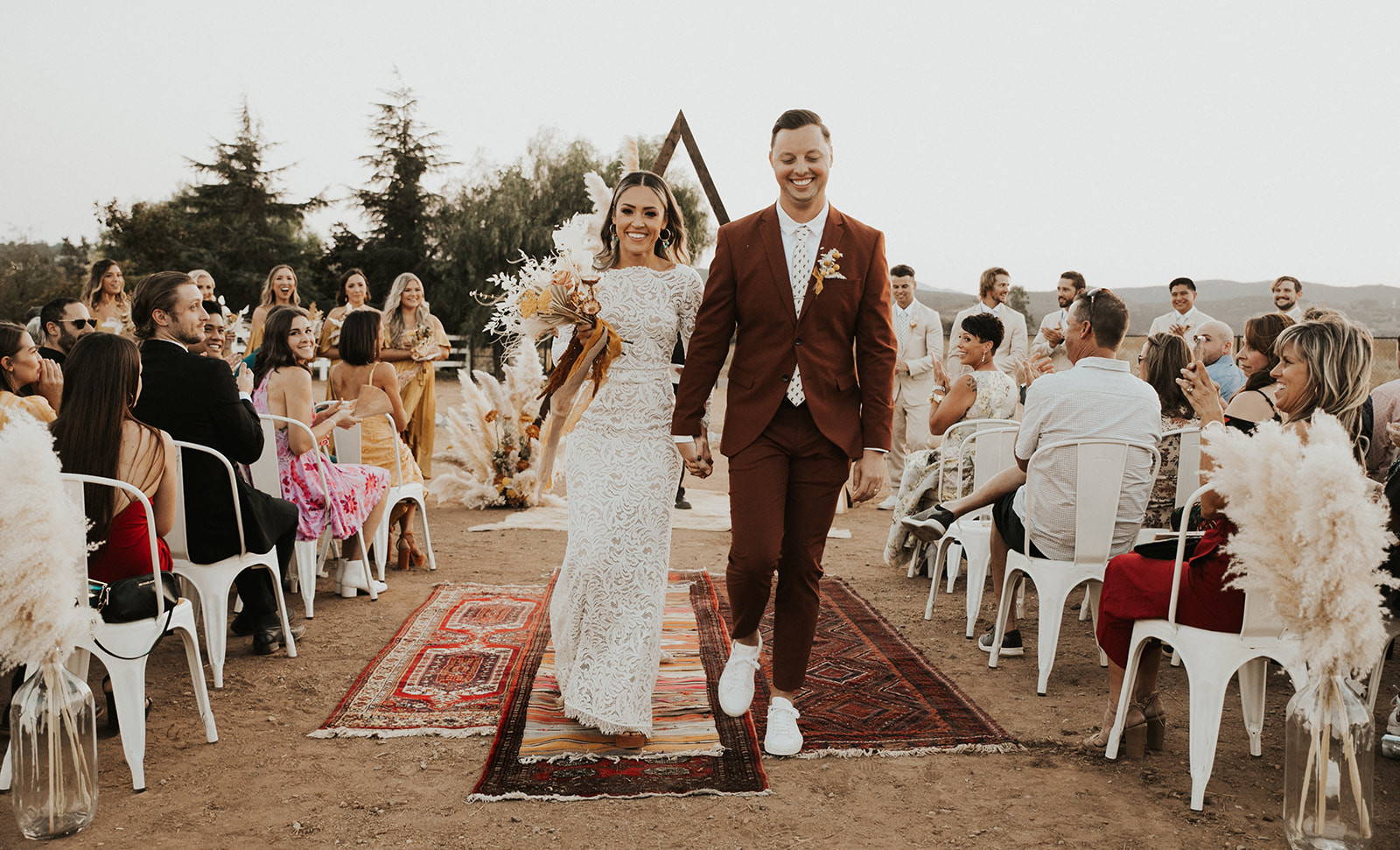 What is a Grace Woman to you?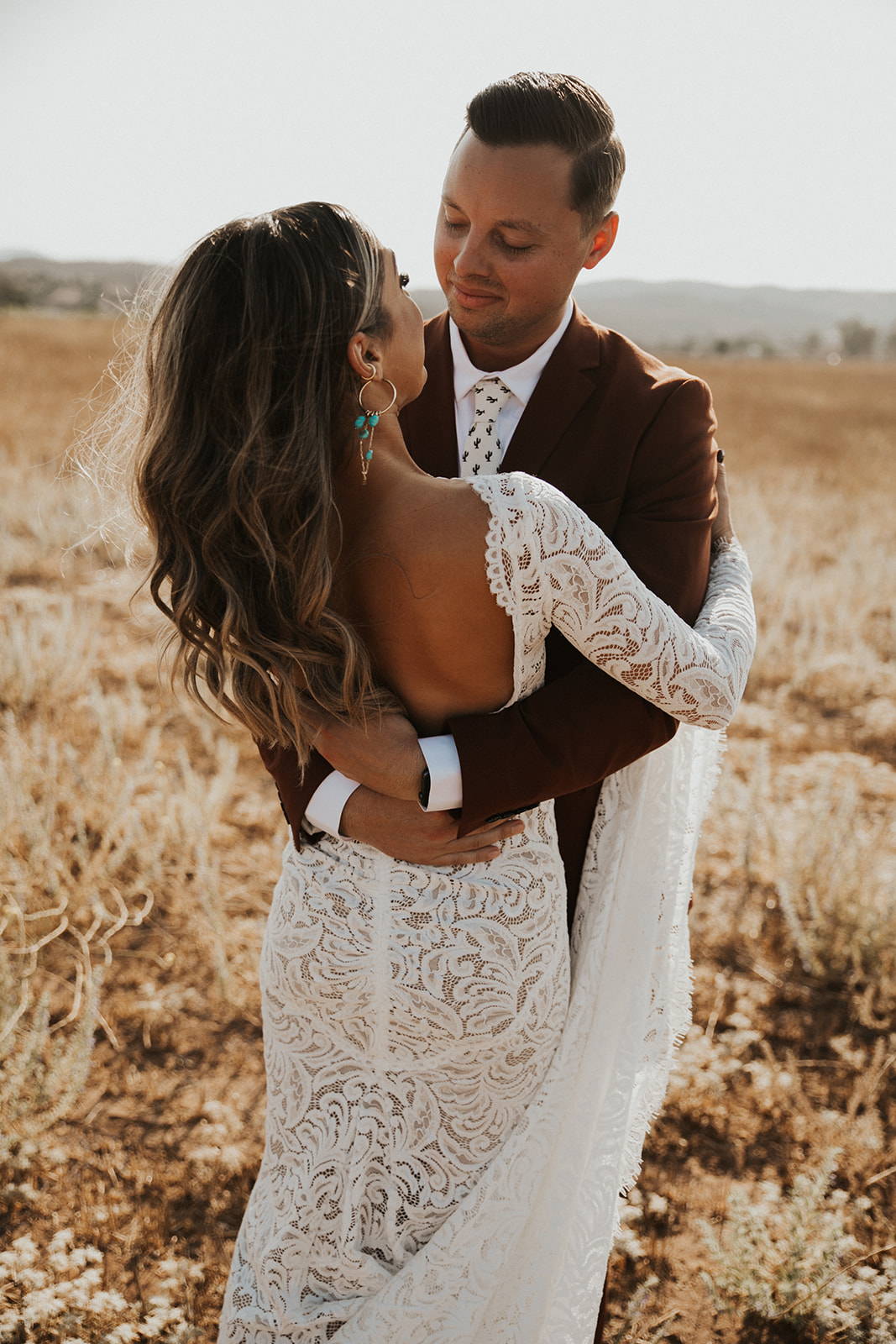 Which Grace dress did you choose and how did you know it was 'The One'?
My day of dress actually wasn't my first dress that I had purchased! I had originally thought that I was in love with another dress, but something just didn't feel right about it. I had been growing the internet and saw that GLL came out with a new collection and saw The Orla and was in love. When the GLL opened in San Diego, my mom and I went the first day. I saw The Orla and knew that THIS was the dress. It fit like a glove and fit my vibe and aesthetic perfectly.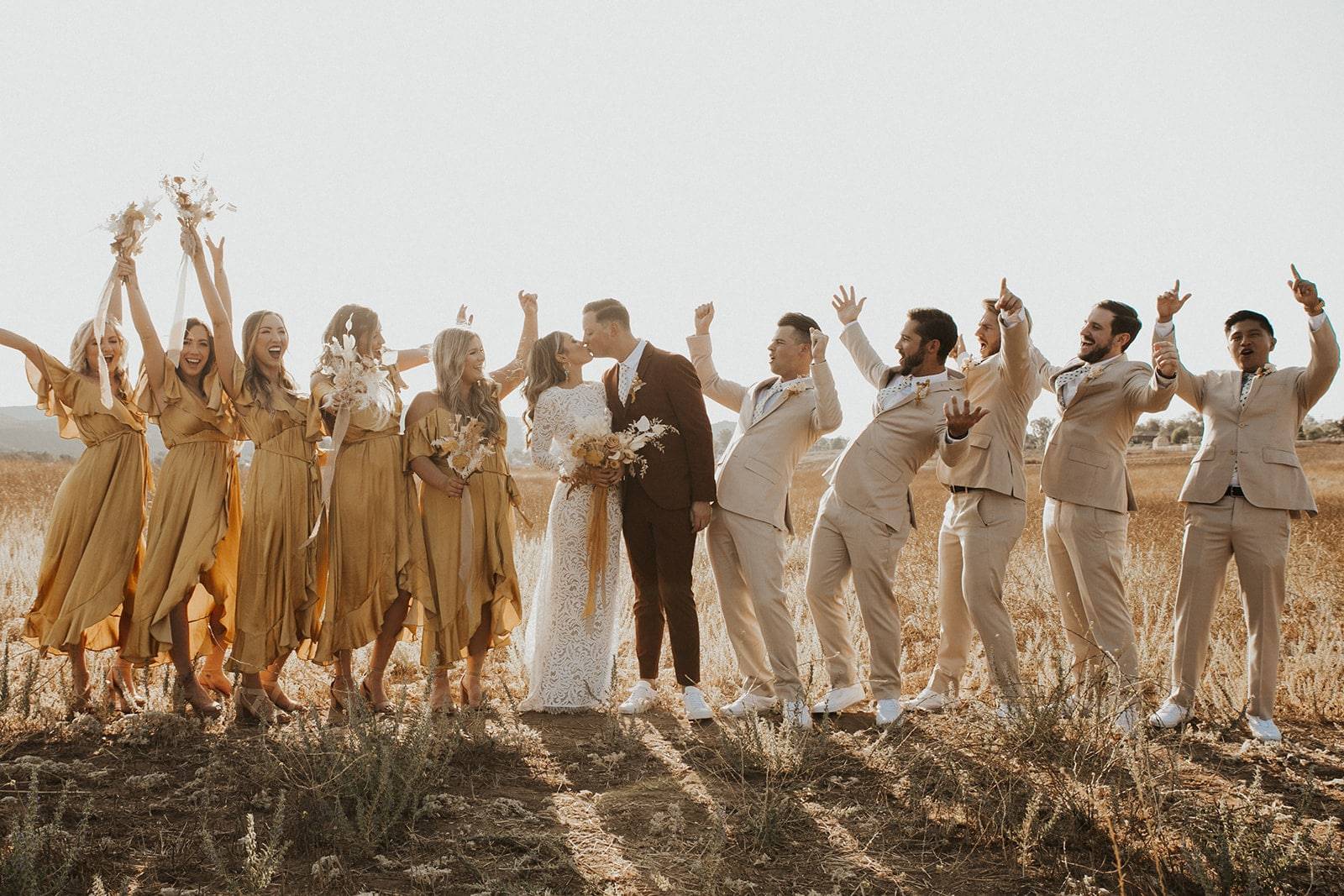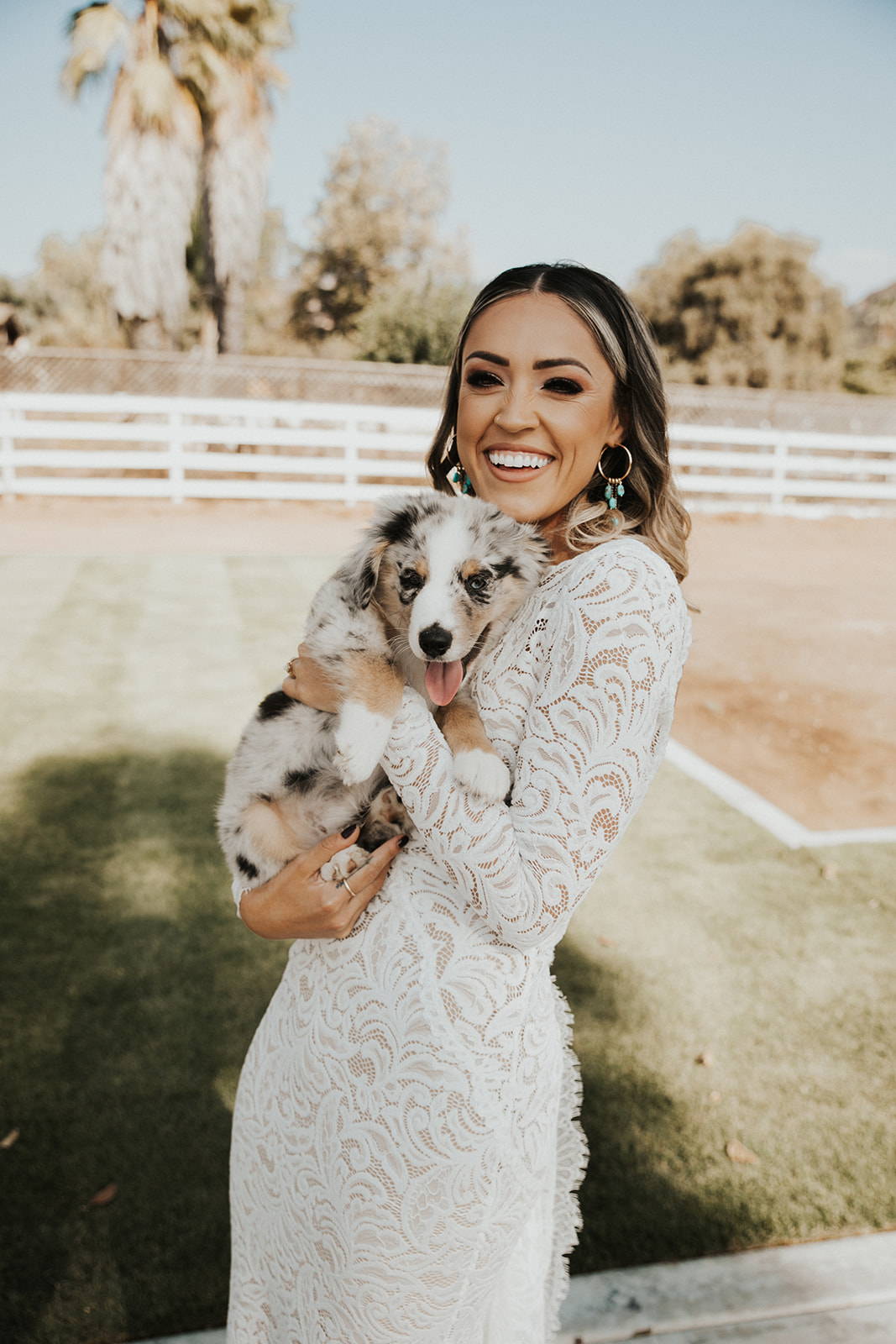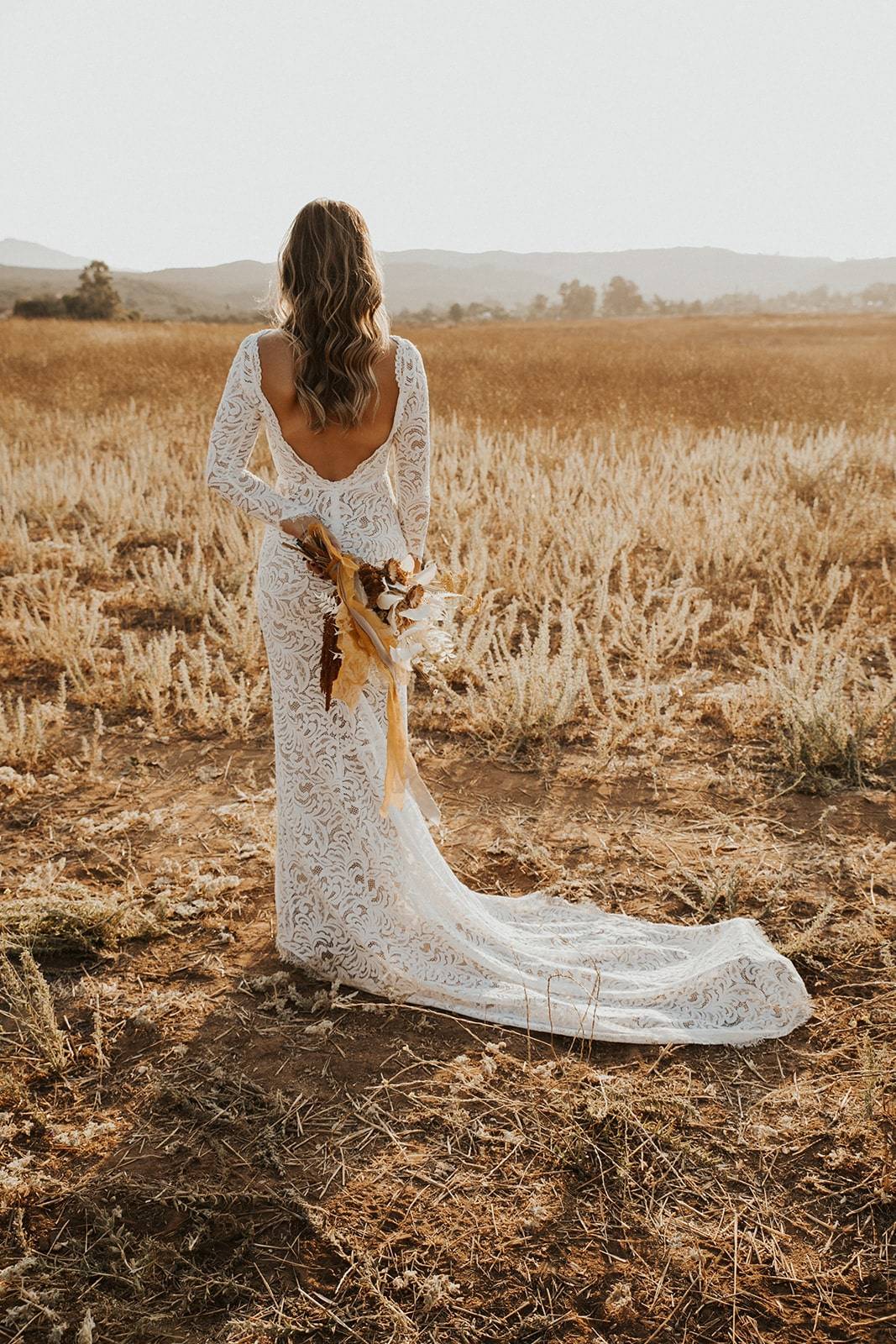 Tell us about your experience when you found your dress, did you buy your wedding dress online or in one of our showrooms?
I purchased my dress at the San Diego showroom. First of, the location is absolutely stunning! It was an old church and it has this breathe taking stained glass when you first walk in. The whole showroom has such an organic, calming feeling and all of the stylist there are incredibly kind and so knowledgable about the dresses. I'm a huge question asker and everyone there helped me with everything I asked. Even after I had purchased my dress, I reached out for advice on accessories, shoes, etc. The entire experience was truly amazing.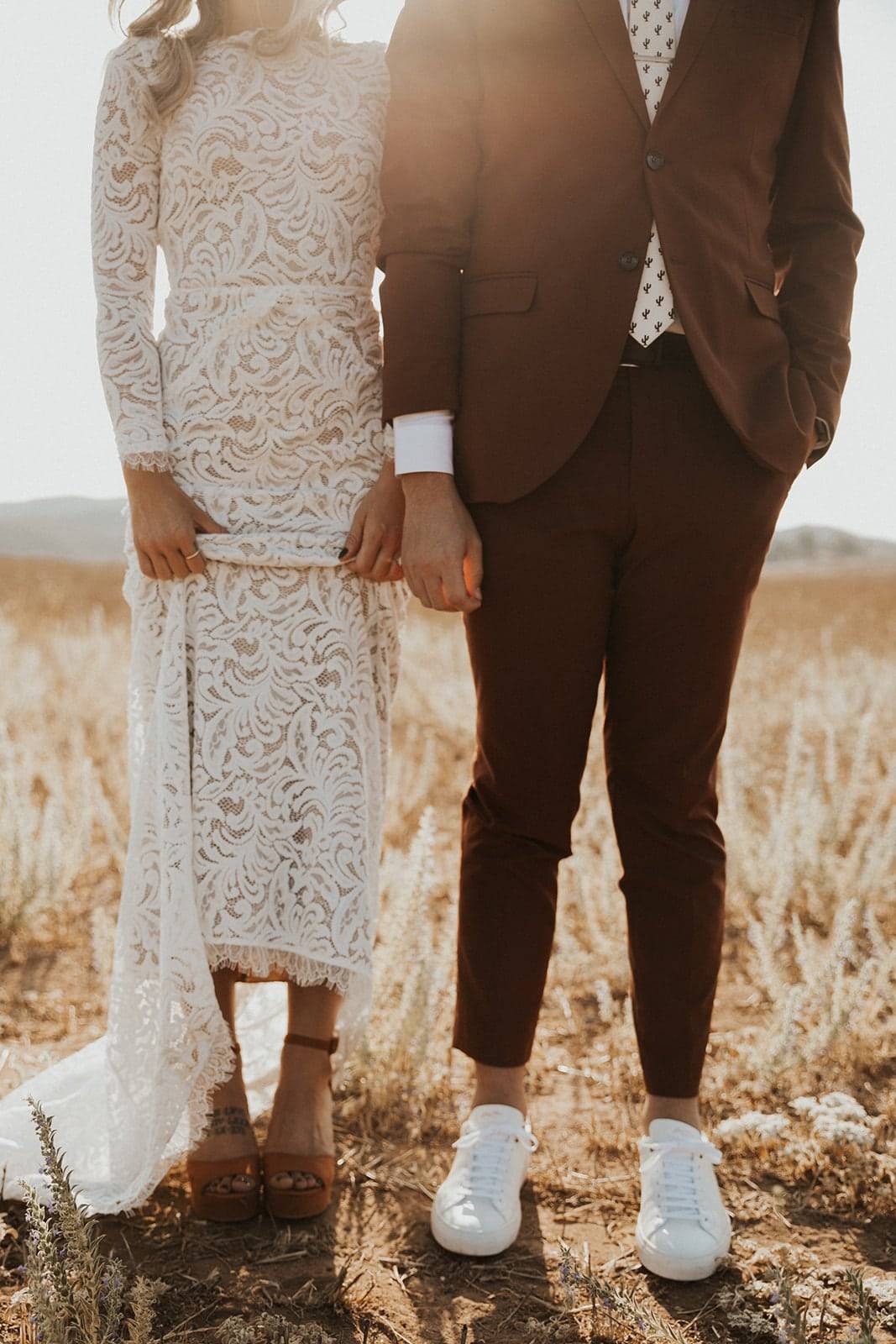 How did you feel in your dress on the day?
I seriously have never felt more beautiful than I did the day of my wedding! The day of the wedding was the first day that I had put everything on- the dress, accessories, shoes, makeup, and hair. The Orla gown is so simple, yet so impactful. It accented every part of my body so tastefully. The 3D lace gives the dress such a natural, boho feel and that low back shows just enough skin. I wish I could wear my dress everyday!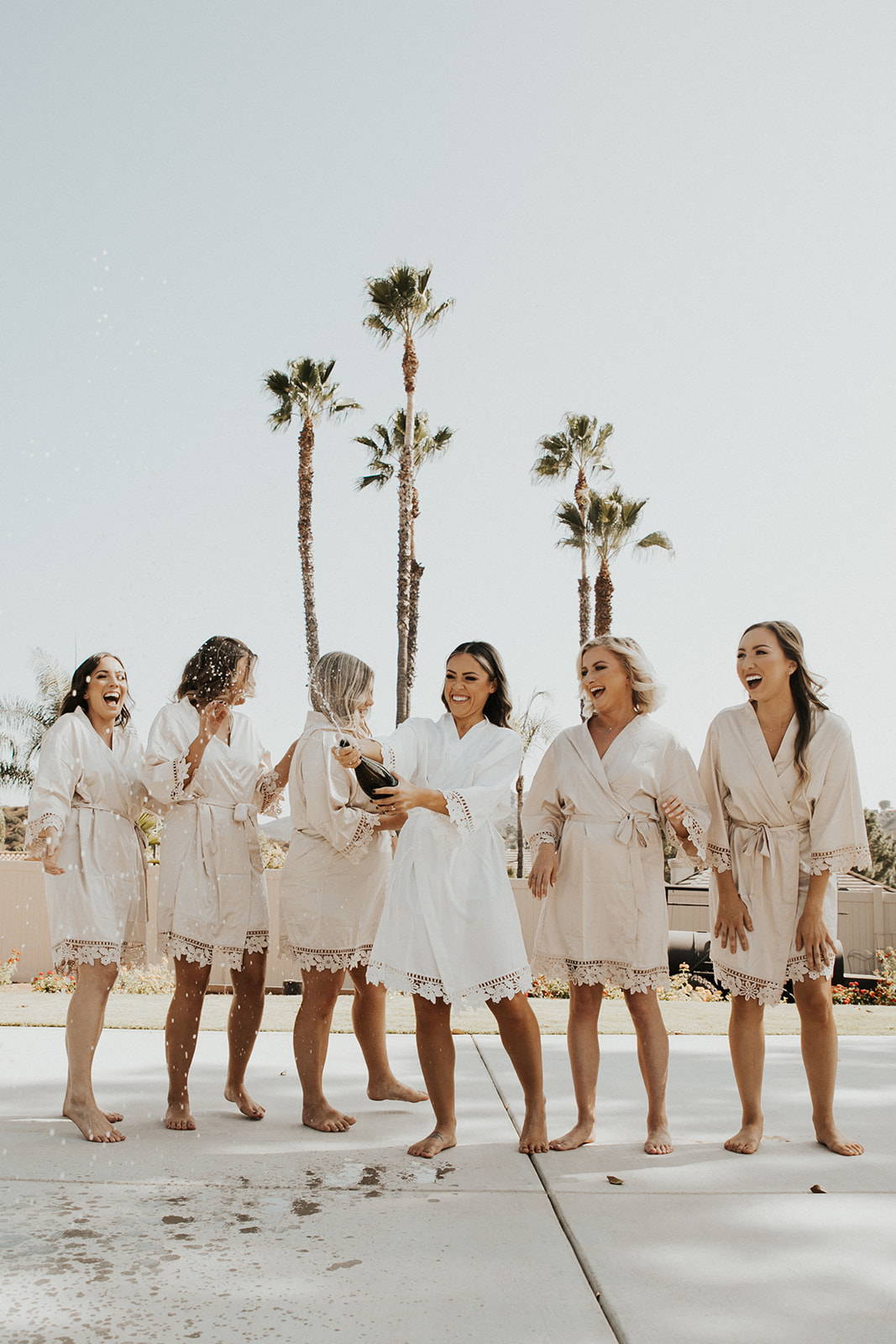 Where did you get married?
Tell us about the location & the style of your wedding day.
CRAZY STORY TIME! I, like many other brides in 2020, was hit with the challenges of COVID-19. We were supposed to get married in May in Palm Springs but that didn't happen. We postponed to September at the same location but with all the COVID-19 regulations and guidelines, we felt that our dream wedding wouldn't be possible at that venue. We decided to cancel our wedding in Palm Springs and back to the drawing board we went. So, with 8 weeks until our new wedding date, I planned a completely new wedding! We both wanted to keep our original vision for the wedding which was a boho feel, with a touch of the 70s, and music festival vibes (we are both huge music junkies). We were fortunate enough to use my now husband's, grandparents property in a small town in San Diego and it was perfect! It was so nice having the freedom to create EXACTLY what we had envisioned, from the disco ball lit dance floor, to the festival feeling food and beer trucks. Our day was perfect and I can't imagine it any other way.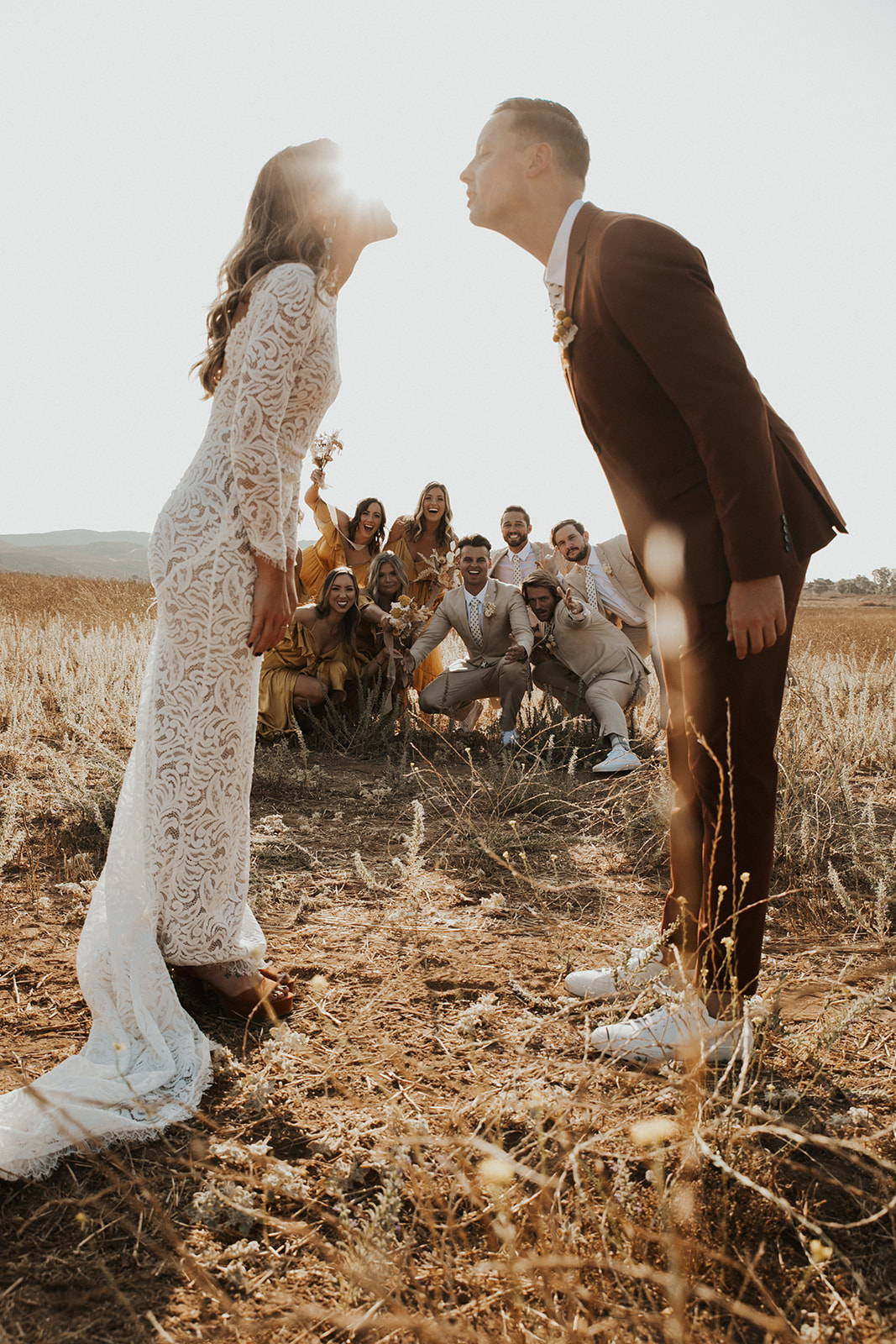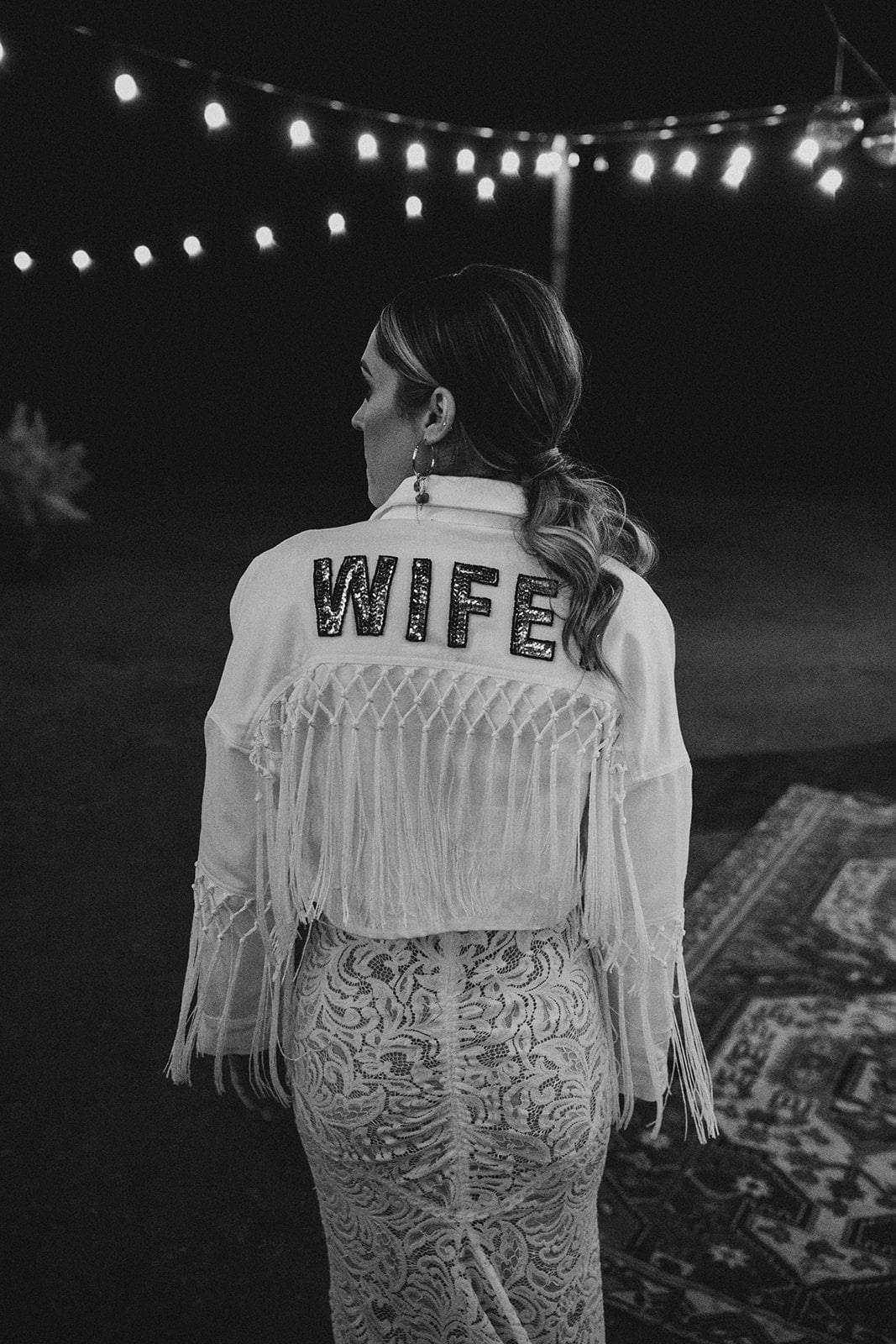 Tell us about your hair and makeup look
and the accessories you chose…
My hair and make up seriously brought my whole look together. I decided to keep my hair fairly simple but still give it a little of that boho/ 70's feel. One of my best friend's and bridesmaids is a hair dresser and did my hair for the wedding and it came out perfectly. We even switched up the look and pulled it back after the ceremony so I could dance my heart out! I wanted to keep the vibe the same for my makeup. My makeup artist even added some gold glitter to give me those festival vibes. Again, I kept my accessories fairly simple so I wouldn't take away from how gorgeous my gown was. I wore gold and turquoise (my something blue) earrings from a local San Diego company called Child of Wild. I wore 2 different pairs of shoes, terracotta platform heels for the ceremony and white snake skin boots for the reception.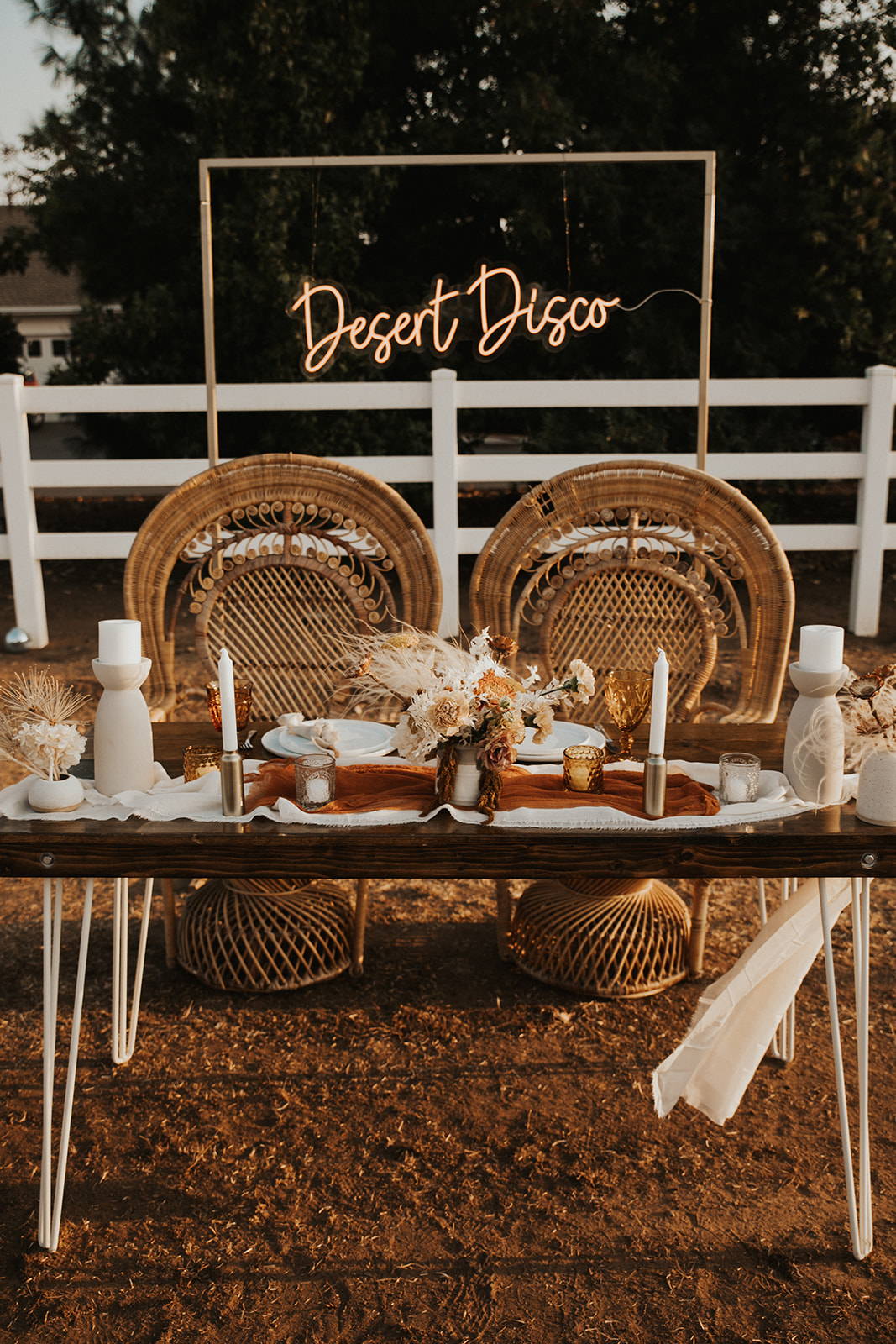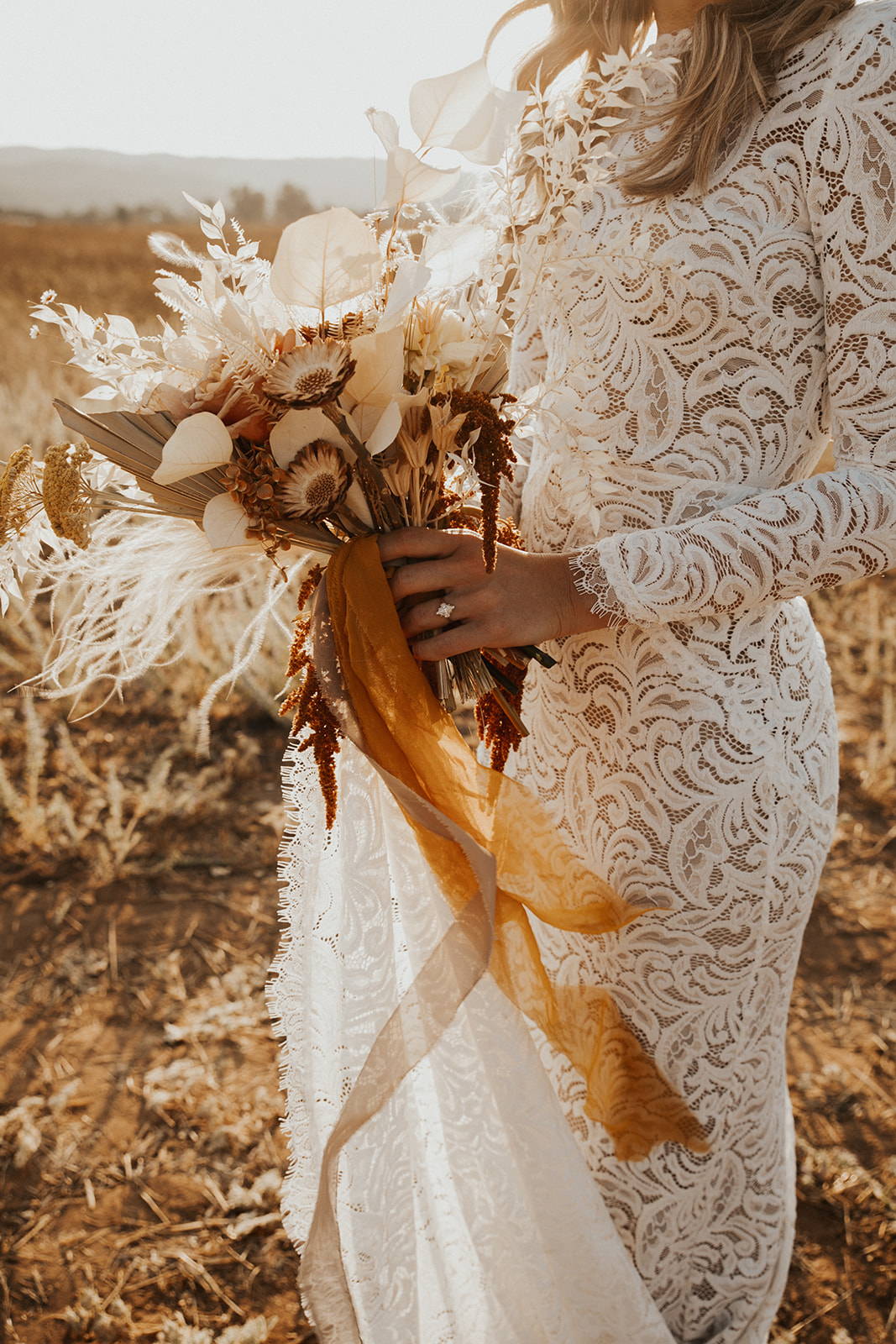 What made your day extra special?
The most special part of the day was FINALLY getting married! We definitely had a tough year with having to plan 3 weddings, but it was amazing how much support we had through the whole process. Because of health and safety regulations from COVID-19, we had to cut out guest list to only closet friends and family. It felt so surreal to finally be waking down the aisle, surrounded by our closest people and become husband and wife.
The funniest moment on the day was…
The funniest moment from the day is when my now husband got on his best man's shoulders on the dance floor! They have been best friends since they were 5 years old and are inseparable. When one of our favorite songs came on, I turned around and there they were! It was so funny and such a special moment to have witnessed.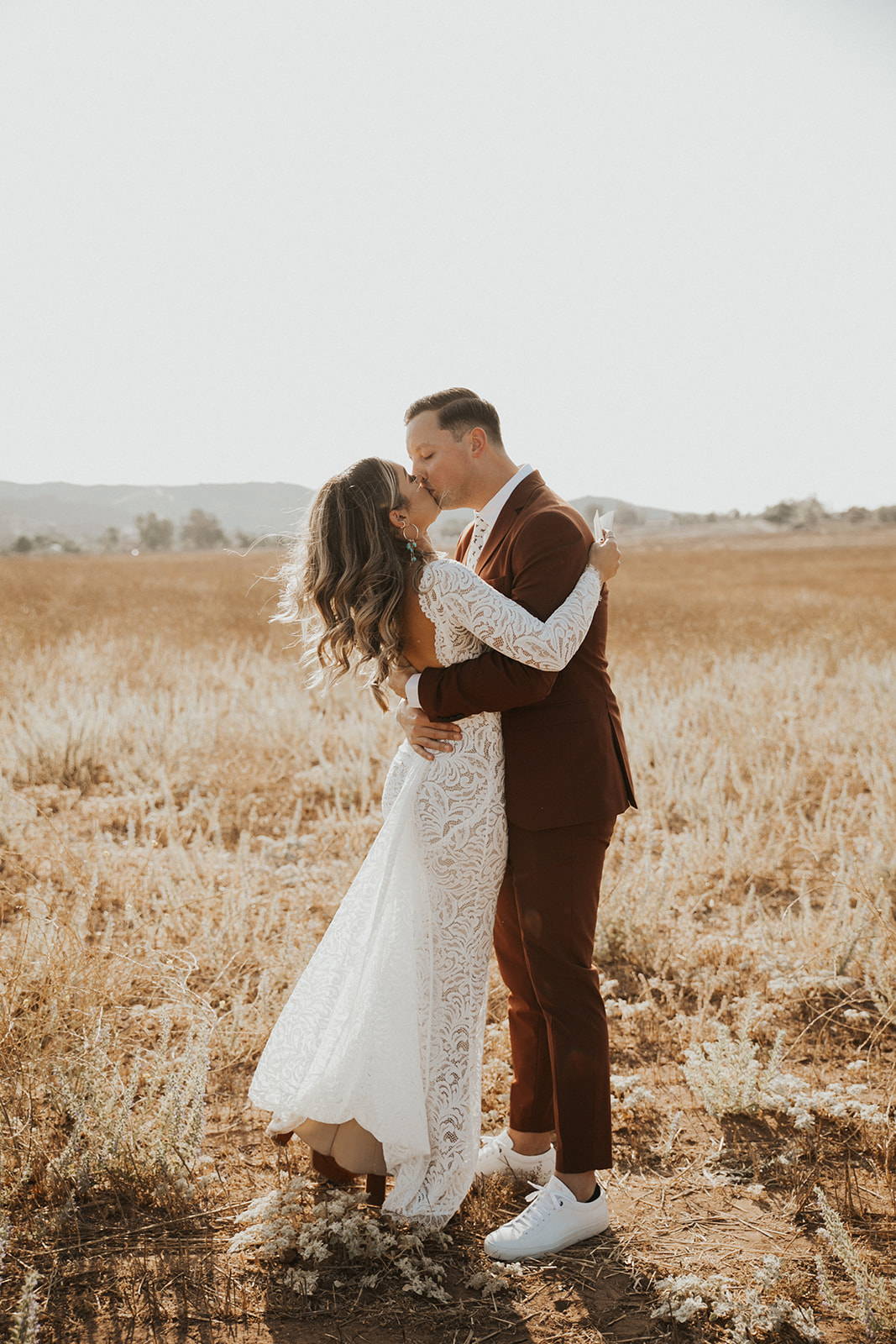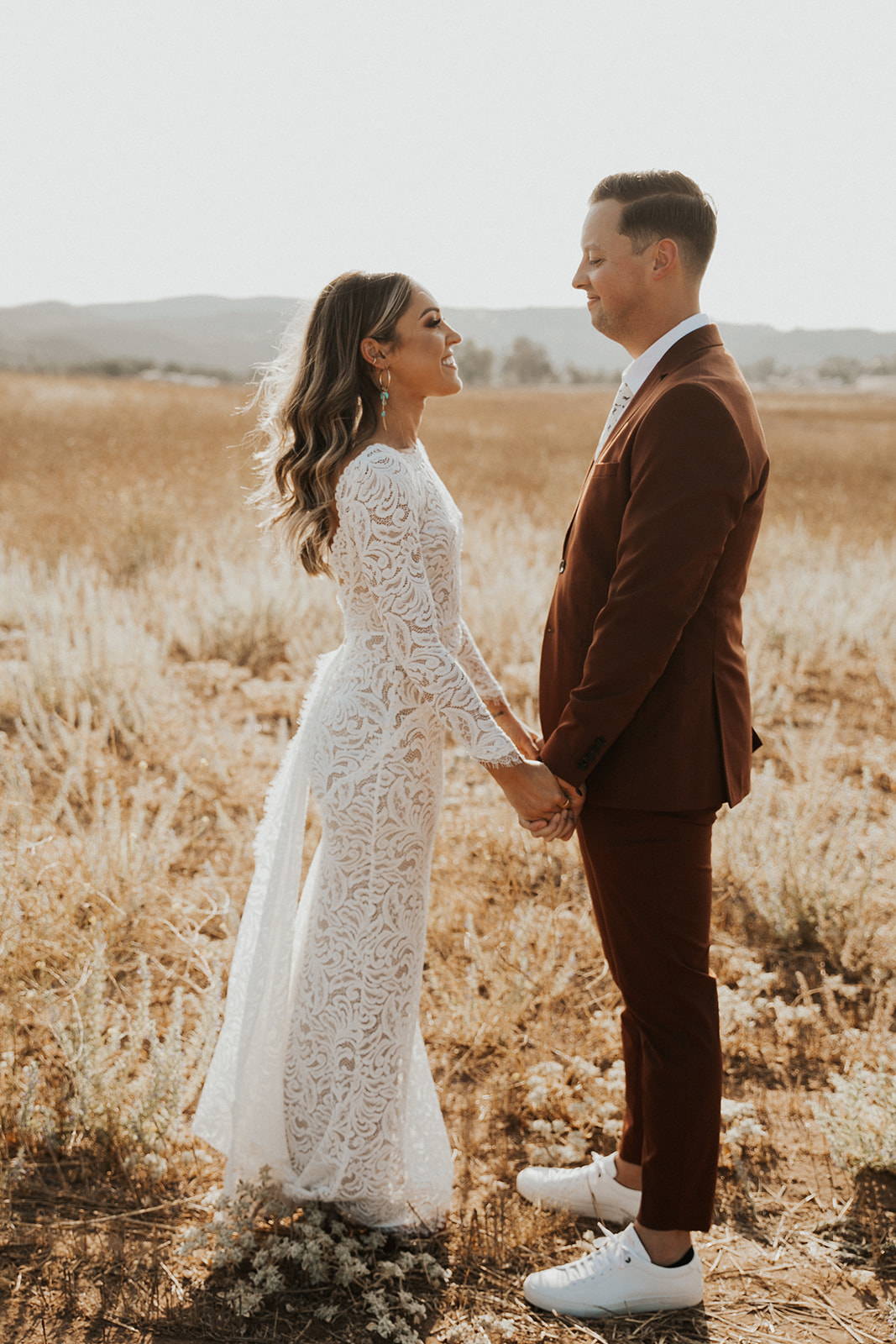 Where will you be honeymooning?
Because we are huge concert and festival goer's, our original plan for our honeymoon was to go to Burning Man. Unfortunately, that was cancelled for 2020 but we're hoping to go this next year!
Any last advice or words of wisdom that you can share…
We definitely had a lot of struggles planning our wedding, from COVID-19, to family drama, and everything in between. Just remember, this day is for you and your significant other and no one else! 2020 has hit so many future brides extremely hard, but I've learned you have to roll with the punches and things will work out better than expected.