Cory & Jalisa in the Orla Gown
"We know and have seen so many people who plan these massive weddings and end up being stressed out throughout the entire process, as well as spending more money than they even have. All of this only to have that one day pass by so quickly, and they were too drained to enjoy it. Therefore, we always said never to the traditional, we'd focus on our foundation, the state of our marriage and setting ourselves up for the future." - GRACEBride Jalisa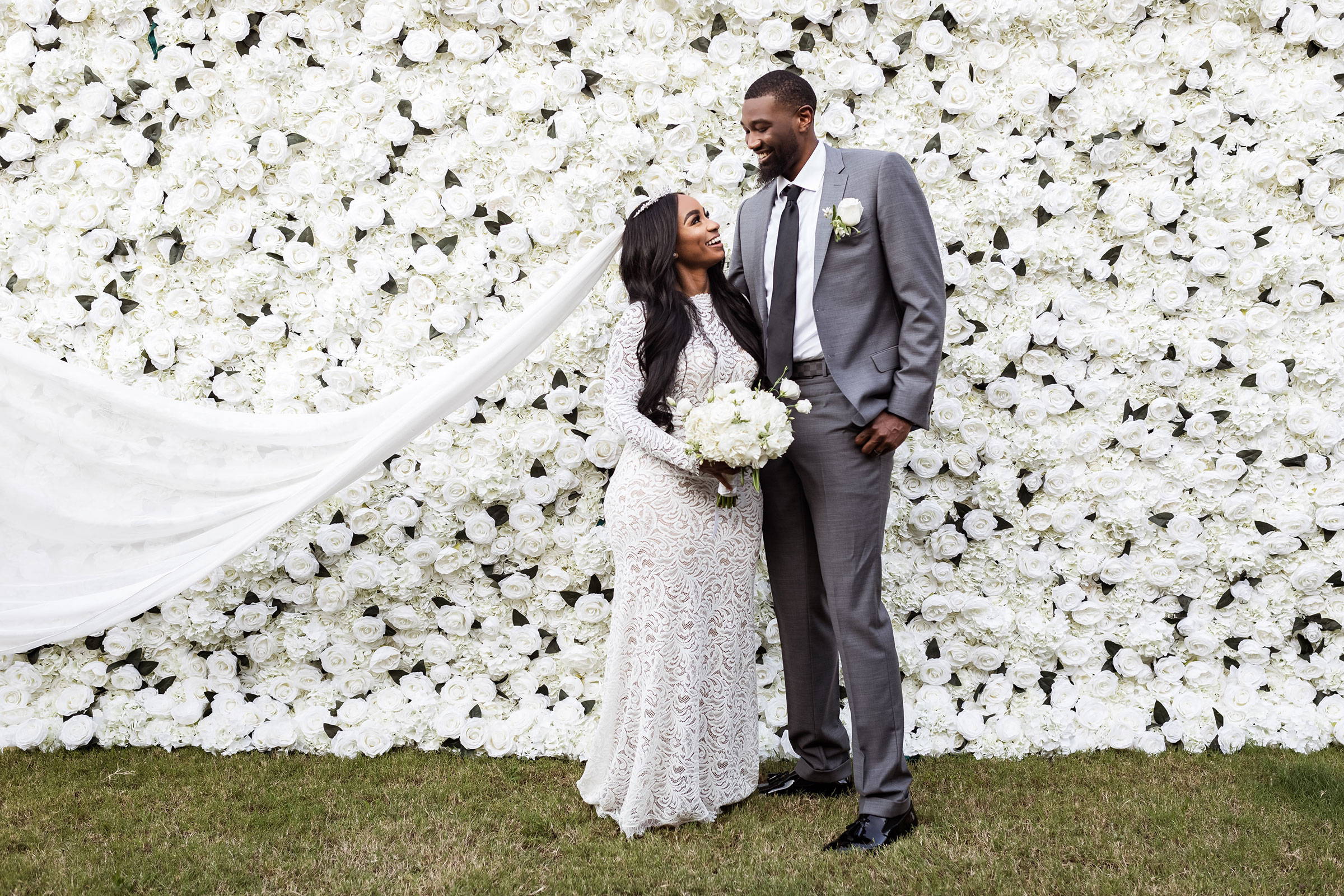 How did you and Cory meet?
Cory and I met through our mutual friends, Quincy and Jessica Acy. After we initially met in person, we both realised we'd had a few conversations on Instagram over the last few years, but we didn't realise that until after the fact. Once we'd gone on our first date, it was literally like we were inseparable from that day forward. We were together pretty much every day—which was crazy for the both of us!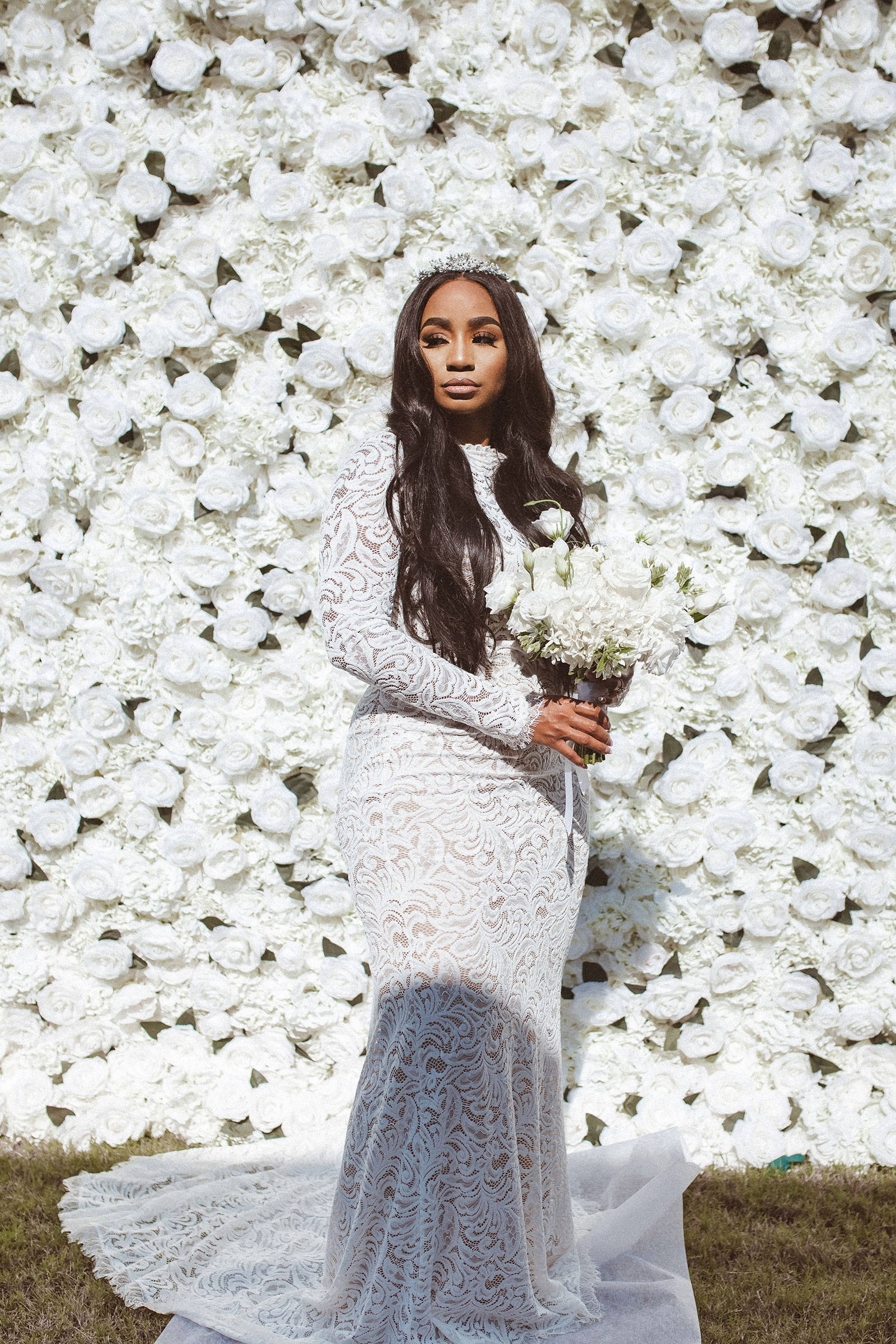 What made you choose the Orla gown?
I chose the Orla gown because I was looking for something classic and chic that not only complimented my shape, but made me feel extremely beautiful and like myself. I knew we weren't doing a big wedding, but I knew I would want to have these memories forever, and when trying the dress on, I just knew it was the one.
Cory and I dated for almost one year before he proposed to me. Due to COVID-19, he worked with my parents and brother to set up the proposal at our weekly family Bible study. Every Thursday we get together at my parent's house for our Bible lesson where we read scriptures and pray together. That week, they said they wanted to take family pictures so my dad could submit them at work for a giveaway, and feature of "Families of Frontline workers." With me being a full-time influencer and always having my family in my photo shoots, I was a bit confused thinking, "we have tons of photos together, why is everyone so pressed this week about this picture?" Low and behold—it was because they had all of this planned.
Cory proposed as soon as I walked through the door, and I was beyond shocked. We'd been planning on getting engaged in the near future, but I figured due to the pandemic and everything being shut down, there was no way he could accomplish a special engagement or even get a ring during this time—but he definitely proved me wrong! Our dating anniversary was May 18th, so when I realized he proposed before that date, I automatically assumed he had done that so we could keep our same anniversary date, and get married on that exact day.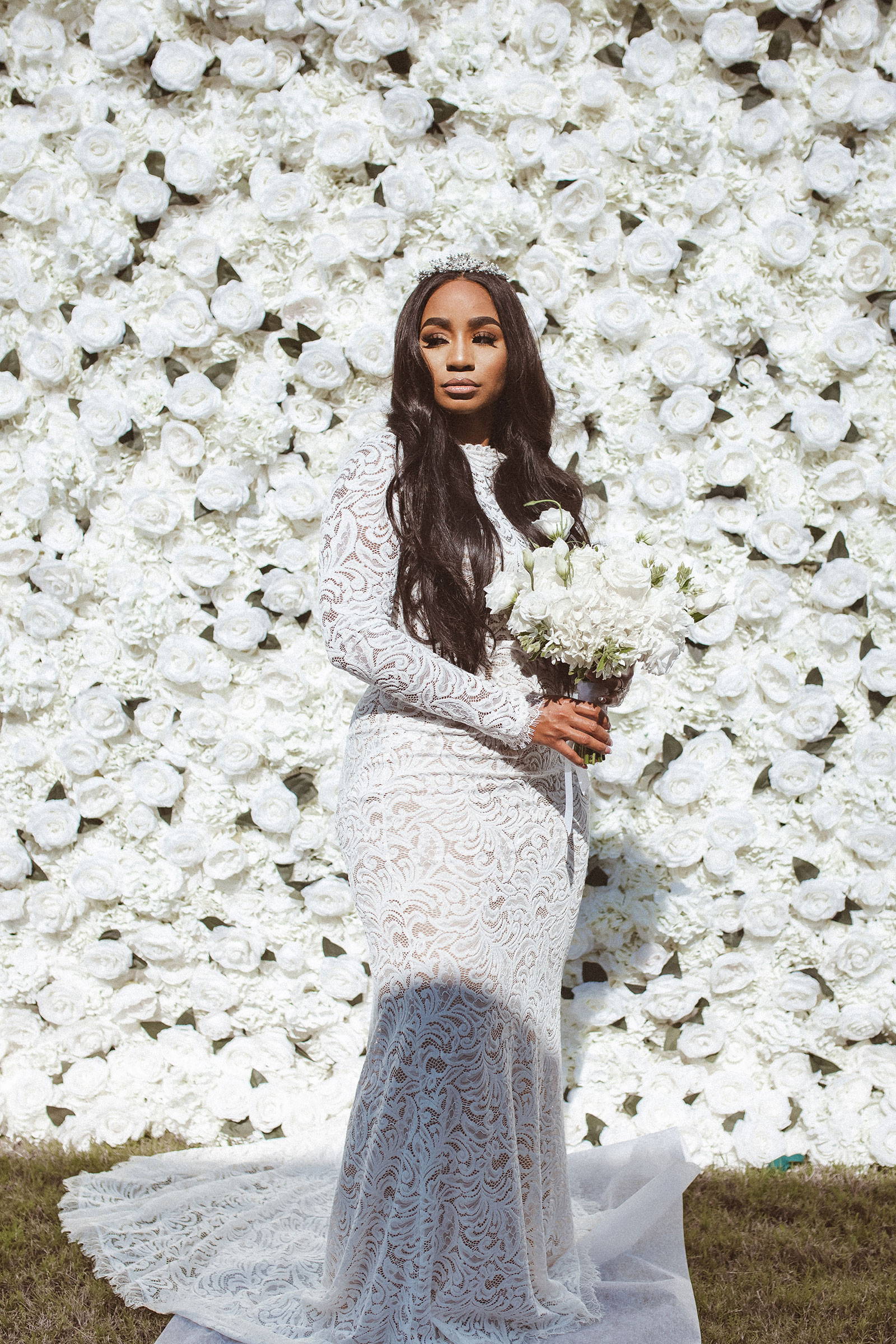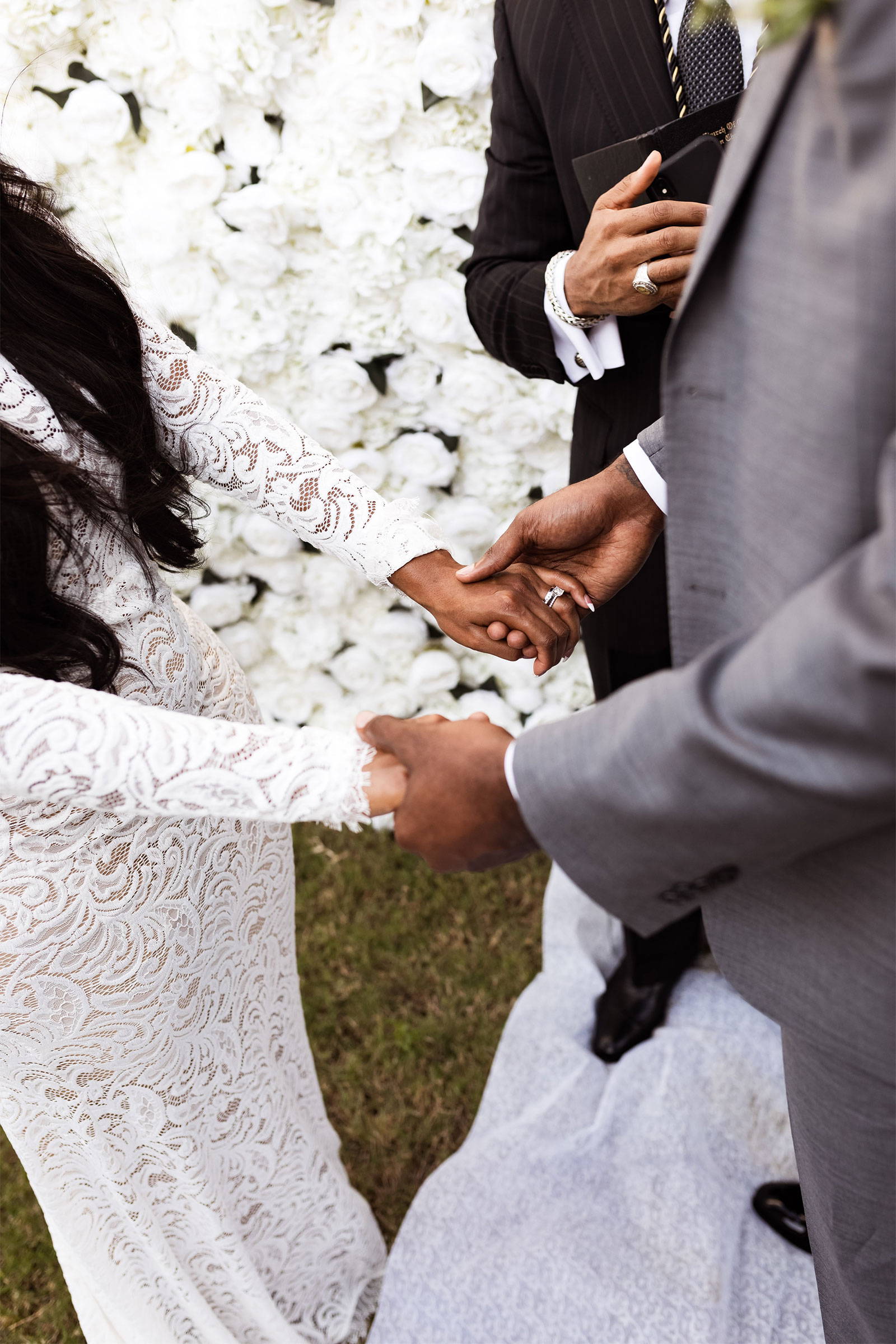 Describe your wedding day look…
My wedding day look was minimalistic, chic and timeless.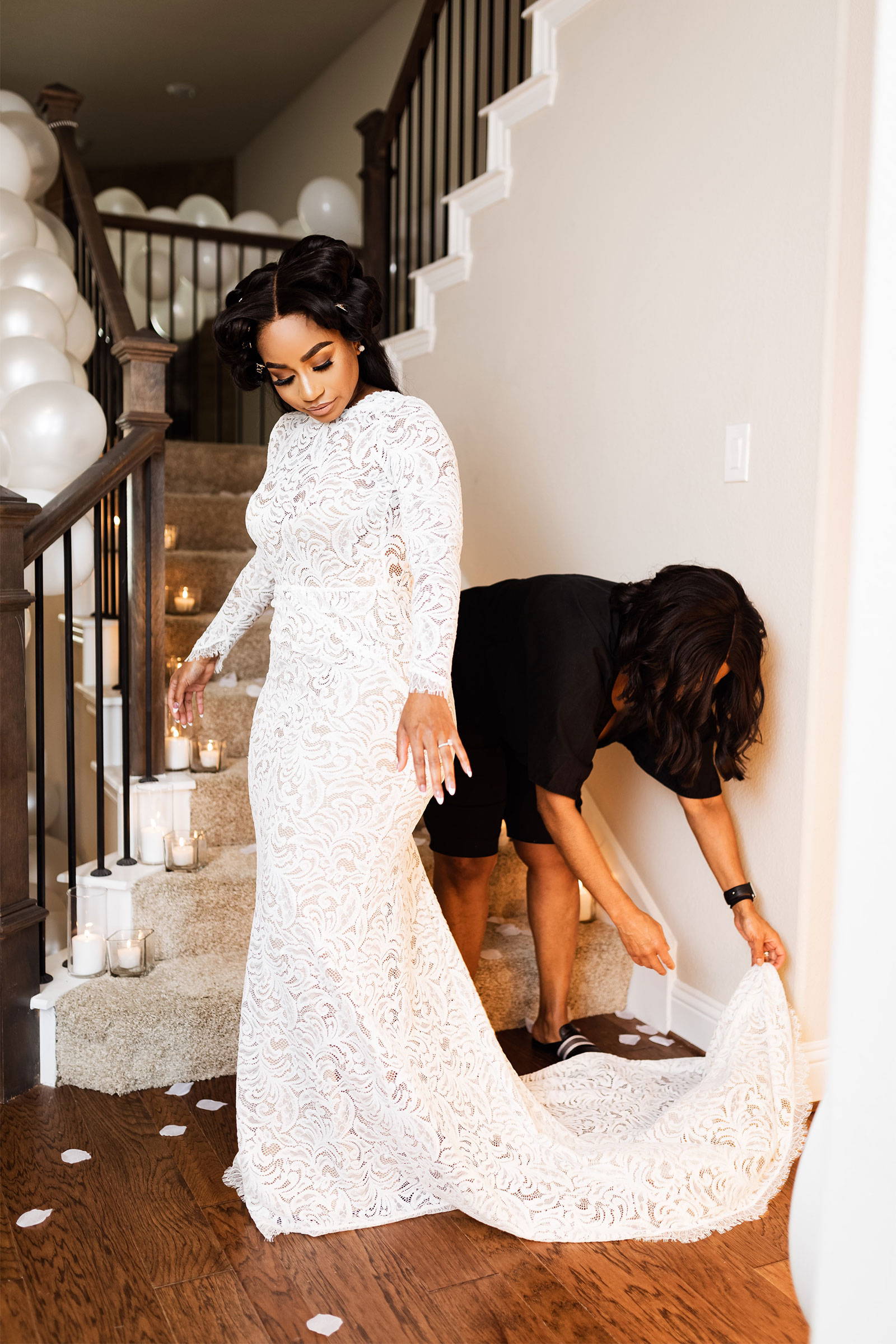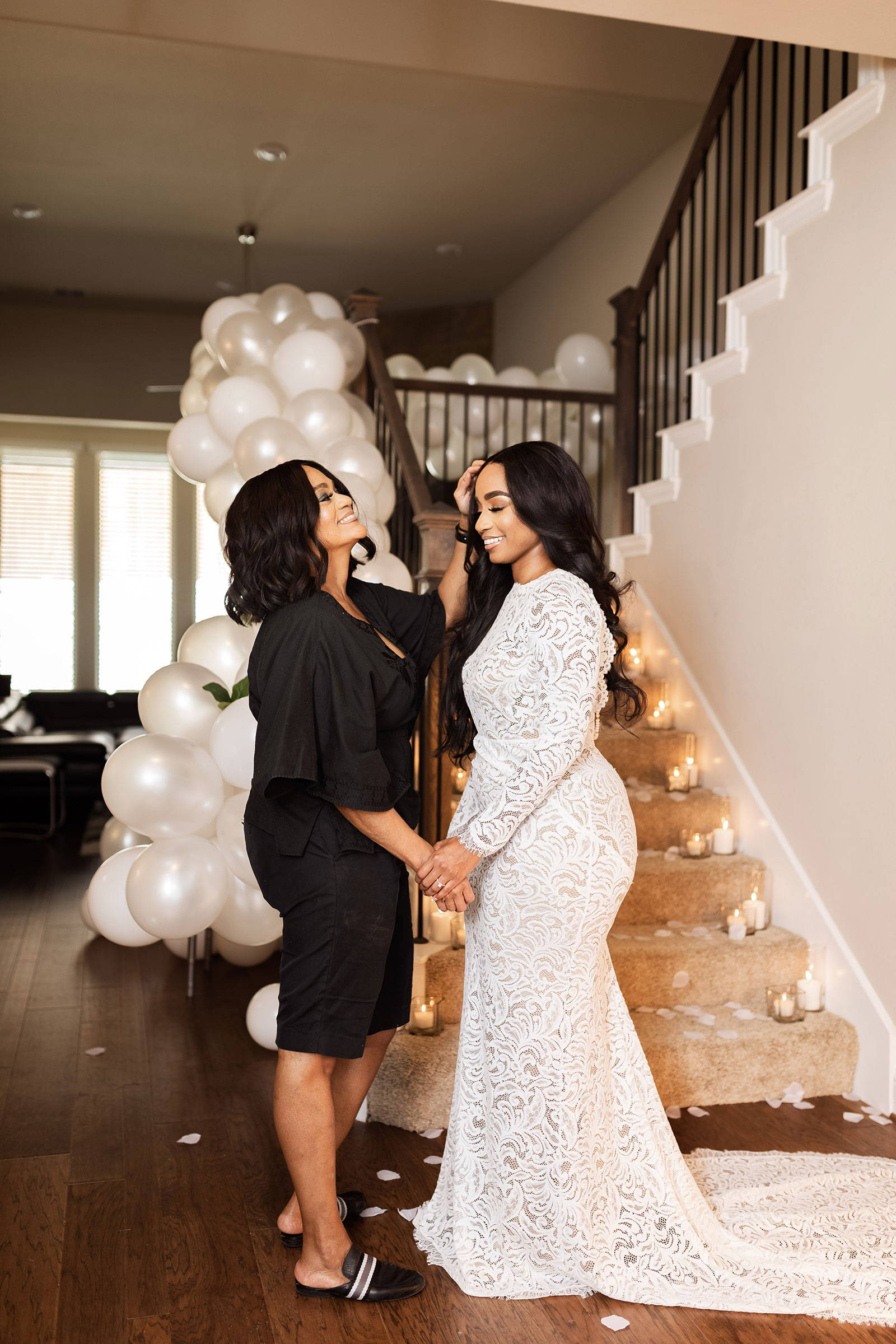 You and Cory got marries so soon after your engagement, why did you decide to have your wedding five days after?
Even before the pandemic, neither one of us were interested in having a huge wedding. We wanted to keep it extremely small with our parents and then maybe later have a reception to celebrate with our friends and extended family. We initially planned to just go to the courthouse, however, it evolved to having some of our closest friends and family present via zoom for the ceremony as well. Many people always ask us if we were inspired by other couples to wed the way that we did, and there was actually no one in particular that inspired us to have the type of ceremony we did. We just wanted it to be extremely intimate and all about us. We know and have seen so many people who plan these massive weddings and end up being stressed out throughout the entire process, as well as spending more money than they even have. All of this only to have that one day pass by so quickly, and they were too drained to enjoy it. Therefore, we always said never to the traditional, we'd focus on our foundation, the state of our marriage and setting ourselves up for the future.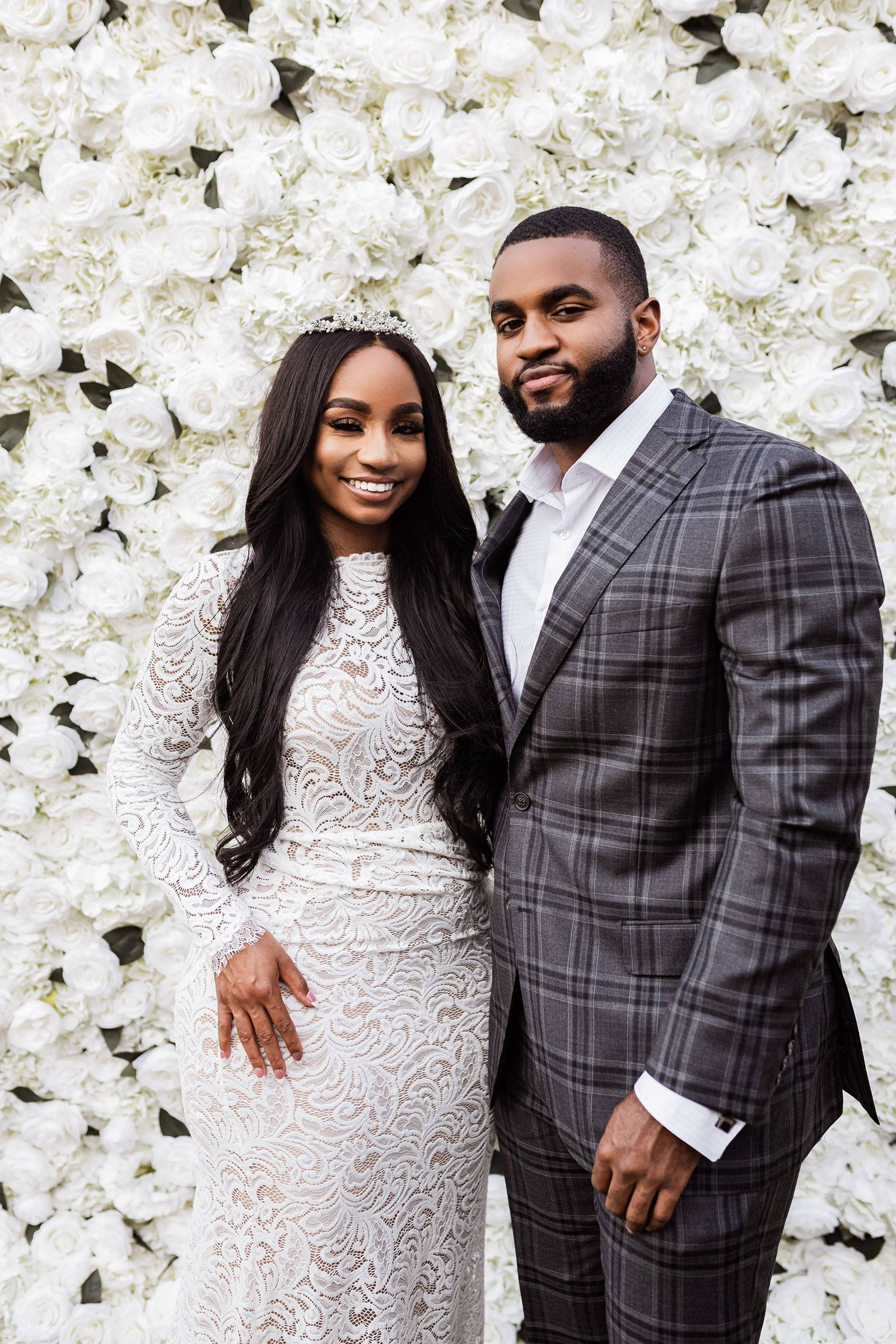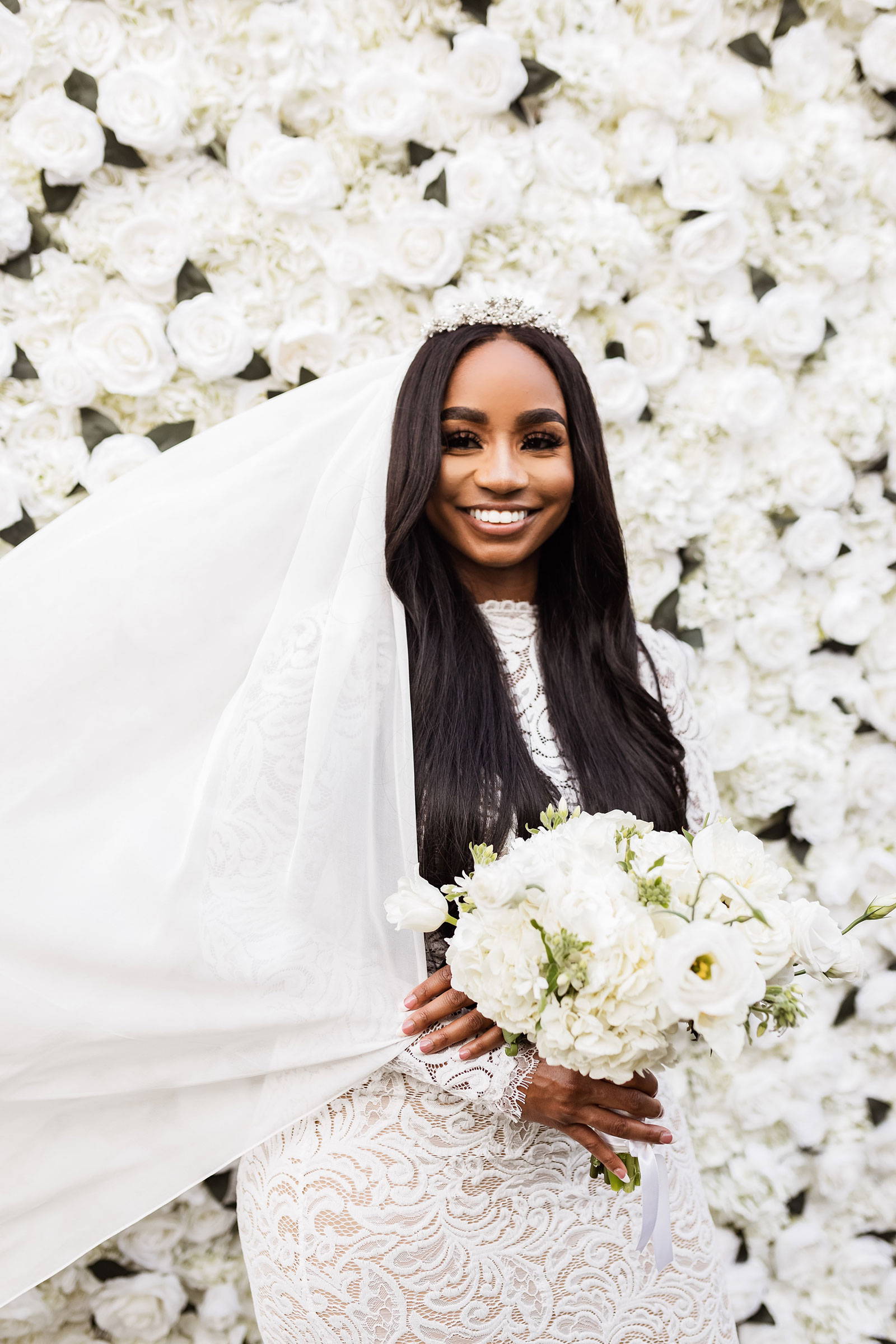 How did you manage to plan a wedding in such a short amount of time?
I think I was able to manage planning a wedding in such a short time because I had such an amazing tribe to help me through the process. Luckily there wasn't too much to do, as we wanted to keep it extremely intimate and small, so all we had to do was grab a few of our favourite things and mesh everything together in my backyard!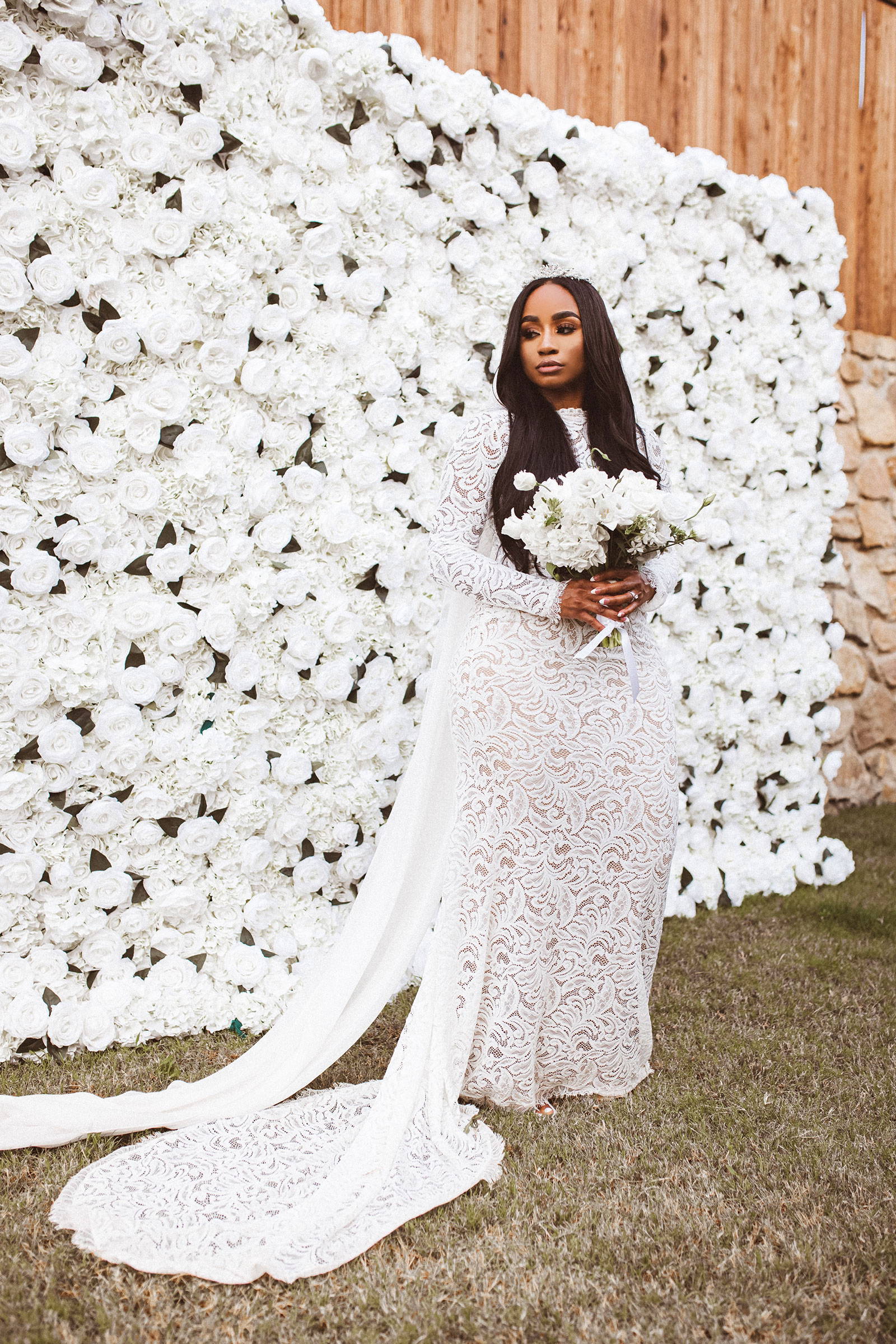 Do you have any advice for other pandemic brides?
I would just say remember what's truly important to you. Although I do not knock the fact that some people have always dreamed of a big wedding, my mom would always say when things change, change everything, meaning you have to adjust when life happens.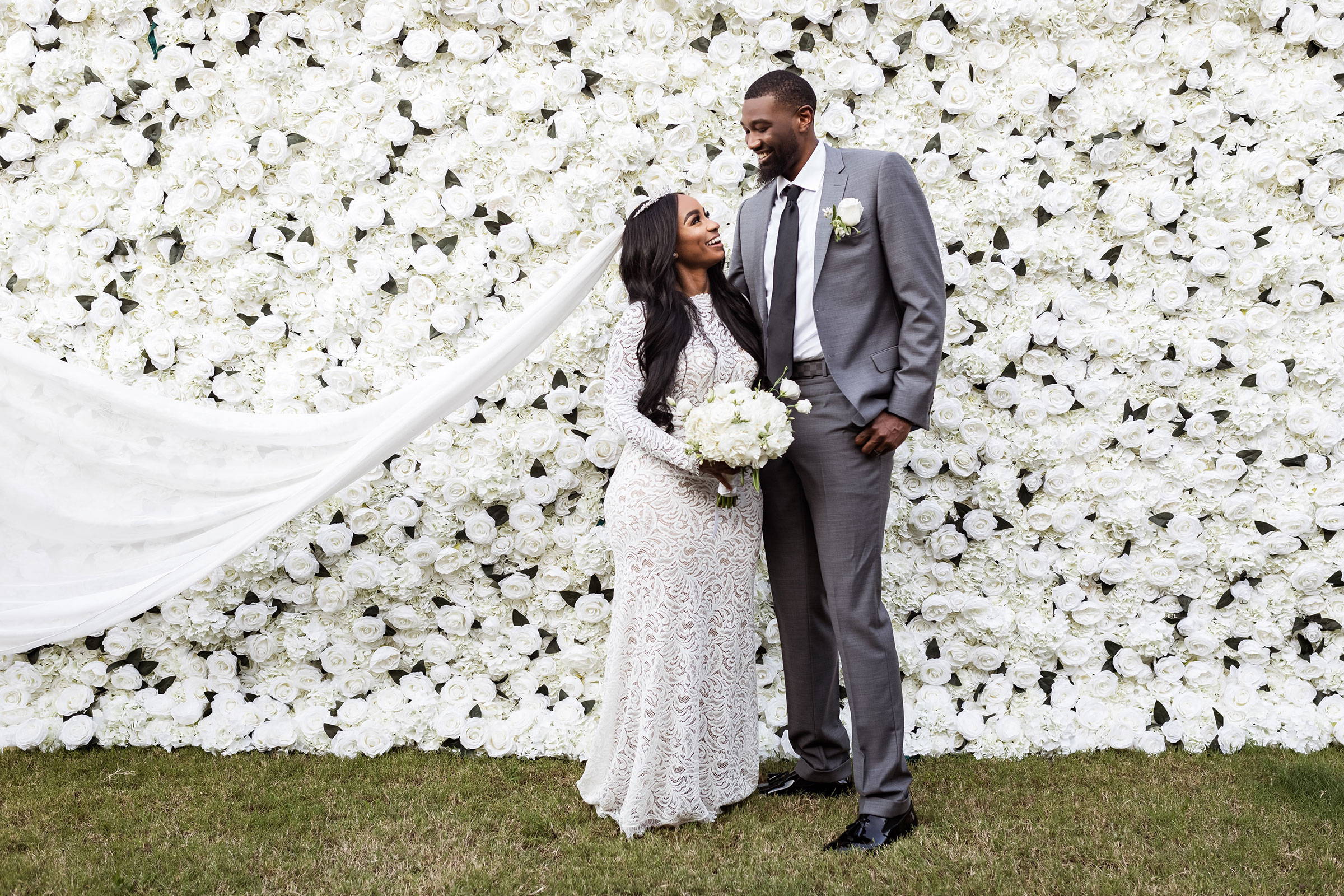 What was it like to have all your friends and family join via zoom?
I don't think it was weird for us at all. We have totally adjusted to this new normal, and we're just happy that they were even able to join virtually. We were more so happy that everyone was able to remain safe and healthy during these unprecedented times, and blessed that they were even able to take the time from their jobs, as we had our wedding on a Tuesday afternoon.