Elliot & Emilia in the Honey Silk
On the rocks by the ocean Emilia wedded Elliot in our Honey Silk Gown, followed by an intimate gathering surrounded by an array of incredible blooms.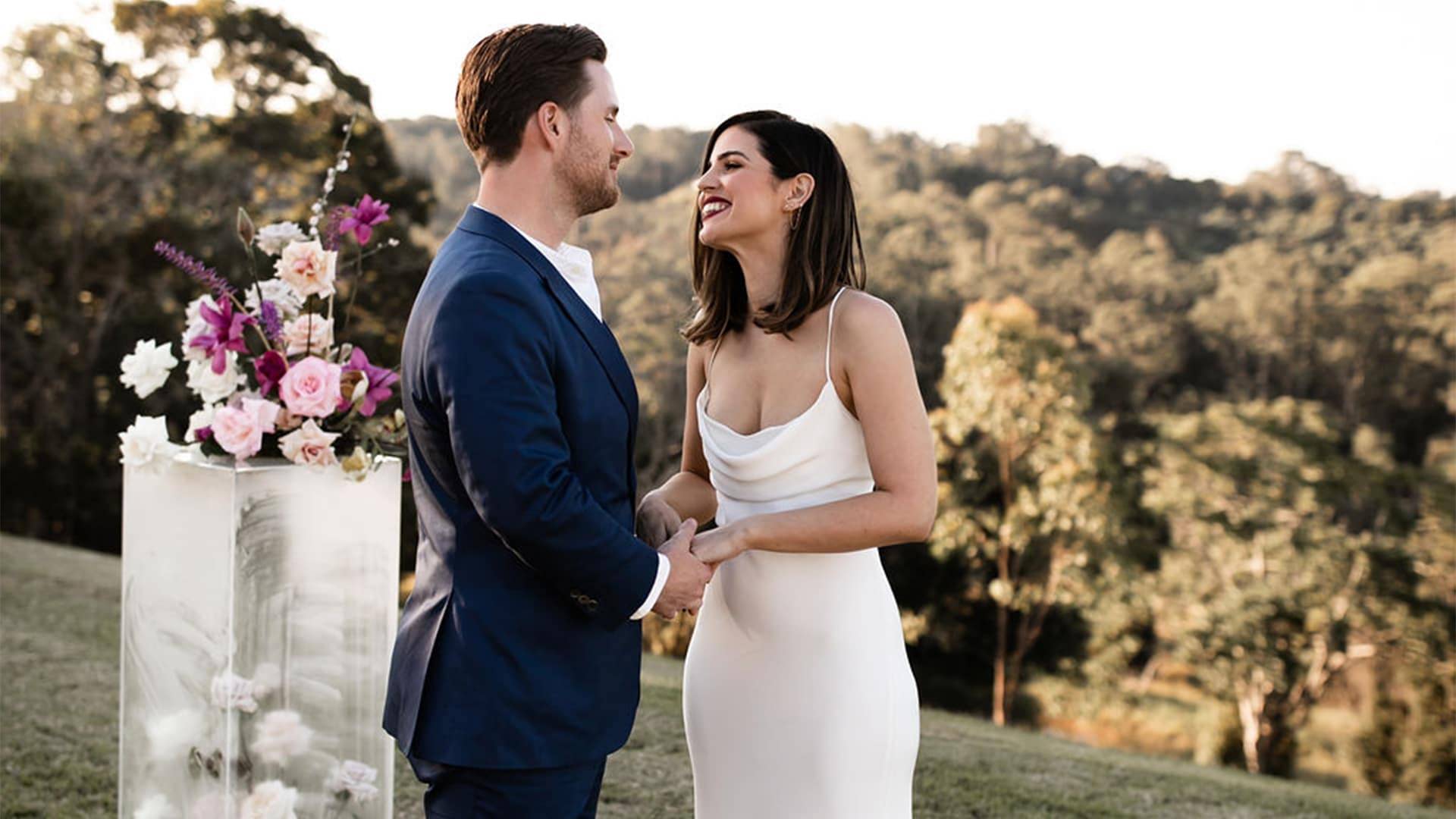 A Grace woman to you is...
Effortlessly beautiful & self-assured.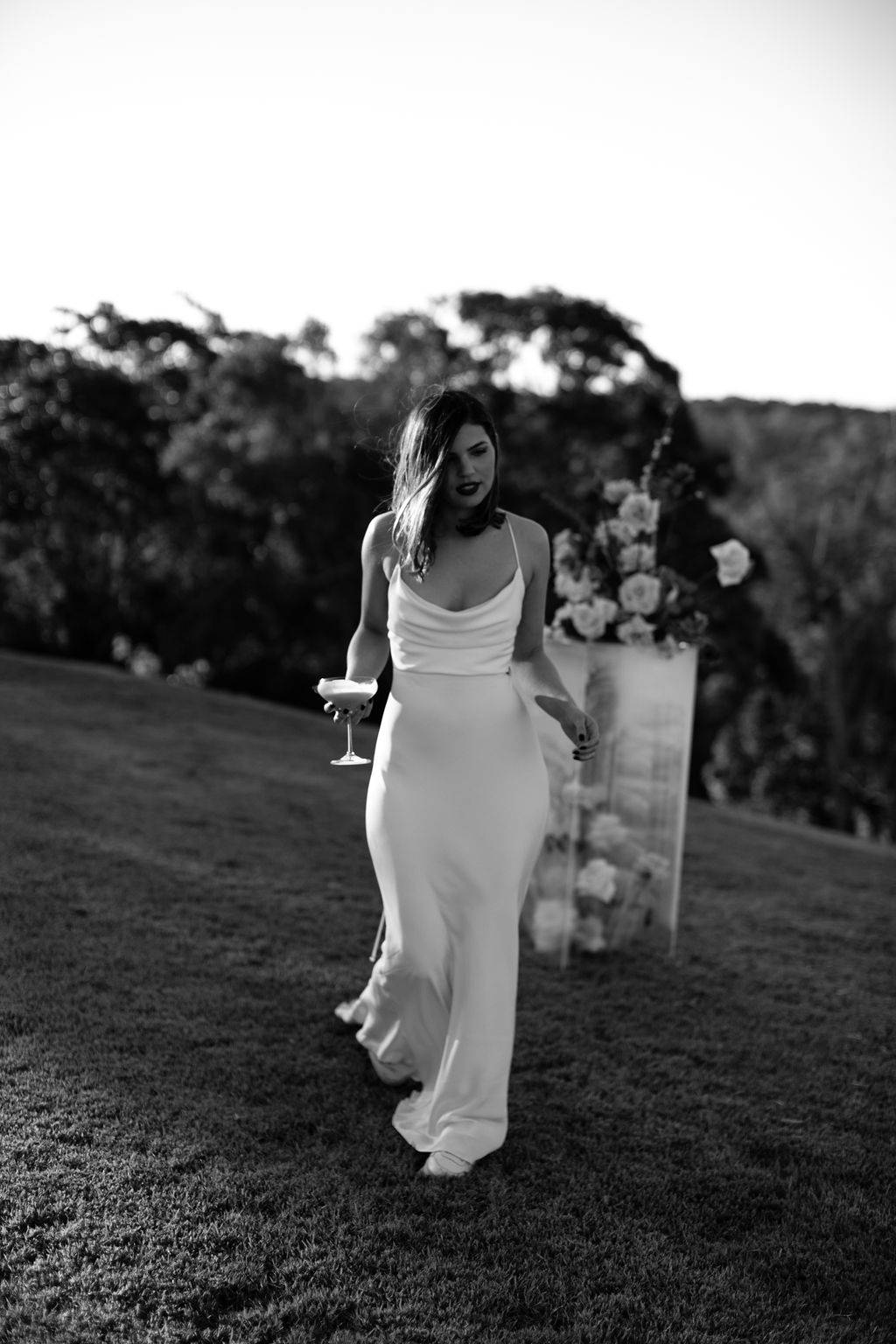 Which Grace dress did you choose aand how did you know it was 'The One'?
The Honey Silk gown. The main thing I wanted out of my gown was something comfortable and minimalistic. I always pictured the most simple gown, something like Summer, but when I tried on the Honey silk I felt cinched in without being stiff, comfortable and safe. If that makes sense? The structure of the gown meant it fit perfectly to my figure without any alterations. It had that minimalist feel but was also very flattering to my figure. The "oh wow" reaction of my trusted and stylish friends at my fitting sealed it for me.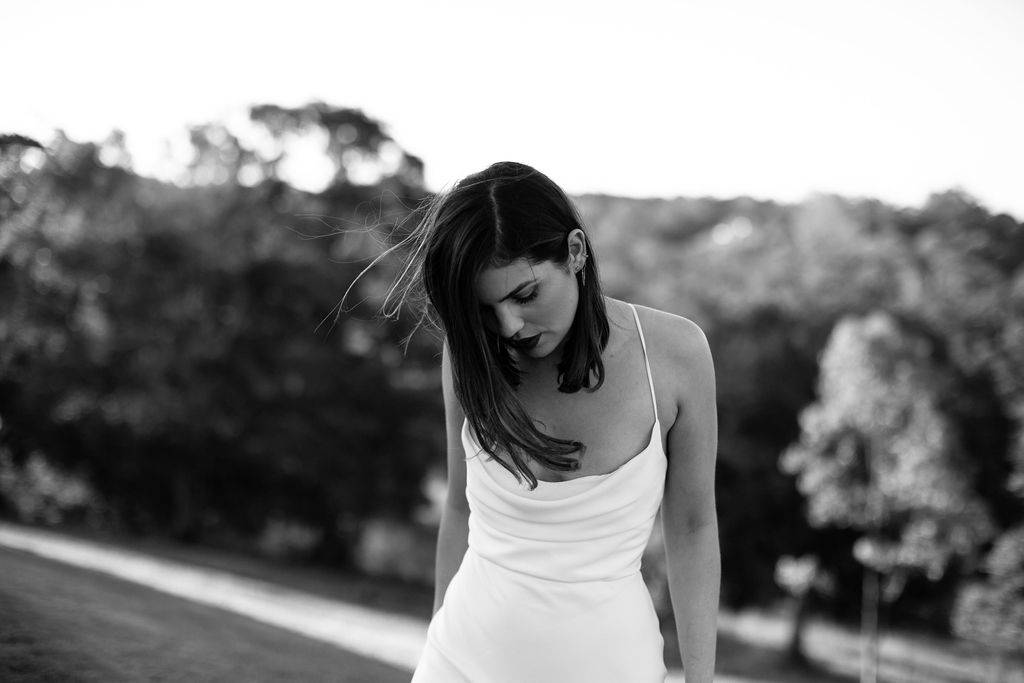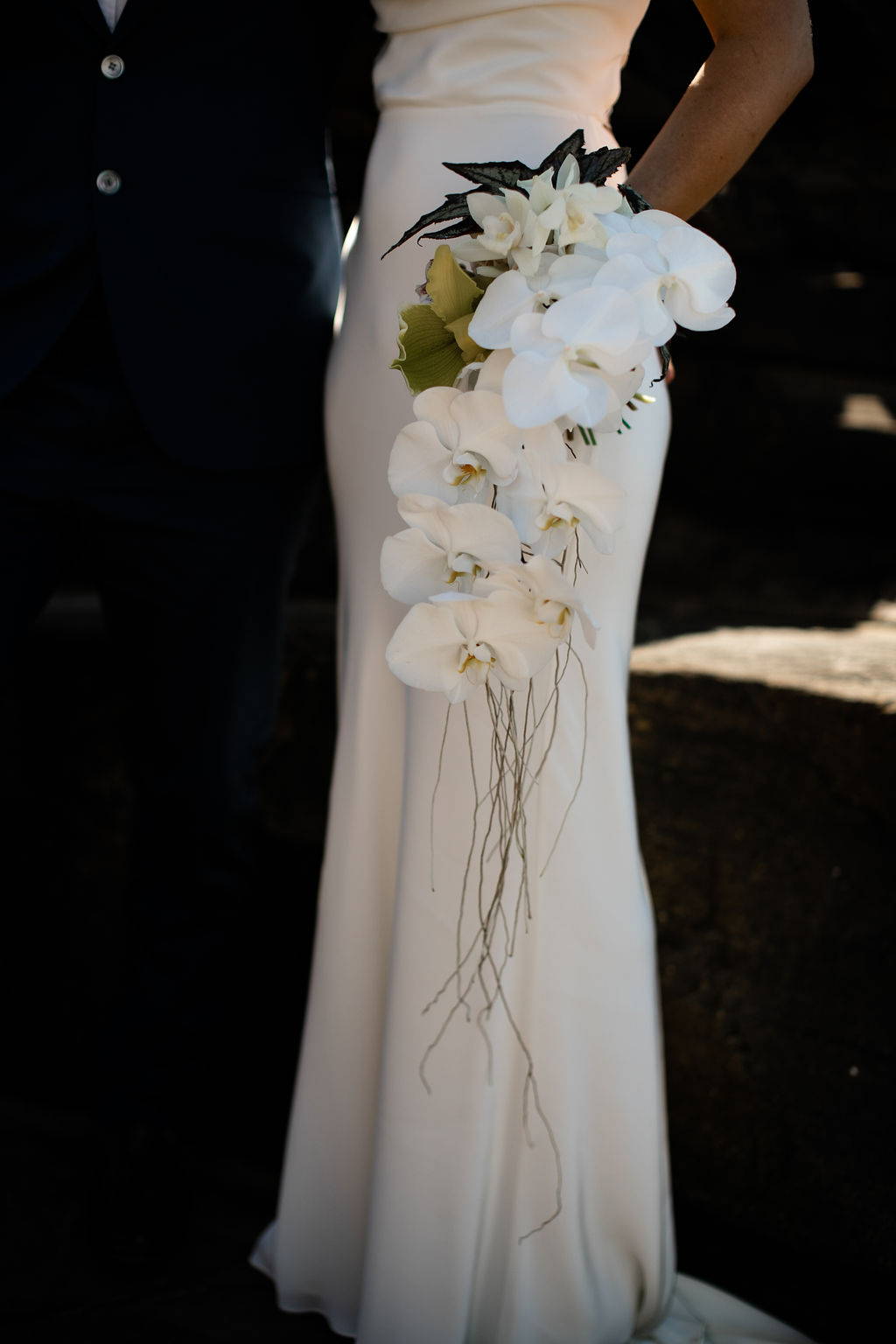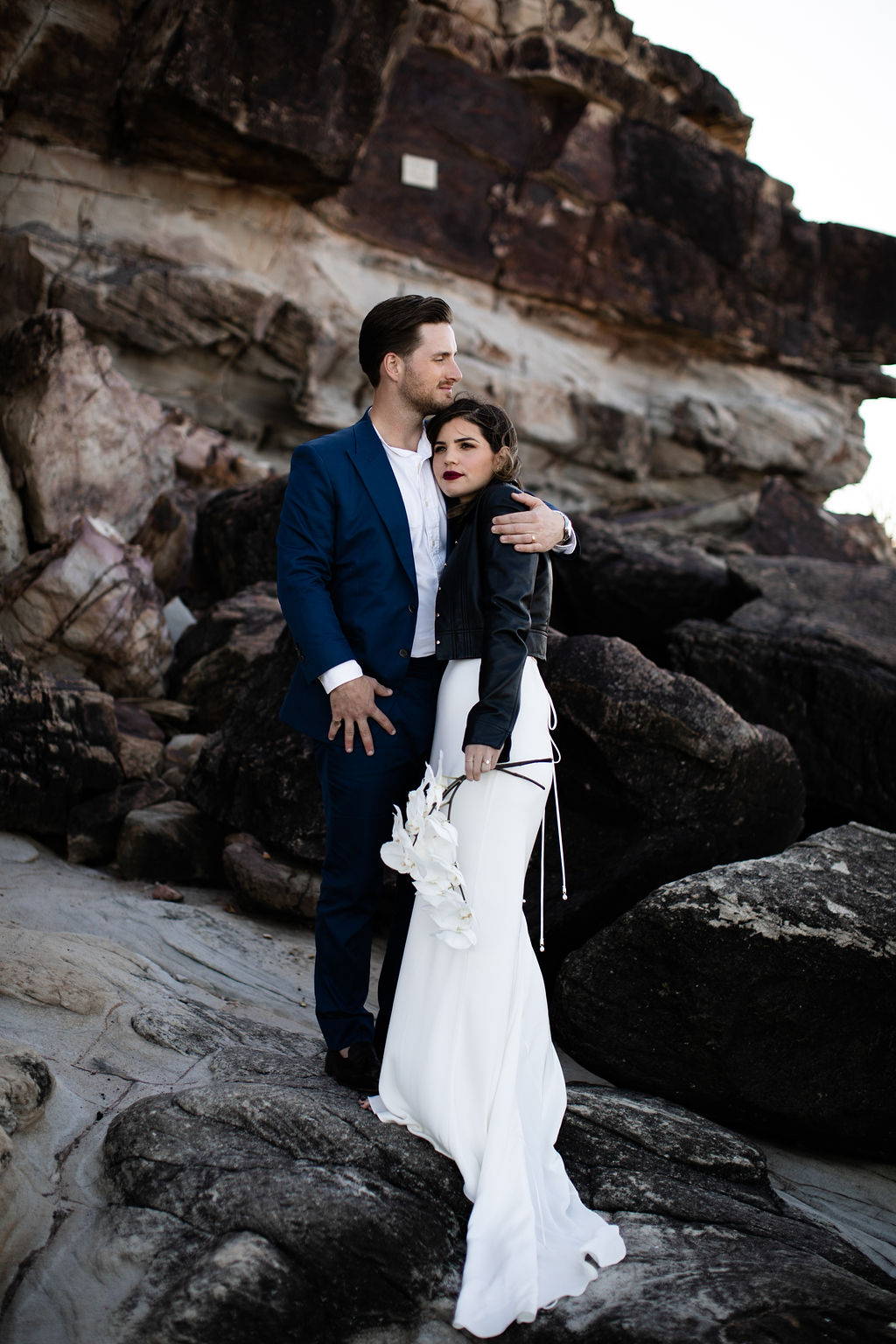 Tell us about your experience when you found your dress, did you buy your wedding dress online or in one of our showrooms?
My partner and I decided to organise our wedding in five weeks. I was actually a little worried I wouldn't be able to find the right gown in that time but was very lucky that the GRACE show room wasn't too far and it was all sorted very quickly & easily.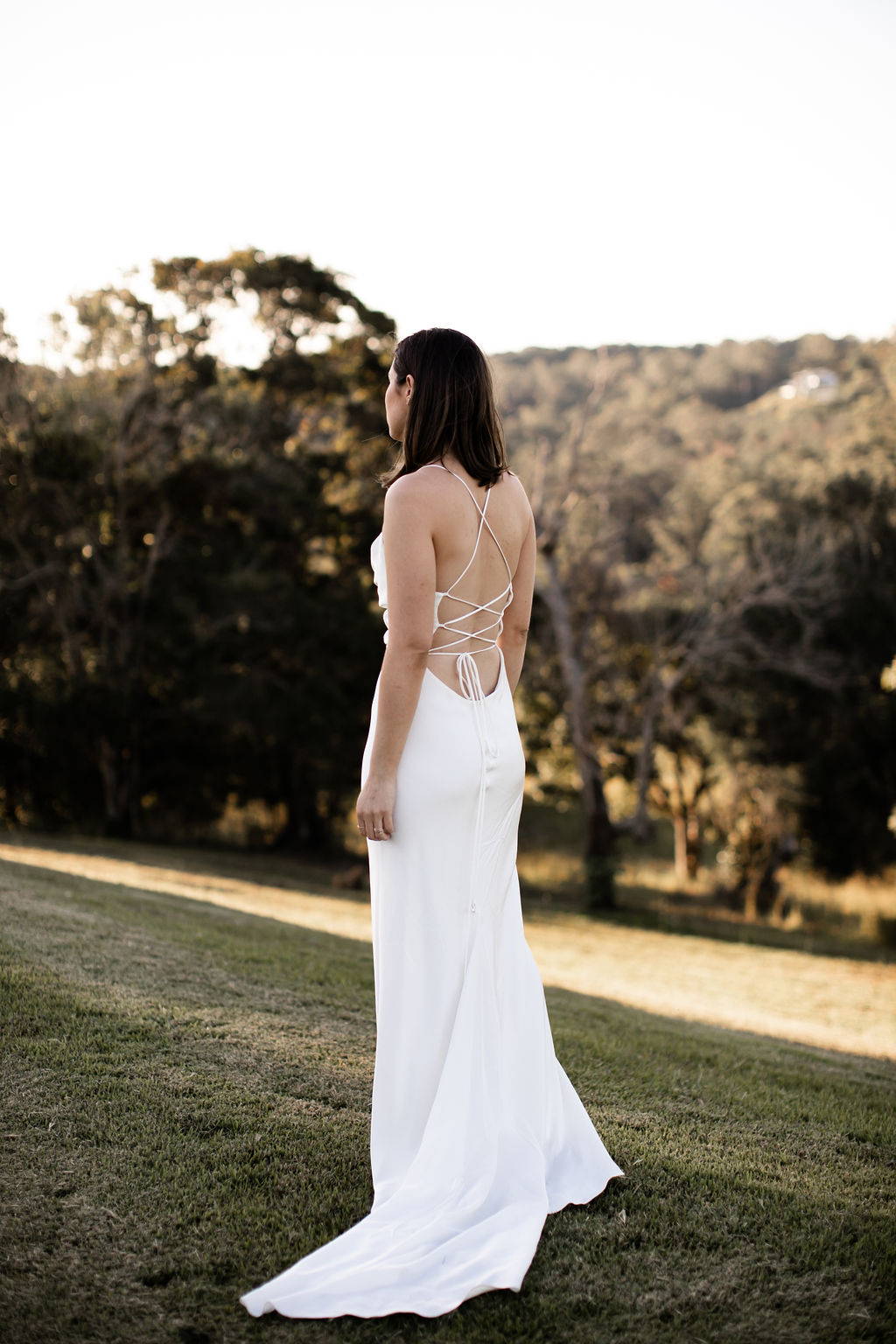 How did you feel in your dress on the day?
Luxurious, beautiful & comfortable! I love the feel of fabrics and loved that I was able to wear such beautiful silk on my skin all day. I was also able to eat and drink whatever I wanted and the shape of the gown meant you couldn't see my stomach expand through the night!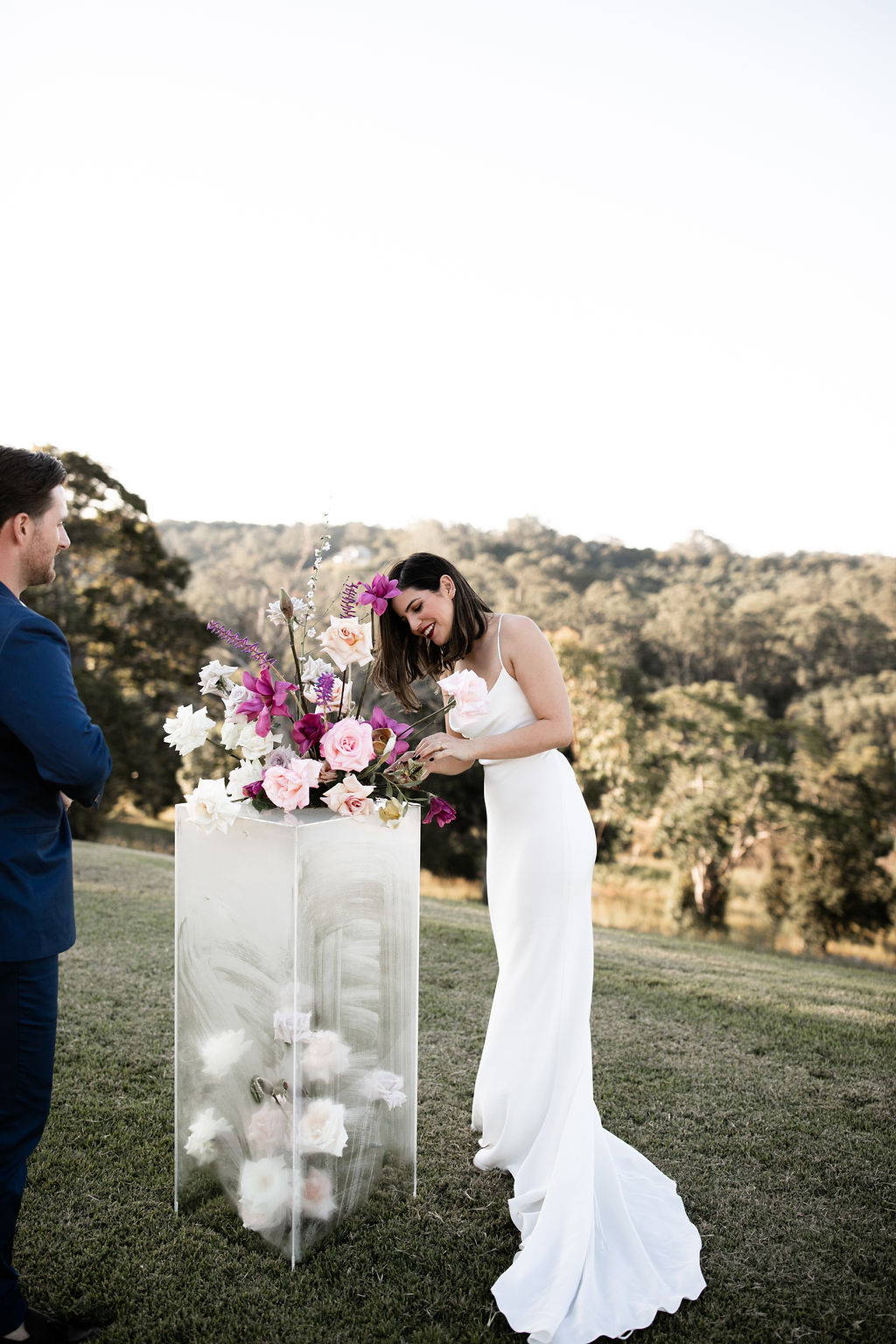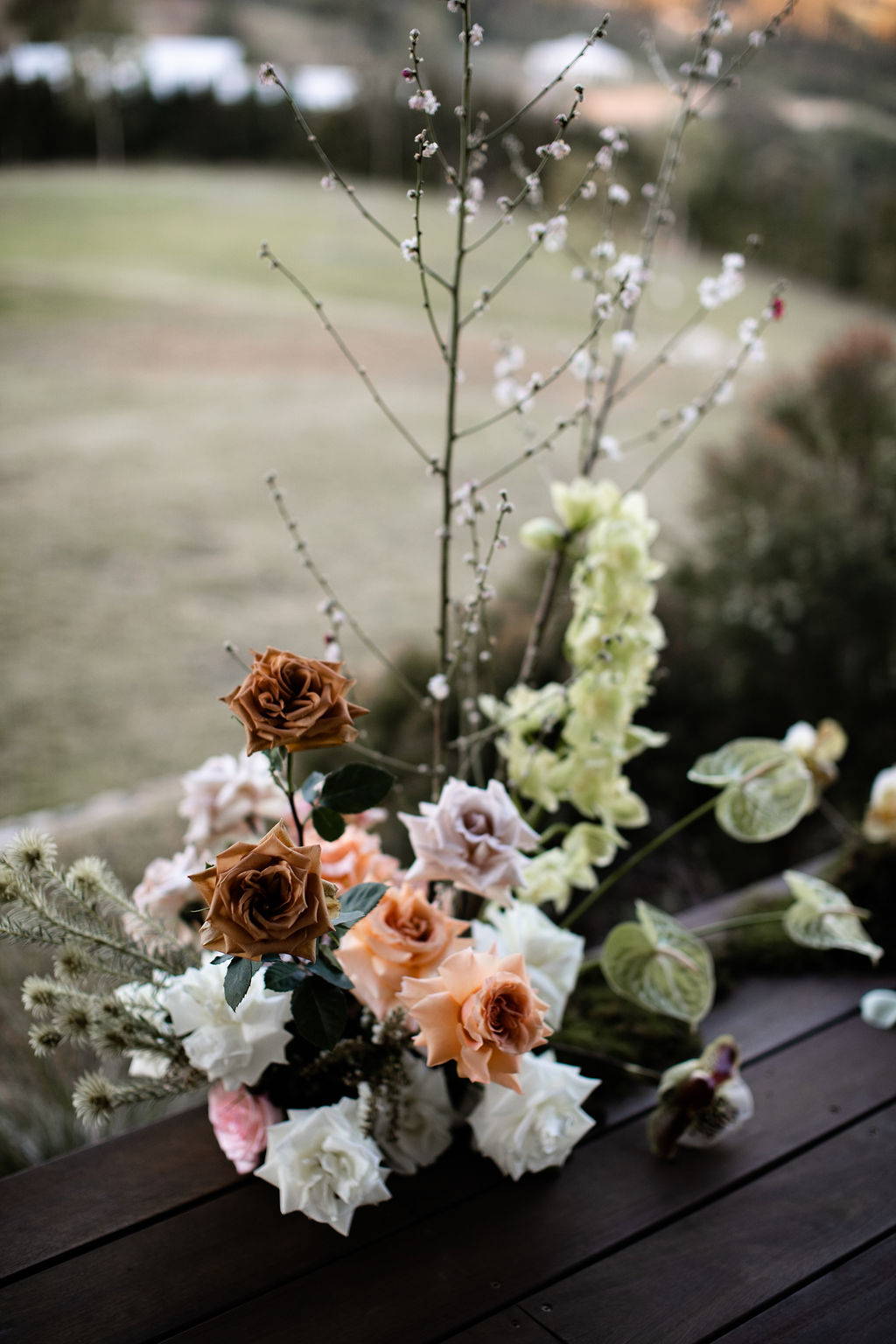 Where did you get married? Tell us about the location & the style of your wedding day.

Our ceremony was very intimate, set on the rocks by the ocean. We didn't want anything to feel like a performance so just had our closest of close people there (that were already in the state, thanks covid), and our long time friend and celebrant Tiff from "Hitched by Hulm" created the most personal ceremony that was perfectly us. She really got into the details we care about, threw in little jokes and even let me pick her outfit to suit the colours I wanted. We had a bit of a walk over some large rocks to get there so I had to wear my sneakers before changing into my heels. I had grand plans of getting there before Elliot, but the morning of I really didn't want to rush so took my sweet time and left Elliot waiting for a while.
Our reception was really more like a cocktail party. We had the most beautiful cheese platter made by our generous friend Sarah-Mae and pastries from Rick's bakery (a staple of Noosa) and most importantly the tastiest cocktails I have ever tasted, including a personalised creation, designed and made by our beautiful friend Sean of "The Sip Adviser"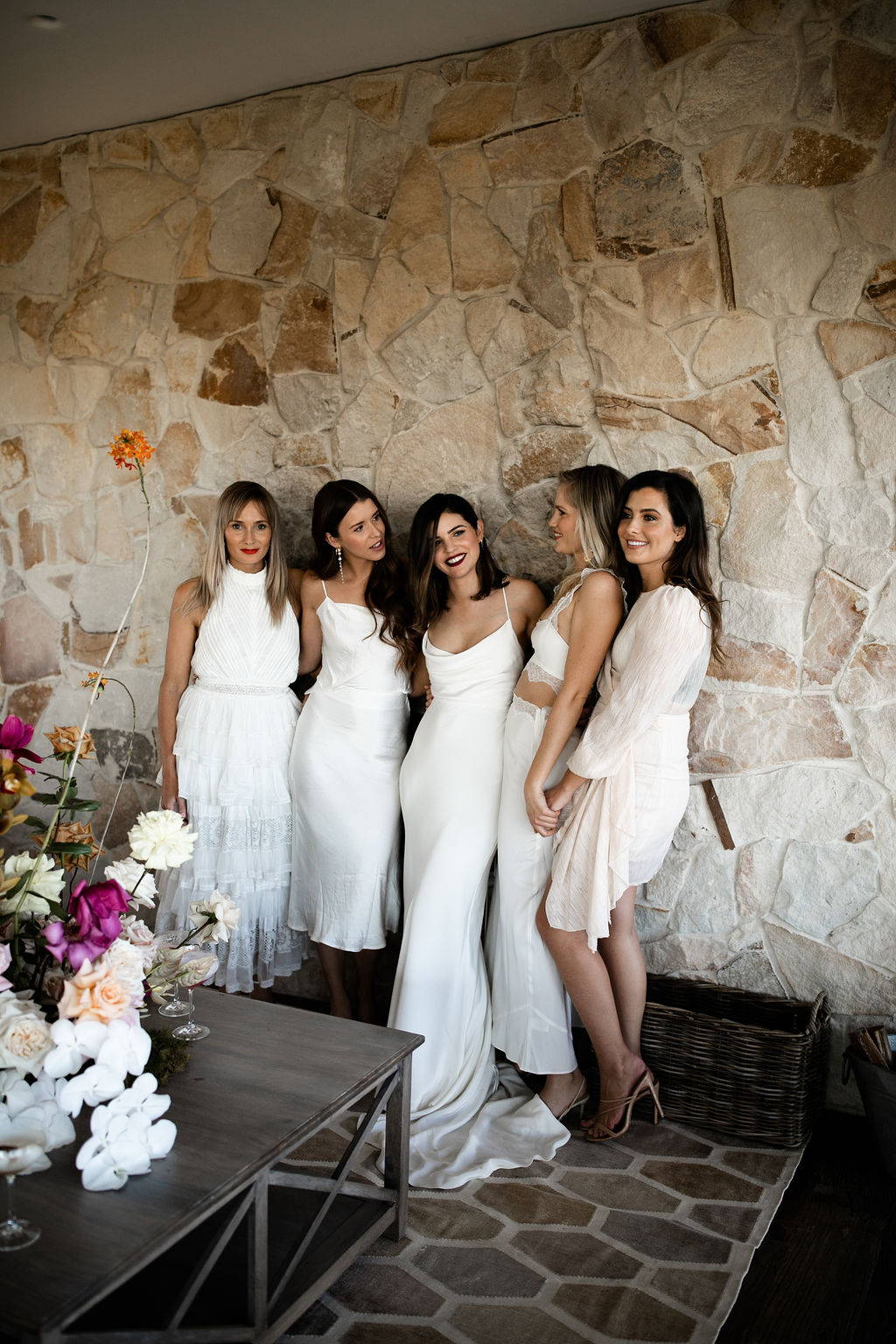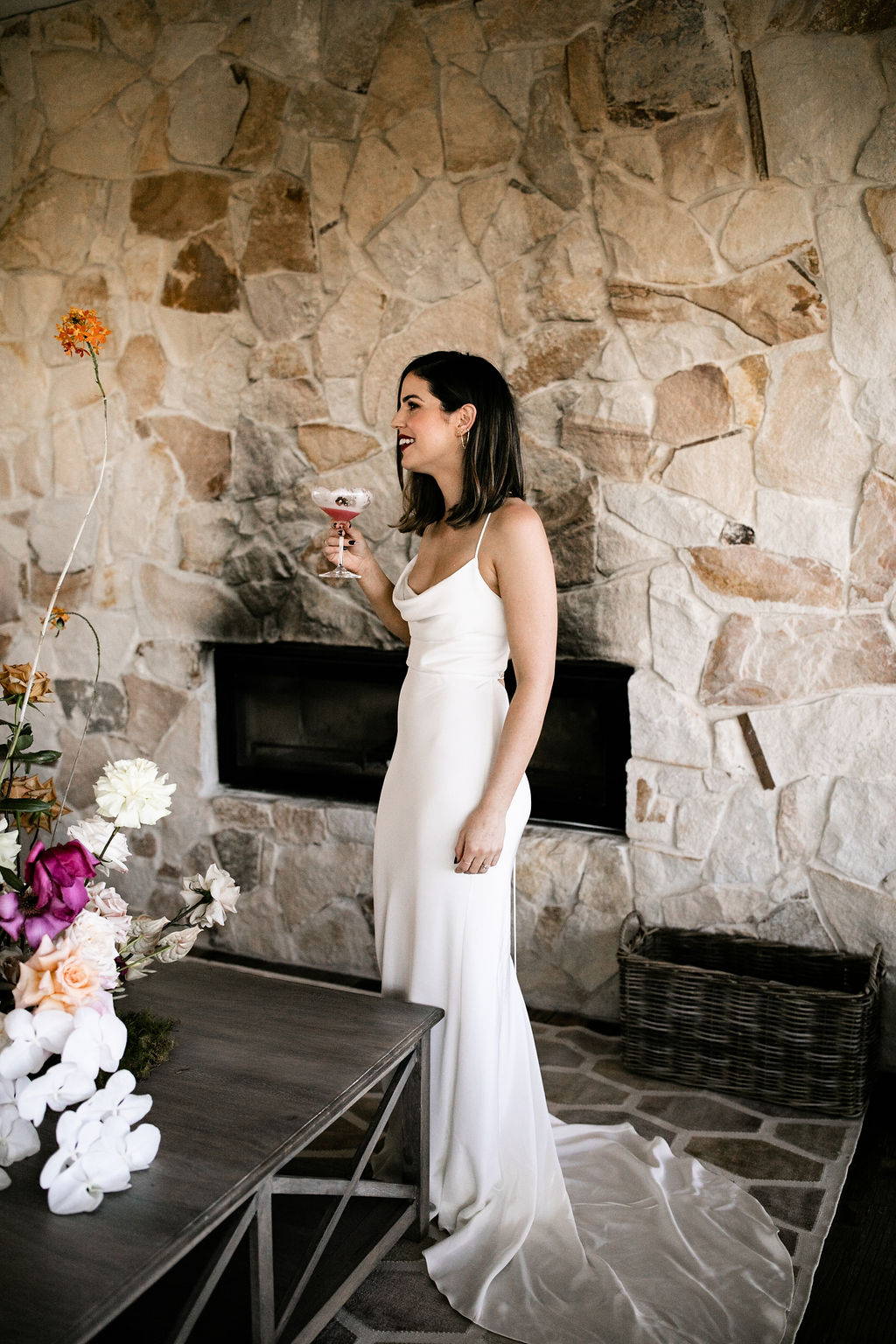 Tell us about your hair and makeup look and the accessories you chose…
Like the gown, the hair and makeup look I always thought I wanted was not what I ended up with. I did my hair and make up trial for my hens party of what I thought I wanted, and while it was beautiful, I just didn't feel like me. I ended up having a play around myself with different looks in my gown and landed on soft waves with some volume styled by Nikki Gibbs (Chopped Hair) and the signature soft glow of Shannon Hope (Shannon Hope MUA) finished with a dark lip.
I am a bit of a cold frog, so knowing it was going to be under 30 degrees I knew I would need a jacket. I ended up with my Alice McCall leather jacket as I felt it would detract the least from the beautiful shape of the gown.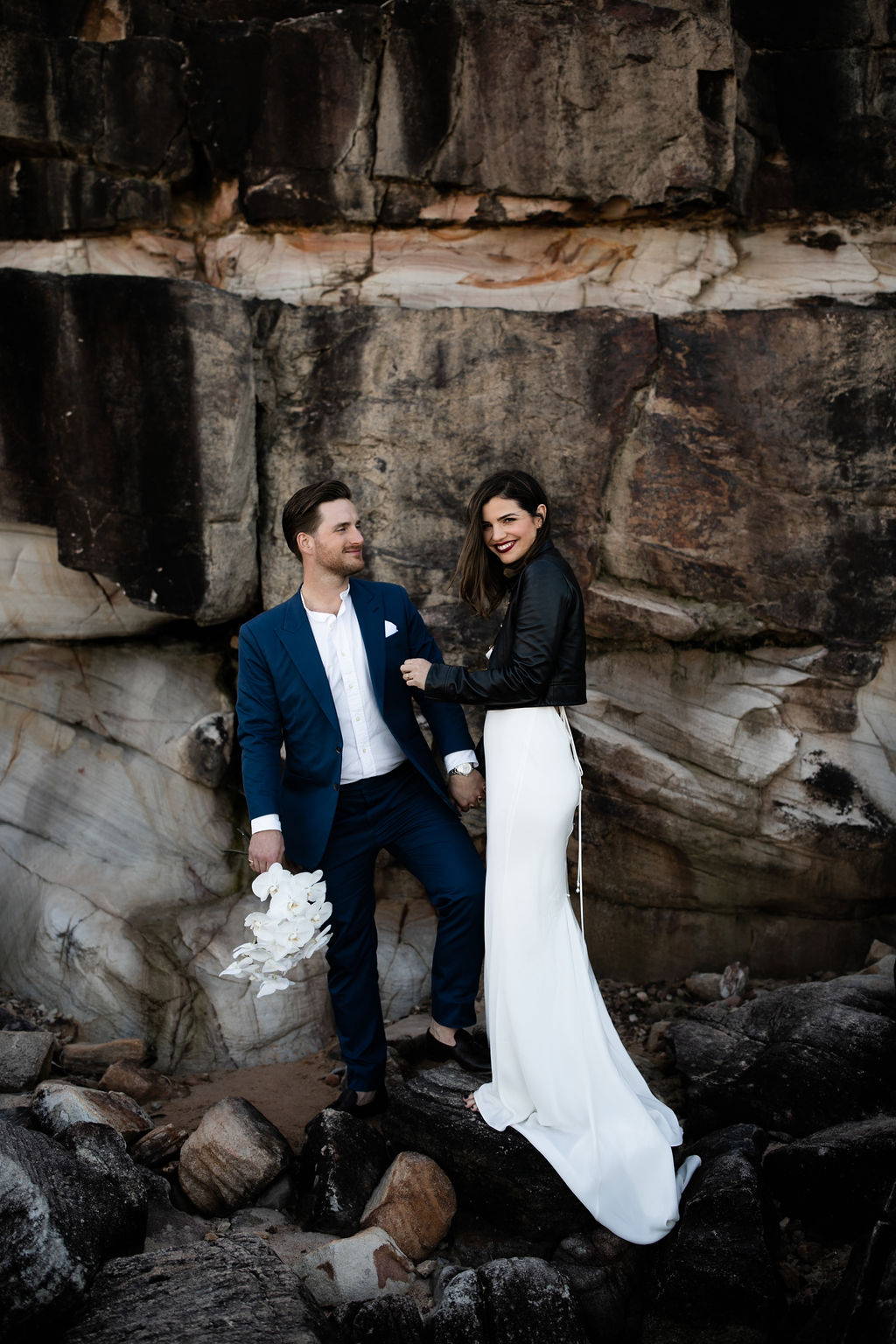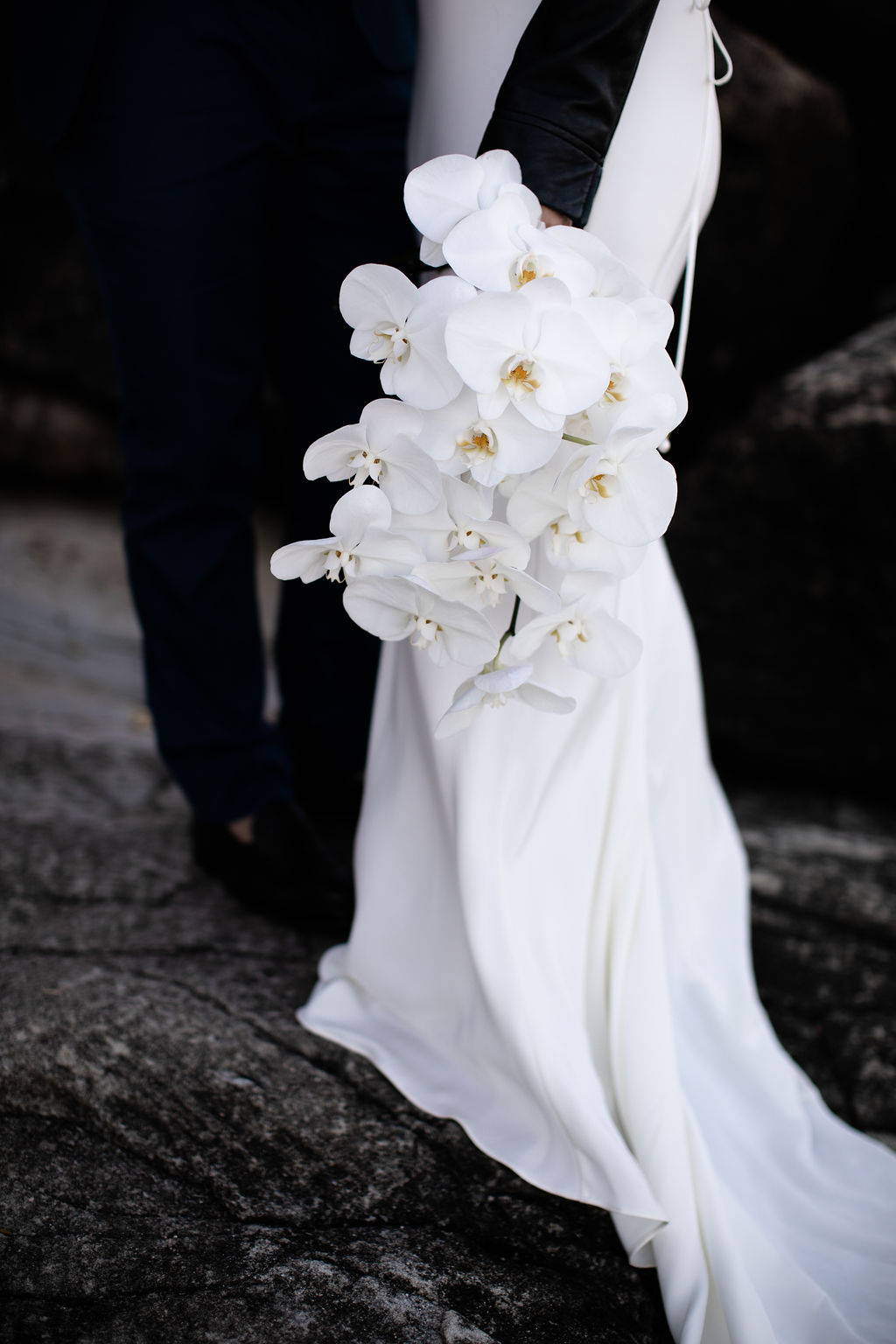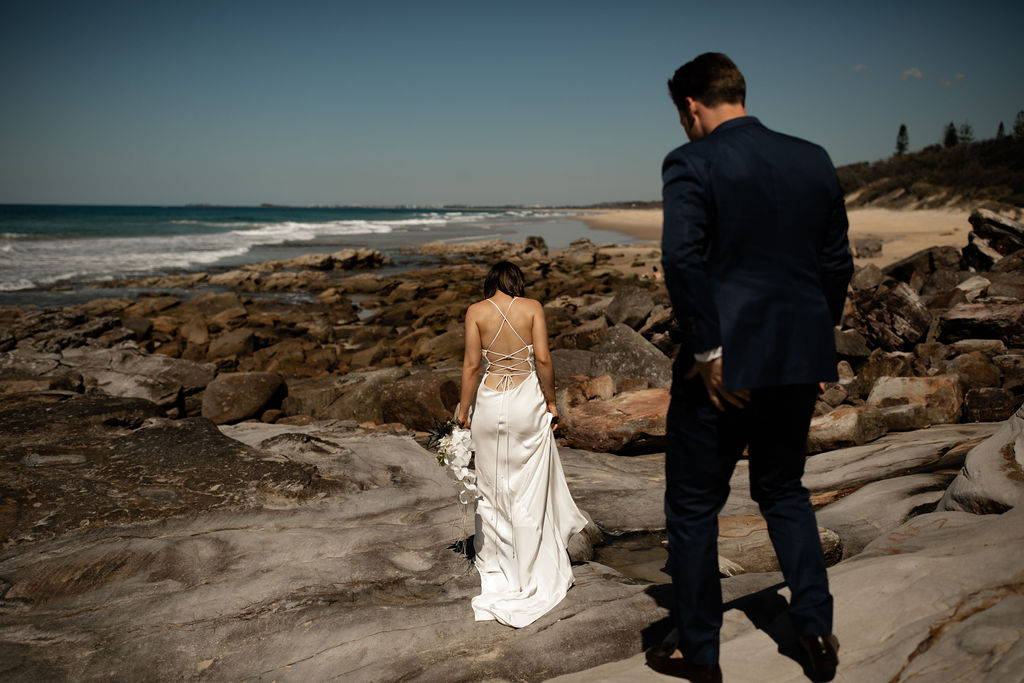 What made your day extra special?
Two things would be — 1. We took a couple of hours for just the two of us after the ceremony so we were able to spend some time together being married before we celebrated with everyone else and 2. The cocktails, they were just soooooooo good!!
The funniest moment on the day was…
How much fun our flower girl Zuri had getting photos and on the dance floor.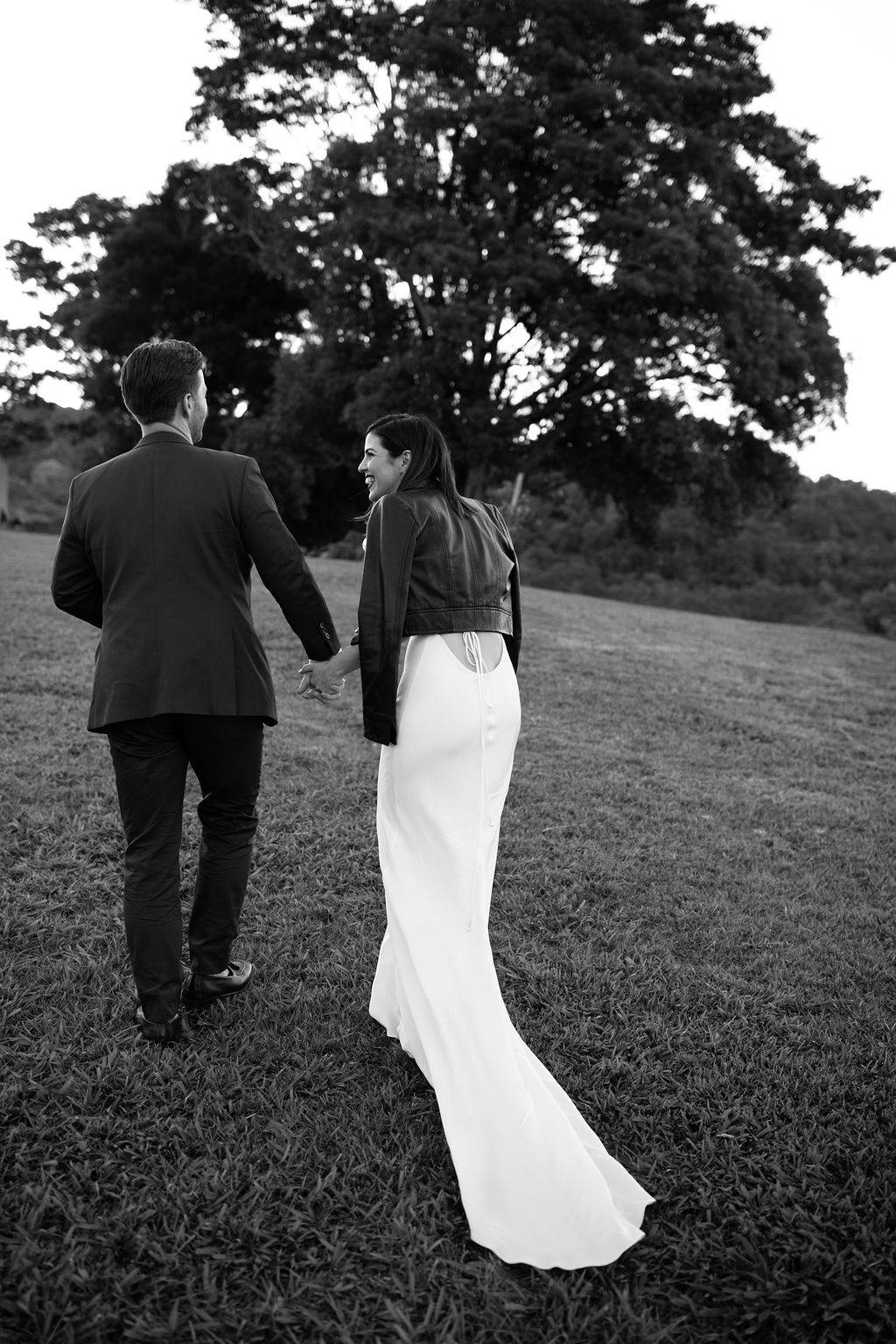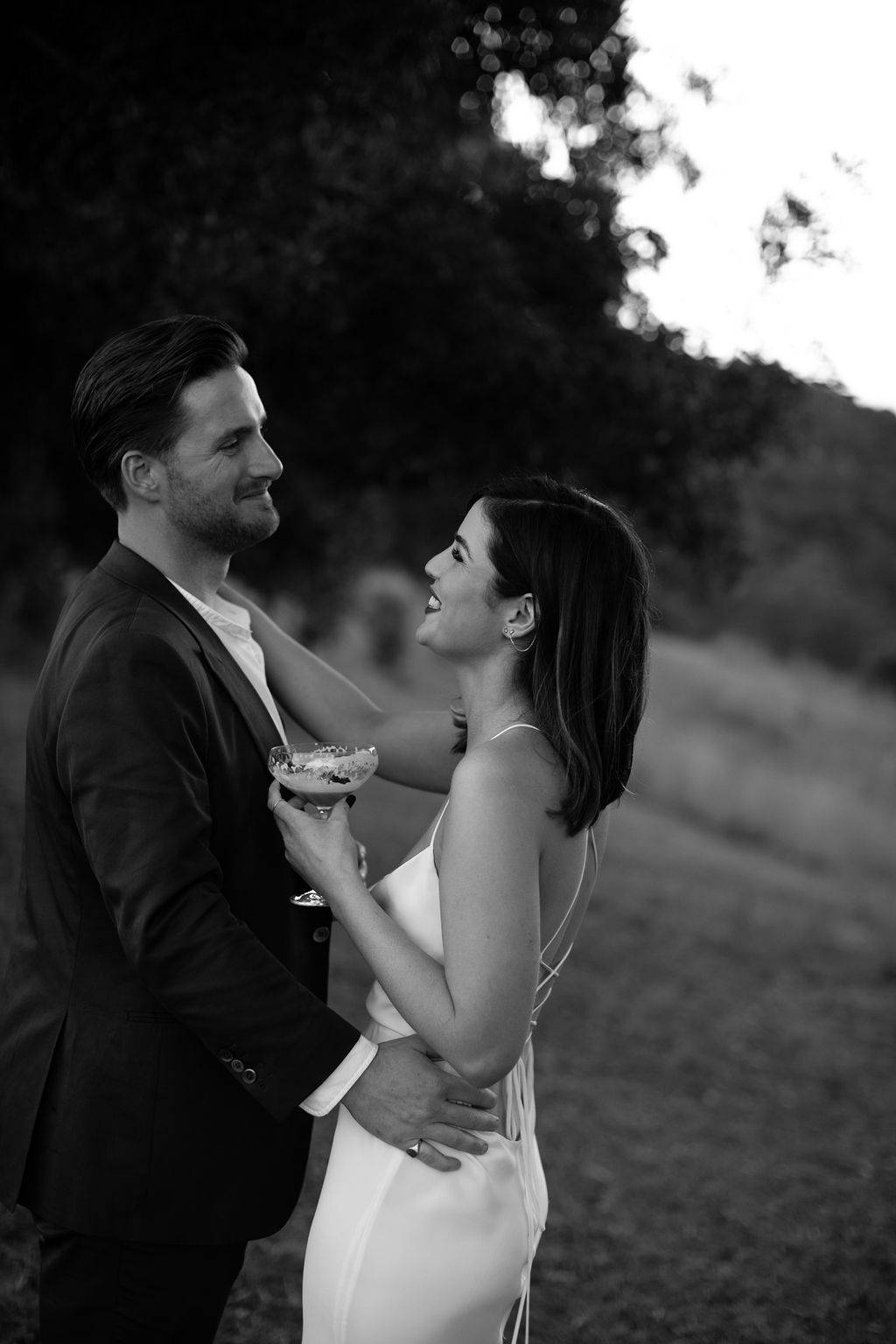 Where will you be honeymooning?
I think it will depend on what the future travel restrictions allow. For the moment we are lucky enough to live in paradise in Noosa with our fur babies, so we are very grateful for that.
Any last advice or words of wisdom that you can share…
You do YOU! Your day is for you & your love. Your other loved ones just want the day to be as enjoyable for you as possible, if you make each decision to serve that goal, everyone will be their happiest on the day.
Also put in buffer times in the schedule so on the day you don't feel rushed, and have someone keeping an eye on that schedule for you.