Nathan & Harmony in the Behati Gown

Beautiful Harmony and new hubby Nat tie the knot along the elegant beachside of Palm Beach. With clean white florals decorating the aisle - it was the wedding ceremony from heaven.
What is a GRACE Woman to you?
Someone who values authenticity, heart, and adventure. She lives in the moment and radiates confidence, self-love, and natural beauty.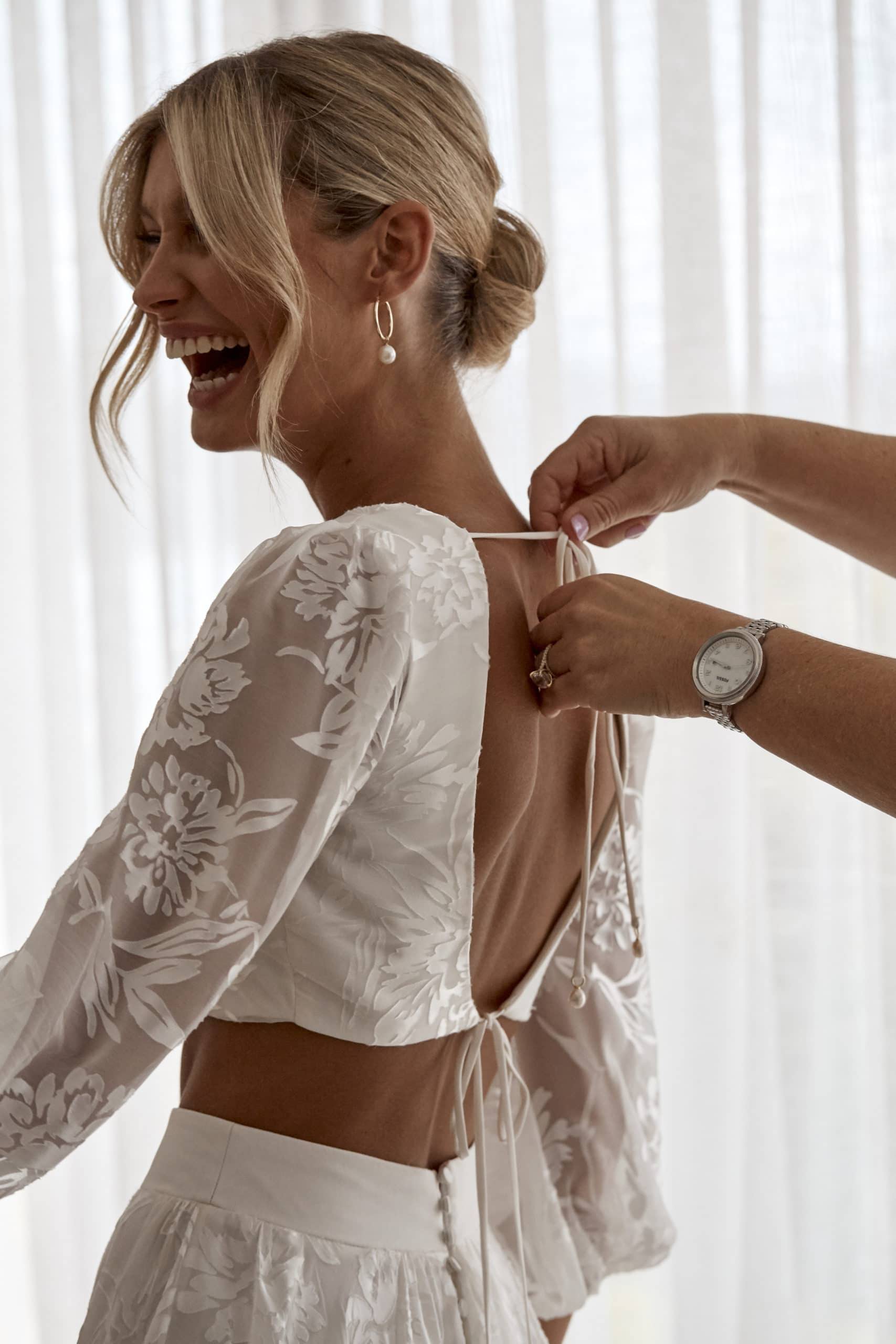 Which GRACE dress did you choose and how did you know it was 'The One'?
I was lucky enough to have the opportunity to create a custom dress with the beautiful team at GLL. The design was a gorgeous 2 piece gown with a fitted waist and flowy skirt with a backless, sheer sleeve top. We decided to use the Loyola Silk fabric for this gown. I've had my eye on this fabric for a while and it is my absolute favourite! It is so timeless, weightless and gorgeous. As soon as I tried the gown on, an overwhelming sense of joy just filled me! I knew it was the one straight away.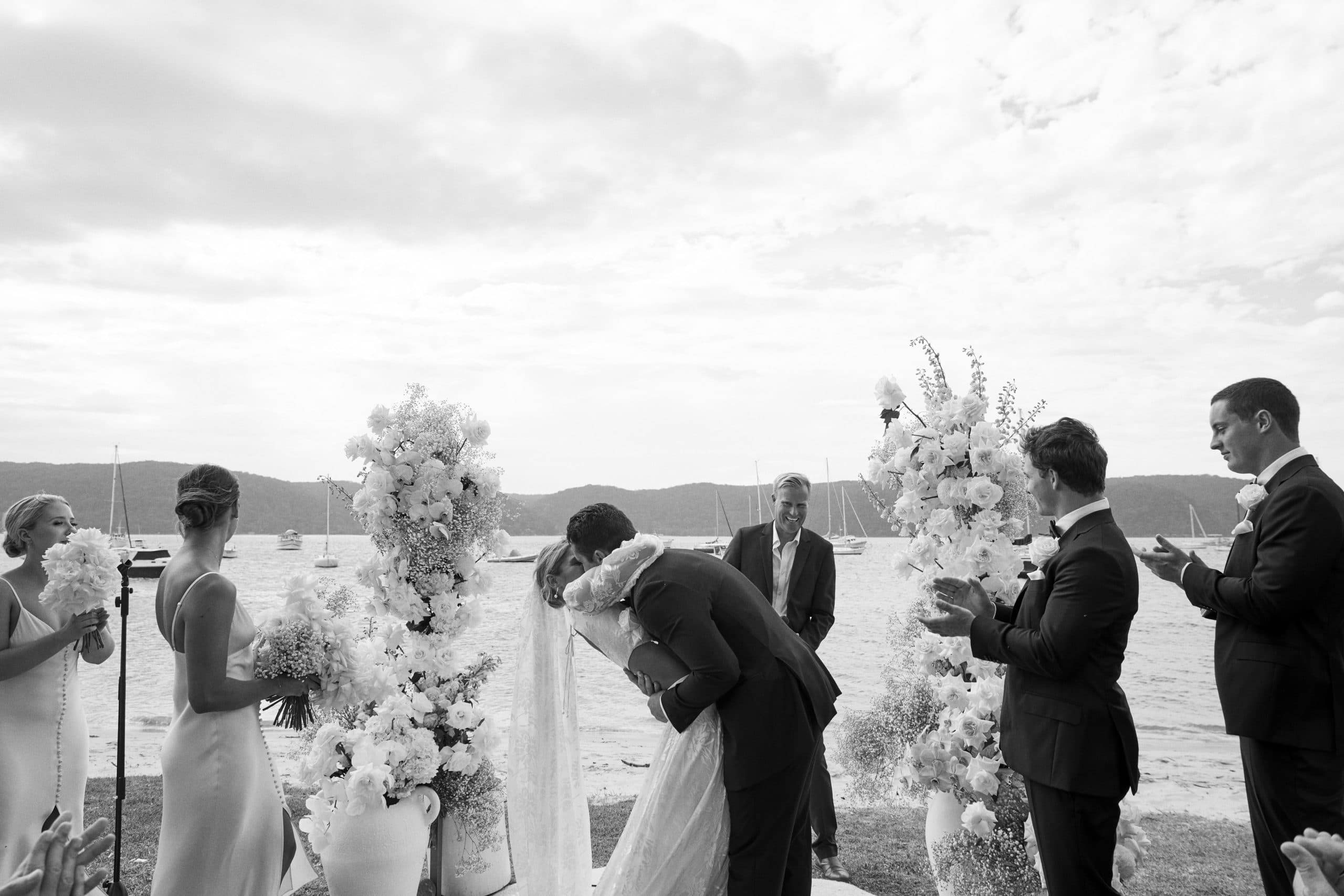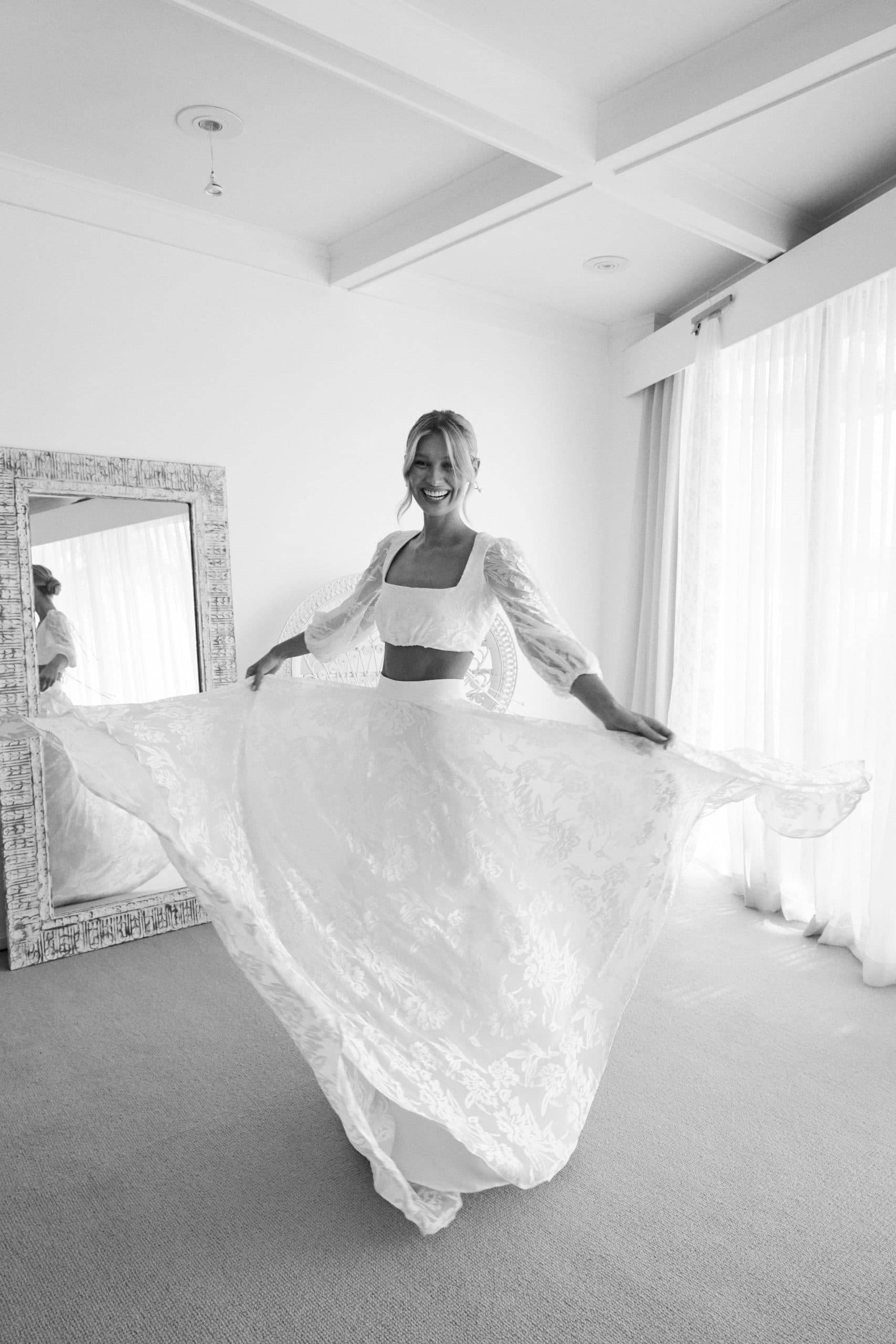 Tell us about your experience when you found your dress, did you buy your wedding dress online or in one of our showrooms?
Having my mum there with me for the fittings made it the best. She's my bestie so I loved having her there. I also loved creating a beautiful friendship with the girls at the showroom. They are the definition of a 'GRACE woman'! And they made the whole experience so much fun. They were so helpful and went above & beyond for myself and every other bride in the room on the day.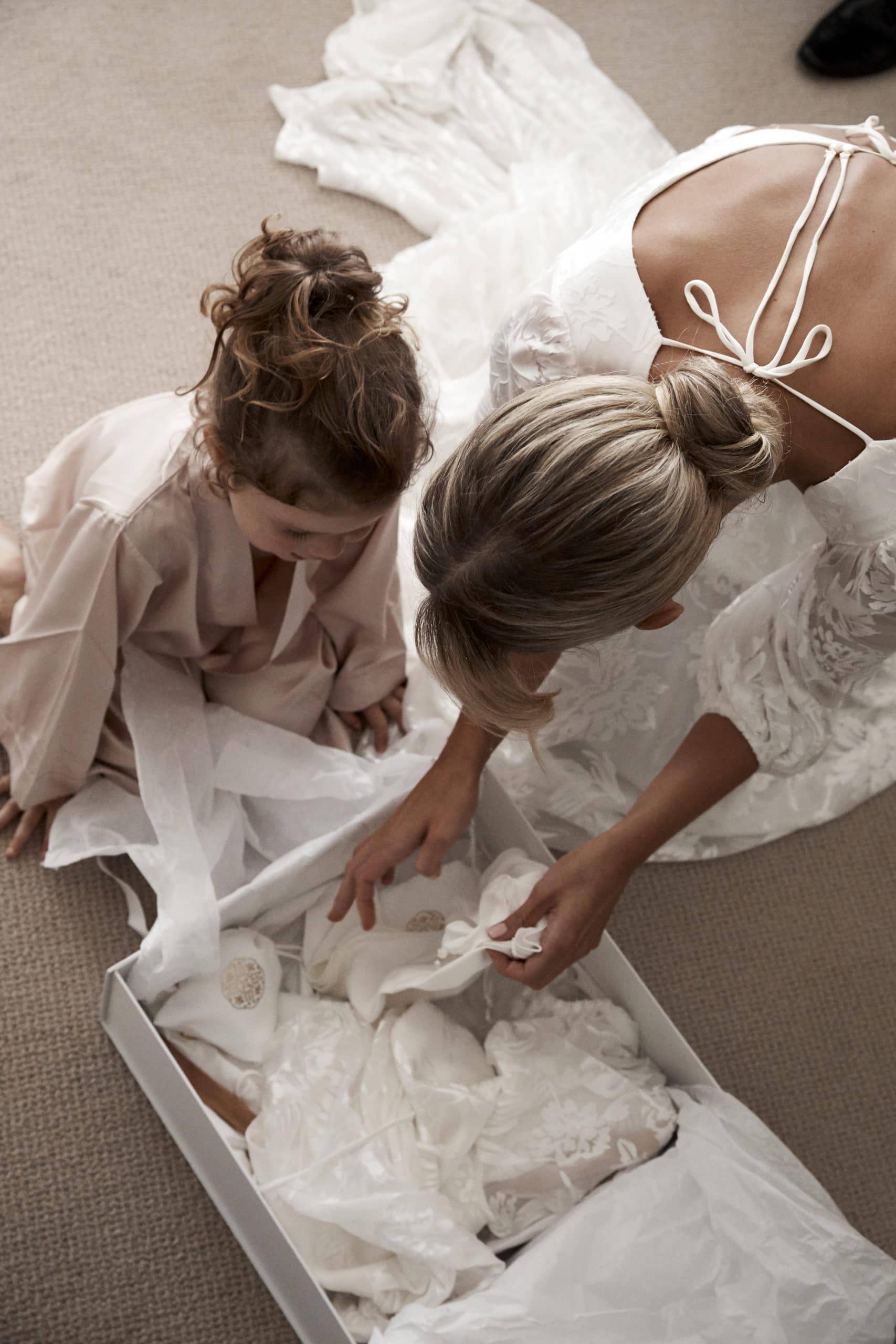 How did you feel in your dress on the day?
I felt myself. Which was the most important thing for me! I knew that if I felt like myself then I would feel grounded and happy on the day. The second most important thing for me was to be comfy… and boy, was I comfy!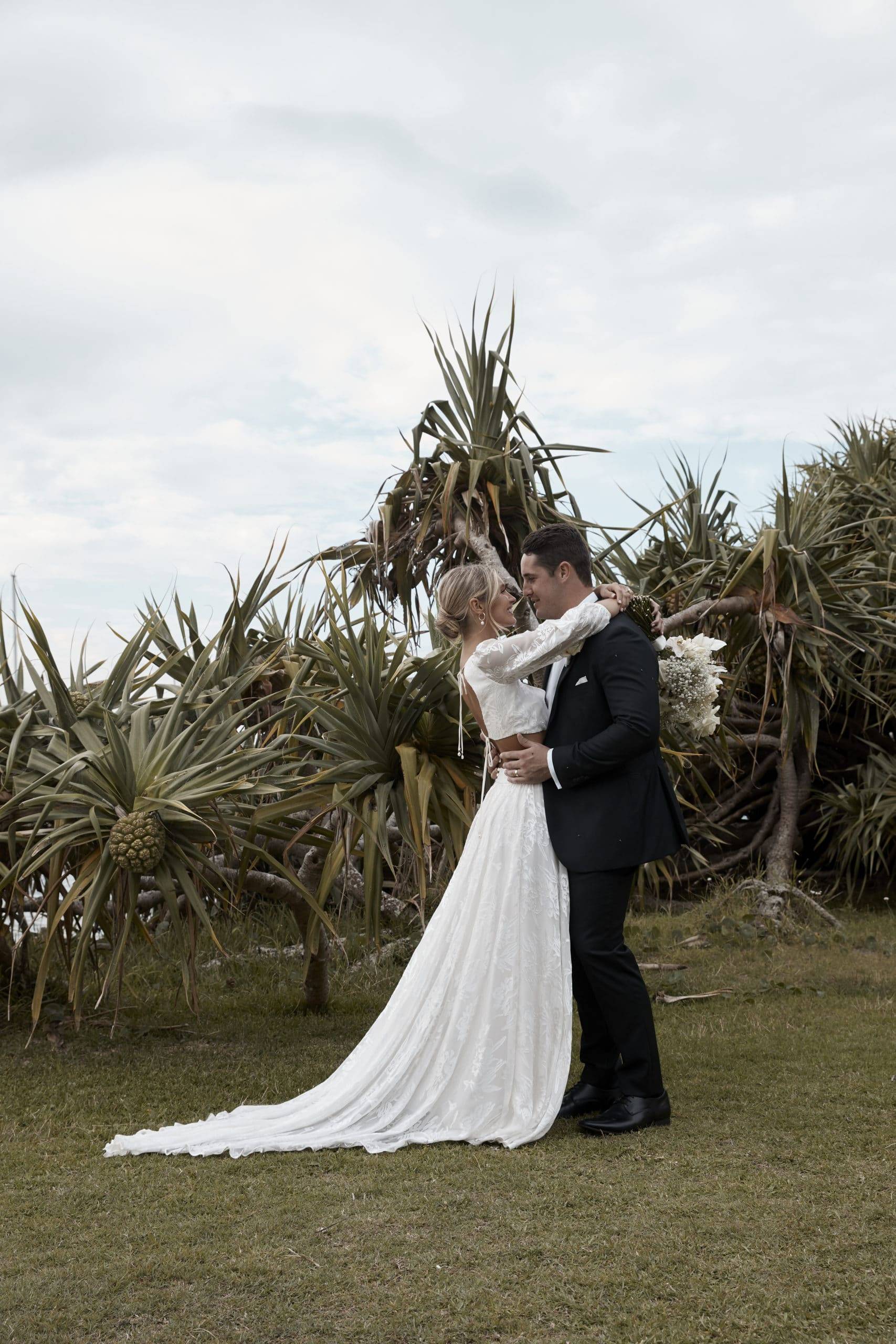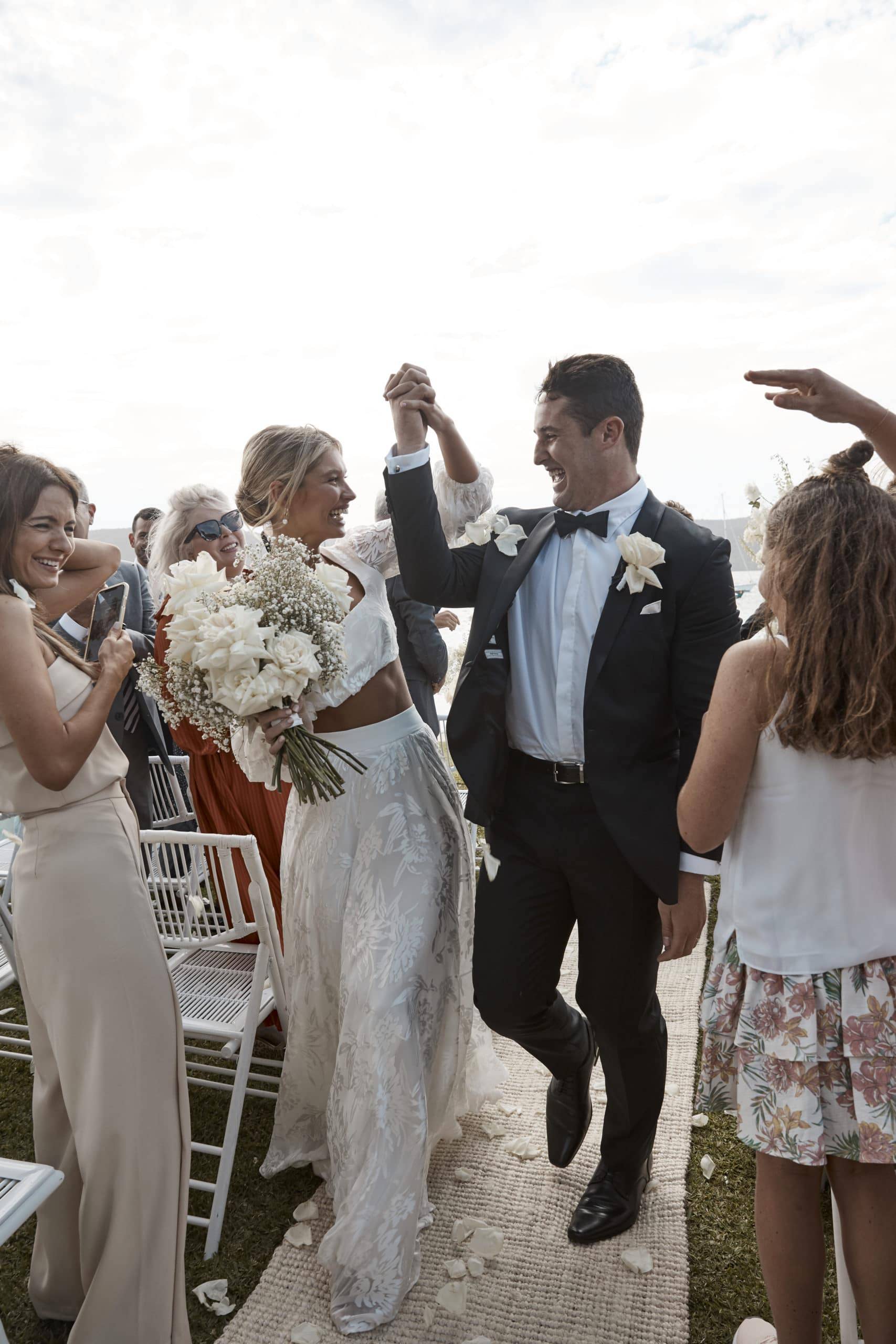 Where did you get married?
Tell us about the location & the style of your wedding day.
We got married in Palm Beach, NSW. We decided on our venue first. Moby dicks was an all white venue with a beautiful panoramic view of the ocean. It was our dream and we booked it right away. We then found the ceremony spot… Just down a beautiful palm tree lined path we found a grassy spot right on the water. We hired a house on the water just next to this path for a few nights and we had our ceremony right out the front! It was a relaxed yet elegant beach wedding. And it was exactly what Nat and I dreamt of!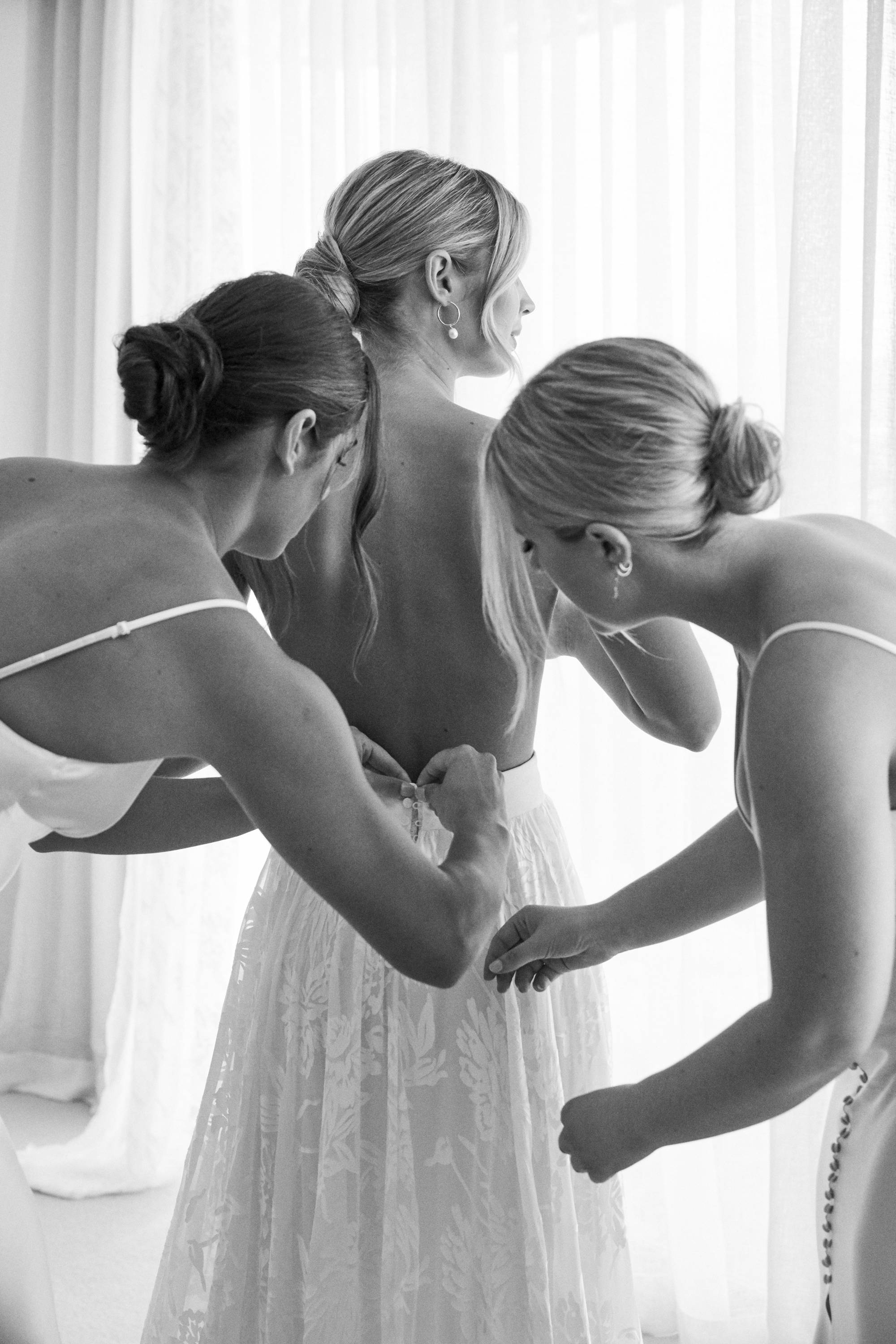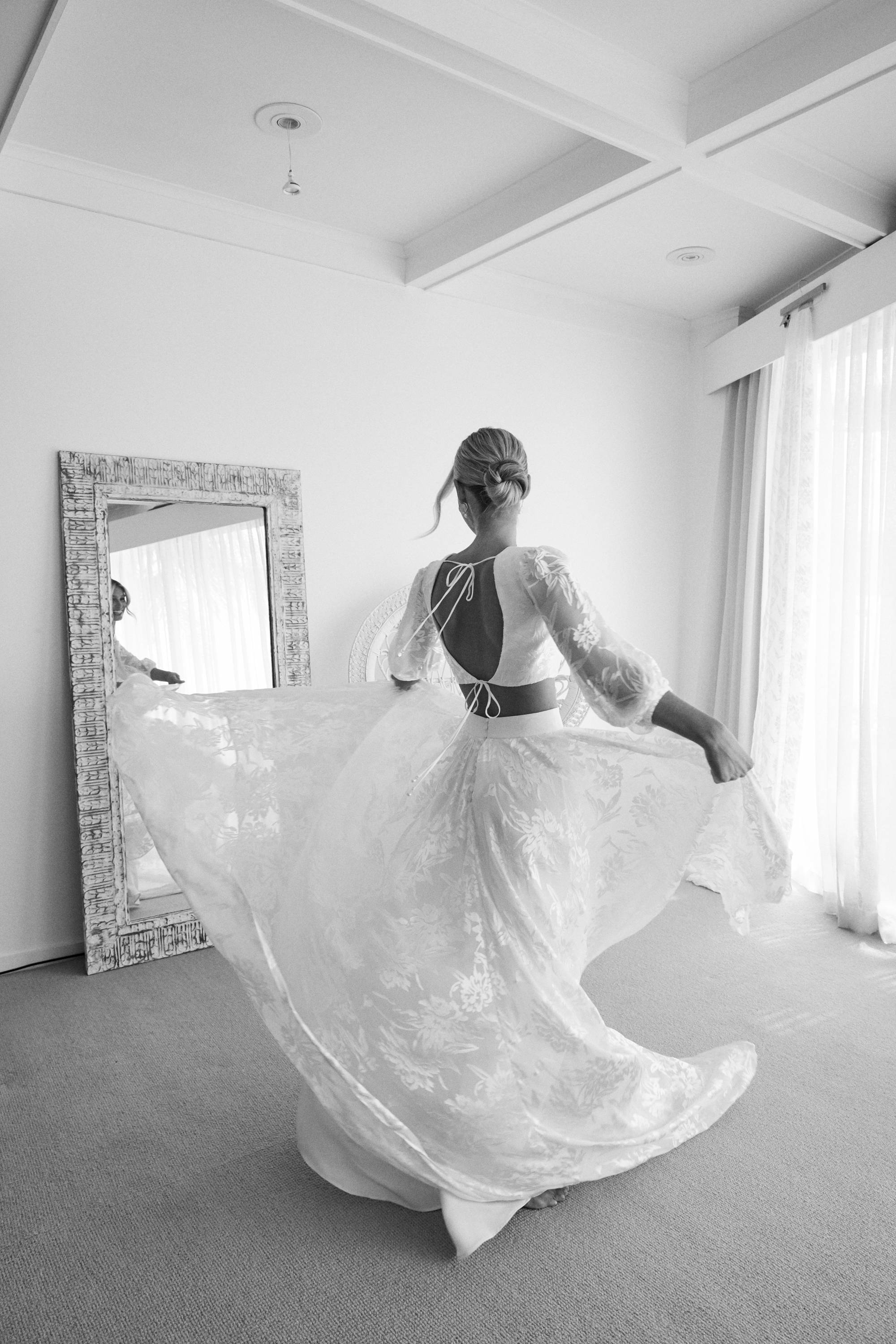 Tell us about your hair and makeup look
and the accessories you chose…
My goal was for everything to be simple. So, my makeup was quite minimal! The brief was dewy, natural & bronzed. Anneke did such an amazing job. She has been doing my make up for years so it was very special to have her there on the day. Pete did my hair… we decided on a simple low bun! He was extra lovely and both of them did an amazing job on all the girls and on my beautiful mum.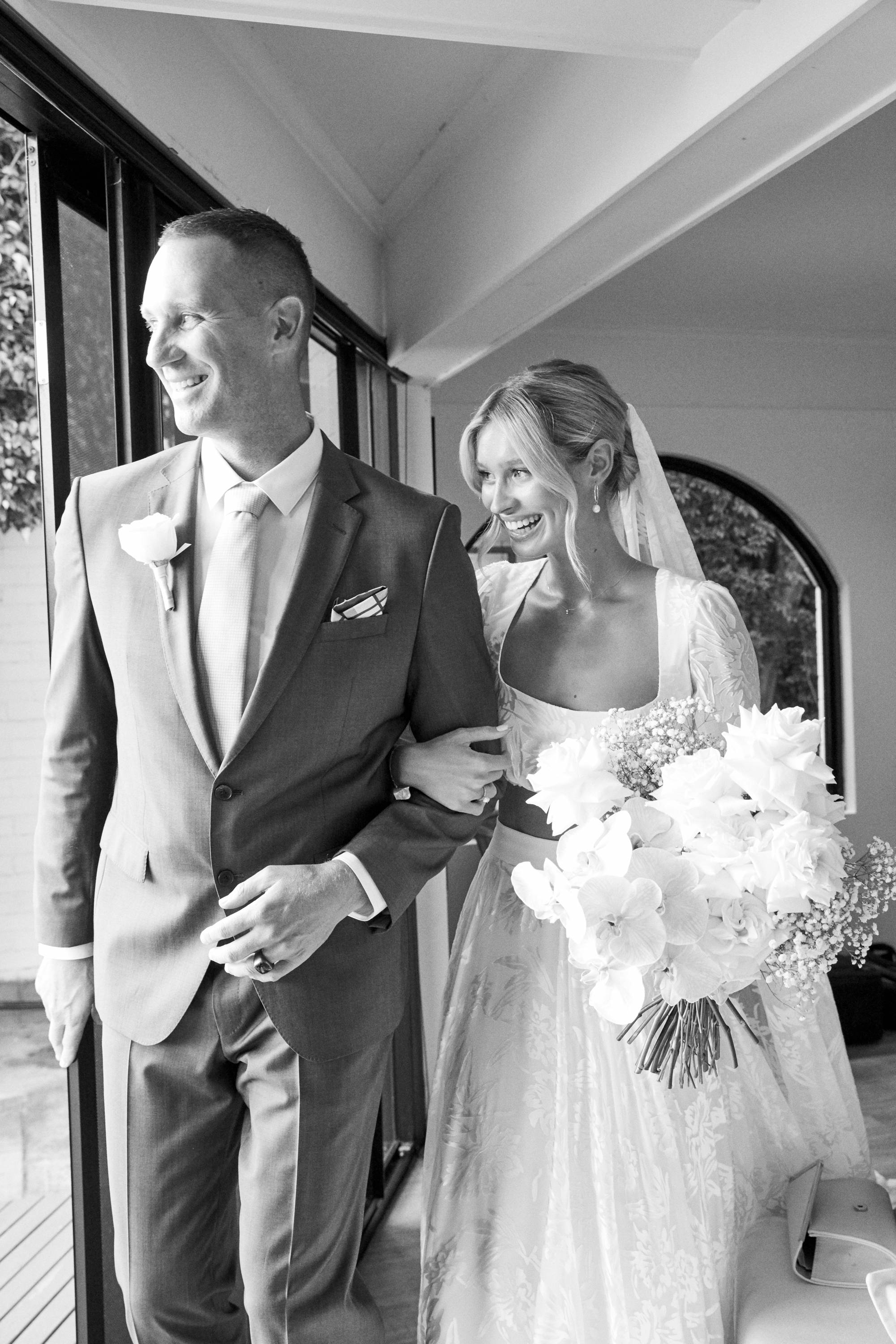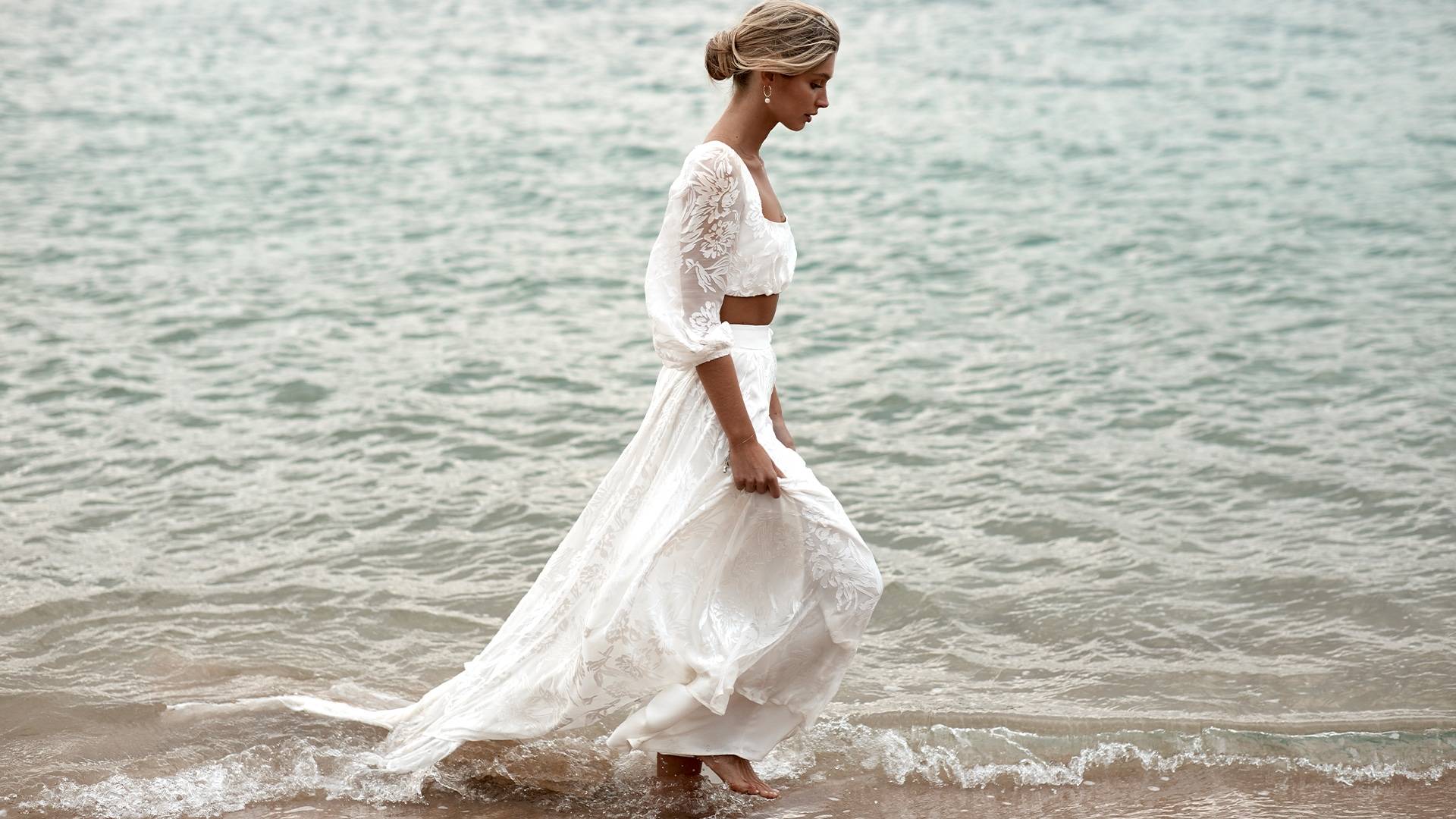 What made your day extra special?
The day itself was just so special. I don't think I could pick just one thing that made it special! It was perfect and was so 'us'. However, maybe the fact that I fell even more inlove with Nat (my husband) was pretty special.
The funniest moment on the day was…
The girls and I all decided to practice walking down the asile in our heels with our pjs on! Ha. It was so funny.
I also loved when Nat carried my dirty, sand filled skirt for me after I went in the water! He couldn't believe I did it and we both just kept laughing.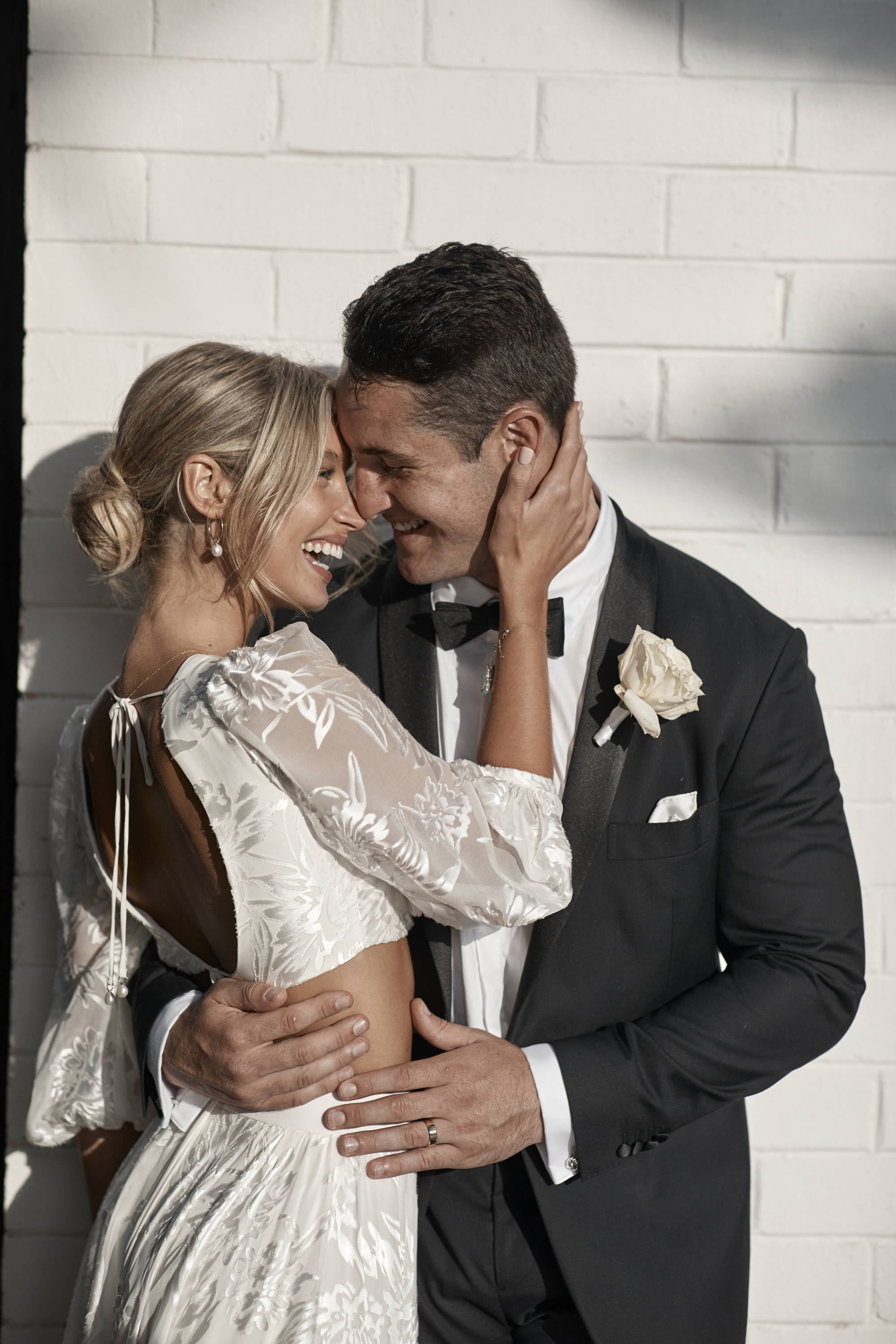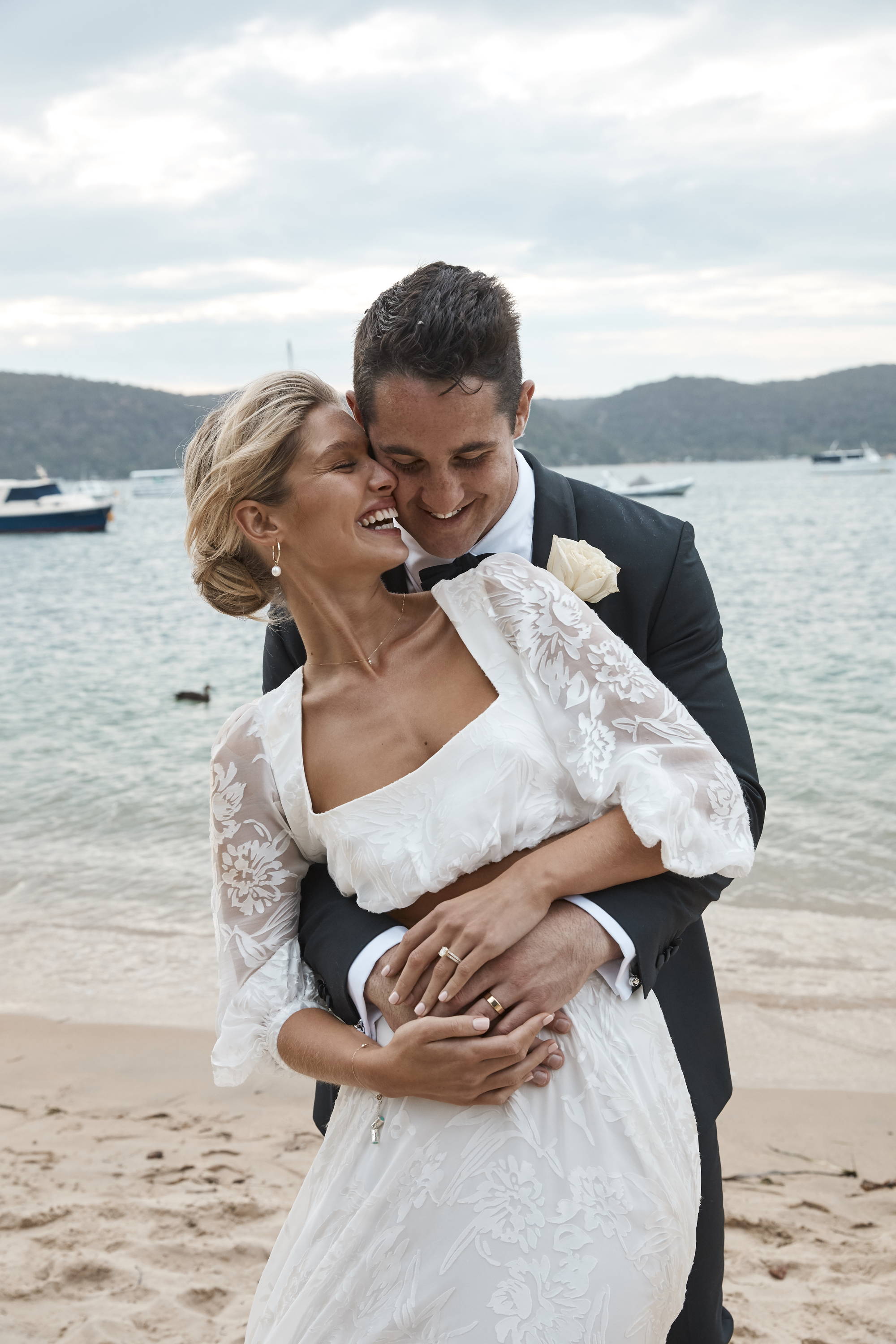 Where will you be honeymooning?
We were fortunate enough to make it across the QLD boarder to Hamilton Island. We stayed at Qualia and it was an absolute dream.
Any last advice or words of wisdom that you can share…
Advice for leading up to the day: Have fun. Don't get caught up in the planning and detail of the wedding day… Get caught up in the reason for the day! I got to say yes to forever to the man of my dreams.
Advice for the day: Don't stress over the little things & do things that will help keep you grounded and present.