James & Charlotte in the Verdelle 2.0 Gown
James & Charlotte eloped off a magical cliff in Santorini. Their special day was decorated with a bohmeian flair - showing less really is more.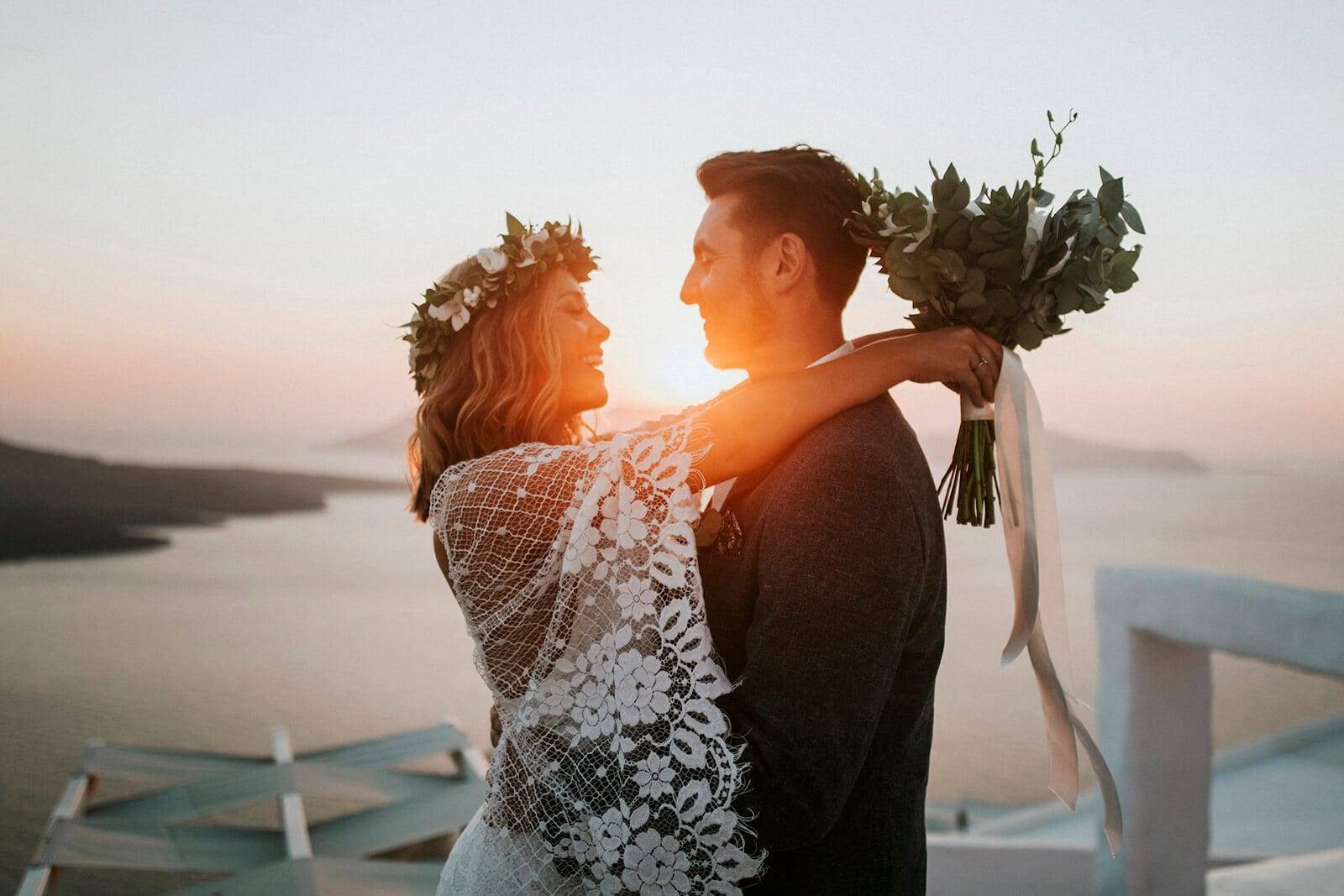 What is a Grace Woman to you?
A GRACE woman is unique, natural and comfortable in her own skin!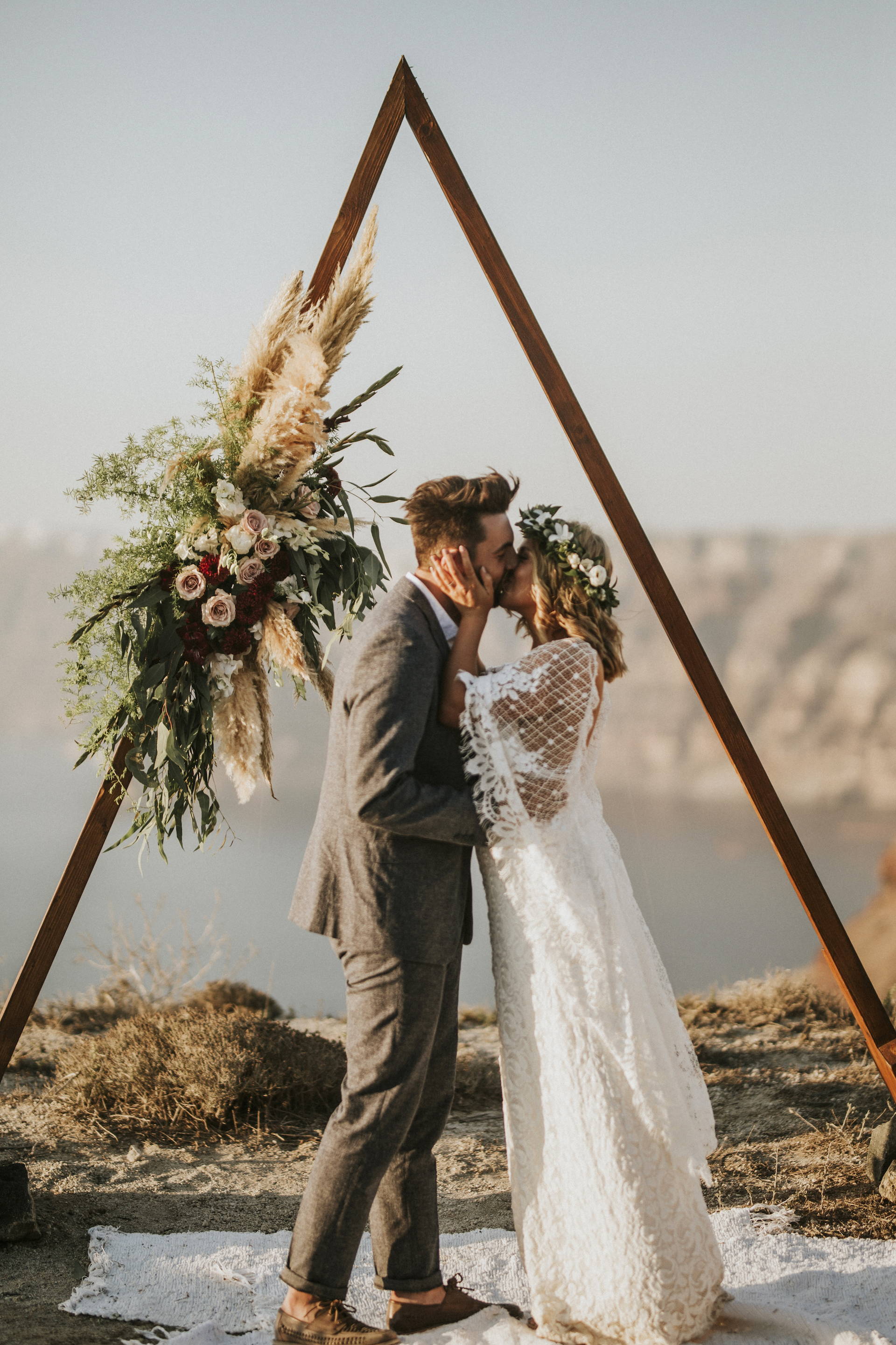 Which Grace dress did you choose and how did you know it was 'The One'?
A few years before James proposed, I found the Verdelle 2.0 gown by Grace Loves Lace when looking for wedding inspiration for a best friend. From that moment I fell in love with the gown I just knew that would be the gown I would love to wear on my special day! I love the gorgeous lace, the beautiful design and how unique the gown I especially the angel-like sleeves (wings)!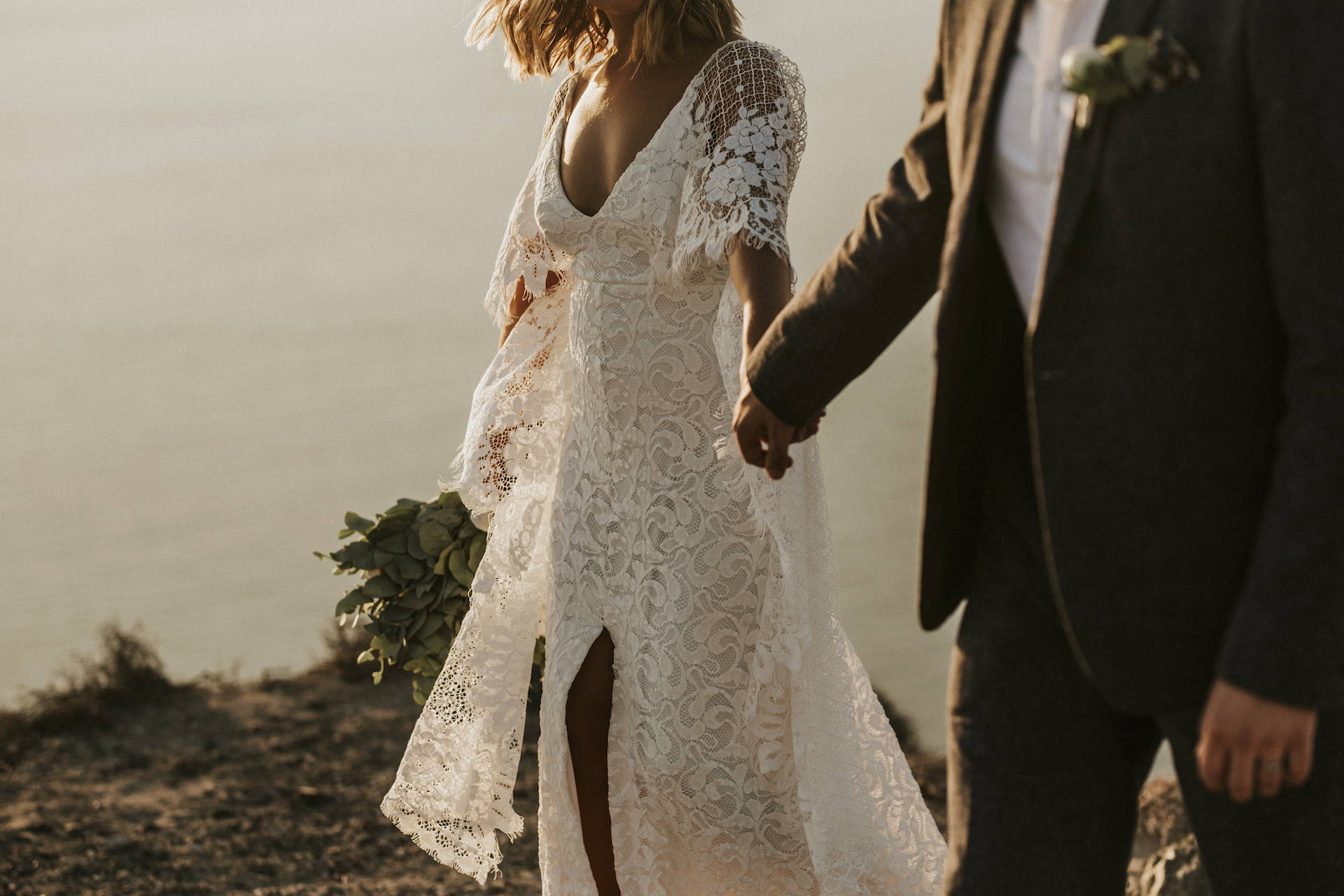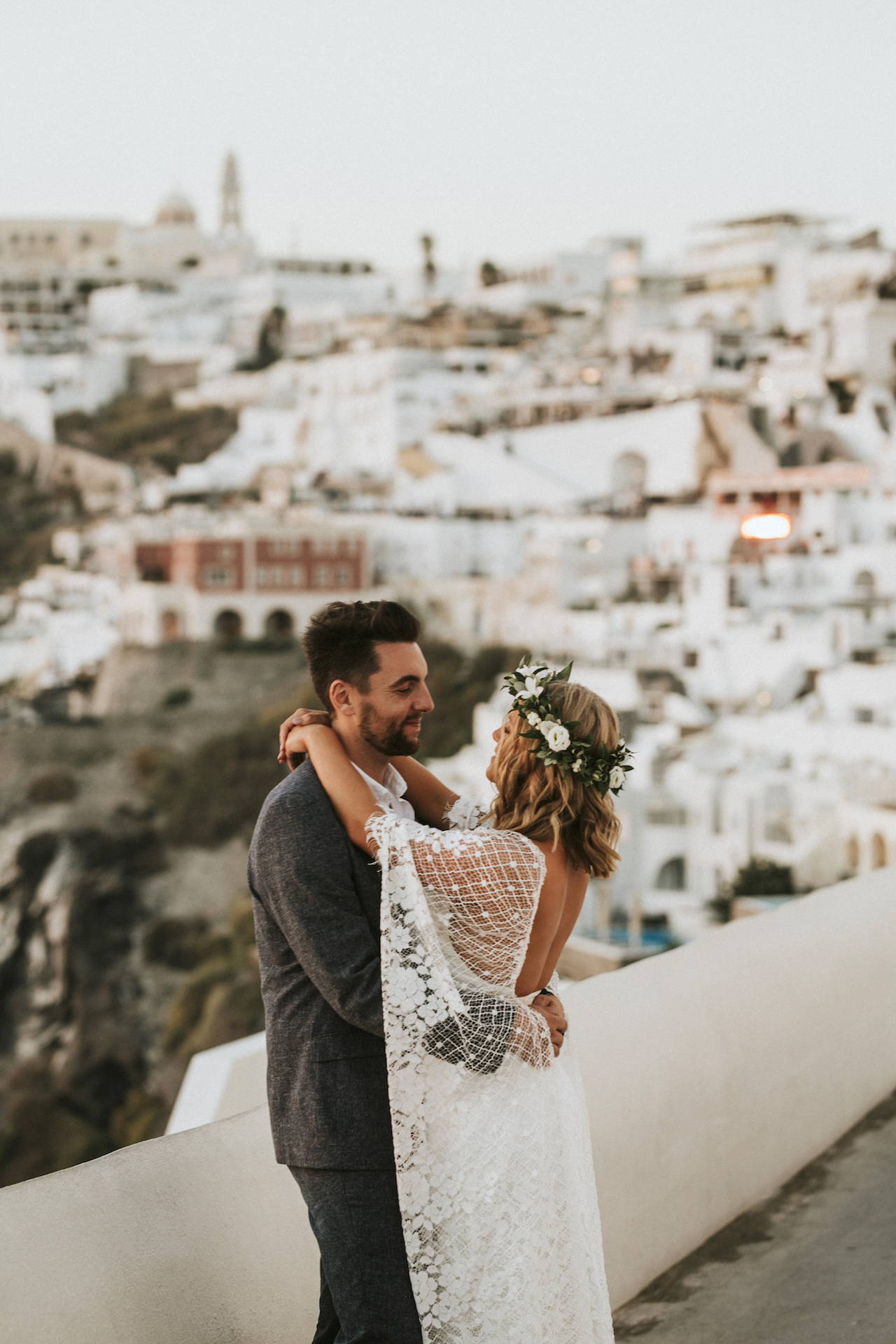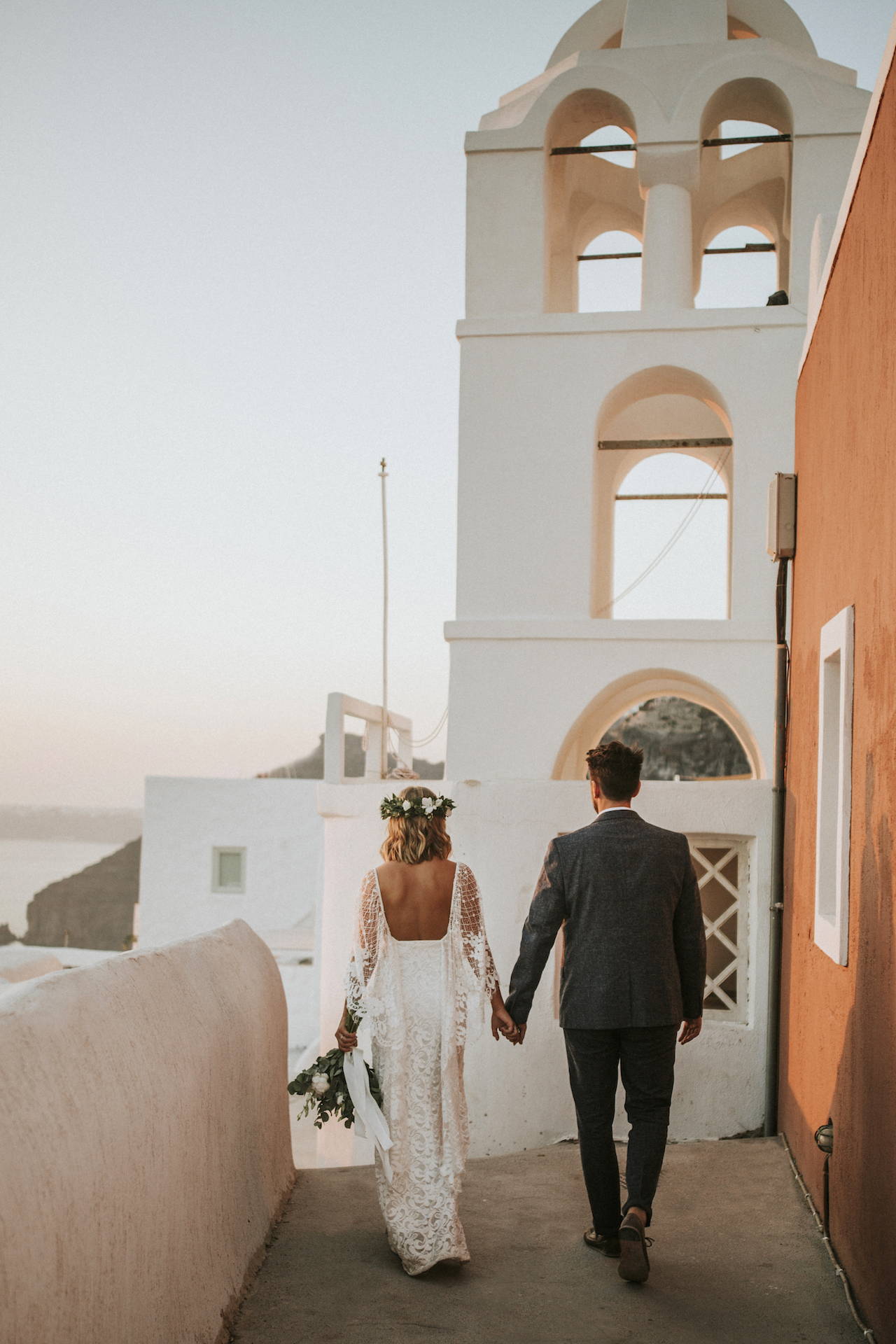 Tell us about your experience when you found your dress, did you buy your wedding dress online or in one of our showrooms?
A month after we got engaged, GRACE opened a London showroom and I cannot express how excited I was to visit the showroom! I thought we might have to visit Australia to try on the Verdelle 2.0! The showroom is utterly beautiful! From the earthy blush décor, the rosé fizz and the super friendly service, the whole experience was just beautiful!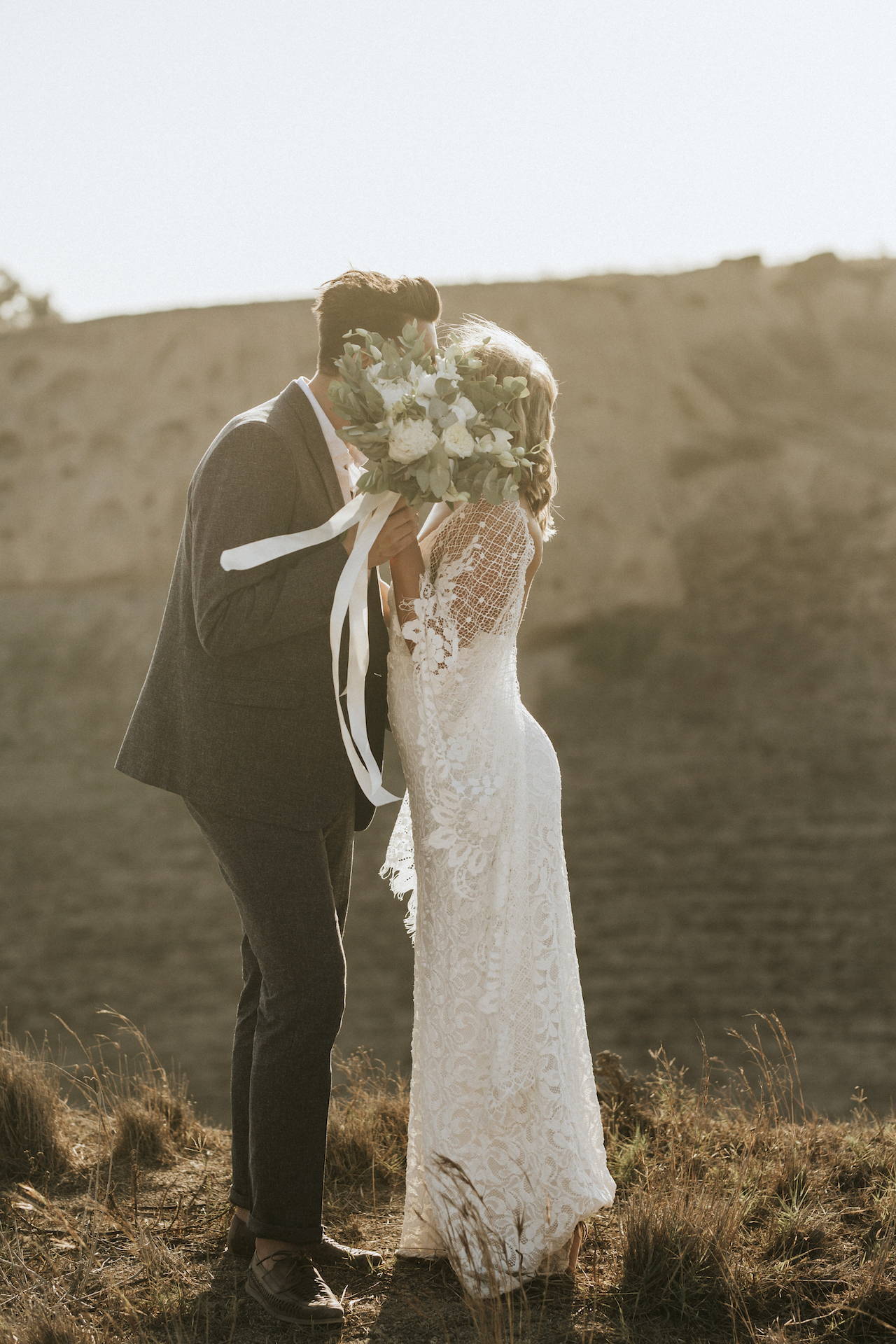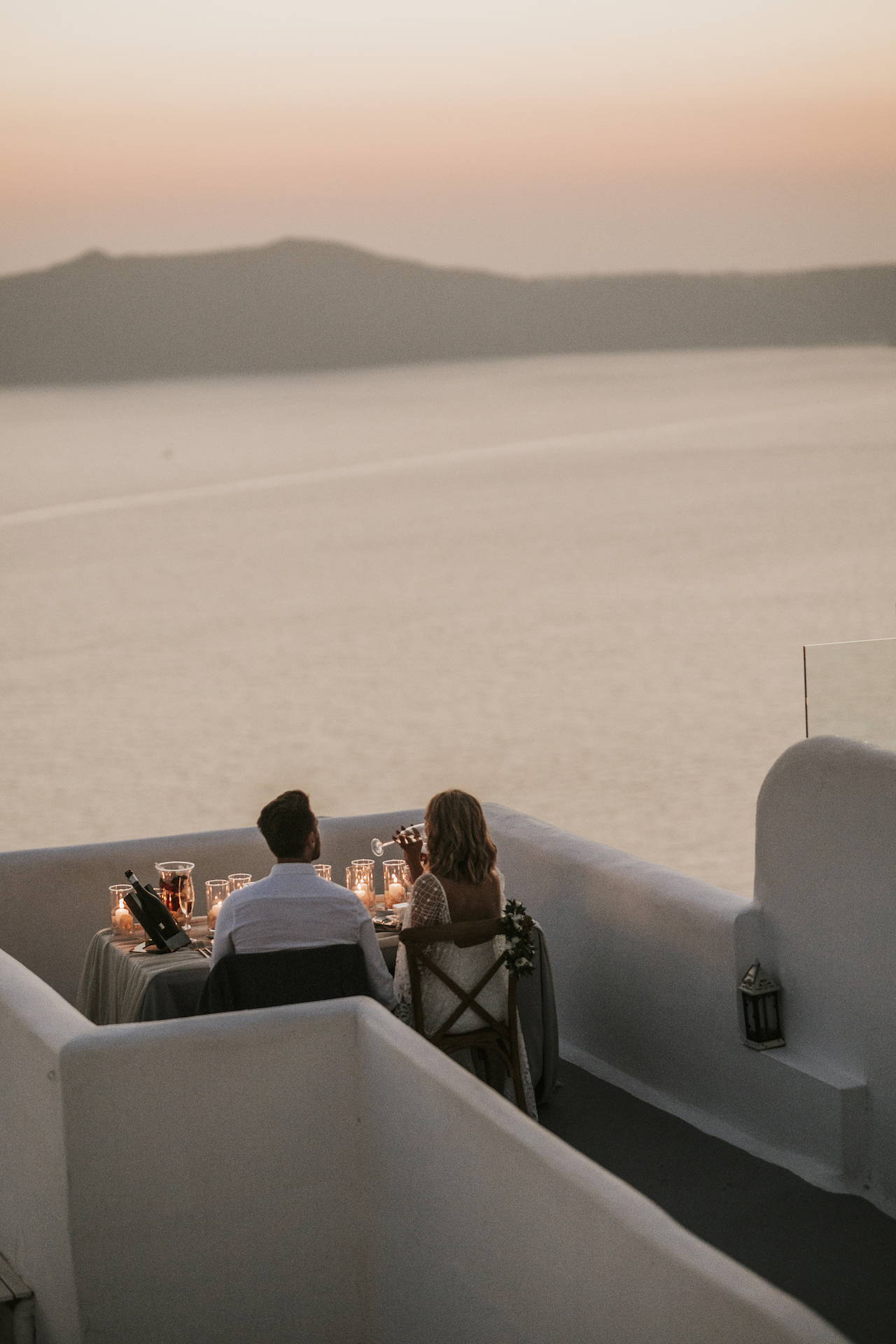 Describe your wedding day look…
We wanted our wedding ceremony to feel and look natural and effortless with a bohemian flair. We both believe that 'less is more' and we wanted our wedding day to reflect this.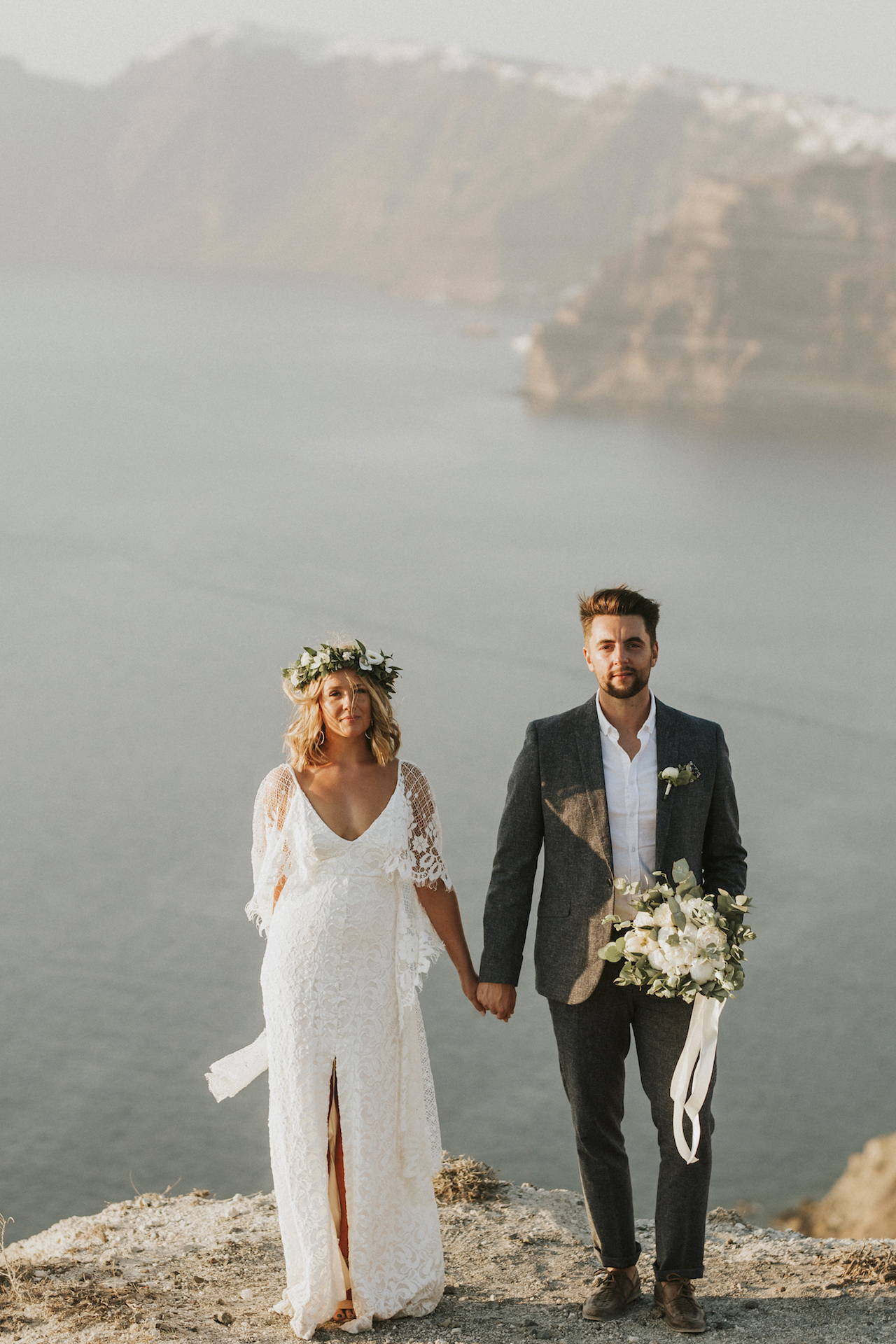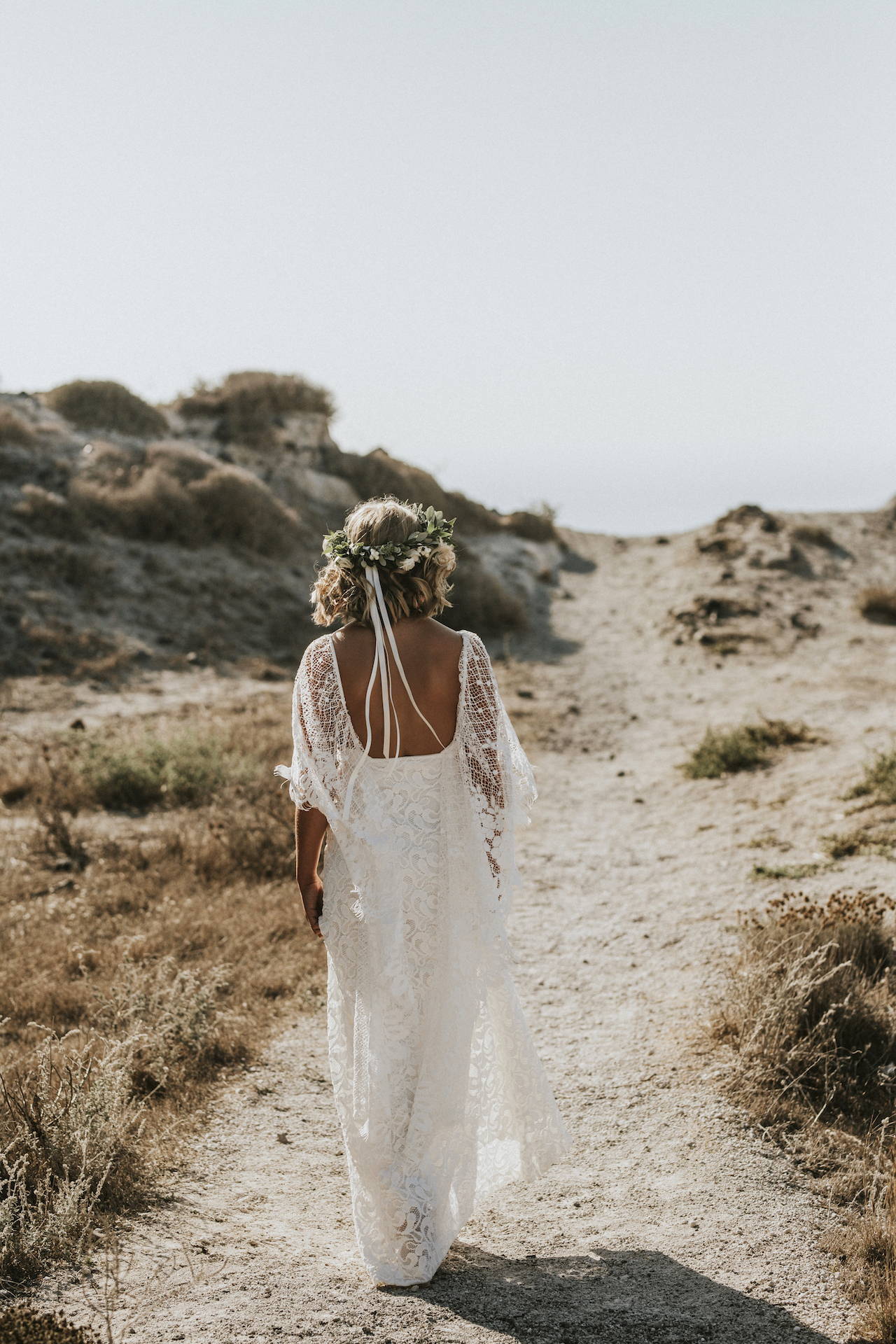 So, on our seventh anniversary, James arranged a surprise afternoon tea at Bovey Castle! James doesn't usually 'do' surprises, so I should have really suspected something! Bovey Castle is a beautiful, quintessential British manor house set in the moors in Devon. As we were driving to the big entrance, I briefly thought 'what a beautiful place for a proposal – or a wedding!'. I didn't think anymore of this passing thought and then, just before the tea was poured, he surprised me with a ring! I was totally speechless! James also made sure that Hector (our cockapoo) was also there – this made it extra special of course!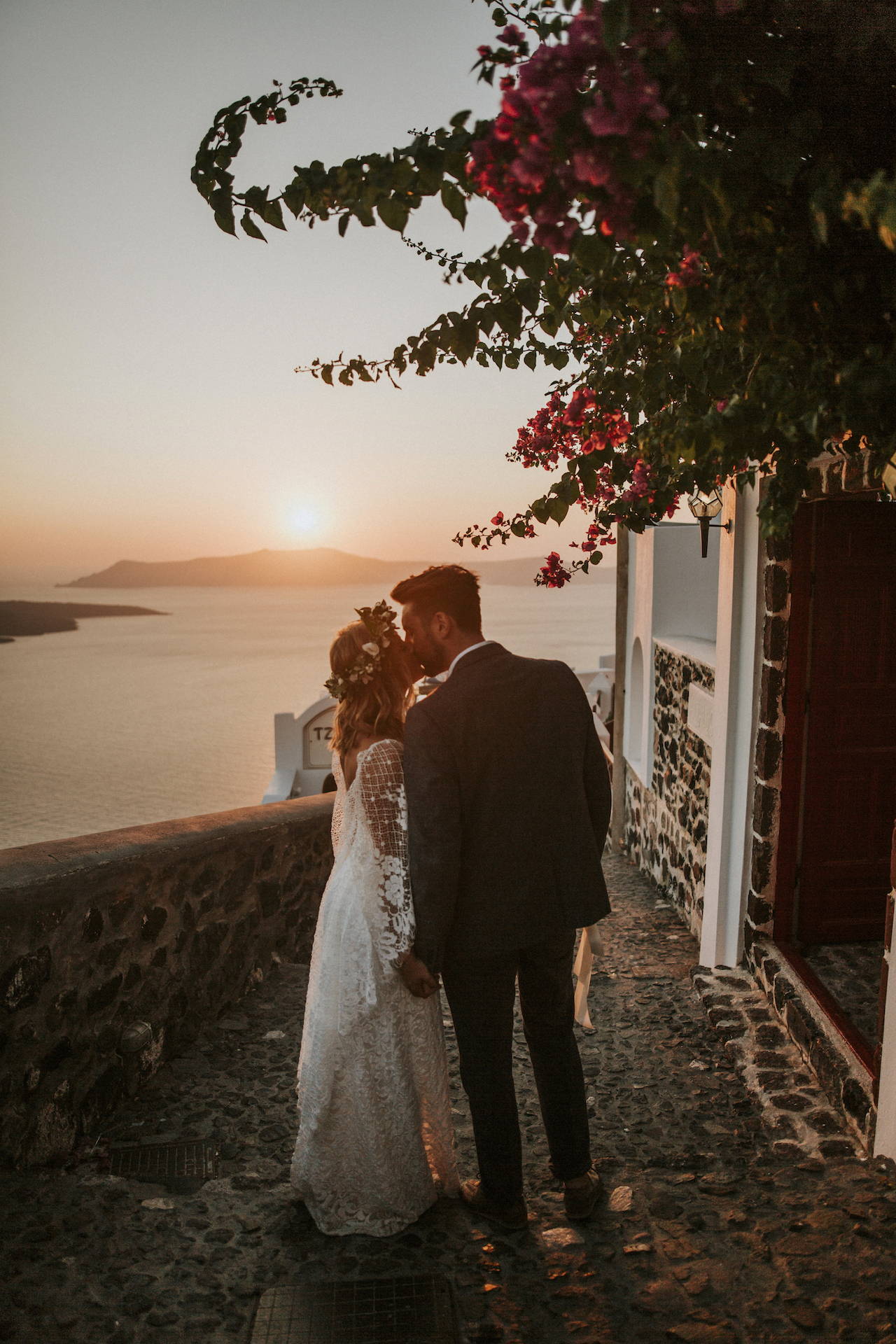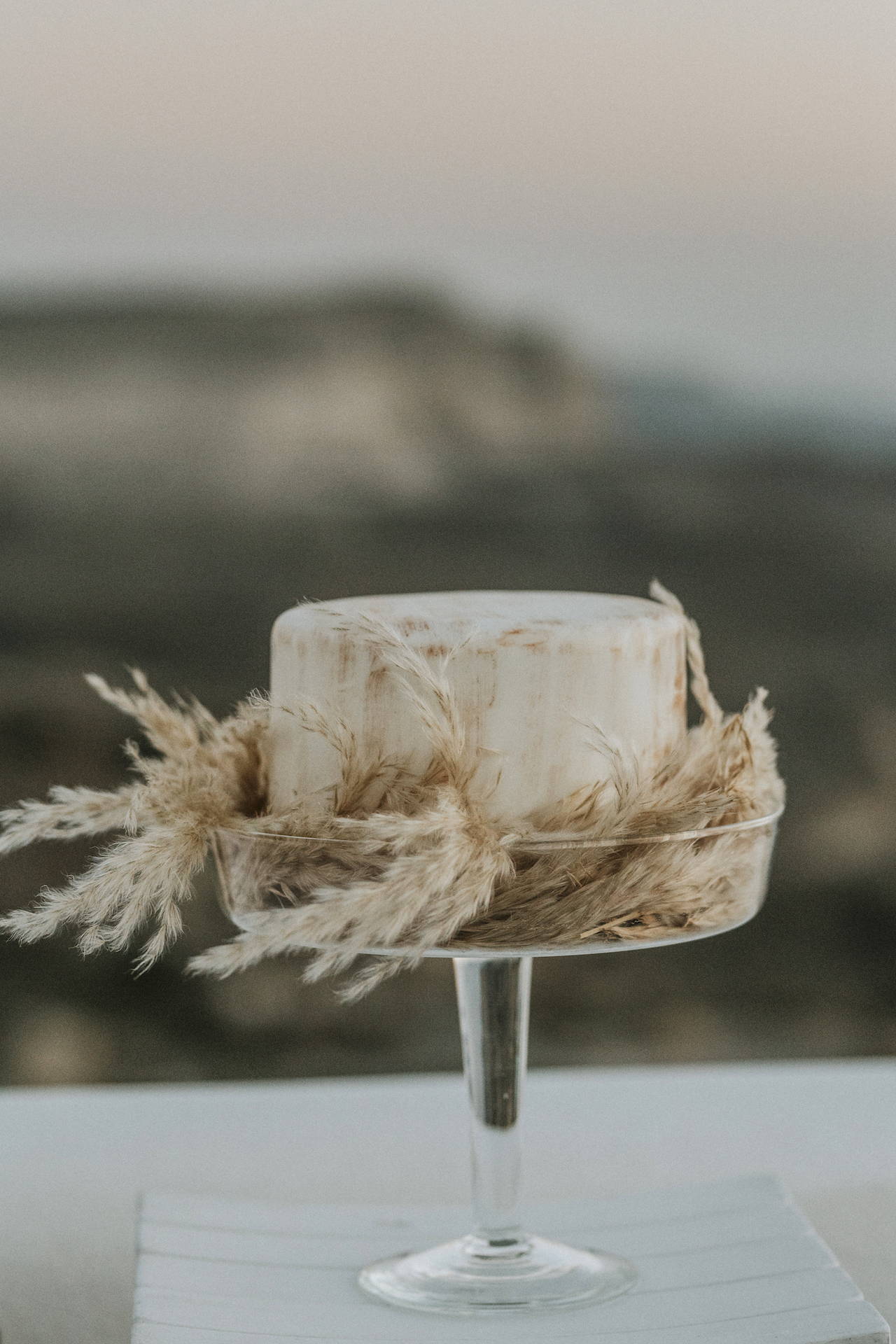 What was your goal for your wedding / what was the most important aspect to you?
My parents are also from Devon, UK, and before I was born they eloped, just the two of them, to Florida and exchanged vows, barefoot on the beach. They talk about the day so fondly and so even before I met James, I knew I wanted to carry on my parents' tradition and elope. I find something so romantic and exciting about running away with your fiancée to get married! Fortunately, James also liked the sound of eloping and although friends and family were a little upset they wouldn't be there to enjoy our wedding day, they understood! We chose to elope to Santorini, just the two of us, as we really did just want a low key and tranquil ceremony and it was beyond perfect! The most important thing for us on the wedding day was to feel relaxed and by eloping we achieved just that. We wanted to make sure that we could remember and enjoy every second and enjoy each other.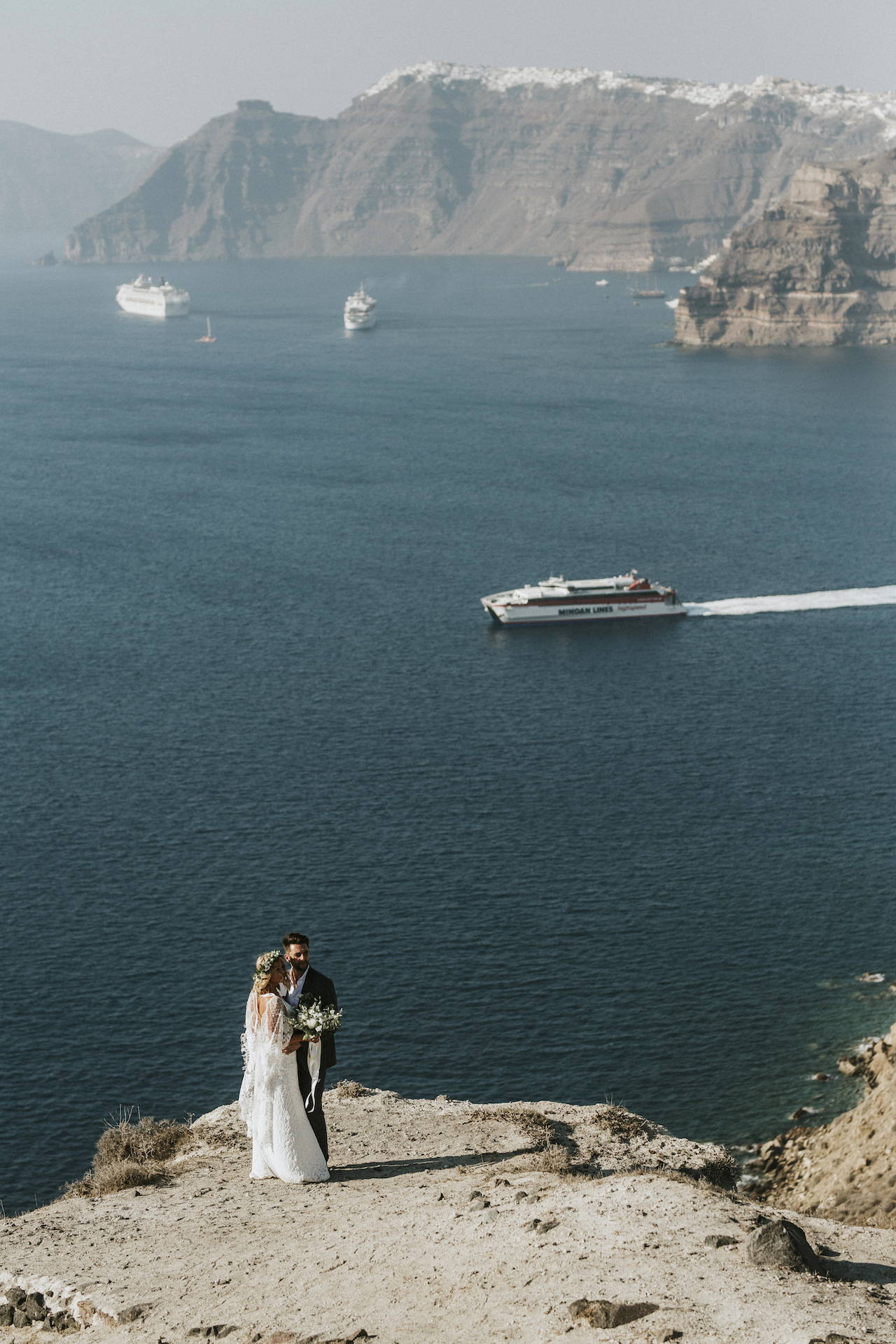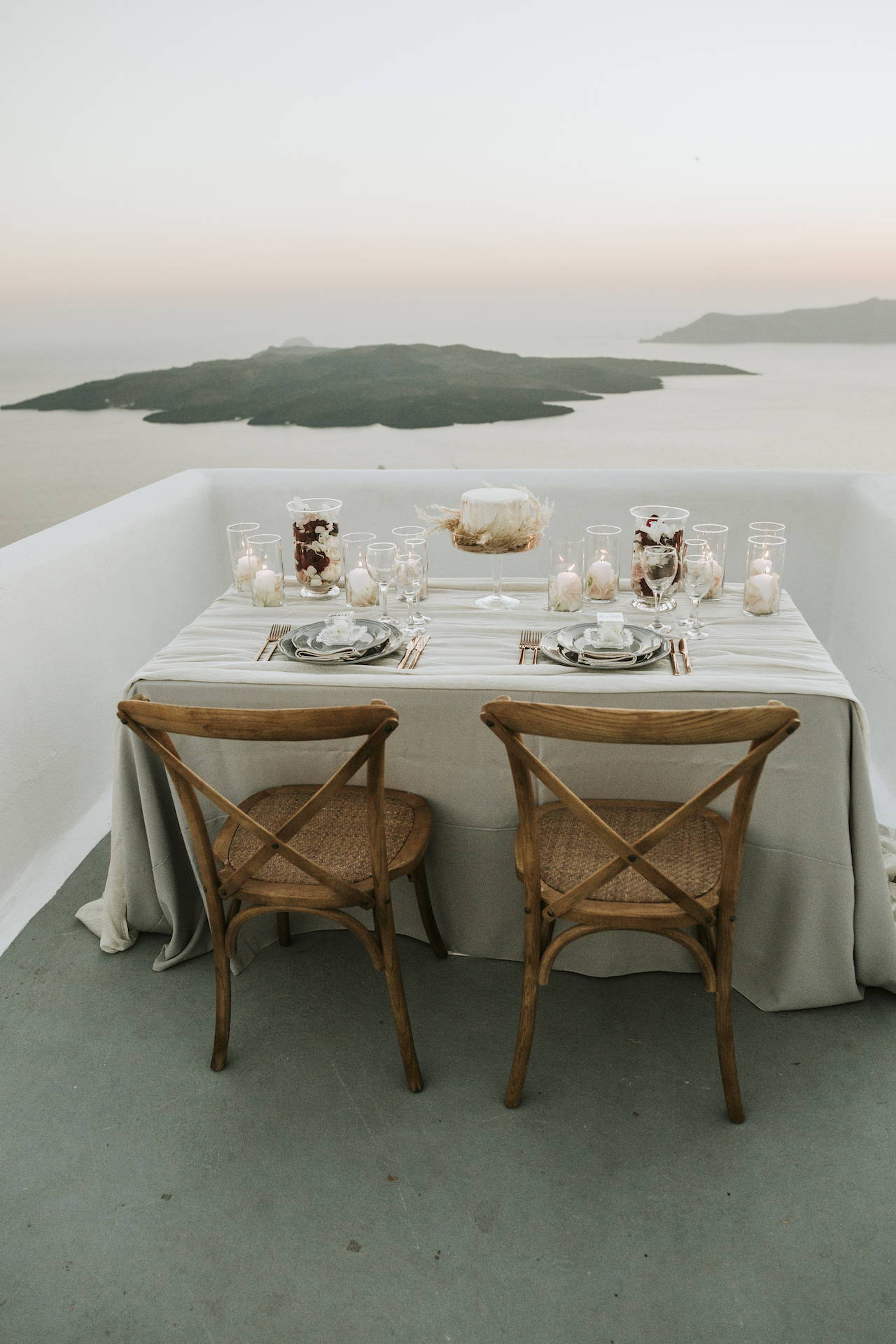 The funniest moment on the day was…
We wanted to uphold the tradition of the groom not seeing the bride before the ceremony. So, when we were getting ready, in the same villa, we tried to avoid each other by covering our eyes when in the same room! It felt silly but we managed to succeed!!
What was the most stressful part to planning?
As we eloped, just the two of us, there was virtually no stress! Our amazing wedding planners, Evita and Julia, were absolutely fabulous too and made it feel so easy planning our wedding day! Obviously we felt the pre-wedding day jitters – it's such an important day!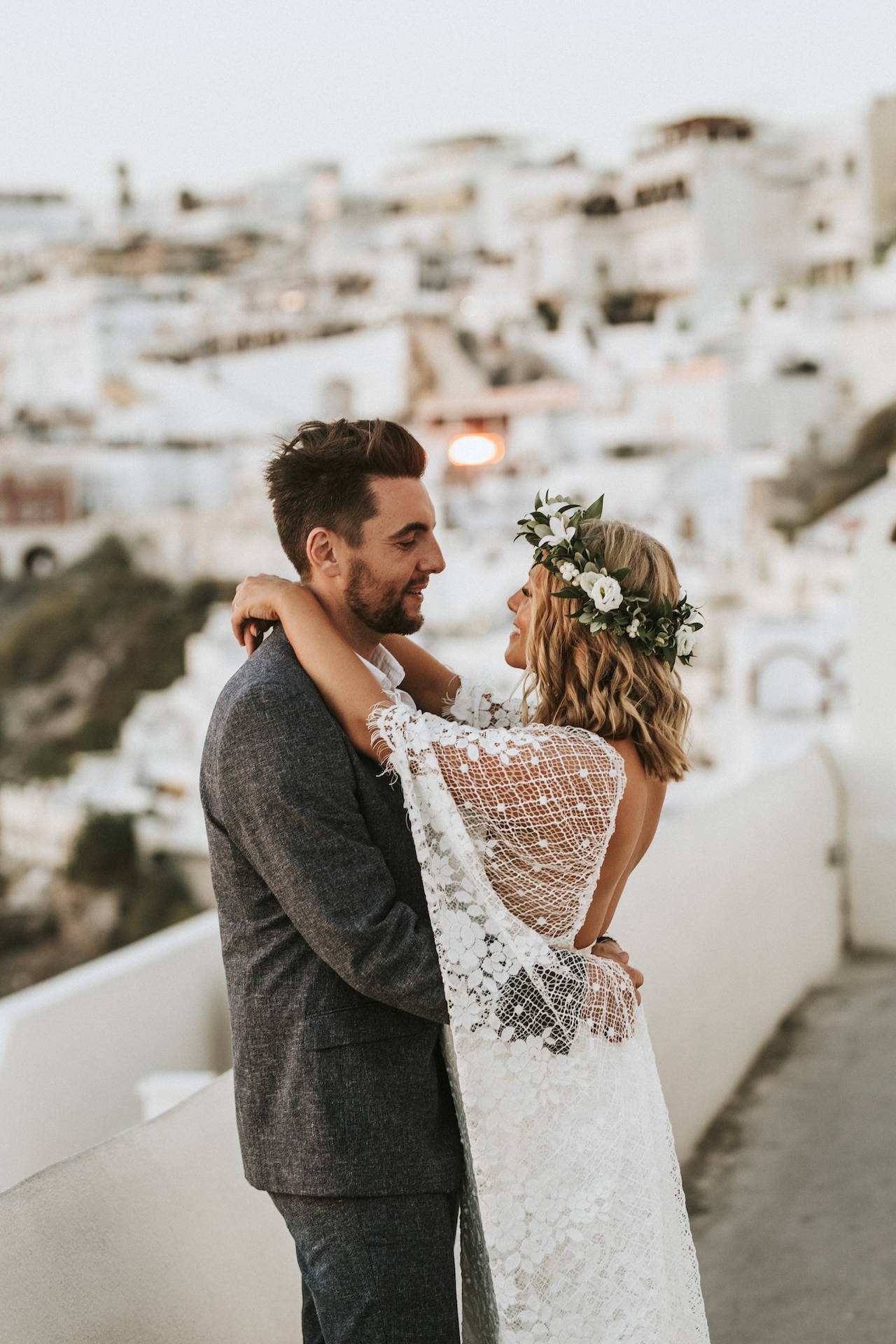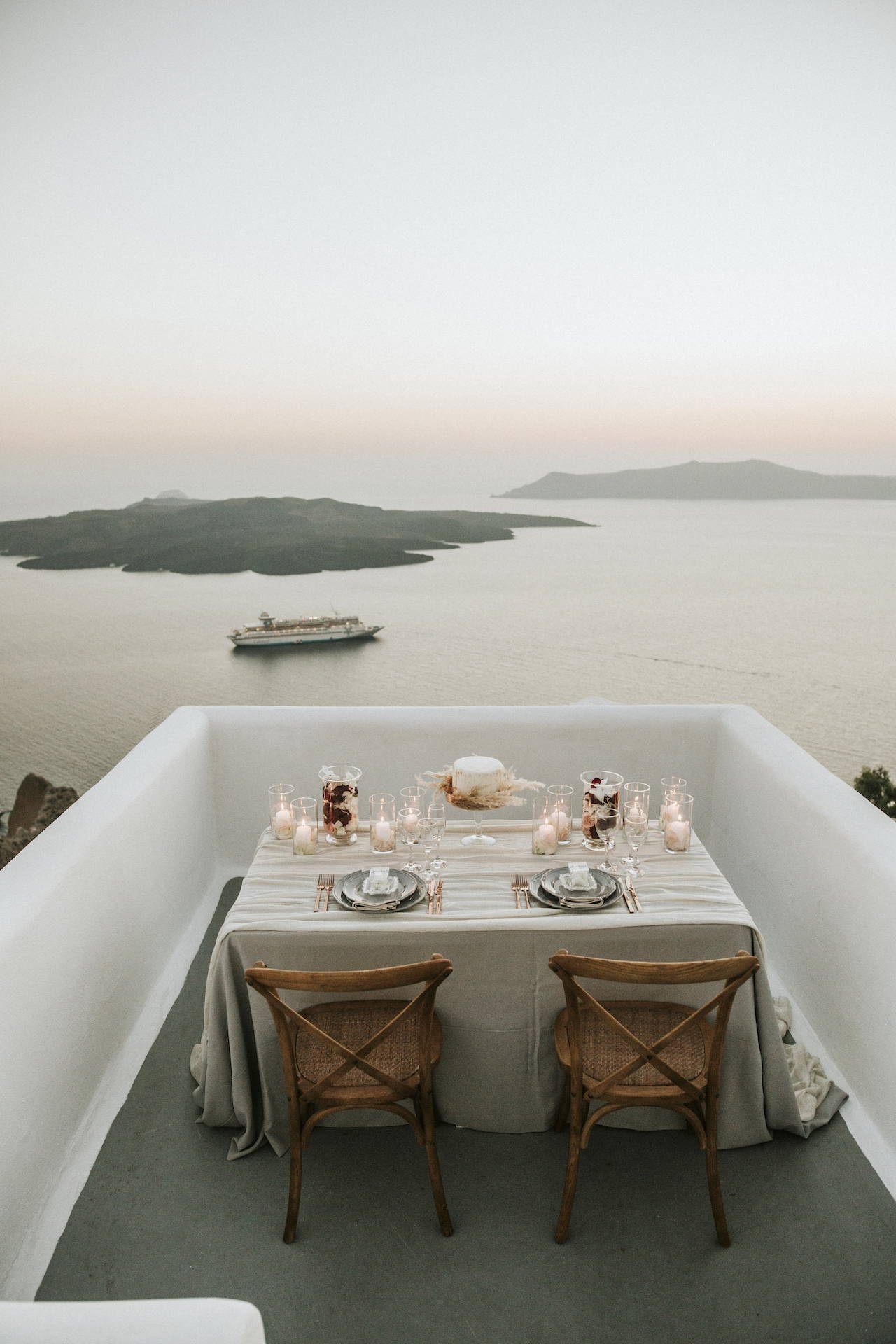 Any top beauty/health/fitness or wedding preparation advice that you can share…
We ate healthy food and drank lots of water before the wedding but we didn't diet or try and change ourselves. We wanted to be us (but a little bit healthier!).
Any last advice or words of wisdom that you can share…
This is advice to all the couples who are thinking of eloping… just do it! Friends and family may feel disappointed that they aren't there to enjoy it with you but they will understand! Just relax, enjoy every moment and celebrate your love however YOU want to!