Joel & Jess in the Clo Crepe & Pearly Long Veil
Dressed in the famous Clo Crepe, Jess & Joel had the wedding from heaven! Sitting atop a hill, the stunningly designed Temple Farmhouse in Byron Bay was the perfect location for these newlyweds - a dreamy sunset and not a cloud in sight.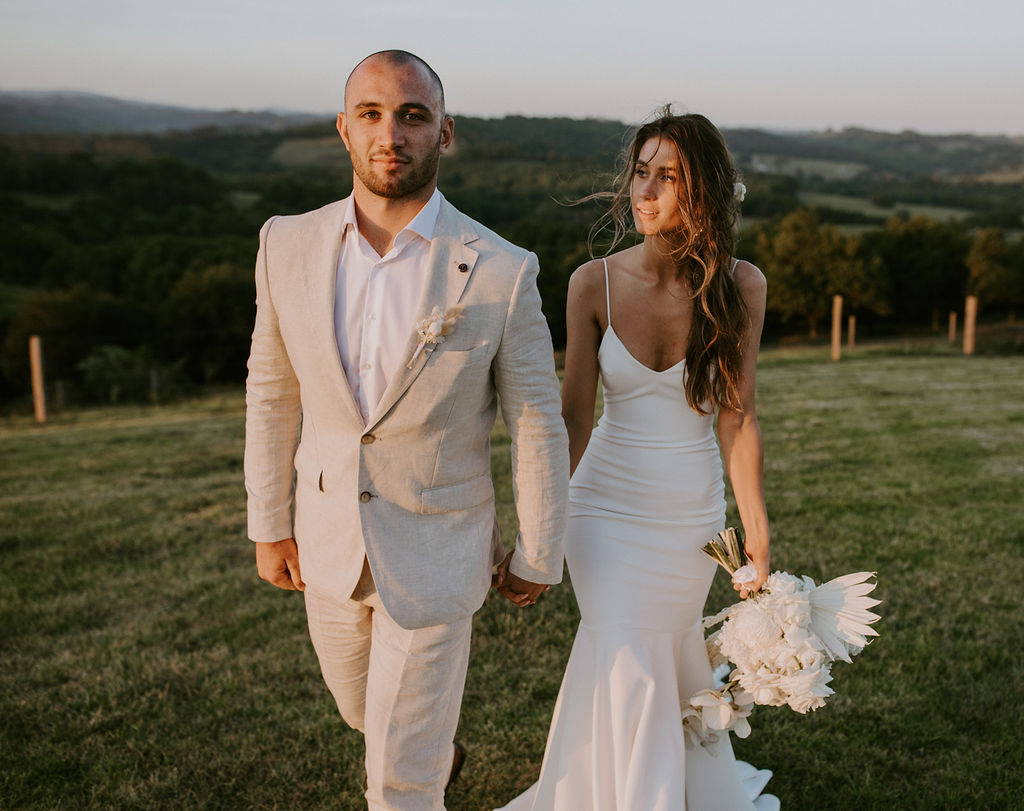 What is a Grace Woman to you?
A Grace woman to me is a woman who is drawn to unique and natural beauty. A bride who wants to feel like herself on the day and be comfortable enough to get amongst all the fun that the night has to offer whilst also looking her most beautiful.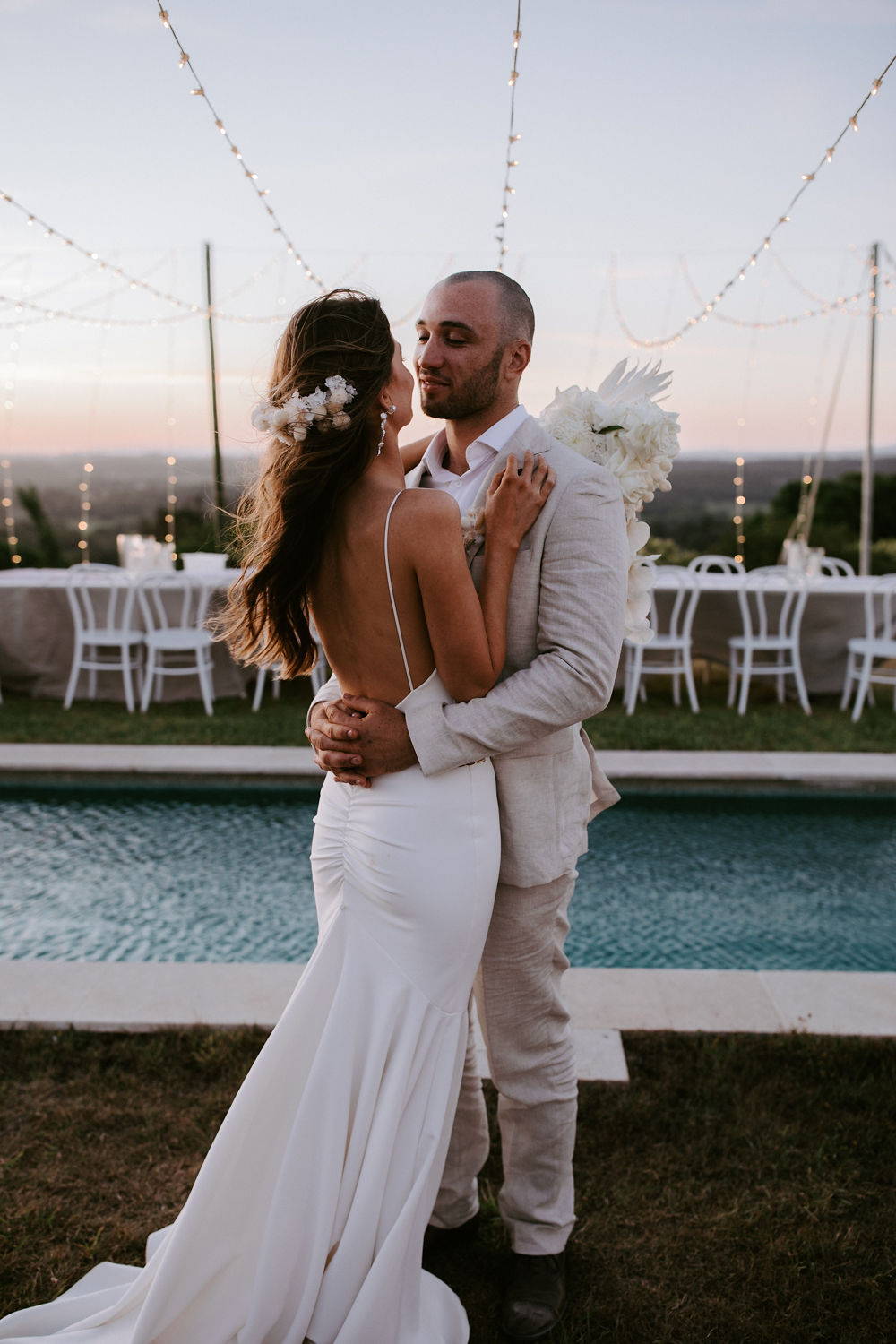 Which Grace dress did you choose and how did you know it was 'The One'?
I initially went in thinking I was going to buy the Summer gown, however, when I tried on the CLO gown, I instantly fell in love with how it flattered my figure. I felt as though it immediately gave me shape, sitting snug and comfortably, I felt as though I could jump around and nothing would move anywhere that it shouldn't. I felt beautiful and so beyond excited for my husband to see me in it – it was so hard to not show him photos of the dress!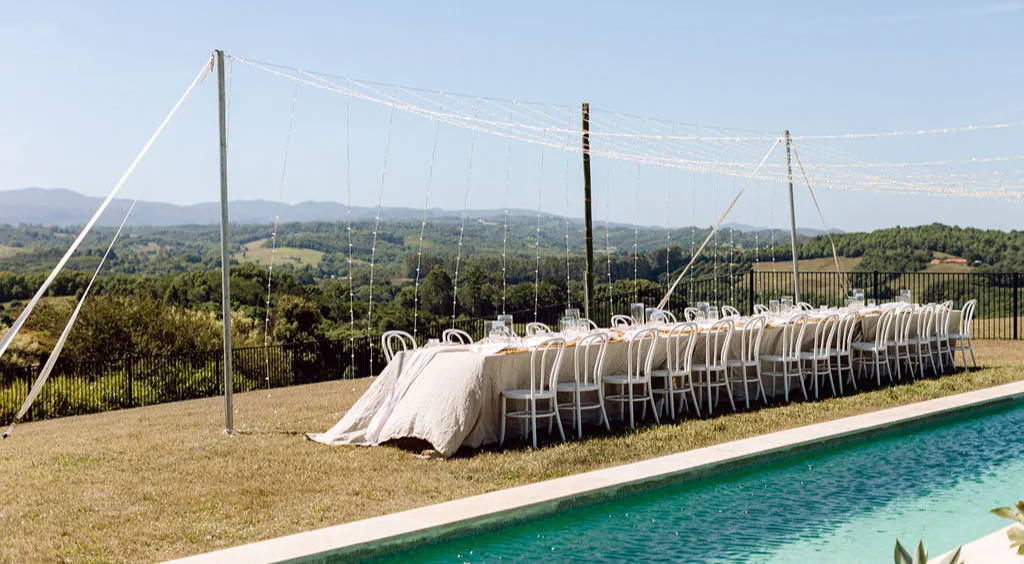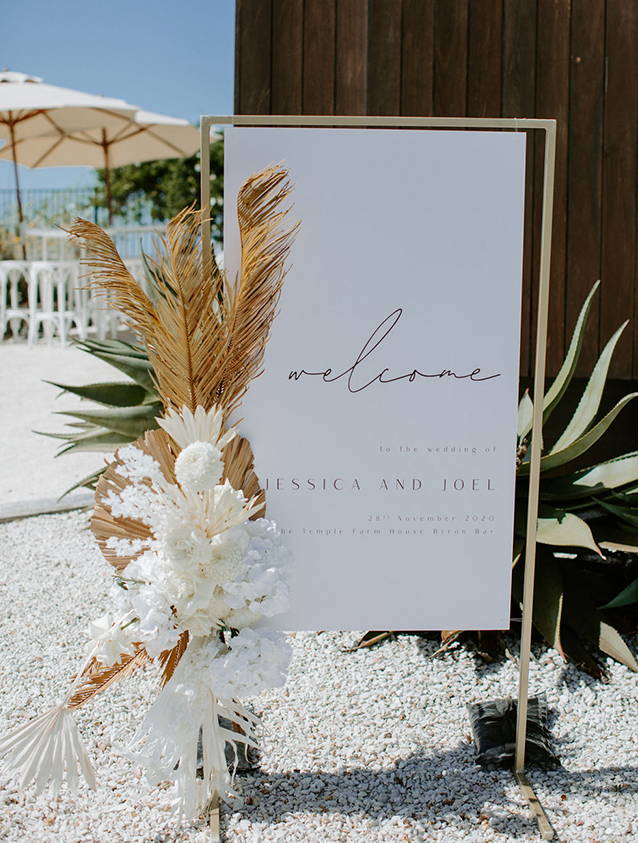 Tell us about your experience when you found your dress, did you buy your wedding dress online or in one of our showrooms?
I was up in Byron at the time to look at wedding venues and made a day trip alongside my mum to the Gold Coast showroom to try on my top five dresses. The showroom was stunning, and I knew instantly that I was in the perfect place to find my dress. I was a little nervous walking in, as I'm not the most confident person and having all eyes on me when trying on a dress made me feel a little hesitant. However, I was made to feel comfortable instantly, with a very warm, smiley welcome from the women working in store and was taken straight through to begin trying on my dresses. I was made to feel beautiful and comfortable with each dress that I tried on – it was a very fun experience and I bought my dress that same day!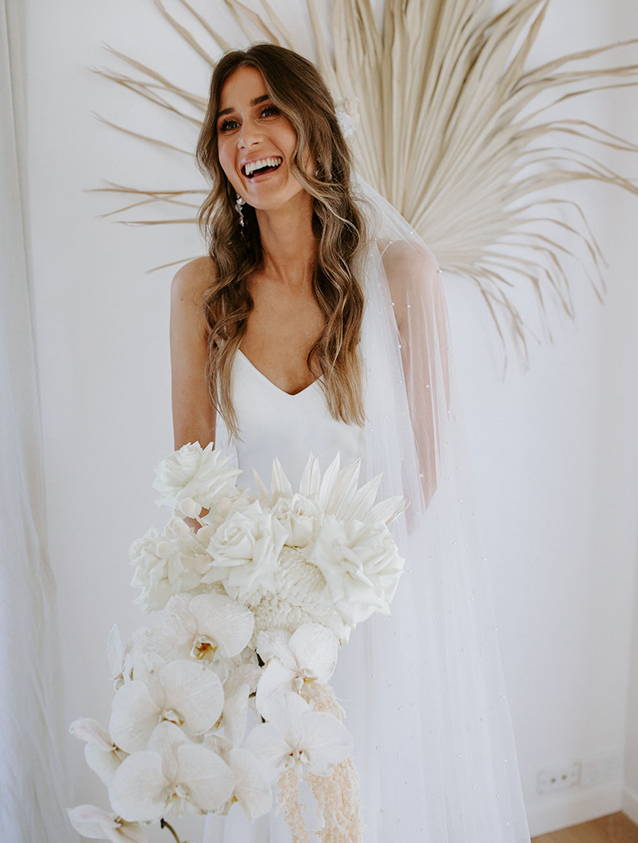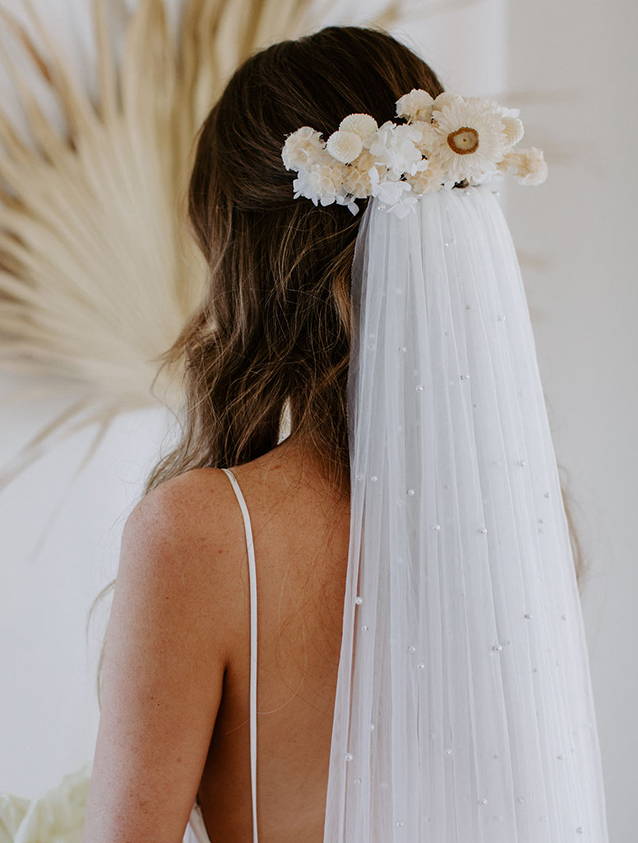 How did you feel in your dress on the day?
I felt beautiful, elegant, comfortable and most importantly, I felt like myself. I was so nervous about having all eyes on me on the day, however, as soon as I put on my dress, I felt at ease.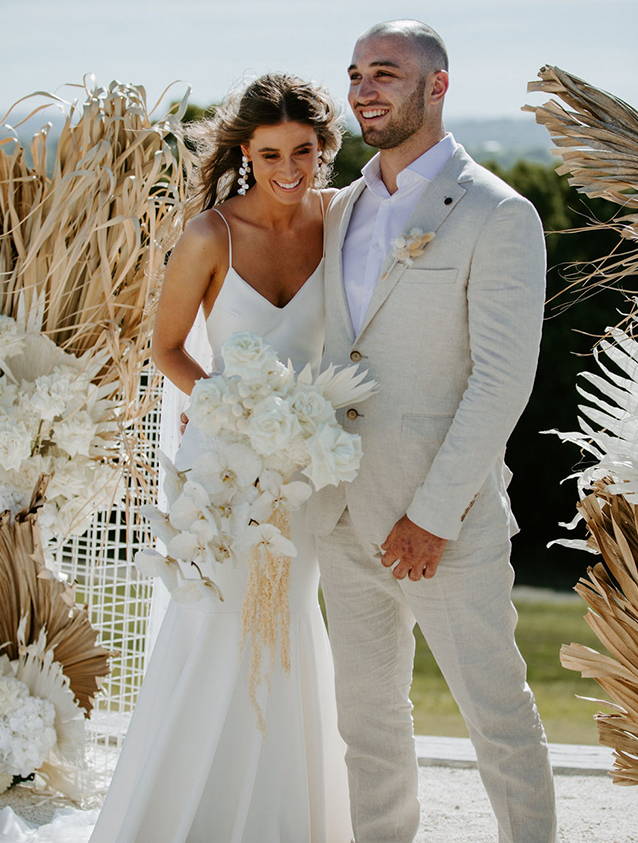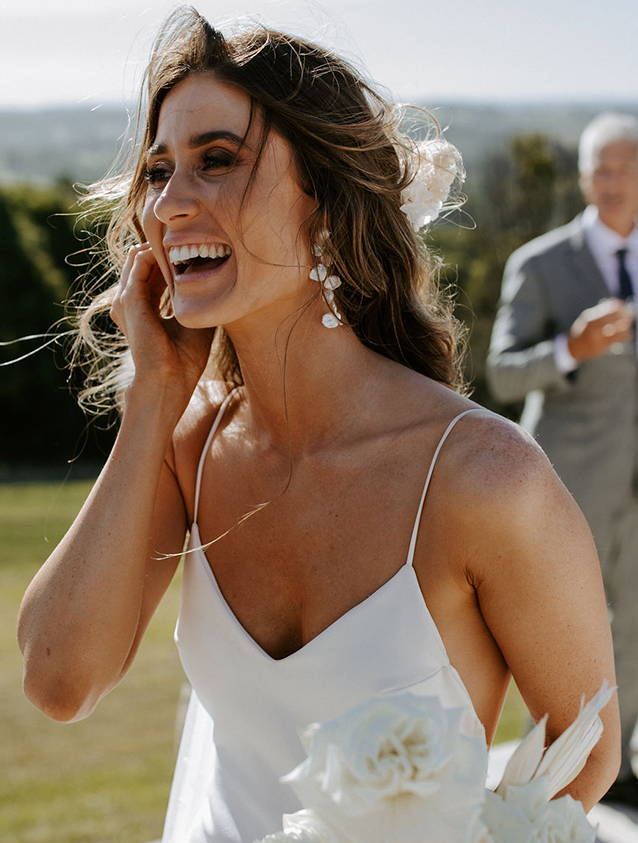 Where did you get married?
Tell us about the location & the style of your wedding day.
My husband and I got married at Temple Farmhouse in Byron Bay. We actually had not seen the venue in person prior to the wedding day, so it was a bit of a gamble, but my goodness, did it pay off! The venue was completely stunning and better than I ever could have imagined. It was simply perfect. The venue was a stunningly designed farmhouse sitting atop a hill, providing a 360-degree view of the Byron Bay Hinterland. The style of our wedding day was neutral, boho luxe and it all came together wonderfully. The entire event was complimented by the most incredible sunset that just enveloped us as we sat and ate the most delicious dinner, looking out over the view and taking it all in.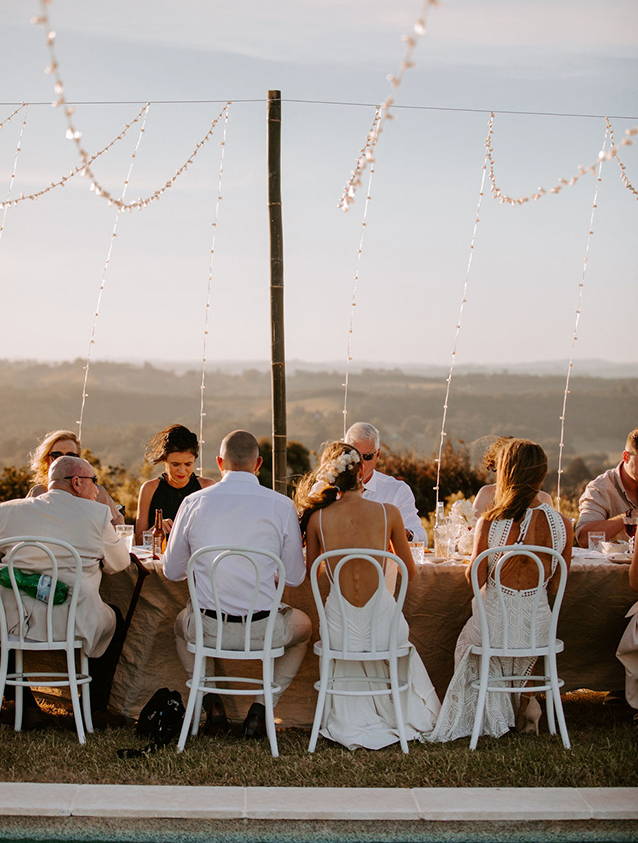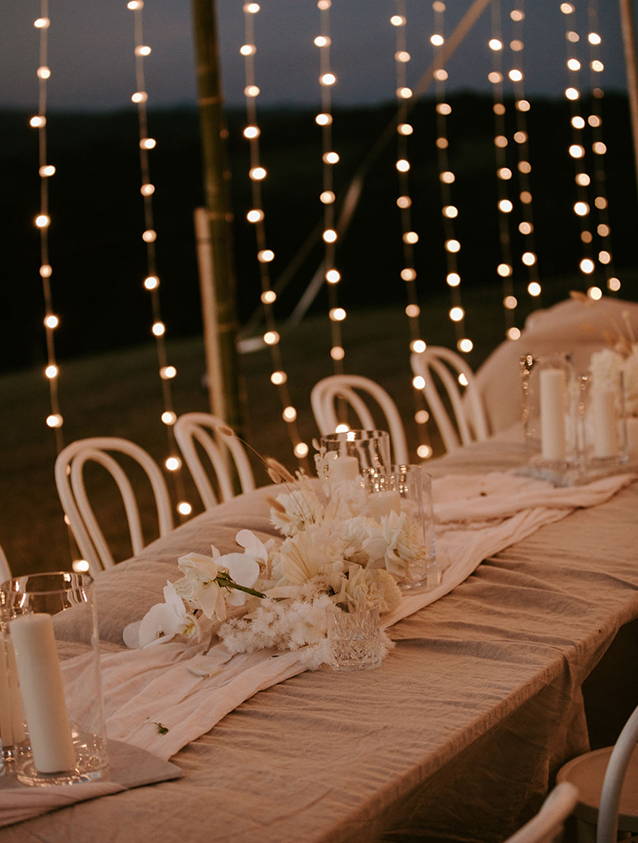 Tell us about your hair and makeup look
and the accessories you chose…
I wanted the day to feel down to earth and relaxed and wanted both my hair and makeup to reflect that look. For my hair, I went for a relaxed beachy wave and a relaxed half up/half down look with some flowers that matched my husband's boutonniere. I wanted my makeup to look natural, glowy and bronzed; as if I had just spent the last three months in Europe and Shannon Hope certainly achieved just that! To accessorise, I bought the 'Pearl Veil' and 'Essie Earrings'.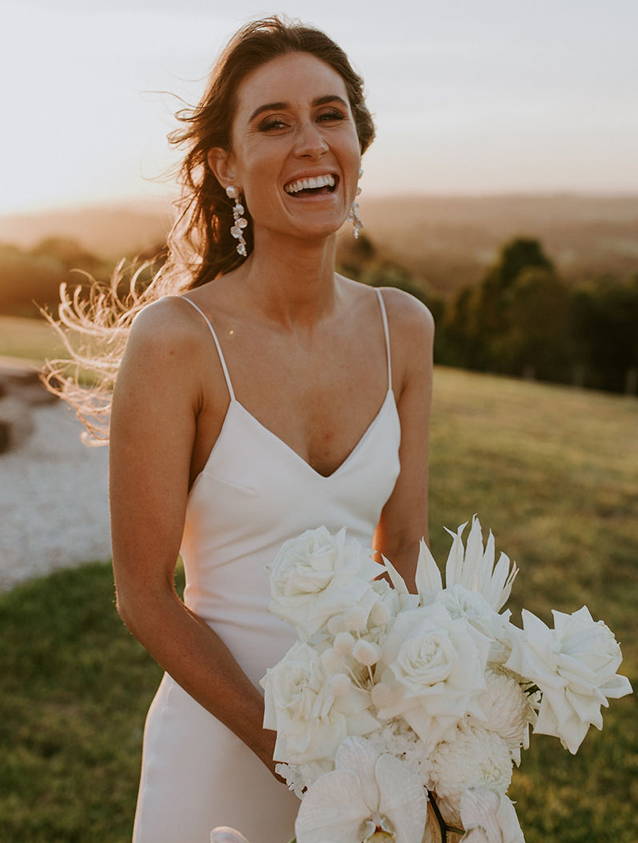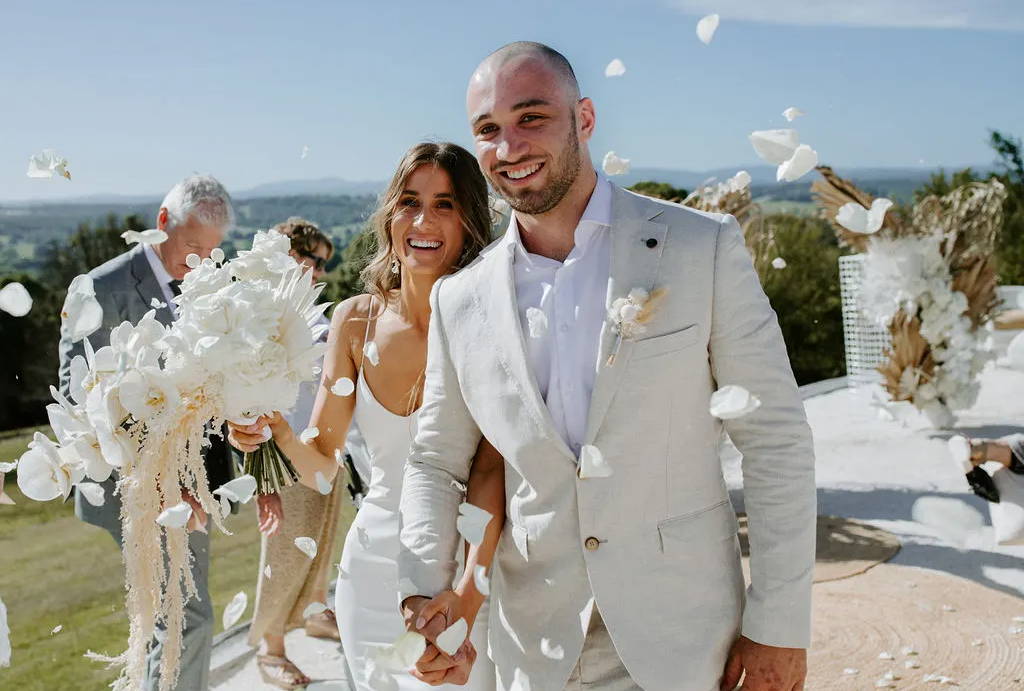 What made your day extra special?
My day was made extra special by the people we had surrounding us. We had an intimate celebration with only our closest family and friends in attendance, bringing us to a total of 25 guests and it made the entire day feel personal, intimate and relaxed.
The funniest moment on the day was…
I would have to say it was the dance moves brought out by my family members on the dance floor. One even ended up going home shirtless due to his shirt tearing from the rather questionable moves he performed, and a few too many espresso martini's being factored in there too.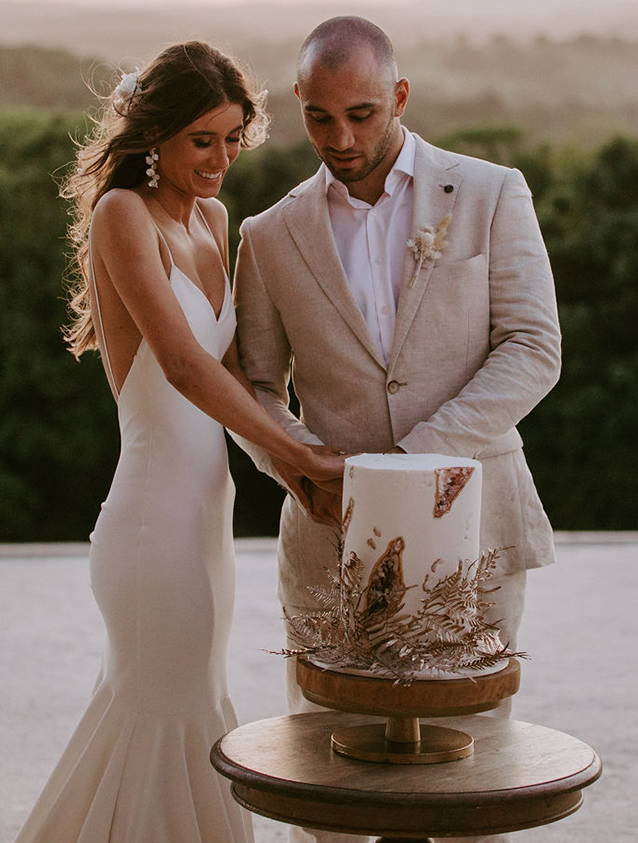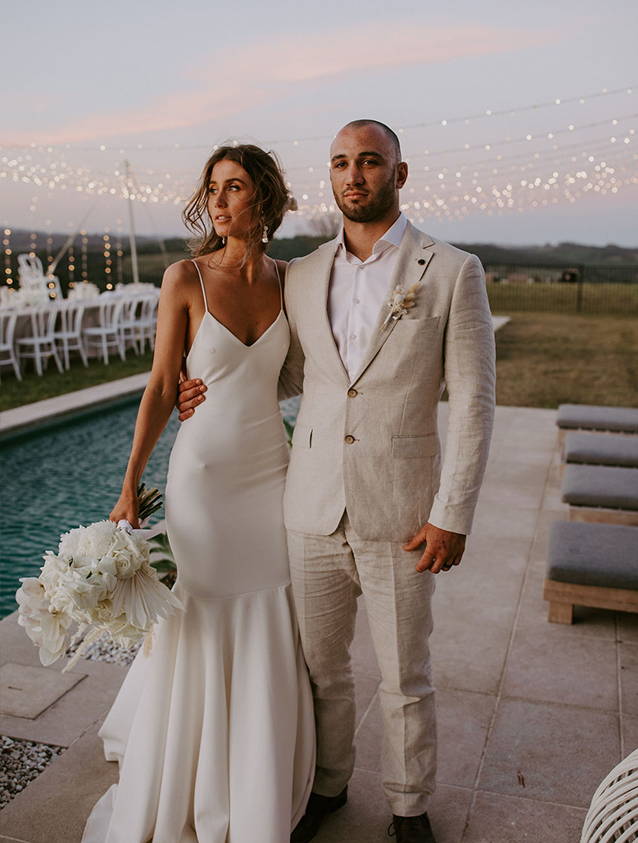 Where will you be honeymooning?
My husband and I spent the week after the wedding in Byron Bay at the beautiful 'The Bower' accommodation.
Any last advice or words of wisdom that you can share…
Don't stress any of the small stuff, there seems to always be something that will pop up or not go exactly the way as planned, but just always keep focus on the excitement of marrying your best friend and the wonderful life you are both going to continue to create together. Soak up the moments with your loved ones and just let loose and have a great time. It truly flies before your very eyes, but I can promise you that it will be the best day of your life!