Kacey & Laura in the Inca
"I chose the "Inca" dress! I first laid eyes on this dress while planning out an Iceland trip with my husband (boyfriend at the time). I was sifting through Iceland blogs and randomly stumbled upon the most beautiful Iceland elopement. She was wearing Inca and I instantly remember thinking how unique and beautiful it was. I never really imagined myself in a classic wedding gown. I've always pictured myself in something less traditional. Coincidentally my boyfriend proposed to me in Iceland!" - #GRACEBride Laura
What is a Grace Woman to you?
Free spirited, natural, and effortlessly beautiful.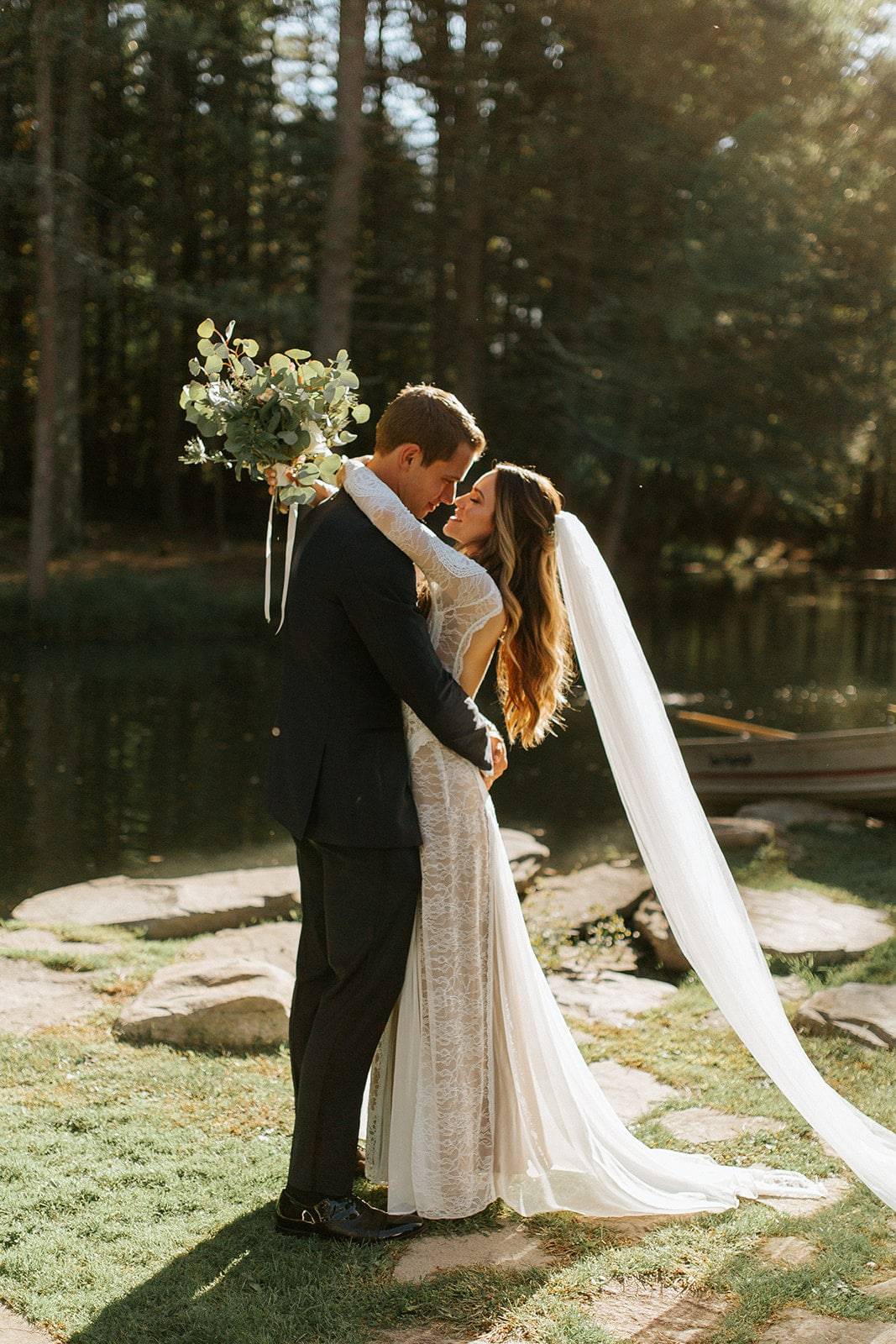 Which Grace dress did you choose and how did you know it was 'The One'?
I chose the "Inca" dress! I first laid eyes on this dress while planning out an Iceland trip with my husband (boyfriend at the time). I was sifting through Iceland blogs and randomly stumbled upon the most beautiful Iceland elopement. She was wearing Inca and I instantly remember thinking how unique and beautiful it was. I never really imagined myself in a classic wedding gown. I've always pictured myself in something less traditional. Coincidentally my boyfriend proposed to me in Iceland!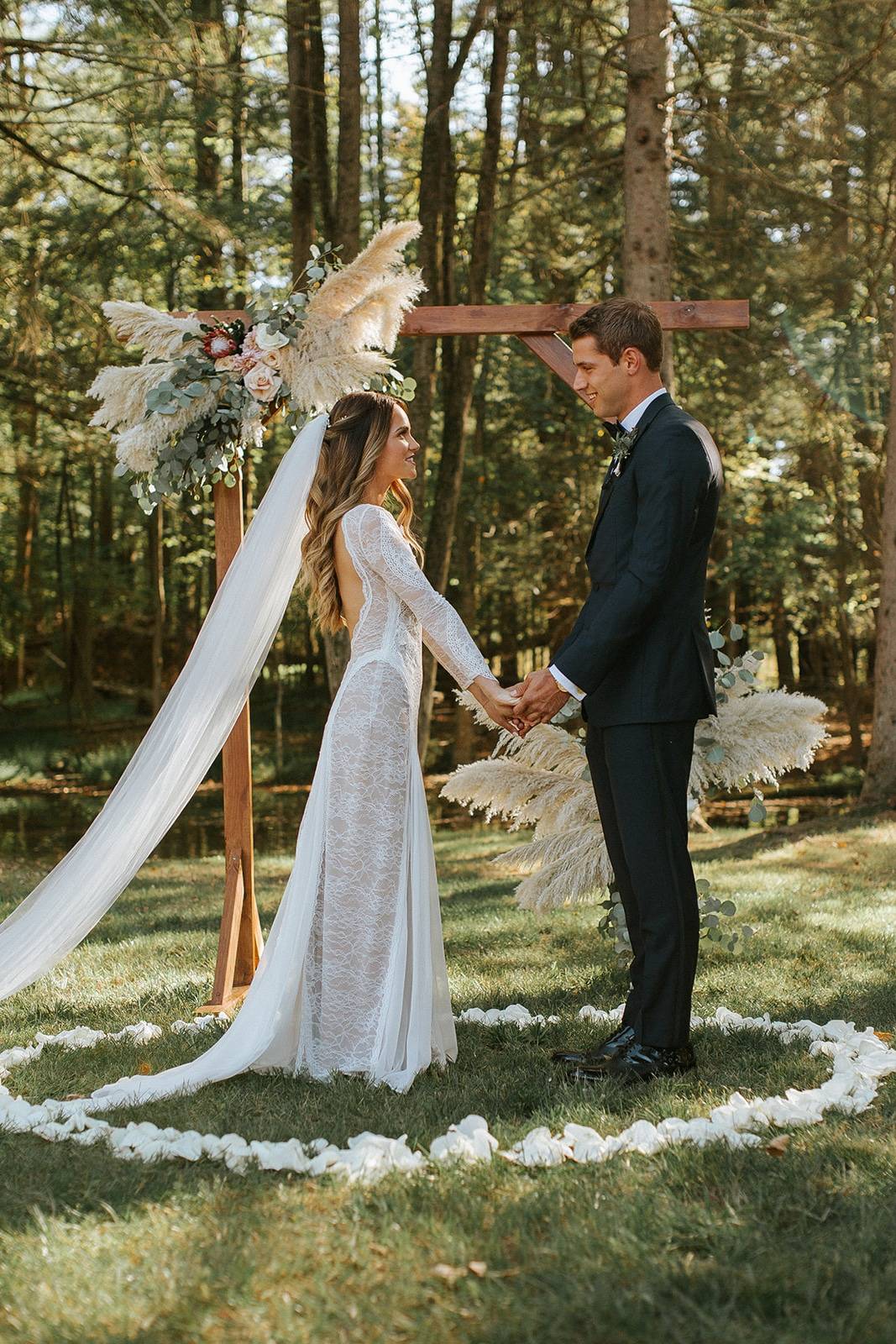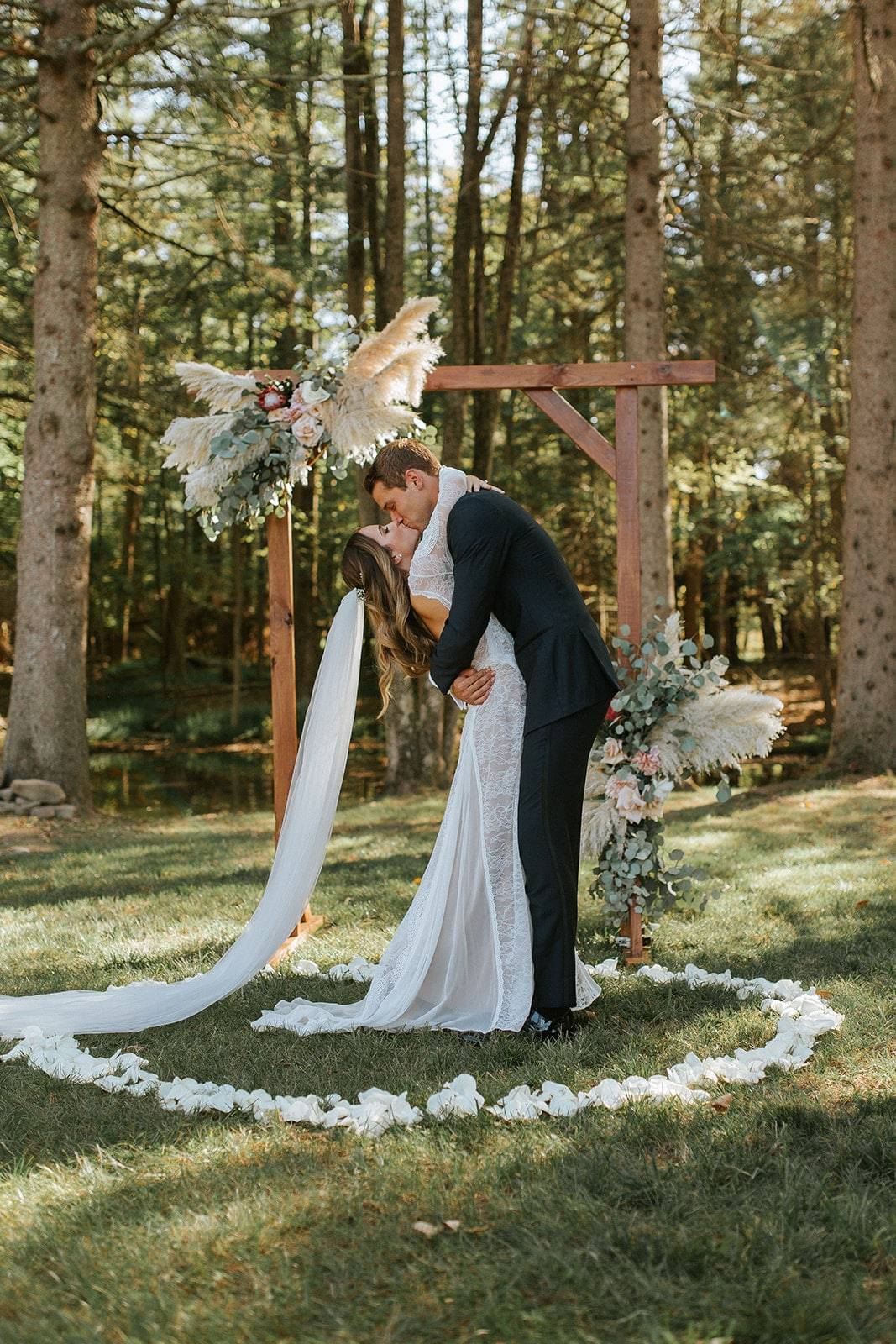 Tell us about your experience when you found your dress, did you buy your wedding dress online or in one of our showrooms?

I was very lucky to live near the GLL Soho showroom. As soon as I got engaged, I made an appointment. The showroom was stunning and the whole experience felt like a dream! I went with my mom and we had such a fun time. I tried on about 4 dresses, all were beautiful, but Inca was the "One."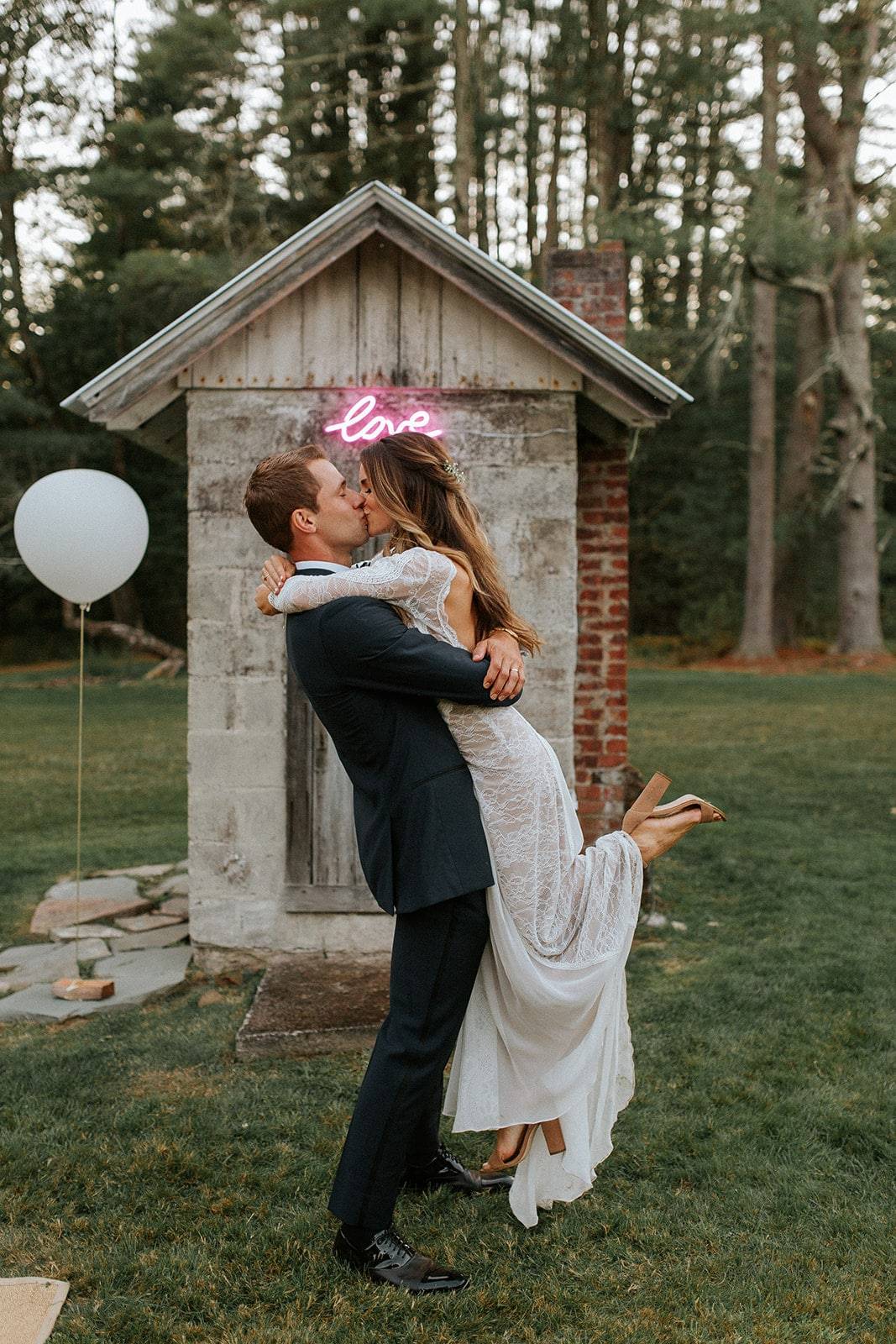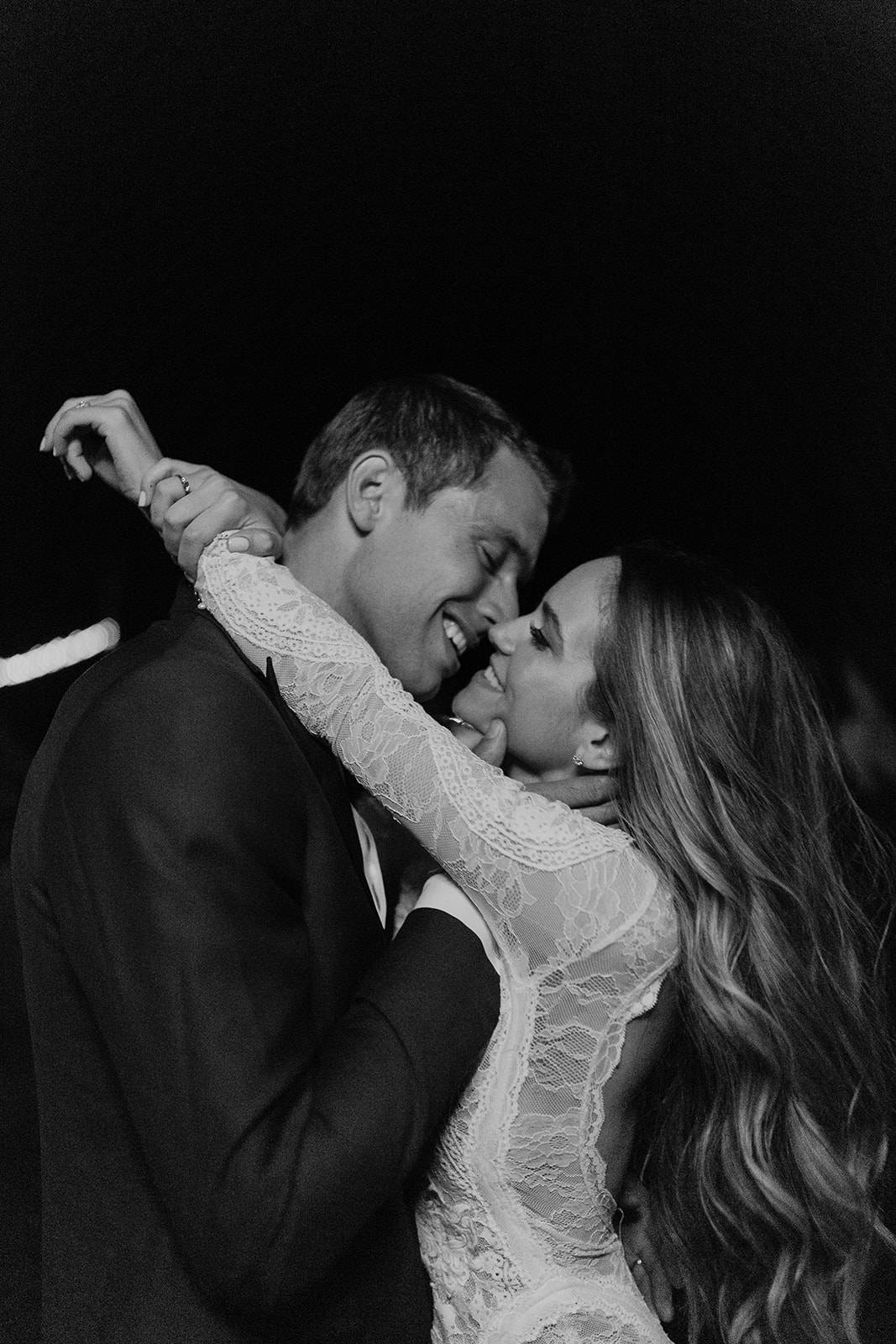 How did you feel in your dress on the day?
I felt so beautiful and 100% MYSELF! I always wanted an effortless, natural vibe and that is exactly how I felt. I was able to really enjoy myself and not feel restricted or uncomfortable.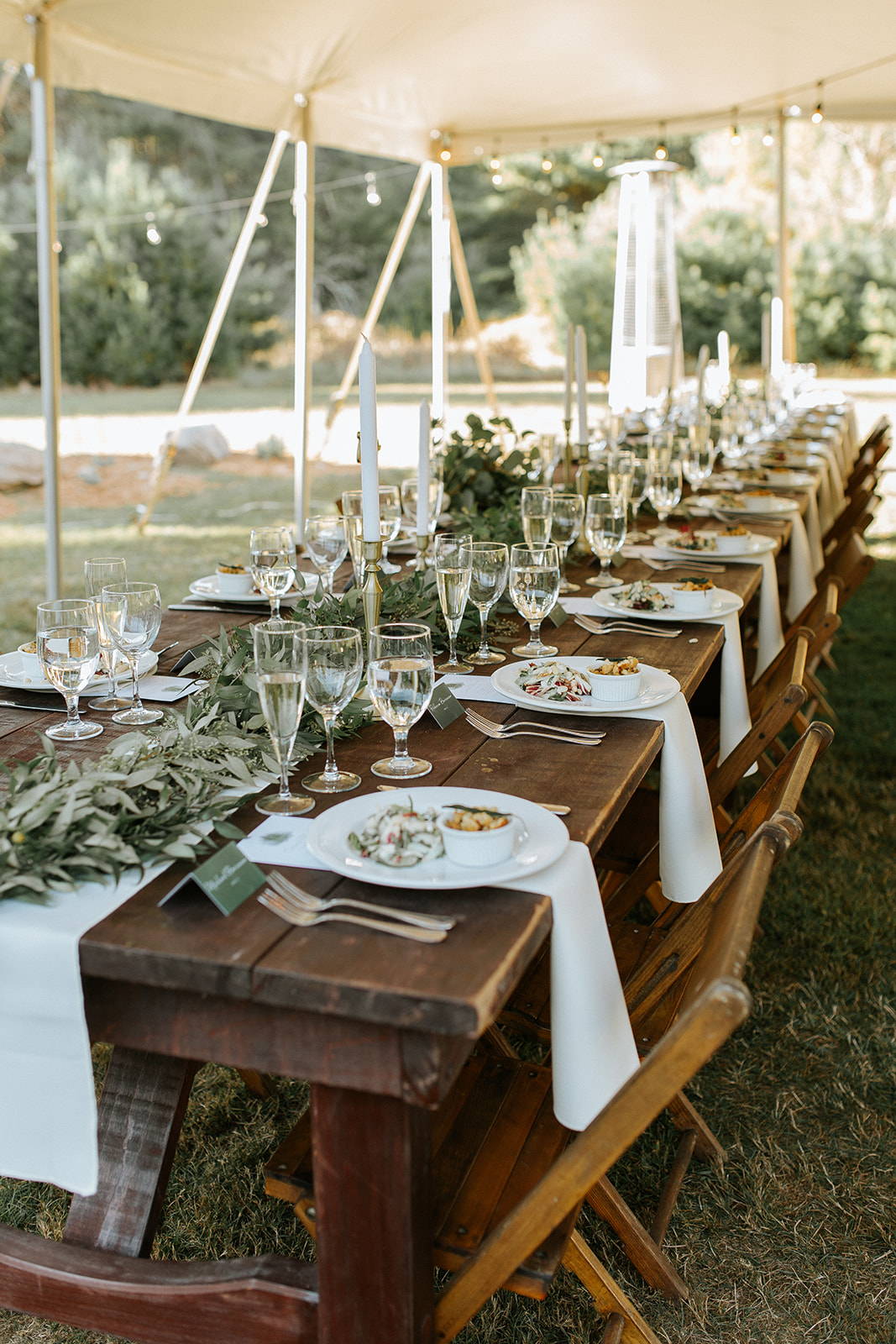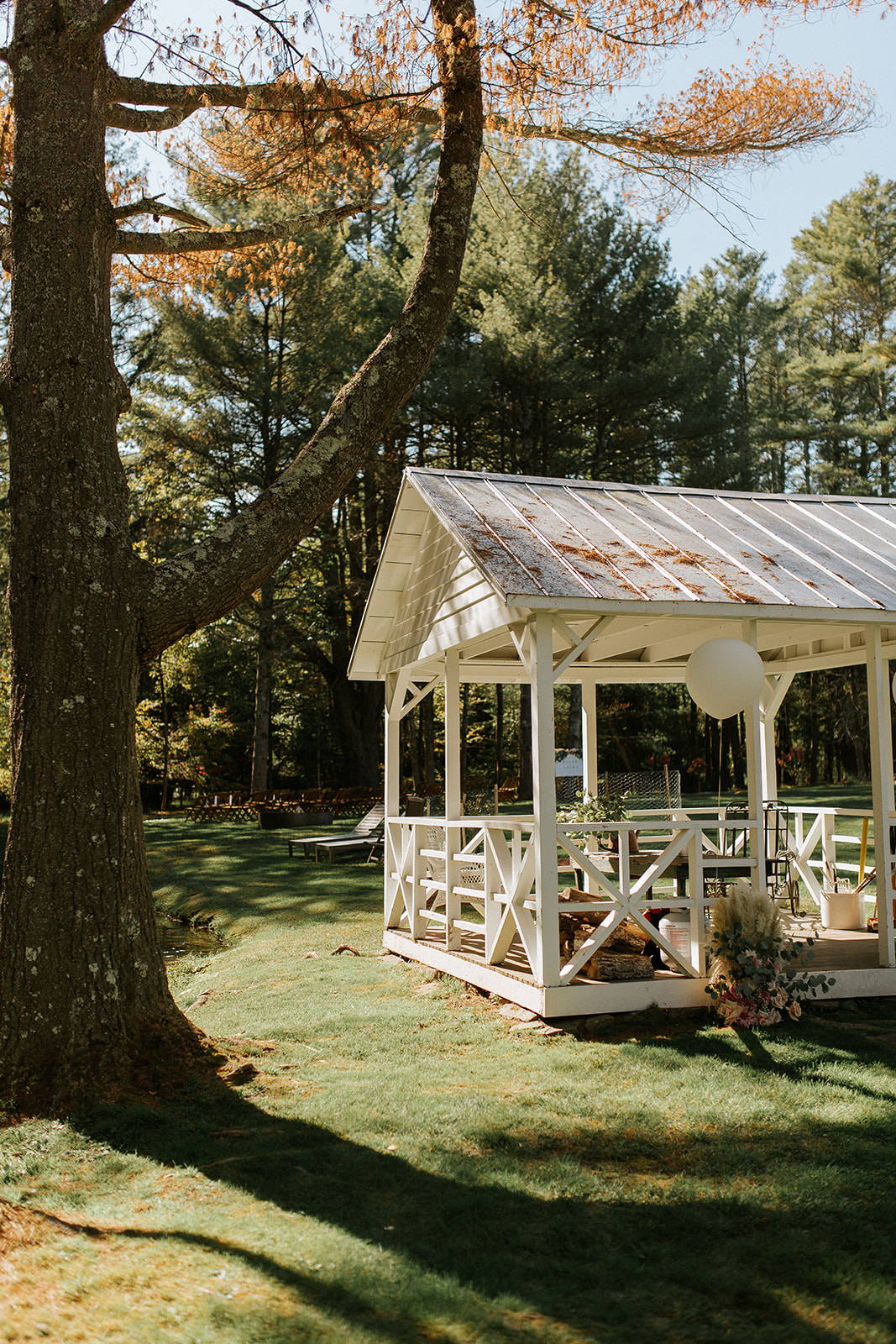 Where did you get married?
Tell us about the location & the style of your wedding day.
I got married in Eldred, NY which is located in the Catskills just 2 hours north of NYC. The location was a beautiful Airbnb called "The Floating Farmhouse" A renovated 1820 manor home with a story book setting. I honestly could not have dreamt of a more beautiful place to get married. The wedding ceremony's back drop was in front of a beautiful lake, which is where the name "floating" farmhouse stemmed from. The style of our wedding was rustic with some vintage, romantic vibes and lots of Pampas grass and Eucalyptus. We also had a fun vintage lounge set up with a neon "LOVE" sign which made for a perfect photo op spot for our guests. For cocktail hour we had one of our favorite musicians play, Bones of J.R. Jones who conveniently resided in the Catskills. He also played our first dance song. It was so magical!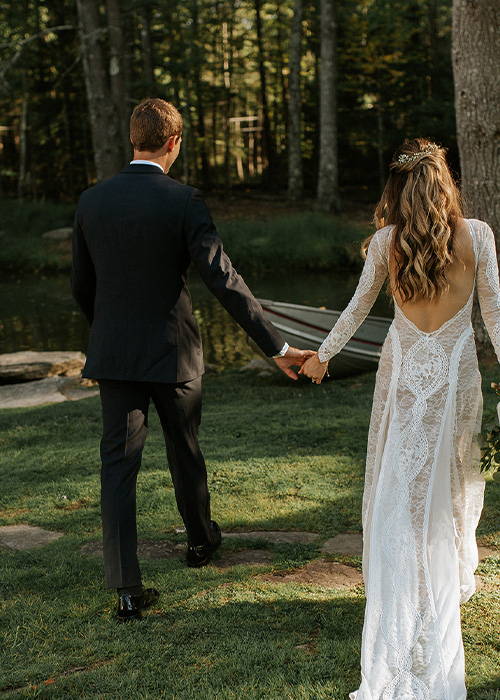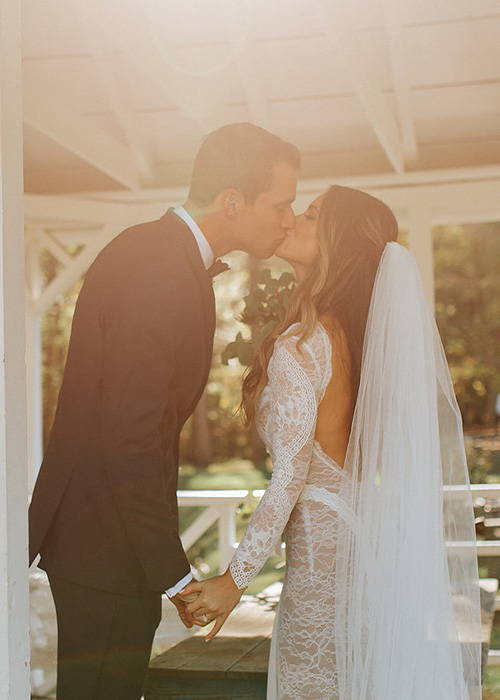 Tell us about your hair and makeup look
and the accessories you chose…
I kept it super natural! I never like to wear too much makeup. I asked for a dewy, bronzy look with minimal eye shadow and berry lips. For my hair I asked for loose curls with a few pieces pulled back, secured with a few pieces of babys breathe flowers. For accessories, I wore my grandmothers diamond and ruby ring that she passed down to my mom and a dainty gold pearl bracelet my sister-in-law gifted me the morning of the wedding.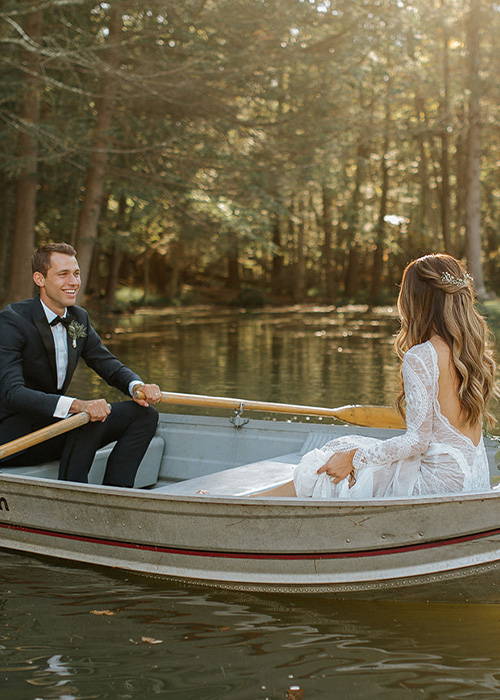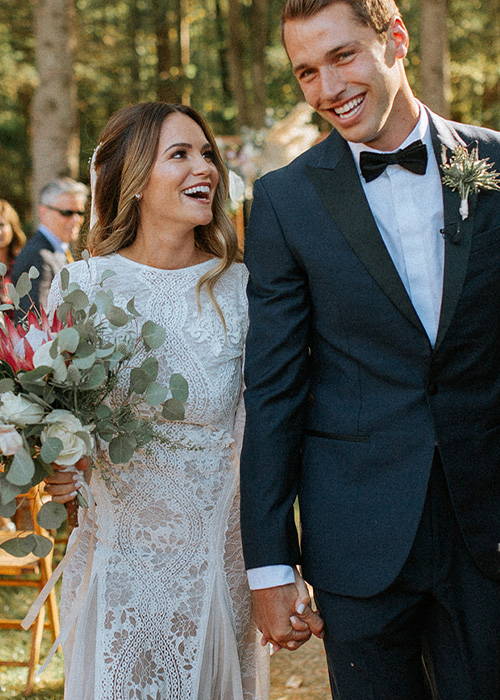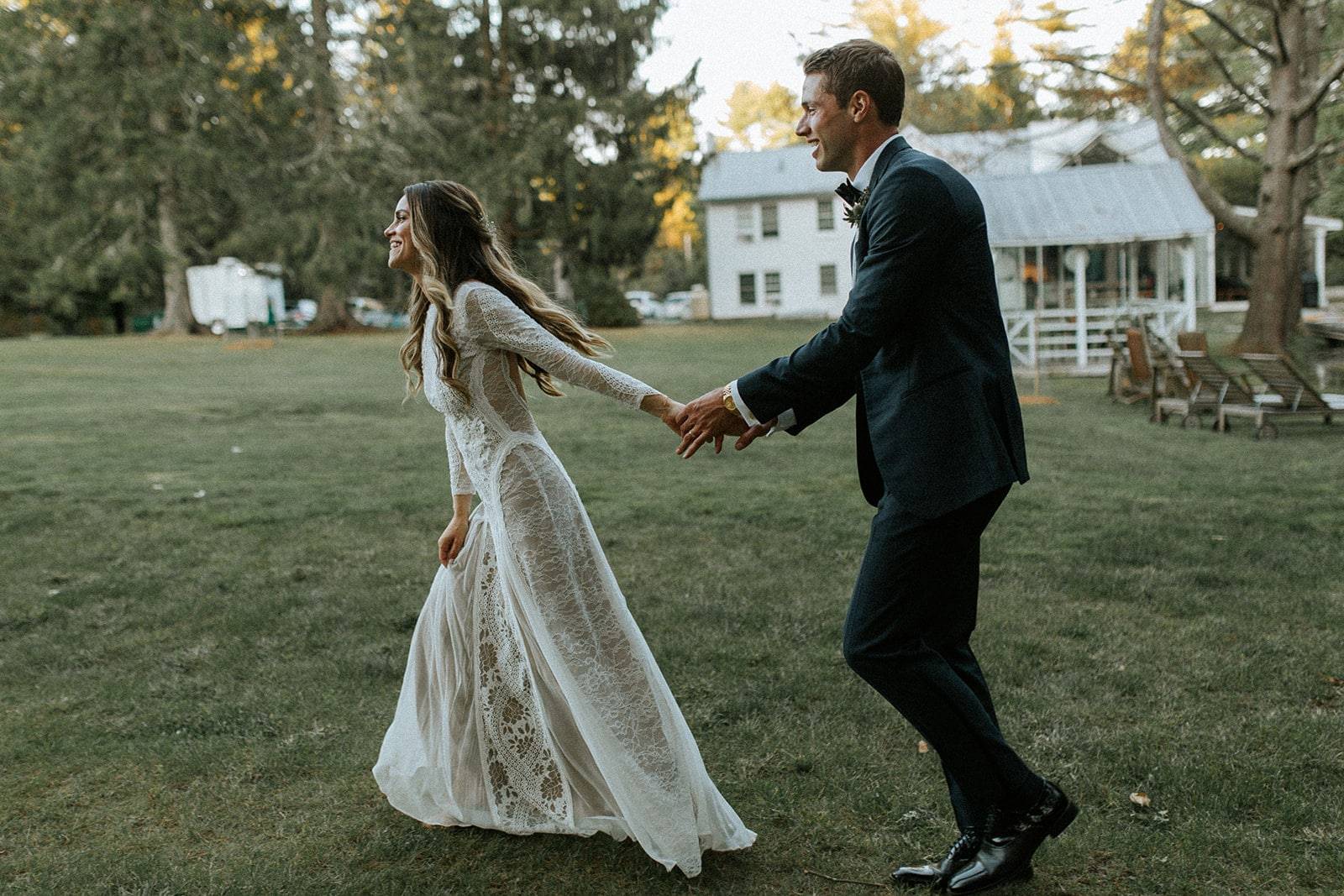 What made your day extra special?
We decided to have a very small wedding with only our family and close friends. This really made the day feel so intimate and special. On top of that we had the most beautiful weather. It felt like the sun was shining just for us.
The funniest moment on the day was…
During our ceremony outside a gigantic tree randomly fell off to the distance which made everyone notice a very large deer across the lake. Everyone started laughing. Another funny moment was my husband's cousin got locked in the bathroom. Probably not very funny for her at the time but it was definitely funny hearing the story later on.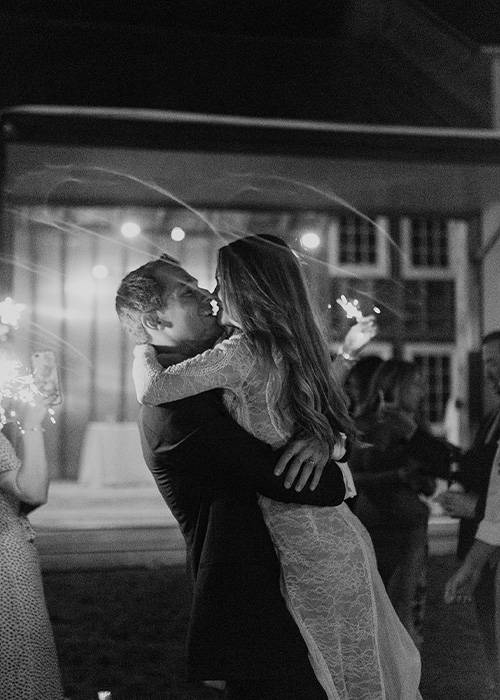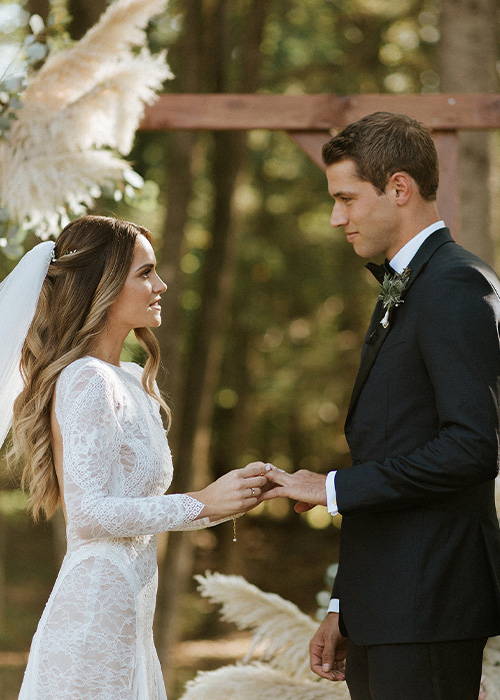 Where will you be honeymooning?
We honeymooned in Aruba. It was so beautiful and relaxing. Exactly what we needed!
Any last advice or words of wisdom that you can share…
This probably already goes without saying but do your research before choosing someone to alter your dress. Make sure they specialize in weddings dresses. I made a mistake by bringing my dress to a seamstress back home. They were very credible but did not specialize in wedding dresses. Safe to say, I was in tears when I went to pick my dress up. They had cut my dress about 5 inches too short! The dress was not even hitting the ground and I had one week to figure out what to do. I called GLL Soho, and they recommended "Alteration Specialists." They were in NYC close to my work, so I stopped in and they somehow were able to fix my dress. I was very lucky, but it cost me a lot of money, stress, and tears!