Nick & Hannah in the Honey Silk
As the mist floated across the mountains, clearing the beautiful mountains of Queensland's Hinterland, the rain only stopped as Hannah approached the aisle. Creating truly, the most magaical wedding for newlyweds Hannah and Nick.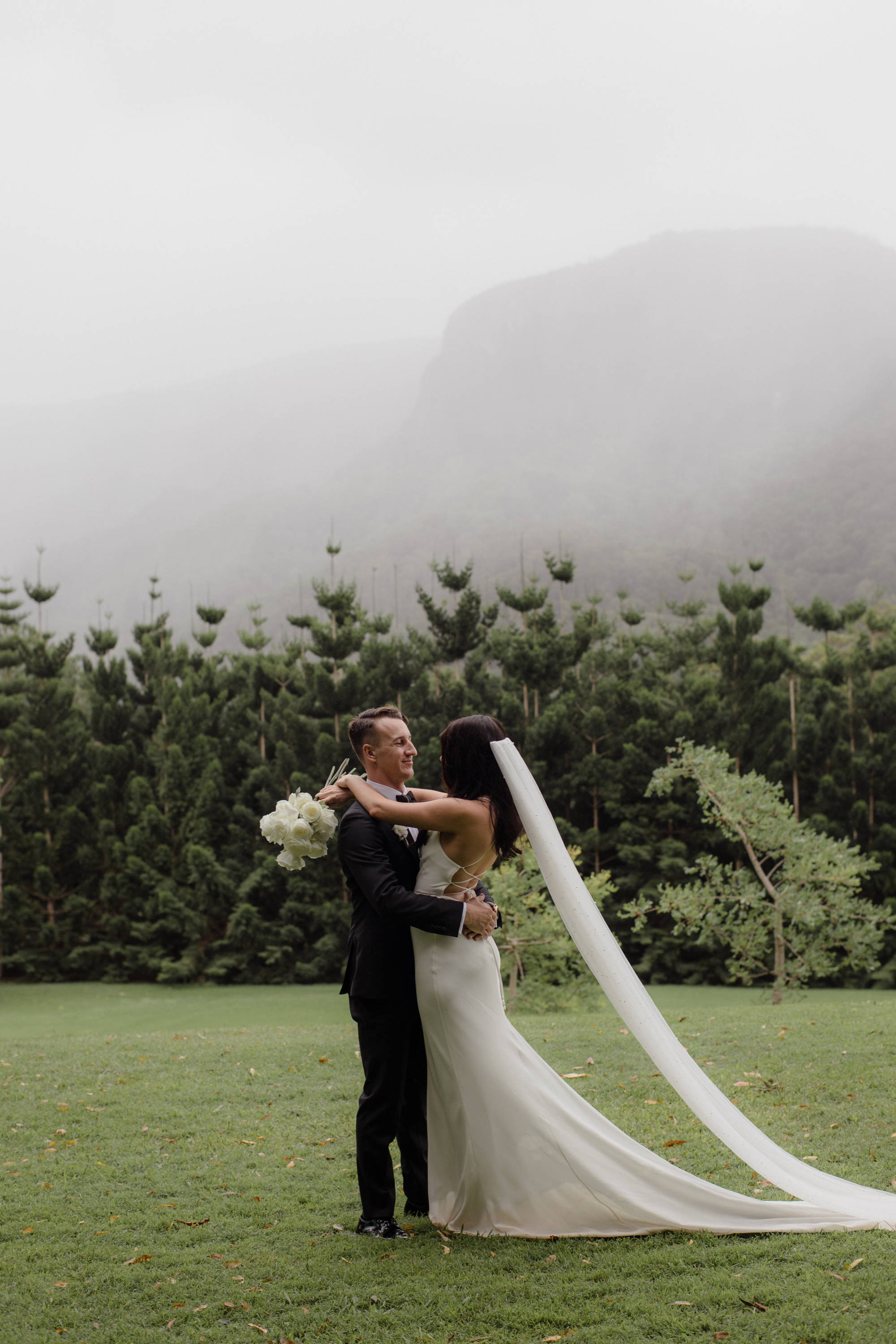 What is a GRACE Woman to you?
Effortlessly beautiful, utterly romantic, undeniably herself.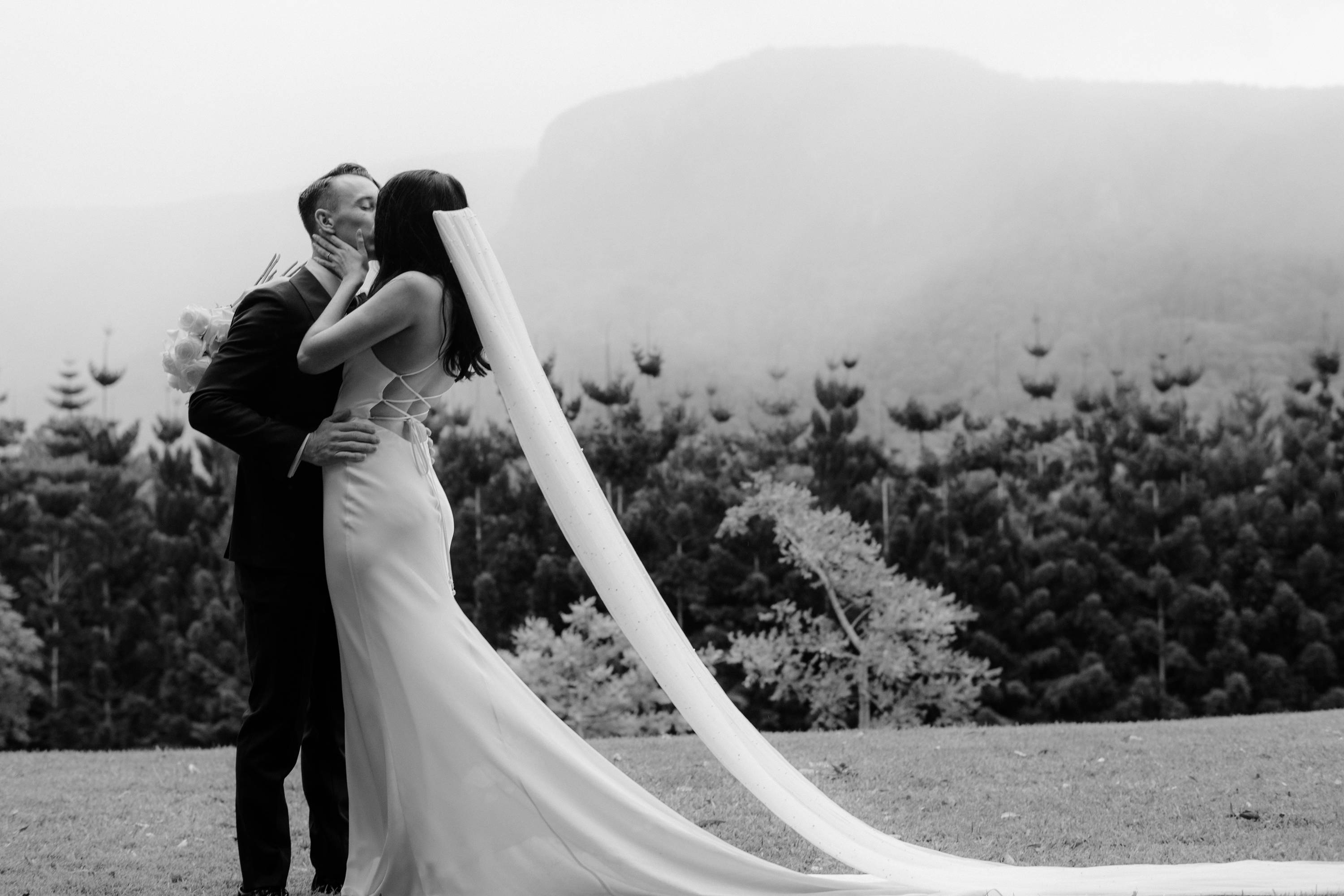 Which GRACE dress did you choose aand how did you know it was 'The One'?
I chose the Honey Silk. I'd always imagined a silk gown, and I'm all about a statement open back. I've never actually cared about the front of any wedding dresses until I found the Honey. The cowl neckline is so flattering and simply stunning. The moment I put it on I felt my most beautiful self, and couldn't stop running my hands over the silk.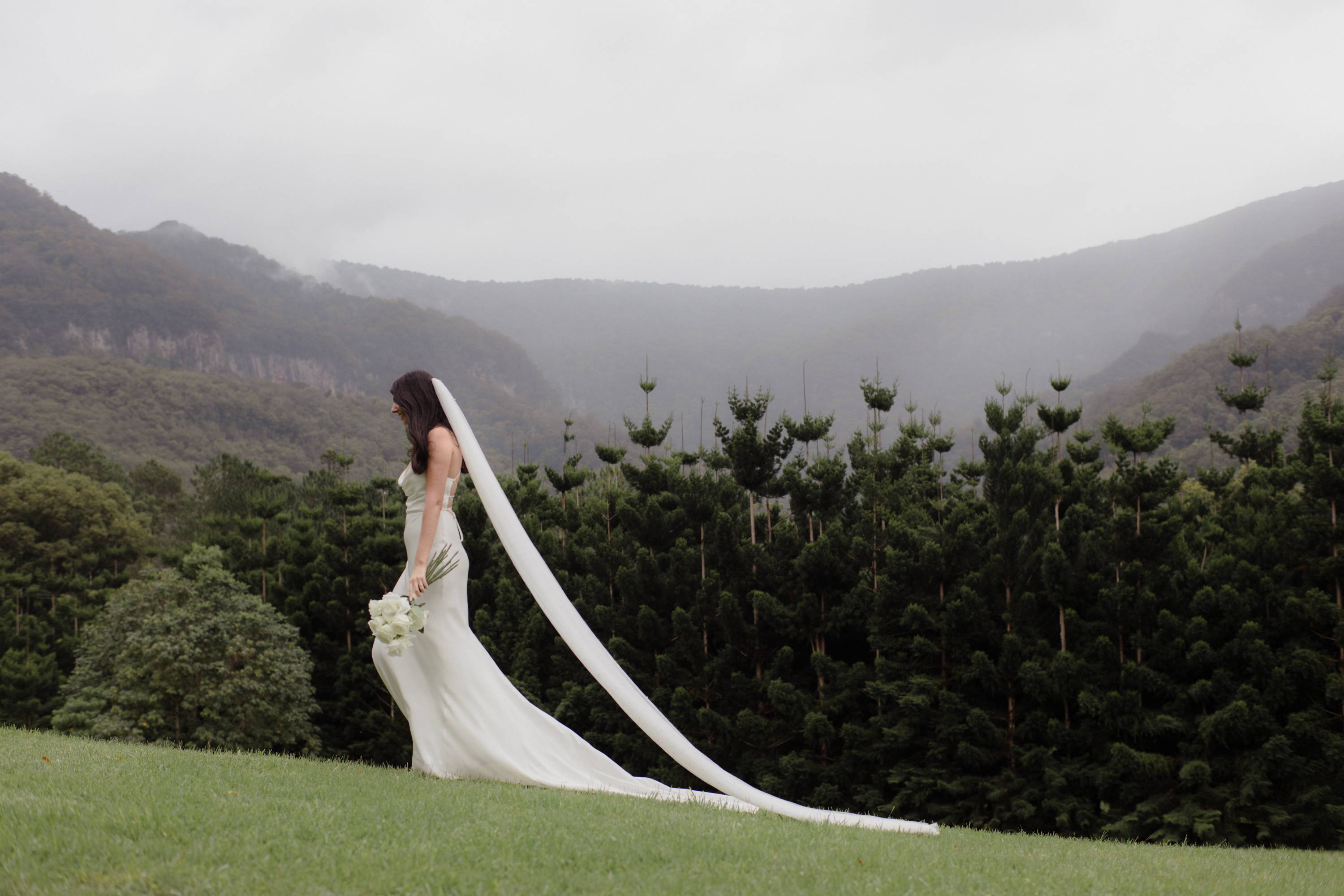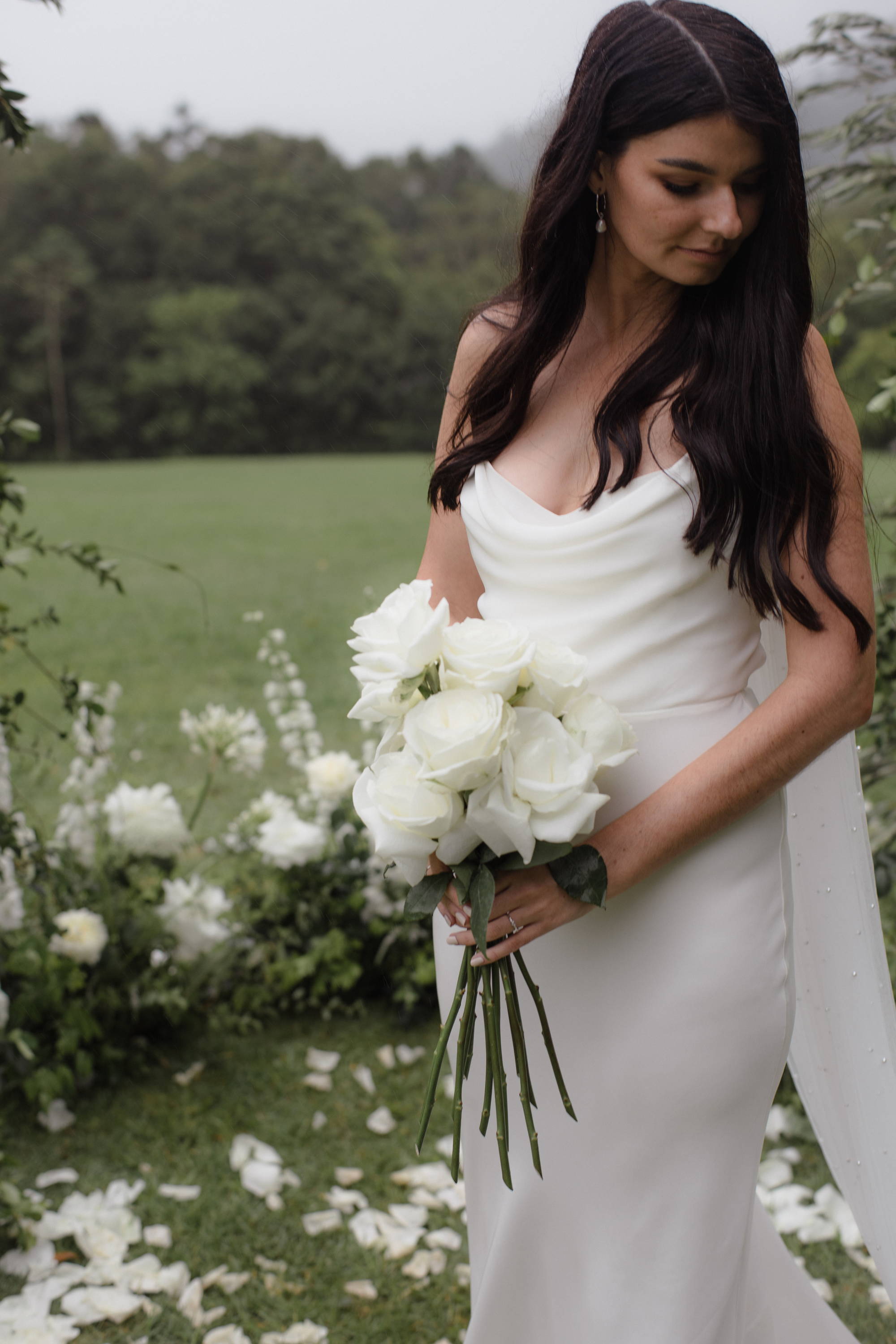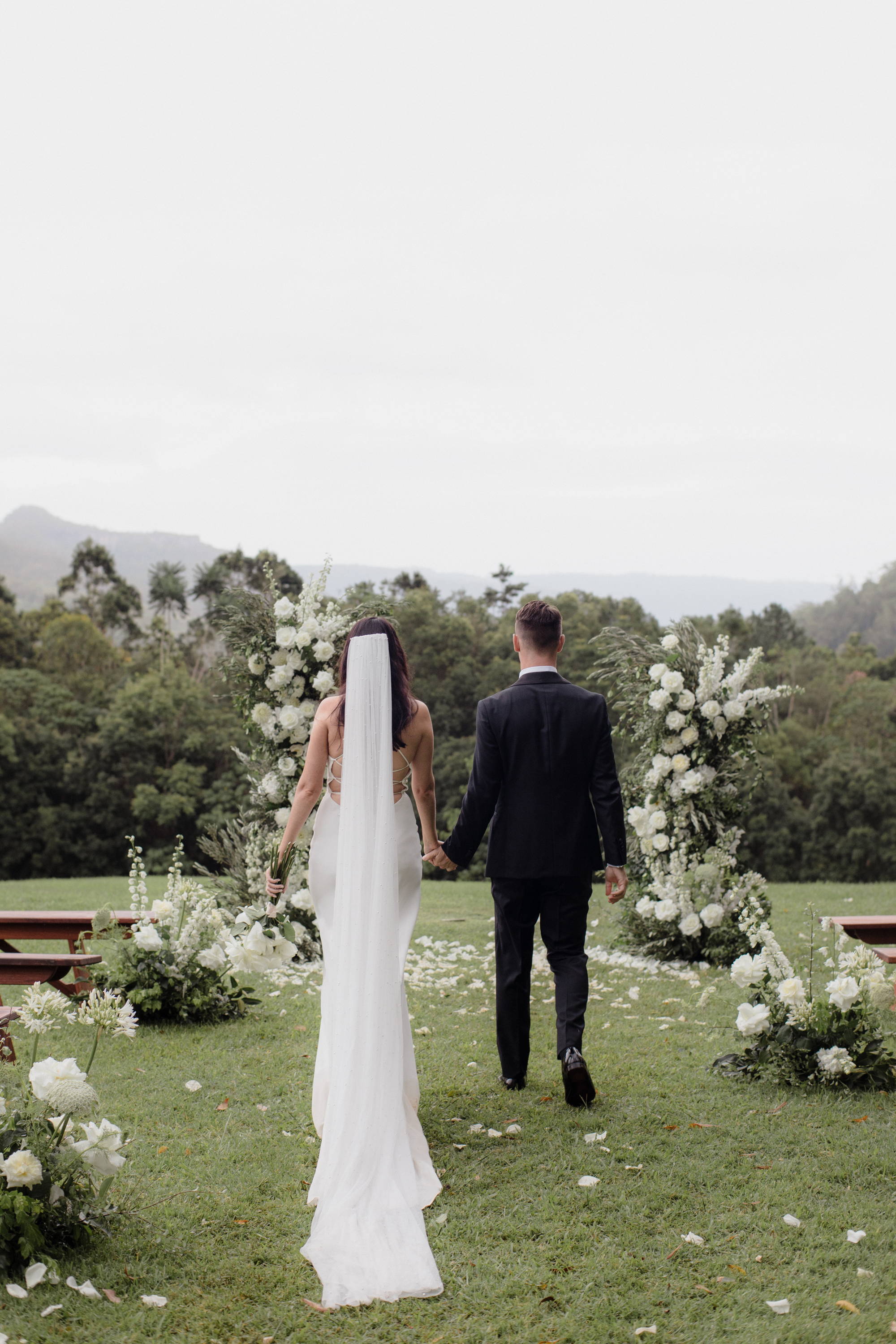 Tell us about your experience when you found your dress, did you buy your wedding dress online or in one of our showrooms?
I live locally and had an appointment at the Gold Coast showroom. It was such a special experience to share with two of my dearest friends Liv and Kate. Nothing really compares to the showroom space, and the Grace girls, such a treasured memory.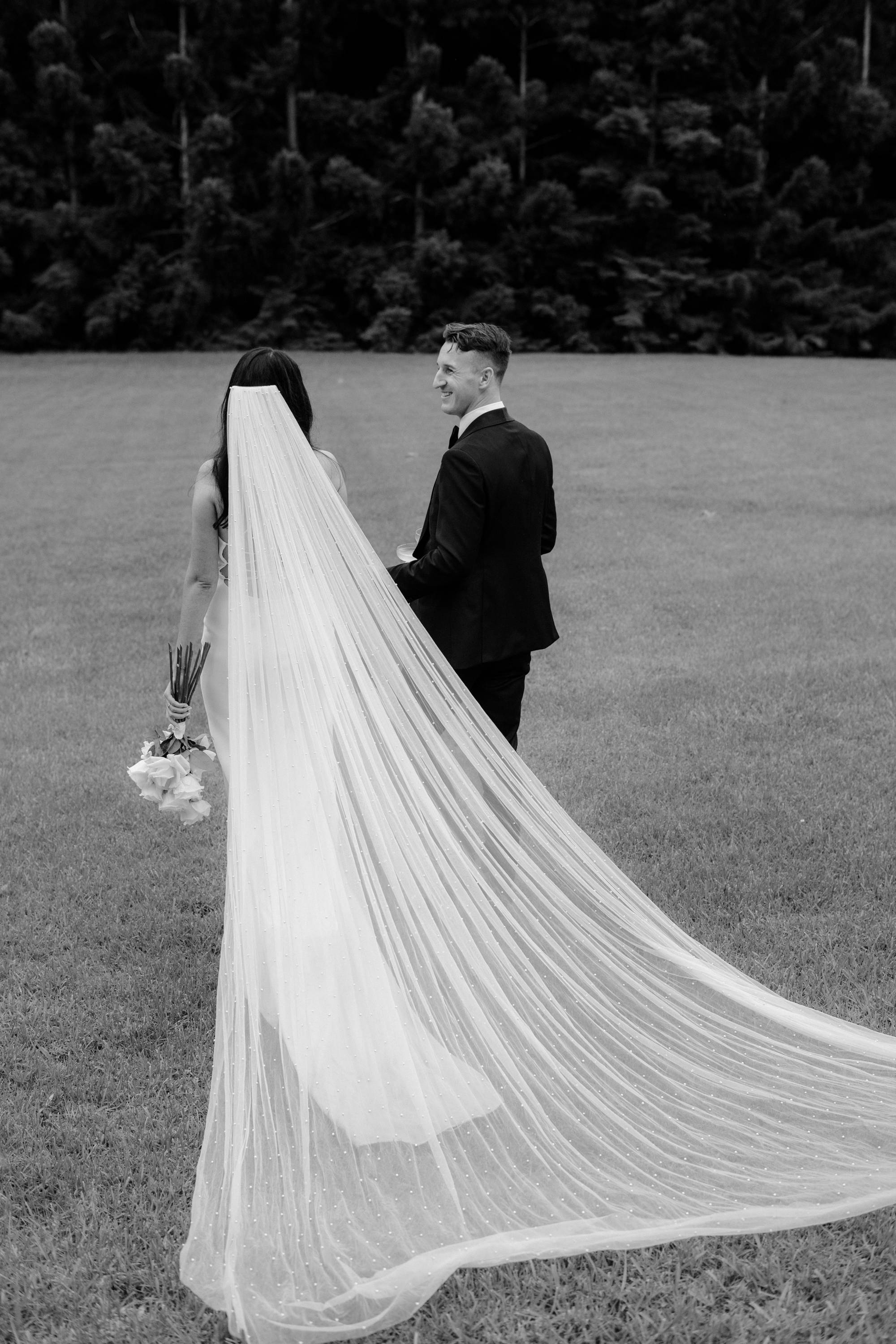 How did you feel in your dress on the day?
If I thought I felt most beautiful in the showroom, I really wasn't prepared for how I felt on the day (and neither did my mum with the amount of tears seeing me in my dress ready to get married). Putting on the dress really did signify walking into the next chapter of my life. I felt strong and confident. Truly beautifully myself. Looking in the mirror just made me more excited for Nick to see me too.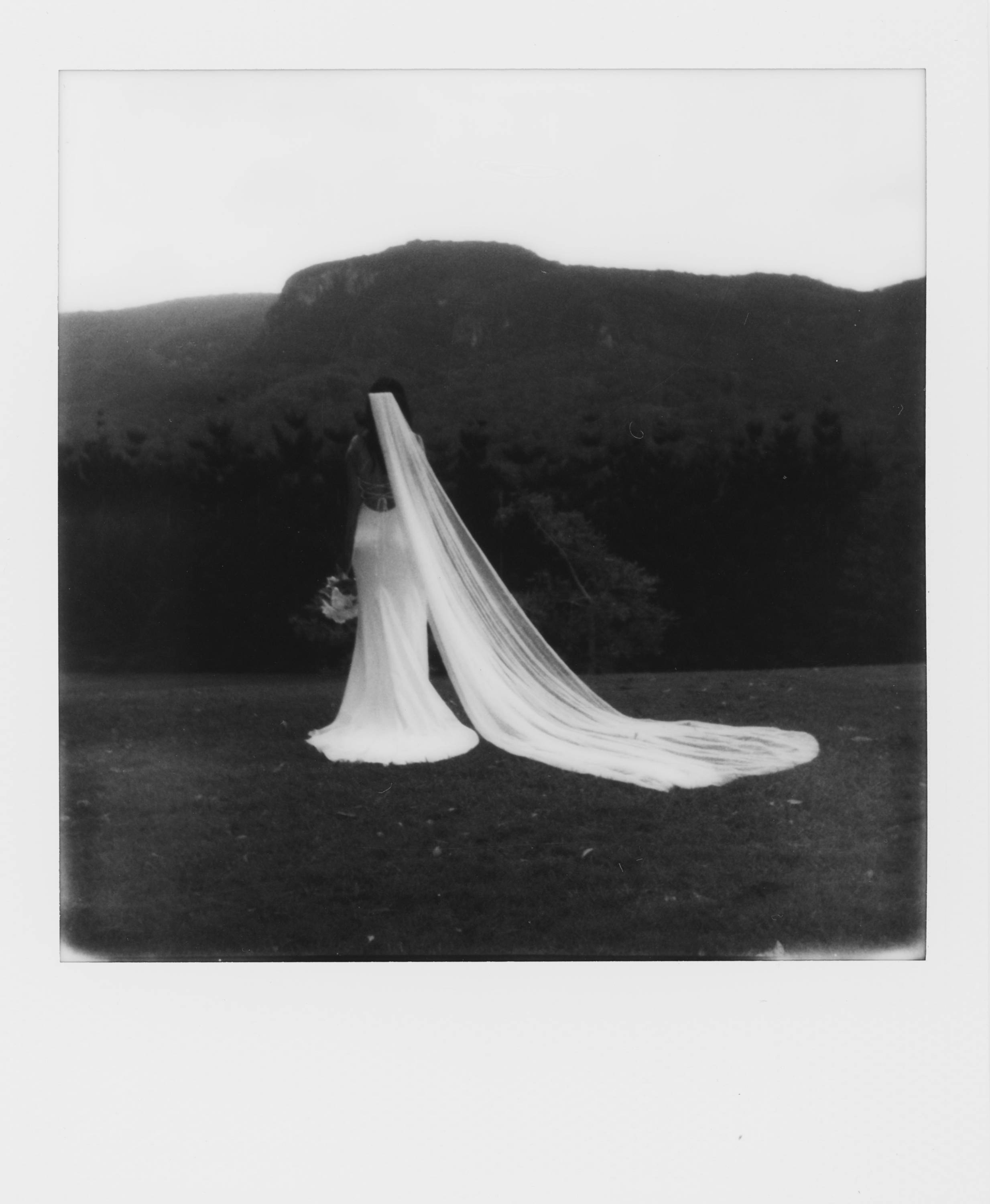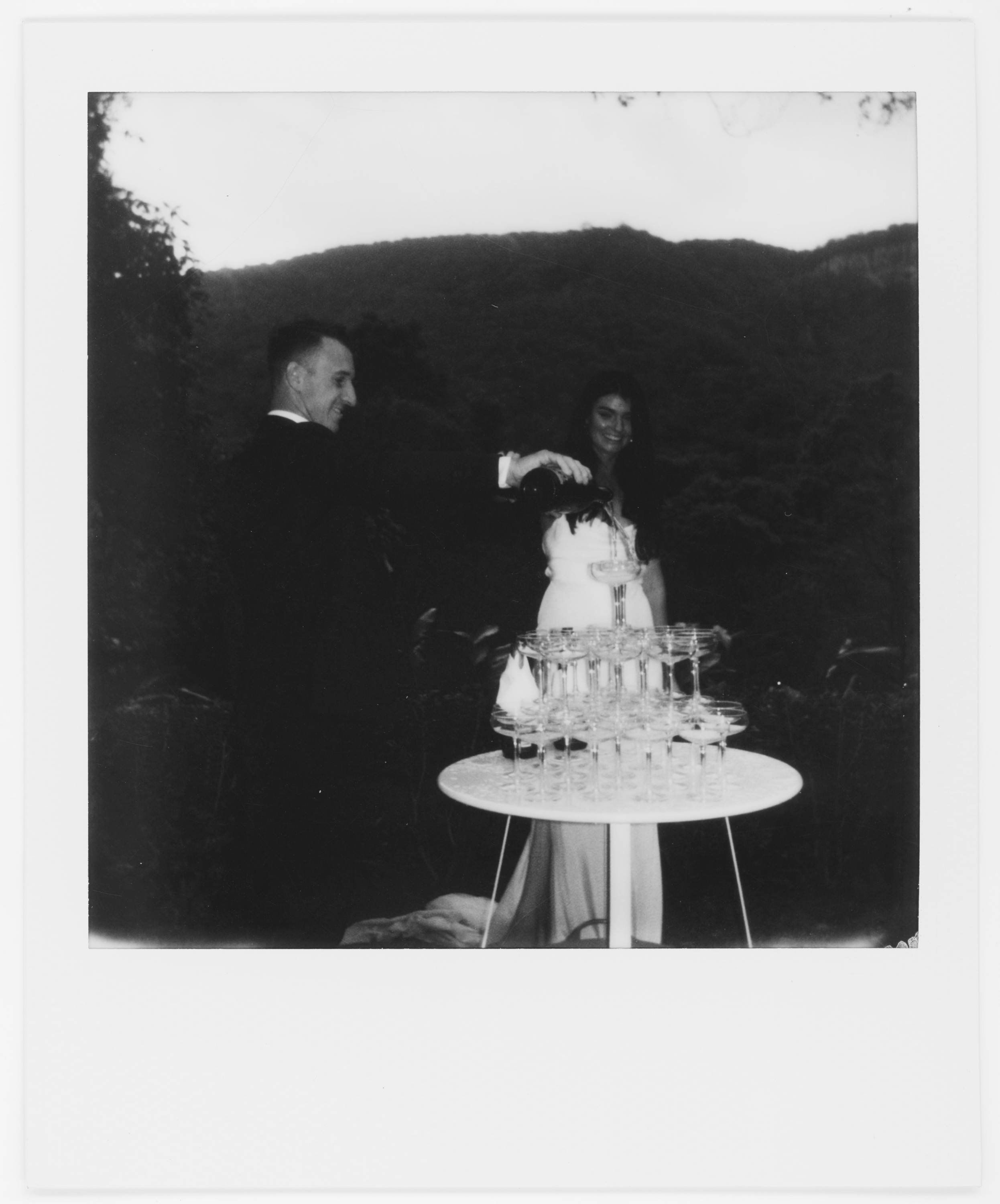 Where did you get married?
Tell us about the location & the style of your wedding day.
We got married at The Bower Estate. The first moment we saw it Nick even exclaimed that THIS is where we had to get married. Through border closures and lockdowns we had to explore other options, but we kept on being pulled back to this location. As we drove through the surrounding hinterland the day before, Nick put down the windows, breathed deeply and simply said we were exactly where we were meant to be, and I felt that too. The location is breathtaking. It feels grand and expansive, and intimate all in one. All of our guests shared "I can see why you really wanted to get married here" and it was such a beautiful place to share with our family and friends, in the hinterland of the region we have lived in for the past 10 years.
It rained the day of our wedding, only stopping as I approached the aisle. It was otherworldly. The mist floats across the mountains, and all of our beautiful blooms were speckled in drops of water. It truly amplified all of the intense emotions. A few friends told us their favourite part was sitting in the rain waiting for me. With all the elements together it was just unbelievably romantic. I couldn't imagine it any other way.

My style has always been timeless romance. From our first anniversary and Nick gifting me a dozen white roses I always dreamt of a white rose bouquet. We wanted our styling to be very organic, to enhance our stunning natural environment and focused on beautiful blooms. Our marquee mirrored the night sky covered in fairy lights, while our tables had fine candles scattered amongst statement blooms.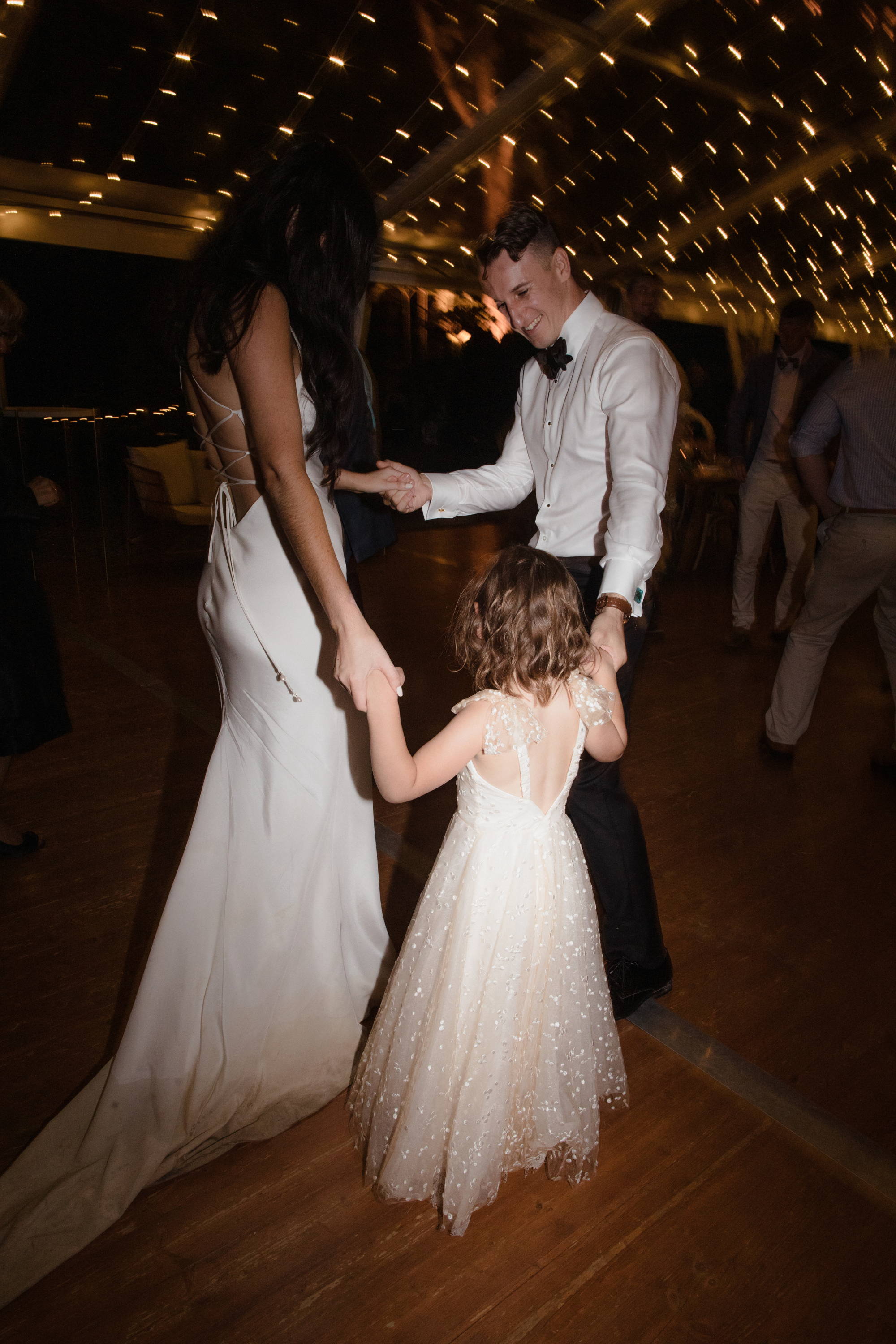 Tell us about your hair and makeup look
and the accessories you chose…
I was so blessed to have the talented Ashlea Penfold do my hair and makeup. I've known Ash for years working together on shoots, and she is always the best vibe. It really was just having another friend helping me get ready. The best part was prepping my skin and the most relaxing facial massage with her gua sha that really grounded me. I felt present and just sunk into the experience. I had always thought I would wear my hair in a low messy bun (actually inspired by the muse from a past GRACE campaign, Elixir). This is the look I'd imagined for years. I told Ash I also wanted to take my hair down and magically have loose curls for the reception to switch up my look and be more relaxed. So Ash set my curls and did my makeup. I looked in the mirror and so humbly said oh my gosh, I'm beautiful and this was me. My mum shared that she watched me grow into a woman the morning of my wedding, and while I still felt very much myself, Ashlea really brought out my confidence.
I paired my Honey Silk gown with the Pearly Long Veil. I knew I always wanted to wear a veil because it's the one day you can. I love how it contrasts against the simplicity of the silk. It truly was a wow moment, a lot of my girlfriends said it took their breath away as I passed through the aisle and they saw the veil.
The Sade earrings were the perfect pick to add a touch of glamour. I love how the veil, earrings and gown detailing all had a pearl connection. Funnily enough the night before our wedding Nick and I exchanged gifts. Nick gifted me a pair of Chanel sunglasses and a bag with a pearl chain saying "you have to have pearls on your wedding day" and all I could think was, just you wait.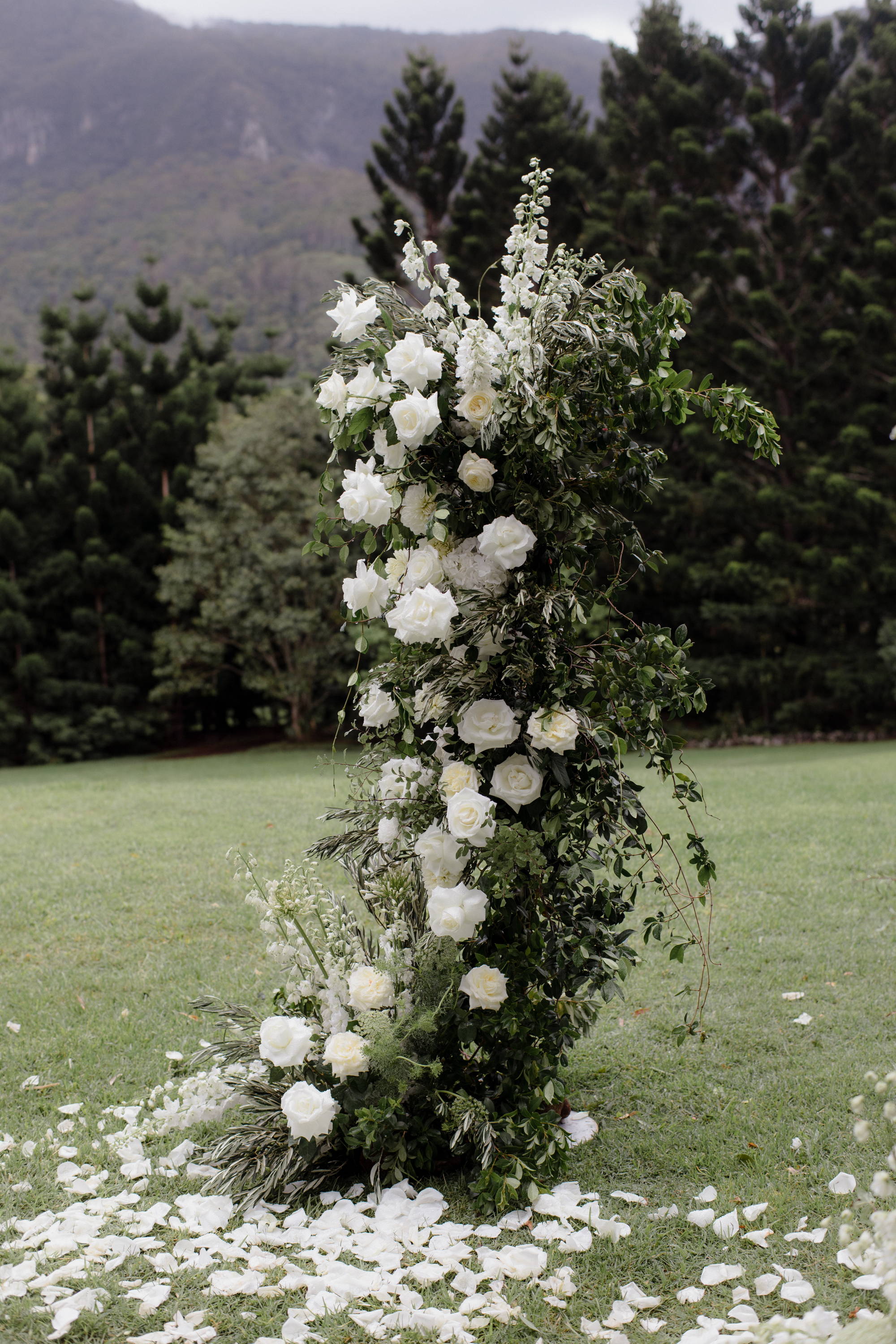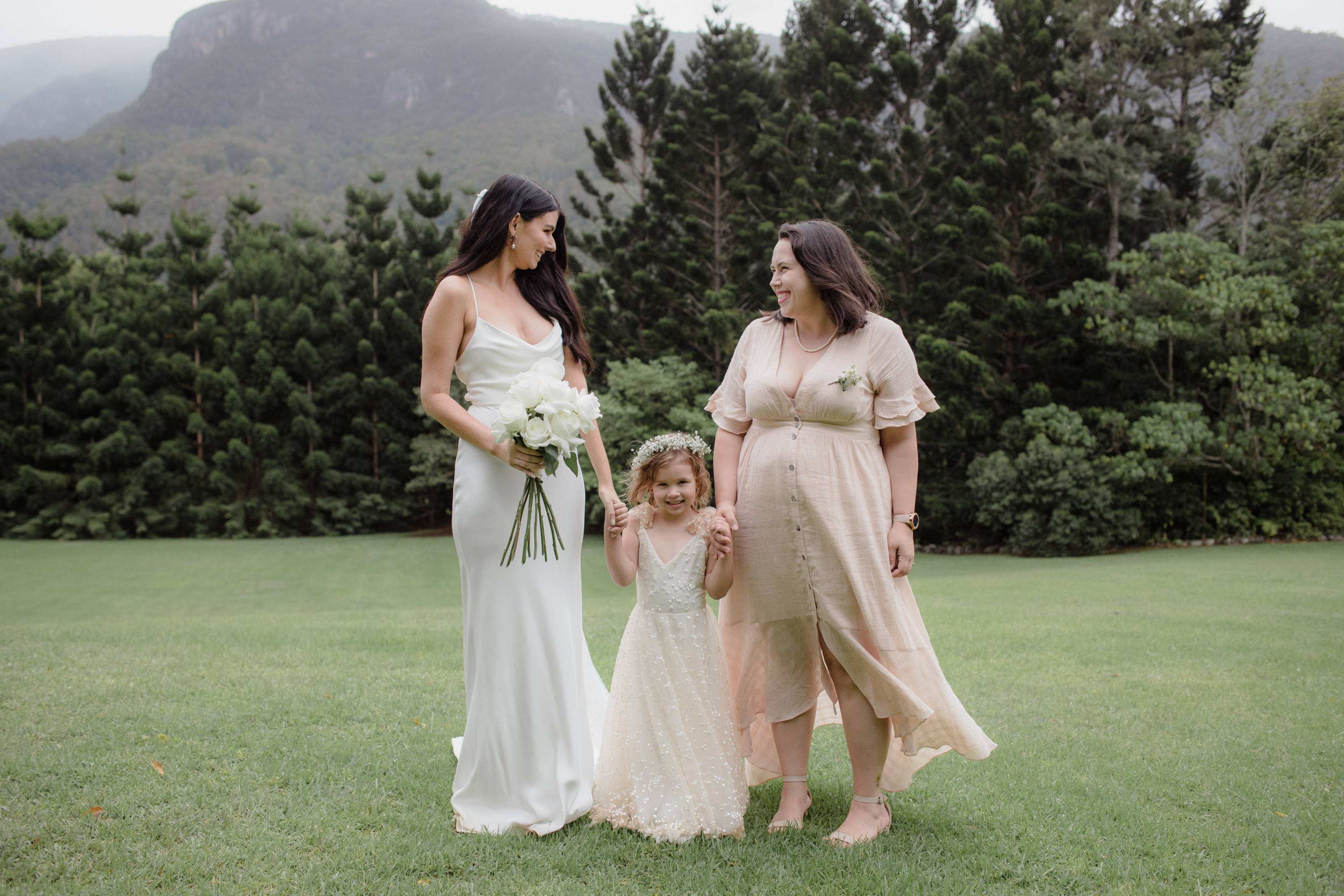 What made your day extra special?
Quite simply that we were able to get married, and with the number of guests we had is so incredibly special. All of our guests dropped everything to travel for our wedding with merely three weeks notice after we received some poor family health news and brought our date forward. I know that those restricted to come would have been there as well, and their love was definitely in the room! I Facetimed my two closest girlfriends in the morning sharing my first thoughts of the day. Nick organised a live stream, and my friends shared how special it was; they waited with Nick for me, feeling 99% as if they were there. We also had a projector and our three best friends who couldn't make it all did video speeches. It was so special to have them in the room and share our story that they've been so integral to.
There were some choices that make our memories extra special, like we had a Polaroid guest book and our favours were for everyone to take a Polaroid pic home with them. We had a bunch of disposable cameras to capture our friend's experiences. My girlfriends Mel and Lisa stole me away from some photos that are some of my favourites, and another dear friend Jamie Green captured the most amazing polaroids of us too. It was so fun to see pics in real time, and have photos to look through the night of and morning after our wedding.
I am very lucky that I know a lot of incredibly talented people, and it made it extra special that I had personal relationships with so many of our vendors. I still cannot believe that the aisle was ours, I cannot thank the girls at Nikau Flora enough. Our musician Holly is so talented, the first time I ever heard her sing I was enthralled. It is so special and unique to have her music as the soundtrack to our most cherished moments.
The funniest moment on the day was…
I feel like we laughed (and cried) a lot during our speeches. Our dance floor was also next level. Nick put on 'I'm Shipping Up To Boston' and everyone was stomping their feet. Between Nick and a girlfriend of mine, Ang I was spun wildly around the dance floor, it's all quite a literal sparkly blur and I was laughing a lot. My brother also put on 'Bohemian Rhapsody' as that was the final (and favourite) song at his wedding, just as we were going through our sparkler exit. Nick and I got to the end, looked at one another and ran back in to keep dancing, and everyone followed suit!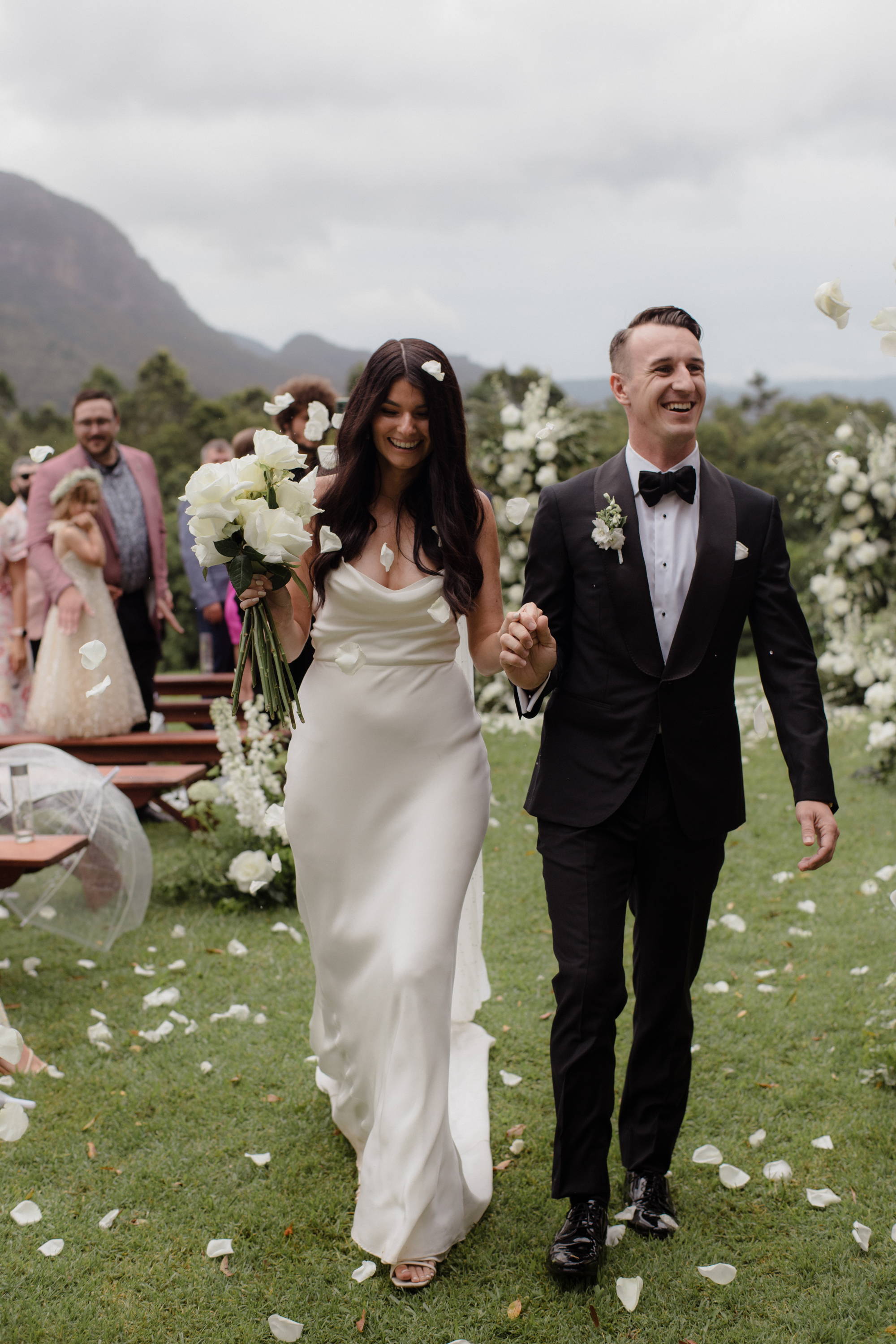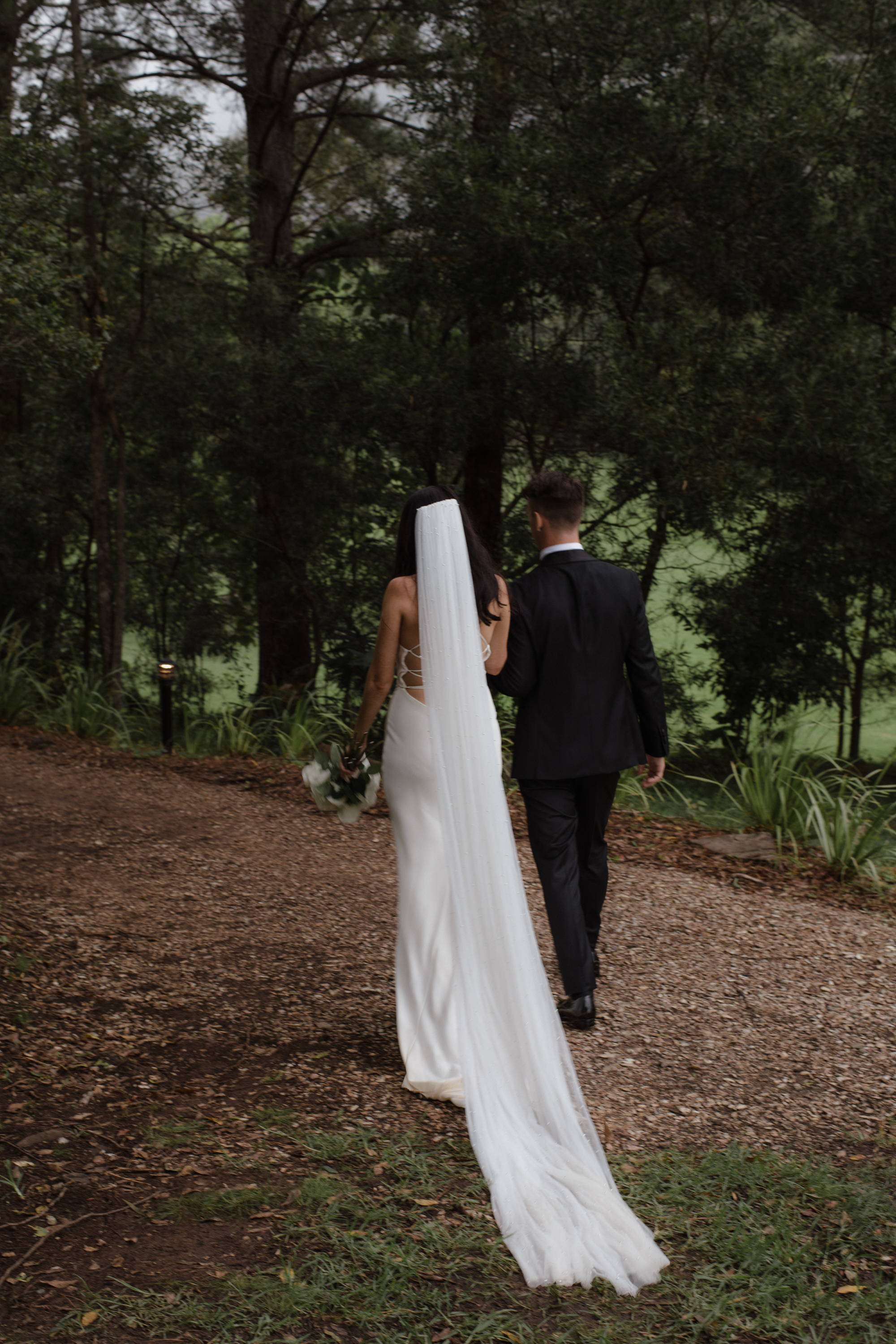 Where will you be honeymooning?
Nick's best friend so generously has gifted us a weekend away to relive all the wedding memories together, as they were unable to join us on the day due to restrictions. As the wedding came together so quickly, we will plan something relaxing soon.
Any last advice or words of wisdom that you can share…
When we were deciding to bring the wedding forward I joked of a pros and cons list with my girlfriend Kate, she wrote back with the first thing being "you're spontaneous." I liked the sound of this. On your day you have to be open to going with the flow, suddenly all the planning and inspiration aside, you truly realise it's your day, and what is right for you. Like changing my hair vision to what felt right for me. Even our aisle song wasn't as we had planned. Holly was playing the song that was intended to play before I walked down the aisle to build the mood of Nick waiting for me. But it felt so right in the moment, so much so the rain even stopped. For Valentine's Day I had Holly record our aisle song as a gift to Nick. Every time it begins it takes me right back to that moment. Nothing can compare. It's ours.