Scottie & Nashya in the Inca

Nashya and Scottie ceremony overlooked the mountains, and the reception space overlooked the desert scape and town in the distance. Can a venue be serene, peaceful and sacred all at once? Nashya and Scottie says YES.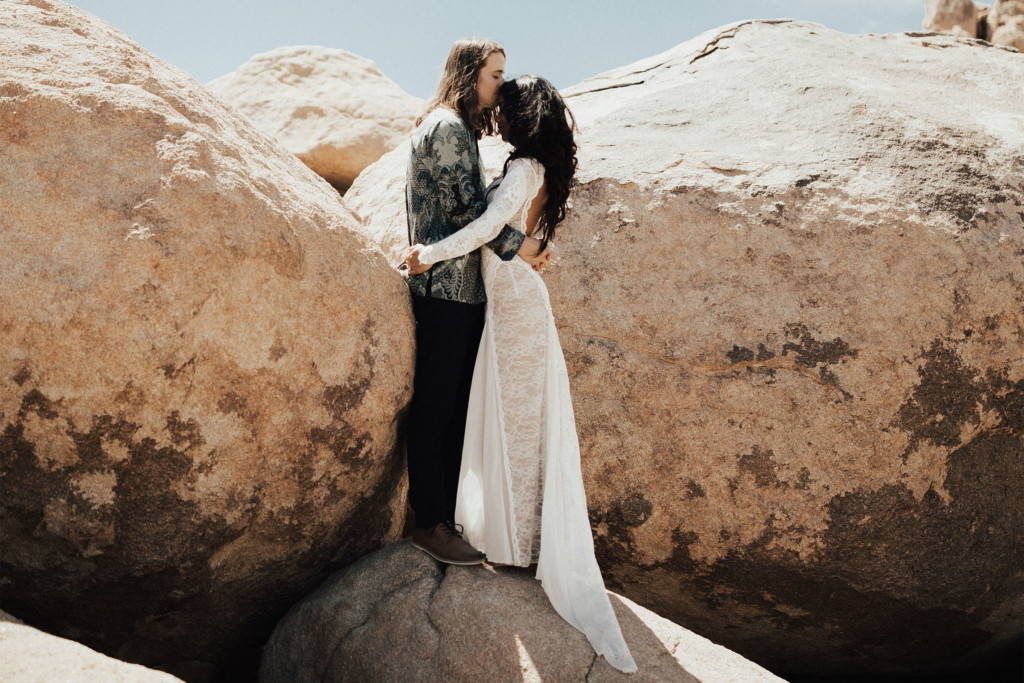 What is a Grace Woman to you?
Classy but adventurous. Willing to risk something that is different while carrying themselves with confidence and grace.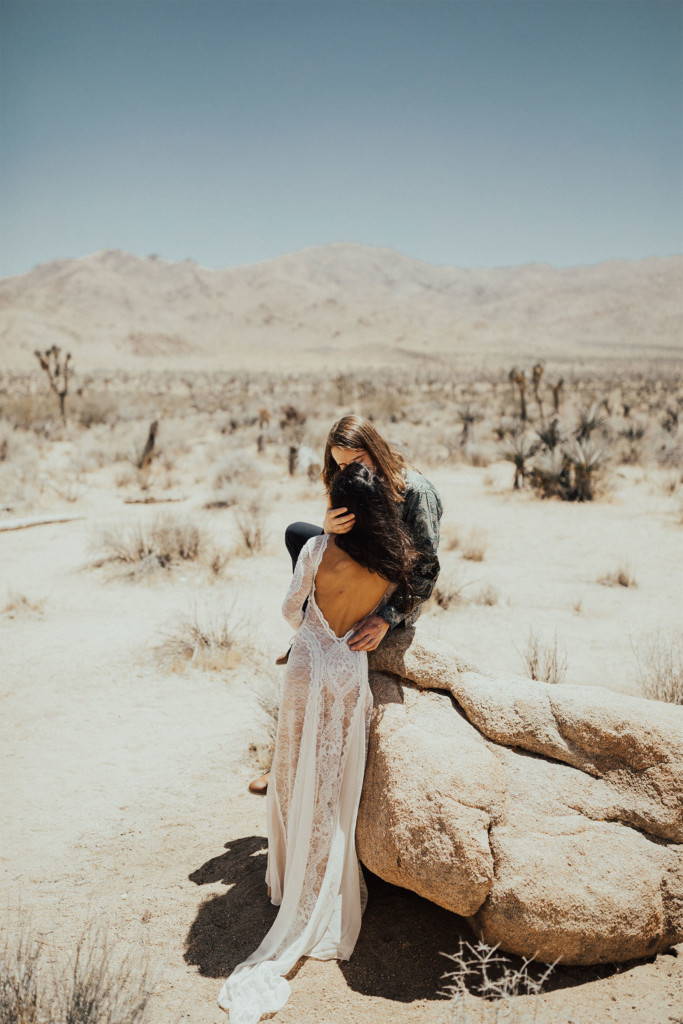 Which Grace dress did you choose and how did you know it was 'The One'?
I chose the INCA dress and knew it was "The One" before even getting engaged! I had seen it here and there on different blogs and loved how it stood out from other long sleeve laced wedding dresses. The nude lining and deep back V made it so unique.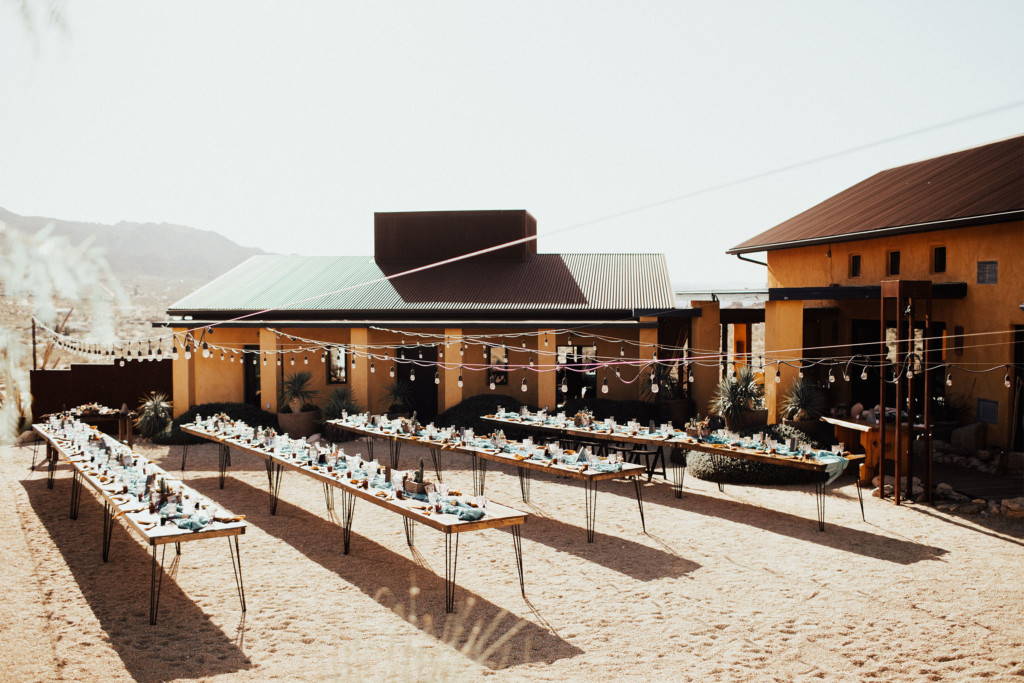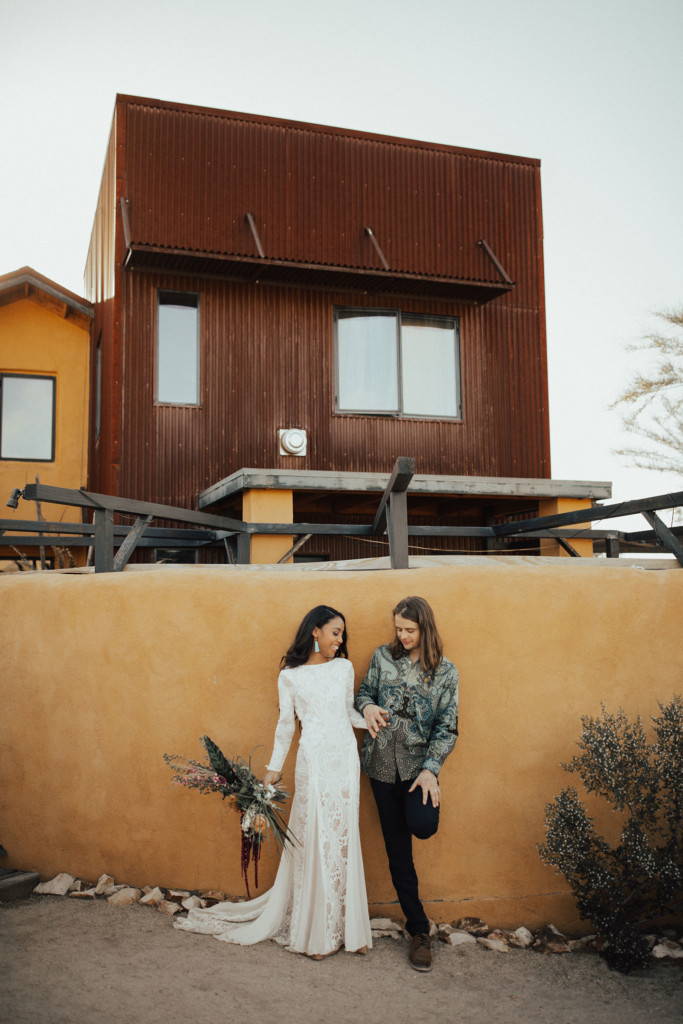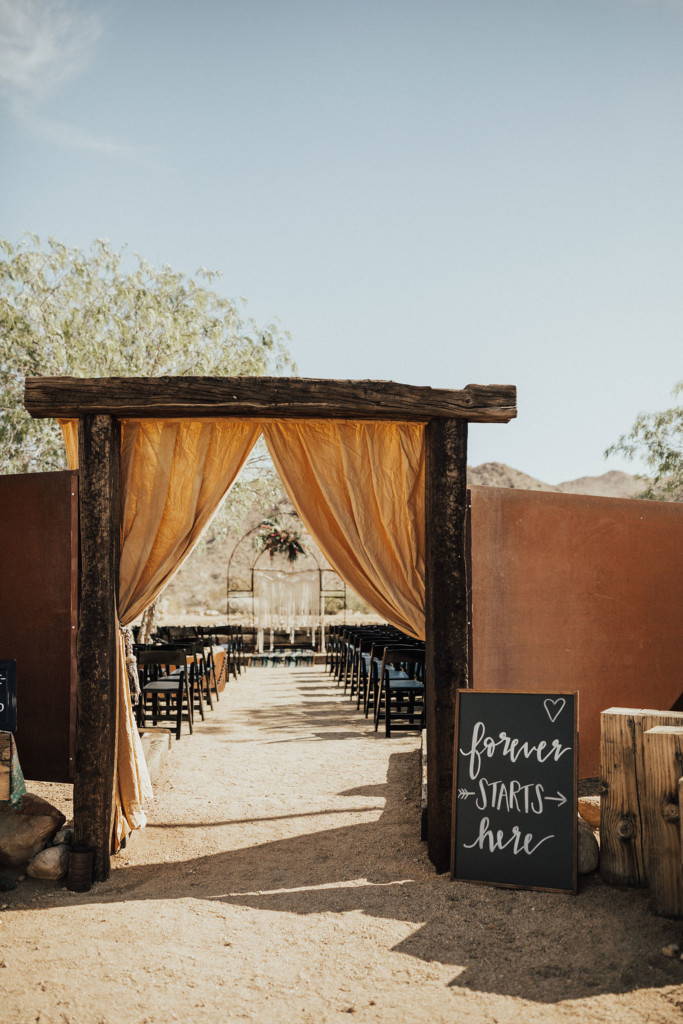 Tell us about your experience when you found your dress, did you buy your GRACE gown online or in one of our showrooms?

I had tried on the INCA at the Venice showroom but didn't buy it yet since it was a bit out of my budget. Miraculously, a week after I tried on the dress, I got an email saying the Venice showroom was going to have a sample sale in a few weeks! My sister, best friend and I waited in line at 7am that morning and when they let us in, we ran to grab the INCA dress! It couldn't have been more perfect as it was in my exact size and I had to do zero alterations. Truly meant to be!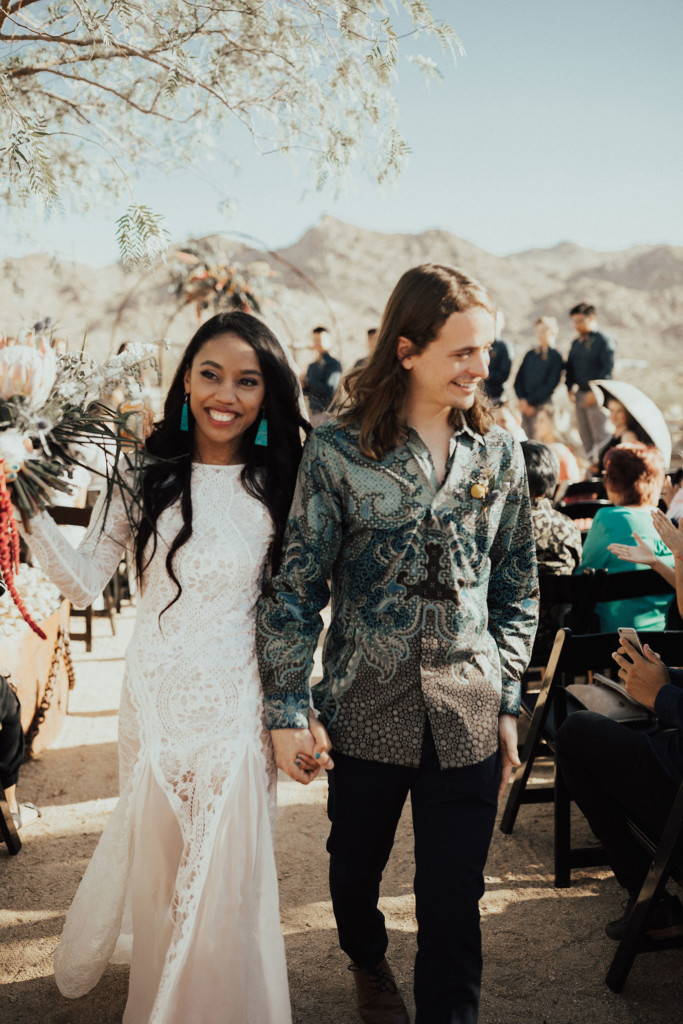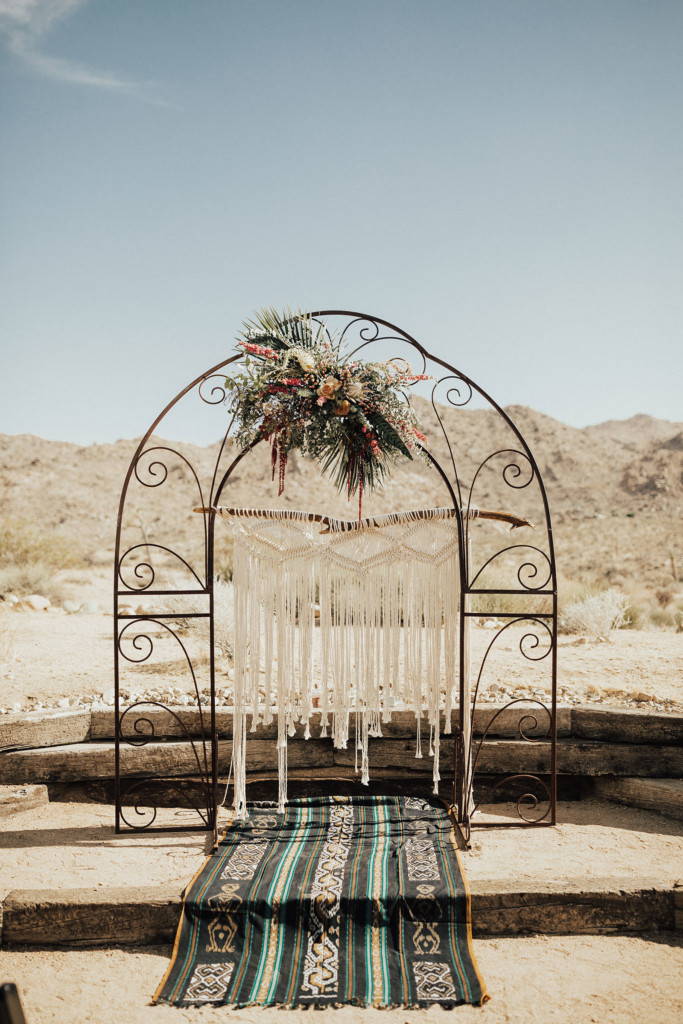 How did you feel in your dress on the day?

The INCA dress truly made our day into my dream day. Wearing the INCA made me feel so confident, sexy and classy. And because the dress falls so freely, I was still able to scramble up the boulders in Joshua Tree and dance all night!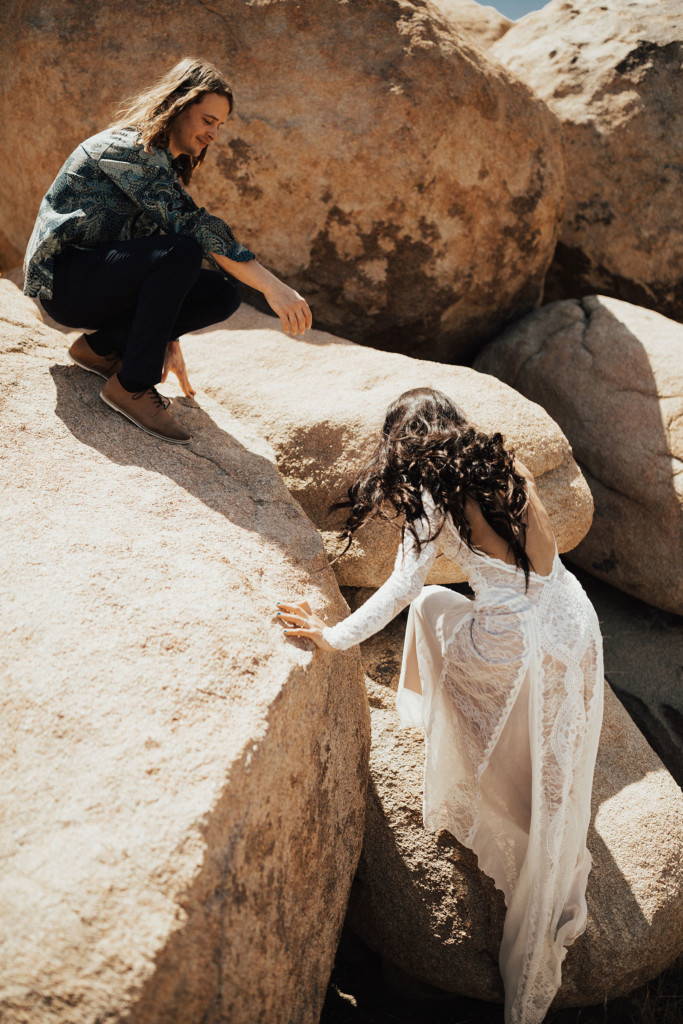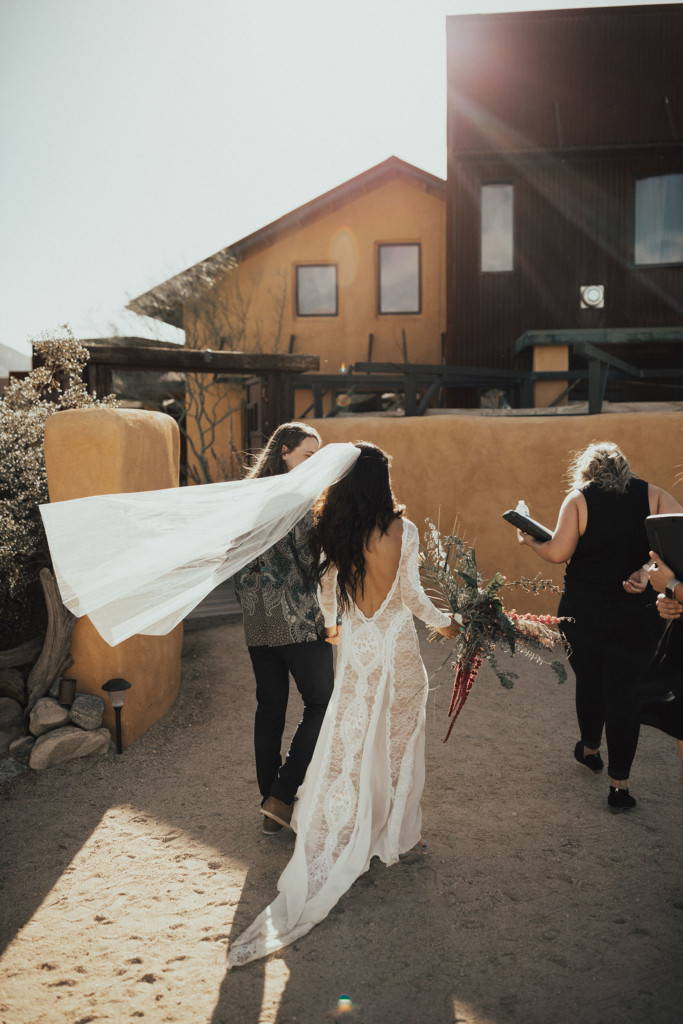 Where did you get married? Tell us about the location & the style of your wedding day.

Sacred Sands in Joshua Tree! After we got engaged in Joshua Tree, it was kind of a given and mutual agreement we should get married there too. Joshua Tree is so special to the both of us, from all our weekend trips camping and climbing. There was something so serene, peaceful and sacred about it and we knew it would be the perfect place for us to get married. The ceremony space overlooked the mountains, and the reception space overlooked the desert scape and town in the distance. For the style of our wedding, we felt that we wouldn't even need much décor because the scenery and environment was already decoration in itself, which would also help us with our budget. The desert was definitely the biggest inspiration for our wedding. Since our wedding was outdoors and in the Summer, we wanted to keep it casual and not so over-the-top so that our guests could really enjoy and experience Joshua Tree the same way we do every time we visit. We also wanted to incorporate any Indonesian traditions that we could but still have a relaxed, boho vibe so.. Indonesian Desert-Boho!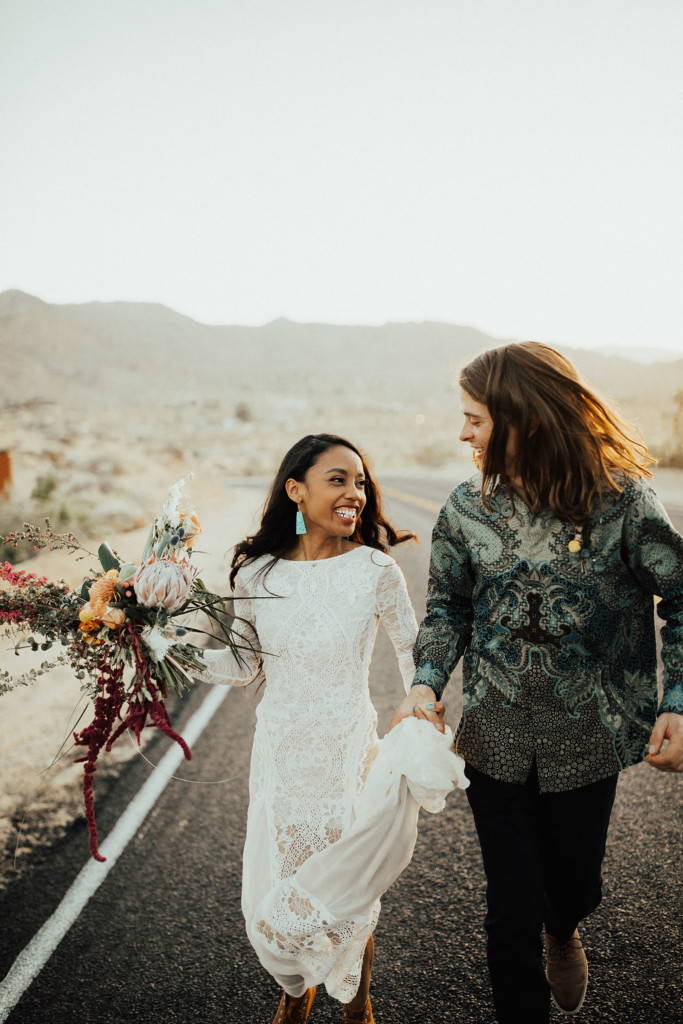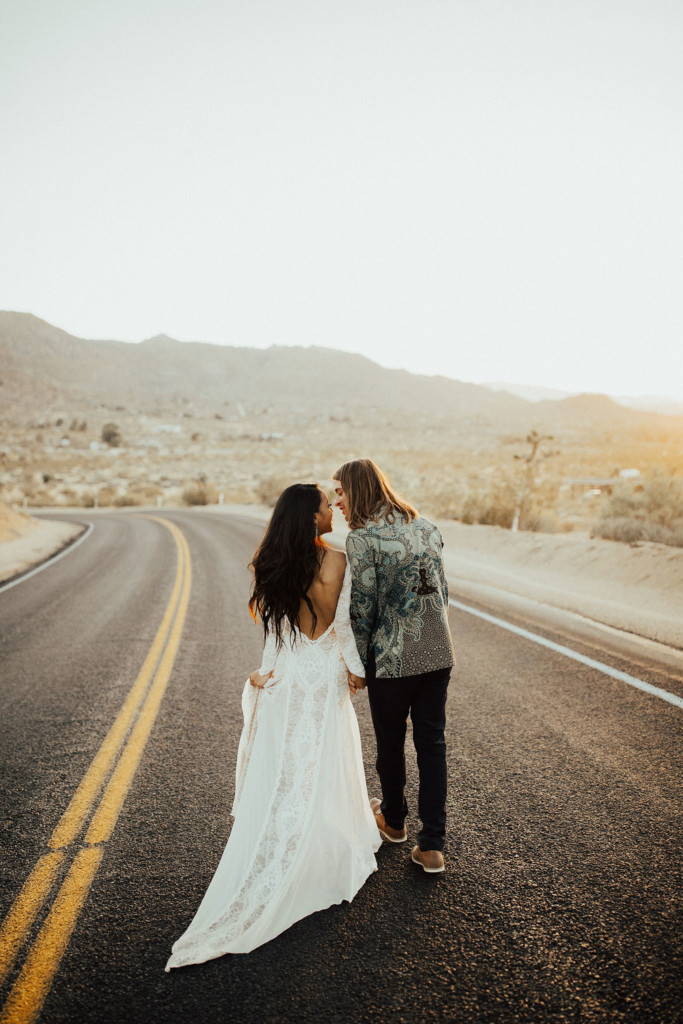 Tello us about your hair and makeup look and the accessories you chose...

I wanted to go for a more natural look since I knew we would be out in the desert heat all day, and I'm also a girl that hardly wears any make up! I left my hair down with a natural wave/curl and let it flow and blow around along with the desert wind. Because the dress was so perfect, I didn't want to wear anything else that would take away from it. My only accessories were these turquoise earrings (my favorite color) that Scottie got me specifically for our wedding from Sedona, Arizona and a big turquoise ring. I wore baby blue colored heels for the ceremony, but instantly changed into tan boots afterwards so I could walk and dance around with ease!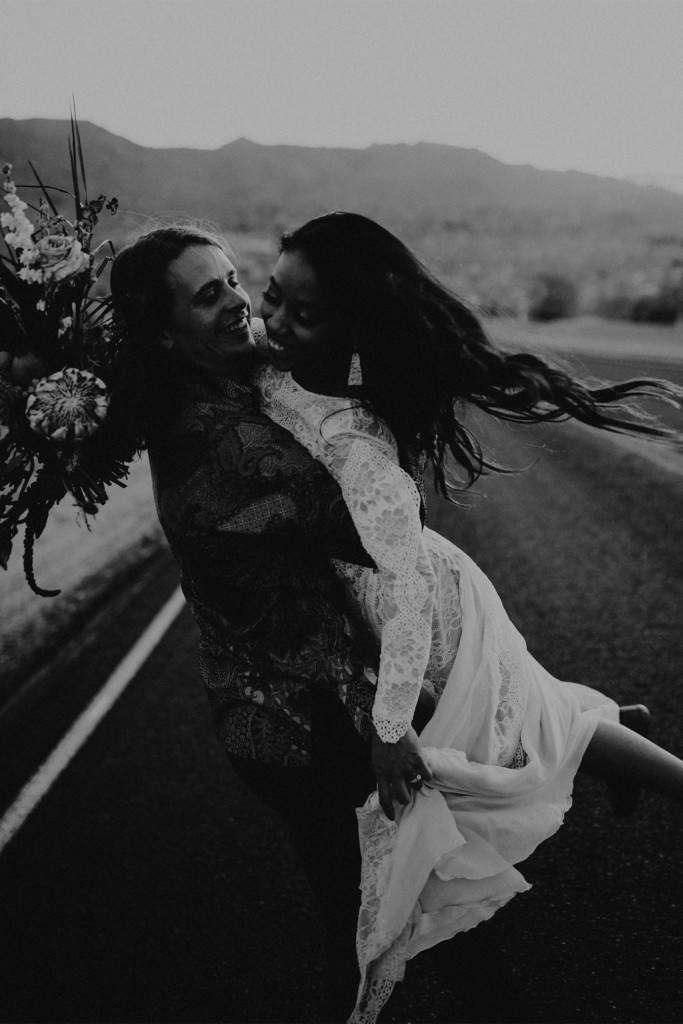 What made your day extra special?

Besides getting to wear my dream dress ALL day, I think most people can agree that one of the most special moments was actually the exchange between me and my dad during the ceremony. My dad was diagnosed with Stage 4 Lung Cancer around the time we got engaged, and the few weeks leading up to our wedding, his health took a huge downfall. The day before we drove out to Joshua Tree, I was still sitting in the ER with my dad. We didn't think he'd have enough energy to even make it out to the wedding but miraculously he did. He mustered up the energy to walk me down the aisle, then throughout the entire ceremony sat in the shade. During the sand ceremony when me and Scottie went down to acknowledge our parents, my mom whispered to me that my dad was sitting in the back, which I completely understood and the fact that it was 90+ degrees that day. As we turned to walk back towards the altar, I see my dad slowly making his way down the aisle to embrace me and Scottie, all while my sister was singing How He Loves. To say that everyone was in tears would be an understatement. Then during the reception, my dad got up and surprised us by singing What A Wonderful World by Louis Armstrong (he is well-known in the Indo community for singing this song haha!). I also sang a song that I surprised Scottie with called All About Us by He Is We.
Any last advice or words of wisdom that you can share…
Always stick to what makes you feel like you! There will be a lot of different opinions during the wedding planning phase, but always make sure that the day is about you and your partner!