Sebastian & Samantha in the Clo Crepe Gown
Relaxed styling meets a hint of disco at this hillside wedding, #GRACEBride Samanthas' dream came to life overlooking the Malibu coastline. ​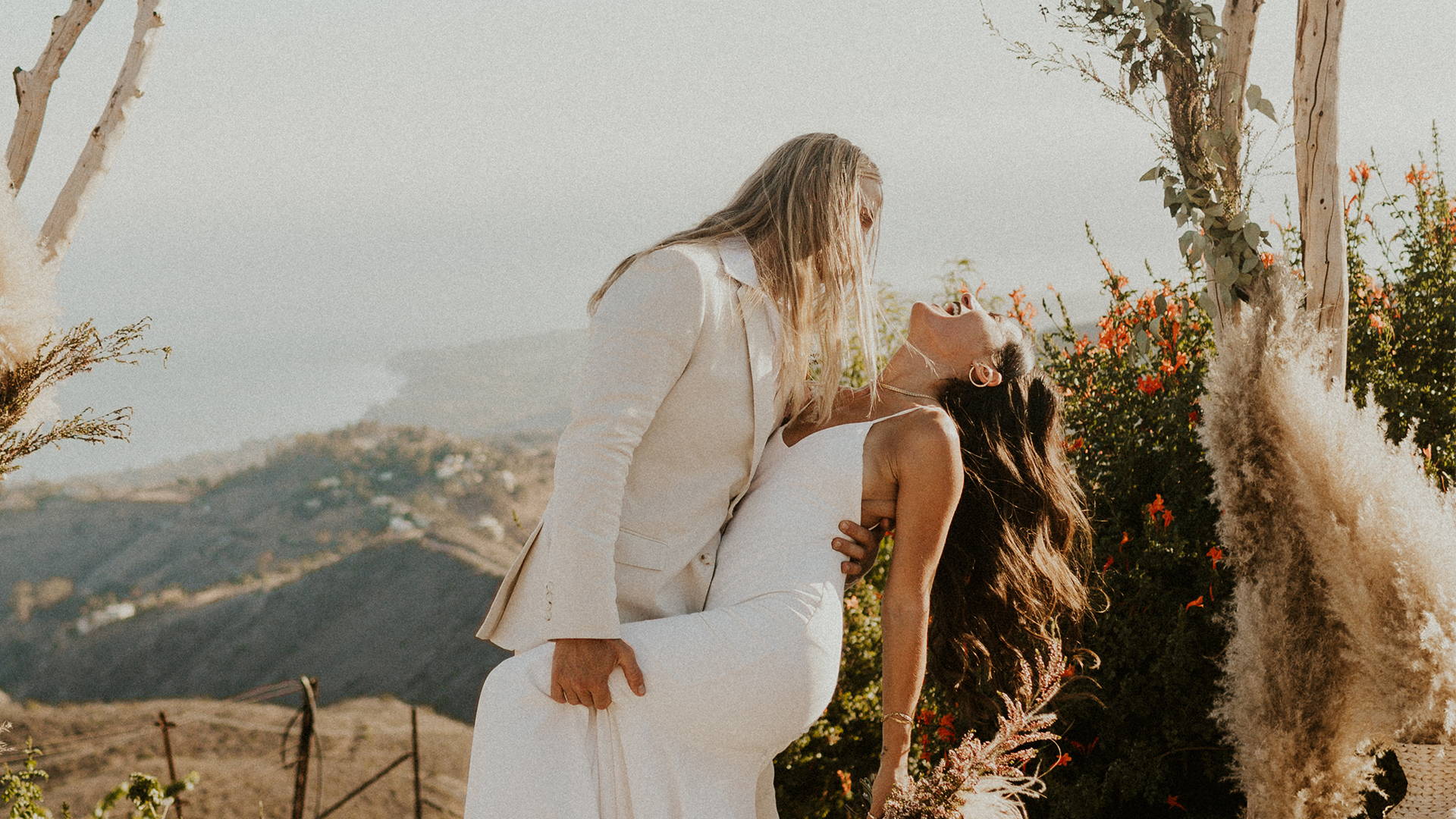 What is a Grace Woman to you?
A strong woman who lives life as her most authentic self.
Which Grace dress did you choose and how did you know it was 'The One'?
I chose the Clo Crepe. It's a funny story actually—I live in LA and flew to New York for bridal appointments at a bunch of different designer showrooms. Grace Loves Lace was the 3rd appointment of the day and when I walked in, I told my stylist, Anna, that "I don't think I want anything Lace and I want a gown that shows my back". My friend turned to me and said "if you knew you didn't want lace, why did we come to Grace Love LACE?". Sure enough, I put the Clo on and immediately started crying – as well as my sister. I purchased her on the spot, cancelled the rest of my appointments and celebrated with a late lunch and champagne! Later, I looked back at an old Pinterest board I created and noticed that I saved the Clo Crepe about 4 times on different women not knowing! It was meant to be.
---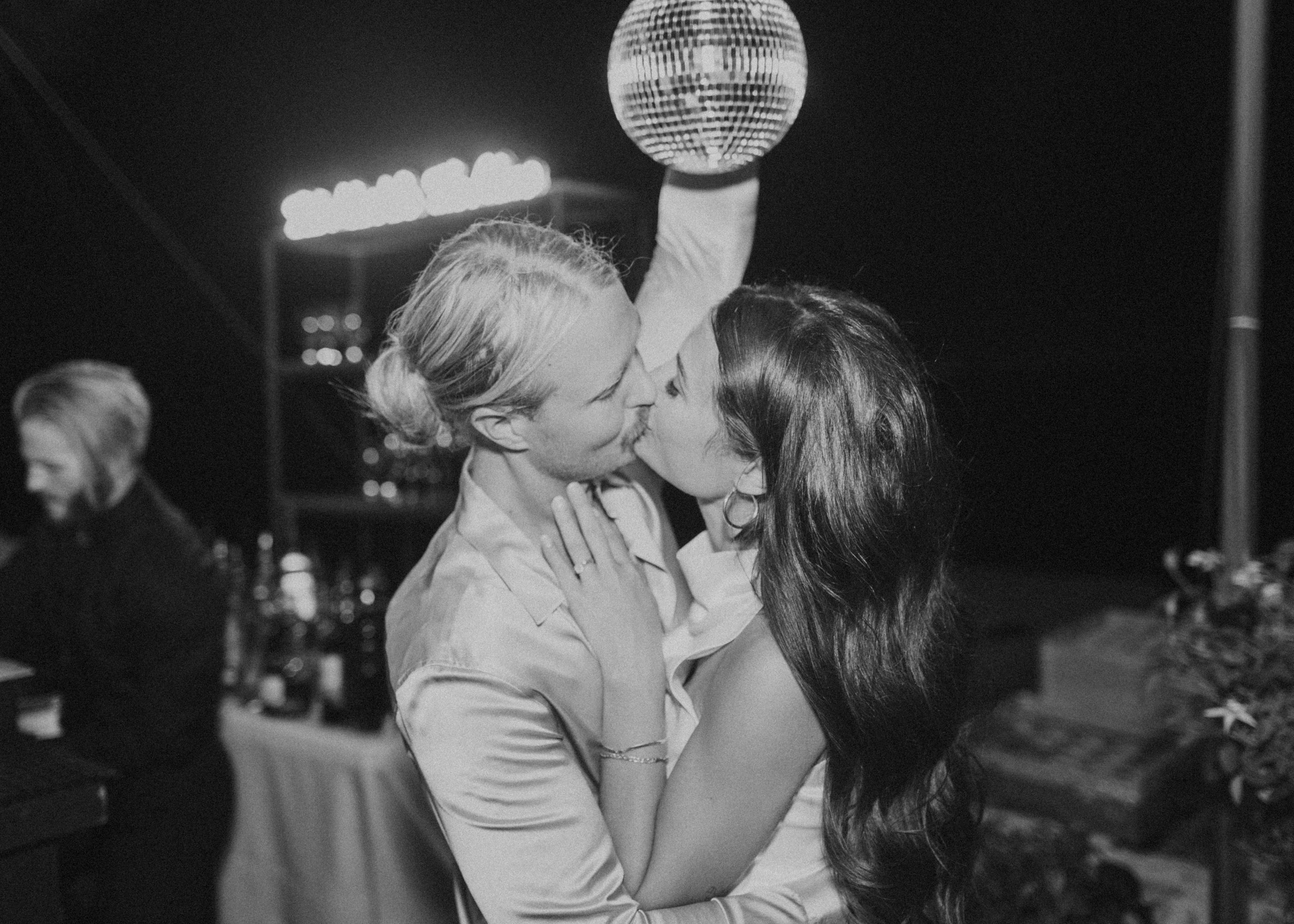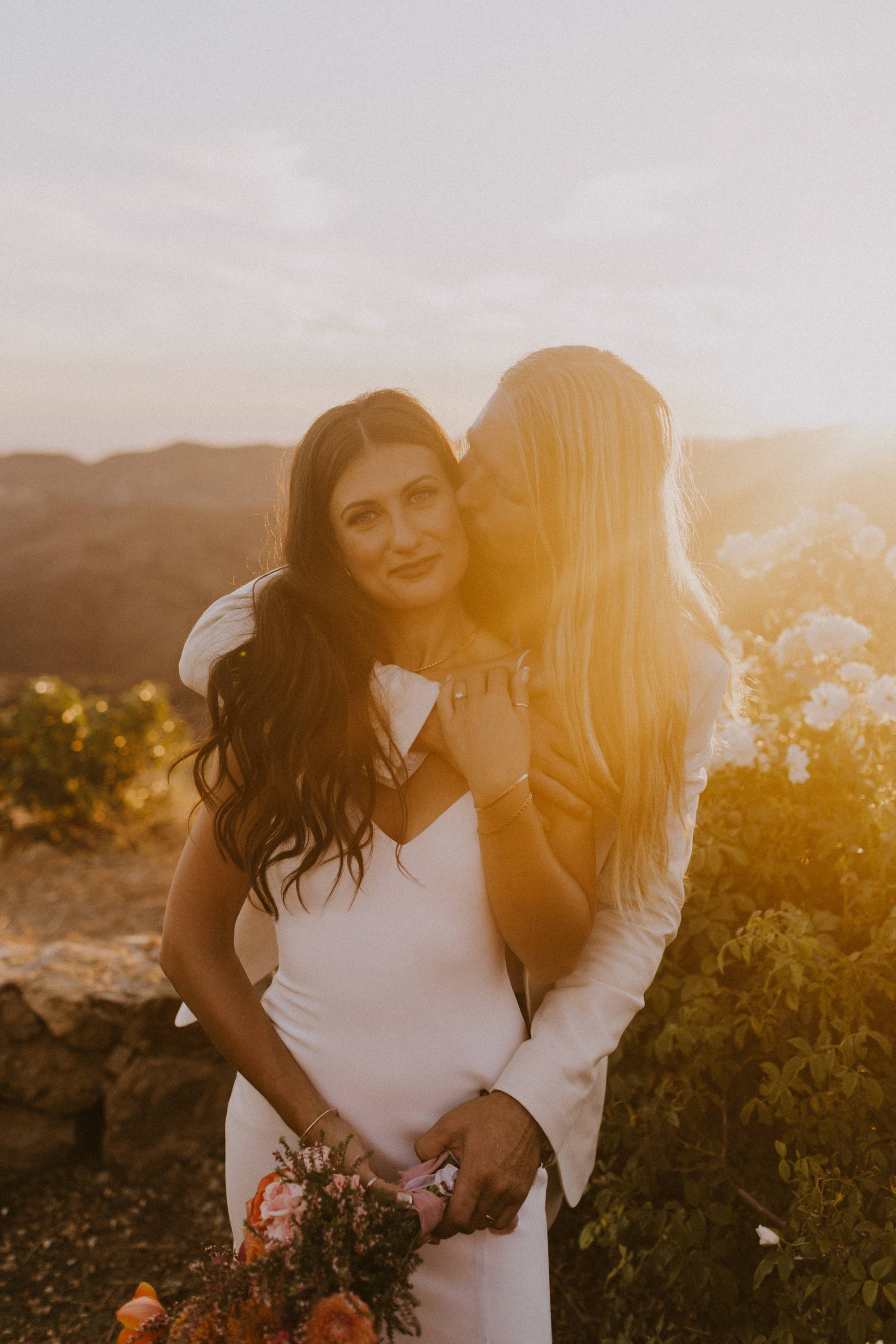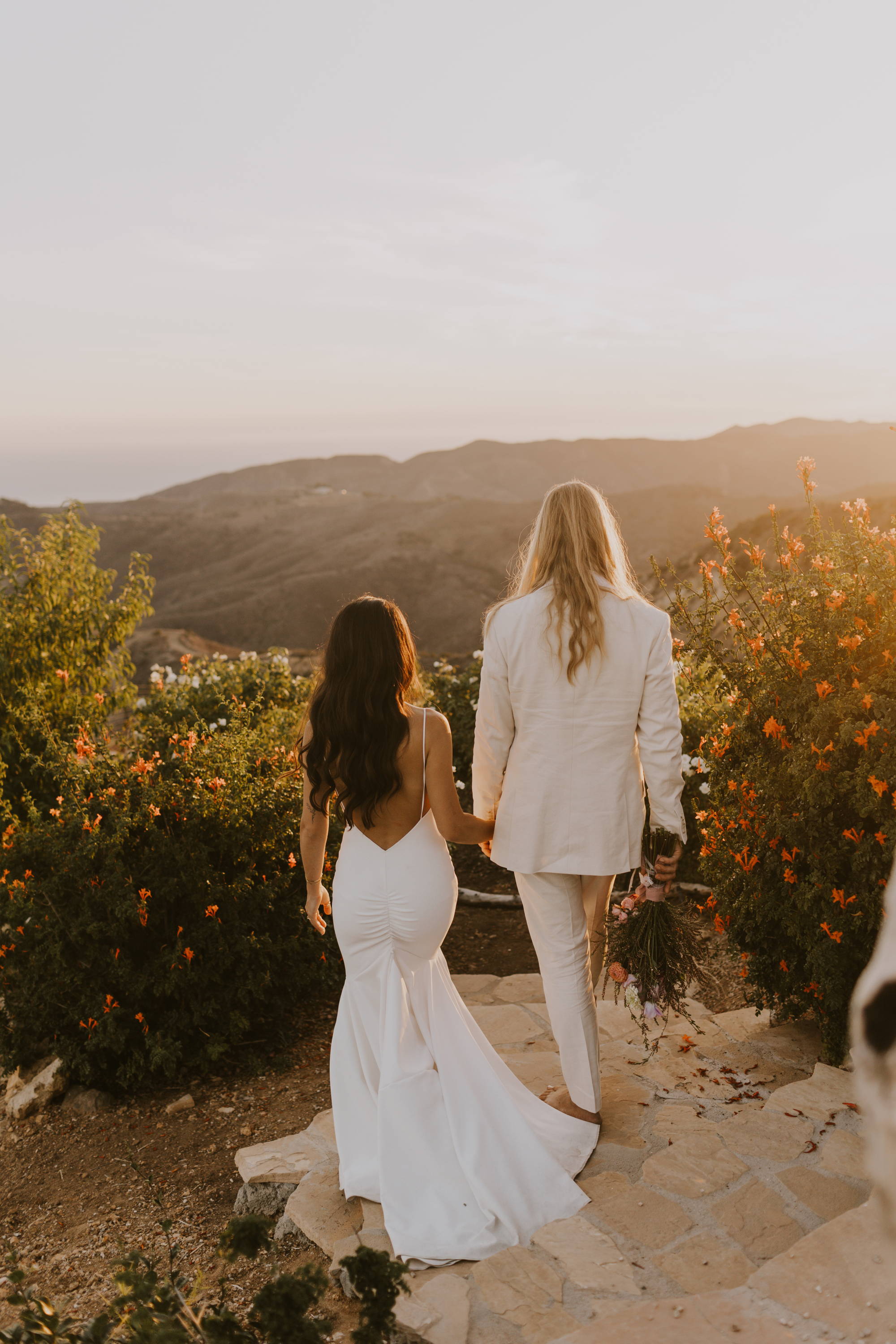 Tell us about your experience when you found your dress, did you buy your wedding dress online or in one of our showrooms?
I purchased my dress at the NY showroom but my fitting was at the Venice, LA location!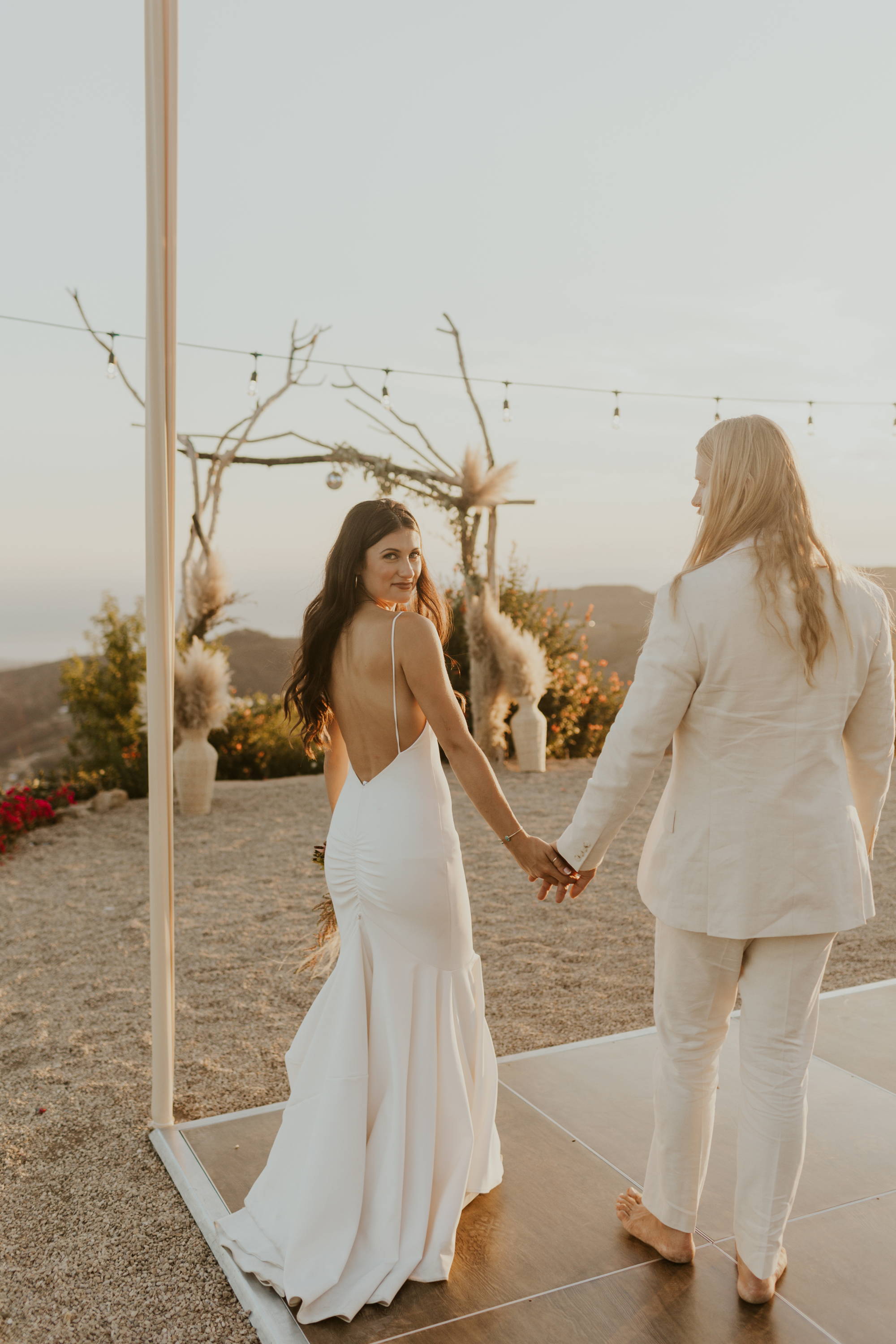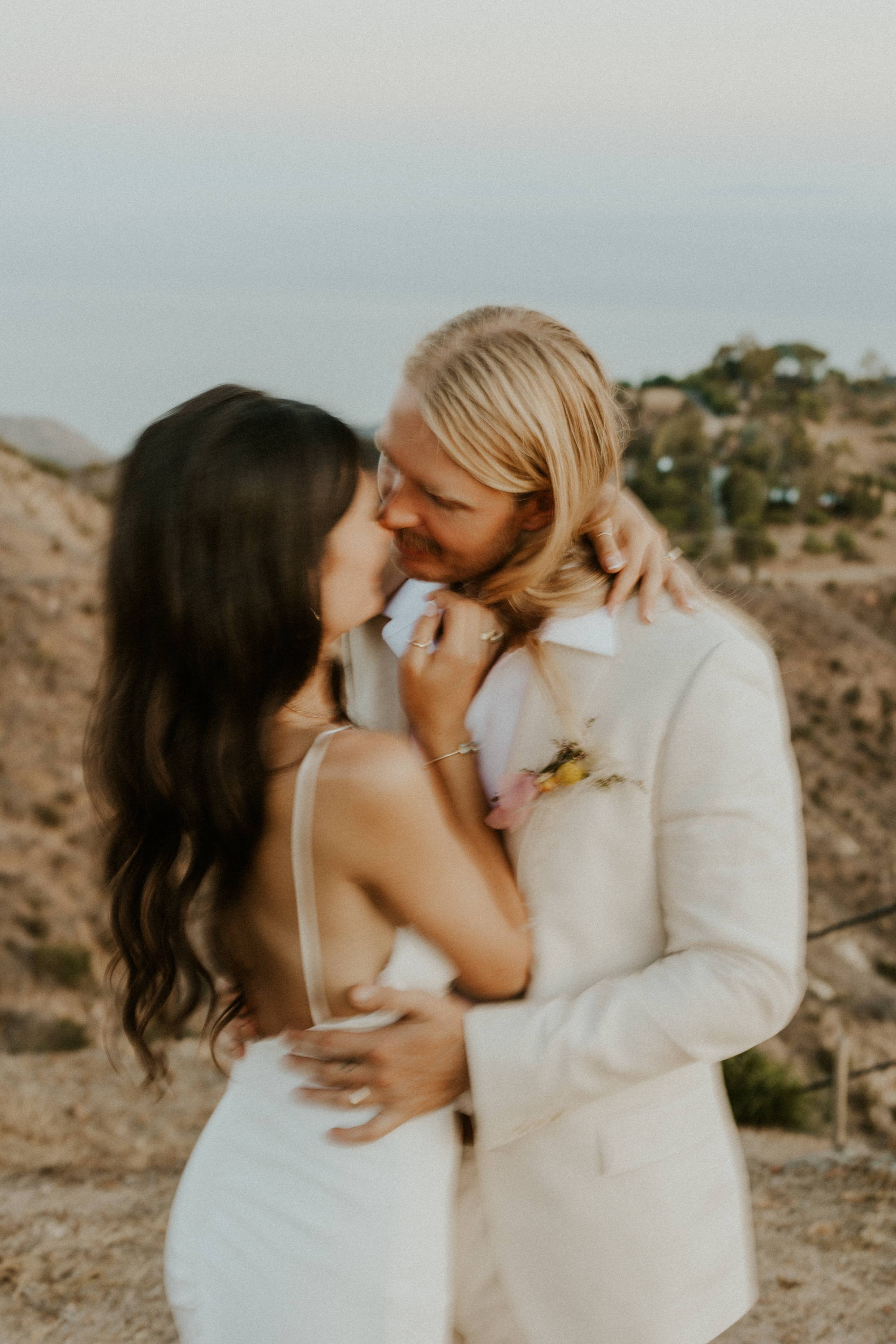 How did you feel in your dress on the day?
I felt like a true goddess in my dress—I even told my sister "when I die, bury me in this dress!"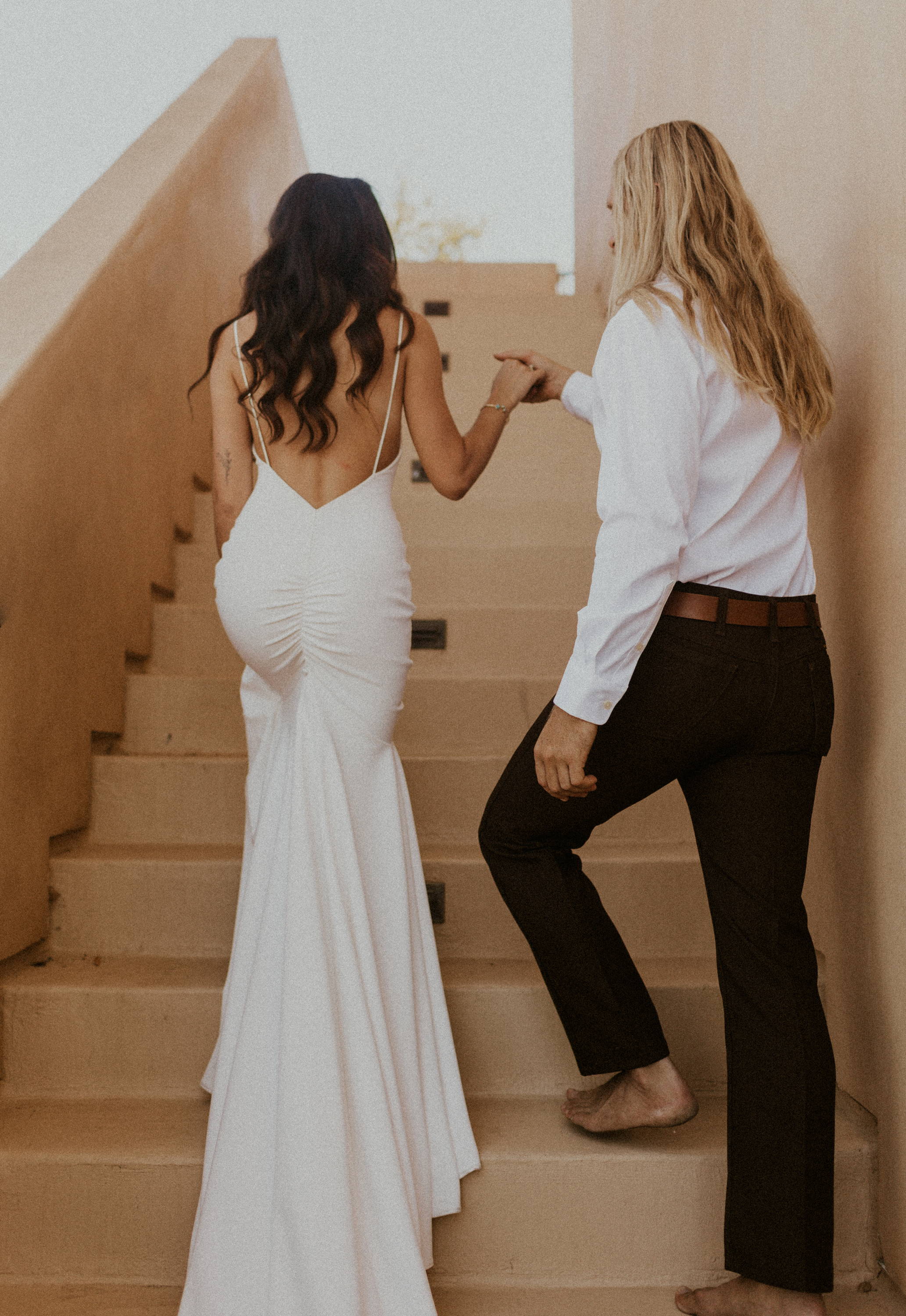 Where did you get married?
Tell us about the location & the style of your wedding day.
Sebastian & I got married on top of one of the highest mountains in Malibu, California overlooking the ocean. I am from NY and all my family & friends flew here to celebrate. My husband is from South Africa and sadly, most of his family couldn't make it due to COVID restrictions but we made the best of it and still had the best day ever. We rented an Airbnb/venue called Malibu Solstice & we had a disco-themed wedding! Everyone showed up in sequins, glitter and bell bottoms! It was a perfect mix of boho & disco fun. The setting was cocktail style with no set seating, but we had an open bar, taco truck & sushi bar. We danced on the top of the mountain looking out at Santa Monica Bay under a huge disco ball! It was magical and everything I'd dream it to be.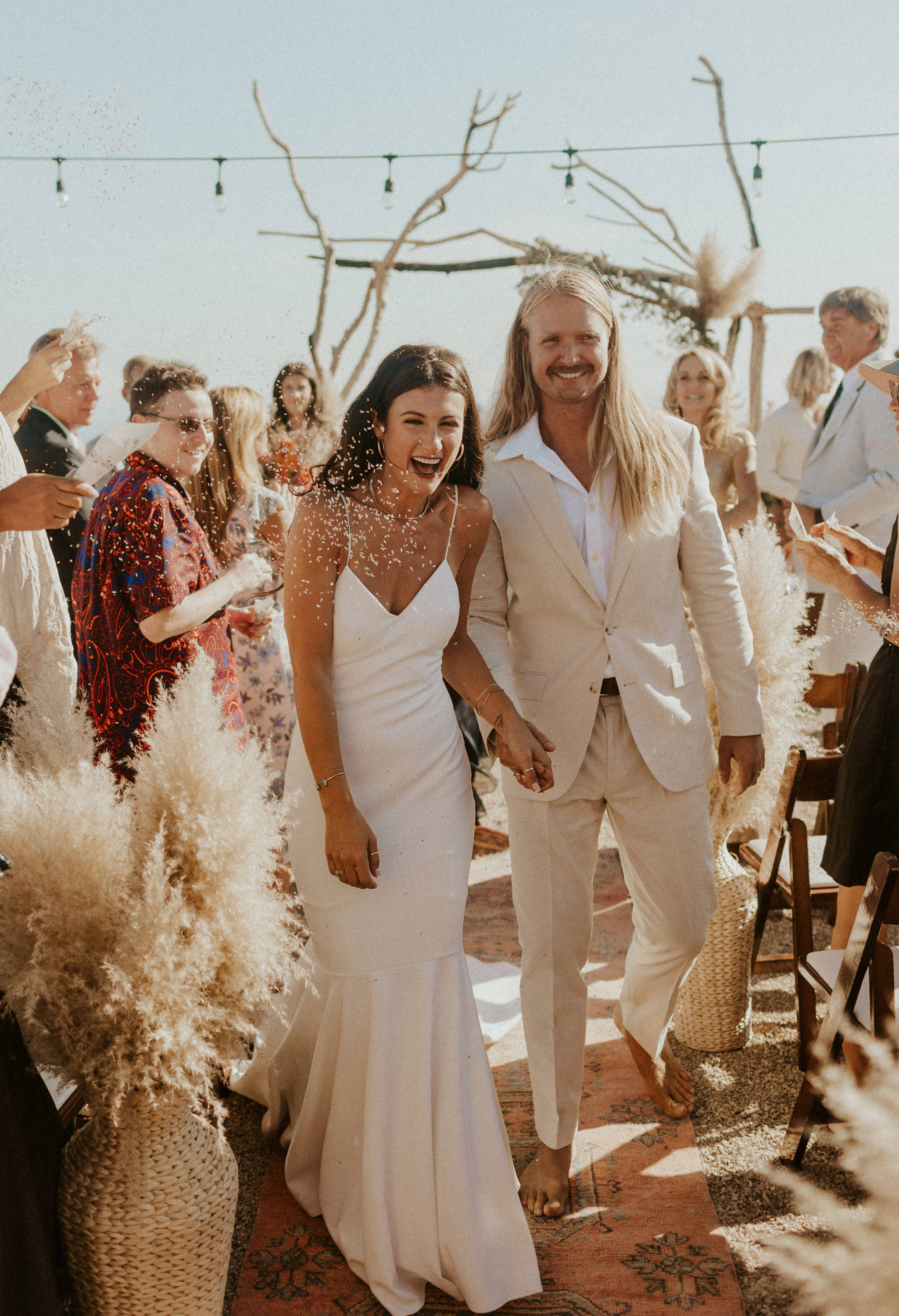 ---
Tell us about your hair and makeup look
and the accessories you chose…
Hair & makeup was done by my childhood friend Danielle Baum & her whole team. Ruth Medrano did my hair and she was amazing. I could not have asked for a better team.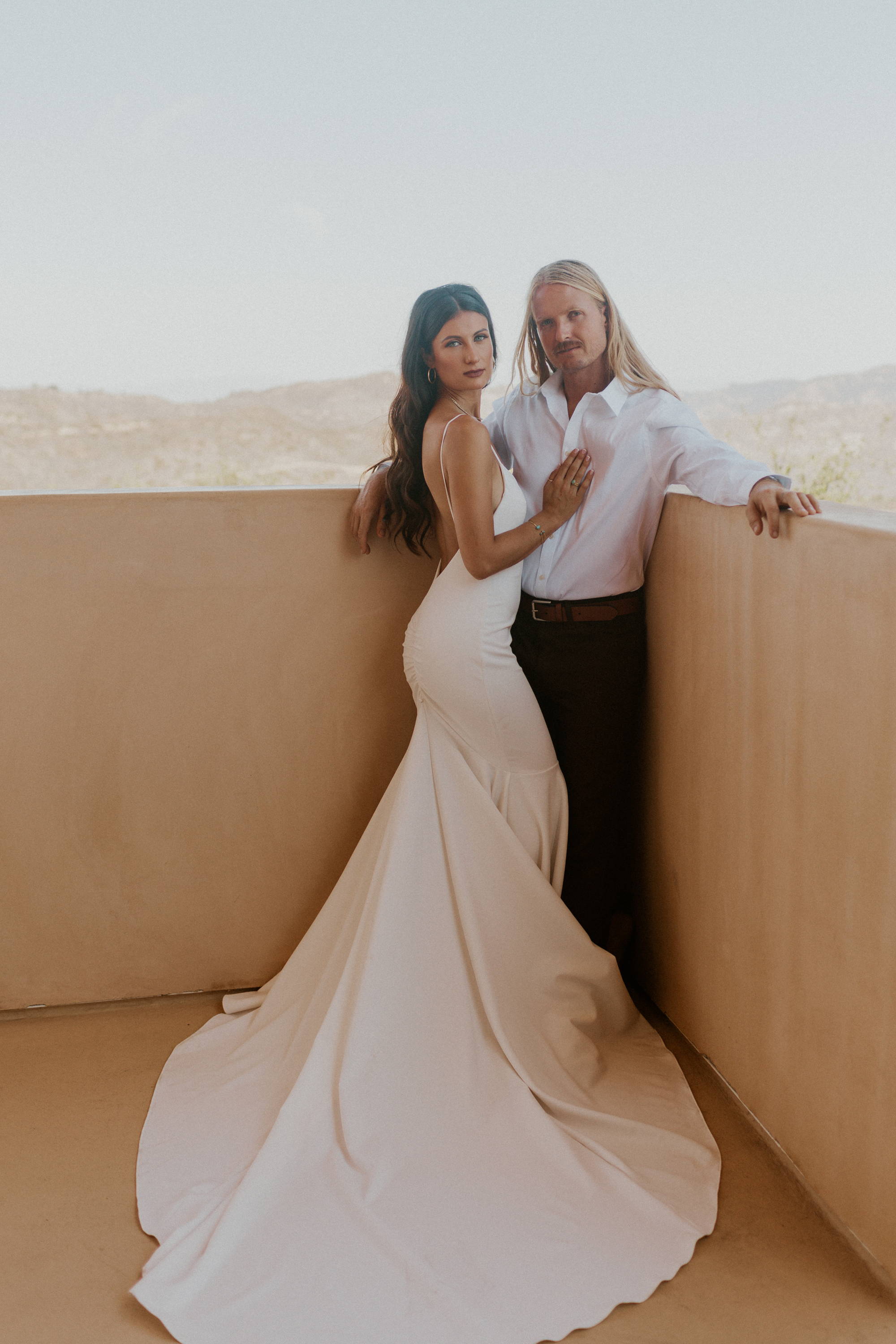 What made your day extra special?
My husband is a professional musician and surprised all our guests by playing a full set with his childhood band. Everyone loved the surprise. It was so special.
The funniest moment on the day was…
There were countless funny moments of the day- some not so funny in the moment but so laughable now. My dad made jokes the whole way down the aisle to stop me from crying. My husband forgot his suit and didn't realize it until an hour before the ceremony (we live over 2 hours away round trip so luckily two friends stopped at our house to grab it and arrived 10 minutes before the ceremony started). It was perfectly imperfect, and I laughed the entire day!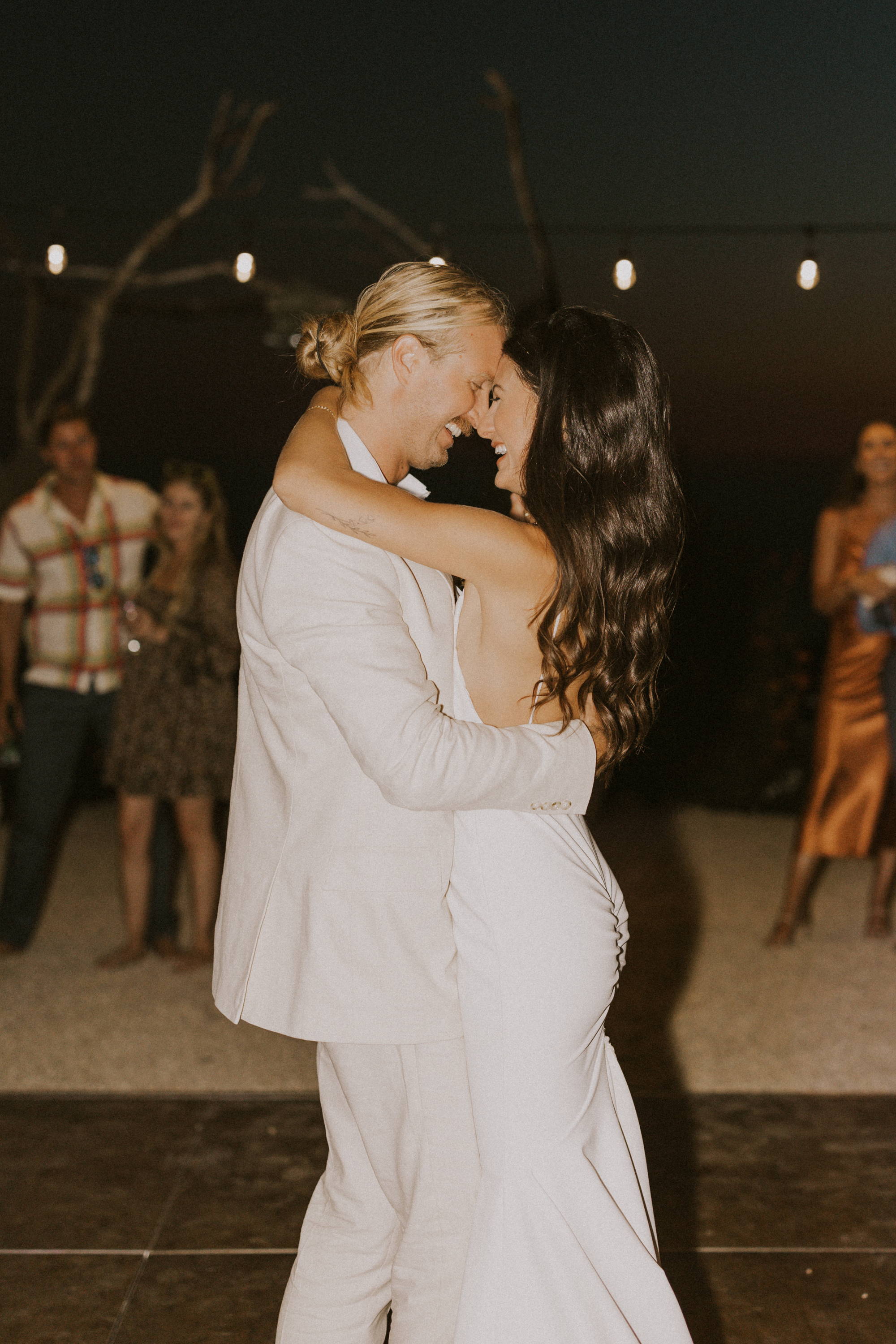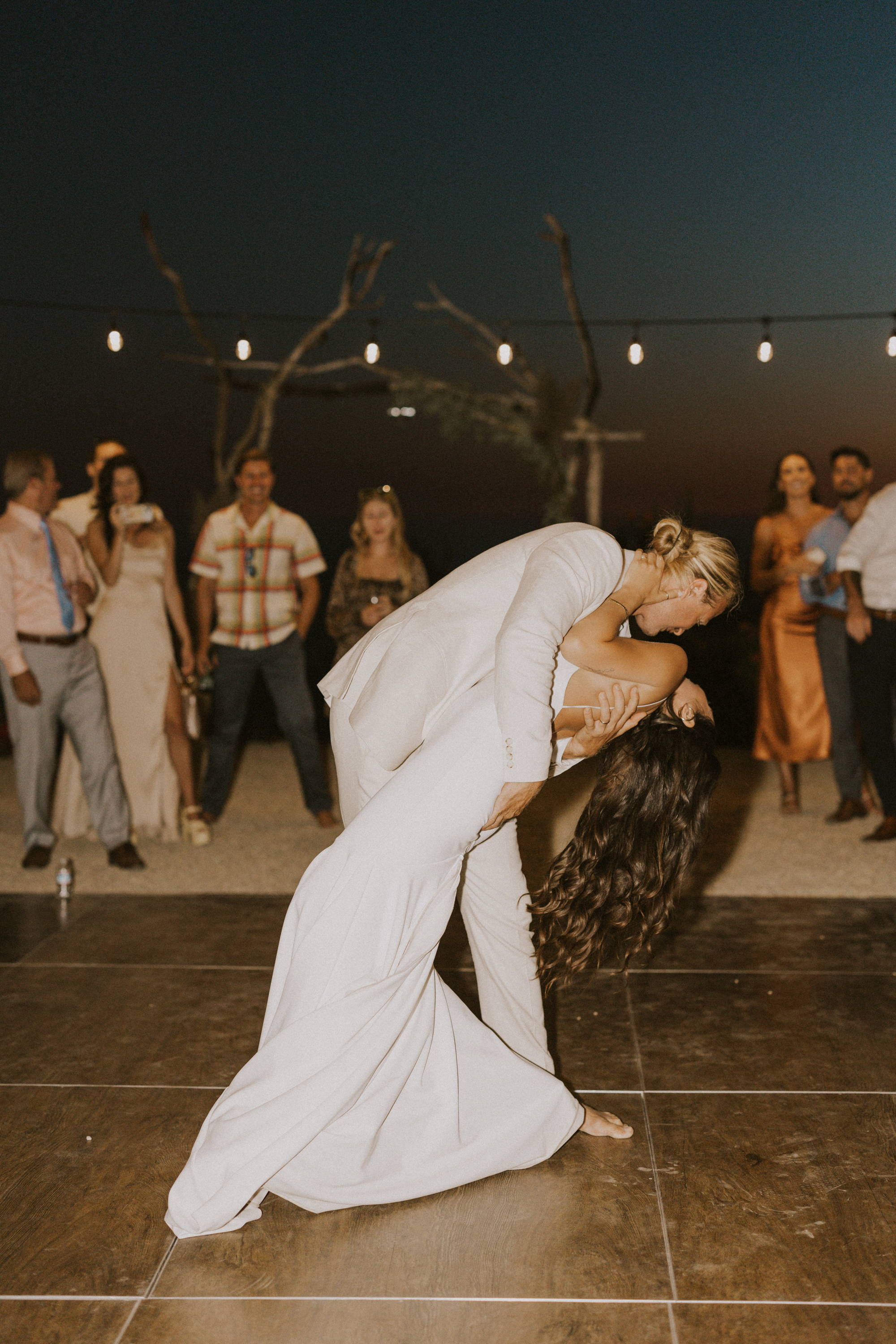 Where will you be honeymooning?
We are honeymooning to my husband's homeland that I've never been to South Africa! We're going in December 2022.
Any last advice or words of wisdom that you can share…
The best advice I could share with a future bride is: after the ceremony ends, go to a private place for 5-10 minutes and soak up the time alone with your husband. It was one of the best moments of the day—sharing that feeling of "we did it" and finally feeling relaxed for a brief moment was so special. It was the advice we took from my brother in law and I couldn't recommend it more.



THE GROOM WORE: J CREW
OTHER: RENTALS: A1 PARTY RENTALS