Stephen & Natalie in the Noah Gown
#GRACEBride Natalie wears our NOAH gown and MONET veil. Exchanging vows with new hubby Stephen at Lloyd Brothers Winery in McLaren Vale wine region located in Adelaide's South. Their day was truly a dream come true, with a venue of everything they imagine and more; a beautiful lake in front of the stunningly grand barrel hall, with sand stone features and surrounded by olive trees and grape vines.
What is a GRACE woman to you?
Effortlessly beautiful, simply elegant, glowing with grace until her inner wild child is released.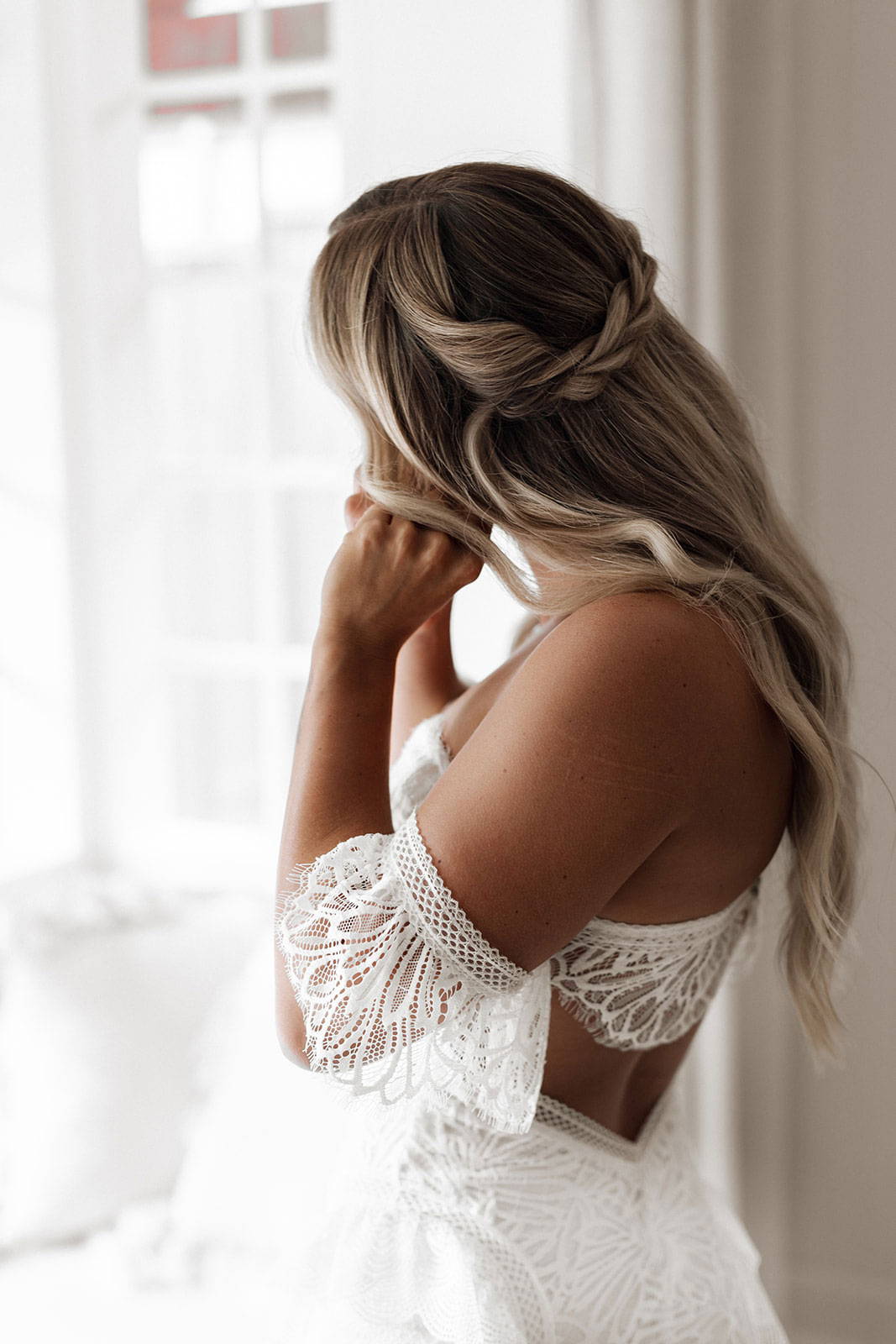 Which GRACE dress did you wear and how did you know it was 'The One'?
When I stumbled upon GLL, before I was engaged might I add.. I just knew I needed a GRACE gown. I fell in love with the unique lace which isn't like anything else out there. I chose Noah which was my second favourite dress that I had fallen in love with online. But when I put her on I knew she was the one because it was the perfect balance of elegant and sexy. I fell in love with the different features of lace, how it felt, how it moved with my body and of course the stunning low cut back with the beautiful lace feature strap. I knew I could purchase this dress and comfortably wear it for my whole wedding day! I paired it with the Monet Veil which I think complimented and completed my look! This dress and veil was just perfect for me.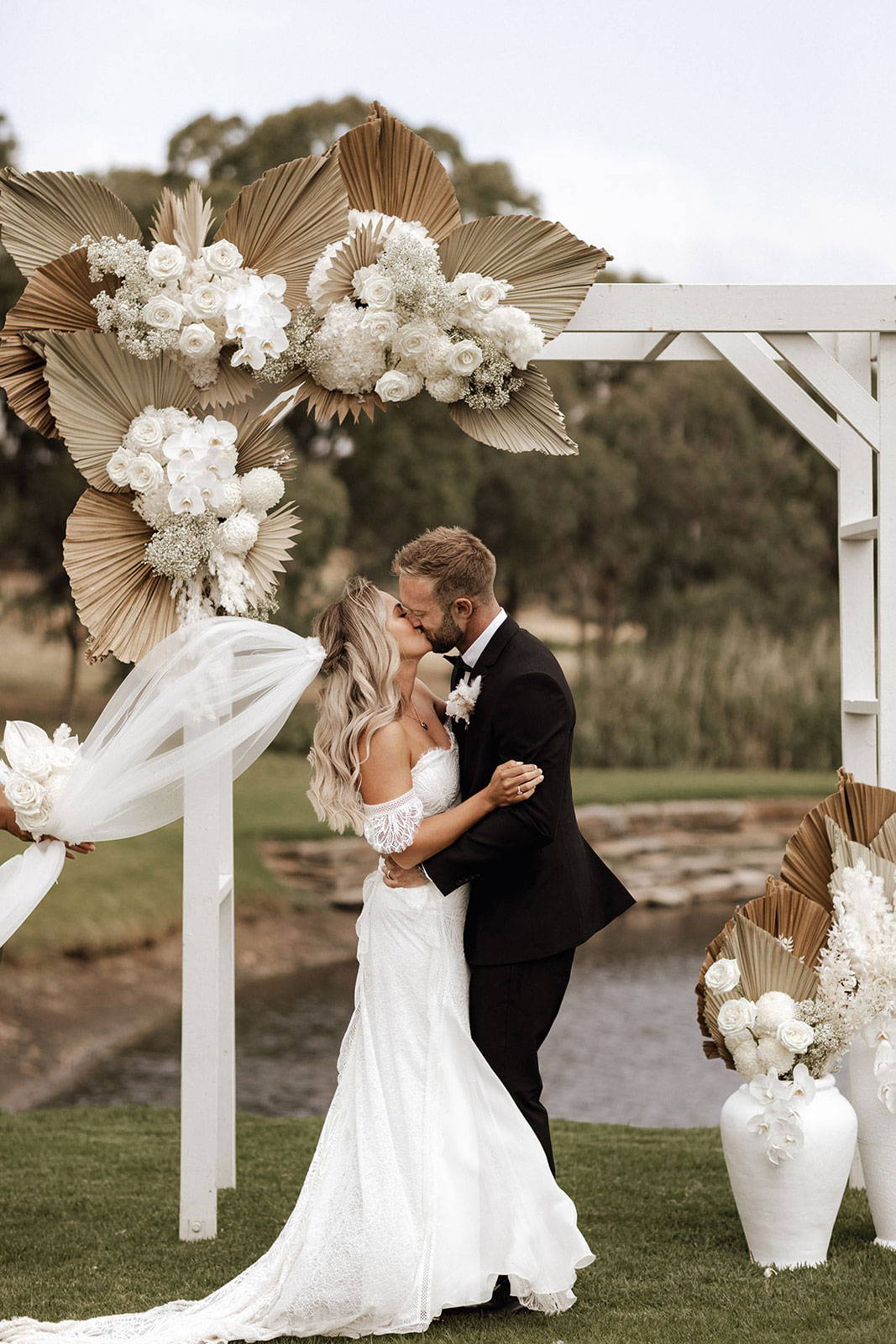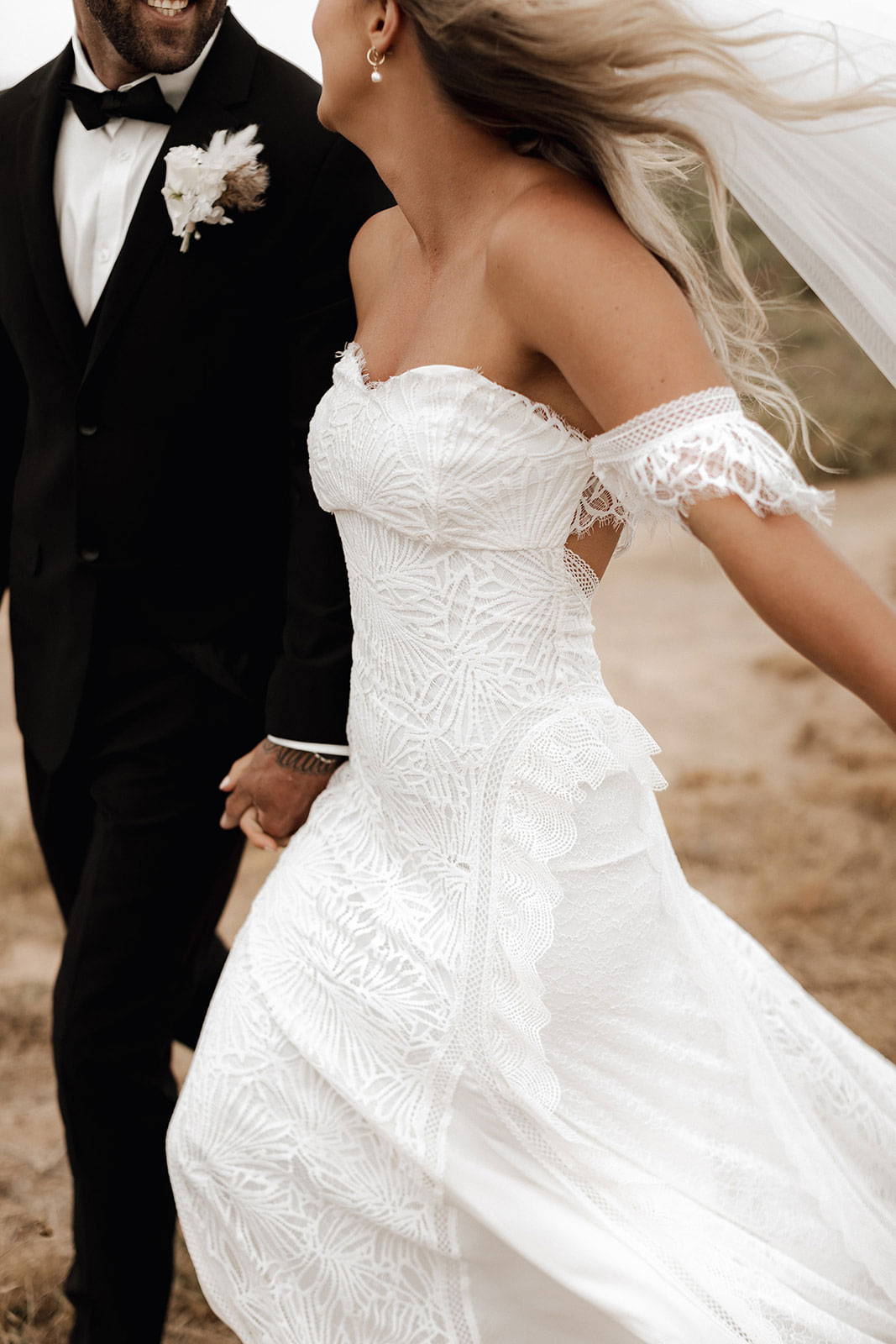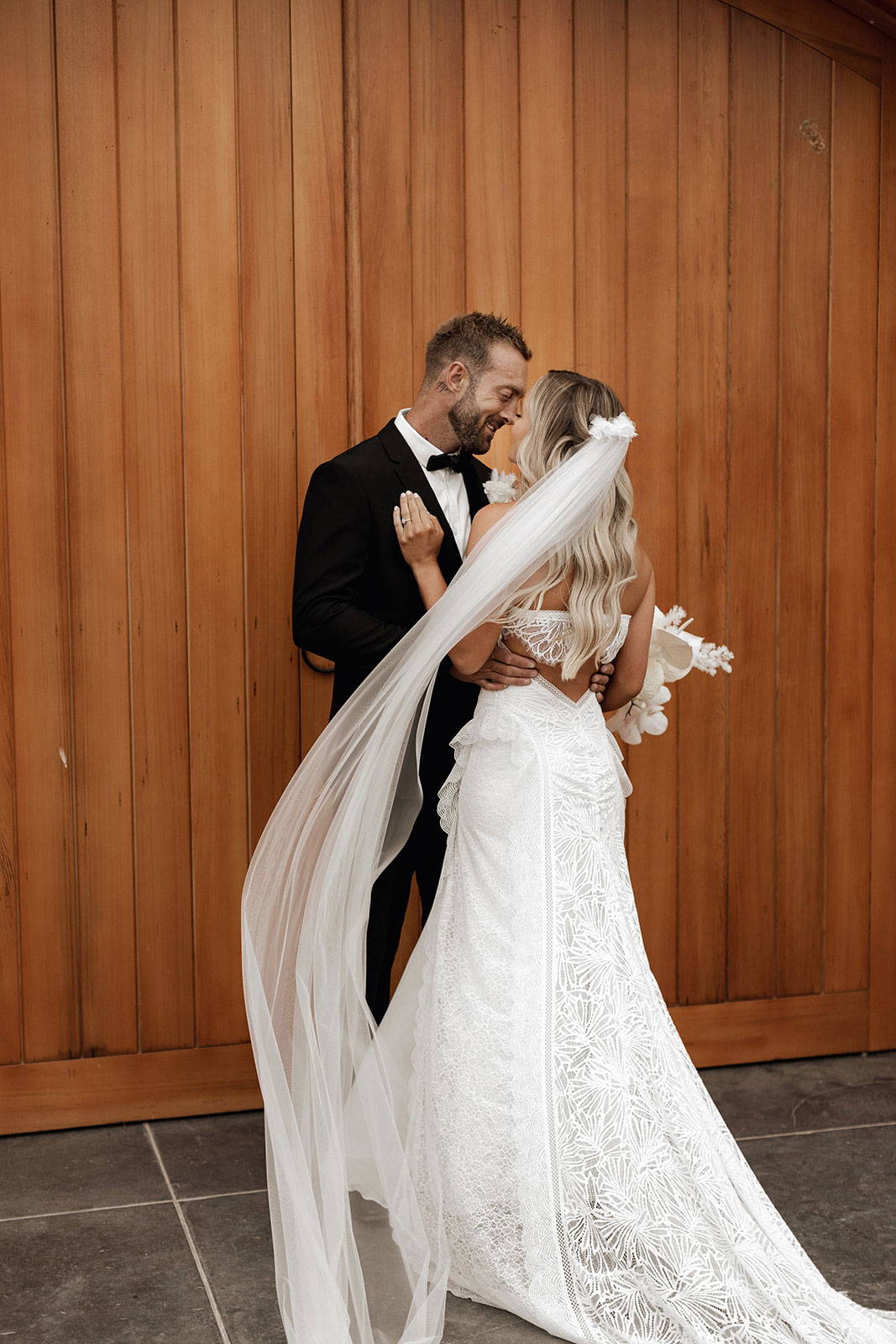 Tell us about your experience when you found your dress.
Did you buy your wedding dress online or visit one of our Showrooms?
I tried my dress on in one of the stunning Gold Coast showroom in Burleigh heads. I was met with a lovely lady called Amy. We were given champagne and a private room. Amy made the process simple and easy and guided me in pairing the dress with the perfect veil! I made the trip to Gold Coast from Adelaide during covid times. GLL were very understanding and flexible, generously allowing me to make two consecutive appointments as I wanted to share this special experience with my bridesmaids, Mum and Nana. And it was really special! I really appreciated their kindness.
What was your first date?
Our first date was an awkward dinner at a local tavern. I thought we were just friends but Stephen knew we were meant to be together. Our friendship grew as we got to know each other better and eventually turned into a relationship. I have many fond memories of our dates in the early days. The moonlight cinemas in the Botanical Gardens was our favourite go-to date night and the place we made our relationship official 18.01.2017 which lo and behold became our wedding date! 18.01.2023.
.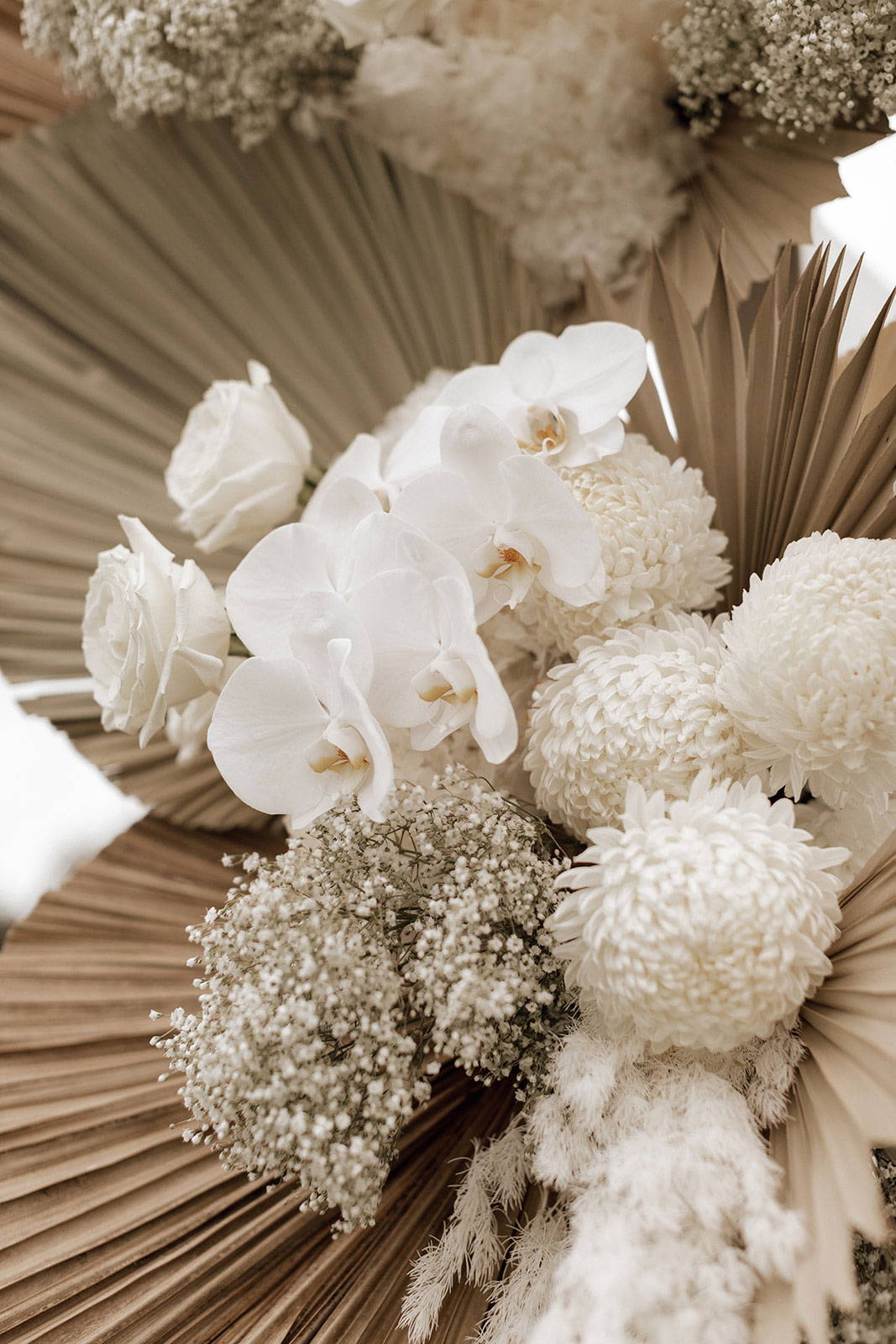 I placed photos of our parents and grandparents from their wedding day on tables that held our guest book and wishing well, it gave a really intimate touch.

I also designed and made signs for the wedding. I picked bunny tails and tied little bows around them to be placed on each dining setting as a sweet little feature!
Where did you get married?
Tell us about the location & the style of your wedding.
Stephen and I married at Lloyd Brothers Winery in McLaren Vale wine region located in Adelaide's south.
We fell in love with this winery because it had all the elements you could possibly dream of in one location. The beautiful lake in front of the stunningly grand barrel hall, with sand stone features, surrounded by olive trees and grape vines. I always thought I would have a casual cocktail wedding, that was until I saw the barrel hall set up as a sit down wedding. It was just breath taking. The big wooden double door leading into the grand hall, with beautiful lighting and barrels lining the wall, with big open bifold glass doors over looking the lake!

Our style soon turned from a casual coastal wedding to a modern boho wedding, elegant and classic. Simple and classy. Just crisp whites with the sage green elements. Met with hints of browns golds and blacks.
The Groom in his black suit made it gorgeously classic, while my lace and mixture of dried and fresh flower arrangements made it elegantly boho.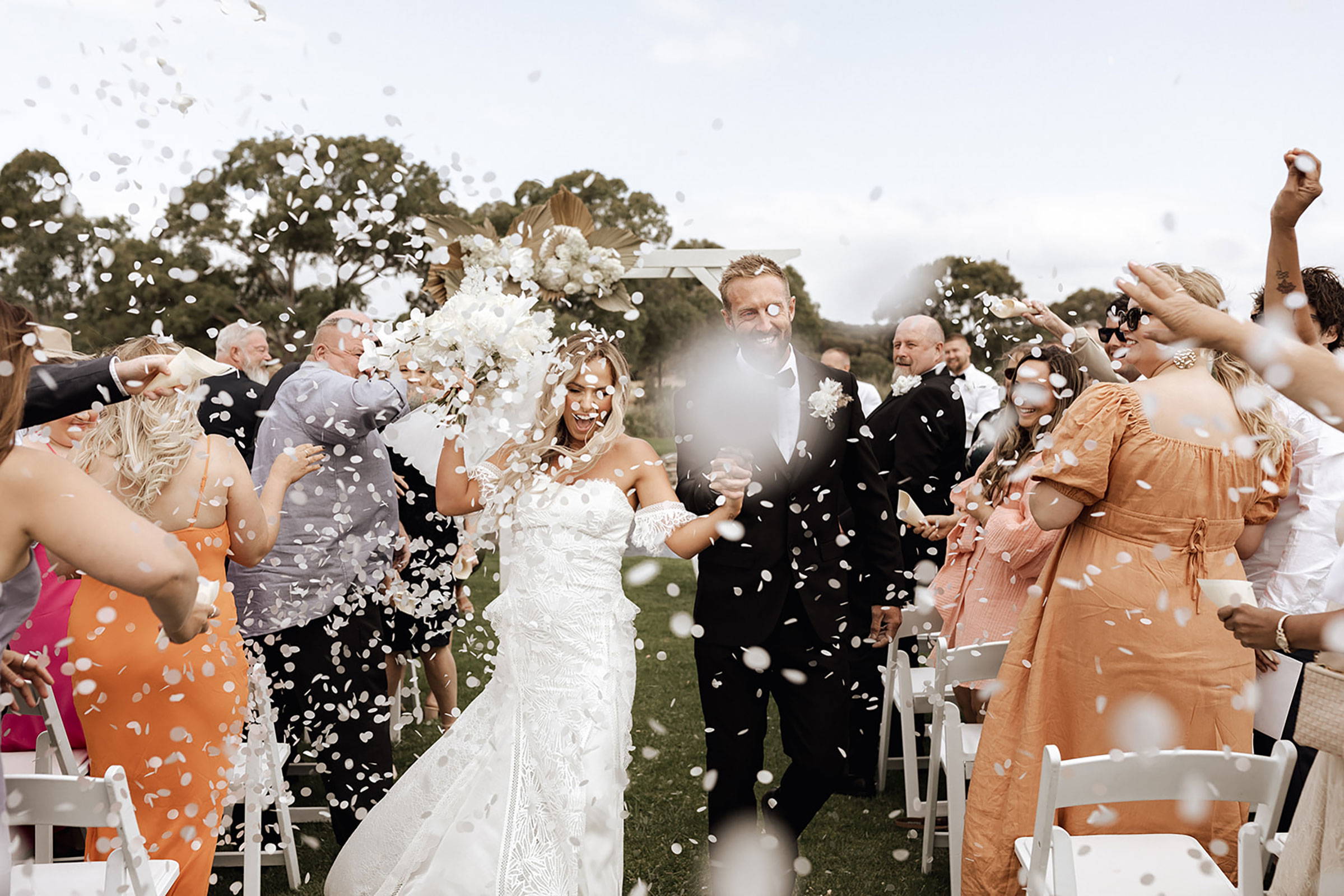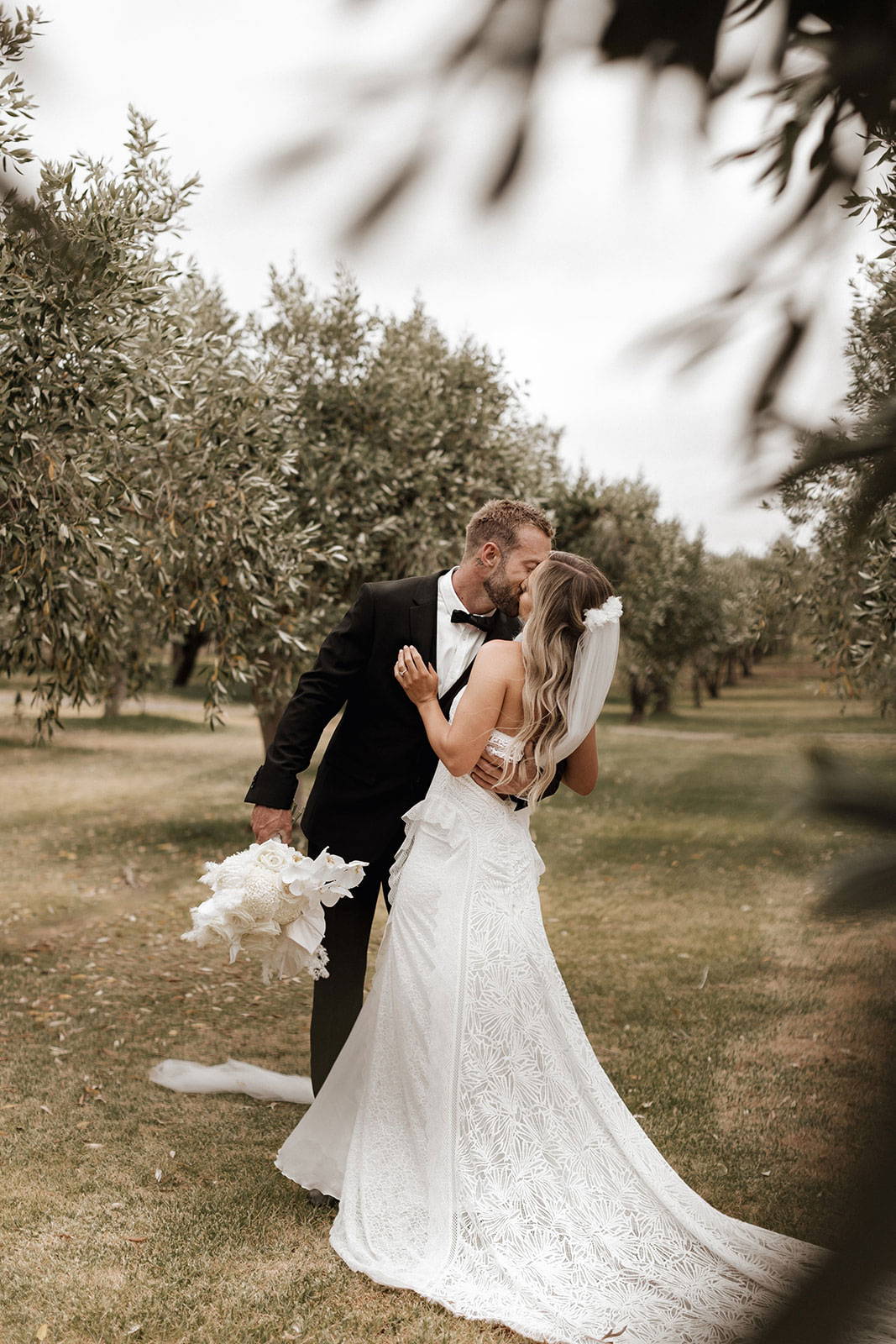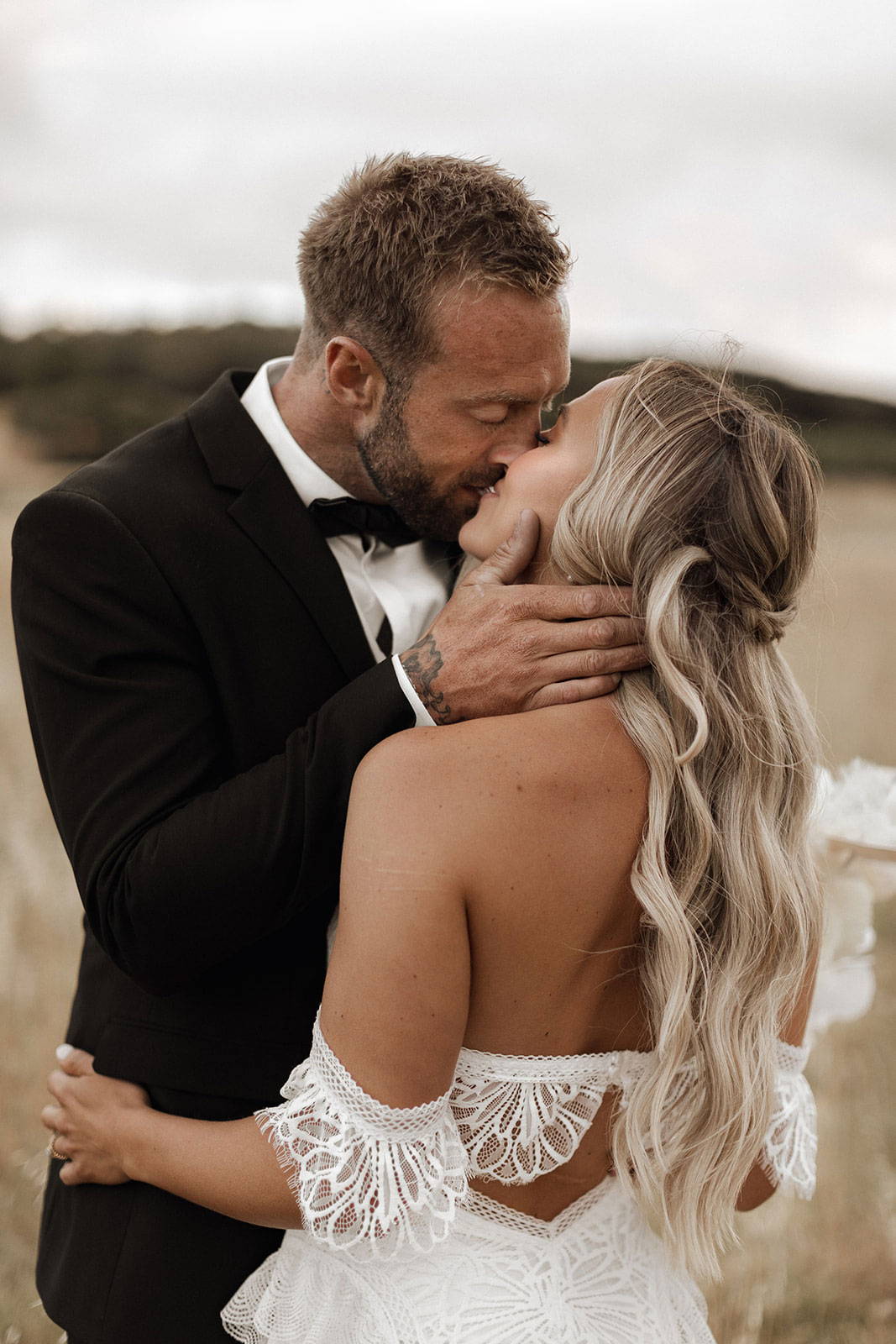 The funniest moment on the day or something that surprised you?

I think all the dancing at the reception with our friends and family were the funniest moments from the day. From my Dads dance moves, to shoulder rides, dancing circles, to champagne pops and shirts being torn off. To bridesmaids beat boxing and groomsmen thinking their MCs in a night club. Everyone was having the best time on the dance floor! Videos I will laugh at forever.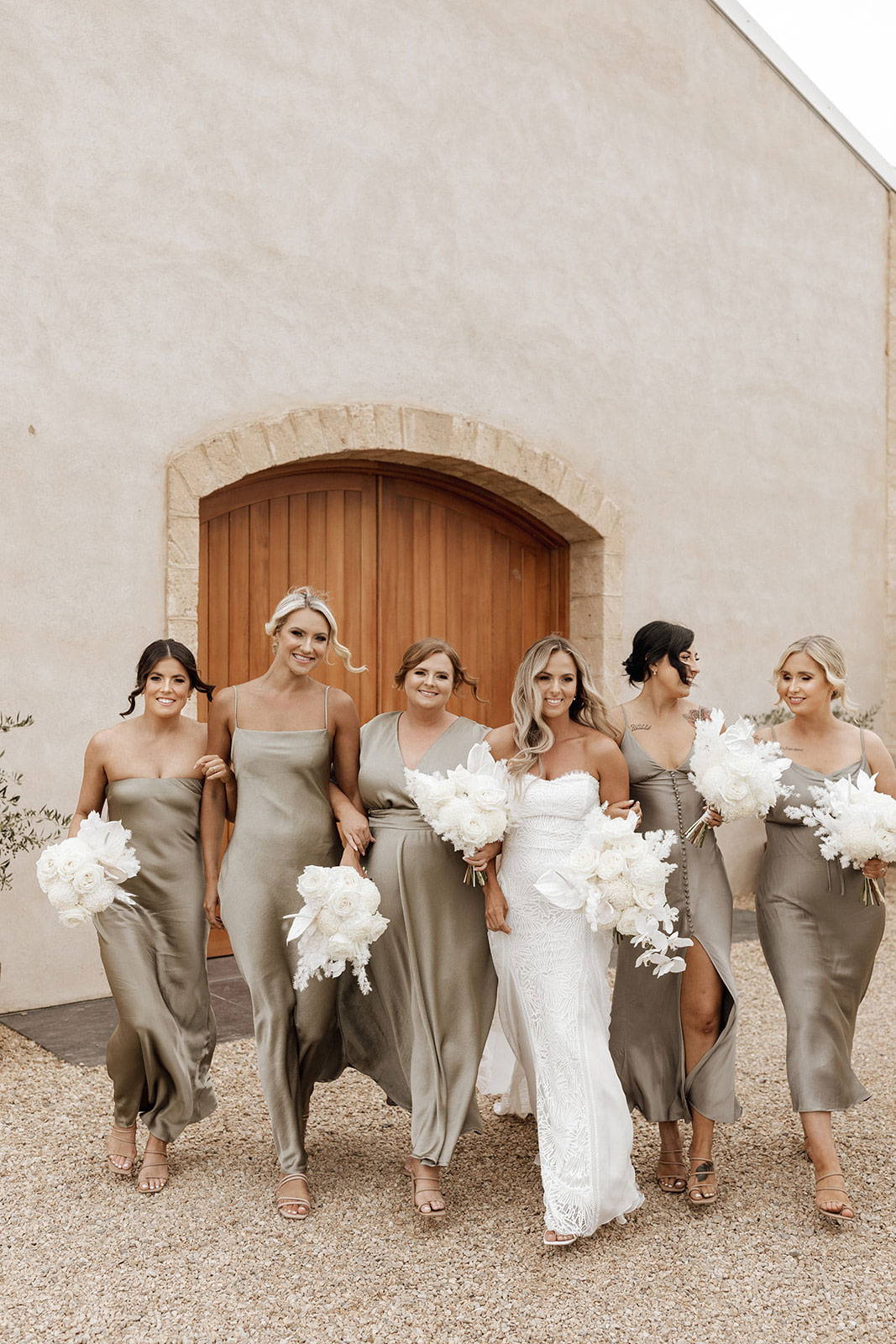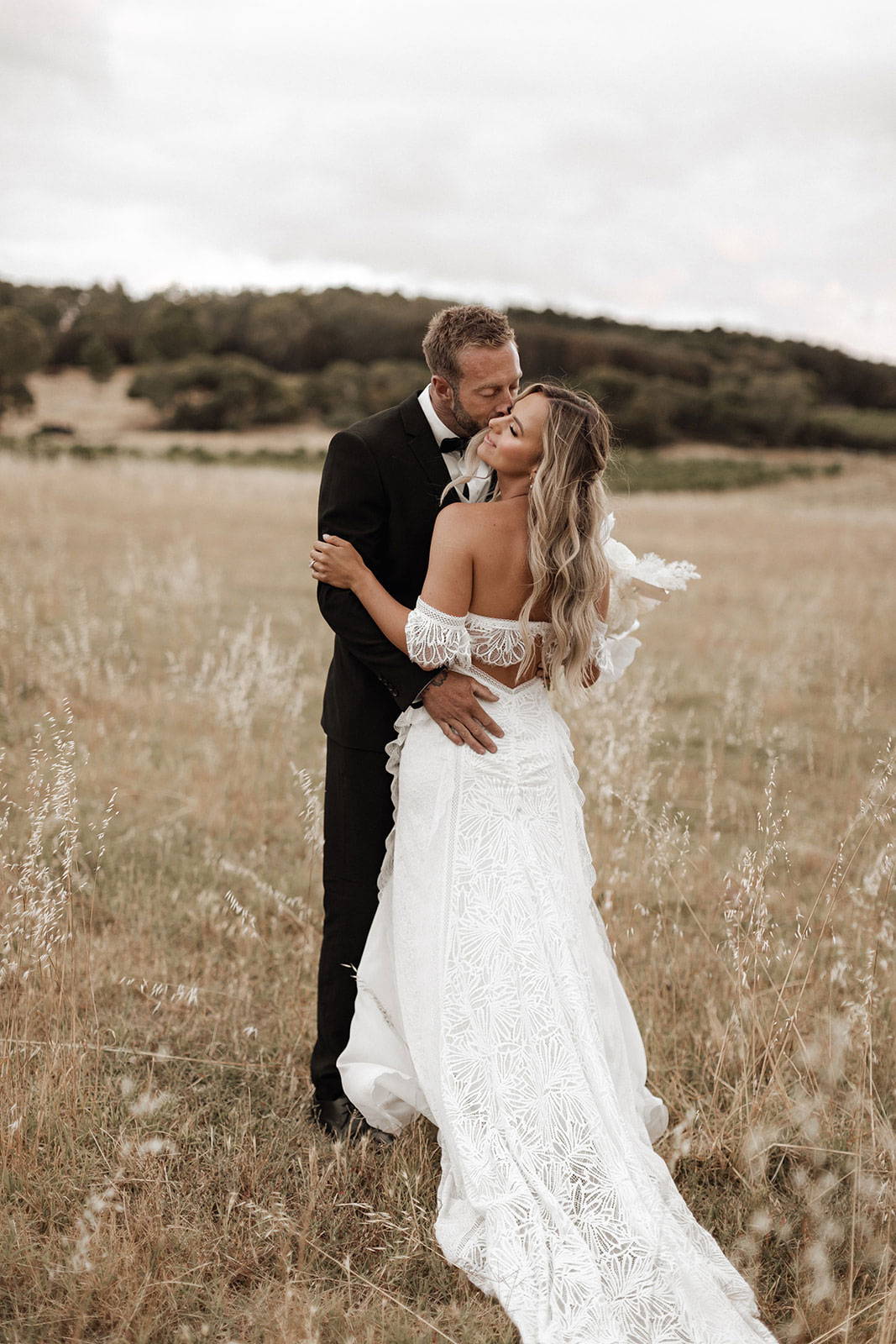 ---
Any last advice or words of wisdom that you can share?
It really is about taking every single moment in. Even the scary parts. Because they don't last long.

It's the one day you're a celebrity and every single loved one who is there at your wedding wants to share the special moment with you. Even if you shy away from the attention or feel a bit over it, take lots of photos! With everyone!! And take it all in! Because it will truely be the best day of your life and you and the ones who love you most want to have those memories to cherish forever!
---