Steven & Grace in the Inca
Grace & Steven's terracotta toned wedding was picture perfect. Whether it was the on-theme dried floral arrangements, arched theme from the arbour or the place cards - it was just simply perfect.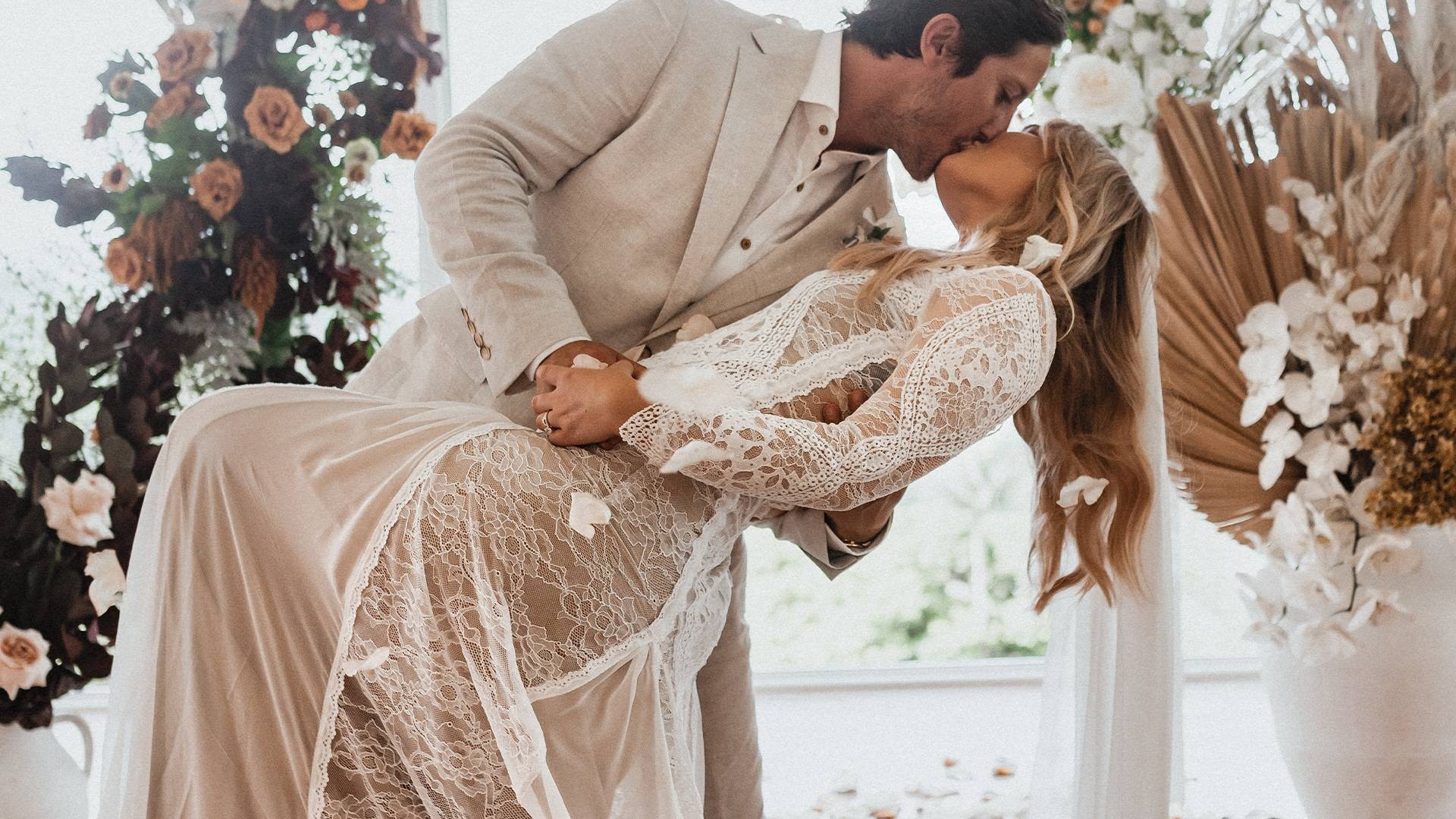 What is a Grace Woman to you?
A GLL woman is a true reflection of what my wedding day was and who I was as a bride. It all started with the dress and the rest of my wedding was built around it. It was naturally elegant,Sophisticated without being tizzy, Stylish, Relaxed and most of all fun.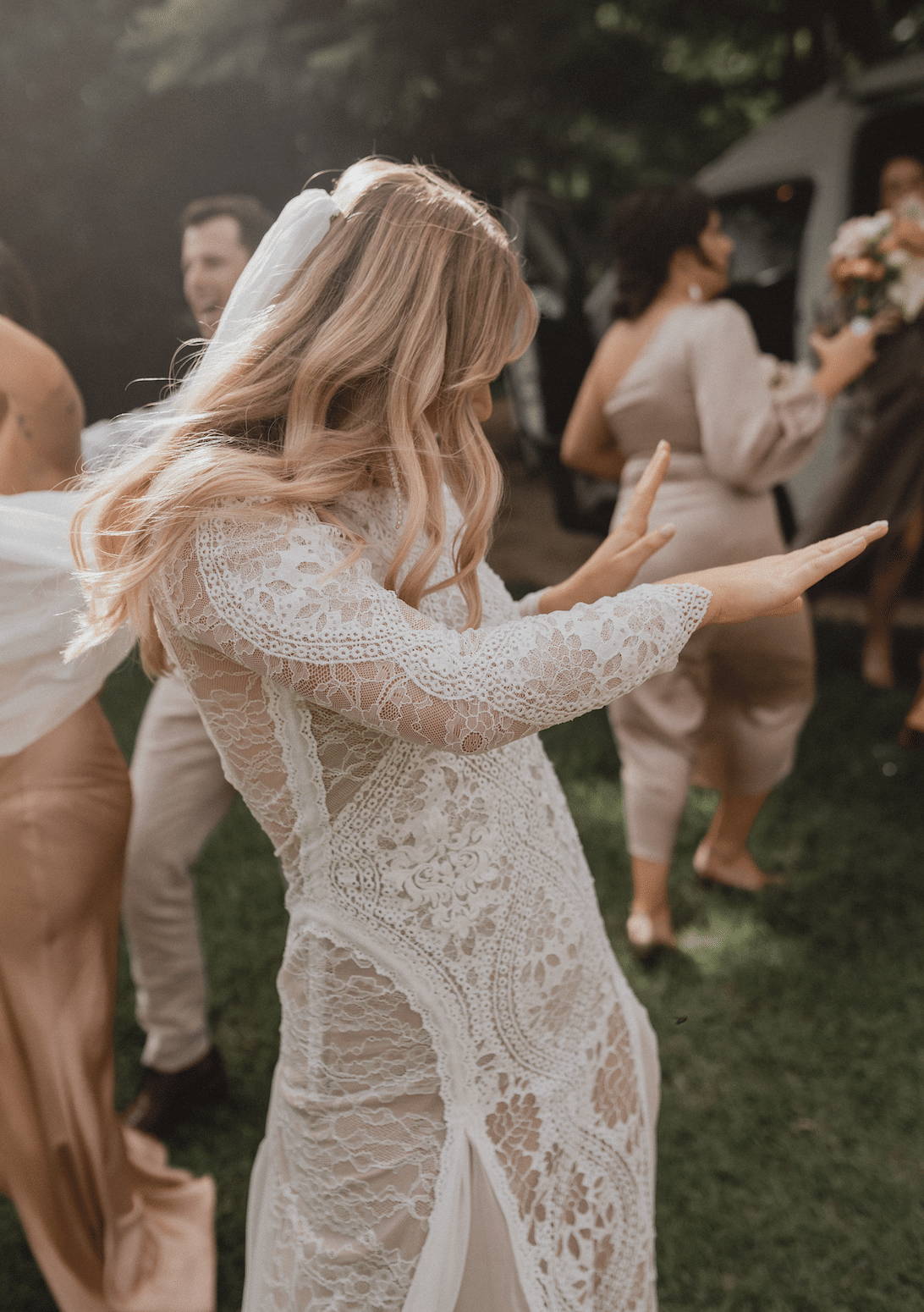 Which Grace dress did you choose and how did you know it was 'The One'?
Prior to coming into the showroom, I had picked out the INCA dress as my standout favourite, I actually showed Steven a whole heap of dresses just to gauge if there was any he didn't like, I definitely didn't want him to pick one he liked. But much to my surprise the INCA just stood out to him also and the loved it and thought it was so elegant. When I tried the Inca on for the first time I just knew it was the one, I felt so comfortable in it and it was just totally me! Of course I had to go home and trick Steven and tell him that I ended up going a different dress so that I could surprise him, I couldn't wait to see the look on his face when he saw me in it when the chapel doors opened!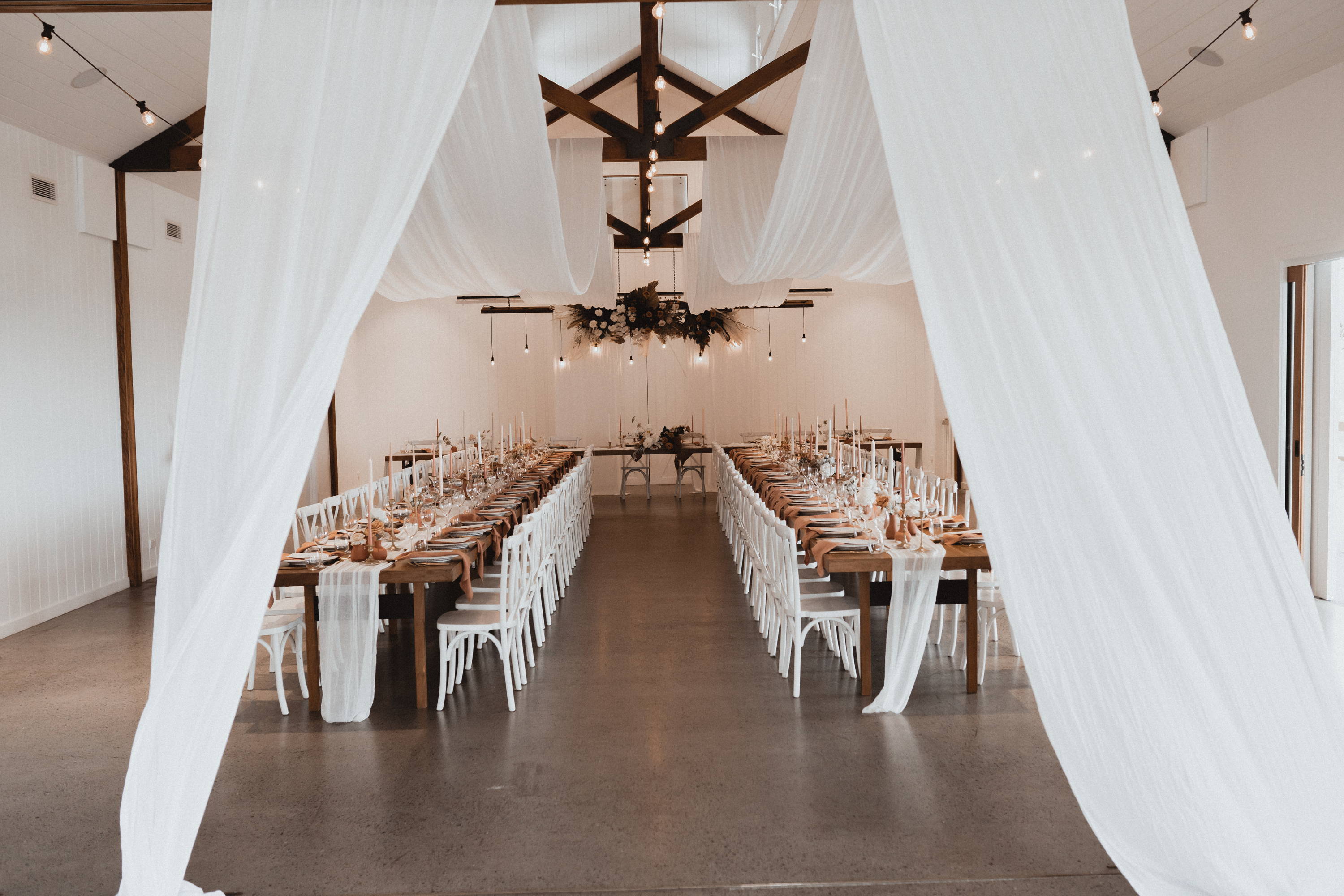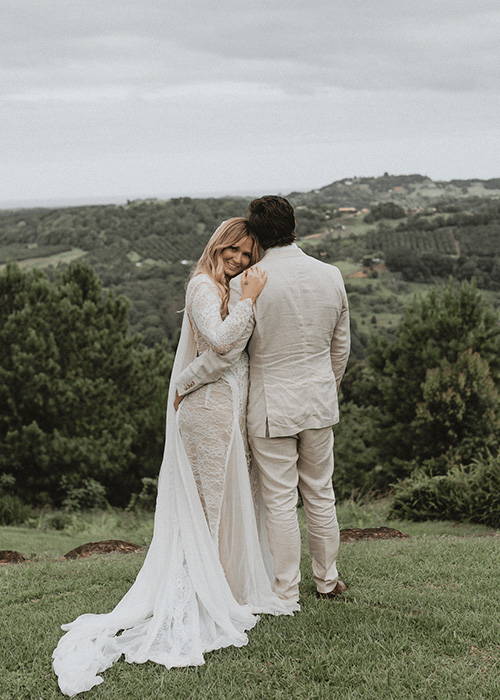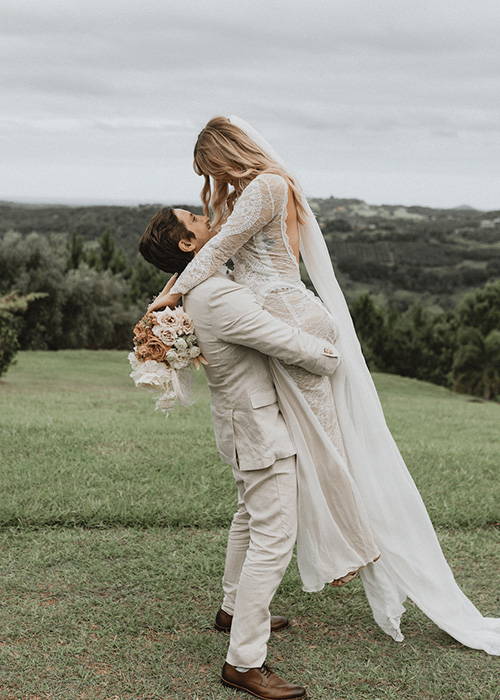 Tell us about your experience when you found your dress, did you buy your wedding dress online or in one of our showrooms?
Inca dress was the first dress I tired on, it was honestly love at first sight! As soon as I turned around and saw the dress on the tears started rolling down my face. Both my Mother and Maid of Honour were there and we all had the tingles and tears were definitely flowing through the room. I did try on other dresses at the GLL showroom just so I had other dresses to compare to.. but for me nothing was quite like the Inca in my eyes.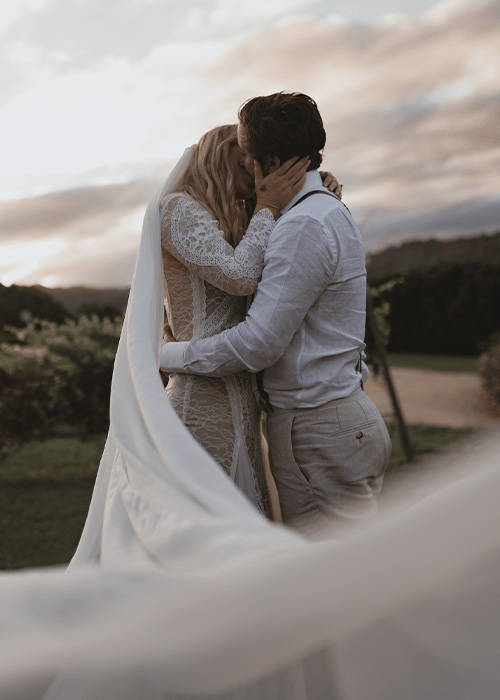 How did you feel in your dress on the day?
I felt so comfortable and 100% me! I felt so elegant with the low back, high neck and stunning lace detail. I could not wait to see Steves face when he saw me in my dress knowing I had tricked him telling him I didn't end up getting the dress he loved.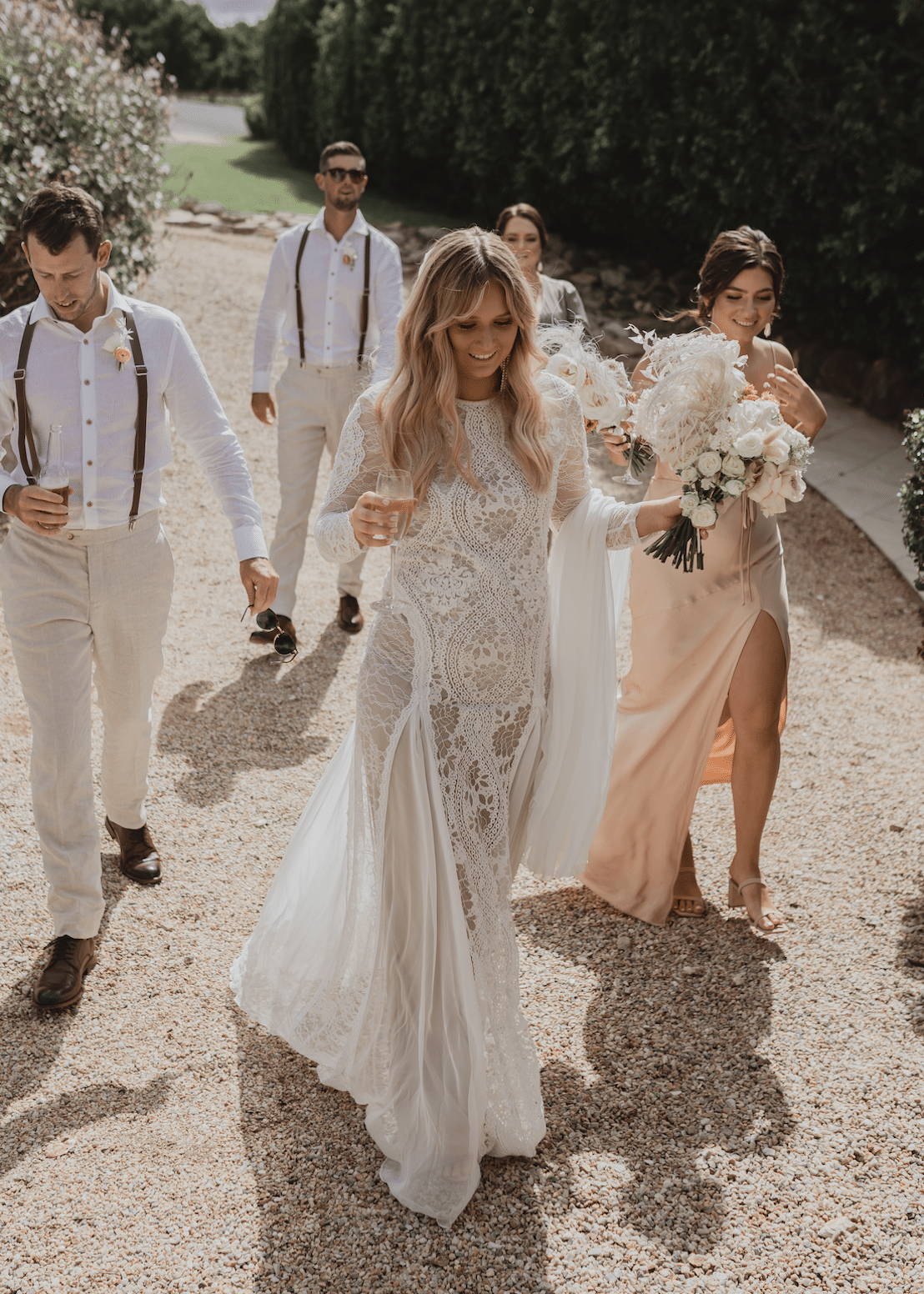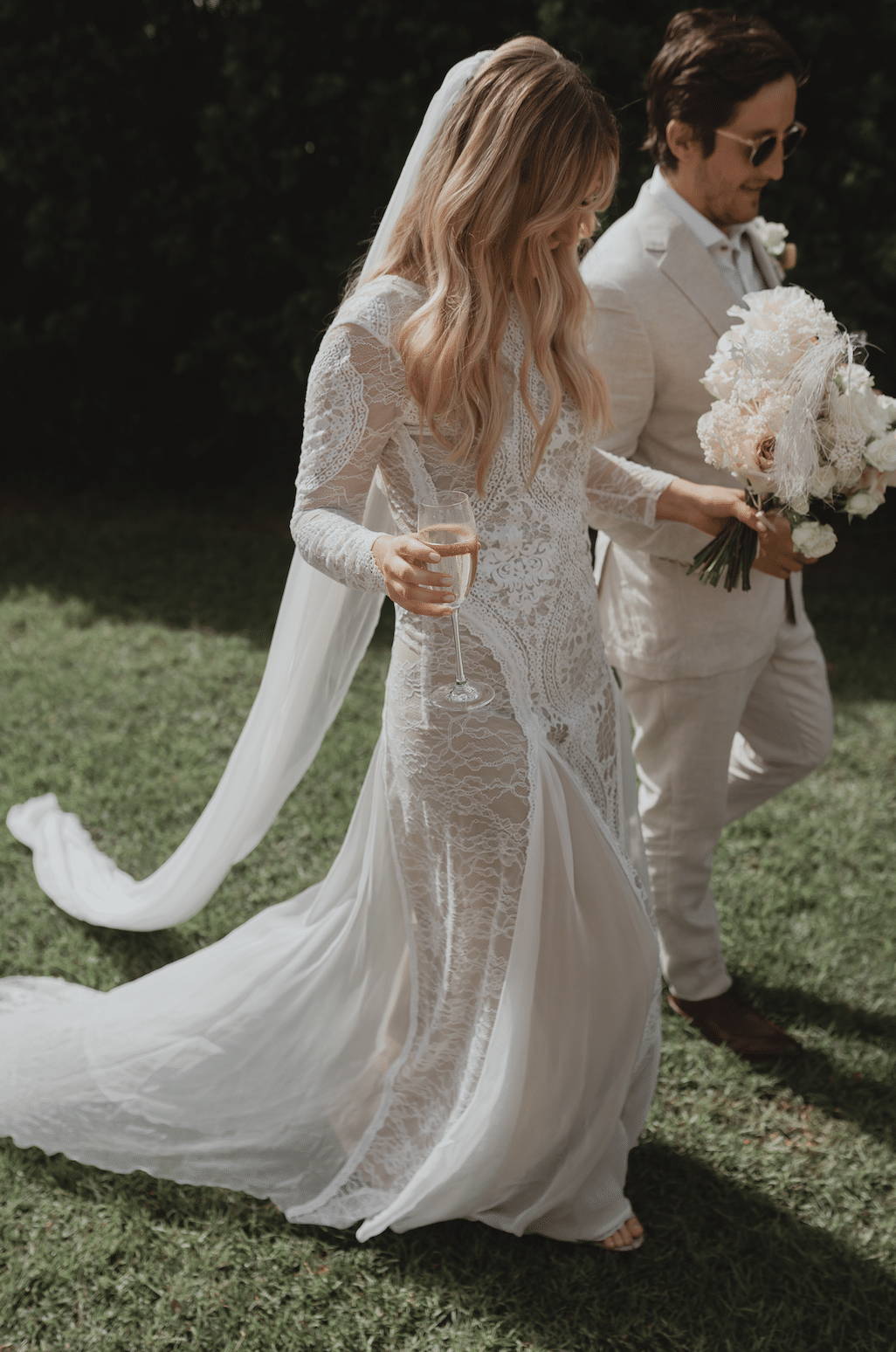 Where did you get married?
Tell us about the location & the style of your wedding day.
Tell us about the location & the style of your wedding day. ANSWER We chose Summergrove Estate to have our wedding, I had this venue in mind and it was the first and only venue I had actually planned to look at. As soon as we visited Summergrove Estate for the first time we fell in love and could totally envision our day there. I love the warm terracotta tones and dried floral arrangements. We chose to have an arched theme from the arbour, to the signs and even the place cards.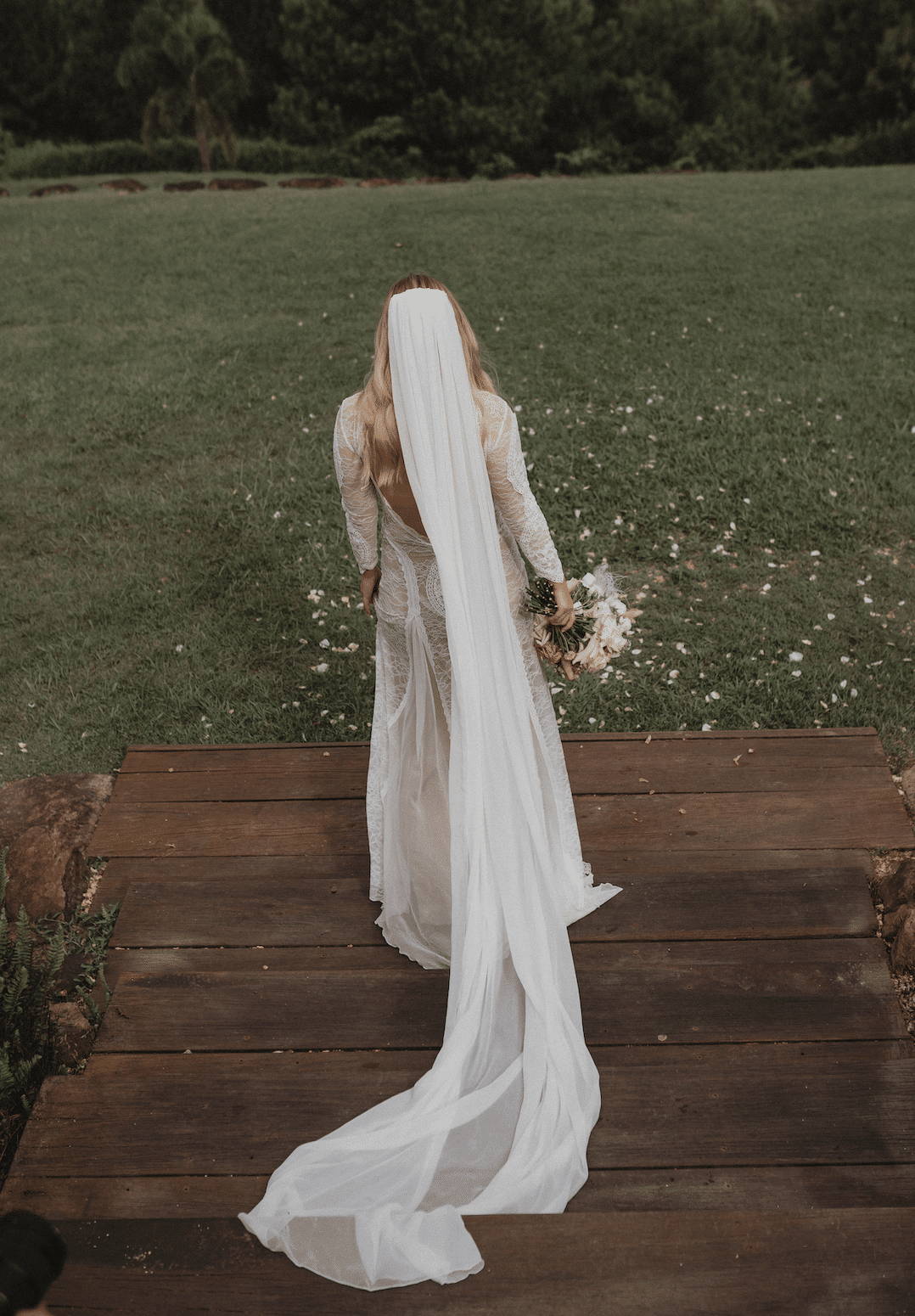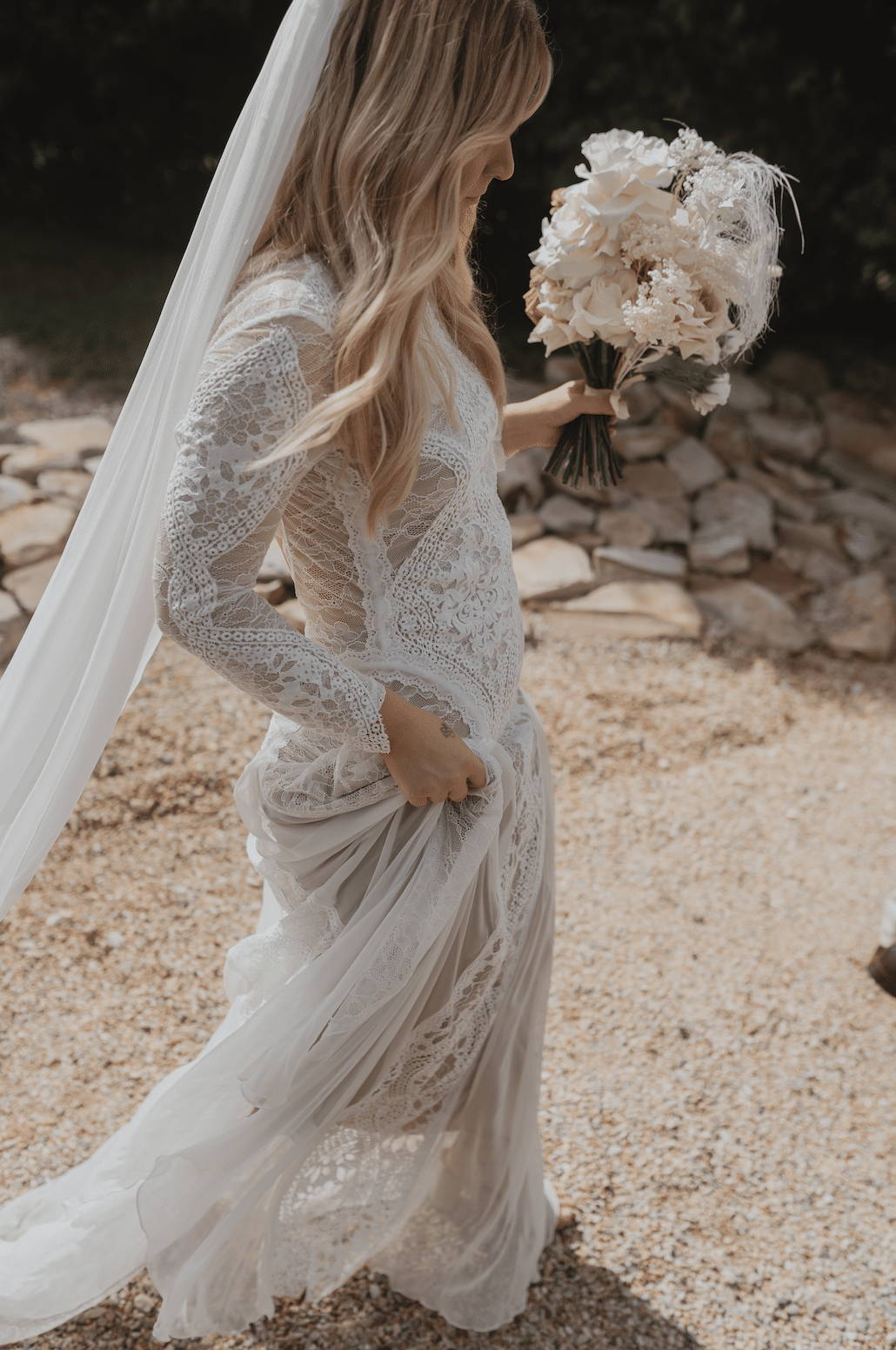 Tell us about your hair and makeup look
and the accessories you chose…
I went classic effortless waves with my curtain fringe.. it was very 70's, along with very natural makeup. I chose to have the Gabrielle Veil, initially in my mind I didn't actually want a veil but when I tried my Inca dress on at the GLL showroom the lady convinced me to try the Gabrielle veil on with it.. much to my surprise I loved it and it just really made me feel like a bride, I actually think my look just would not have been the same on the day without it and I even wore it for all my photos as I didn't want to take it off. I also chose the Mata earrings as I love how they added another level of elegance to my whole look.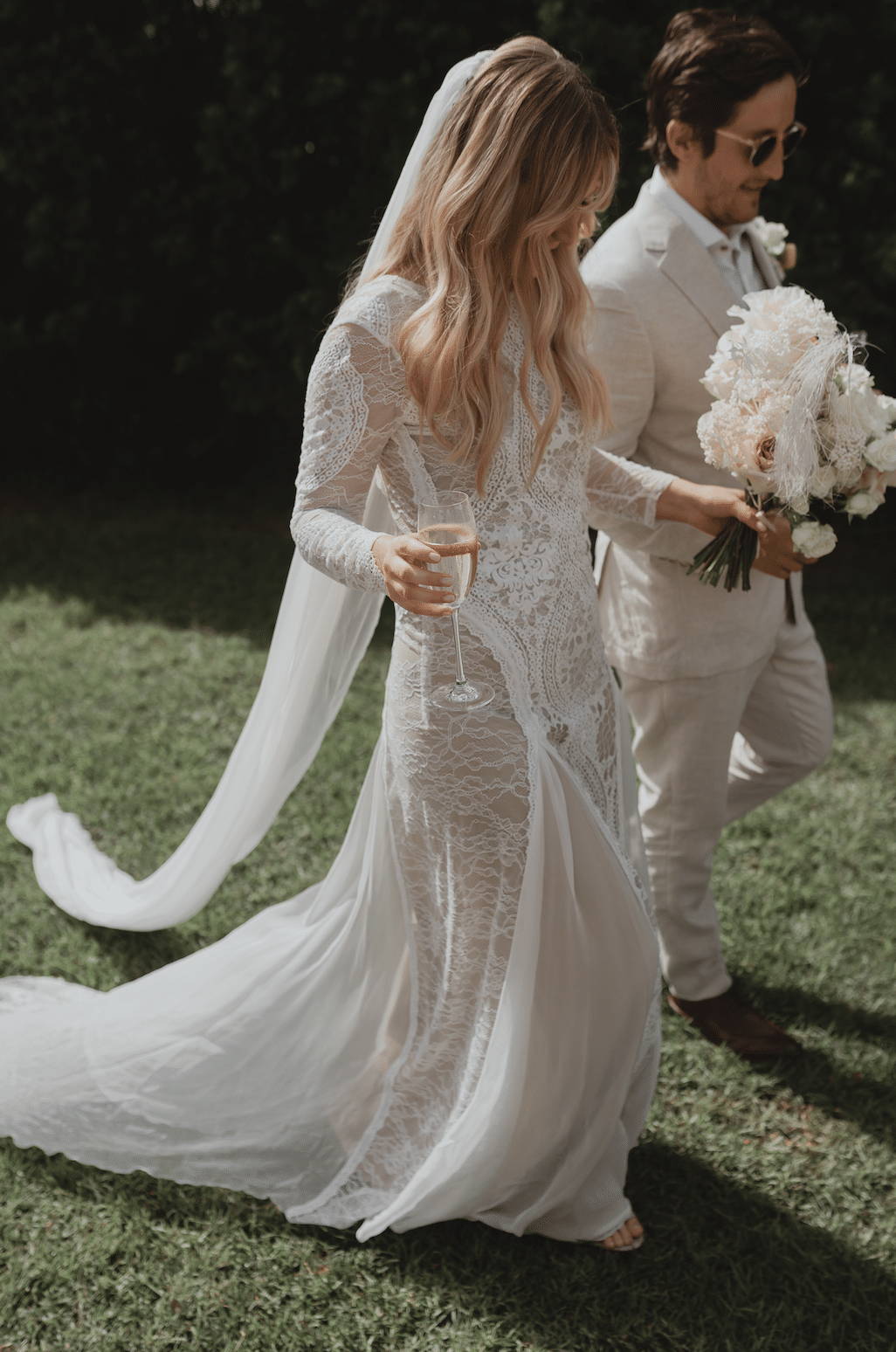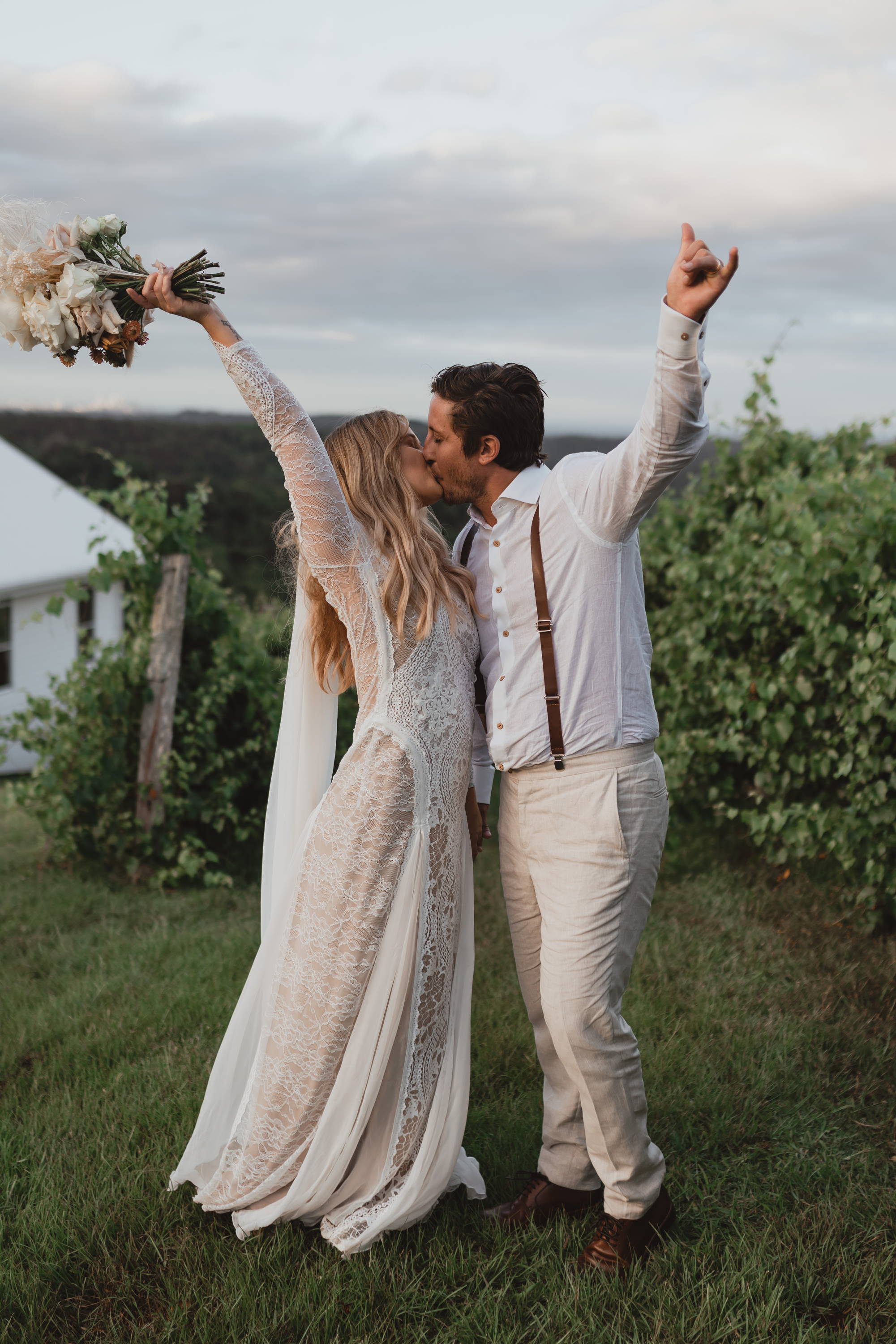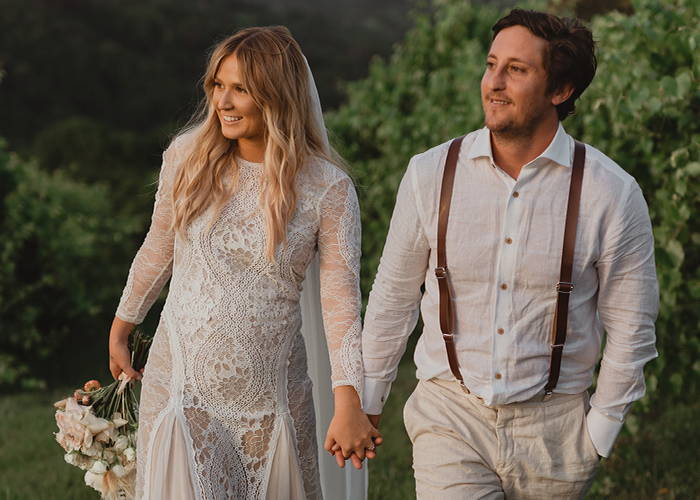 What made your day extra special?
Well actually 4 weeks prior to our wedding we found out I was pregnant. Even tho it was still too soon to tell all of our loved ones, it was so special to have shared our big day day with a little bundle of joy inside. We actually asked Nathan our photographer if he could take some photos to use as our announcement photos so we could shock everyone a few weeks later with the news… hoping that we were successful in tricking everyone on the day.
The funniest moment on the day was…
One of my favourite songs is Sweet Caroline by Neil Diamond, it reminds me of the night Steven proposed to me in New York. While we were all seated having dinner, Danny our musician started singing Sweet Caroline. A few started chanting in and before we knew it the whole room was chanting the chorus "Sweet Caroline DA DA DA". Was a really fun memory from the night that i'll always remember.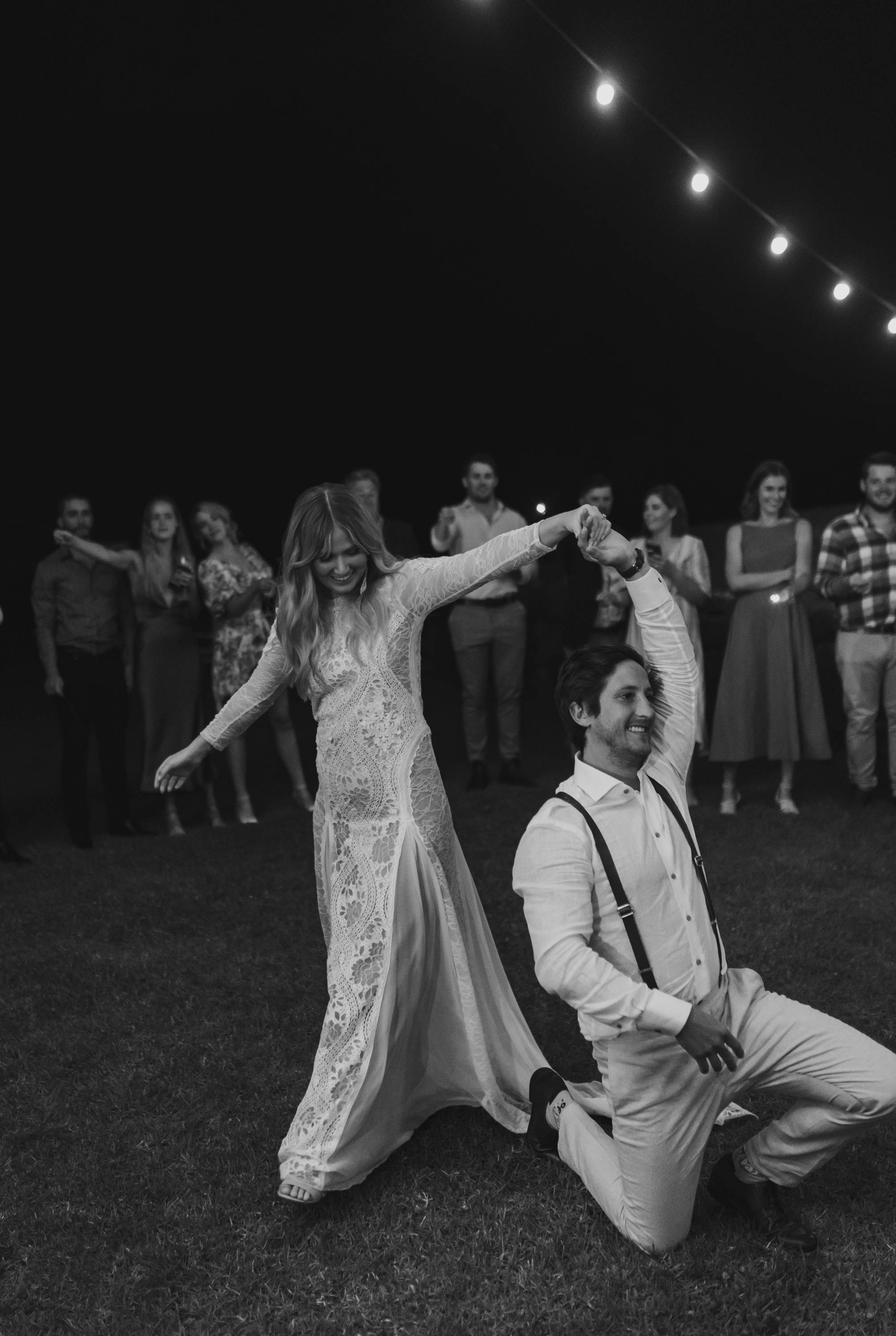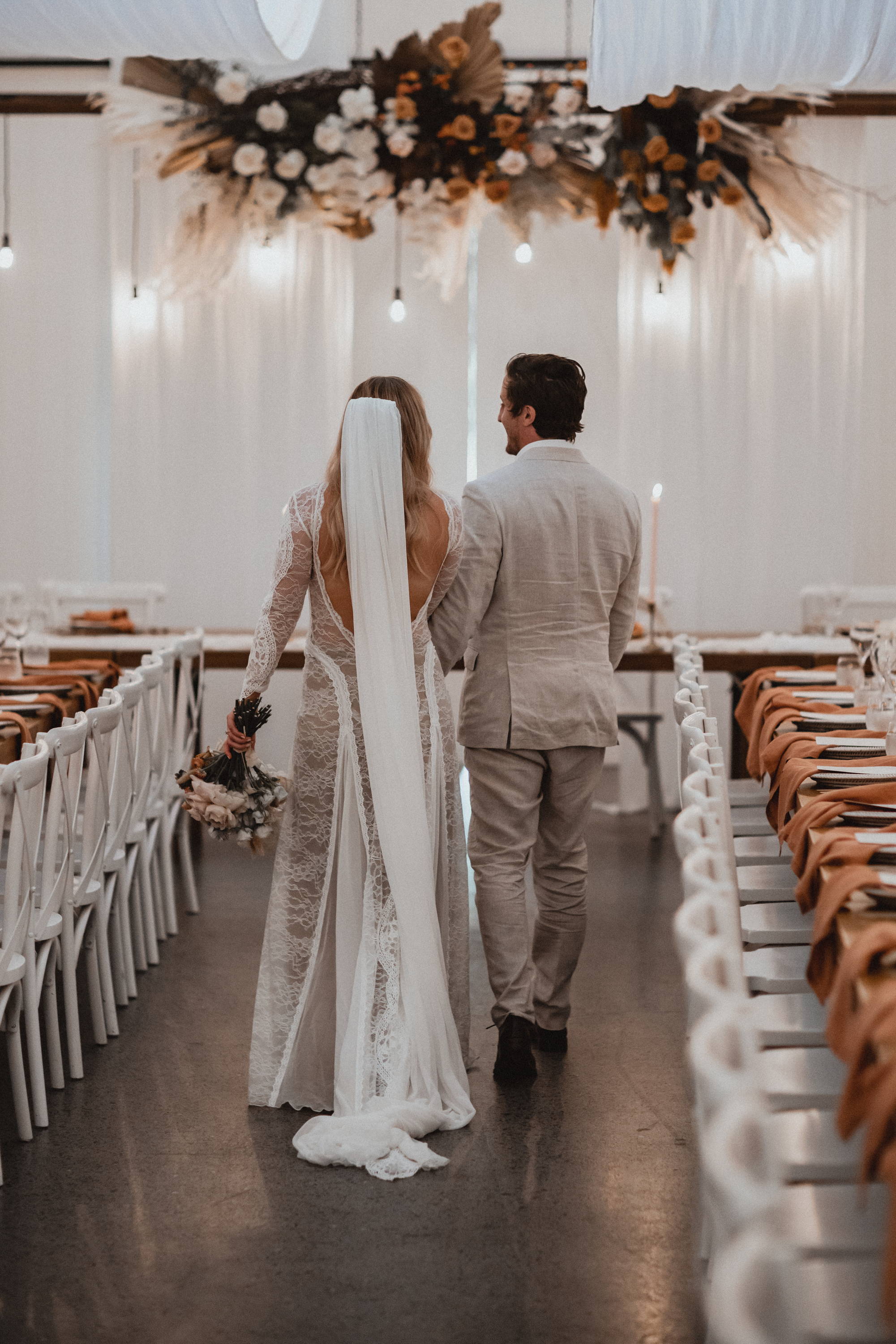 Where will you be honeymooning?
Initially we really wanted to do the coast of Italy, its always been my dream honeymoon destination. However due to Covid-19 we obviously couldn't go overseas. We decided to have our honeymoon at Hamilton Island instead which was beautiful! Hopefully in the future we will get to Italy.
Any last advice or words of wisdom that you can share…
I know this is one that everyone will say but seriously take in every little moment from your day as its over before you know it. My other advice is to not worry about your emotions flowing and potentially ruining your makeup (you can always do touch ups) it just makes for much more candid photos to look back on in the future and you will remember exactly how you were feeling.