Yolanda & Jodi in the Olive Gown
Brides Jodi & Yolanda eloped in the beautiful Positano, Italy. Saying 'I Do' at their romantic ceremony on the terrace of their Puccini Suite in Villa Boheme. Followed by taking the stairs down to the beach and hopping on a boat looking back at the sun set behind the hill of Positano. ​

It was truly a dream come true! ​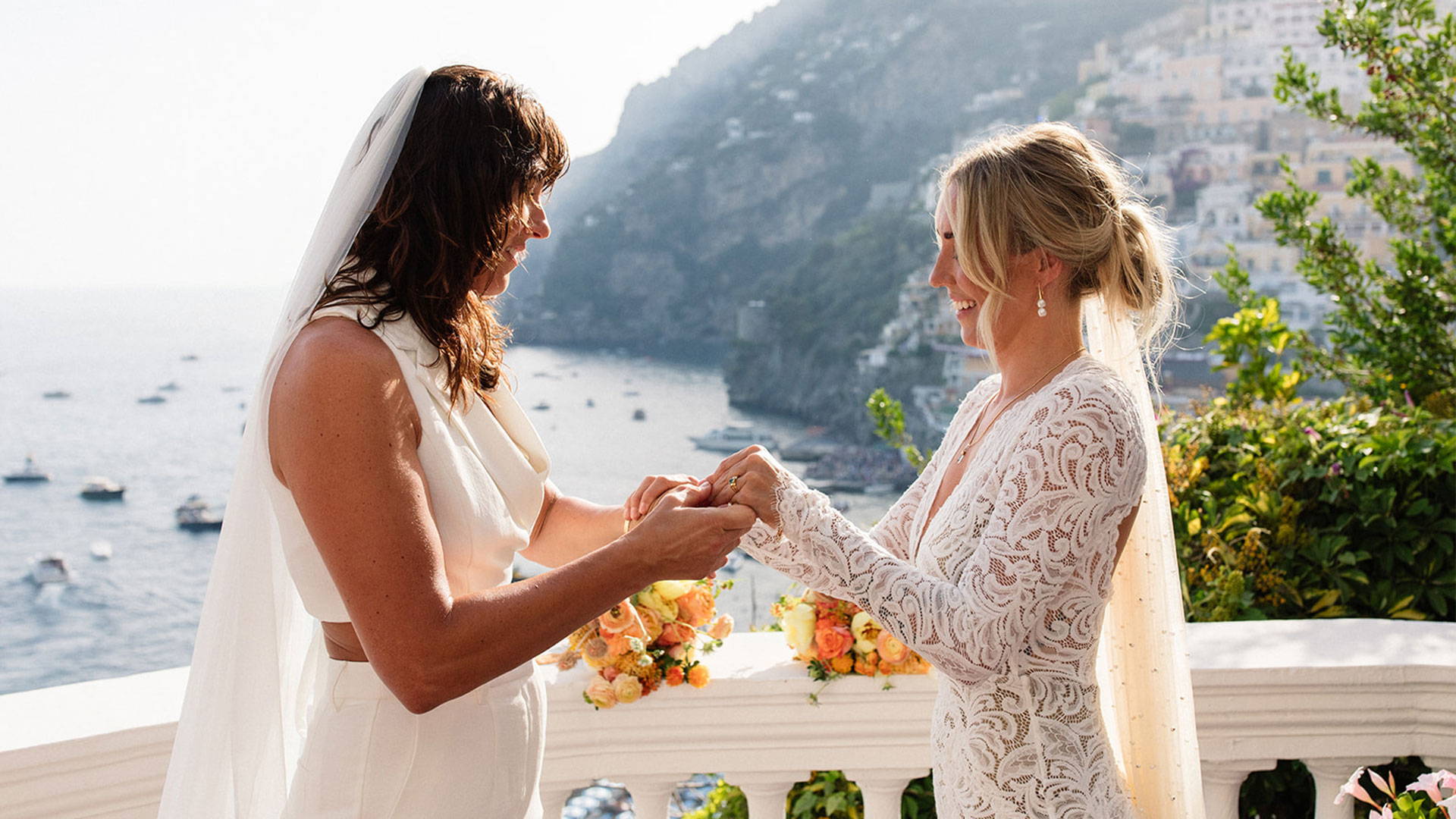 What is a GRACE woman to you?
Comfortable in her own skin
Which GRACE dress did you wear and how did you know it was 'The One'?
As soon as I saw the Olive gown pop up on instagram I knew she was 'The One' I made the appointment to try her on and I couldn't stop thinking about this dress! I loved the sleeves and the lace. I made the best decision, I wouldn't want it any other way and Yolanda absolutely loved it!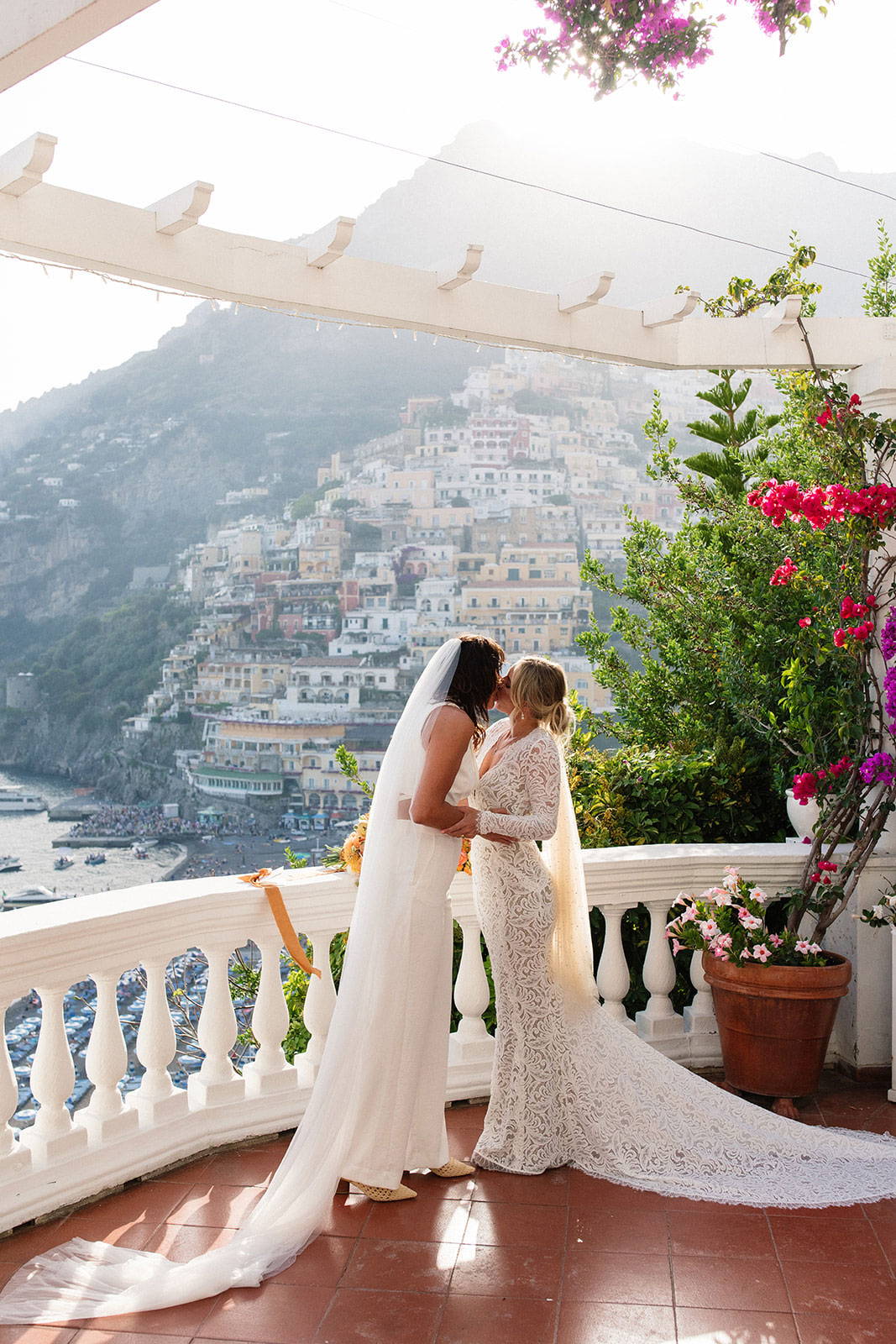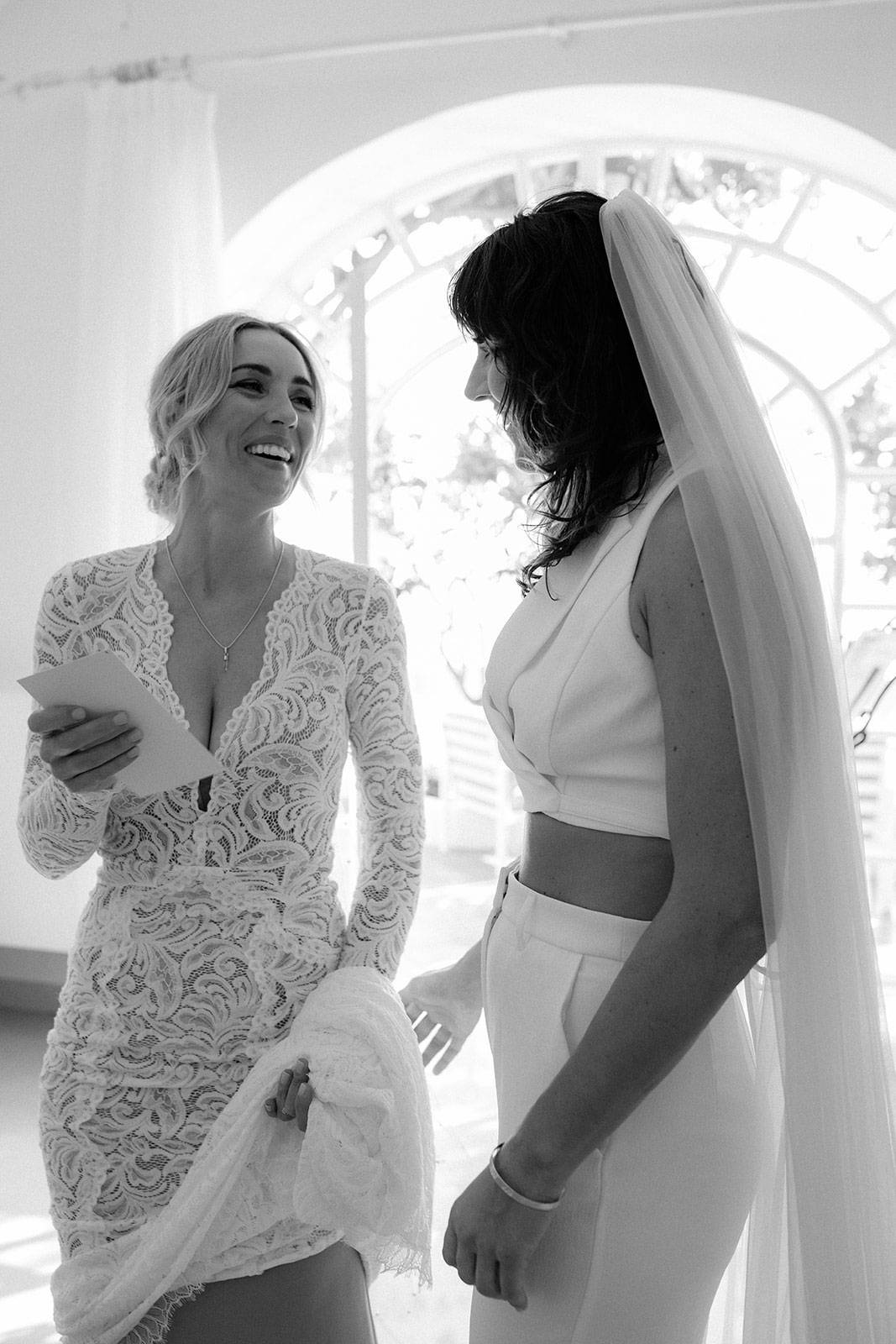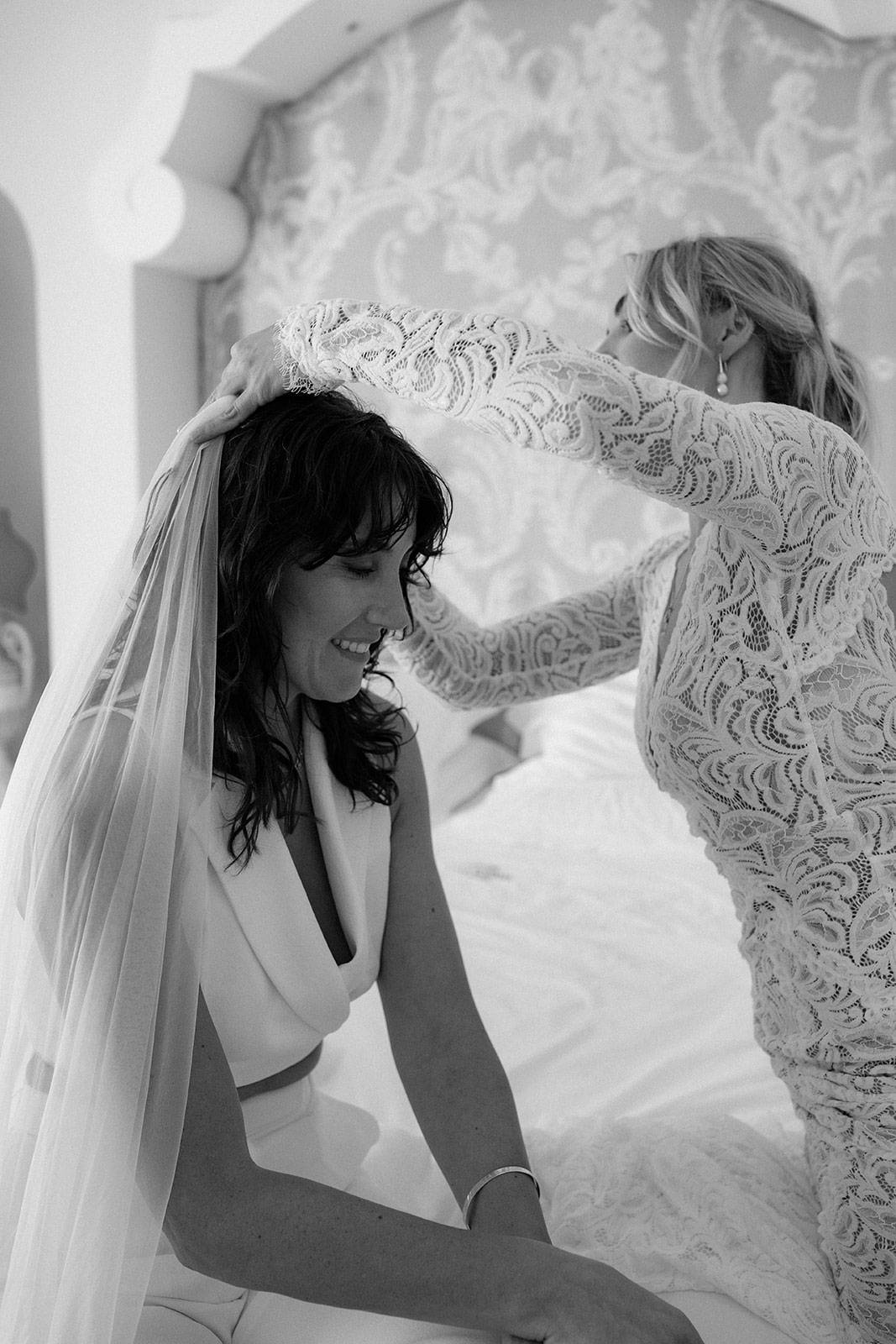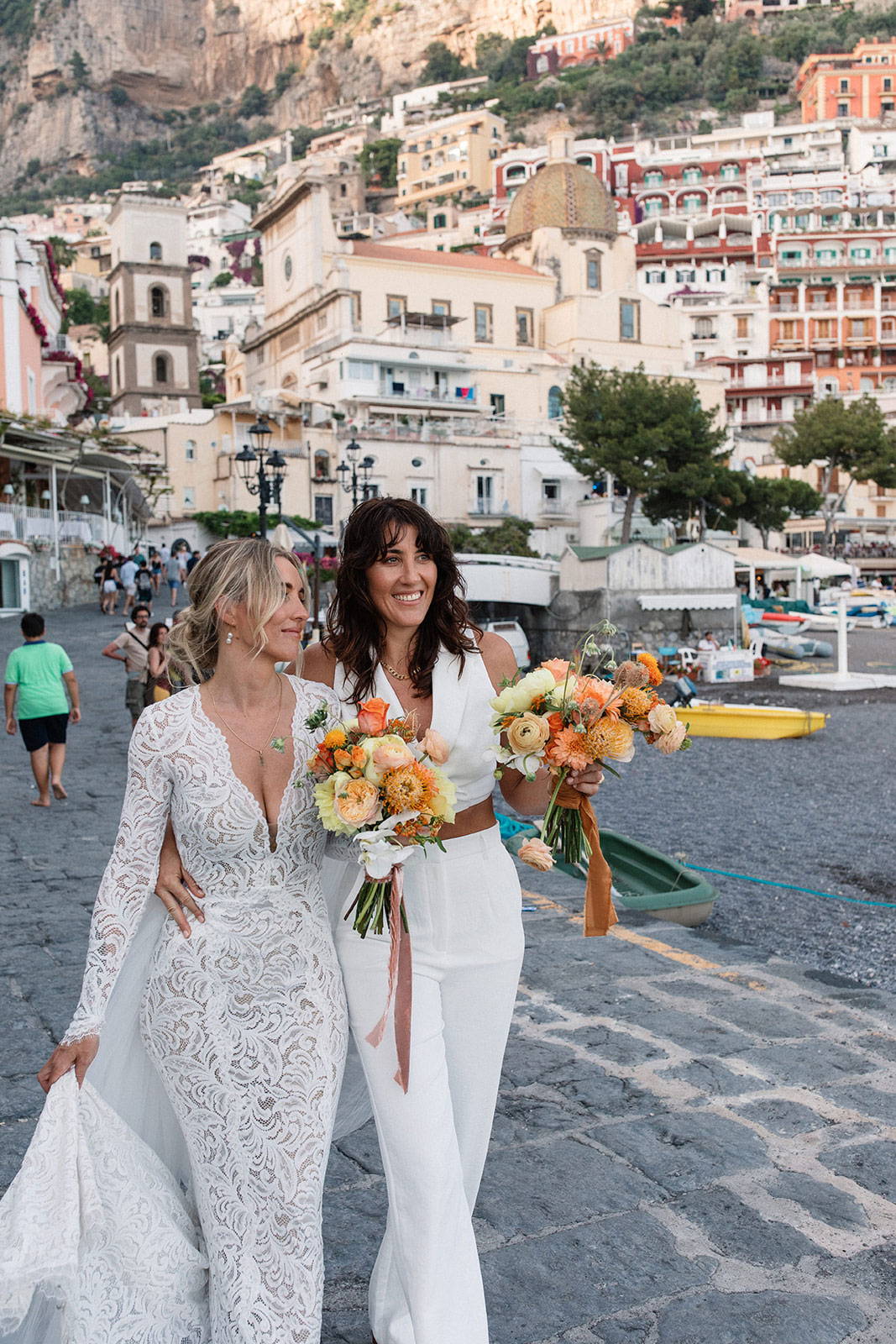 Tell us about your experience when you found your dress.
Did you buy your wedding dress online or visit one of our Showrooms?
It was the best experience! I was excited more than I imagined I would be. Yolanda was with me. We weren't going to keep the dress a surprise, I had to carry it to Italy. Logistics needed to be discussed. When we arrived at the Sydney showrooms, we were greeted by Madi with champagne. I picked the Olive gown to try first and Yolanda straight away said WOW! And I said yes, I love it. Naturally I tried a few more, of course all the dresses fit amazing but I couldn't go past the Olive gown! She was the first and last gown I tried on.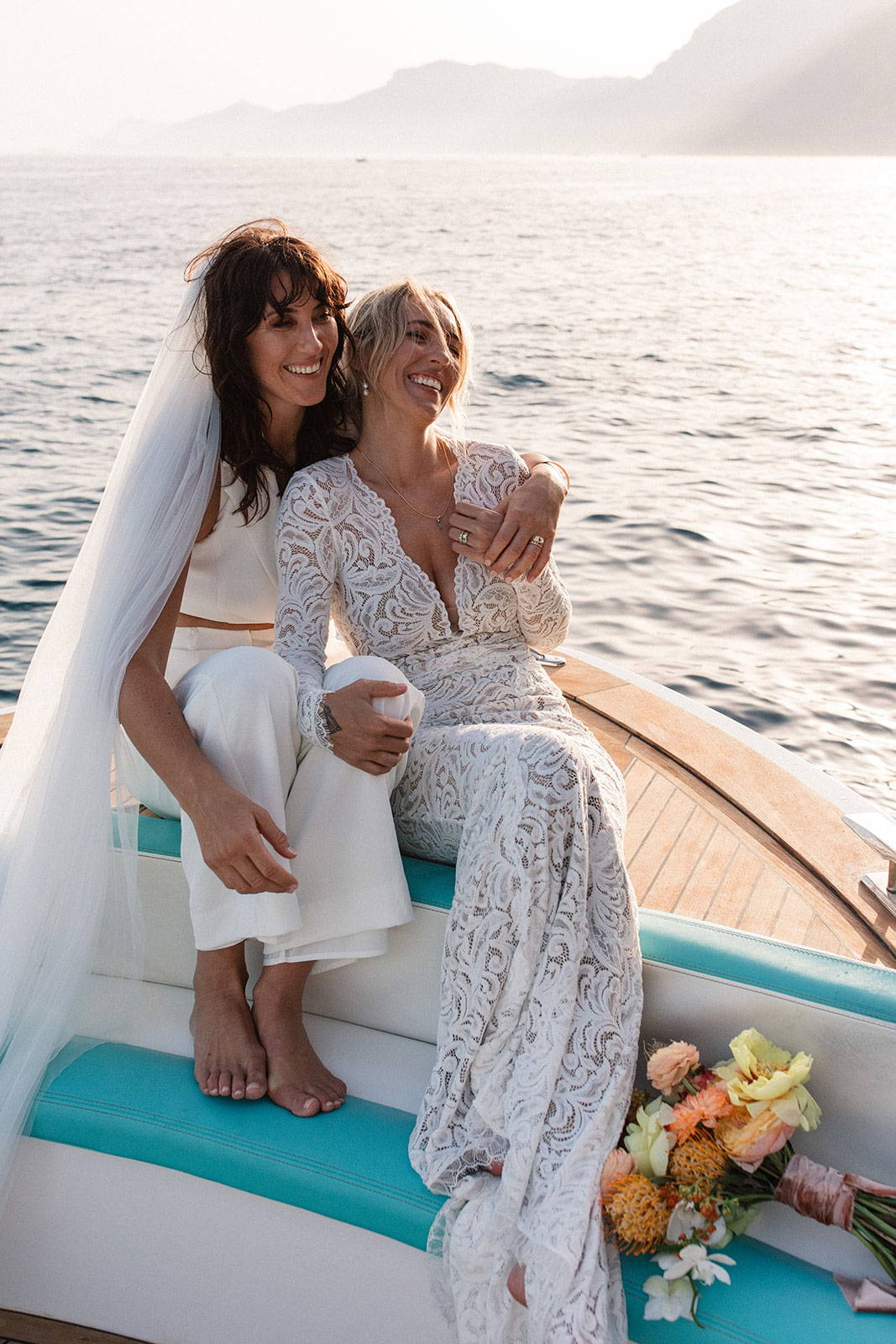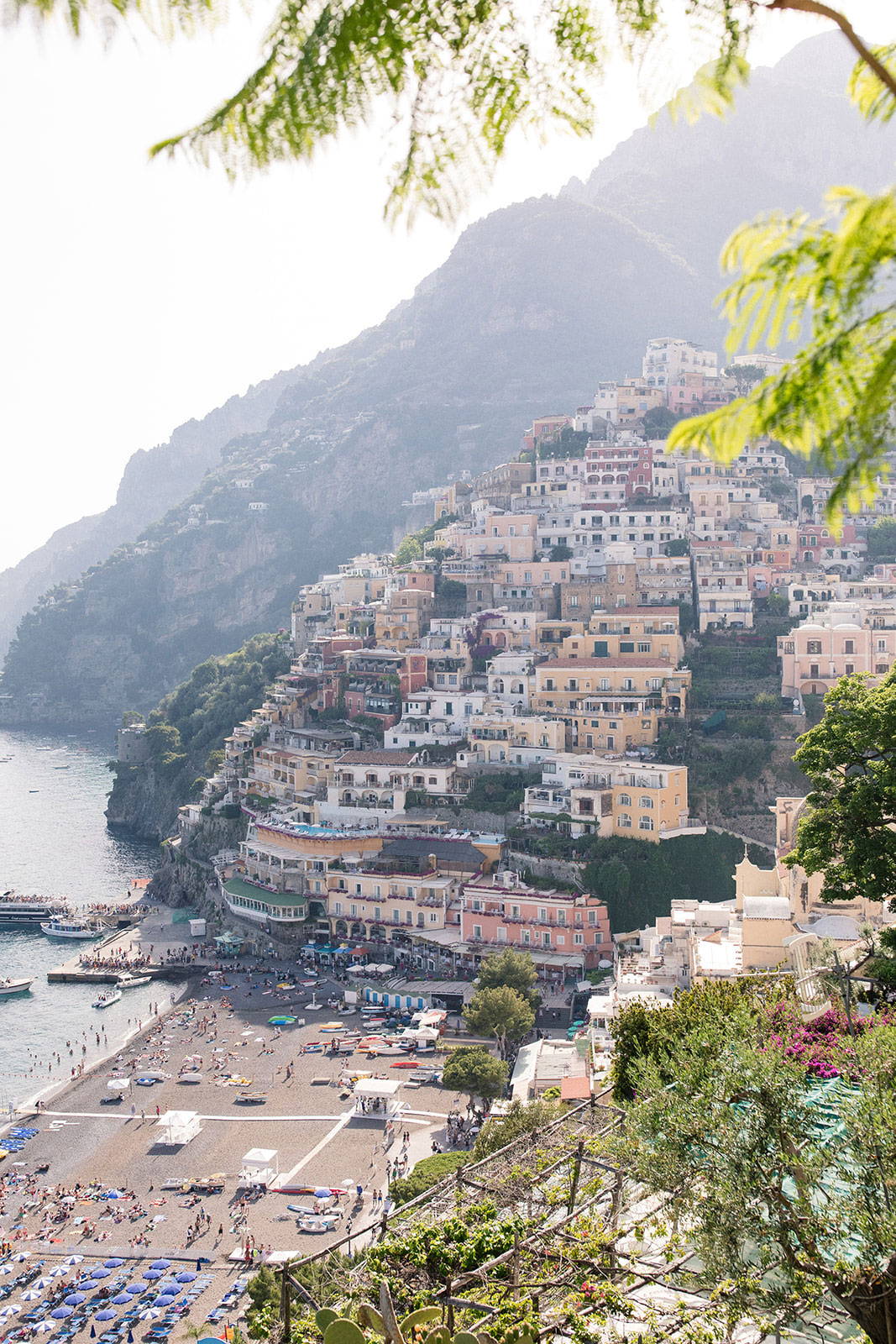 What was your first date?
We were both on road trips up the east coast of Australia and met for a bare foot coffee date at Snapper Rocks. My dog Choc came along. The quick coffee date ended up being 4 hours long. With so much in common, similar values and a passion for food and adventure it was meant to be. It is Choc that really won Yolanda over and stole her heart.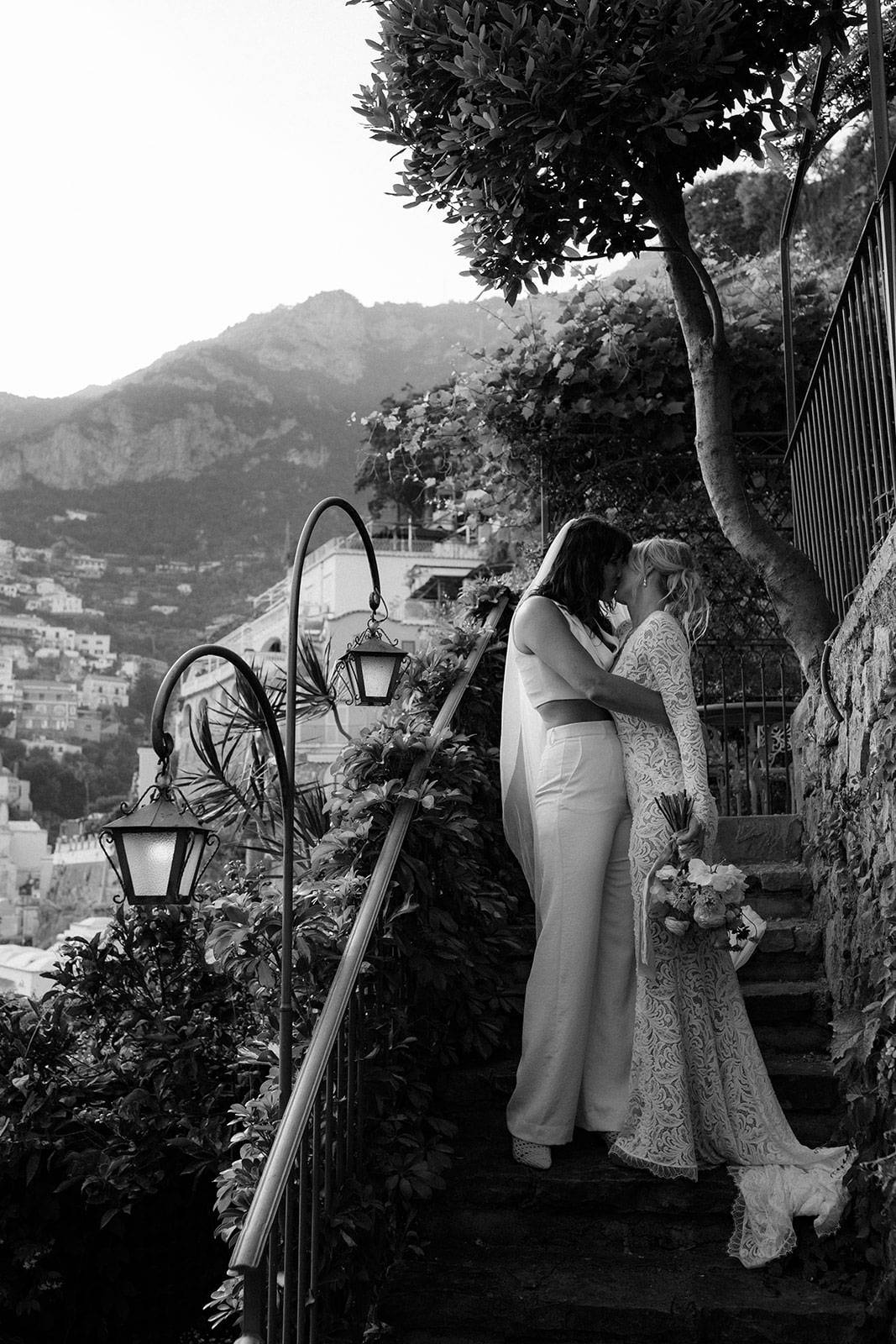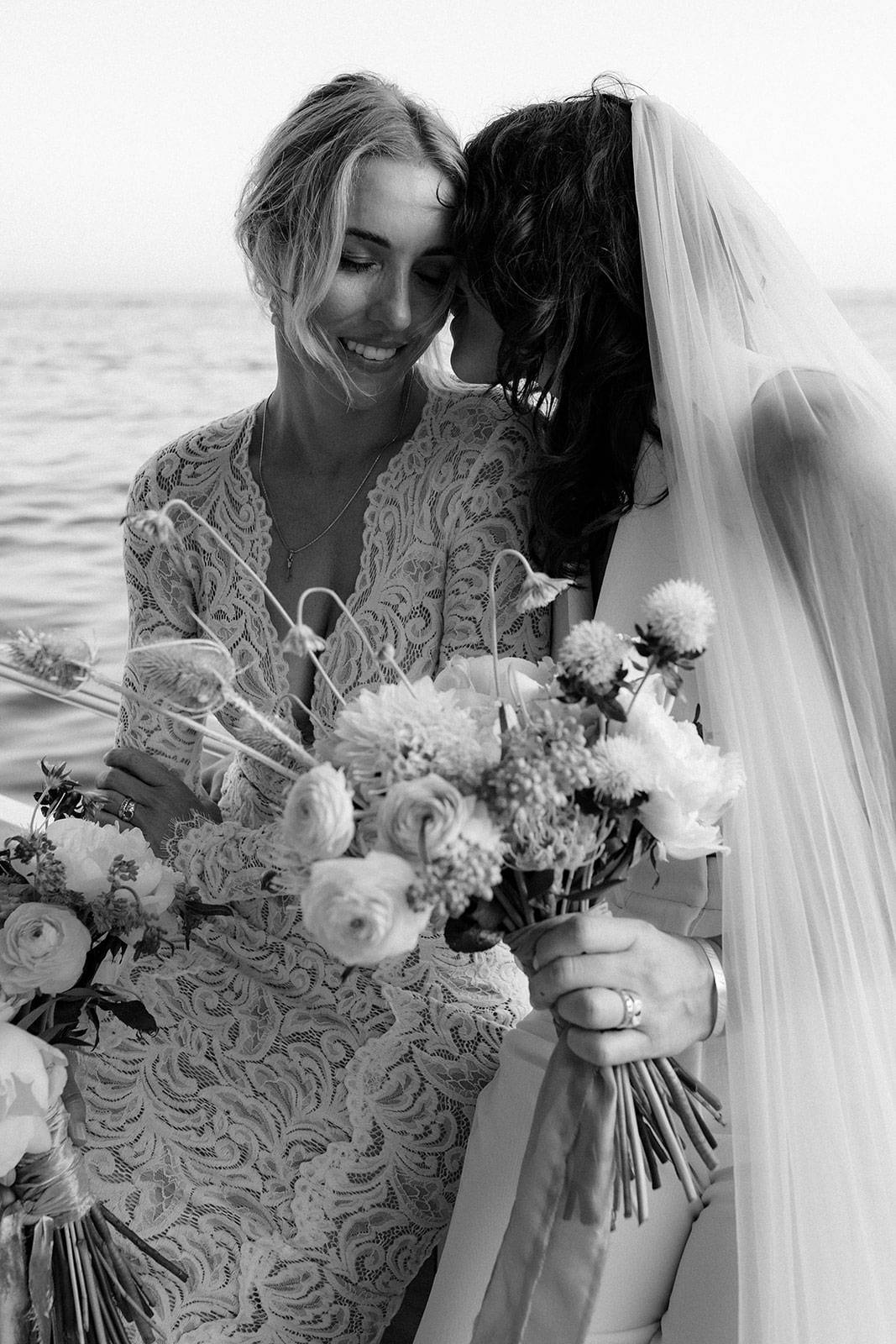 We planned everything ourselves. I was at the florist in Positano the day before having shots of limoncello with Giuseppe to organise which flowers we wanted, orange, yellow, peach! They turned out perfect. When they arrived on the day I was wrapping the silk ribbons around the stems and tying the silk ribbons on the vow cards, while also doing our hair and make-up. It was fun, the practicing was easy but when it came to the day my hands were a little shaky. I do love being creative. It all came together so well!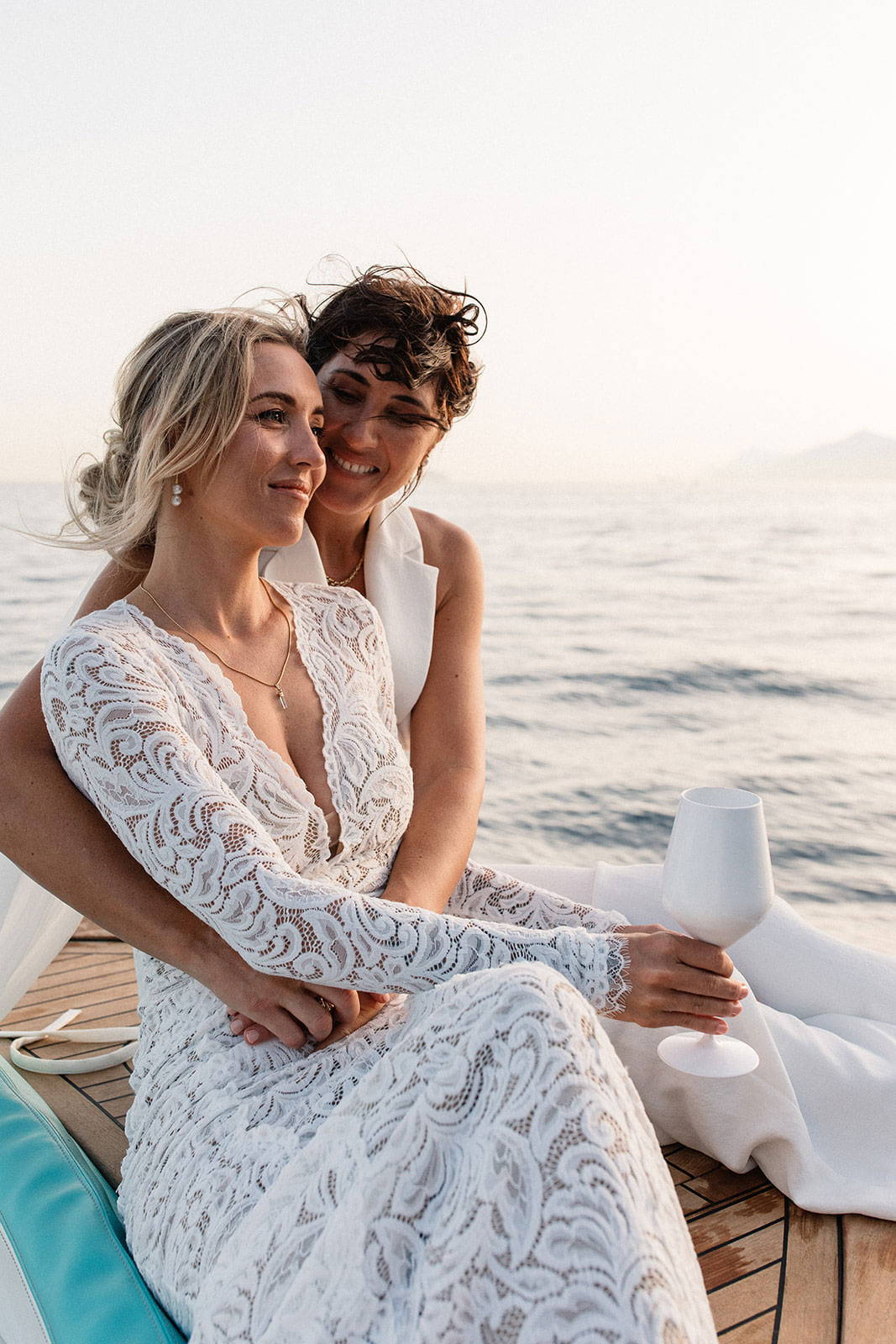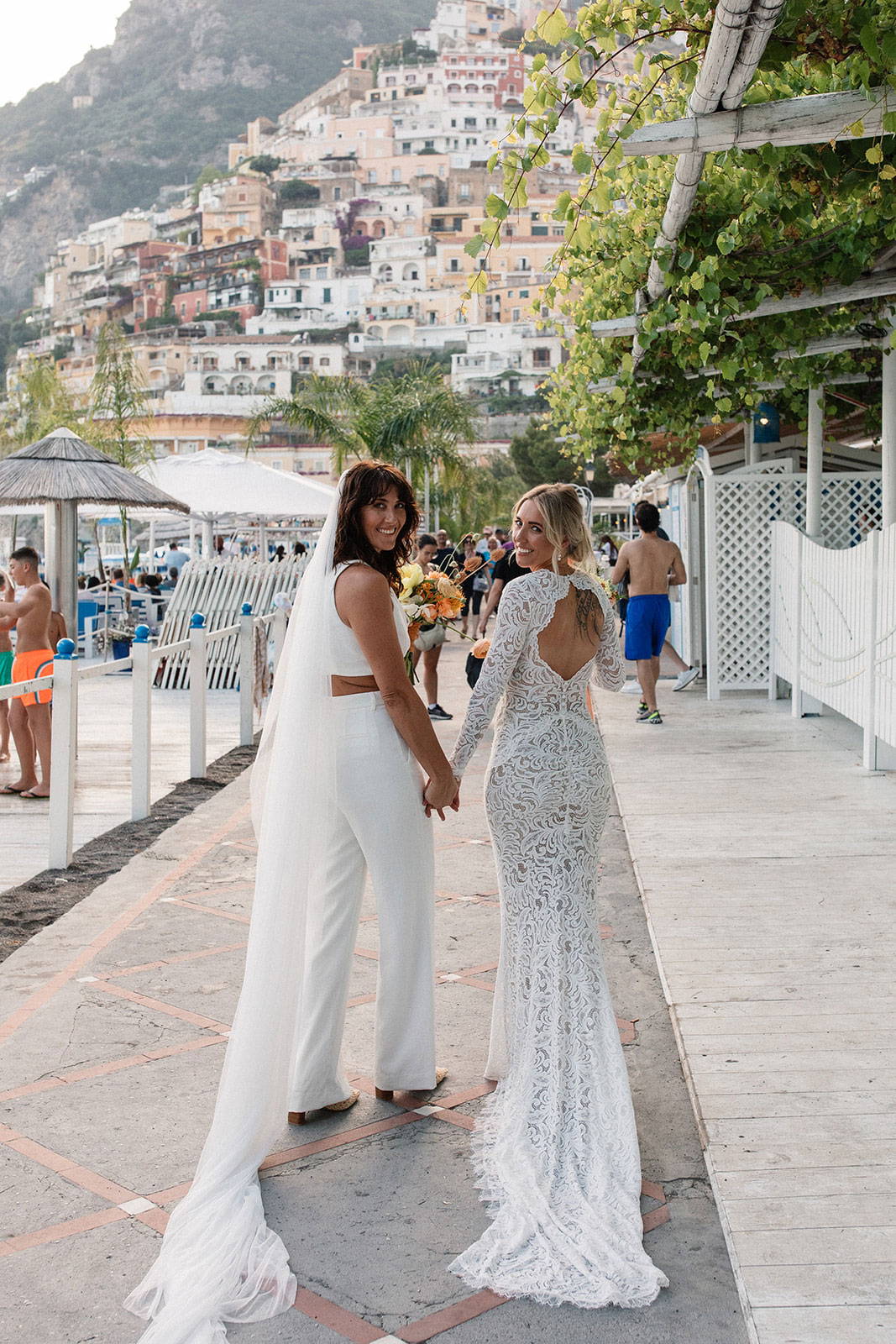 Where did you get married?
Tell us about the location & the style of your wedding.
We eloped to Italy. We wanted simple, scenic, beautiful, and to embrace the culture and our European heritage. Yolanda has an Italian background and I have a Croatian background. On our wedding day in Positano, we exchanged our personal vows and rings as a symbol of our love, and the promises we vowed to keep to each other. We had our romantic ceremony on our terrace of the Puccini Suite in Villa Boheme. Best view in Positano, we were mind blown! We took the stairs down to the beach and hopped on a boat looking back at the sun set behind the hill of Positano. A dream come true!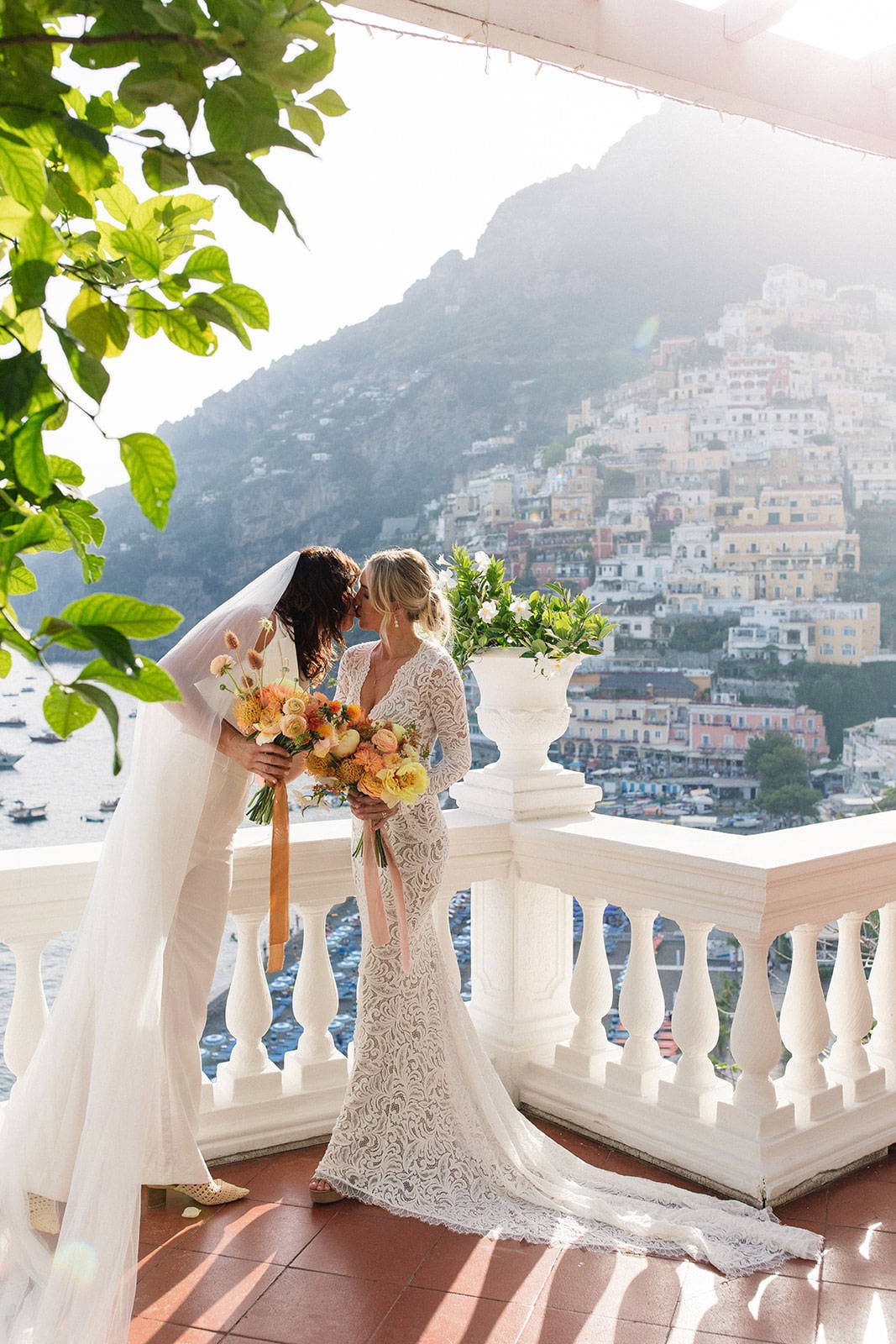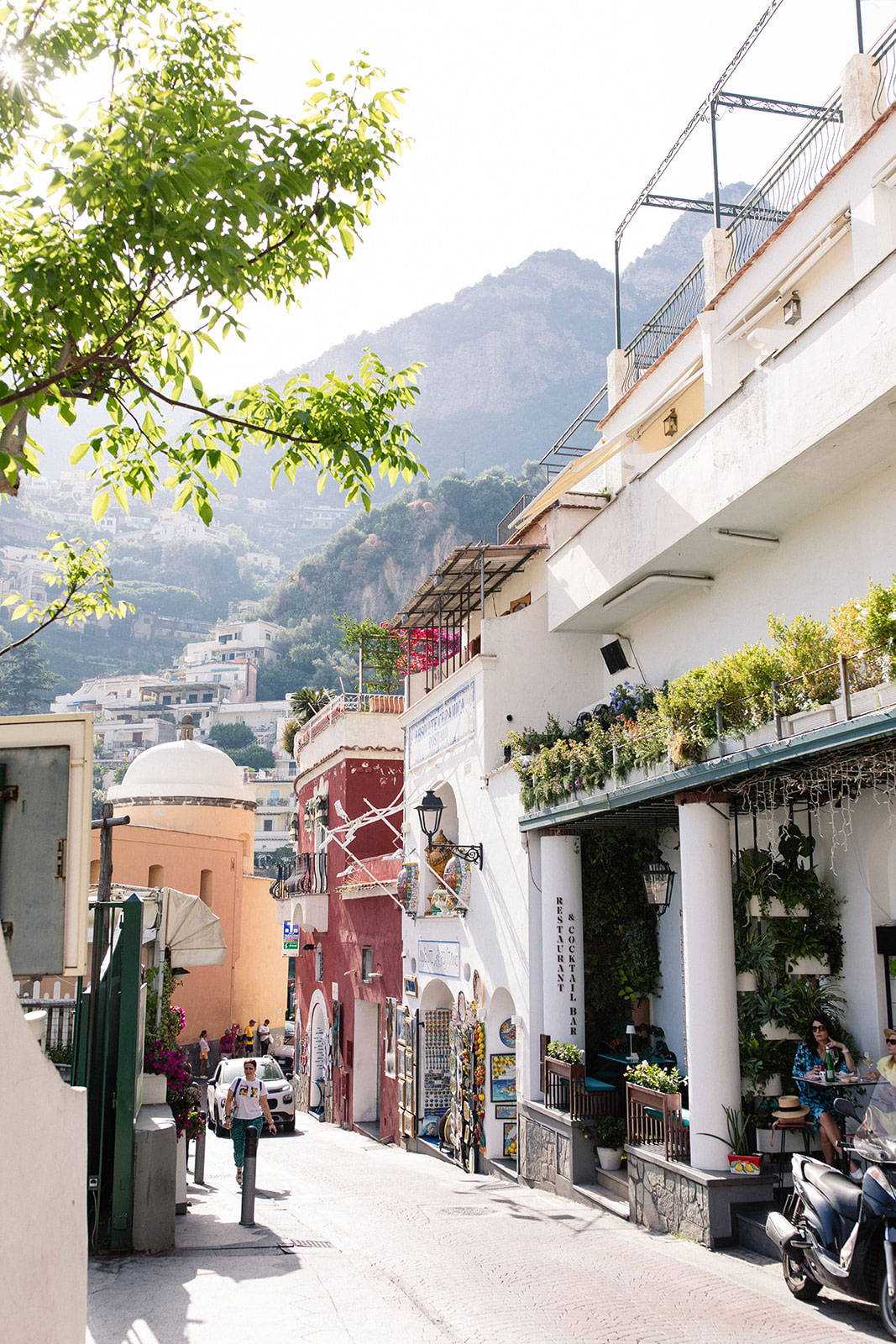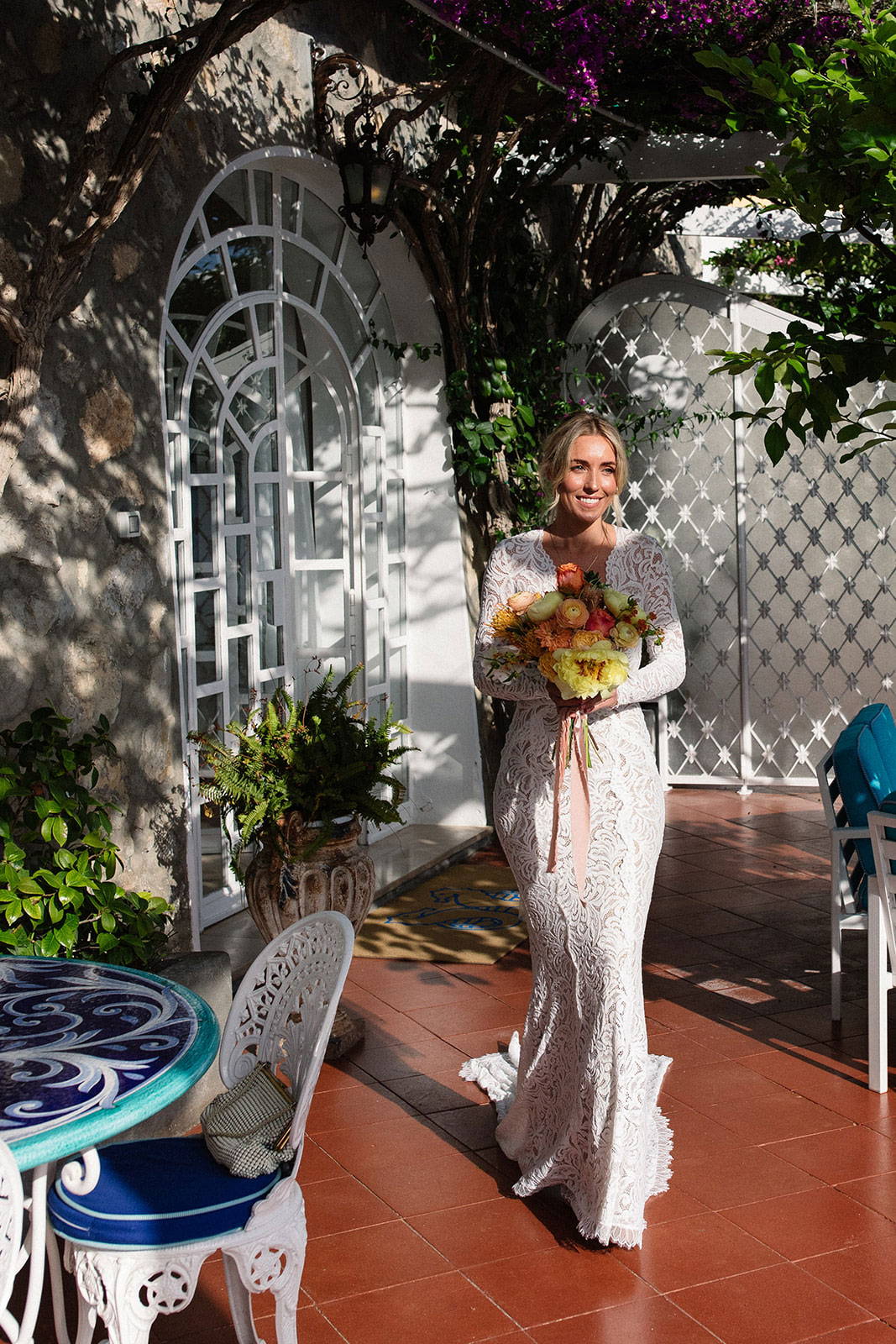 The funniest moment on the day was or something that surprised you?
We walked out from separate rooms of the villa. I went to walk out first. As the music started, I flicked my train out and went to step forward and it was caught under the mirror coffee table. I literally couldn't get it out. I had to call Yolanda from the other room to come help me. It was really funny, she had to literally lift this mirror Coffee table up to release me. Then run back to her door. I walked out. Then she walked out to meet me.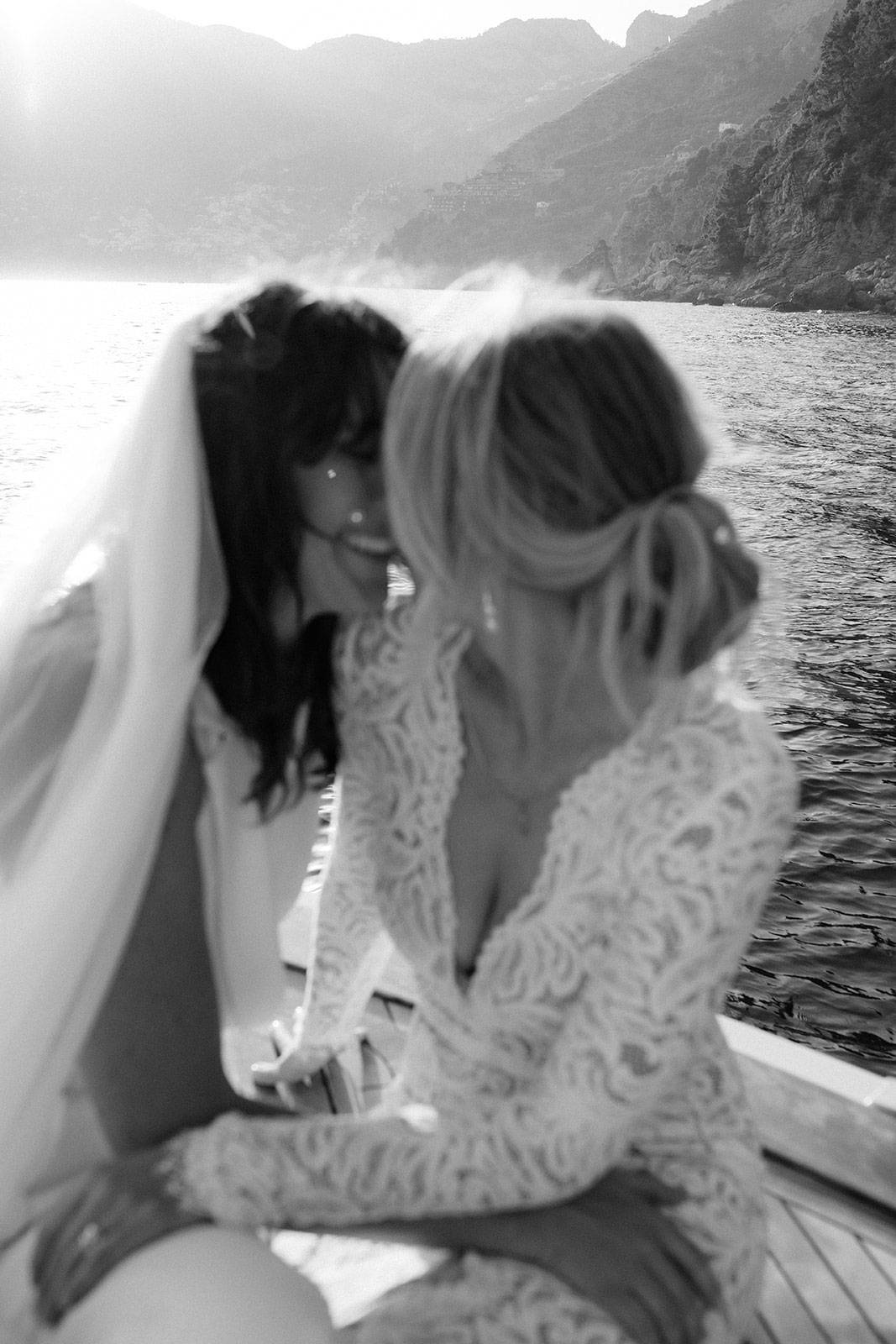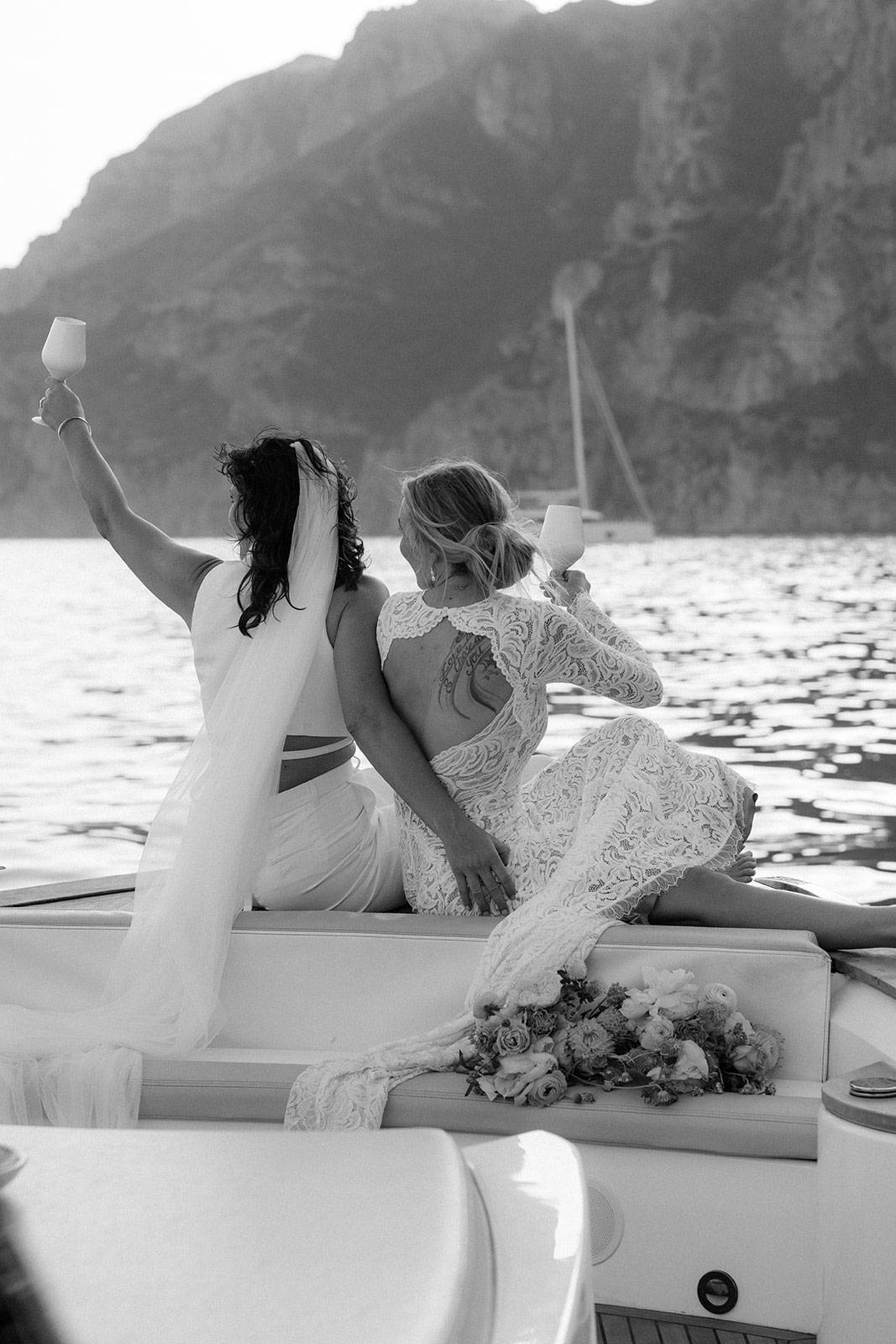 ---
Any last advice or words of wisdom that you can share?



HAIR & makeup STYLIST: jodi
other: the whole bride (vow cards, ring boxes, silks)