Wesley & Kenya in the Bonita
Getting married at the earthseed land collective in Durham, North Carolina plays an incredible significance to this couples nuptials. The green scenery that surrounds Earthseed is almost as breath-taking as Kenya's look.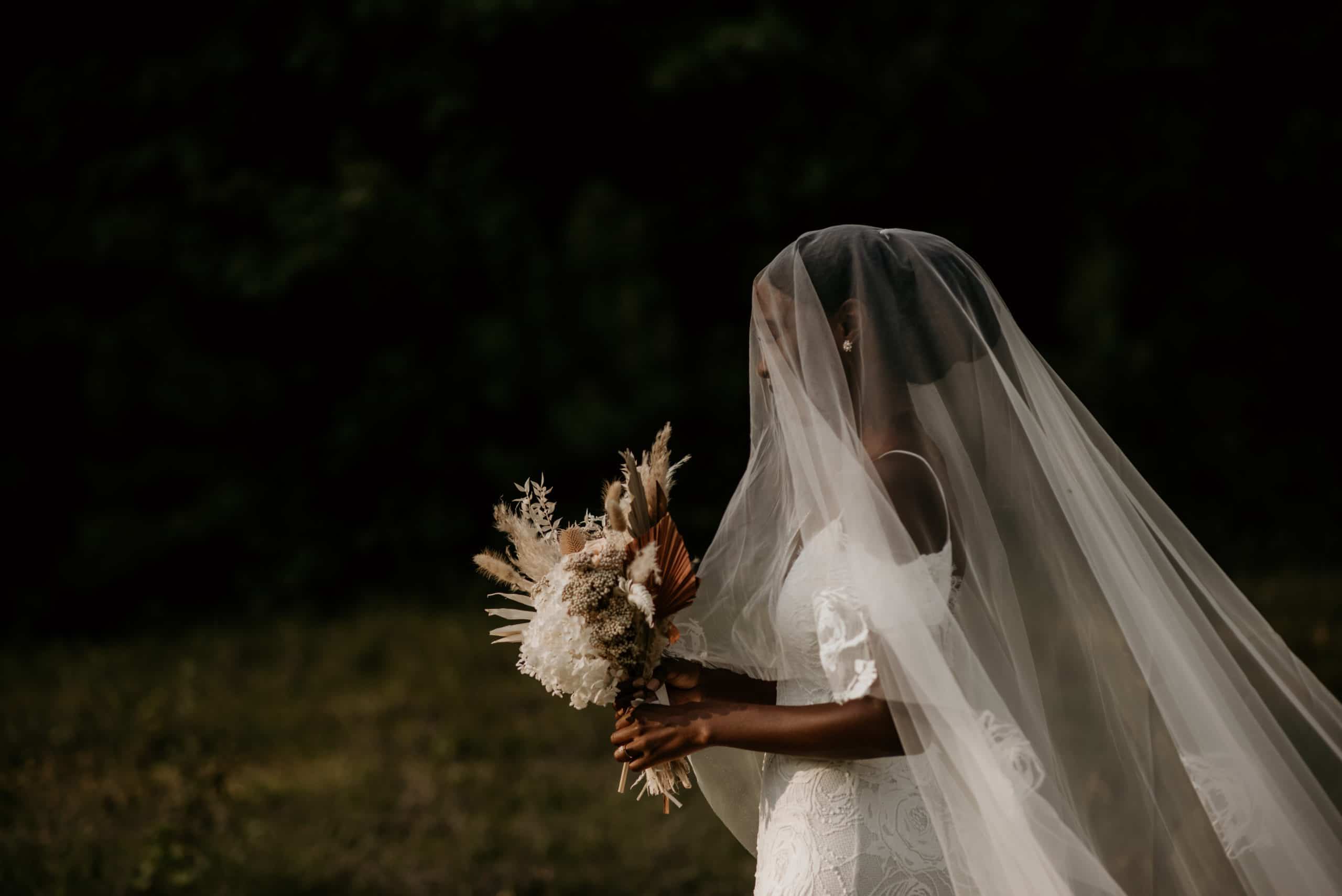 What is a GRACE Woman to you?
A GRACE woman draws strength from within and any exterior beauty attributed to her is merely a reflection of her inner life.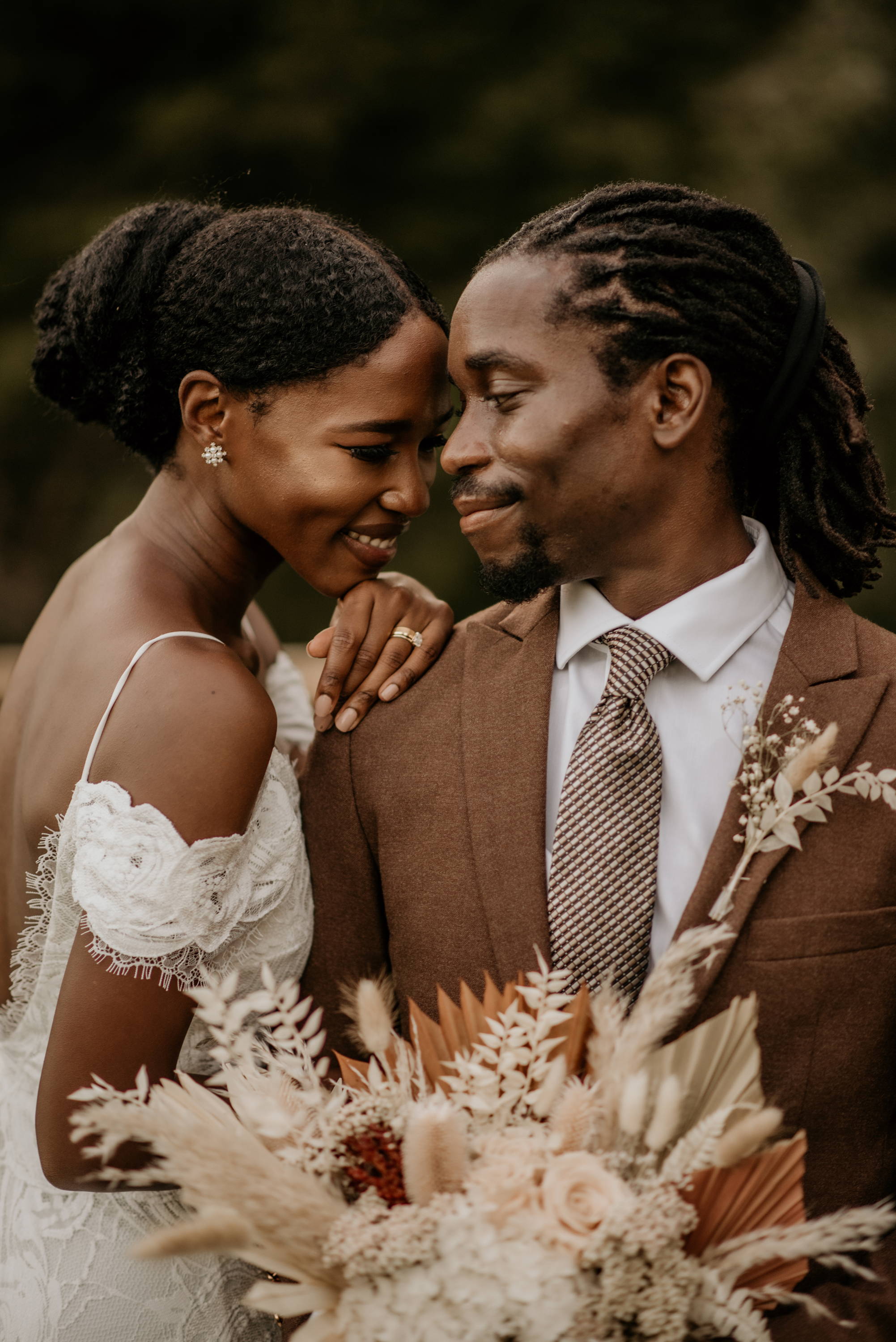 Which GRACE dress did you choose and how did you know it was 'The One'?
Our bodies hold stories. Celebration and acceptance of my body as a female temple was important for me leading up to my wedding. I was looking for a dress that was statement-making and elegant but did not take away from my body's natural story. I chose the Bonita dress and knew it was 'The One' when after putting the dress on without any jewelry or accessories, I still felt beautiful.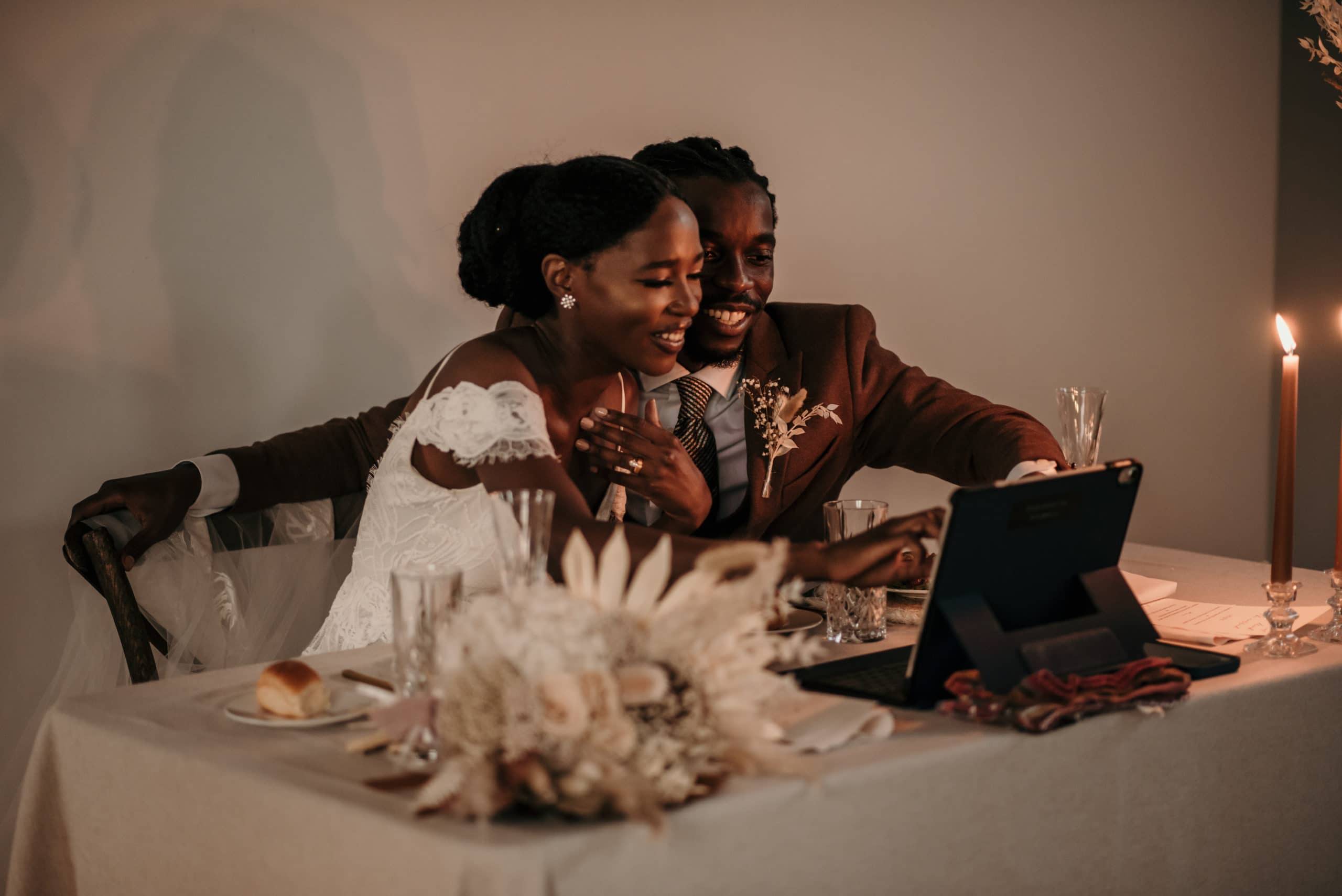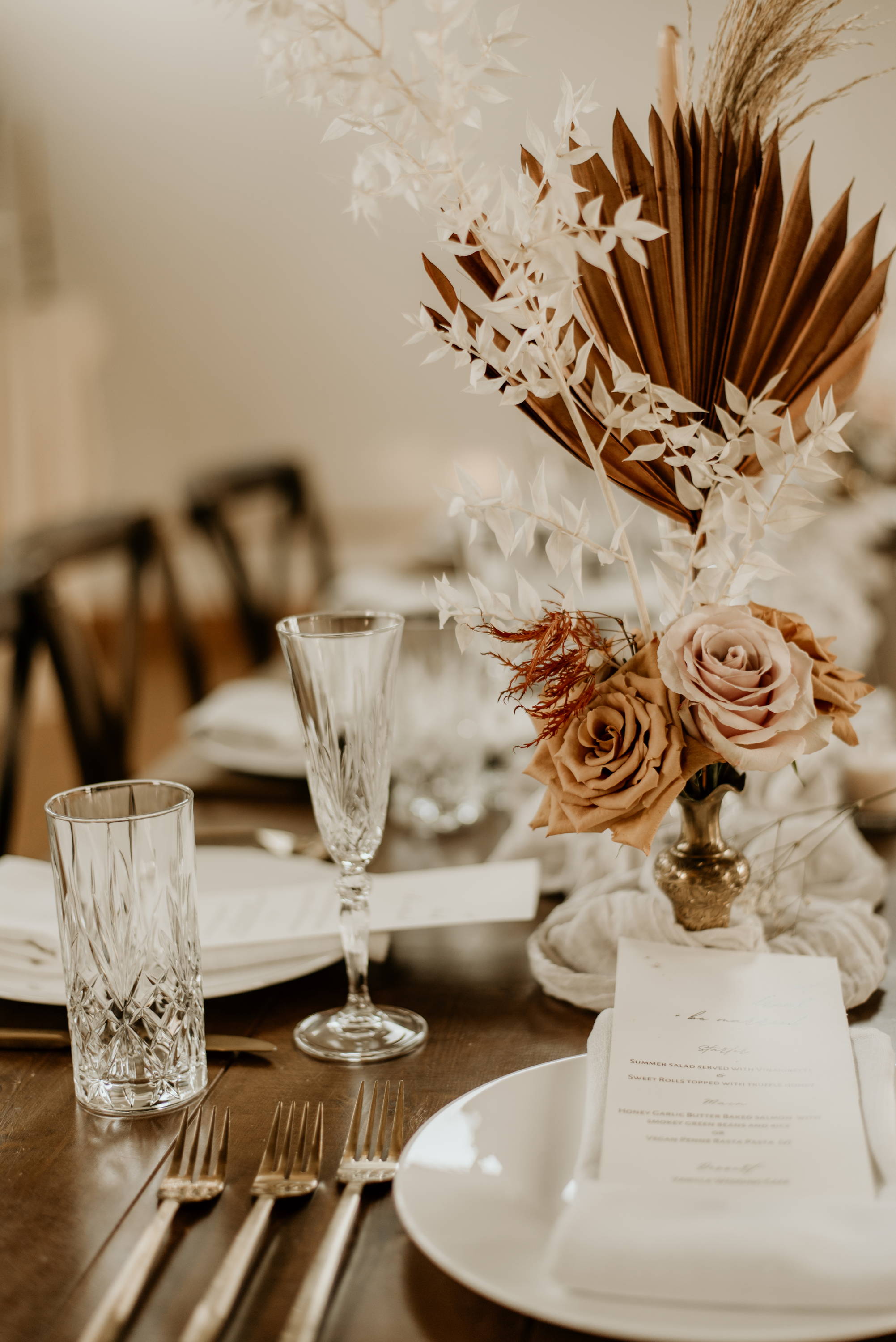 Tell us about your experience when you found your dress, did you buy your wedding dress online or in one of our showrooms?
I visited the showroom after work in New York City. The experience felt personal as I along with my guest were the only ones in the room during my scheduled appointment. I'd stalked Grace Loves Lace's Instagram page for a while and had even chosen a dress that I liked just from the visuals alone. I was after elegance, modesty and the symbolism of new beginnings found in lace. After arriving at Grace Loves Lace, I tried on the one dress that I loved so dearly on Instagram and that was the dress that I ultimately purchased. (The assistant asked me to try on four more dresses to be certain but in the end I left with the dress that I'd admired for months).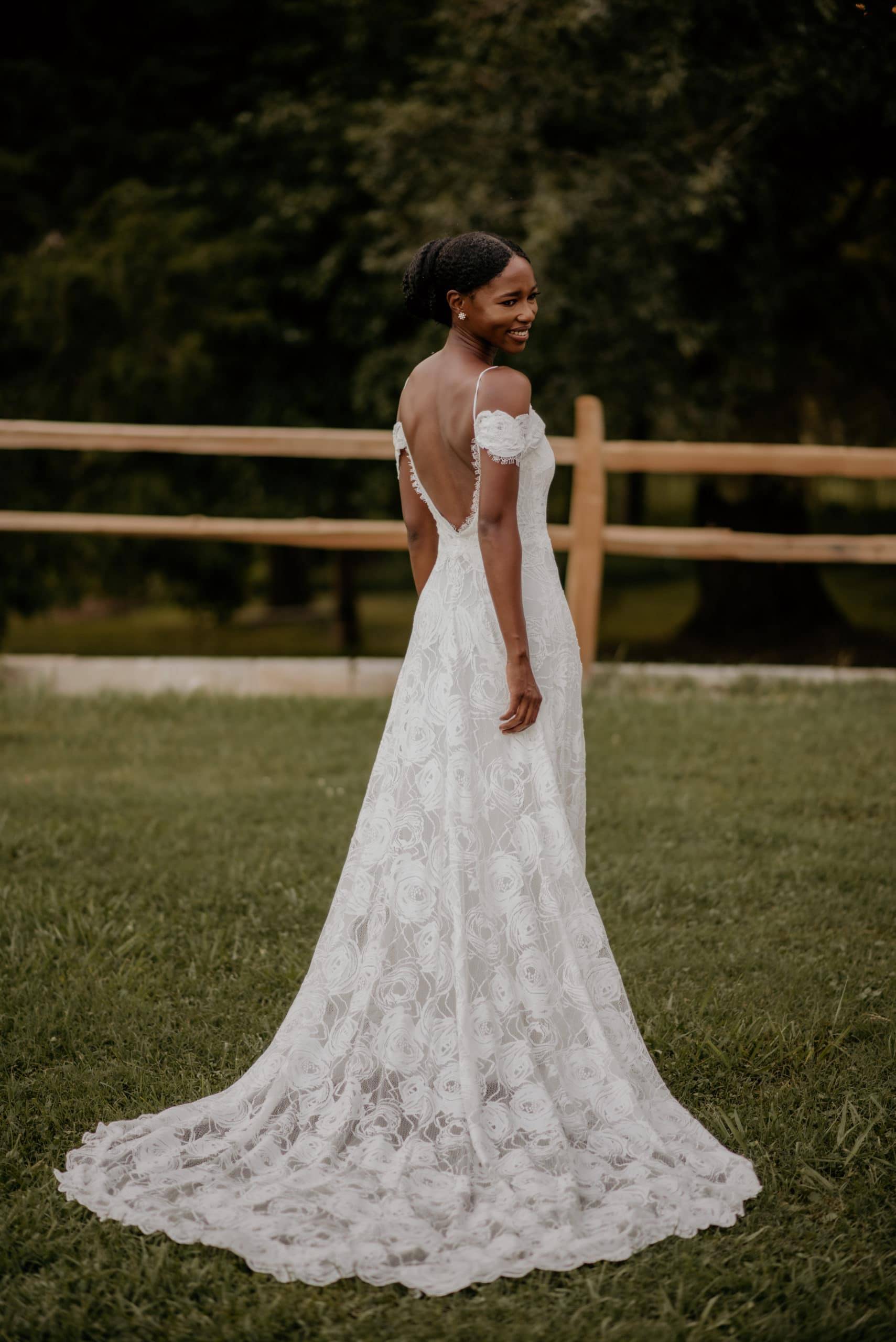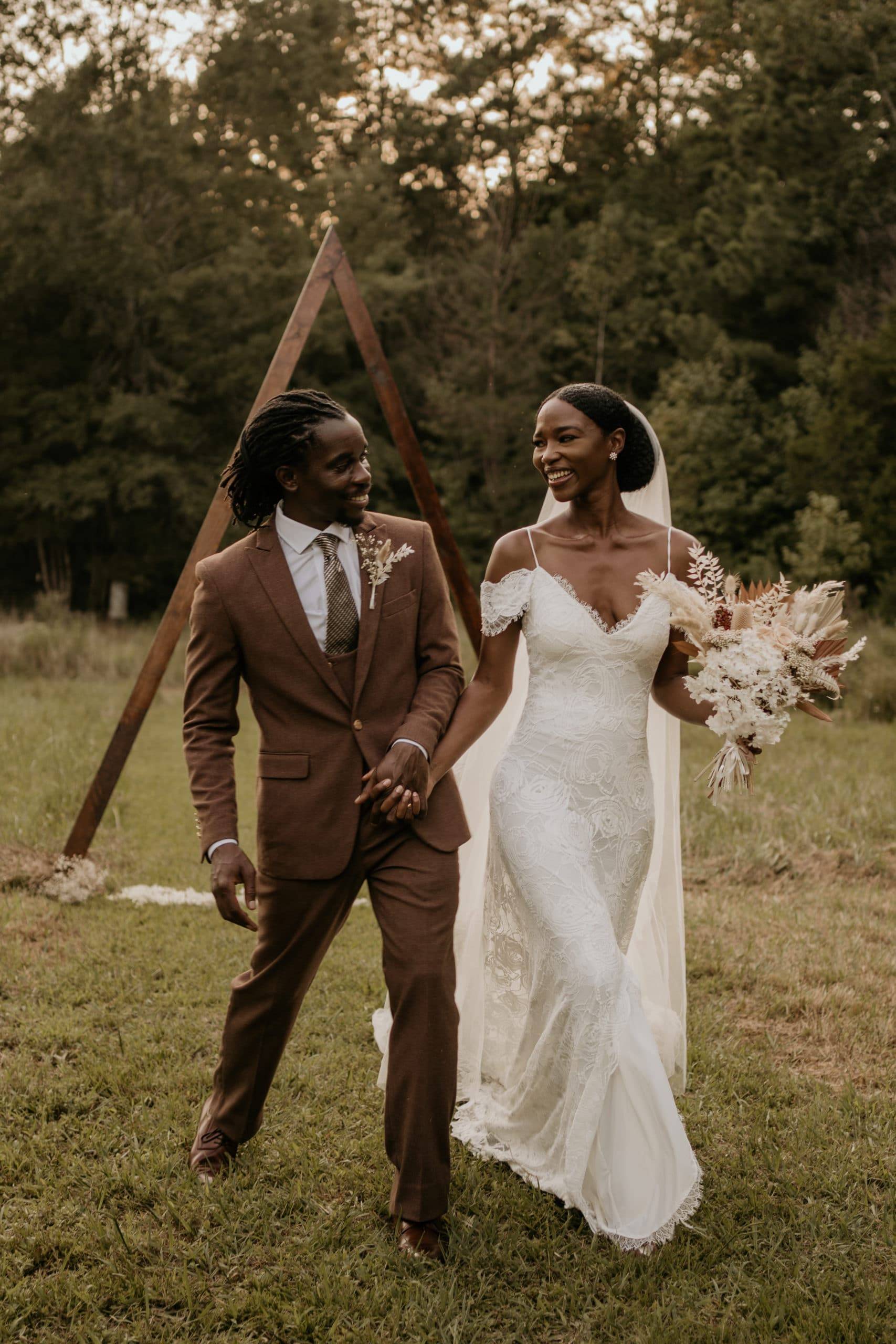 How did you feel in your dress on the day?
I felt deeply feminine and that every generational woman within me was proud and had found her own form of beauty.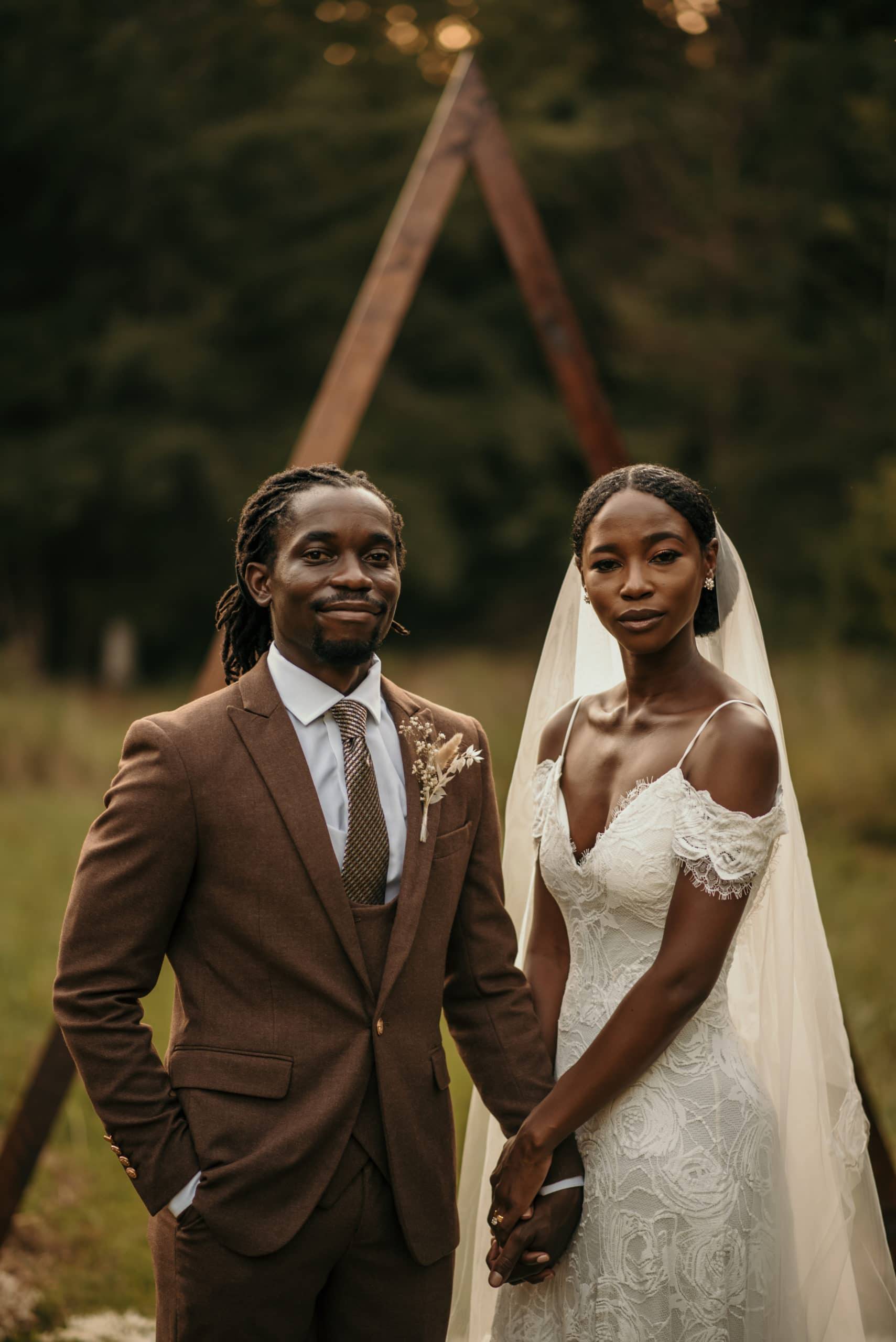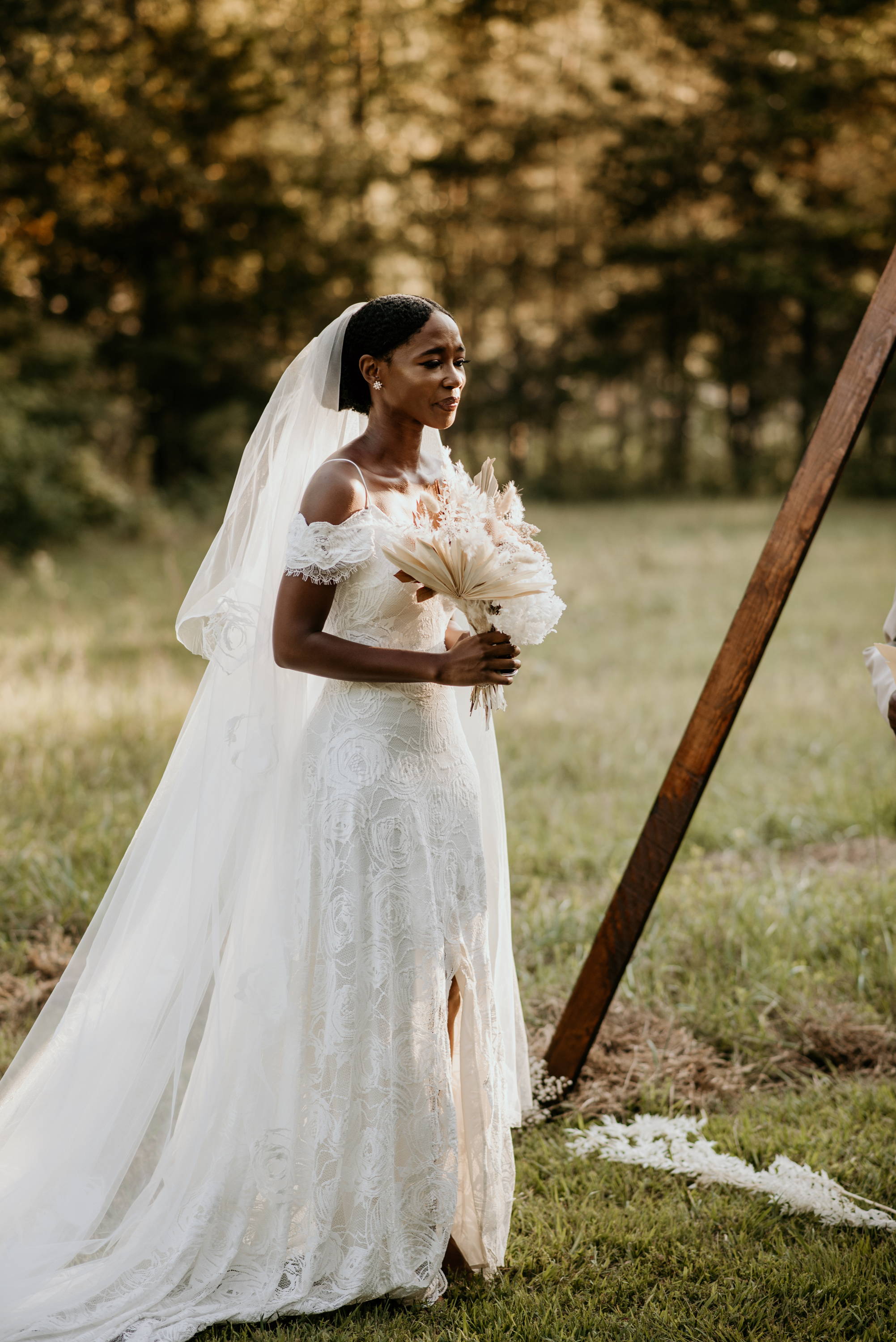 Where did you get married?
Tell us about the location & the style of your wedding day.
My husband and I are deeply rooted in our culture as Black people we don't take for granted that we are from a people who at one point were not able to freely marry. So we chose to wed during a special time in August, historically known as Black August. To us, marrying during Black August was our way of honoring the long and unbroken line of resistance and sacrifice of Black people. Our life together is one of way of carrying on this powerful practice. Immediately after our engagement in Feb. 2020, we chose our wedding location to be Earthseed Land Collective, an over 40 acre farm owned by people of color in Durham, NC. Earthseed's mission connects to ours in that they too believe that practicing Black Joy and Black love is deeply transformational for all of us.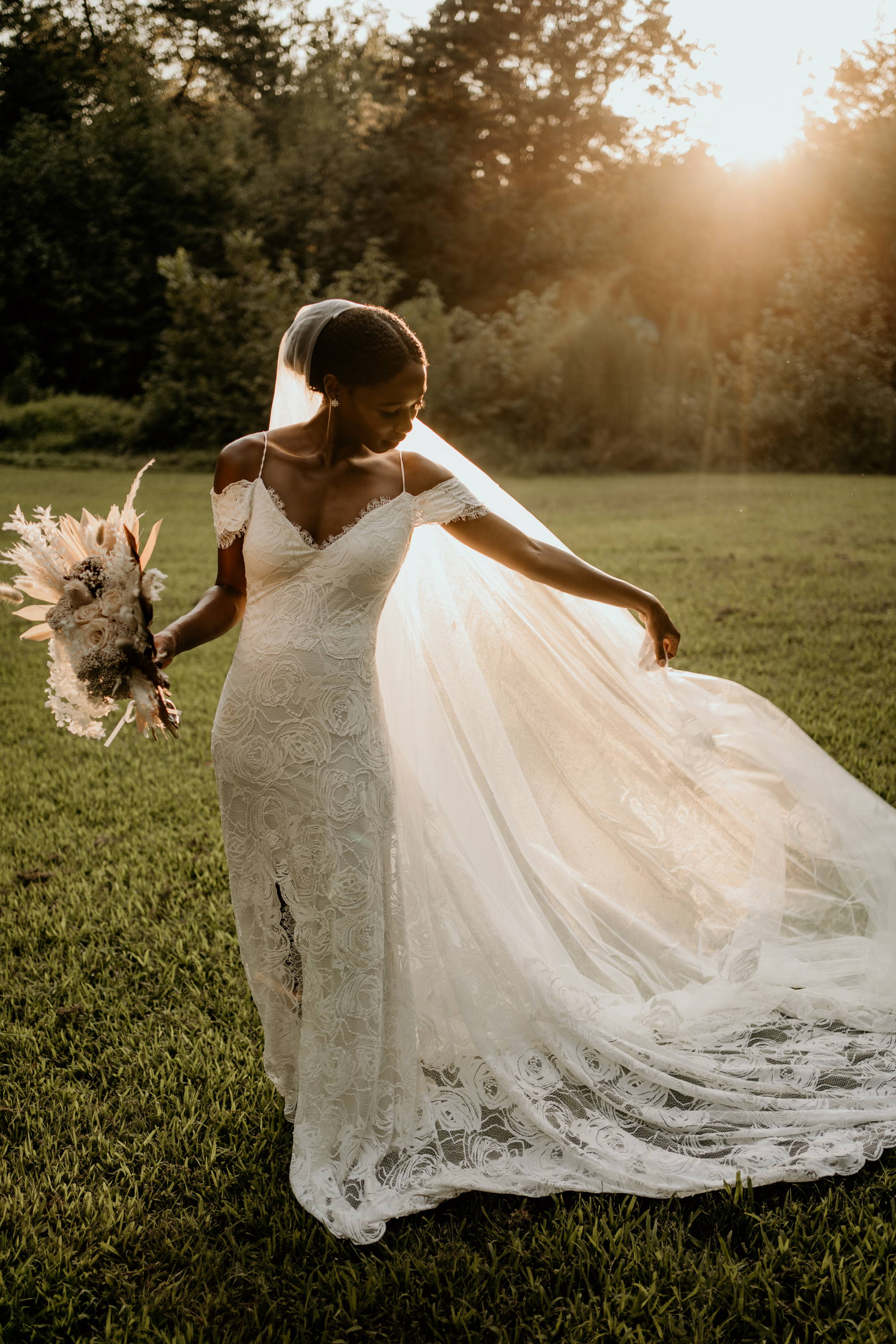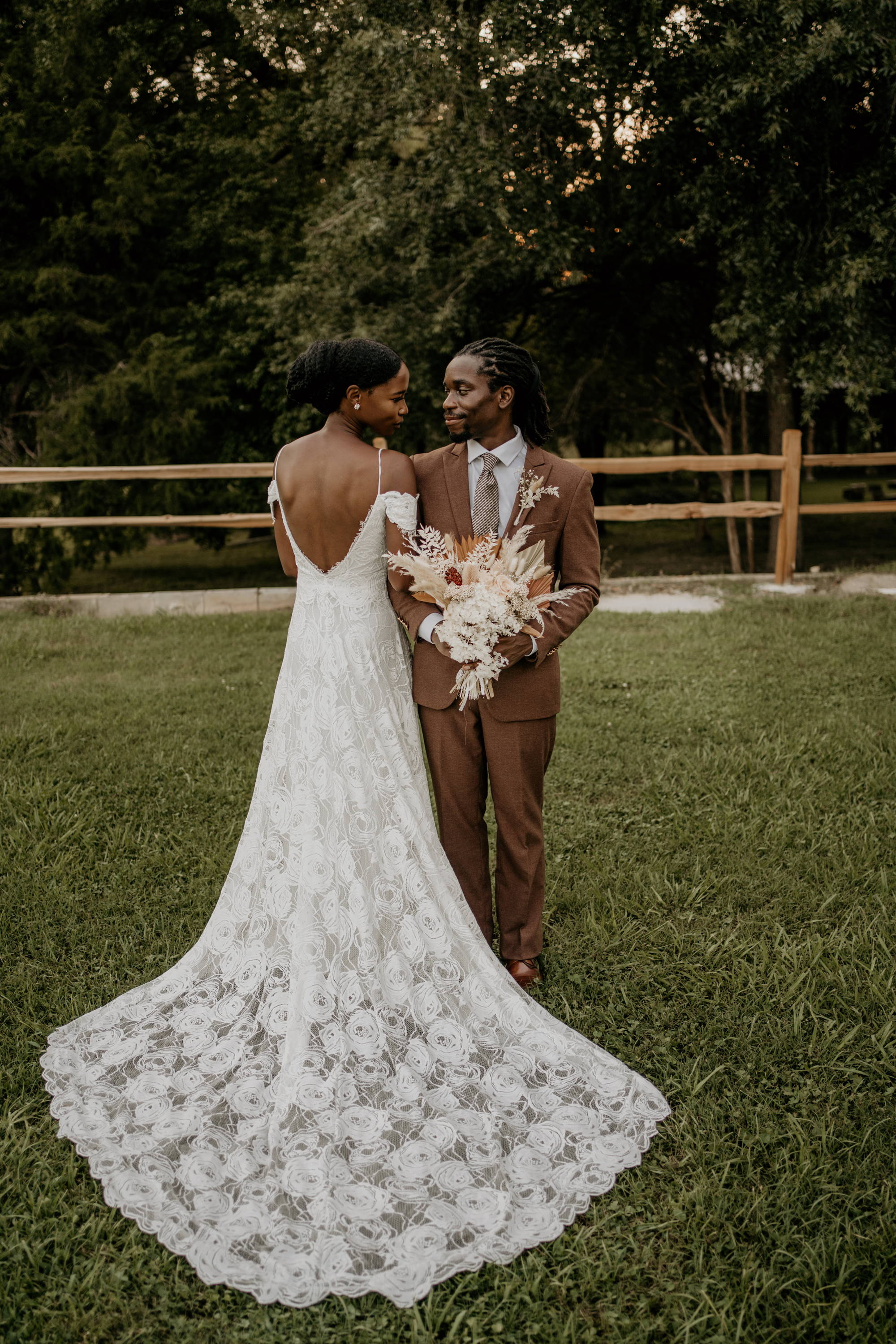 Tell us about your hair and makeup look
and the accessories you chose…
Our color pallet included neutral tones that complemented the Earth. We went with chocolate roses accented with ivory, blush, and terracottas. We're an Earthy couple and generally take long walks every morning. On our walks, we're often mesmerized by the colorful vegetation and how it changes from day to day. I sourced some of our flowers from vegetation on the sides of the road during our long walks and complemented those with dried baby's breath that had been used as a headpiece for me during our engagement shoot. Given that we married during the height of the COVID-19 pandemic, we wanted to ensure that we stayed within the allowable limits of guests we were able to have at the wedding. Thus, I styled my own hair and did my own makeup. It helped a bit that I'd spent some time as a makeup artist as a side gig and had done many weddings in the past. However, I didn't imagine that I would do my own hair and makeup for my wedding.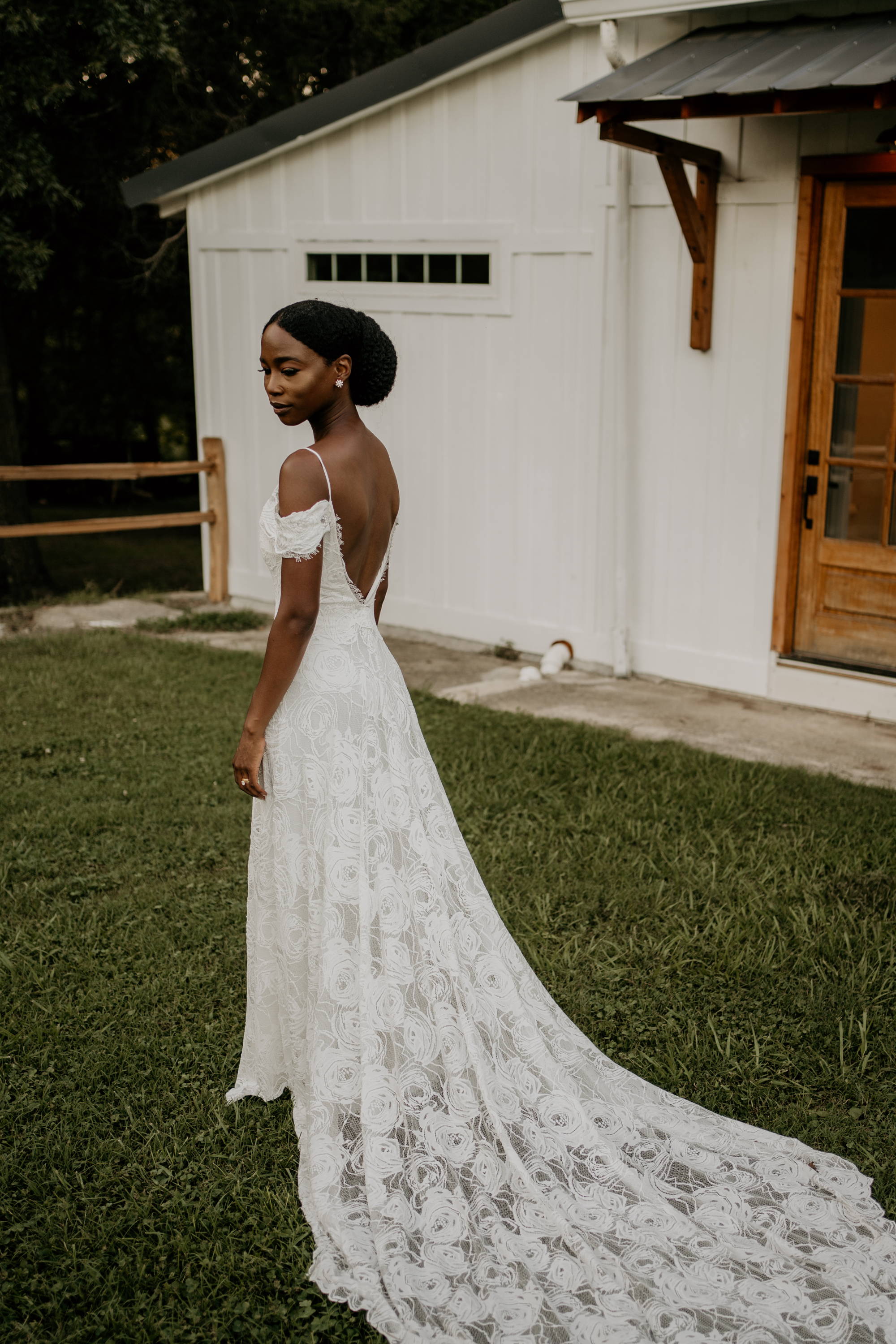 What made your day extra special?
We married during a historical time for the world.. during the height first pandemic of both of our lifetimes (COVID-19 pandemic, August 2020). We faced so many restrictions with our guest list and wanted to assume an abundance of caution to protect our guests. In line with state mandates on gatherings, we had only 10 community members to support us in person on our special day. We welcomed our remaining guest support us virtually. Our ceremony included 10 community elders who lived near and served as witness for our special day. We also had over 80 plus people, representing 3 countries, in attendance via Zoom. To prevent potential transmission among those providing services to us, my husband and I decided to decorate ourselves for both the ceremony and the reception. I also did my own makeup and hair for the wedding. Our ceremony included 10 chairs arranged in semi-circle to honor our practice of community and we were married underneath a triangular arch built and painted by husband. To us, the 3 points of the arch represent God as the head and my husband and myself as the base. We waived historic traditions such as jumping the broom in exchange for a prayer gathering of the ancestors. Before exiting the ceremony, my husband and I knelt to the Earth and our 10 guests encircled us with hands stretched to offer prayers for our new union. The song I walked down the aisle to was "You Bring Me Joy" by Anita Baker. She has long been a fave and was the first concert we went to as a couple.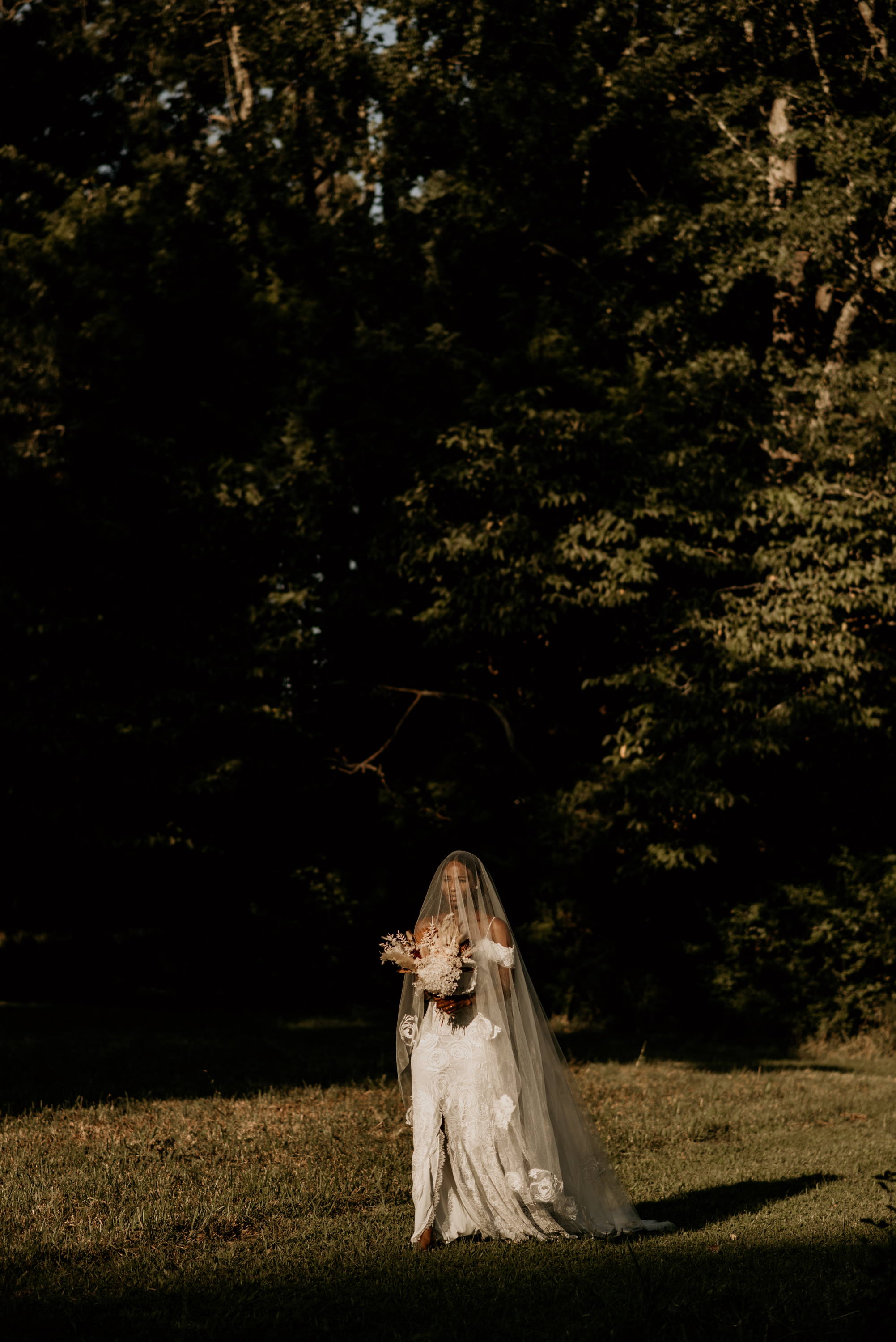 The funniest moment on the day was…
The pastor, who we love so dearly, was very much excited about our nuptials. So excited, that after I made my way to the altar, he introduced us with kind words and quickly went to "You may kiss the bride". My husband had to remind him that we had to say the vows before the kiss.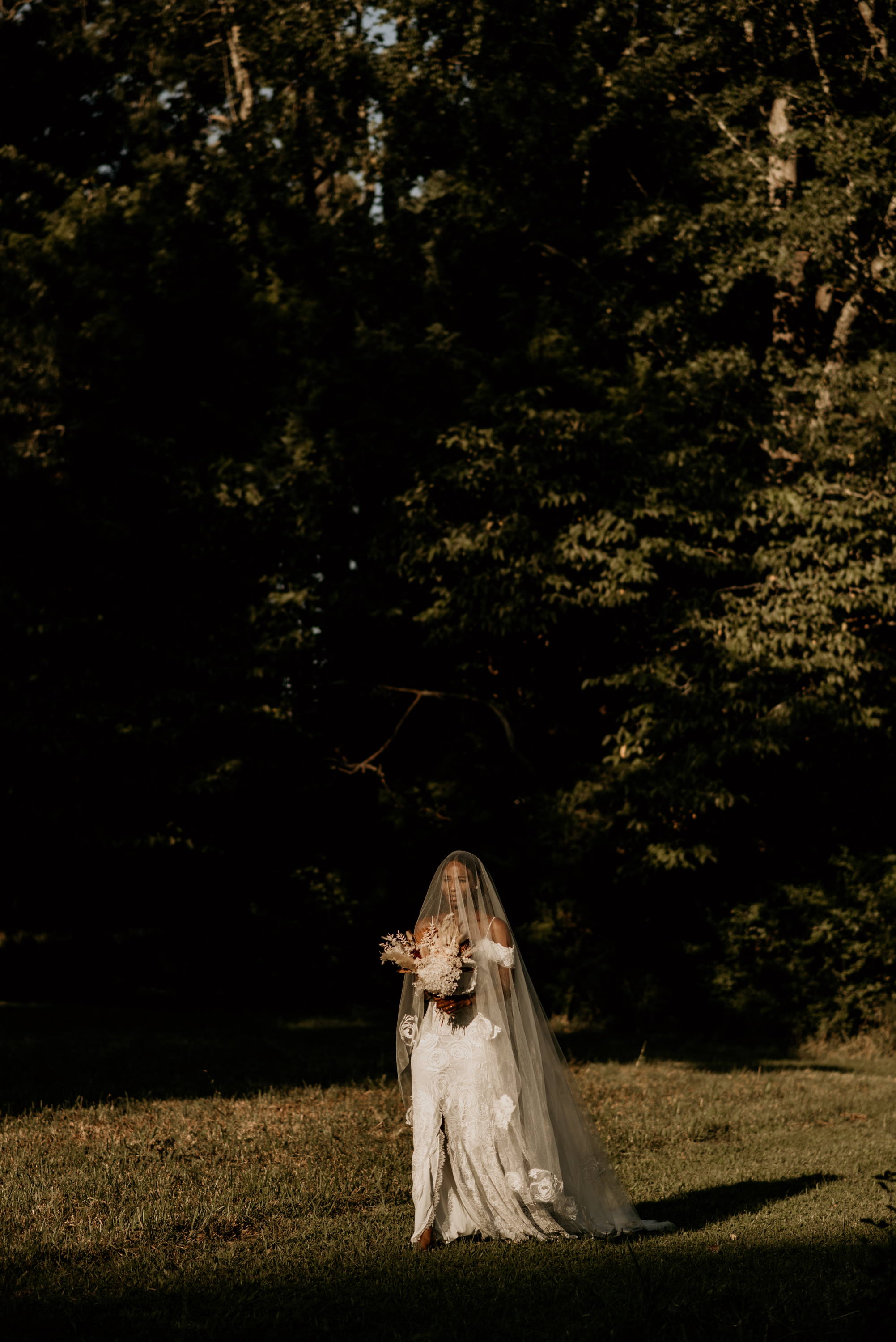 Where will you be honeymooning?
Any plan for a honeymoon was diverted given concerns for safety during the pandemic. We are planning for a honeymoon when life opens up again.
Any last advice or words of wisdom that you can share…
Our advice is specific to marrying under conditions of uncertainty. Be patient and flexible to the planning process. The end goal is to be in a committed union with the person standing with you at the end of the aisle..make choices and adjustments that are in line and in support of the vision you have set with that person. There is life after the wedding day. Be mindful not to overspend for one day when you and your partner have an entire lifetime to live towards. Set a budget and stick to it. Be open to your wedding day deviating from traditional expectations. You are a visionary unto yourself, be ok with your vision, no matter how it may look. Tomorrow is not promised, as witnessed by the young and the old being here today and gone tomorrow in the midst of braving the COVID-19 pandemic. There is no better time than now..if timeless love that can brave all circumstances is your goal, then wed now instead of waiting until when you can have a large wedding.